How to Hike the Harding Icefield Trail near Seward
Posted On January 16, 2023
The Harding Icefield trail is possibly the most spectacular view hike in Alaska. With a multitude of unforgettable and stunning hikes there is stiff competition, but most Alaskans will tell you this is one of the best, if not the best hike around. If you're a hiker and you can spare the time, I highly recommend this hike in clear weather. It does not need to be a perfectly sunny day, just not foggy with some visibility so you can see the amazing views.
I've hiked all over Alaska from Ketchikan to Fairbanks over more than 20 years and this is definitely in my top 5. Even though this hike is amazing, it is HARD and LONG. I don't recommend it for people who are not experienced hikers because this is a tough one (do the loop around the base of Exit Glacier instead). For those who love hiking, you will love this trail!
If you decide to take on this hike, it is very important to bring lots of food and water. You'll also need plenty of extra layers for sudden changes in weather. Make sure you have good rain gear. This challenging hike is in a remote area without cell service for most people so make sure you're prepared.
The Harding Icefield Trail is a total of 9 miles round trip with 3500 feet of elevation gain. Most of the hike gains 1000 feet per mile which is STEEP. If you don't want to do the whole thing, you can turnaround at various points along the trail. About half way up there is a spectacular view point and you should feel free to turn around anywhere and know you'll still get an epic Alaska hike.
The Harding Icefield Trail is on the land of the Alutiiq and Dene People.
Parking Pass: Parking is free at Exit Glacier
Dog Friendly: No, dogs are not allowed on the trail
Cell phone coverage: Depending on who your cell service provider is, you may have some service on some parts of the trail. Don't count on it if it's your first visit.
Restrooms: At the visitor center near the parking lot
Accessibility and Mobility: This is a busy trail that is very steep. There are rocks steps in different places and many switchbacks. There is tree cover for the first mile or so, after that there is no shade. The trail can be muddy and may have snow in places in the high parts until July.
Related: What to wear for a hike in Alaska, what to bring on a hike in Alaska
Where is the Harding Icefield Trail?
The Harding Icefield Trail is located in Kenai Fjords National Park and starts behind the Exit Glacier Visitor Center, the only place you can drive to in the park. Exit Glacier is about 12 miles from the town of Seward and about 130 miles from Anchorage.
When is the best time to hike the Harding Icefield Trail?
July is the ideal time to hike the Harding Icefield Trail, as snow lingers late on the highest points of this trail and you might need to navigate snowfields in June to reach the end of the trail. August and early September will probably also be snow free, but on average have more rain.
You can always turn around before the end of the trail if you go in June and there is still snow up high. You'll still get some great views.
Trail Description
This is a long hike with several possible turn around points, even before the trail ends at the edge of the Harding Icefield. I'm describing the trail in sections so you can decide how far you want to go.
Exit Glacier Nature Center to Marmot Meadows (First two miles)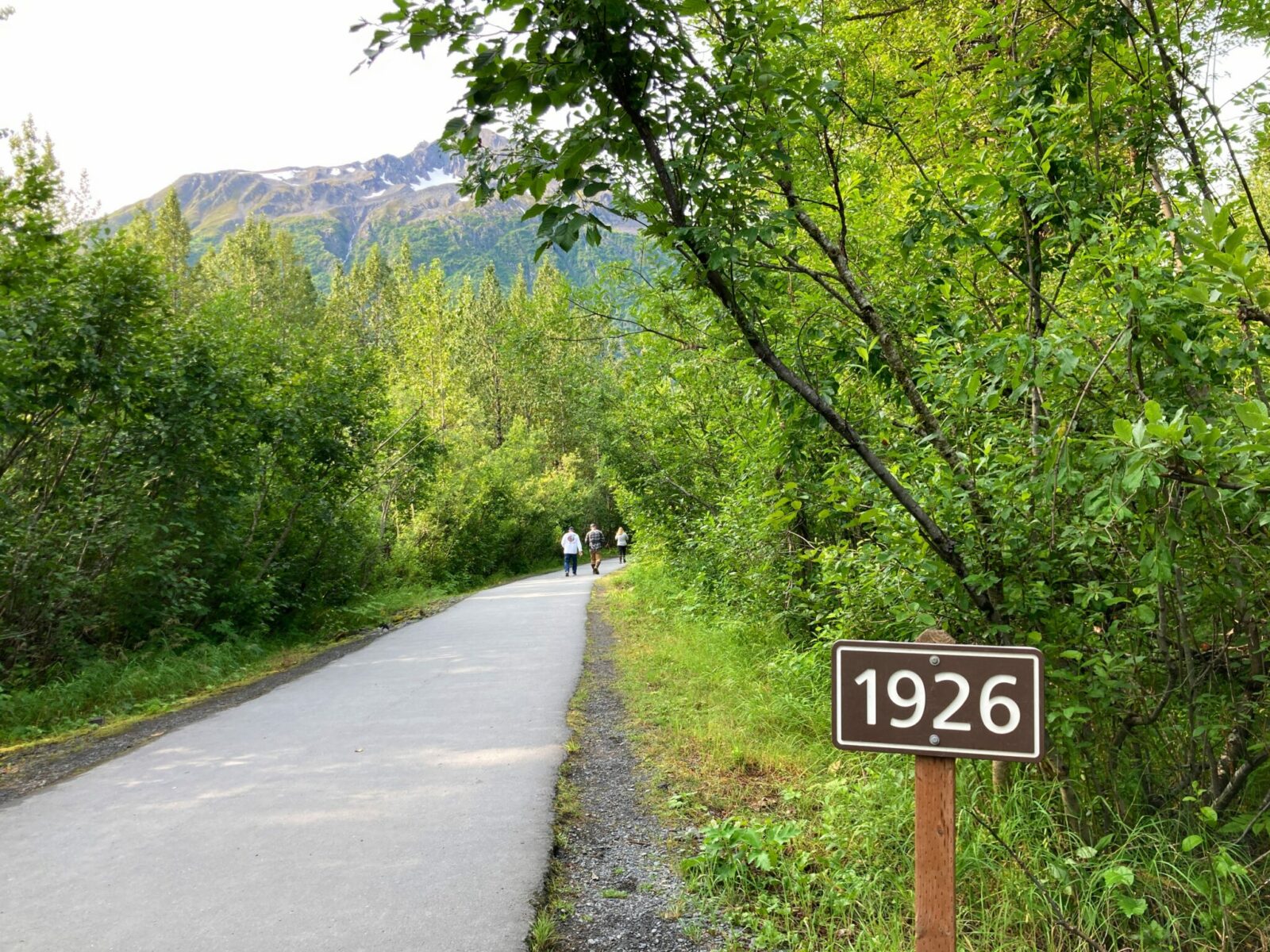 Starting from the Exit Glacier parking lot, start on the paved and wide trail for the first half mile. Along the way, you'll pass signs showing you where the glacier was at different points in time. Look for a sign and a trail on the right that is well signed for Harding Icefield.
Once you turn on the Harding Icefield trail, you'll be climbing steadily through the forest. There aren't many views in the first couple miles, but you'll appreciate the shade as you climb! You'll encounter some big rock steps and steep trail sections along the switchbacks with mud here and there.
About two miles from the start, you'll come into an open area called Marmot Meadows. Here is your first really impressive view of Exit Glacier. This is a good place to turn around if you've had enough climbing or aren't an experienced hiker.
Marmot Meadows to "Top of Cliffs" (Mile 2-3)
If you keep going, you'll now head up very steep switchbacks with better and better views of Exit Glacier and the other surrounding mountains. As you climb you'll enter a gorgeous wildflower meadow. Keep you eyes out for goats on the surrounding mountainsides (or possibly on the trail). You might see or hear marmots in this area as well. In just under a mile, you'll come to another wide and open area with fantastic views of Exit Glacier. It is referred to as "Top of Cliffs" on the national park service map. This is my favorite spot on the trail for viewing Exit Glacier and makes another excellent turnaround point if you're feeling ready to stop climbing.
"Top of Cliffs" to the edge of the Harding Icefield (Final Mile-ish)
You can continue on another mile from here to the end of the trail at the edge of the Harding Icefield. The trail continues to climb across open ridges and some creeks, but is not quite as steep at this point. Once you see the emergency shelter and the icefield at your feet, you know you've reached the end of the Harding Icefield hike! After spending all the time you want soaking up the view, return the way you came.
Don't forget to enjoy the view going the other direction on the way down. The wonderful thing about this trail is that there are views all around you, and if you've focused on the glacier and the Harding Icefield on the way up (impossible not to), you'll get to see the valley and mountains the other way on the way down.
Once you get back to your car, head to Seward to celebrate your epic hike with a great meal at Firebrand BBQ or The Seward Brewing Company. Both make excellent post-hike meals.