12 Best Year round Day Trips from Seattle
Posted On February 24, 2020
Last Updated on April 20, 2023
One of the many wonderful things about Seattle is that there are so many things to do outside the city! Seattle is surrounded by a vast diversity of landscapes within a few hours, including islands, forests, mountains, orchards, farmland and desert canyons. In this post I'll talk about the 12 best day trips from Seattle from my perspective as a fourth generation Seattleite.
Each day trip also includes transportation options for getting there (does it require a car or not) and what to do when you're there. All of these are good winter day trips except for Mt St Helens. I drive an electric vehicle so I have included information about electric vehicle charging along each route as well.
I define day trips from Seattle as places that are within three hours. More than three hours (each way) doesn't feel like an enjoyable day trip to me. The ones over two hours all have elements that make the journey itself part of the experience, such as scenic driving on the way to Mt Rainier National Park or a ferry ride to an island. Although I've included Olympic National Park, I have not included the Hoh Rainforest near Forks as it's too far from Seattle (4-5 hours each way) for a day trip and much better for a weekend adventure. There are lots of other places to see amazing old growth forest that are much closer. I also left out North Cascades National Park, even though it's amazing, it really requires two days.
Use these links to jump to the day trips from Seattle in this post that appeal to you:
This post contains affiliate links, which means if you make a purchase I may receive a small commission at no additional cost to you.
#1 – Bainbridge Island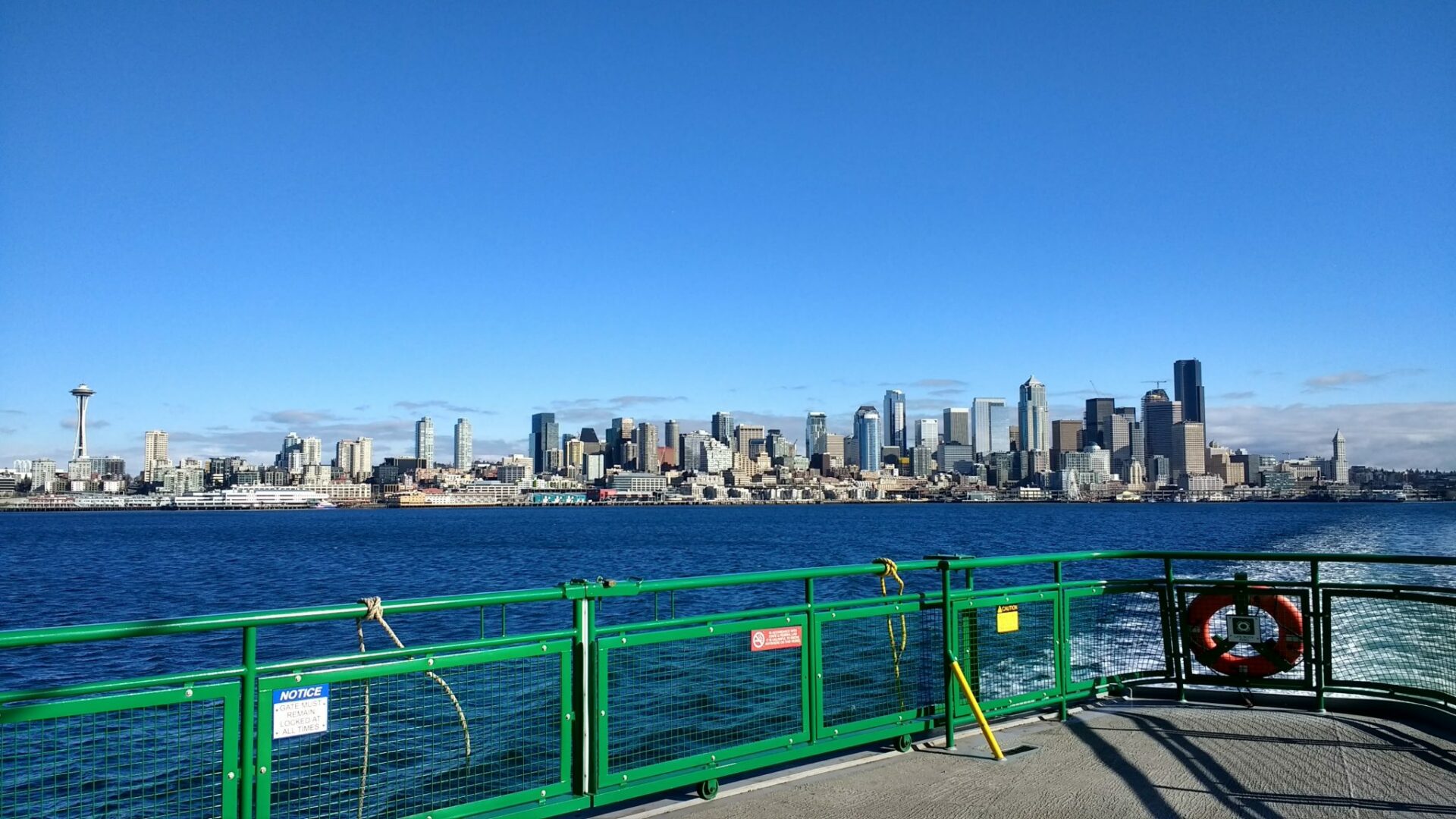 A day trip from Seattle to Bainbridge Island is a year round excursion with hiking, wineries, shops, restaurants and a park right next to the ferry this is an easy car free option.
Travel time from Seattle 30 minute ferry ride, plus short driving or bus times if you visit different parts of the island.
Highlights
Take in the fantastic view of Seattle's skyline from the ferry ($8.65 round trip)
Lunch in one of Bainbridge's fun restaurants (such as J'aime Les Crepes, Harbor Public House, Blackbird Bakery or the Streamliner Diner)
The Bloedel Reserve – Botanical Gardens with a couple miles of trails ($17)
Suquamish Museum – learn about the first people of Seattle who now live around the Salish Sea, including Chief Si'ahl (Duwamish and Suquamish) for whom Seattle is named, combine this with a visit to Chief Si'ahl's grave ($5)
Suquamish Seafoods – purchase super fresh local seafood
Japanese American Exclusion Memorial – located on the opposite side of the bay from the ferry terminal, this memorial remembers and honors the American citizens of Japanese descent who were forced from their homes and into internment camps during World War II.
Take a hike on one of the many wonderful hiking trails on Bainbridge Island.
Best time of year: all year! I really like the Bloedel Reserve when the springs flowers are blooming, especially the rhodedendrons (March through May). The ferry ride is most fun in the summer when you can soak up the sunshine on the deck but everything is open and accessible year round.
Watch out for: Long ferry delays (only a concern if you're bringing a car) on Friday evenings leaving Seattle and Sunday afternoons returning in the spring, summer and early fall
Driving Information: If you're bringing a car on the ferry, it costs quite a bit more ($40 return in the summer, a bit less in winter). You can drive to all the locations mentioned above, although parking in the town next to the ferry can be challenging on weekends.
Electric Vehicle Charging: Currently there are not any fast chargers for electric vehicles on the island, but the distances are short so you probably don't need one. There are several Level 2 chargers.
Getting there without a car: Getting to Bainbridge Island is easy without a car (easier than with a car). Just head downtown and get on the ferry! There is bus service available on the island (or bring a bike and ride around) and all the highlights are accessible by bus except for Gazzam Lake and Suquamish Seafoods.
#2 – Vashon Island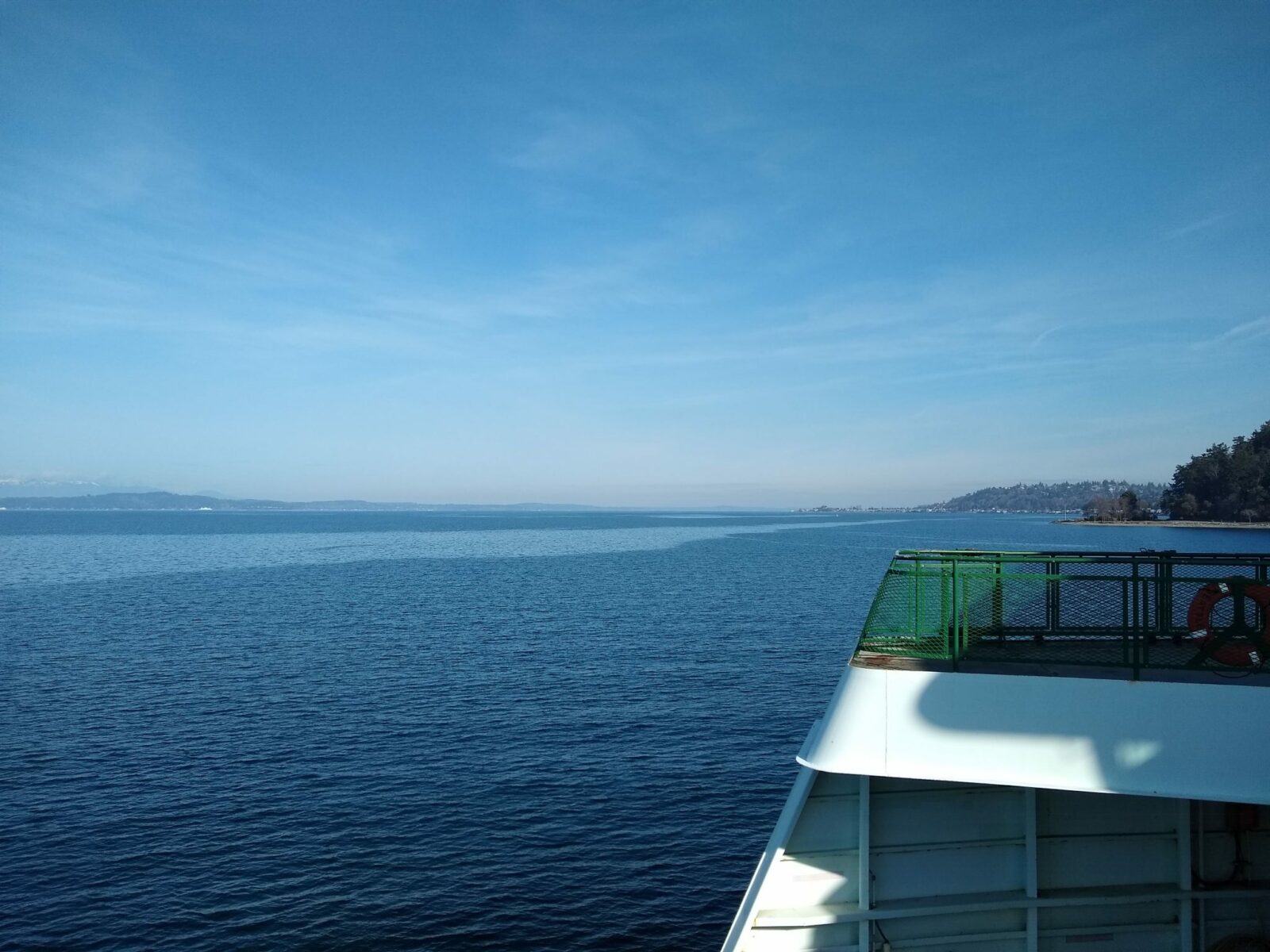 For a slow paced year round transit accessible day trip from Seattle that's focused on a mellow forest hike followed by a beer or coffee in a charming town, Vashon Island is the place.
Travel time from Seattle: 1 hour 30 minutes
Highlights
Best time of year: All year!
Watch out for: Long ferry lines on the Seattle side on Friday nights and on the Vashon side on Sunday afternoons
Driving Information: Like Bainbridge, driving a car on the Vashon ferry costs more ($25.95) but gives you more flexibility. If you have access to a car, Vashon is a fun and traffic free place to drive around and explore. Drive to the Fauntleroy ferry terminal in West Seattle and hop on the ferry.
Electric Vehicle Charging: Currently there are not any fast chargers for electric vehicles on the island, but the distances are short so you probably don't need one. There are several Level 2 chargers.
Getting there without a car: This post talks in detail about a car free trip to Vashon Island. Bus service is available on the island so you can hike and explore the village without a car.
#3 – Tacoma
Tacoma is a particularly good day trip from Seattle for those who are into art and a fun urban scene. If you haven't been to Tacoma recently, it's changed a lot in the past few years! You can take a fun train ride here too.
Travel time from Seattle: 30-60 minute drive (traffic can be intense), 45 minute bus ride, one hour train ride
Highlights
Best time of year: All year!
Watch out for: Epic traffic between Seattle and Tacoma, however if you are taking a day trip from Seattle, you'll likely be going toward Tacoma in the morning and returning in the afternoon which minimizes the traffic hassle
Driving Information: Other than traffic, driving is straightforward and 30-60 minutes.
Electric Vehicle Charging: There is a fast charger at the LeMay car museum between the Tacoma Dome and downtown. There are also many fast chargers between Seattle and Tacoma
Getting there without a Car: You can take either Amtrak or the Sounder train from Seattle to Tacoma. There are limited schedule options for the train. The train station is not downtown, but a quick light rail trip will get you there. You can get to Point Defiance and all the highlights mentioned here on transit. Sound transit buses are also a good option going from Seattle to Tacoma and are more frequent.
#4 – Snoqualmie Pass Hiking or Snowshoeing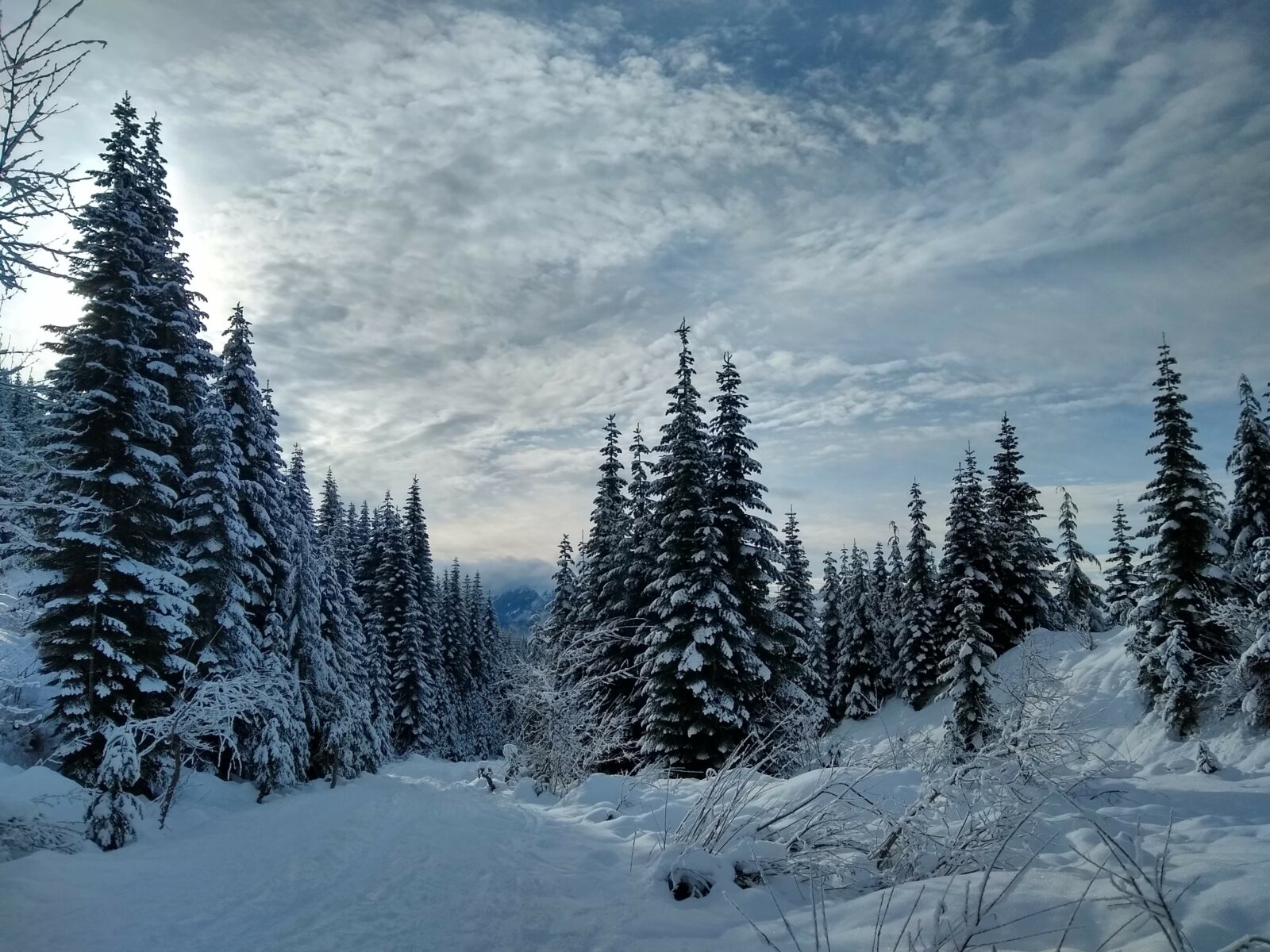 Looking for some outdoor adventure in the mountains without too much travel time? A day trip from Seattle to Snoqualmie Pass for a hike (summer) or a snowshoe outing (winter) is perfect.
Travel time from Seattle: 1 hour (sometimes longer in winter depending on road conditions)
Highlights (Favorite Hike and Snowshoe trails at Snoqualmie Pass)
Best time of year: For summer hikes without snow, July through October is the best time at Snoqualmie Pass. For snowshoe outings, there is usually enough snow by mid December which lasts into April most years. In between (May, June and November) the in between conditions are not ideal for hiking or snowshoeing at Snoqulamie Pass.
Watch out for: Crowds at trailheads in summer and winter (try later in the day or a weekday if you don't like crowds), avalanche control work closing the pass in winter, winter driving conditions on Snoqualmie pass, summer weekend traffic.
Driving Information: Most trailheads in Washington require a Northwest Forest Pass to park and a Washington Snopark pass in winter. You can purchase a one day permit online before you go (which I recommend, you can't always get them at the trailhead). If you're a local or staying awhile, you can get the annual pass. Snoqualmie Pass is frequently closed for periods in winter for avalanche control or dangerous driving conditions, check the report before heading out.
Electric Vehicle Charging: There is fast charging at Snoqulamie Pass and also in North Bend.
Getting there without a Car: Unfortunately getting to Snoqualmie Pass without a car is a challenge. There is a bus that goes to the pass, but it doesn't stop at any other stops.
#5 – Whidbey Island, Boeing Factory and the Skagit Valley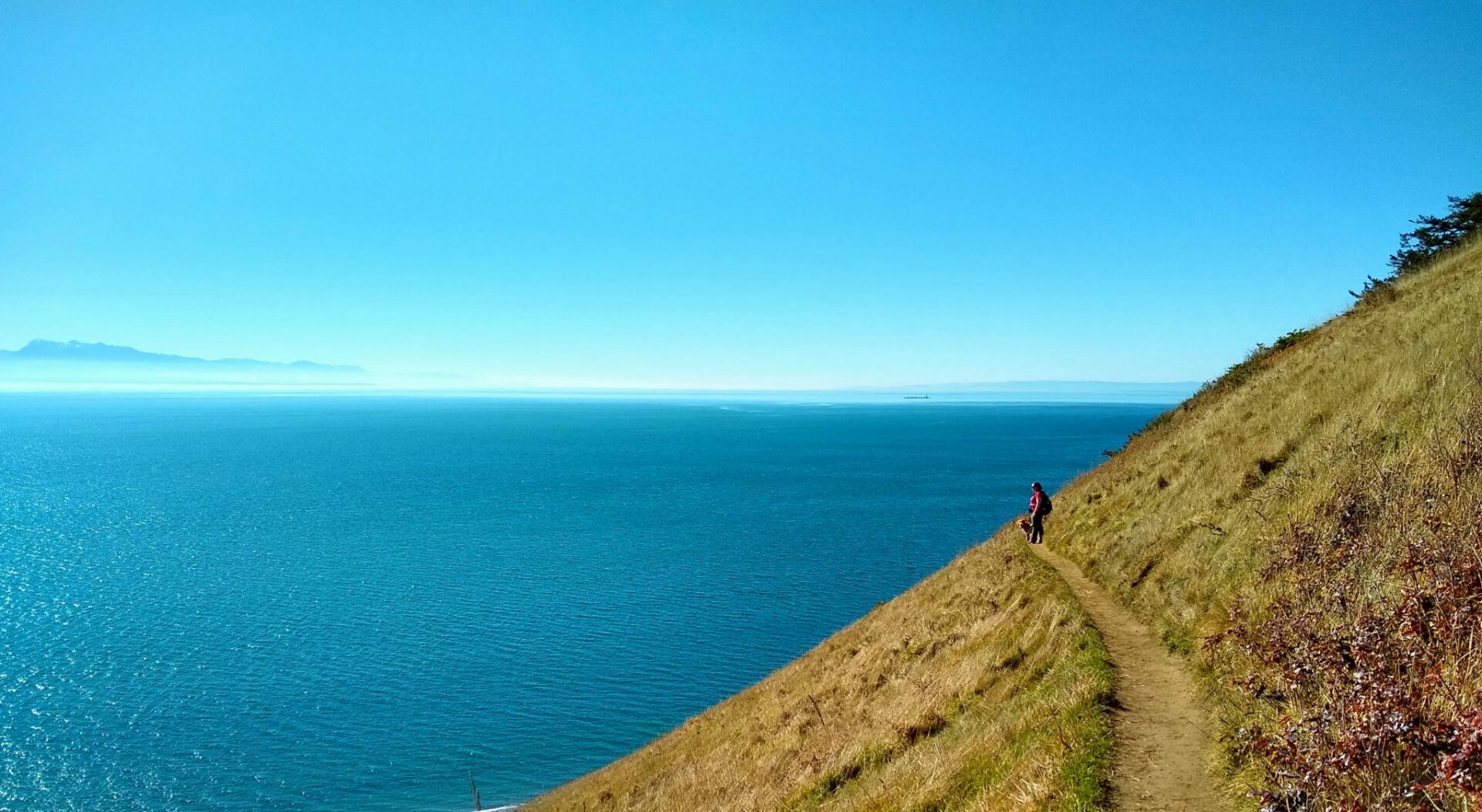 A day trip from Seattle to Whidbey Island will take you to beautiful beaches, hiking trails and through picturesque farmland in view of the mountains. While this is a perfect day trip, you might decide you need to stay longer! You can take the ferry to the island and back, or make it a loop and visit the agricultural area of the Skagit Valley as well. The Boeing Factory is located near the ferry terminal and is well worth a visit.
Travel time from Seattle: 2 hours (varies a bit depending on exactly where you go)
Highlights
Ferry ride ($12.25 for car and driver each way, $5.20 for additional passengers)
Boeing Airplane Factory Tour ($27 for tour, $12 for viewing gallery only) – if you've ever ridden on an airplane, I highly recommend the Boeing Factory Tour! Even if you're not that "into" airplanes, basically any human is going to find the process of building an airplane fascinating. You can either take the 90 minute tour (worth it!) or just go to the sky deck viewing platform where you can watch the assembly line in action. The Boeing tour is located very near the Mukilteo ferry terminal.
Historic Coupeville – Check out the charming restaurants in Coupeville and settle in to try the world famous Penn Cove mussels from the bay.
Visit a winery, brewery or distillery – there are so many on Whidbey Island! Check out this comprehensive round up of the best wineries and breweries and here for distilleries.
Ebey's Landing hike – one of my favorite hikes in the state, a four mile loop with about 300 feet of elevation gain features mountain and water views, eagles and a beach.
Deception Pass State Park – beaches, trails, a small lake and epic views, this park has it all
Skagit Valley Tulip Festival – if you're visit is in March or April, make sure to see the gorgeous mulitcolored daffodil and tulip fields in the Skagit Valley.
Best time of year: If you're going to include the Skagit Valley, make it in March or April when you can see the incredible daffodils and tulips! Otherwise, this is a good day trip from Seattle year round.
Watch out for: Crowds in the summer on the ferry, crowds in the summer at Ebey's Landing and Deception Pass, traffic southbound on I-5 between the Skagit Valley and Seattle on Sunday afternoons in the summer (go the other way if doing the loop to avoid this, the ferry line is more enjoyable!)
Driving Information: You can do this as a loop driving north from Seattle through the Skagit Valley to Burlington and across the Deception Pass bridge to Oak Harbor, then south down the island and return on the ferry. You can also just take the ferry and explore wherever you like, returning the same way. For traffic reasons, if doing the loop I'd recommend starting with the drive and returning by ferry.
Electric Vehicle Charging: There is not fast charging on the island (there are level 2 chargers, I have used the one in Langley that works great), but there is in Mukilteo, Everett and Burlington.
Getting there without a Car: You will need a car for this trip.
#6 – Lopez Island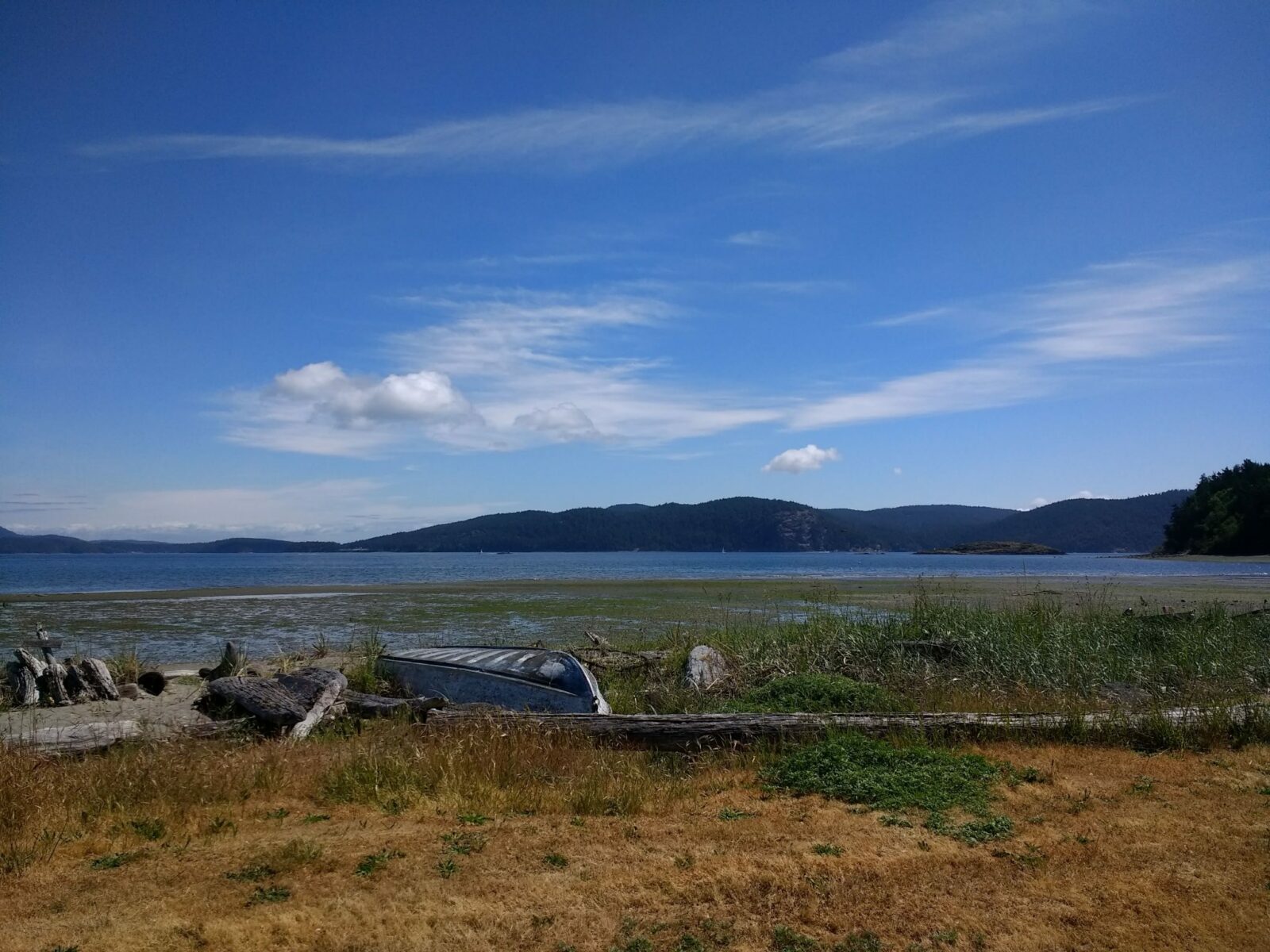 A day trip from Seattle to Lopez Island is longer and more involved than Bainbridge, Vashon or Whidbey, but you can really get away from it all! If you're looking for a quiet island with a foodie scene and beautiful scenery, Lopez is for you! Consider bringing a bike as this is the perfect place for mellow bike riding.
Travel time from Seattle: 2 hours to the Anacortes ferry terminal, 50 minute ferry ride
Highlights
Ferry ride from Anacortes to Lopez Island ($49.85 round trip for car and driver plus $14 for each additional person)
Holly B's Bakery – the best bakery in Washington State in this local's opinion. Get a cinnamon roll!
Ursa Minor – spectacular and expensive-but-worth-it super local food that changes regularly. Required for foodies!
Spencer Spit State Park – forested trails, one of the best beaches in Washington and a spit that gives a beautiful view of surrounding islands, this is a peaceful and beautiful place to spend a few hours (kayak rental available in summer)
Fisherman's bay – a flat trail around the outside of the bay right by the village where the shops and restaurants are
Lopez Island Vineyards – beautiful vineyard and friendly, low key wine tasting
Biking – if you have access to a bike (or you can rent one here), this is a great place to ride a bike and explore for a few hours (or get between the other highlights listed here)
Best time of year: Summer is gorgeous and warm, also this is when the ferry reservations fill up fast (not an issue if you're planning to bike instead). This is a good trip all year, though hours of businesses may be more limited (check before your trip)
Watch out for: ferry crowds (if bringing a car), missing the last ferry for the day
Driving Information: If you're driving a car on the ferry, reservations are highly recommended and necessarily in the summer and on holidays. Make sure to get to the ferry terminal an hour early and pay attention to the time so you don't miss your ferry back! If you're driving to Anacortes but not driving on the ferry, there are many paid parking lots around the ferry terminal, make sure to allow extra time for parking and getting down to the dock.
Electric Vehicle Charging: Lopez Island and Anacortes do not have fast charging stations, the closest fast charger is in Burlington (20 miles from the ferry)
Getting there without a Car: Getting to Anacortes without a car is possible, but not for a day trip (it's a four hour one way trip). If you want to leave your car behind in Anacortes, I recommend having a bike (or arranging for bike rental to drop off at the ferry when you arrive) as there is no public transportation on the island.
#7 – Bellingham
Beer lovers, get ready to try them all! Bellingham has a big craft beer scene, access to lots of outdoor activities and is the departure point for the Alaska ferry.
Travel time from Seattle: 2 hours
Highlights
Scenic drive on Chuckanut Drive between Burlington and Bellingham (if driving, if on the train, you'll see it too!)
Oyster Dome hike: a spectacular view hike (need a car to access it) near Bellingham, stop on the way there, 5 miles round trip and 1000 feet of elevation gain
Whatcom Falls Park – beautiful park with trails and a waterfall
Sehome Arboretum – forested trails adjacent to the Western Washington University campus
South Bay Trail – this converted rail trail goes on a boardwalk in the water part way of it's 2 mile length between the Fairhaven neighborhood and downtown Bellingham
Try the extensive craft breweries
Village Books – a gigantic independent bookstore!
Calophon Cafe – tasty food, below the bookstore (order African peanut soup!)
Tony's Coffee – good coffee in the Fairhaven neighborhood
Best time of year: All year!
Watch out for: big crowds around festivals, especially the Ski to Sea event on Memorial Day weekend, Bellingham is often colder and windier than Seattle during the winter
Driving Information: Avoid driving north from Seattle between 2 and 6 pm, it will take much longer! If you're driving, make sure to take the slightly slower route along Chuckanut Drive between Burlington and Bellingham. Amazing views along this route!
Electric Vehicle Charging: There is fast charging in Sehome Village near the Western Washington University Campus. There is also fast charging along the way in Burlington, Everett and Edmonds.
Getting there without a Car: Taking the beautiful Amtrak Cascades to Bellingham is a great option for a day trip. The train tracks are not in the same place as the freeway and the train is way more scenic! For a day trip, you would want to take the morning train which departs Seattle at 7:45 am and arrives in Bellingham at 10 am. The return train leaves just before 8 pm and gets back to Seattle at 10 pm.
If you want a shorter day, you can always take the Amtrak bus one way (more time options) or you could take the Bolt Bus (which is also cheaper). You can get around Bellingham to the highlights listed above (except for Chuckanut drive, which you would see from the train, and Oyster Dome) on transit or by walking from the train station.
#8 – Yakima
A different climate and geography make Yakima feel a world away from Seattle! The vast amounts of farmland yielding the majority of hops used in the craft beer industry, miles of vineyards and orchards of apples, pears, peaches and cherries make this a local food lover's dream. You can combine a day trip to Yakima with a summer loop through Mt Rainier National Park to make a weekend out of it too!
Travel time from Seattle: 2 hours and 30 minutes
Highlights
Cowiche Canyon hike – especially wonderful in spring (wildflowers) and fall (fall colors) this mostly flat walk for up to 4 miles through a canyon can include hiking to a winery!
Umtanum Canyon hike – a bigger canyon than Cowiche, between Yakima and Ellensburg, up to 6 miles with 500 feet of elevation gain.
Wine tasting – the entire area around Yakima is part of Washington's fast growing wine scene. Find one that looks like fun and stop in. This wine tasting is come as you are and affordable! You can visit the winery at Cowiche Canyon as a starting point
Los Hernandez Tamales – located in Union Gap and now with a couple of other locations nearby, Los Hernandez does tamales better than anyone and has become famous! Go in April or May and get the Asparagus pepper jack tamales – amazing!
Eat tacos at Fiesta foods (in the warmer months they have a taco truck in the parking lot)
Pick your own taste of Yakima's amazing fruit at West Valley U Pick
Best time of year: My favorite times to visit Yakima are spring (April and May) and late summer/fall (September/October). At that time of year, Yakima is warm and sunny while it tends to be gray and wet on the west side of the mountains. Fall is an especially good time to take in the bountiful harvest!
Watch out for: Yakima gets much hotter than Seattle in the summer, traffic on I-90 returning to Seattle on Sunday afternoons in summer, traffic conditions on Snoqualmie pass
Driving Information: The fastest way to get to Yakima on a day trip from Seattle is to cross Snoqualmie Pass on I-90 and then head south and east from Ellensburg on I-82. I highly recommend driving one way on Canyon Road between Ellensburg and Yakima. It takes about 20 minutes longer but the scenic route is well worth it! Consider a loop going one way through Mt Rainier if it's the time of year that Highway 410 is open over Chinook Pass (late May through mid November).
Electric Vehicle Charging: Walmart in Yakima has fast charging (in my experience Walmart is a very reliable fast charging option). Fast charging is also available in Ellensburg, Cle Elum, Snoqualmie Pass and North Bend.
Getting there without a Car: The only way to get there for a day trip without a car is to fly, which is a bit of a hassle. You will also need a car to get to all the highlights mentioned above.
#9 – Mt Rainier National Park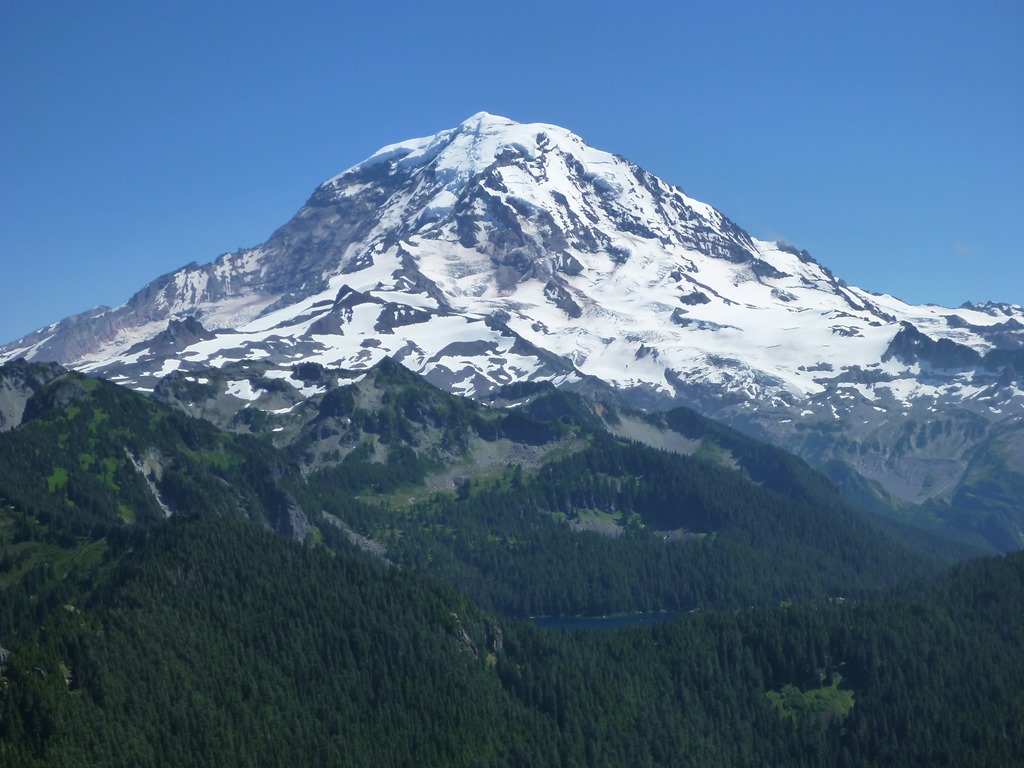 Mt Rainier is a classic day trip from Seattle and well worth the drive. Seasonal considerations are extremely important in as your options are quite different depending on the time of year. This is addressed below. This is a great trip for anyone who loves the outdoors or National Parks.
Travel time from Seattle: 2-3 hours depending on which part of the park you are going to.
Highlights
Views of Mt Rainier (if the mountain is "out"!), this is what everyone wants to see with good reason! But don't let the lack of a view stop you from going since Mt Rainier has so many other wonderful things to offer such as..
Wildflowers – Mt Rainier is world famous for it's gorgeous alpine wildflowers (late July and early August). Here are my suggestions for the best places to go to see them and avoid the crowds
Waterfalls – Mt Rainier has spectacular waterfalls! A couple of great places to see them are Narada Falls (short walk from the road on the way to the Paradise Visitor Center) and the incredible and uncrowded waterfalls on the eastside of the park; May and June are a particularly good time to see waterfalls
Snowshoeing – snowshoeing can be enjoyed around the Paradise visitor center from November or December all the way until May or June (depending on the snow pack depth that year).
Best time of year: It really depends on what you want to experience. Mt Rainier National Park is open all year, though some areas are not open all year. Theses guidelines should help you determine the best places to go based on the time of year you're visiting or planning your timing around what you want to see
November – April: Winter conditions, all roads on the east side of the park are closed. Expect to encounter snow. The park service requires (and checks) that you have chains with you from November 1st through April 30th, regardless of the current road conditions. This is a good time to visit Paradise and gawk at the epic amount of snow and take in winter views of Mt Rainier. For more solitude, you can also go to the northwest corner of the park at this time of year.
May – early July: Spring conditions, roads start to open in late May but expect deep snow in the high country. This is a great time to visit the lowlands of the park and see waterfalls and old growth forest. Drive up to Paradise if the forecast is favorable for seeing the mountain or if you want to try some spring snowshoeing!
Late July – Late August: Summer is short but spectacular! This time of year is when the wildflowers are out and usually the trails are snow free and all the roads are open. Check out my perfect summer day trip for Mt Rainier for tips on avoiding the crowds.
September – October: Fall brings shorter days and colder temperatures but (usually) not snow yet! Spectacular fall colors in the high country in September!
Watch out for: epic crowds in July and August – especially on weekends and especially at the Paradise area, frequent road closures and washouts in winter, updated road conditions are available for the park here, rapidly changing and unpredictable weather, deep snow in high country until July.
Driving Information: Mt Rainier is crowded in the peak summer months. On weekends, often there is a multi-hour wait to get into the park. You can avoid this by arriving after 3pm (which works on our long summer days) or very early in the morning, or on a weekday. The cost to enter the park is $30/vehicle (unless you have a federal lands pass).
Electric Vehicle Charging: Mt Rainier National Park does not have an option for reliable EV charging. The closest charging is in Tacoma and Auburn, which does not give me enough range to get to the park in my EV (mine has a 100 mile range). If your EV has a longer range, you might be able to do it.
Getting there without a car: To get to Mt Rainier, you'll either need to drive or take a tour. Taking a tour is a fantastic way to not have to worry about driving or parking and let an expert show you around. I highly recommend Evergreen Escapes, in fact, I used to be a guide for them. Their guides are the best.
#10 – Mt St Helens National Monument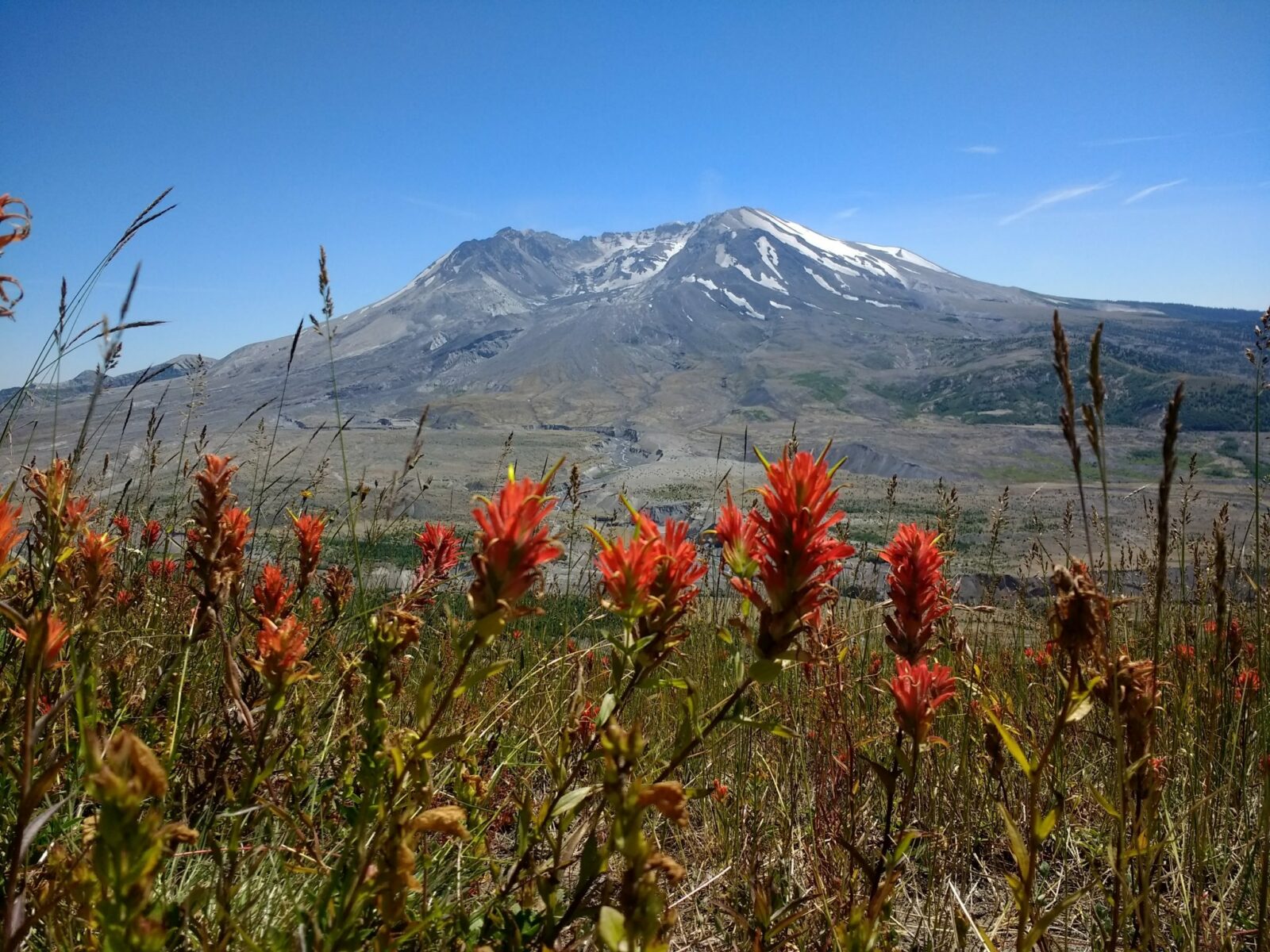 Geology nerds rejoice! On May 15, 1980, Mt St Helens erupted and changed the landscape forever. Here you can see up close the destruction and recovery of nature after this historic eruption. There's nothing like the landscape of Mt St Helens, don't miss it! In my opinion, this day trip is only worth it if you'll be able to see the mountain when you arrive (check the webcam for current conditions). The road to the Johnston Ridge Observatory is open mid May through October.
Travel time from Seattle: 3 hours
Highlights
Other worldly volcanic landscape
Learning about the geology of the Pacific ring of fire and how it impacts the land and people
Gorgeous wildflowers in July
Impressive in-your-face views of a mountain with it's top blown off and the massive crater left behind
The film at the Johnston Ridge Observatory (seriously, it's really good and has a spectacular ending) ($5)
The buried A frame house
The drive from I-5 to Johnston Ridge Observatory where you see the path of destruction of the volcano and the clear lines of where the blast zone was
Walk along the Boundary Trail from Johnston Ridge
Best time of year: The Johnston Ridge Observatory is open mid May through October. The best chance of a clear day is in July and August, but any clear day when it's open will be great!
Watch out for: complete lack of shade anywhere (trees were obliterated by the volcano), hats, sunglasses, sunscreen and water are critical, I-5 traffic
Driving information: Getting to Mt St Helens is a straightforward, though long, drive from Seattle, mostly on I-5. The Johnston Ridge Observatory is 55 miles from I-5.
Electric Vehicle Charging: The closest fast charging is in Castle Rock, where you will leave I-5. If you have a range of over 110 miles, you should be able to do it.
Getting there without a Car: Getting to Mt St Helens National Monument requires a car, unless you are on an organized tour.
#11 – Olympic National Park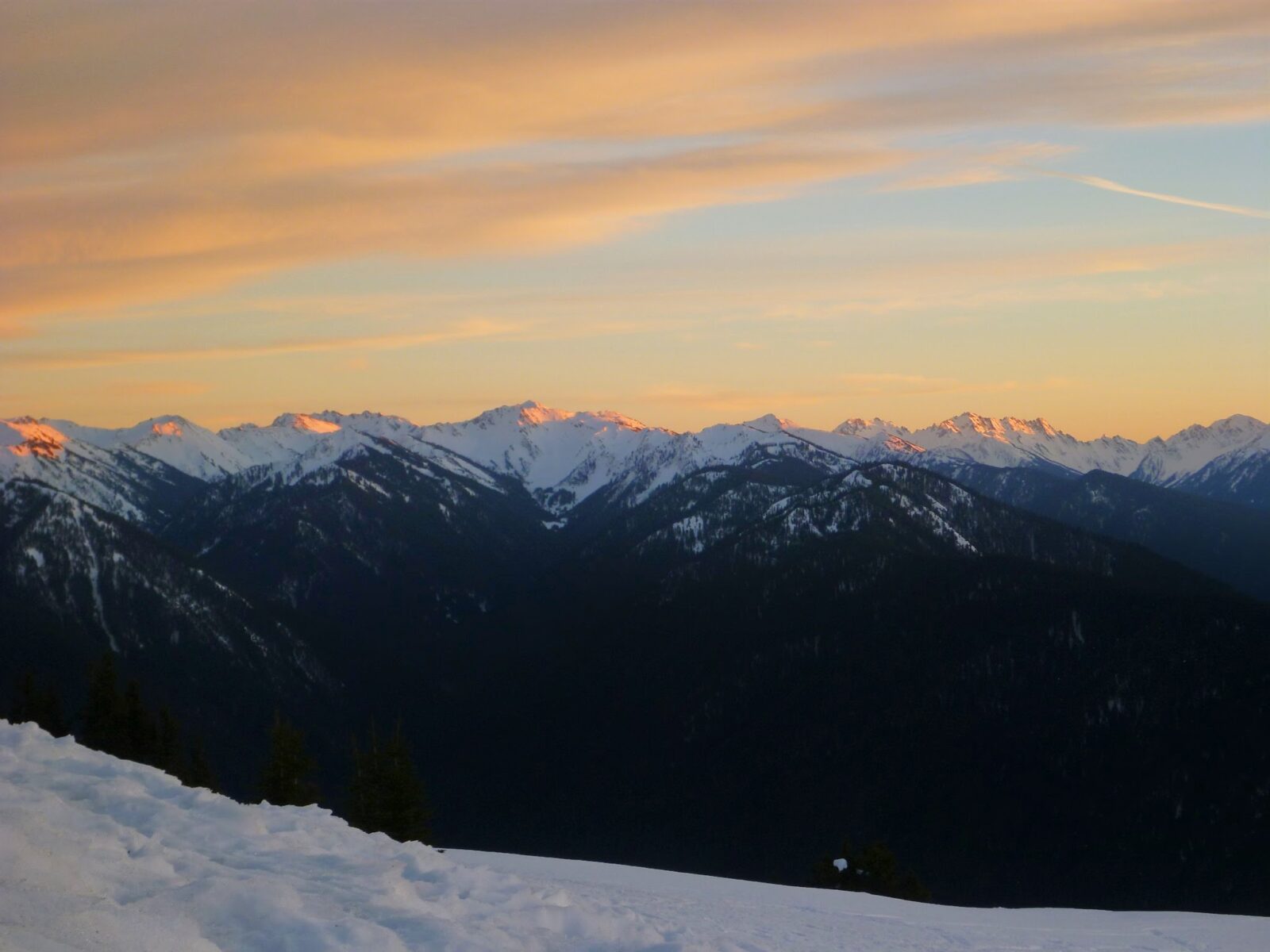 Olympic National Park is world famous for it's stunning old growth forests, spectacular mountain vistas, rushing rivers, cascading waterfalls, hot springs, remote beaches and more. It's far too much to see in a day (if you'd like to spend more time there, check out my three day itinerary for Olympic National Park). For a day trip from Seattle, you have to limit yourself to certain parts of the park, but you'll still get to have an amazing experience.
You have a couple of options for a day trip from Seattle:
Go to the north side of the park, near Port Angeles (Hurricane Ridge, Lake Crescent)
Go to the southeast side of the park, near Aberdeen (Quinault Rainforest, Ocean beaches)
Travel time from Seattle: Approximately 3 hours (depending on exactly where you go)
Highlights – North side of the park
Ferry ride from Seattle to Bainbridge Island ($40 round trip for car and driver plus $8.65 round trip for each passenger)
Hurricane Ridge – if weather provides a view (you can check at the Port Angeles Visitor Center) the view here is absolutely spectacular. There are many hikes of various lengths you can do here, or you can enjoy a picnic and take in the view
Hurricane Hill hike or snowshoe (depending on the season – there are guided snowshoe hikes here on winter weekends)
Marymere Falls – This 2 mile round trip hike (you can make it longer by connecting it to a loop around Lake Crescent Lodge) features old growth forest (giant ancient trees!) and a lovely waterfall. It's mostly flat, though there is some climbing (a couple hundred feet) just before the waterfall)
Lake Crescent – this beautiful and enormous lake is a must see. The Lake Crescent lodge offers rowboat and canoe rentals
Highlights – Southeast part of the park
Lake Quinault – a stunning lake surrounded by ancient trees! Stop into the lodge or forest service office to determine which trails are open (there are frequent downed trees, especially in winter). There are multiple trails where you can get into the ancient forest without much elevation gain. At a minimum be sure to check out the 1/2 mile Quinault Rainforest nature trail and the Giant Sitka Spruce tree! I also recommend having lunch at the historic Lake Quinault Lodge
Tidepooling at Ruby Beach – if you can time it right, Ruby Beach is a fantastic place for tidepooling!
Stroll Kalaloch Beach and find the Tree of Life, a giant tree with exposed roots and erosion takes the ground away beneath it
Best time of year: Olympic National Park is open all year and most of the roads you get to in a day trip are open. Make sure to check the road conditions as there are frequent storms which can damage and close roads during the winter. The best time of year to go to Hurricane Ridge is either a sunny winter day or during the summer. Hurricane Ridge is only open on weekends in the winter and is often closed for the month of April. Winter is of course much rainier, but you are visiting a place known for it's rain so embrace it! If you don't mind rain, winter is a great time to visit the rainforests and beaches. July and August have the sunniest weather and are the most crowded.
Watch out for: closed roads due to storm damage, crowds in July and August, picking up a Canadian cell phone signal (especially at Hurricane Ridge), long waits for the ferry with a car on Sunday afternoons returning to Seattle, deer on the Hurricane Ridge road
Driving Information: The fee for Olympic National Park is $30/vehicle. Make sure to check road conditions, especially in winter.
Electric Vehicle Charging: Fast charging is available in Port Angeles in multiple locations as well as Olympia. Level 2 chargers are available at the Lake Crescent Lodge and Lake Quinalt Lodge.
Getting there without a Car: Similar to Mt Rainier, Evergreen Escapes offers a wonderful day trip tour to Olympic National Park. This is the best way to see the park without a car.
#12 – Victoria, British Columbia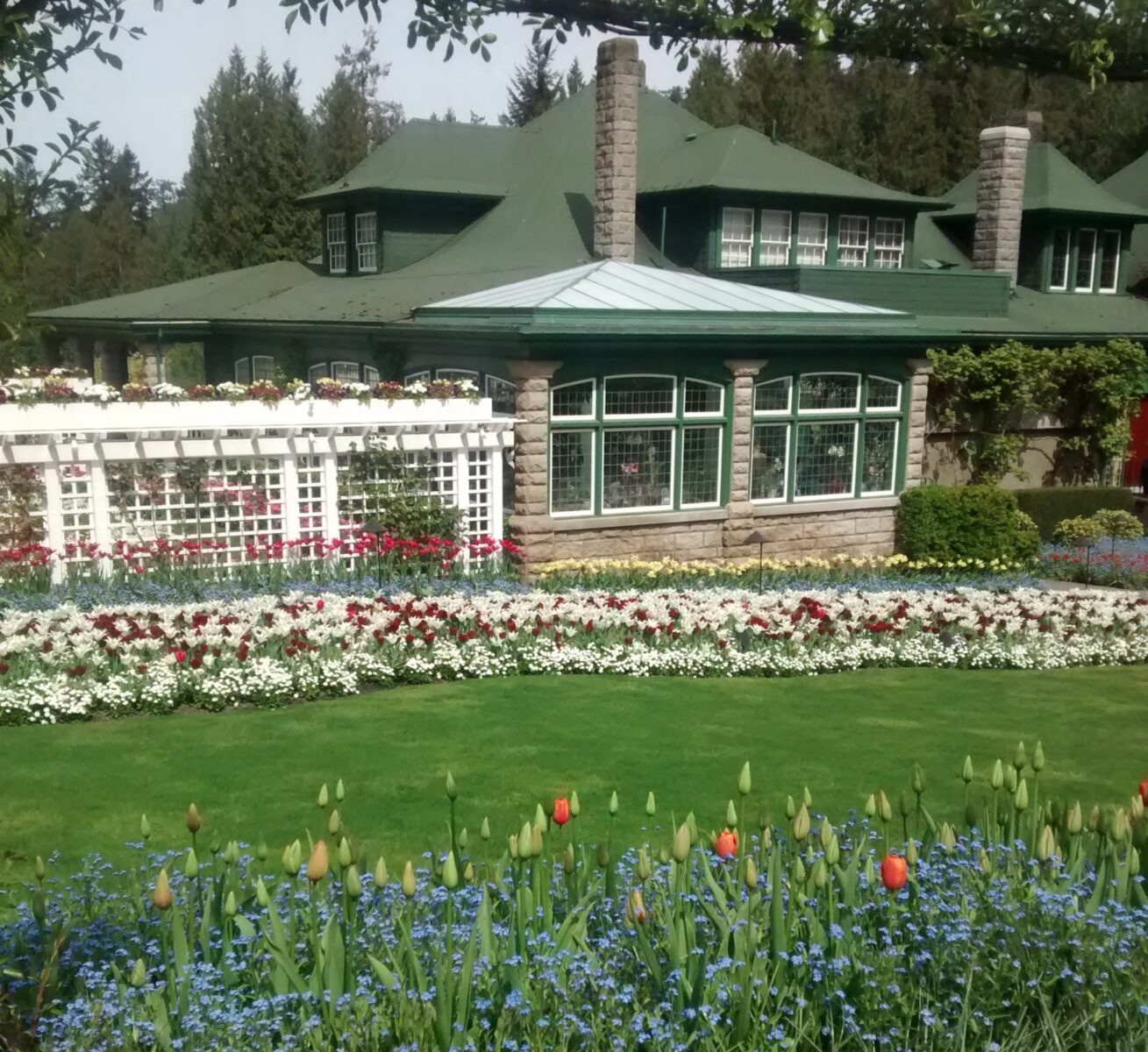 The Victoria Clipper departs from downtown Seattle and takes you straight to Victoria in under three hours, car free! If you brought your passport and want to enjoy a scenic boat journey with the possibility of seeing whales to a fun Canadian town then this trip is for you!
Travel time from Seattle: 2 hours, 45 minutes on the Victoria Clipper Ferry (passenger only)
Highlights
Afternoon Tea – pro tip: skip the pricey Empress Hotel (although you should pop in and check out the lobby) and have your afternoon tea at Butchart Gardens (reservations recommended) or have lunch and tea at Murchie's on Government Street
Walk around the inner harbor and parliament grounds – there's lots of boat, float plane and human action in the inner harbor and the parliaments buildings are beautiful
The rose garden beside the Empress Hotel
Butchart Gardens ($20-$35 depending on the season)- Super popular and gorgeous Butchart Gardens is not to be missed! I've been to it in every season and there's always something to see (I'm a particular fan of it during April and May with spring flowers)
Stroll the shops on Government Street, especially Murchie's Tea, Munro's books and Roger's Chocolates
Royal BC Museum ($18) – collections of Northwest Coast art as well as traveling exhibits
Martime Museum ($10) – all about the extensive maritime history of British Columbia
Best time of year: Similar to Seattle, Victoria has it's sunniest weather in July and August. This is also a time when it's extremely crowded with tourists. If you're ok with a bit of rain, you can also save a ton of money by going to Victoria in the off season – the Victoria Clipper is much less expensive, so is Butchart Gardens and if you decide you need more time and you want to stay overnight, hotels are also much cheaper. As I said above, I like visiting when the spring flowers are at their peak in Butchart Gardens (April and May).
Watch out for: Big crowds and more expensive attractions and transportation in July and August, potential storms causing rougher water on the ferry crossing, the exchange rate, your cell phone rate while in Canada, forgetting your passport
Driving Information: You can take a car to Victoria, but I don't recommend it for a day trip. The Victoria Clipper passenger ferry takes much less time than the car ferries that go from Vancouver or Port Angeles.
Whatever you decide to do, you can't go wrong with any of these amazing day trips from Seattle! Have an amazing time exploring our beautiful region.