13 Relaxing things to do on Vashon Island
Posted On April 4, 2022
Last Updated on April 20, 2023
Vashon Island is a beautiful island tucked in between Seattle and Tacoma but feeling a world away from the hustle and bustle of the city. A short ferry ride transports you to a land of peaceful forests full of birds, gorgeous uncrowded beaches full of driftwood, protected coves for kayaking and amazing food.
You can easily enjoy a day trip to Vashon from Seattle or Tacoma without a car, or you can bring your car with you for even more exploring. Maury Island was a separate island that is now connected by a human made isthmus (narrow strip of land) to Vashon.
Vashon Island is the homeland of the Suquamish and other Coast Salish people.
Related: 14 Fun things to do on Bainbridge Island
Where is Vashon Island?
Vashon Island is located in the Salish Sea (Puget Sound) between Seattle, Tacoma and the Kitsap Peninsula in Washington State. Vashon Island is part of King County.
How to get to Vashon Island?
Access to Vashon Island is by ferry only. You can bring a car on the ferry, or a bike or you can walk on.
There are two ferries to the island, one to Fauntleroy in West Seattle that goes to the north end of the island, and one from Point Defiance in Tacoma to the south end of the island. The crossing from Seattle is about 20 minutes and the one from Tacoma is only about 5 minutes.
Getting to Vashon Island with a car
If you're bringing a car to Vashon, you can drive on the ferry and around the island. Be aware that on Friday evenings and Sunday/holiday afternoons there may be long lines for the ferry and you could be waiting awhile (Fridays going to the island, Sundays or holidays returning to Seattle or Tacoma). Taking a car on the ferry is also more expensive. Once on the island, the distances are short and the drives scenic.
Getting to Vashon Island without a car (bike or on foot)
If you're leaving your car behind, or don't drive to begin with, you don't need to worry about lines for the ferry, you'll always be able to get on.
To walk on, you just purchase a ticket and follow the other walk ons when the ferry arrives. You'll also get off first before the cars, so make sure to pay attention to the announcements. Once you arrive on the island, you can go straight to the bus which is usually timed to meet the ferry times at both terminals. Vashon Island is part of King County and is served by King County Metro routes 118 and 119.
If you're bringing a bike, you'll generally board after the walk ons and before cars, and you'll get off the ferry before cars as well. There are ropes on the car deck you can use to secure your bike during the crossing.
Best time of year to visit Vashon Island
Like all islands in the Pacific Northwest, Vashon Island is absolutely glorious in the summer! Ferry lines are long and lodging is hard to find, but long sunny days make it absolutely wonderful anyway.
Vashon Island is also a wonderful place to visit year round, as long as you can get behind a little rain! I like to visit Vashon in spring and fall, when it's less busy but there are still plenty of sunny days. I'll admit I also like to come here in the winter, it feels like a real getaway from the city without a lot of complicated planning.
Things to do on Vashon Island without a car
These are all things to do on Vashon Island that don't require a car, however you can do them all if you're driving as well.
Hiking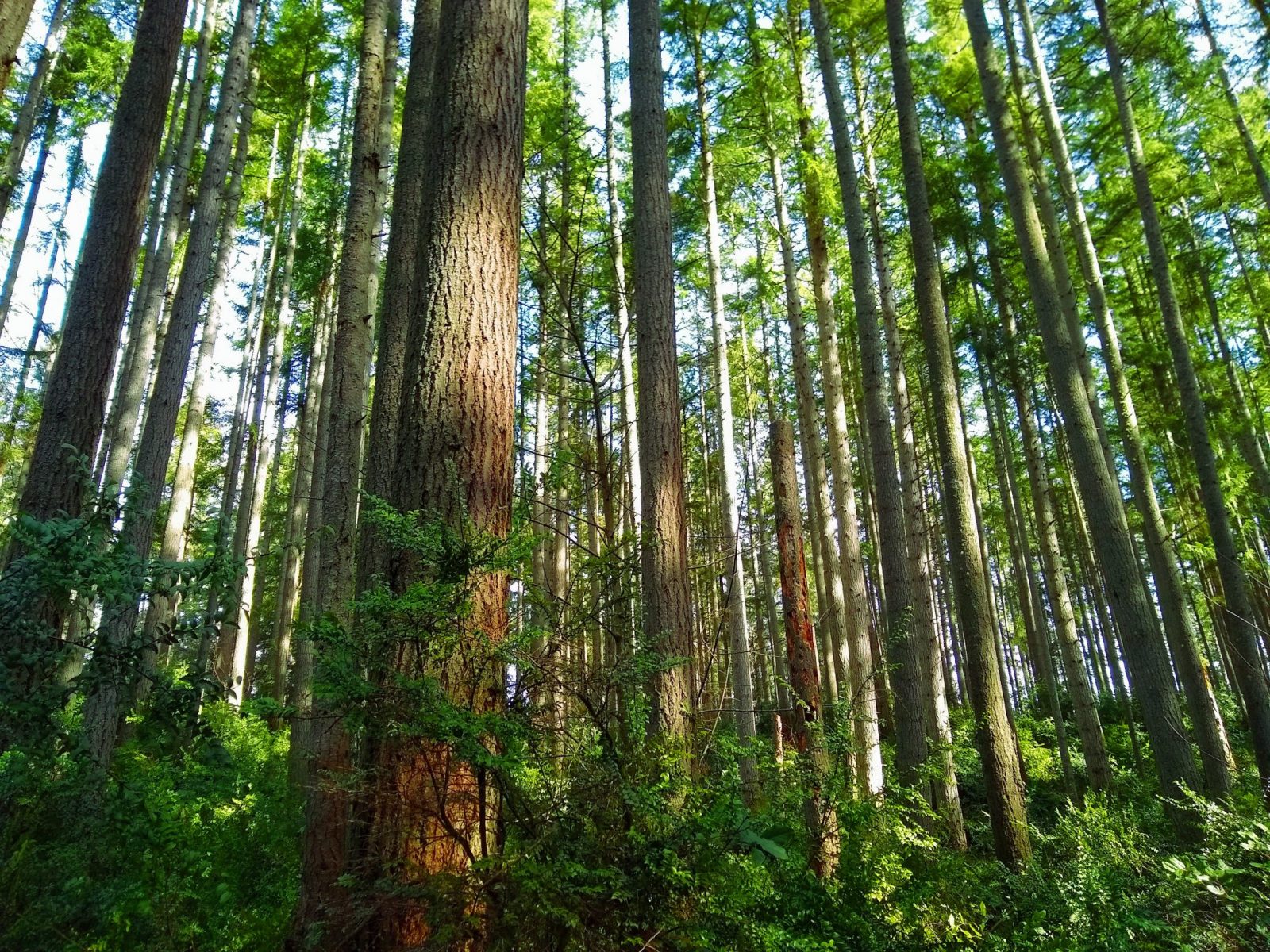 Vashon Island is a wonderful place for year round uncrowded hiking near Seattle and Tacoma. Anything from short forest and beach hikes to much longer hikes up to 10 miles through the forest can be yours here!
None of the hikes on Vashon Island require a parking pass and they are all dog friendly as long as your dog is on leash. You may encounter horses or bikes on the trail, but overall the trails are not crowded and I have never found this to be an issue.
Island Center Forest and Dockton Forest both have many miles of trails through the forest to explore. Island Center does not have access to the beach, though Dockton does if you get onto the right trails. The trails can be a bit confusing since there are so many, and I highly recommend downloading the excellent maps before you go for each park.
I love hiking on Vashon so much I have an entire article going into lots of detail about your best hiking options on the island!
Bike riding (bring your own or rent an e-bike)
Vashon is very bikeable, although there are plenty of hills around the island. All the more reason to rent an e-bike for exploring Vashon!
You can explore the roads on the island or bike on the trails if you want more of a mountain biking experience.
Explore downtown Vashon Island
Downtown Vashon is a small strip of art galleries, restaurants and shops similar to many of the islands in Washington State. There are some wonderful gems here including the Vashon Island Bookshop with new and used books and Giraffe, a gift shop with fair trade items from all over the world.
Visit the Vashon Heritage Museum
The Museum is a must see for history buffs. This small museum in a historic building in downtown Vashon tells the story of the island and its people.
Visit one of the amazing bakeries
Like many islands in the Pacific Northwest, Vashon has not one but two amazing bakeries! Snapdragon is far more than a bakery, with an amazing atmosphere and the most epic sandwiches. It's a vegetarian joint but meat eaters will love it too. They have fun indoor seating as well as a garden like patio out back and picnic tables in the front. Make sure to get one of their amazing pastries, the cinnamon rolls are seriously epic.
The Vashon Island Baking Company also has amazing pastries for a more traditional bakery situation without a seating area. Their meringues are particularly incredible!
Wine tasting
Vashon Island has several wonderful wineries with tasting rooms. Most Vashon wineries are only open for tasting on weekends, so keep that in mind if you're visiting on a weekday. Palouse Winery and Vashon Winery are both accessible by transit just off the bus line.
Maury Island winery is another wonderful stop but it's farther away from the bus line and better to visit with a car.
Try local beer
Vashon Island has a couple of amazing breweries, Camp Colvos and the Vashon Brewing Community Pub.
Both are located in the downtown area along Vashon Highway. Camp Colvos has beer as well as hand pies if you're looking for something to eat as well (they're delcious!). Vashon Brewing Community Pub has a limited menu pacific northwest pub favorites like pretzels, mac and cheese as well as a couple of sandwiches and soups.
Drink amazing coffee
Coffee is another staple guaranteed to be delicious on every pacific northwest island, and Vashon Island is no exception!
Try the Burton Coffee Stand for beautiful coffee on a quiet corner further south on the island, or Vashon Island Coffee Roastery on Vashon Highway just south of town. In the town of Vashon, Cafe Luna or Cafe Vino Olio are a good bet.
Things to do on Vashon Island with a car
These things to do on Vashon Island are more than half a mile from a bus stop, which makes them more convenient if you're driving. If you're traveling around Vashon by bike, you can easily get to all of these without a car anyway. If you don't mind longer walks from a bus stop, you can get to these on foot as well.
Kayaking
If you want to try kayaking, you can rent kayaks from Vashon Adventures and paddle around protected Quartermaster Harbor. Their boathouse is located at the Jensen Point Boat launch, which is a bit far from the bus system to access easily. You can also do tours with them if you don't want to paddle on your own!
If you have your own kayak, Jensen Point is a good place to launch. You can also launch at the north end boat launch next to the ferry terminal. Learn more about water access on Vashon here.
Shinglemill Creek Preserve and Fern Cove
A half mile round trip trail leads you to beautiful Fern Cove on the west side of the island. You can make a longer hike by starting higher up the Shinglemill Creek trail for a three mile round trip. Fern Cove is especially beautiful at sunset.
Sometimes during fall and winter you may see salmon spawning in the creek, and you're likely to see plenty of birds year round.
Point Robinson Lighthouse
The scenic Point Robinson Lighthouse is a must see for those who like lighthouses as well as those who enjoy a gravel and driftwood beach. It's about a quarter of a mile walk from the parking area to the lighthouse. There is an disabled only parking area at the bottom of the hill, closer to the lighthouse.
Tours are often offered to learn the history of the lighthouse. This is also a good place to see an Osprey or an Eagle so keep your eyes on the trees for big birds!
Maury Island Marine Park
Maury Island Marine Park is one of my favorite places on Vashon Island. It's a steep walk downhill to the beach just over half a mile. It's wide and graveled, but it is a bit steep. When you get to the bottom, it's a beautiful gravel beach to explore. You can also return on steep switchbacks to make a loop.
If you're not a hiker, I still recommend stopping at the overlook at the top of the hill that has an amazing view of the water and Mt Rainier.
Dragon's Head Cider
Dragon's Head Cider is a fantastic place to learn all about cider and perry (cider made with pears). Dragon Head makes all their cider on site and about 75% of the fruit comes from their beautiful orchard on the property. There are lots of tasting options and a beautiful orchard to explore.
They do not have indoor seating, so keep this in mind and bring extra layers for sitting outside to enjoy your tastes!
Cider has a long tradition in Washington State, and despite being a born and raised Washingtonian and cider lover I still learned a lot during my visit here.
Best places to eat on Vashon Island
Vashon Island is known for some amazing food!
For quick bites, stop at the Syrian food truck (it's a tent next to the highway), Snapdragon (epic vegetarian breakfast sandwiches), O Sole Mio for a pizza slice or the Sugar Shack. The Island Queen is a good diner bet.
For a more leisurely meal, try the Hardware Store for casual Pacific Northwest fare, Zamorana for tacos, Gravy for burgers and sandwiches, or the Ruby Brink or Bramble House for locally sourced delicious meals.
For even more ideas for exploring Vashon Island's food and food oriented activities, read this fantastic article from fellow Seattle blogger the Emerald Palate about all your foodie options
Electric Vehicle Charging
There are no fast chargers on Vashon Island but there are plenty of Level 2 chargers. If you're coming from Seattle or Tacoma, you probably won't need to charge as the distances around the island are fairly short. I can easily get all around the island and back home to South Seattle without charging (it usually uses about half a charge total) and my EV only has about an 80 mile range.