Frenchman Coulee Hike for when you just need some Sun
Posted On April 19, 2021
If you're in Seattle or the anywhere in the Pacific Northwest on the wet west side of the Cascade Mountains, there are some days when you just need to see the sun. On those days, a mellow hike in Frenchman Coulee near Vantage on the Columbia River is absolutely perfect. At four miles round trip with 200 feet of elevation gain, this trail is mostly flat and mellow with a lovely waterfall at the end in late fall, winter and spring.
Frenchman Coulee is the homeland of the Yakama and the Moses/Columbia People.
Parking Pass: Discover Pass
Dog Friendly: yes, on leash (make sure to bring water for your dog as well as yourself, this trail can be very hot and exposed with no water)
Cell Phone Coverage: Excellent (on T-mobile)
Restrooms: None at the trailhead or along the trail. Nearby there are pit toilets near the main rock climbing area
Accessibility and Mobility: This trail is mostly flat, however it does have some rocks in places. The second half of the trail is mostly sand.
Related: What to wear for a day hike in the Pacific Northwest, What to bring for a day hike in the Pacific Northwest
Where is Frenchman Coulee?
Frenchman Coulee is an area popular with rock climbers on the East side of the Columbia River where I-90 crosses it at Vantage. From Seattle, head east on I-90 and from Spokane head west on I-90 to Exit 143 for Silica Road. From the exit, go north (left under the freeway coming from Seattle and right from the ramp if you're coming from Spokane). Turn left on Vantage Road and you will start going down into the coulee. You're likely to see people climbing and camping as you head down to the trailhead. The parking area with pit toilets is about two miles down. For this hike, go a bit further down to the tiny parking area on the right. There's a gate and a sign indicating you need a Discover Pass.
There's room for about three cars to park here and a few more along the side of the road. Make sure you are following parking signs and not blocking any part of the road.
Is the Frenchman Coulee hike right for me?
If you like interesting geology, sun and flat hikes then this hike is perfect for you! If you are not a fan of sun you might want to skip this one or visit in the winter when it's cold. This is the idea hike for a western Washington resident getting tired of gray skies in spring.
When is the best time to hike Frenchman Coulee?
Spring (late March through early May) is the best time for Frenchman Coulee! It's sunny and warm during the day with gorgeous wildflowers carpeting the floor of the coulee. It can be windy though, so watch out for that.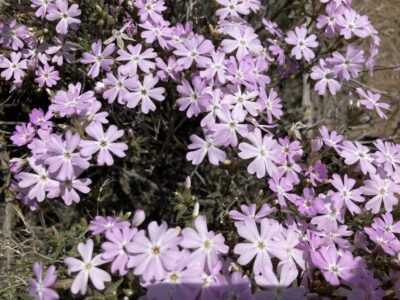 Summer is extremely hot and there is no shade or water, so make sure to bring lots of sun protection and water if you come here in summer. Fall is also a good time, with similar weather to spring (minus the wildflowers). Winter can also be a good time to visit unless a storm has brought snow and ice. It can be quite cold here at times in winter and the wind can be brutal.
Trail Description
Once you park, start off on the trail leaving out of the parking area. It's an old wagon road, so at times it's fairly wide. It starts out a bit rocky and you will be walking between some large boulders as well. Sagebrush line the way along with wildflowers in spring. Watch out for rattlesnakes as you walk this trail. You'll come to a fork in the trail fairly quickly, keep to the right to head up the coulee and to the waterfall.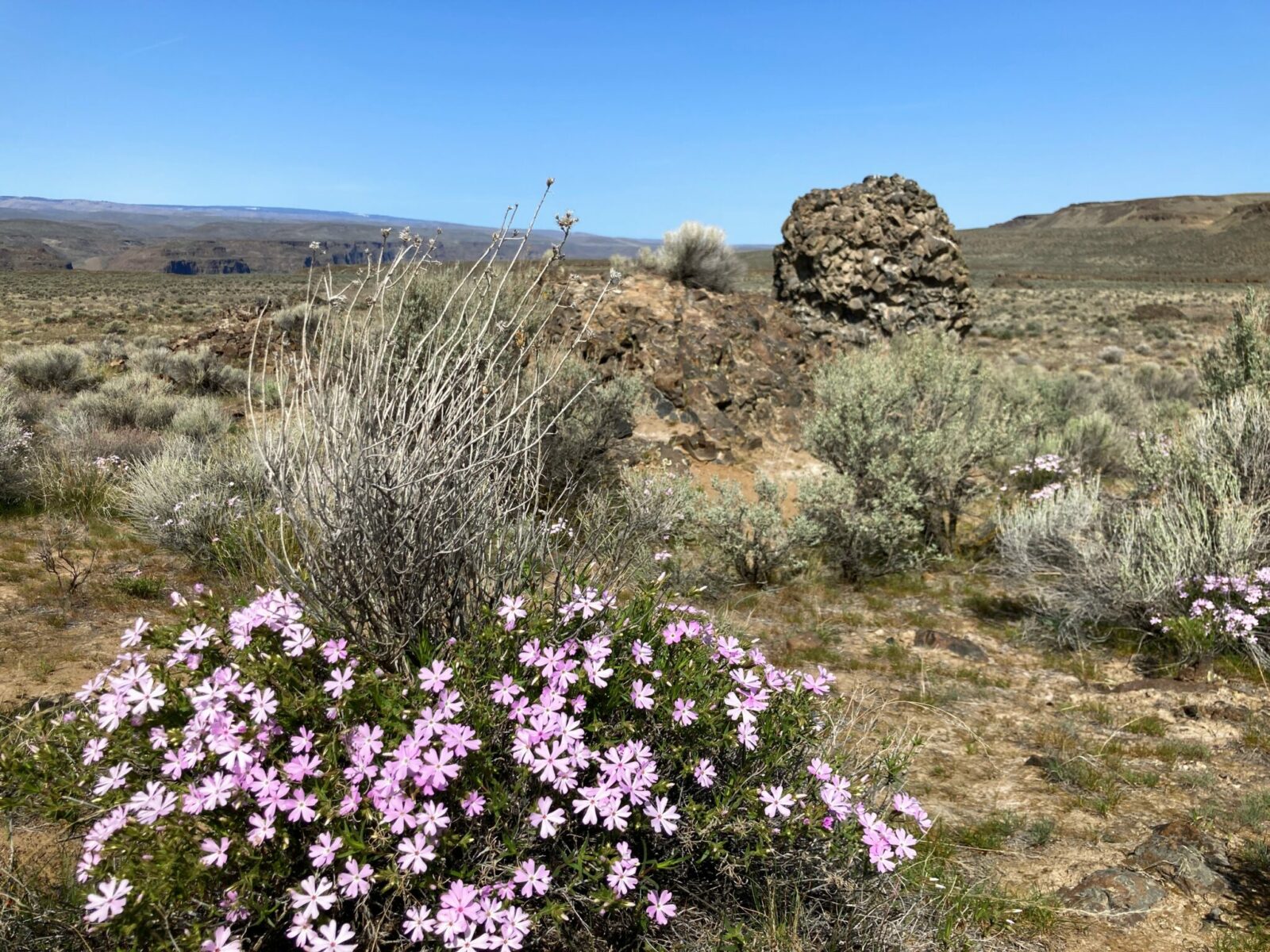 Don't forget to look up as you head into the coulee. The sides of Frenchman Coulee are lined with towering columnar basalt from ancient volcanic flows that covered Central and Eastern Washington. Later, ice age floods carved the steep valleys we see today.
You'll also pass some random old car parts here and there as you walk along. Don't forget to look behind you for increasing views of the wind turbine power generators across the river to the west. You can't quite see the Columbia River from the trail, but you can drive a little further down the road when you get back to your car for an excellent viewpoint.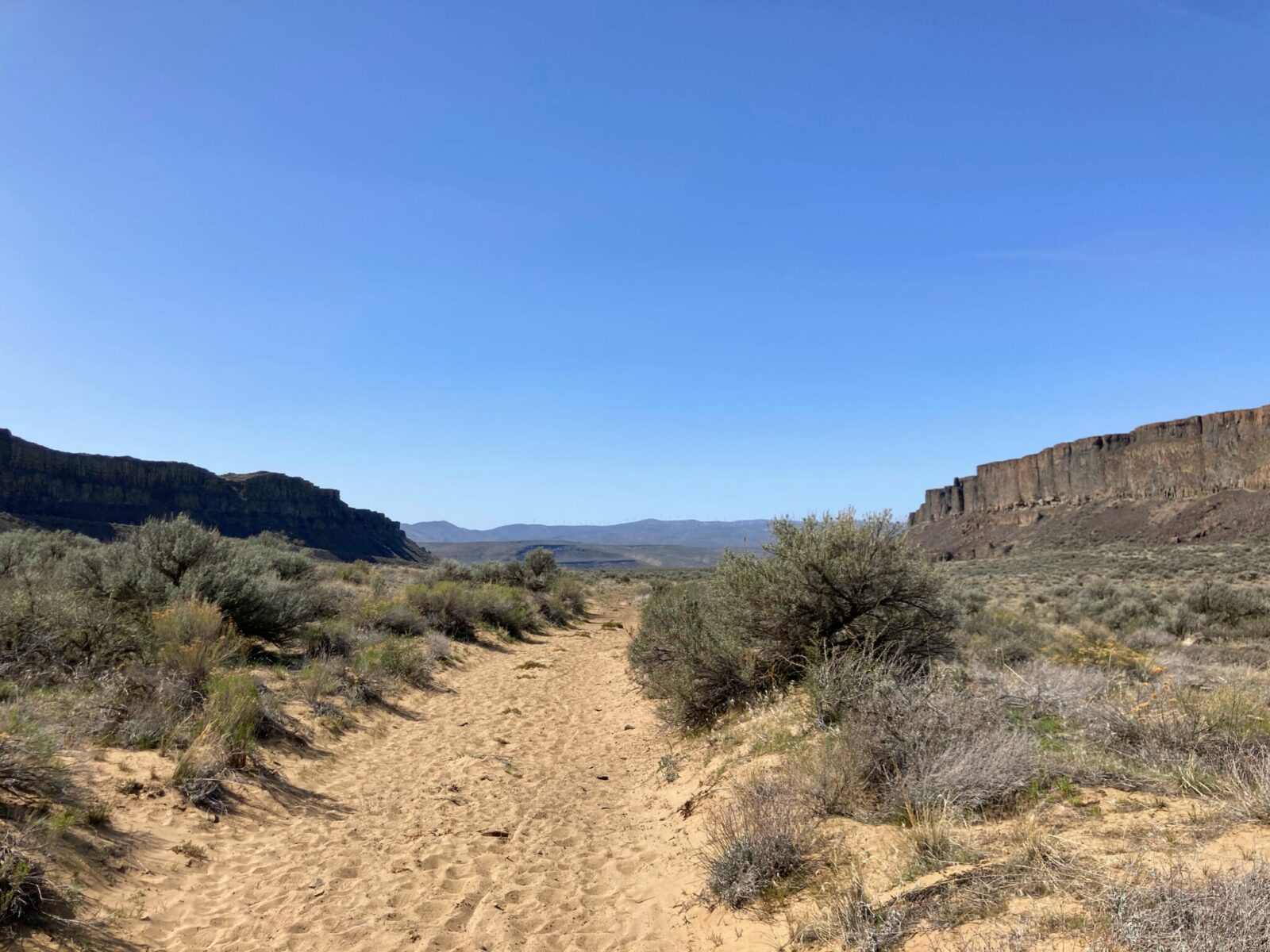 About halfway up the coulee the trail turns quite sandy. Keep going up a slight incline and then it will flatten out again.
In about two miles, you'll find yourself at the base of a narrow waterfall, which is a gorgeous site in this otherwise extremely dry place. This makes a good turnaround point, although you can continue on and climb up the trail back to meet the road at the end of the coulee.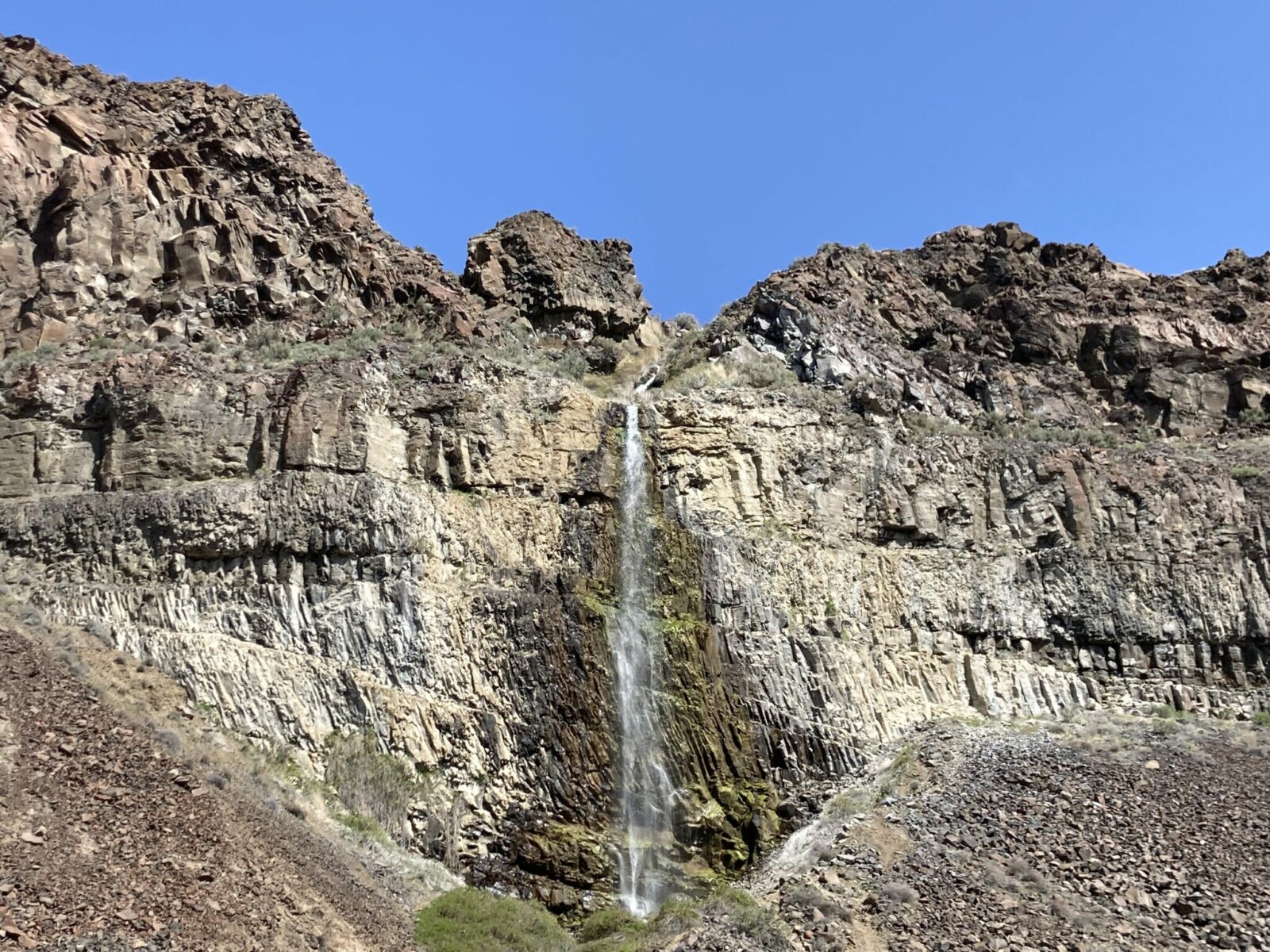 If you turn around at the base of the waterfall and go back the way you came, it will be a total of approximately four miles round trip.
Where to stop after Frenchman Coulee
Frenchman Coulee is situated at the edge of the Ancient Lakes AVA in Washington wine country. There are a number of wineries nearby. The closest is Cave B Winery, 8 miles away near the Gorge Amphitheater.
If you're heading west, in Ellensburg, try Whipsaw Brewing or Ellensburg Brewing and Tilted Tree Cidery and for food, check out the Ellensburg Pasta Company or the Yellow Church Cafe.
If you're heading east, check out Squirrel Fight Artisan Brewing in Moses Lake for fun and tasty local beer. For food, make it Tacos Colima in Moses Lake for incredible tacos. Another good option is Michael's on the Lake for American fare served on a patio along the lake.
Electric Vehicle Charging