How to Visit Wrangell-St Elias National Park in Alaska: Ultimate Guide
Posted On July 26, 2022
Last Updated on June 15, 2023
There just aren't enough superlatives to get an accurate description of Wrangell-St Elias National Park. The largest national park in Alaska and in the entire United States, the biggest glaciers, nine of the sixteen highest mountains in the US, and on an on. You'll have to see it for yourself to even begin to grasp the impressive features of this park!
Even though it's amazing, Wrangell-St Elias is hard to get to and therefore many visitors to Alaska don't make it this far. If you like to visit places that most people miss, then this park is for you.
This is an extremely remote place, with almost no services and full of amazing adventures waiting for you. I'll show you how to get there, where to stay, what to bring and what to do to get the most out of your adventure.
Wrangell-St Elias National Park is a different part of the state than the town of Wrangell, which is located in Southeast Alaska.
Wrangell-St Elias National Park is the land of the Ahtna People.
Where is Wrangell-St Elias National Park?
Wrangell-St Elias National Park is huge and is located east of Anchorage, west of the Canadian border, north of the Gulf of Alaska and south of the Alaska Highway.
Can you drive to Wrangell-St Elias National Park?
Yes, sort of.
There is a road that goes to the footbridge at the town of McCarthy, at that point you have to park your car, walk across the footbridge and use shuttles to get to McCarthy and Kennicott (or walk or bike).
Most rental car companies do not allow you to drive on the McCarthy Road, the final 60 miles to the footbridge. See the section below on how to get to the park for more information on this.
You can also drive the 40 mile unpaved Nabesna Road into the park on the north side of it.
This post contains affiliate links, which means if you make a purchase I may receive a small commission at no additional cost to you. As an Amazon Associate, I earn from qualifying purchases
Just how big is Wrangell-St Elias National Park?
Really, really, big. In fact, Wrangell-St Elias is the largest national park in the United States. It is twice as big as Denali National Park and six times the size of Yellowstone!
13.2 million acres is its official size, and honestly I can't really wrap my head around that. If you add it to adjoining parks in Canada (Kluane National Park and Tatshenshini-Alsek Provincial Park) it is part of the largest international protected wilderness anywhere in the world.
This park is huge, and in this article I am going to focus on one section of it, the one that is the most realistic to get to, the area around McCarthy and Kennicott. Although it's arguably the easiest part of the park to get to, it's far from easy!
How to get to Wrangell-St Elias National Park
For the most part, this article is about getting into the park from McCarthy and Kennicott.
If you want to travel into the park on the extremely remote Nebesna Road on the north side of the park, you'll need to drive to Slana, which is between Glenallen and Tok and then head up the 40 mile unpaved road. If you love a true backroad, this might be a good place to explore, but you'll need to be completely self sufficient as there are not services in Slana or anywhere along the road and no cell service. Make sure your fuel is full in Glenallen. This is another road that most rental cars cannot go on.
If you're heading to McCarthy or Kennicott, you have three options to get there (or you can combine them a bit):
Drive the remote, unpaved McCarthy Road from Chitina (allow three hours from Chitina)
Fly from Anchorage or Chitina
Take a shuttle van from Anchorage, Glenallen, Copper Center or Chitina.
Most rental cars are not allowed on the unpaved McCarthy Road, though some local companies allow you to drive on it and some Turo cars. You'll need to be ready to change a tire on your own if needed as there are no services and no cell phone service along the road (get fuel in Glenallen).
I have a lot of details about all your options for getting from Anchorage to McCarthy and how to decide how to do it in this article.
If you don't have time in your itinerary to go into the park, I recommend going to the visitor center in Copper Center along the Richardson Highway just south of Glenallen. The visitor center has the best restrooms on the Richardson Highway and the visitor center gives you a good overview of the park. There is also a trail that goes around the visitor center and has an amazing views of the mountains in Wrangell-St Elias.
When is the best time to go to Wrangell-St Elias National Park?
Wrangell-St Elias National Park does not technically close, however it is mostly inaccessible during the winter months.
Lodging and tours as well as outdoor activities are available from late May or early June through early to mid September.
Early season (late May and June) will come with snow still lingering in on trails and will limit some of your options. July and August are good months to visit for hiking and other outdoor activities. September has amazing fall colors though it can be getting fairly cold, especially at night. Make sure to confirm the availability of any activities you're interested in if you're planning and early or late season trip.
Expect rain, fog, wind or sun anytime during the summer! The weather is very unpredictable and changes rapidly.
How many days are good for Wrangell-St Elias National Park?
Three to four days is ideal to visit Wrangell-St Elias. If you have more time and are up for a backcountry adventure, a guided packrafting or backpacking trip would be absolutely amazing.
For those sticking with the front country, which is still an incredible wilderness experience, I recommend three to four days.
If you only have one or two days, I would save this park for your next visit or for when you have more time. It takes a couple of full days to get there and back so you want to have some time to enjoy it!
Things to do in Wrangell-St Elias National Park
There are so many fun adventures to have in Wrangell-St Elias National Park! This is a park far fewer visitors get to so I encourage you to do some exploring with a guide as well as on your own to fully experience it.
Take a Guided hike to Root Glacier
I'm putting this first on the list because in my opinion a guided hike on Root Glacier is an absolutely must do when visiting Wrangell-St Elias National Park. If you only do one thing in the park, make it this!
It is possible to hike the trail to the Root Glacier on your own without a guide, but you really need a guide if you want to venture out on to the glacier (which believe me, you do!). Kennicott Wilderness Guides and St Elias Alpine Guides both offer half and full day trips and these are a really excellent value and one of the best day trip tours in Alaska. Both of these guide companies are well run with excellent, well trained and experienced guides.
They provide crampons and teach you how to use them so that you can safely explore the glacier. A guide will also keep you away from areas of danger and teach you a lot and help you have an amazing day.
The hike itself is about 4 miles round trip to the glacier, plus however much time and distance you cover exploring the glacier itself. The hike is mostly flat and wide, with only a few rocks and roots here and there. The last half mile down to the glacier and back up is quite steep and a bit slippery but it doesn't last too long.
Explore the Kennecott National Historic Landmark
If you're confused about whether it's Kennicott or Kennecott, you're not alone! Generally, the Copper Mine buildings are Kennecott and the glacier is Kennicott. Why? I'm don't know, but you'll see both spellings used. The Kennecott National Historic Landmark is all about the historic copper mine, so that's why they use the mine spelling.
When a huge amount of Copper was uncovered here at the beginning of the 20th century, there was a rush to develop the area and get the Copper to market. A railroad was built from here to the port town of Cordova and the mine was built. Until the mine closed in 1938, there was a community of families living here along with miners and there was a dance hall, a school and even an ice rink!
The site is now protected and managed by the National Park Service. You can explore the area on foot on your own, though you need to be on a tour to enter the buildings (see below). This is a great activity for getting to know the area when you first arrive.
Kennecott National Historic Site Mill Tour
If you want to actually get into the historic buildings and learn more about the mill operation, then the two hour mill tour offered by St Elias Alpine Guides is for you.
You'll get to actually go into the buildings (which you can't do without a guide) and learn about the bustling and busy town that was here in the past supporting the copper mine.
Kayaking around the toe of Kennicott Glacier
I think this kayaking adventure is absolutely incredible. It's super peaceful with usually fairly calm water on the lake at the base, or toe of the massive Kennicott Glacier. The Kennicott Glacier is gravel covered, so it looks a bit different than the classic blue you may have in mind. This doesn't take anything away from the experience of kayaking among the rocks and ice.
It's peaceful and adventurous and St Elias Alpine Guides provides an inflatable kayak and rubber boots (which are important to keep your feet dry as the very cold water comes into the kayak as you go). You'll need rain gear to stay dry but you should have that anyway! They also have dry bags you can borrow.
In addition to kayaking you can get out and explore the landscape a bit (and enjoy hot drinks and snacks). Read my full review of this wonderful kayak tour here.
Ice Climbing on Root Glacier
If you want to take your glacier adventure a bit further than walking on it with crampons, give ice climbing a try! The same guides who can take you hiking can also take you on an ice climbing adventure!
Explore the town of McCarthy
McCarthy is a delightfully quirky town with only a few hundred residents (and only a handful in the winter). The town is only a few blocks so you can see all the historic buildings in just a few minutes.
Make sure to have a meal at The Potato, a beloved institution with a big eating area both inside and outside. I highly recommend the Rosemary garlic fries. This is a great place to enjoy some food and drink and get to know McCarthy a bit as people come and go.
Flightseeing
Flightseeing is absolutely incredible in Wrangell-St Elias! If you book a flightseeing trip, know that weather is very unpredictable here and there's a chance your trip will be cancelled so if that happens please be kind to the folks who are looking out for your safety. If you want to do it, make sure to book in advance as space is limited and you don't get to know the weather in advance.
Because of weather and cancellations, I don't always recommend flightseeing in Alaska, but this is one of the places where I think it's absolutely worth it.
In Wrangell-St Elias, the mountains are the highest and the glaciers the biggest in North America. Your pilot will take you over epic landscapes you can hardly believe are real. You need to be prepared for cancellations due to weather, but as long as you can handle that uncertainty (which comes with any flightseeing trip) this is a stunning place to see from the air.
Pro tip: If you are flying between Seattle and Anchorage, you will see the Wrangell Mountains from the plane! They often stick up above the clouds even on cloudy days. They'll be on the right side of the plane going to Anchorage, and the left side returning. Look out the window about an hour to an hour and a half from Anchorage. It's not the same up close views, but still pretty fun.
Related: Is flightseeing in Alaska worth it?
Backcountry Adventures in Wrangell-St Elias National Park
Backcountry Adventures are basically unlimited in Wrangell-St Elias, from backpacking camping and hiking treks, to packrafting and more.
If you're an experienced backcountry traveler, you can plan your own adventure in the park, but I recommend doing a guided trek, especially if you're planning to spend any time on glaciers. Both Kennicott Wilderness Guides and St Elias Alpine Guides provide weeklong backcountry adventures in the park and as I've already mentioned, both companies have phenomenal guides who will make anyone feel welcome on their trips, no matter their background or experience level.
4 day itinerary for Wrangell-St Elias National Park
As I mentioned above, I think three or four days is ideal for visiting the park and really I think four days is just about perfect. You can combine day 3 and 4 here if you want to only spend three days, but just know that makes for a very long day on day 3. Totally doable though, I've done it myself.
With four days to spend in the park, here's how I'd spend it:
Day 1: Get to McCarthy – if you're driving, leave very early in the morning so you can get to the footbridge while shuttles are still running. If flying, make sure you arrive by late afternoon (be aware that weather could delay your arrival). On a van shuttle, they'll tell you what time to be ready (generally 8-9 am in Anchorage). Once you arrive, take yourself on a walking tour around Kennicott or McCarthy (whichever you're staying at).
Day 2: Guided hike to Root Glacier – You can do a full day hike (gets you back around 5p) or a half day (gets you back around 2-3p). This is an absolute must do and I recommend giving yourself the full day to enjoy this experience! Have dinner at the Kennicott Glacier Lodge or the Potato (whichever is closest to your lodging).
Day 3: Kayak Tour of the lake at Kennicott Glacier and/or Flightseeing – the kayak tour is wonderful and affordable and ends in the early to mid afternoon. If your budget and the weather permit, do a flightseeing tour after kayaking (late afternoon or evening). If not flightseeing, take the shuttle to Kennicott (or McCarthy whichever you are NOT staying at) and do a bit of a walking tour and have dinner (Kennicott Glacier Lodge or the Potato).
Day 4: Take yourself on a walking tour of either Kennicott or McCarthy (if you haven't done both yet) and this is another option for flightseeing before you leave. Return from McCarthy to Anchorage or to your next destination.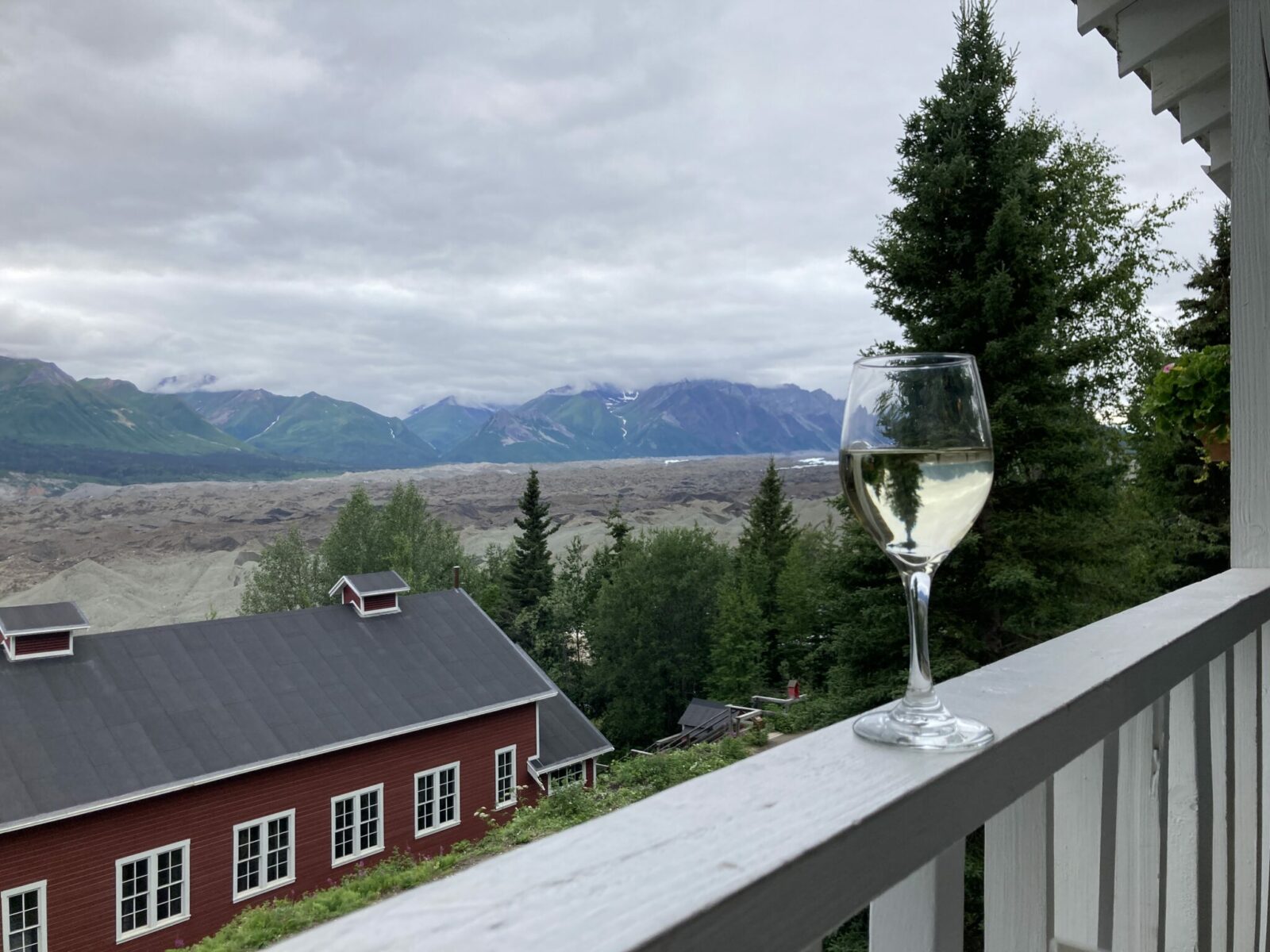 Camping in Wrangell-St Elias National Park
Wrangell-St Elias does not have front country campgrounds in the way visitors might expect. Camping here will be backpacking and you'll need to bring everything with you. This is a wonderful park for backpacking as there are so many amazing places to explore here.
The best place to camp in this part of the park for a shorter outing is Jumbo Creek, which provides bear proof food storage. You can also get water here from the creek. There are no formal sites, but there are some spots with stunning views of the Root Glacier and Kennicott Glacier as well as the surrounding mountains. It's about a mile and a half to get here from Kennicott and is mostly flat.
Related: Complete Guide to Camping in Alaska
Lodging in Wrangell-St Elias National Park
Lodging is very limited in Wrangell-St Elias. Make sure to reserve lodging well in advance and do not even think about showing up without a reservation. I also highly recommend having travel insurance just in case something goes wrong in your plans to get here.
Kennicott Glacier Lodge
The Kennicott Glacier Lodge is five miles from McCarthy with a view of the Kennicott Glacier and the mountains all around. The lodge has bathrooms and showers down the hall for the Main Lodge and the South wing (a separate building close by) has bathrooms and showers in the rooms.
I've stayed in the rooms with bathroom down the hall and they were great. I never had to wait, and they were easy to use and super clean.
The lodge also offers breakfast, lunch and dinner, which you can buy as a package and save a bit of money. The food in the lodge is really good and you can request seating out on the porch for dinner which I highly recommend.
Kennicott Glacier Lodge picks up every hour on the hour in the afternoon and early evening from the footbridge and takes you and your luggage straight to the hotel. Don't miss the last shuttle!
McCarthy Lodging
There are a couple of small historic and super adorable hotels in McCarthy as well as some private cabins. There are also some cabin options on the McCarthy Road side of the bridge.
If you stay in McCarthy you can take the free shuttle up to Kennicott, and if you are doing a tour they will pick you up where you're staying or at the footbridge.
Getting food and supplies in Wrangell-St Elias National Park
You really need to bring everything with you for your trip with you. You can get meals at the Kennicott Glacier Lodge as well as the Potato in McCarthy (again the rosemary garlic fries), the New Golden Saloon in McCarthy and the Meatza Wagon in Kennicott. Restaurants have limited hours so make sure to pay attention to the times and plan accordingly.
You can buy a few snacks (chips, espresso) at the mercantile across from the Kennicott Glacier Lodge, but there aren't any grocery stores or places to buy any gear in Kennicott or McCarthy.
Make sure to at least bring some snacks for in between meals and a waterbottle to fill up.
What to pack for Wrangell-St Elias National Park
My article about what to pack for Alaska is good advice for visiting Wrangell-St Elias. Like the rest of Alaska, you really need to come prepared for a wide range of weather possibilities. This is a place that can experience hot summer days in the 80s, or cold and rainy summer days in the 50s, even in the middle of July.
It is also a place where to bugs can be ferocious, especially earlier in the summer. Wrangell-St Elias is very remote so there is no cell service or Wifi in most situations.
A few things to call out specifically for a visit here park include:
Rain gear: This is absolutely essential. In addition to rain protection rain gear can also protect you from bugs. This rain jacket and rain pants from REI are ideal (and both come in plus sizes). This rain jacket available on Amazon is also really good and very similar to the REI one (although it's not available in plus sizes).
Boots: Since I so highly recommend the Root Glacier hike, you'll need hiking boots or hiking shoes to wear with the crampons they provide.
Warm clothes, including a hat and gloves: temperatures are chilly compared to most of the US during the summer, you don't want to be cold!
Lighter weight clothes: it could be sunny and even hot If this happens, you'll want some lighter layers
Sun Protection: when the sun comes out it's really intense. Make sure to bring sunscreen and any other sun protection you normally use
Bug Protection: I highly recommend a headnet. It's tiny, light and cheap and a complete game changer if bugs are bad.
Analog entertainment such as a Kindle in airplane mode with books already on it, other reading material, sketchbook, portable games, etc. Make sure everything is downloaded so you don't need to connect to wifi or a phone signal to get it. I also recommend a backup battery for your phone (and keep your phone in airplane mode which saves a lot of battery power in remote locations).