How to Find Less Crowded Hikes
Posted On May 11, 2020
Last Updated on October 31, 2022
As hiking has become more popular in the Pacific Northwest and the population has grown quickly, many hikers have noticed and been frustrated by big crowds at popular trailheads. If you're like me, crowding, traffic and parking are daily realities in city life and you want to get away from that for a weekend hike!
I will outline strategies to use to find less crowded hikes and gain the benefits of solitude when you're outside. One of these strategies (the last one) is specific to Washington State, but the others you can use anywhere if you are looking for a less crowded hike!
I want to share two important realities about finding less crowded hikes. It IS possible to find less crowded hikes, even in the most crowded and popular places near urban areas. There are two big trade offs:
It's more work – you'll have to spend some time doing your own research
You need to be flexible – you may need to change your plans or adapt your expectations. For example, to avoid crowds you might need to skip that Instafamous view for a different view. You might have your heart set on one hike and then learn from a ranger in a national park that another trail is better to find solitude.
I want to encourage you that it's completely worth it to find less crowded hikes and you won't regret it! You might not get the same exact picture on instagram that everyone else has (hello, Mt Si!), but you'll have a new place to explore and share with others and the view could be EVEN BETTER.
That disclaimer out of the way, let's get to the tips to find less crowded hikes!
Related: What to bring day hiking in the Pacific Northwest
Avoid Hikes on the "10 most instagrammable…" List
It's probably not a surprise that if a hike was featured in a popular travel magazine as one of the "most instagrammable" places in that area that it's likely to be very crowded! To find an alternative, ask a local, or a ranger or study a map for other trails nearby. Trails NEAR a super instagrammable trail are also likely to be very instagrammable!
If there's a particular feature of that hike that you're interested in, say some cool geology or a beautiful alpine lake or waterfall, do some online research for how to find a less crowded trail option that has similar features (or ask a local or a park ranger).
If you really need to get to that instafamous spot though, keep reading for ways to make even those hikes less crowded.
Hike in the Late Afternoon/Evening
Honestly, this is probably the easiest strategy to implement to find less crowded trails. Even if it's a crowded trail, it's going to be MUCH LESS crowded in the late afternoon and evening. The lighting is also better for photography without the harsh light of midday sun.
For some reason it seems to be a thing that hiking needs to happen early in the morning. Sometimes that's true. If you want to do a super long day hike then you're going to have to get an early start. If it's not super long, you could start later! This is a way better strategy for avoiding crowds than trying to start early.
In the Pacific Northwest, we have long evenings in the summer so doing a late afternoon/evening hike and having dinner along the way instead of lunch is pretty amazing. Make sure everyone in your group has a headlamp if you chose this strategy, since it increases the chances of being caught in the dark if things take longer than you planned.
Use Google Maps "Most Popular" Times
If you want to further dial in your timing from the above strategy, use the "most popular times" feature in google maps. You might already be familiar with using this for restaurants or other places, but it works for trailheads too!
Not every trailhead will have this data (especially if it's out of cell phone range), but if it's a crazy popular and crowded trail it's pretty likely you'll be able to use this.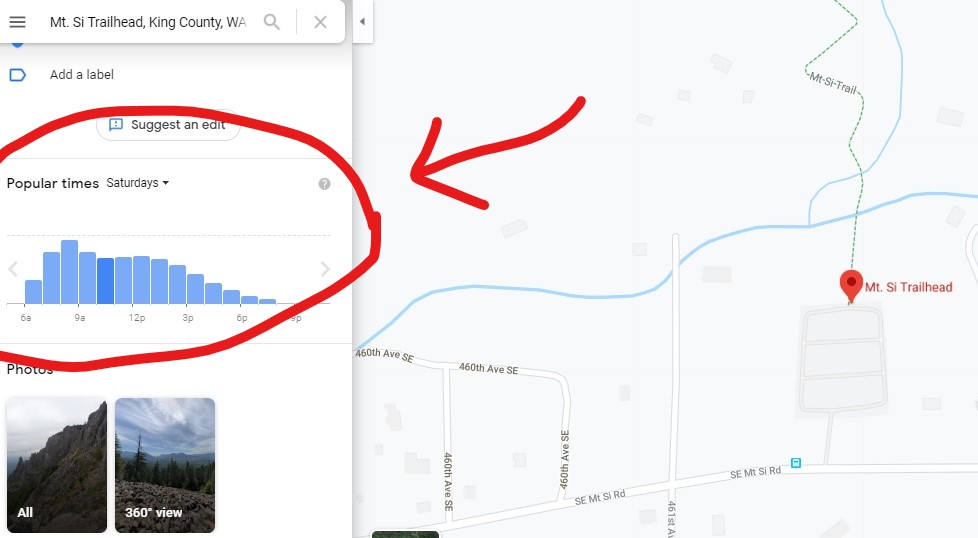 Hike all year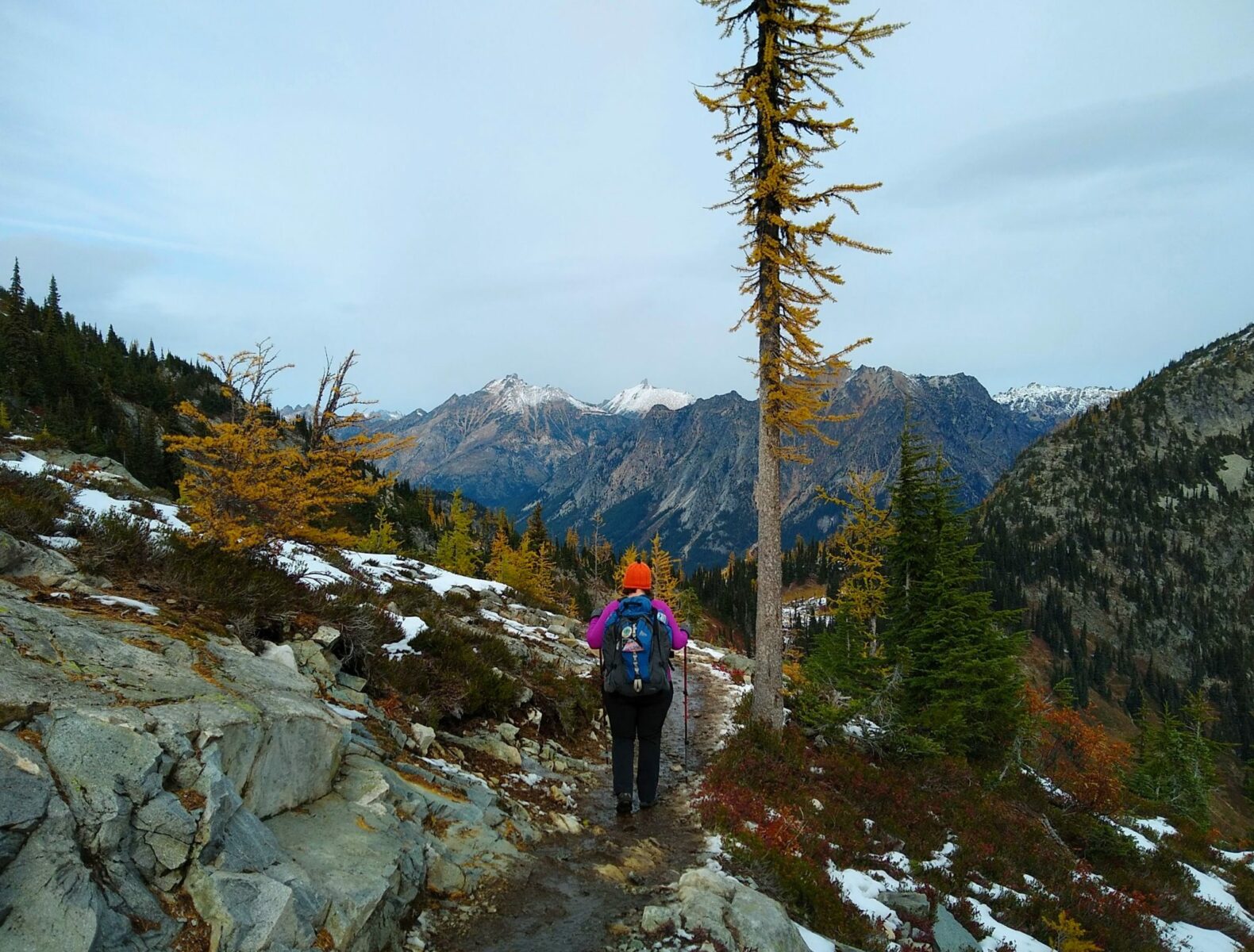 If you're reading this in the summer, and you're looking for things you can do NOW to find less crowded hikes, then this one isn't going to help you much. Just know that if you're game to gear up for colder and wetter weather, you can easily find less crowded hikes. Many of the same hikes you enjoy in the busy summer season can be enjoyed with a fraction of the crowds in the off season.
Make sure to check conditions on roads and trails before using this strategy, as many trails and roads are not accessible in the off season, or areas may be closed.
Hike on Rainy Days
This is the same idea as hiking all year but you can also use it in the summer! If it's raining, or even just overcast and you're thinking "I can't hike today, it's not sunny", think again if finding less crowded hikes is your top priority!
Far fewer people enjoy hiking in the rain but you can learn to love it. It also doesn't have to be that rainy to deter people.
Hike on Weekdays
This is not an option for everyone, but if it is you'll see far fewer people even on very popular trails if you can go on a weekday. This is especially true if it's a Tuesday, Wednesday or Thursday.
If you don't have flexibility around your work schedule, try an evening hike after work. Shorter trails can be a great way to wind down after work on long summer evenings.
One note about this strategy: It works better the closer you are to a major urban area. If you're somewhere like Yellowstone National Park or Denali National Park, the day of the week won't matter that much, since it's not accessible on weekends to a major population center. The afternoon/evening strategy is super effective in these places so use that instead.
Use the National Forest Service Online Use Ratings
Each National Forest has it's own website. You can navigate to specific information about trails with RECREATION>HIKING>DAY HIKING and then you'll see a list of the hikes in that National Forest. Each entry provides a description that includes how heavily used that trail is. This can be time consuming to read through but it's a gold mine of data to find less crowded hikes in a particular area.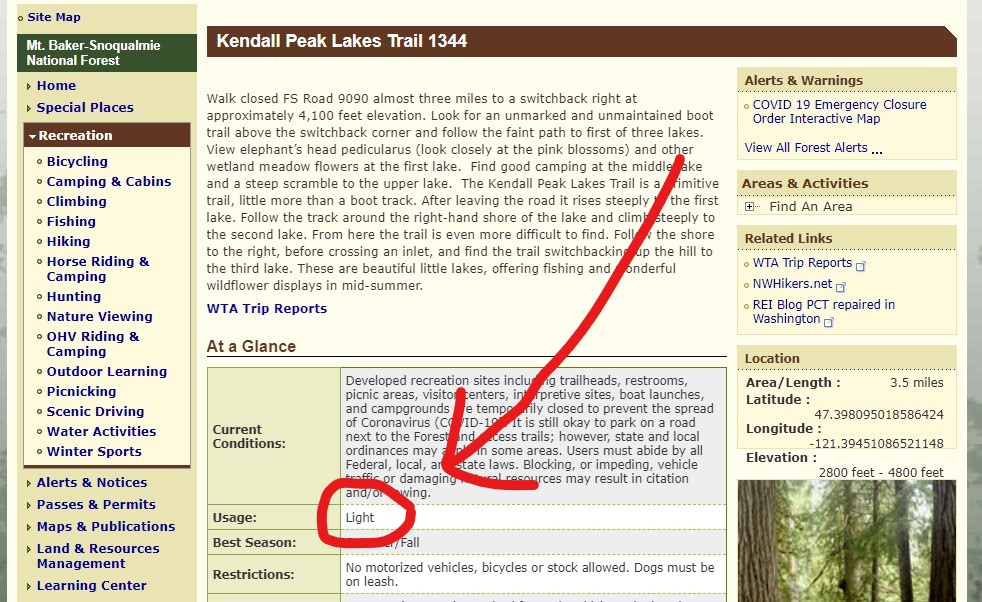 Get a Guidebook Written by a Local
Locals like to get away from crowds! Look for a hiking guide that includes information on less famous trails. If you live in Washington or are planning a visit here, pick up one of Craig Romano's guidebooks. He includes lots of hikes that are less crowded and this is a great shortcut to doing some research for yourself.
If you're in Oregon or planning a visit there, check out hiking books by Adam Sawyer and Matt Wastrodowski!
Ask a Park Ranger or Forest Service Ranger for Ideas
If you're stopping at a visitor center to pay an entrance fee or get a parking pass at a National Park or National Forest, ask rangers for their advice about less crowded trails. Make sure to let them know that you're ok with it being a less famous place!
Rangers live near where they work and they often like hiking too! They know where the people are and aren't and if you're lucky they'll tell you a favorite uncrowded trail.
Learn more about avoiding crowds in National Parks!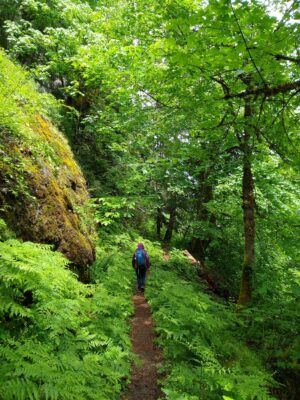 Study Maps
Knowing how to read and use maps is an important skill for safety as a hiker. It's also fun! If you want to use maps to find less crowded hikes, look for maps of areas around busy trailheads and figure out what other trails are nearby.
Look for ones that look interesting and explore!
Washington State – Use WTA Trip Reports
If you're in Washington State or planning a visit here, definitely make use of the Washington Trail Association hiking guide and trip reports! If you're a Washington hiker, this organization does so much to make trail information, access and maintenance available to us so become a member to support them! This is also an important resource for determining if roads are closed or access is disrupted to a trail.
To find less crowded hikes, you can use the trip reports in two ways:
Look for hikes that don't have many trip reports, this is an indicator that they get less use
Read the trip reports, hikers usually include information about how busy the parking lot and trailhead were and the day and time of their hike
There you have it! Tons of ideas for how to find less crowded hikes….you can do this!