5 Best Olympic National Park Waterfalls
Posted On June 15, 2020
Last Updated on April 18, 2022
There are so many things to love about Olympic National Park and the Olympic Peninsula. There are impossibly green ancient forests, gorgeous lakes, rugged open beaches, high alpine meadows, towering mountains and waterfalls! The Olympic National Park waterfalls are stunning and many are a short hike so on your road trip through Olympic make sure to check them out and stretch your legs in the process!
Three of these Olympic National Park waterfalls are inside the park boundary and two of them are in the surrounding Olympic National Forest. I highly recommend checking out the National Forest land that surrounds many national parks for other wonderful places to explore that aren't as famous and likely to be less crowded.
The best time of year to see Olympic National Park waterfalls is spring (April and May) when the snow is melting fast and the waterfalls are roaring with heavy amounts of water. Late May and June bring out the wild rhodedendrons (Washington's state flower) along the river valleys and forest trails, especially on the east side of the Olympic Peninsula along Hood Canal.
Waterfalls make wonderful rainy day hikes too!
#1 – Sol Duc Falls -Olympic National Park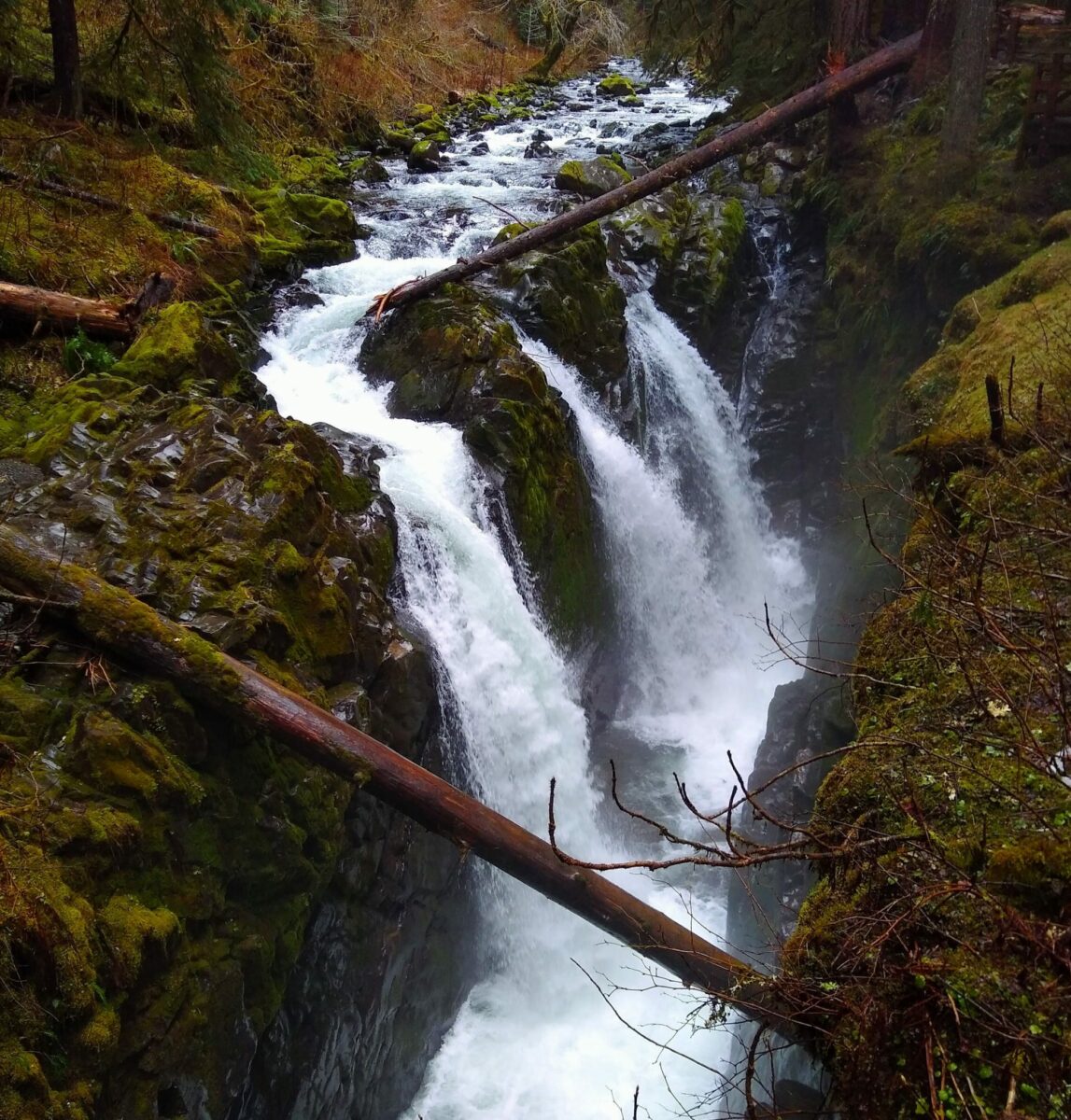 Location: Sol Duc Falls is located in the Sol Duc Valley in Olympic National Park, west of Lake Crescent and Port Angeles and near Sol Duc Hot Springs
Getting there: Take Highway 101 to Port Angeles and continue west past Lake Crescent towards Forks. Turn left (right if coming from the other direction) on Sol Duc Hot Springs road. Follow the road until it dead ends in the parking lot (if you want to do the longer hike, park at the Sol Duc Hot springs resort instead).
Hike Information: To hike to Sol Duc Falls from the end of the road, it's a 1.5 mile round trip hike with about 200 feet of elevation gain. If you want a longer hike, take the Lover's Lane trail from Sol Duc Hot springs resort or campground, which is a 6 mile loop with 500 feet of elevation gain. On either trail you will go to the same spot, the bridge across the river with a beautiful view of the falls. Both trails go though beautiful rain forest.
Why it's one of the best: Sol Duc Falls is the most beautiful waterfall inside Olympic National Park. It has three separate cascades that you can see from a picturesque bridge and you hike through a gorgeous rainforest to get to it. You can enjoy a soak in nearby Sol Duc Hot Springs after your visit and even camp at the Sol Duc Hot Springs campground if you'd like to make a weekend of it.
#2 – Madison Falls – Olympic National Park
Location: Madison Falls is located between Port Angeles and Lake Crescent.
Getting there: From Highway 101, turn on Olympic Hot Springs Road and go about two miles along the Elwha River and find the parking lot on the left.
Hike Information: Madison Falls is less than a quarter mile round trip on a flat and paved trail from the parking lot. There are good picnic tables and a pit toilet in the parking area.
Why it's one of the best: Madison Falls is the easiest of the Olympic National Park waterfalls to get to and its accessible trail makes it a good option for most visitors. It is also a beautiful falls coming down a steep rock face. This waterfall is especially beautiful in the winter and spring.
#3 – Marymere Falls – Olympic National Park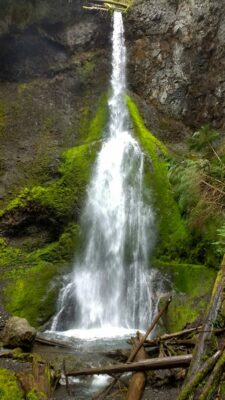 Location: Marymere Falls is located near Lake Crescent in Olympic National Park
Getting there: From Port Angeles, continue west on Highway 101 to Lake Crescent. Follow signs to the Storm King Ranger Station and Marymere Falls. There are flushing toilets in the parking area.
Hike Information: This hike is just under two miles round trip with about 500 feet of elevation gain (most of the elevation gain happens at the very end). Start the hike by the picturesque Storm King Ranger Station, crossing under the highway and entering the forest. After the junction with the Moments in Time trail (which goes towards the Lake Crescent Lodge and can be combined with this hike for a longer loop) you will begin to see old growth trees around you. Stay straight when the Storm King trail goes up to the left. When you are almost to the falls, go right at a junction (the Barnes Creek trail continues straight). Cross Barnes Creek on a log bridge and now there's a short steep climb up to two viewpoints for lovely Marymere Falls.
Why it's one of the best: One of the best things about Marymere Falls is the hike to get there! The hike passes by some impressive old growth trees and goes through a gorgeous forest the whole way. It's also a beautiful waterfall coming straight over and down a rock face. Make time to have a picnic at nearby Lake Crescent or rent a paddleboard, kayak or canoe!
#4 – Rocky Brook Falls – Olympic National Forest
Location: Rocky Brook Falls is near the Dosewallips Road just south of Quilcene on Highway 101 along the west side of Hood Canal.
Getting there: From Quilcene, go 12 miles south and turn right on Dosewallips road (coming from the south, turn left on Dosewallips road). Continue three miles until you see cars parked near a creek.
Hike Information: On the right side of the road, you'll see a wide trail following the creek up to the falls. It's a short distance, less than a quarter mile round trip. It climbs a little bit but isn't steep. Watch your footing around the walks and logs at the end of the trail under the waterfall.
Why it's one of the best: This waterfall is also a very short walk from the road, less than a quarter mile round trip. Be aware, however that when you approach the falls there are lots of rocks and logs to climb around and over for the best views. My favorite thing about this Olympic waterfall is the angle you look at it from. You're looking up from below and the spray is really impressive!
#5 – Murhut Falls – Olympic National Forest
Location: Murhut Falls is near Rocky Brook Falls, a bit further south on Highway 101 (near the town of Brinnon)
Getting there: From Quilcene, go 15 miles south on Highway 101 to Duckabush Road and go right (left if you're coming from the south). Go about 8 miles up Duckabush Road, which becomes forest service road 2430 and turns to gravel.
Hike Information: There's a small sign noting the beginning of the trail on the opposite side of the gravel road from where you park. Begin climbing gently through the forest. The trail is fairly wide most of the way. When you get close to the falls there is a steep drop off on one side so use caution. The trail also gets steeper at this point. When you arrive at the falls, there is a convenient bench to take it in for awhile. The trail is about a mile and a half round trip with 300 feet of elevation gain.
Why it's one of the best: This is another waterfall that's an absolutely gorgeous hike to get to and there are wild rhodedendrons along the way in late May and June. The way you look straight across at this high waterfall (the highest on this list) through multiple cascades where it is across from you, above you and below you at the same time is absolutely awe inspiring.
If you're looking for a longer hike near Quilcene on the quieter east side of the peninsula, try the uncrowded Mt Zion hike, which has gorgeous views and amazing rhodedendrons too! Another more challenging option with rhodedendrons and even more amazing views is Mt Townsend. You'll encounter more people on the Mt Townsend trail than the Mt Zion trail, but not huge crowds.