Teneriffe Falls: Gorgeous Waterfall near Seattle
Posted On June 13, 2020
Last Updated on January 4, 2023
Teneriffe Falls in one of my favorite waterfall hikes near Seattle and one of my favorite waterfall hikes near Seattle. It's also less crowded than many hikes near North Bend even though it's just a couple miles from the Mt Si trailhead. This trail connects to the Mt Si Trail and the Talus Loop. At 6 miles round trip and 1500 feet of elevation gain, it's a moderate day hike perfect for most of the year and any weather.
Teneriffe Falls is located on the homeland of the Snoqualmie, Duwamish and Coast Salish people.
Parking Pass Needed: Yes, Discover Pass
Dog Friendly: Yes, on leash
Cell Phone Coverage: Decent. There are a few dead spots but most of the trail has some service
Restrooms: There are two pit toilets in the parking lot at the trailhead.
Accessibility and Mobility: Some parts of this trail are fairly steep and rocky. There is also a section near the top where there is some scrambling on wet rocks and roots.
Related: What to wear for a day hike in the Pacific Northwest, what to pack for a day hike in the Pacific Northwest
Is Teneriffe Falls hike right for me?
The first couple miles of the Teneriffe Falls trail are on a fairly wide former road and are not steep.
Once you transition on to the steeper portion of the trail after about two miles, it becomes steeper, very rocky and has several areas with drop offs.
It is a beautiful waterfall accessed on a lovely trail and it is much less crowded than nearby Mt Si and Little Si.
If you're looking for a longer and flatter hike, check out nearby Otter Falls.
When is a good time for the Teneriffe Falls hike?
The best time to hike to Teneriffe Falls is in the spring when the snowmelt and spring rains create a truly roaring waterfall. In June the waterfall is impressive and so are the bright pink and purple foxglove wildflowers in the rocky section of the trail.
Teneriffe Falls is accessible most of the year, though there could be snow or ice at times during the winter which would make the trail very treacherous.
Where is it?
The Teneriffe Falls trailhead is located near North Bend, about 3 miles beyond the Mt Si Trailhead on the Mt Si Road.
When the King County Trailhead Direct Bus is running, it stops at this trailhead.
Trail Description
Starting at the large paved trailhead, you'll begin climbing gently for about half a mile until you arrive at a rehabilitated former road.
Go left on the road (follow the sign) and head up a gentle grade for about a mile and a half through second growth forest covered in ferns. You'll pass many salmonberries and the occasional view across the valley towards Rattlesnake Mountain.
Just under two miles from the trailhead, several logs block the wide trail and a sign indicates a sharp right turn on a narrower trail for Teneriffe Falls.
Now you'll begin climbing more steeply, and the trail becomes more rocky. In June spectacular foxglove pink and purple flowers line this section.
You'll then get into a deep forest following up the creek. Now the trail gets occasionally very rocky and muddy and there are some drop offs next to the trail so use caution with your footing. Sturdy shoes and trekking poles are very helpful here.
If you're a switchback counter like me, count 22 switchbacks from the junction with the wider trail and you're there! Occasional views of the creek and lower falls come in and out of view on the final few switchbacks.
Arriving at the falls, be extremely careful as it's a fairly small area for looking at them and it's very steep, wet and mossy. Take in the water falling down from above as long as you like, then head back down the way you came.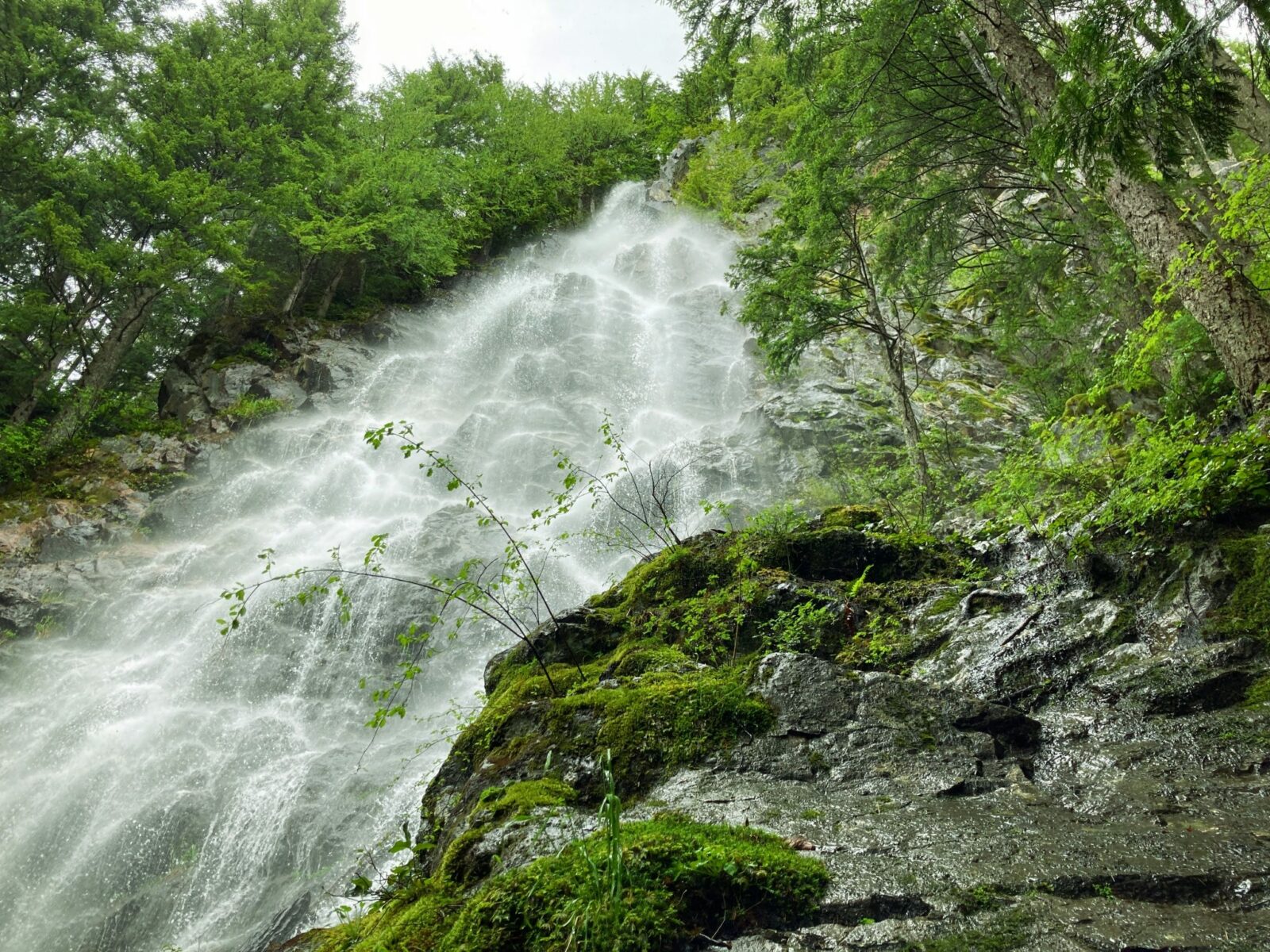 The waterfall itself is not a great place to stop for lunch since there's not a lot of room. There is plenty of space along the boulders in the switchbacks as well as on the forest trail to take a longer break.
Fuel up after the Teneriffe Falls hike
The North Bend Bar and Grill is a great place to grab some food after your hike. If you're looking to grab a beer, you can do that at the tasty and dog and kid friendly Volition Brewing Taproom. Pioneer Coffee has excellent coffee and pastries.
Electric Vehicle Charging
I can make it to the Teneriffe Falls trailhead from my house in Seattle on one charge in my Nissan Leaf (which has about a 90 mile range). Most EV's won't need to charge from Seattle on this trip, but if you do you can charge at the charging station at the North Bend Outlet Mall (and it's walking distance to downtown for all the food options mentioned above).