Alaska on a Budget: 20 Ways to Save Money on your trip
Posted On March 2, 2020
Last Updated on September 19, 2023
Dreaming of a trip to Alaska? But worried about how to visit Alaska on a budget? This article is for you! I lived in Alaska for years and still spend lots of time there every year visiting friends and working as a tour director.
Alaska is an expensive destination, but you can travel there on a budget. It won't be the cheapest trip you've ever taken but it doesn't have to completely destroy your budget either. These tips have the potential to save you hundreds and perhaps even thousands of dollars, depending on the length of your trip and your flexibility on your lodging options.
This post contains affiliate links, which means if you make a purchase I may receive a small commission at no additional cost to you.
Why is Alaska so expensive?
Before we dive in, it's helpful to consider why Alaska is so expensive. A few reasons are
Remote location – the more remote you are the more expensive things will be. In bigger towns, food and fuel are not as expensive as they are in rural communities where everything has to travel in by air. Even in larger cities, everything arrives from a long highway trip, long boat trip, or airplane
People have to make their whole year's income in a short time – this is particularly true of lodging and tour operators that only operate in summer (which is most of them). This means you have to earn your whole income for the year in just a few months!
Alaska is in high demand – like any popular destination, prices are high for anything with limited space (rental cars, lodging, tours)
But don't despair. You can absolutely visit Alaska on a budget. The rest of this article will show you exactly how to do that.
Cheapest way to get to Alaska on a Budget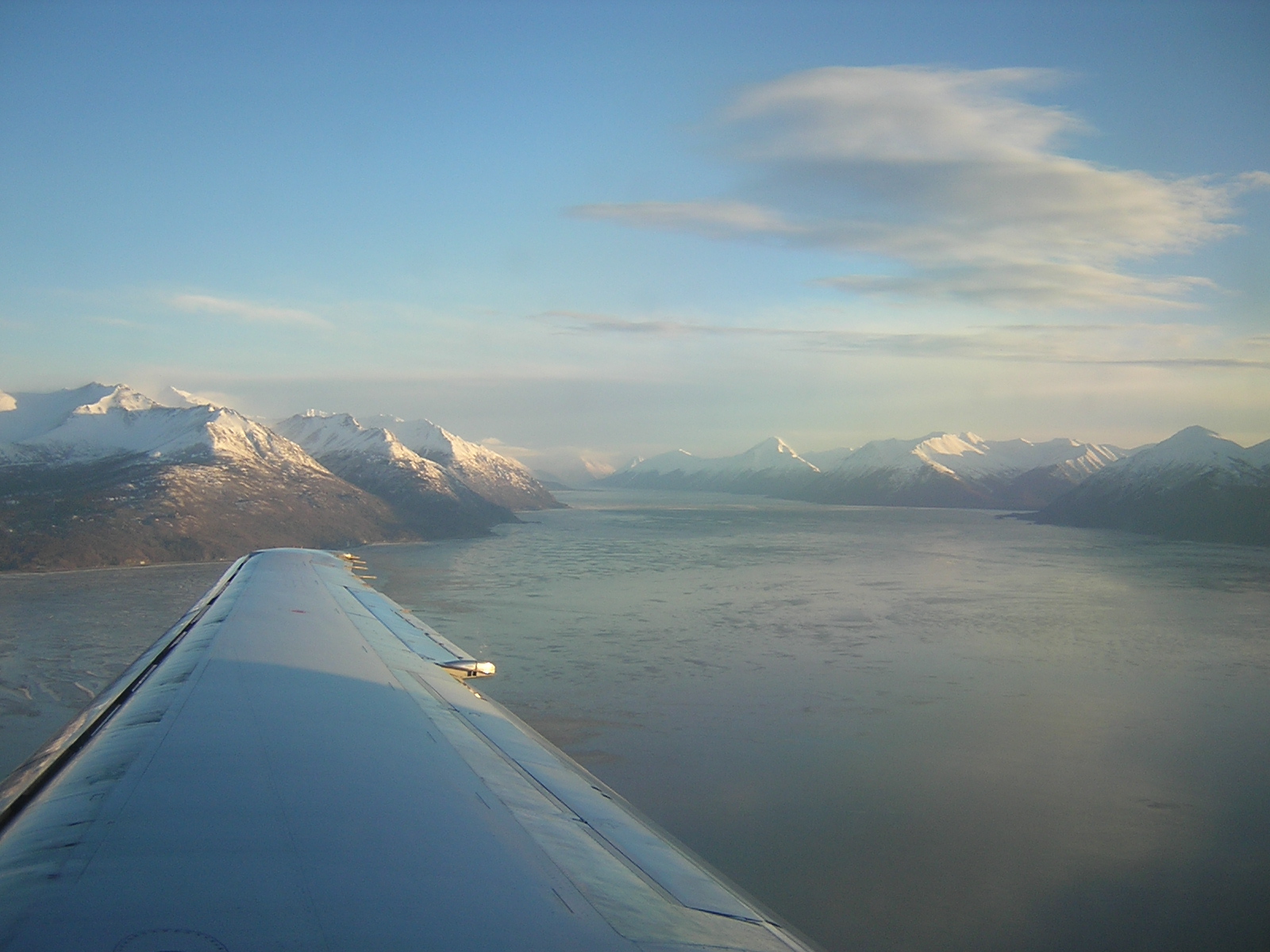 The first step in planning your trip to Alaska on a budget is deciding how to get there in the first place. If saving money is your primary concern, FLY to Alaska. Flying is the cheapest way to get to Alaska.
I have driven the Alaska highway many times as well as taken the ferry to Alaska. Both of these options are really wonderful adventures. They are NOT ways to save money and they are both MORE expensive than flying.
A few reasons why flying is the way to get to Alaska on a budget include:
Flying is fast – You can fly to Anchorage in about three hours from Seattle, Juneau is about two hours from Seattle
Flying has competition – remote locations are expensive to fly to and often only served by Alaska Airlines, but other cities such as Anchorage, Fairbanks and Juneau have multiple airlines flying to them, which keeps prices lower
Flying costs about half (this depends of course on the exact day, time and location you're going to) what the ferry does to get to Southeast Alaska, and gets you there in a couple of hours instead of a few days
You can skip a flightseeing tour once you get there by selecting a window seat and doing your flightseeing on the way!
Driving the Alaska Highway takes a long time – it will take a minimum of 4 days to reach Anchorage or Fairbanks from Seattle, and 5 is more reasonable. In addition to the distance, gas is more expensive and there are frequent multi-hour delays for road construction. You're also likely to need to buy a tire or two!
Bottom line: If you are thinking ONLY about your budget, and your trip is less than two weeks, you probably don't have time to drive or take the ferry. You will also spend much more to take the ferry. Driving might save you a bit of money if you're in a group and you're ok with spending two weeks of your trip on the road getting there and back.
20 Strategies to Save Money in Alaska
#1 – Prioritize
This is absolutely the most important thing for visiting Alaska on a budget. There are two important ways to prioritize:
Prioritize one region of Alaska – I know this is really hard to do, but trying to see the whole state is impossible. Trying to see even the places that are most accessible to tourists (Inside Passage, Anchorage, Kenai Peninsula, Denali National Park, Fairbanks) in one trip is way too much in my opinion. It's also really expensive. I recommend picking ONE of these: Inside Passage, the Interior (Fairbanks and Denali), Southcentral Alaska (Anchorage and the Kenai Peninsula), Parks Highway (Anchorage, Talkeetna, Denali National Park and Fairbanks). Not only will you save a ton of money but you will also have time to relax and go deeper in your Alaska experience.
Prioritize the activities that are most important to you – the opportunities in Alaska are completely overwhelming and some are very expensive. Almost every location will offer fishing, helicopter tours, flightseeing, guided fly in glacier hikes, kayaking, rafting, wildlife tours and cruises and more. Before you plan your trip or book anything, ask yourself "What do I really want to get out of this trip?" Then pick one or two or a handful of activities that you really want to do. Not only will this save you a lot of money, it will also help you enjoy the trip. Doing expensive, adventurous 12 hour tours day after day is exhausting! If you pick a few you really care about, you'll enjoy it more and keep a manageable budget.
#2 – Get the Alaska TourSaver App or Coupon book
The Alaska TourSaver is the best way to save money on tours and attractions in Alaska. The deals are mostly 2 for 1 deals, so they are ideal for two people (or four) traveling together. If you're a solo traveler, make a friend at a hostel or campground and take advantage of the deals anyway!
The way it works is you buy the coupon book for $100 and then you use the coupons to save hundreds (or possibly thousands) of dollars. You can also get the app and then purchase a package based on which region of Alaska you are visiting. For example, you could buy a package for the Inside Passage only.
You can see the list of all the offers on their website and calculate your savings based on your planned activities. Generally you will need to call the vendors (not book online) and make sure to tell them you have the Alaska TourSaver book (you will also need to bring it with you, so don't leave it on your counter at home).
#3 – Travel during the Shoulder Season
If you're going to Alaska on a budget, May and mid to late September are your friend! (Pro tip: late winter is the best time to visit Fairbanks and to see the Northern Lights). In May and mid to late September it's easier to find lodging and lodging is often less expensive. Rental cars are sometimes less expensive and definitely easier to find.
May is a particularly good time to visit Southeast Alaska, with prices for cruises being much less and often accommodations as well. May is a good month for weather as it's one of the least rainy months of the year there.
September is a particularly good time for Denali National Park and Fairbanks, which have spectacular fall color in early September. Keep in mind that September is fall, and it is much colder and wetter across Alaska than earlier in the summer. No bugs though!
If you really want the ultimate Alaska adventure while saving money at the same time, consider a winter visit.
#4- Consider taking a Cruise if you're visiting the Inside Passage
I know independent travelers might throw rocks at me here, but if I am giving you honest advice about visiting Alaska on a budget, I have to recommend a cruise. If you don't want to do a cruise, that's cool, but there's no question that it's the most affordable way to see the Inside Passage and Southeast Alaska. Cruise lines have an additional cost for solo travelers which varies widely, so this might not be true if you're traveling by yourself.
Large cruise ships are much less expensive, while smaller expedition style ships are much more expensive but still potentially less than doing a trip of similar length that you organize yourself. To save money on a cruise, take an early season cruise in May, a great month for weather in Southeast Alaska and less expensive than July.
Taking the Alaska ferry round trip from Bellingham to Juneau can easily be $1000 per person. This does NOT include a bed or a cabin or any food. The cruise ship price includes a cabin and meals.
I've read a lot of articles saying that the ferry is a "local's cruise" or a "cheap way to do a cruise" and both of these are completely NOT TRUE. Don't get me wrong, riding the Alaska ferry is an awesome adventure (read all about how to do that here), but it is NOT a way to save money!
#5 – Fly into Anchorage
We already talked about how flying is the best way to get to Alaska on a budget (unless you're taking a cruise through the Inside Passage) but another tip is to make your entry point Anchorage. Anchorage has the most flights and the most competition which leads to lower fares. Check Fairbanks also because sometimes flights there are cheaper.
#6 – Use Skyscanner (or your favorite airfare search engine)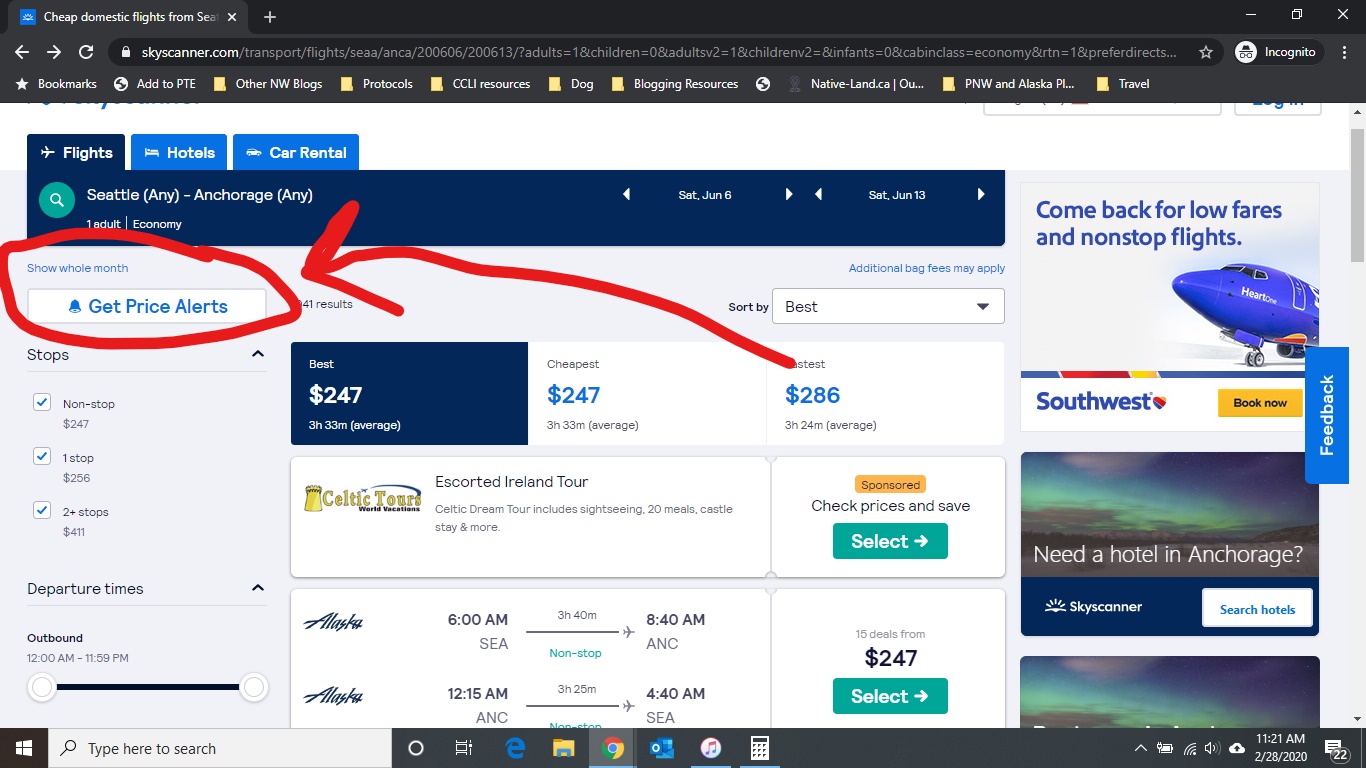 As a budget traveler you are likely familiar with Skyscanner already. Skyscanner is my favorite site for comparing airfare. A feature that's easy to miss is the "see whole month" button (see arrow) which allows you to see the prices on different days close to your travel dates. This is beneficial because sometimes the difference in price between two days next to each other can be a lot.
Another benefit of Skyscanner is that you can get price alerts (also in the screenshot above), letting you know when the price for that trip goes up or down – super helpful!
#7 – Get the Alaska Airlines Credit Card
If you already have a travel credit card that you love then this tip might not make sense for you. If you're considering a travel credit card and especially if you live on the West Coast or think you might travel to Alaska again in the future, this is a great option to consider.
I have had the this credit card for more than 25 years and it has saved me tons of money. The biggest benefit is the annual companion fare. The companion fare lets you take another person with you on the same itinerary and you just pay the taxes and fees for them (around $150). There's a $75 annual fee, so basically if you're going to spend more than $225 on a ticket for a second person, it's worth it to have the card.
There are other benefits too, such as earning miles on everything you purchase, discounts on day passes to the Alaska lounge, and a discount on onboard purchases.
Alaska Airlines has an excellent mileage plan program with miles that never expire, and Bank of America has been very helpful anytime I've needed customer service (including a couple of times I've had my card stolen).
#8 – Use Stay 22 to compare lodging prices and consider a Hostel or vacation rental
Similar to airfare, using a comparison site to shop for a hotel is a good strategy to travel to Alaska on a budget. It helps you quickly see the prices and ratings of different hotel options. I love the Stay 22 map below because you can see hotels, hostels and VRBO vacation rentals on the same site. Even better, you can also see the location on the map which is important because you'll know whether or not you're walking distance from where you need to go or if you'll need a car or tour to get there. You can scroll around on the map to see different parts of Alaska (or anywhere else for that matter).
This strategy will be most effective in Anchorage, Fairbanks and Juneau. The smaller the town, the less effective this is (less competition).
#9 – Consider Camping and Alaska's Public Use Cabins
Camping is a way to save a TON of money on accommodations. Camping in Denali National Park ranges from $12- $30 a night depending on which campground and some National Park campgrounds (like the one in Glacier Bay National Park) are free! Alaska State Parks campgrounds range between $10 and $25 a night and many can be reserved. Campgrounds do fill up, especially the closer you are to Anchorage on weekends. Read my full guide to camping in Alaska here.
There are a few things to keep in mind if you're considering tent camping in Alaska:
There are bears – it's important to follow the local land manager's requirements for bear safety (always have pepper spray designed for bear defense – you'll have to buy it in Alaska as you cannot fly with it). The most important thing is to not have any food or toiletries or other scented items where a bear can get to them. Always keep them locked in a car or secured in a bear bin (a container that you can open but bears cannot) or in a locker (some campground provide lockers or other places to secure these items. Occasionally a campground may be closed to tent camping if there has been bear activity nearby.
There are bugs – follow my advice here for managing mosquitoes while camping (or bring warm clothes and camp in September when bugs are usually gone).
May – mid August the sun comes up EARLY – as early as 2:45 am near Fairbanks and Denali, I recommend an eye mask to help you sleep past 3 am. It never gets fully dark either so camping can be a bit disorienting when figuring out what time it is.
Wildfire smoke can be present in the summer months (not so much in Southeast Alaska) and being outdoors 24/7 can be challenging, especially for those with health concerns.
Flying with camping gear means you have more stuff and it's harder to pack light (as long as you don't bring stove fuel and bring the empty stove in your carryon you should be fine)
If that sounds like too much, another option is to reserve on of Alaska's many Public Use Cabins, which provide security from bears and bugs and some protection from the weather. The generally cost between $20 and $75 a night depending on their location. They don't have restrooms or running water (they all have an outhouse) or kitchens, so it's basically like camping in a hard sided stationary tent with a roof. This can be a great middle option for Alaska on a budget, and has the bonus of really feeling like you are in Alaska (especially when you use the outhouse!).
I've stayed in many of them and they've all been wonderful. Pay attention to the access, many are on the road system but not all. Access information is clear in the description of each cabin.
#10 – Be thoughtful about your Car Rental
Car rental is one of the most important things to plan as far ahead as possible. If you're going to Alaska on a budget, this is going to be one of your biggest challenges. Car rental in Alaska is expensive. Avoid a one way rental. This will cost AT LEAST $500 additional to drop off somewhere else.
I highly recommend Rent-A-Subaru in Anchorage, the best place to rent a car in Alaska in my opinion. They have one thing – 2-4 year old Subaru Outbacks. They have a standard price list and no add ons. You must have your own insurance and bring it with you. They are a $10 ride away from the airport and awesome to work with! A Subaru is the perfect vehicle for Alaska.
If you do decide to rent at the airport, keep in mind that many car rental companies will not allow you to drive off pavement on gravel roads. In Alaska, several highways are well maintained gravel or dirt roads so not being able to drive off pavement may be somewhat limiting.
Another option is to try Turo, which is like Airbnb for cars and can save you a ton of money.
#11 – Consider taking a Bus instead of renting a car
This strategy is something that may or may not save you money, it depends on the size of your group, where you are going and how long you are staying there. Bus service is available between Anchorage and Denali National Park ($100 one way, approximately 6 hours including a stop in Talkeetna). Service is also available Anchorage and Seward ($70 one way, approximately 3 hours). They also serve Whittier on days when cruise ships are in port.
If you were traveling solo, it might make sense to take the bus instead. Another situation where this might make sense is if you were going to drive to Denali and then park there for several days while you were in the park (private vehicles are not allowed beyond the first few miles of the park road).
You'll have to do the math and determine if the bus would be cheaper for your itinerary and if it would serve your needs.
Related: How to visit Alaska without a car
#12 – Picnic or otherwise prepare some of your own food
In some cases, this may be a necessity as well as a way to save money. There are some areas in Alaska where there aren't many food options. Grabbing an inexpensive cooler or bringing one from home works, or you can get food that doesn't need to be kept in a cooler. There are a million gorgeous places for a picnic all over Alaska's road system, so you can stop for lunch and enjoy it anytime you want.
If you're heading into Denali National Park on the bus trip, there are no services along the park road for food so it's really important to bring lunch, snacks and water along with you.
If you use Booking.com or AirBnB to find a place to stay (or you have a hotel with a kitchenette), you can make some of your meals there too and this will also save a lot of money.
#13 – Buy your supplies in the largest town you're visiting
Regardless of how you are getting around, buy the food and supplies you're getting in the largest town you can. This is another reason to start your trip by flying to Anchorage.
In larger towns, food and supplies are much less expensive. If you're loading up on picnic supplies, sunscreen, bug spray and anything else you need, get that in Anchorage if you can. In Southeast Alaska, Juneau is your best bet followed by Ketchikan.
If you're driving a car, top off the fuel tank anytime you're in a larger town for the same reason.
#14 – Take the Transit Bus in Denali
As I mentioned in #12, you cannot drive a private vehicle beyond the first few miles of the park road. To really get into Denali (and you should, it's amazing and totally worth it), you'll need to ride a bus.
There are narrated tours available, these cost around $145 for an 8 hour tour. To save a ton of money and completely customize your experience (get on and off anytime you want!) by taking the transit bus instead ($60 +$15 entrance fee). You can get off and take a hike and get back on the next one. Whenever you get tired of the bus ride on a gravel road, you can go to the other side of the road and get back!
If you do this, I recommend going at least as far as Eielson Visitor Center, which has epic views of the Denali (if it's visible, it often is not during the summer) and an excellent chance of seeing wildlife. I've done this trip many times and I have never seen less than five bears! I've also seen moose almost every time and sometimes caribou. Arctic ground squirrels abound and are absolutely adorable. If it's a really clear day, you might even want to go a bit farther to Wonder Lake.
It's a long day so make sure to bring snacks, lunch and water and perhaps a book or music to listen to. There is also a free shuttle that goes through the first few miles of the park road and to the sled dog kennels, so you can take advantage of that if you're not up for the long bus ride.
#15 – Eat where locals eat
Restaurants can be very expensive in Alaska and while some restaurants are amazing, some are disappointing! Alaskans eat too and they definitely know where the best places are to eat! Ask the people you meet where their favorite places are to go, and what the affordable options are. They will know. You can get started with this list of the best places to eat in Alaska according to Alaskans!
#16 – Take a boat tour
In my experience, a wildlife and/or glacier cruise is one of the best value tours in Alaska. There are many of them, particularly good places are Seward, Whittier, Valdez, Juneau, Glacier Bay, Ketchikan and Sitka.
Now before you say "but those are expensive!" I want to remind you of #2 and there are lots of boat tours in the TourSaver book, which brings down the cost a lot. Depending on where you are doing it and the length of the tour, expect to pay $90 – $225 per person (or half of that, if it's a tour that works with Alaska TourSaver). I know this is a lot of money, but it's also an incredible value. The views, the glacier, the wildlife will BLOW YOUR MIND. If you're going to do a tour, make it one of these!
It's also way less expensive than any kind of flightseeing ($200 – $600 per person) and a much better experience (and less prone to cancellations based on weather).
#17 – If you want to go fishing, make it a Halibut charter
If you're not interested in fishing, just scroll along to the next one. If you are, fishing trips are expensive. The best value for your money is to do a fishing charter (this is something locals often do too! I did it every year when I lived in Fairbanks). Halibut fishing is exciting and fun and you often get to bring home a decent amount of fish for your freezer which takes the edge of the cost (which tends to be around $300 – or half of that with the Alaska Toursaver!). In comparison, a day of fly in guided fishing runs at least double that.
I like doing a fishing charter out of Ninilchik on the Kenai Peninsula, but you can also do them from Homer, Valdez, Seward, Whittier and most ports in Southeast Alaska.
You can also bring your fishing pole and try your luck on your own! Make sure that you get an Alaska fishing license and know the regulations where you are.
#18 – Skip Flightseeing
I sort of covered this already, but this is a good way to save a ton of money (and avoid dealing with weather delays and disruptions).
Instead, get a window seat for your flights to and from Alaska and do a boat tour instead. You won't be disappointed!
#19 – Skip expensive bear viewing, do this instead
I won't lie, seeing a bear up close in the wild is an amazing experience. However, this post is about saving money, and fly in bear viewing is EXTREMELY expensive (at least $500 per person). If this is the thing you really want to do in Alaska then by all means DO IT AND LOVE EVERY MINUTE.
If you want a less expensive way to see bears, try
Watching the Katmai National Park bear cam – I know it isn't the same, but it's pretty awesome
Do the Denali bus and ride as far as you can handle. I have seen bears (multiple!) every single time.
Visit the Alaska Wildlife Center near Portage (less than an hour from Anchorage) – the animals here (not just bears) are not in the wild, it's a sanctuary for animals, but you can see lots of Alaskan animals up close and get some amazing photos. It costs $17 (that's $17 instead of $600 for those of you following along with the math)
#20 – Get travel insurance
You might be thinking "hey, I'm going to Alaska on a budget! I don't have extra money for that and I have health insurance. I'm in the United States aren't I?"
Many places in Alaska are FAR from medical care and very far from a hospital. Medical emergencies often require an extremely expensive flight in a plane or helicopter if you're very unlucky.
Many Alaskans who live away from hospitals have insurance for medical flights. I strongly encourage you to get travel insurance for your trip in case an emergency happens. Make sure to read the fine print and understand what's covered.
I'm very grateful to not ever have had to use travel insurance, but I purchase it for all my travel in Alaska. Sometimes I don't get it if I'm just going to be in town and visiting friends, but if I'm heading into any remote areas or booking anything nonrefundable I always have it.
I personally use and recommend Insure My Trip because you can compare prices from different travel insurance companies and search based on the features you need in your plan (instead of what a single company offers).
I also encourage folks to find out what's already covered in their health insurance and with their credit cards and any other insurance you are part of before buying travel insurance.
Best Value Activities for Traveling to Alaska on a Budget
It's true that traveling to Alaska is going to cost some money, but if you're traveling to Alaska on a budget you want to get the most out of every dollar you spend. In my opinion, these are some of the best value activities in Alaska:
Boat tours – see #16 above – expect to pay $100-$300 per person (or half with Toursaver) depending on where it is, how long it is, the size of the boat and if they have lunch (they often do!)
Gold panning – There are lots of places to do this all over the state, some are part of a larger tour and some places you can just go gold panning. Gold panning is a fun, budget friendly (it could cost as much as $50 but probably more like $20) activity that almost everyone enjoys! It's also an authentically Alaskan experience.
Hiking – hiking is generally free and awesome! It's very important to be aware of bears and bear safety while hiking (I would not recommend hiking alone in Alaska, I solo hike a lot, but not there). Carrying bear spray is also a good idea. You can join a guided tour if that would help you feel more comfortable. Also be ready for mosquitoes!
National Parks – some of Alaska's National Parks are hard to get to, but Denali and Wrangell St Elias are on the road system. Kenai Fjords is accessible from Seward and Glacier Bay from Juneau. Many of Alaska's parks do not have an entrance free. Denali has an entrance fee of $15 (much less than most in the lower 48!). Free ranger programs are a wonderful way to learn about Alaska. My favorite free national park program is the Denali sled dog demonstration. Don't miss it!
Biking – especially in Anchorage, you can rent a bike from Pablo and ride it on the gorgeous Coastal trail.
Kayaking – kayaking tours are often more affordable than other tours, and you can save money by doing a half day tour. This is another trip you can save money on with the Alaska Toursaver. You can expect to pay around $100 for a half day tour, or less if you're going to rent the kayak without a guide (not all places let you do this, but some do).
Related: Best things to do in Alaska, according to Alaskans
How to make a Budget for Alaska
Now that you know all about how to make your trip to Alaska on a budget, how do you put it all together and figure out what this will actually cost?
I can't really give you an estimate because there are so many variables (where are you flying from? Are you camping or staying in hotels? Are you making your own meals? How long are you staying? How many tours are you going on?). However, I would suggest starting with how long you have for your trip and what region you're going to (remembering #1 – prioritize!). Pro tip: Use my free cost calculator to manipulate all the costs and tradeoffs for yourself.
If you're taking a cruise, you'll pay the cost of the cruise plus tips for the crew (the cruise company should have suggested amounts on their website). Other things that are not included are tours in port, alcohol and usually soda and juice and anything you buy on your trip.
If you're not on a cruise, once you know how much time you have and where you're going to go then you're ready to make a budget. Make sure your budget includes the following:
Transportation to and from Alaska – flights from Seattle round trip are generally $400-$700, though this varies a lot from year to year, time of year and day of the week.
Lodging in Alaska – $15-$30/night for camping; $60-$100/night for dry cabins (no running water) $400 – $500 a night for hotels and vacation rentals; something in between for cabins and lower end hotels (many budget hotels are also $200- $300 a night!)
Getting around in Alaska – expect to pay about $1500/week for a car mid size car rental in summer from the Anchorage or Fairbanks airport. If you're in Southeast Alaska, taking the ferry between smaller towns without jet service is likely to be cheaper than flying (note: this is different than taking the ferry TO Alaska). Gas is also expensive, especially outside the major cities. You can also take the Alaska Railroad or the Park Connection bus between Anchorage, Fairbanks, Denali National Park and Seward.
Food: Expect groceries to be a bit more than what you pay at home in major cities like Anchorage, Fairbanks and Juneau. Expect to pay a LOT more in smaller communities. Food in restaurants is expensive – ask locals where they eat for meals if you're looking to save money. Make use of online information to know what to expect in a particular restaurant for a meal.
Tours and attractions: This is where your budget will vary A LOT based on what's most important to you and your choices. See above for some guidance on making these decisions. Don't try to do it all! And get the TourSaver book.
Tips: Many people are not aware that it's important to tip tour guides. Tour guides are often paid minimum wage for extremely hard work and many Alaska guides struggle to find work in the winter. Tips are a critical part of a guides income, and extra important if they did a great job. A good guideline is to tip your guide 15-20% of the cost of the tour.
Now you have everything you need to plan your trip to Alaska on a budget and have an amazing experience while you're there!