Carbon River Trail: Waterfalls and Giant Trees in Mt Rainier National Park
Posted On May 1, 2021
Last Updated on January 15, 2023
Looking to see stunning old growth forest along a milky glacially fed river tumbling down from the lowest altitude glacier in the Lower 48? Looking to find a trail in a popular national park that isn't crowded? Need a mellow trail that goes deep into the heart of Mt Rainier National Park that is a wonderful day hike as well as a multi day backpacking adventure? The Carbon River Trail is here for you! With a mellow grade, several gorgeous waterfalls and ancient trees, this is a special and much less known place off the beaten path.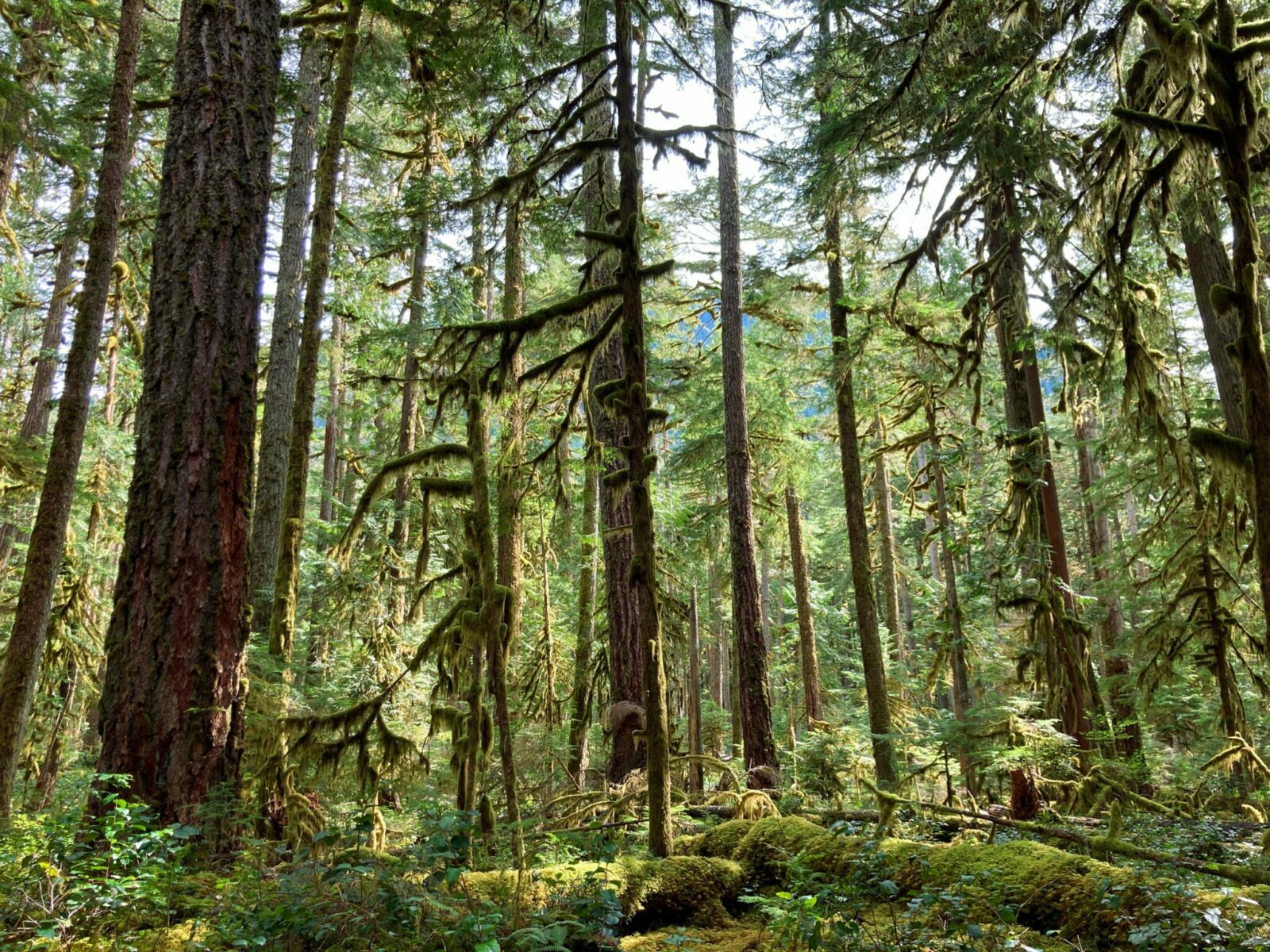 Once a road that lead to the Ipsut Creek campground and a starting point for the Wonderland Trail or the Mother Mountain Loop, the Carbon River Trail became a trail after several washouts closed the road in 2006. Adding at least six miles to formerly short hikes like Ranger Falls and Green Lake, or to the base of the Carbon Glacier, hikes to those places are now longer, but also less crowded and peaceful.
You can also bike along the Carbon River Trail, a ten mile round trip outing to Ipsut Creek Campground, and you can stop and lock up your bike at several trailheads along the way. Bikes are only allowed on the Carbon River Trail, not the other trails or the trail to Carbon Glacier. Whether you hike or bike, here are the stats to expect to different destinations:
Bike or Hike the Carbon River Trail to Ipsut Campground – 10 miles round trip with 650 feet of elevation gain
Ranger Falls Hike – 9 miles round trip with 1200 feet of elevation gain
Green Lake Hike (Ranger Falls is on the way here) – 10 miles round trip with 1500 feet of elevation gain
Chenuis Falls Hike – 8 miles round trip with 500 feet of elevation gain
Carbon Glacier Hike – 19 miles round trip with 1800 feet of elevation gain (backcountry camping requires a permit from the Carbon River Ranger Station)
The Carbon River Valley is the homeland of the Puyallup and other Coast Salish People.
Parking Pass: Mt Rainier entrance fee ($30/vehicle for up to 7 days) or America the Beautiful Pass. Pay entrance fee at the Carbon River Ranger Station. Display the pass while parking at the trailhead.
Dog Friendly: No, dogs are not allowed on any trails in Mt Rainier National Park
Cell Coverage: None (signal fades out after the small town of Wilkeson)
Restrooms: Port a potties are available where you park, one is ADA accessible
Accessibility and Mobility: The Carbon River Trail has a very gentle grade and is wide and graveled most of the way. A few places have a few rocks to navigate. Side trails, such as the one to Ranger Falls and Green Lake, or much steeper and have more roots, rocks and mud.
Related: What to wear for a day hike in the Pacific Northwest, What to bring for a day hike in the Pacific Northwest
Where is the Carbon River Trail?
The Carbon River Trail is located in the much less known and less visited northwest corner of Mt Rainier National Park. It is 20 miles south of the town of Buckley, about an hour and a half drive from Seattle and an hour from Tacoma.
To get there, take Highway 410 East. After the town of Bonney Lake and just before the town of Buckley, turn right onto Mundy Loss Road (State Highway 162). At the junction with State Highway 165, continue straight (south) on Highway 165.
For the next 8 miles, watch your speed through the small towns of Wilkeson and Carbonado and stop before the one lane bridge to make sure no one is coming the other way (there is a sign prompting you to pay attention here!).
When you come to a Y in the road, signs direct you LEFT towards the Carbon River Ranger Station (right takes you to Mowich Lake, another wonderful area of the park). In just over 5 miles, you will come to the Carbon River Ranger Station. Stop here if you need to pay the entrance fee or if you are planning an overnight trip to get a backcountry permit. Backcountry permits are only needed for overnight visits, but the park entrance fee required for day trips.
About two miles beyond the ranger station, you'll come to a barricade across the road with two portapotties. This is the trailhead. Park along the side of the road clear of the road so others can pass and display your entrance fee pass or America the Beautiful Pass.
Is the Carbon River Trail right for me?
This is a wonderful trail for those looking for a less crowded trail. It's also wonderful if you prefer to ride a bike than hike, or if you are using a stroller, wheelchair or other mobility device. The wide, well maintained trail is also a good place to take visitors, wowing them with the amazing giant trees and birds singing.
You can do a long hike here, basically as long as you want! The Carbon River Trail goes 5 miles to the former Ipsut Creek car camping campground (now a backcountry camp). You can also do as short a hike as you want, turning around at any point after you've had your fill of exploring the old growth forest.
There are several waterfalls off the main trail (such as Ranger Falls, Chenuis Falls and Ipsut Falls).
An important thing to note about this trail is that it does NOT have views of Mt Rainier. Instead you get to soak up the other amazing features of the park! If you have time, you can do a hike from Mowich Lake such as Tolmie Peak or Spray Park and get amazing views of Mt Rainier there.
When is the best time of year to hike or bike the Carbon River Trail?
The Carbon River Trail is open all year. It has snow at times during the winter. I particularly enjoy this area in the spring (especially April and May) as the waterfalls are really incredible with all the snowmelt happening.
Trail Description
Starting from the road barricade, you'll head out on the old road along the banks of the Carbon River, which washed out the road making it unsafe for cars in 2006. Stop and check out the decommissioned buildings near the entrance and the sign welcoming you to Mt Rainier National Park.
A trail sign notes the distance to various destinations along the trail just before the gate. Even if you are only up for a short outing, this trail is well worth it. Even a very short walk on this trail will give you an unforgettable experience in this beautiful forest.
The road is paved for about half a mile and then gravel. The road looks flat but is actually going very gently uphill. Right away you'll notice the massive old growth douglas fir trees, many of which have been standing for nearly a millenia. You'll also here the song birds of the forest, especially the Pacific Wren. In addition to looking up at the towering forest canopy, don't forget to look at the undergrowth, featuring ferns and nurse logs growing new trees.
You'll continue through this forest for just over three miles and at that point you'll see a log bike rack on the right as well as a trail sign for Ranger Falls and Green Lake. I highly recommend making Ranger Falls and Green Lake your destination if you're up for a 10 mile hike. This part climbs steeply and has quite a few steps, roots and mud. One mile into this side trail, you'll see a metal post marking a former trail sign.
Take the short spur trail on the left to spectacular Ranger Falls. Admire this stunning waterfall (especially terrific in the spring!) for as long as you like. Ranger Falls makes for an excellent turn around point for a 9 mile round trip from the trailhead. If you're up for a bit more climbing and snow doesn't block your way, continue on up nearly another mile to gorgeous Green Lake, a peaceful alpine lake nestled among forested mountains.
If you want to continue on the Carbon River Trail, just beyond the trailhead for Ranger Falls and Green Lake, you'll come to Chenuis Falls. You can catch a view of it through the forest from the trail, but if the log bridges are in place (they often get taken out in the winter by storms so watch out for this especially in the spring) you can get even closer. These falls are a mellow falls not as visually spectacular as Ranger Falls, but still beautiful and very loud as they crash along the rocks.
If you want to go further still, in 5 miles you'll come to the Isput Creek Campground. This is where the old road ended and if you go beyond here you'll be on a much smaller and rougher trail. This makes a good basecamp for further explorations in Mt Rainier, including the Carbon Glacier. The Carbon Glacier is an additional 4 miles beyond the campground. Getting to Carbon Glacier requires a log bridge crossing, so it is important to check with the park to make sure it hasn't been taken out by a winter storm. There are views of Mt Rainier from the base of the Carbon Glacier (over nine miles from the trailhead).
Wherever you choose to turn around, eventually you'll head back the way you came to the trailhead.
Where to stop after exploring the Carbon River Trail
Enjoy some tasty pizza at The Carlson Block in historic Wilkeson, or Wally's Drive in for classic drive in food in Buckley.
Electric Vehicle Charging
The nearest fast charging is in Puyallup, just over 30 miles away from the Carbon River Trailhead.