14 Fun Things to do on Bainbridge Island with or without a car
Posted On February 26, 2021
Last Updated on January 23, 2023
Bainbridge Island is a quick ferry ride from the middle of downtown Seattle, but it feels a world away with it's charming shops, beautiful gardens, forests and beaches and history and culture. Add to that some delicious food, local wine and craft beer and spirits and you really can find it all here. I'm a born and raised Seattleite and I love to go to Bainbridge Island for an easy escape from the city, these are some of my favorite things to do on Bainbridge Island to relax and recharge.
Bainbridge Island makes a wonderful day trip or weekend getaway from Seattle, either with or without a car. Below I'll share more about where you can go if you're leaving your car behind as well as places you can bike, walk or take the bus to.
Most of these things to do on Bainbridge Island are free! Cost is listed for those who are not, except for restaurants and wineries.
Bainbridge Island is the homeland of the Suquamish People.
Related: 13 Relaxing things to do on Vashon Island
This post contains affiliate links, which means if you make a purchase I may receive a small commission at no additional cost to you.
How to get to Bainbridge Island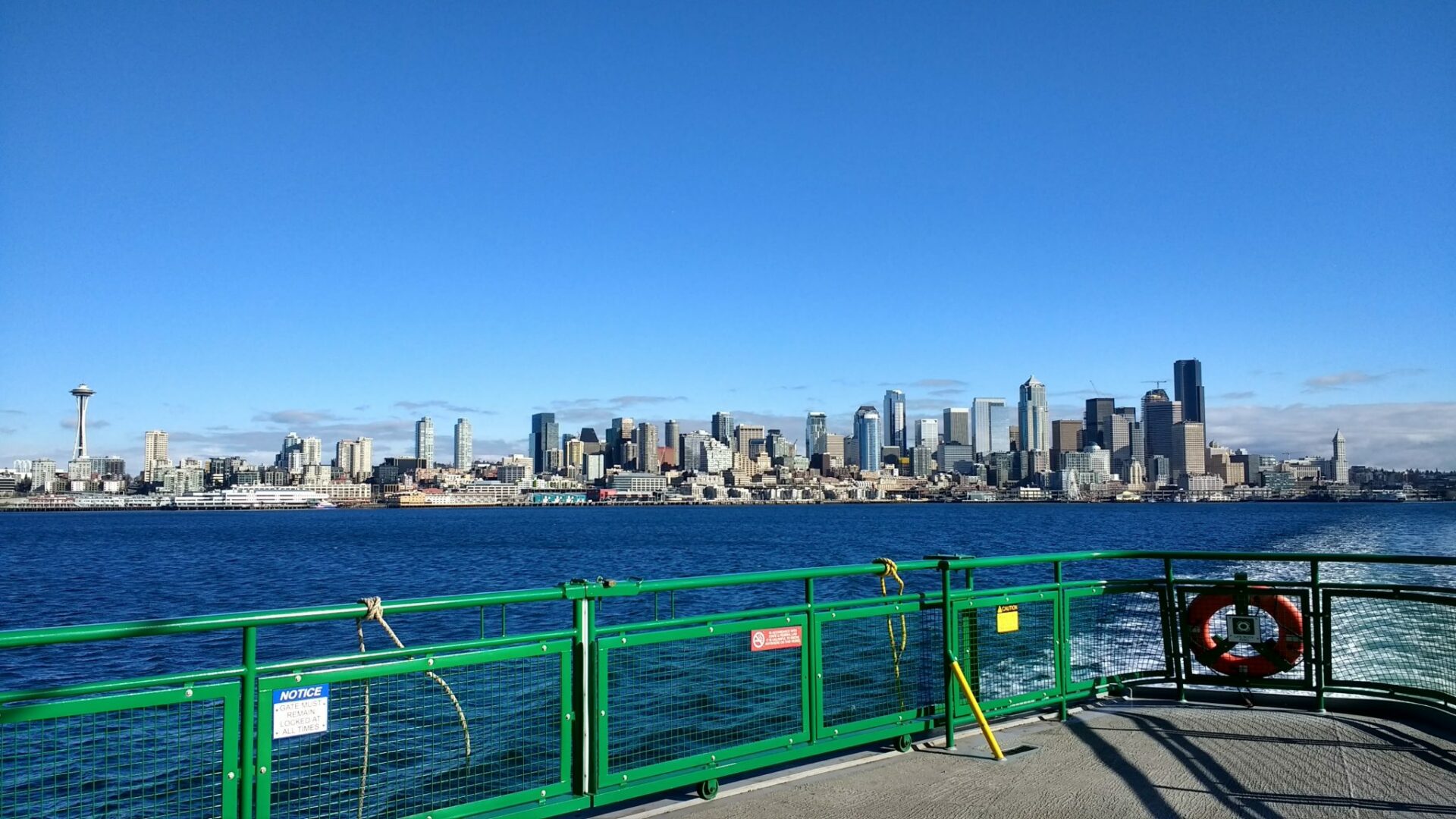 The easy way to get to Bainbridge Island from Seattle is by taking the ferry from downtown. You can either walk on, bike on or drive your car. For those who are north of Seattle, it might be more convenient to take the ferry from Edmonds to Kingston and then drive down to Bainbridge Island. For those south of Seattle, you can drive across the Tacoma Narrows bridge and then up to Bainbridge Island.
Getting to Bainbridge Island with a car
If you're driving on to the ferry in downtown Seattle, you'll enter the toll booth and the parking area at the dock. While taking your car on the ferry gives you more freedom for exploring the island once you arrive, it is more expensive. There is limited space for cars on the ferry and you may need to wait awhile to get on.
Getting to Bainbridge Island without a car (bike or on foot)
Walking or biking onto the ferry means that the ferry will never be full! You'll always be able to get on and you'll save a lot of money. The downside is that you'll be limited to walking, biking or taking the bus to where you want to go once you get on to the island. It's easy to get to lots of wonderful things to do on Bainbridge Island without a car, but not all. This post is organized starting with the things you can get to without a car first, followed by ones you'll need a car for.
Best time of year to visit Bainbridge Island
All year! This is one of the best things about Bainbridge Island, it's a wonderful year round destination! All of the things listed in this article are open all year, many of them outside.
Spring is a particularly good time to visit the Bloedel Reserve, with everything in bloom! The weather will be sunnier and warmer in the summer and fairly wet (just like Seattle) in the late fall, winter and early spring.
Things to do on Bainbridge Island without a car
Things to do you can walk to from the Bainbridge ferry
Everything in this section is located right by the ferry terminal and definitely walkable! The island is hilly, so be ready for some up and down even on short walks.
The Ferry ride between Bainbridge and downtown Seattle
You don't need to wait to get to the island to start the fun. The ferry ride itself is a highlight of any trip to Bainbridge Island. The views of downtown Seattle and the Olympic Mountains are as good as any you'll find. If it's a nice day, you can sit outside and soak up the sun. On a rainy day, cozy up to the big windows with a hot drink and watch the Salish Sea pass by. As you head towards Bainbridge, the views of Seattle will be at the back of the boat and the views of the mountains in the front.
Cost: The ferry costs about $26 round trip for a car and driver; $9 for a walk on passenger and $5 for seniors and youth.
Explore the shops, wineries and restaurants of Winslow
The small town of Winslow a few blocks from the ferry terminal is a fun place to walk around! In addition to the art museum and the waterfront trail, there are a number of wonderful small shops, including an independent bookstore and a delightful toy store. In addition there are lots of restaurants and several wineries on the island have tasting rooms in Winslow. A few favorites:
Blackbird Bakery – baked goods and coffee
Pegasus Coffee House – baked goods and coffee
Streamliner Diner – especially for breakfast!
Mora Iced Creamery – seriously delicious ice cream
Harbour Public House – amazing fish and chips with a view
Bainbridge Thai Cuisine – delicious food and great views of Eagle Harbor
Bruciato – Neopolitan style wood fired pizza
Bainbridge Brewing Alehouse – pub food and local beer
Proper Fish – amazing fish and chips
Bainbridge Art Museum
The Bainbridge Island Art Museum is a showcase of beautiful local art of the region. It's also a beautiful building right near the ferry terminal.
Bainbridge Island Historical Museum
Experience the rich and varied history of Bainbridge Island in this historic schoolhouse and interesting museum. This small museum covers Bainbridge's diverse and complicated history.
Walk the Waterfront Trail around Eagle Harbor
The waterfront trail runs for several miles along the waterfront starting at the top of the ferry terminal. Explore parks, restaurants, trees and beaches as you take in the fresh air.
Things to do on Bainbridge Island you can take the bus to from the ferry
Bainbridge Island Japanese American Exclusion Memorial
The Japanese American Exclusion Memorial is a must visit for all Americans. This beautiful and contemplative space invites the visitor to reflect on a dark time in American history, when Japanese Americans were taken from their homes and imprisoned for no reason other than having Japanese ancestry.
Japanese American families were forced to leave Bainbridge Island on March 30, 1942. They gathered and were taken away by boat to internment camps. This memorial shares their story and serves as an important reminder to make sure we never forget and never do this again. It is also a beautiful place that invites this kind of reflection. There are beautiful flowering trees here in the spring.
Fay Bainbridge Park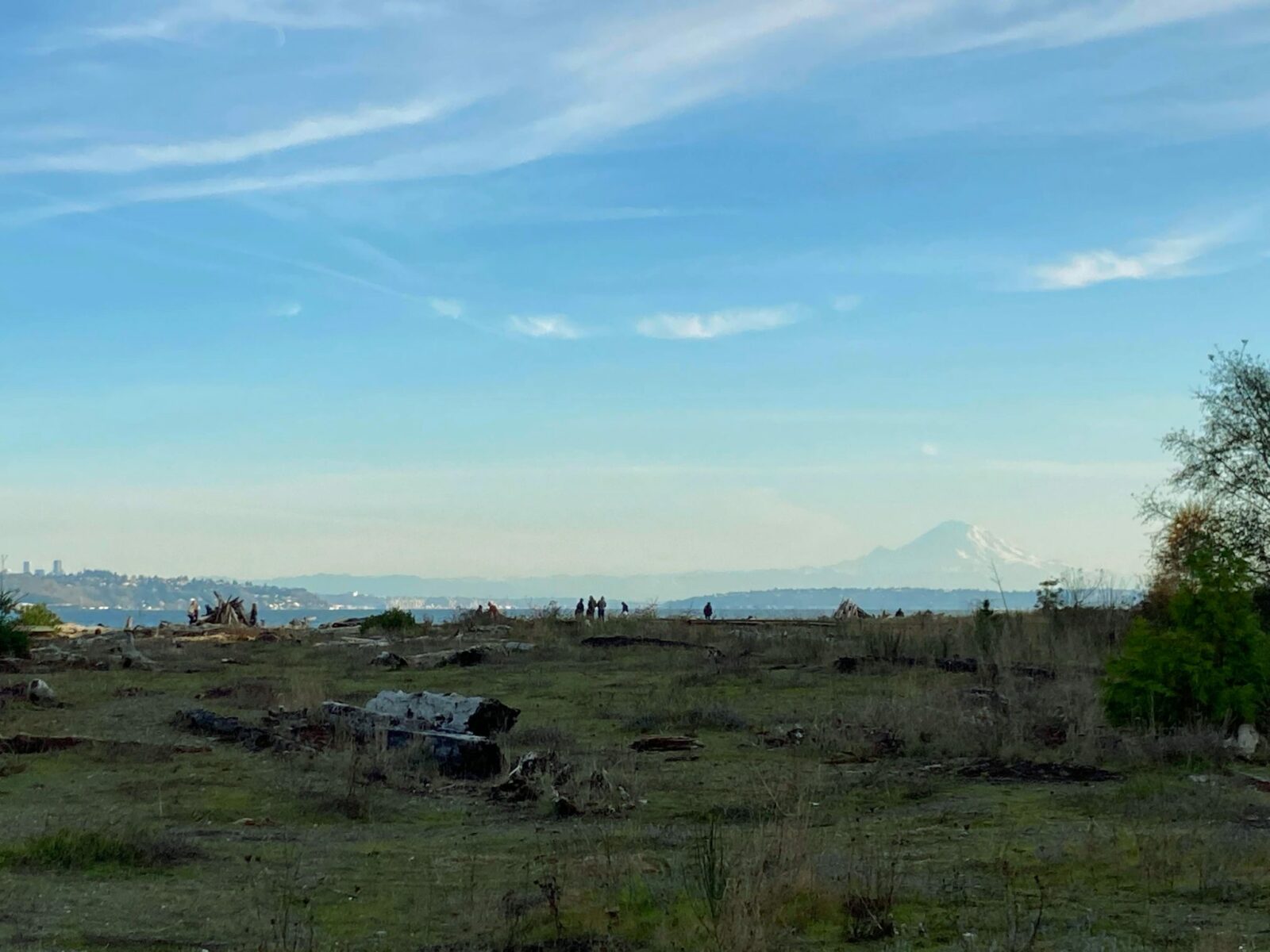 This wonderful park has a fantastic beach for sitting, walking, beachcombing and picnics. It's a rocky beach with lots of driftwood! Along the beach there are great views of Mt Rainier, other mountains in the Cascade range and parts of downtown Seattle. The park faces east, so you don't see the sunset, but you can catch the incredible alpenglow on Mt Rainier here at sunset on a clear day.
There is camping here right next to the beach and they even have cabins for rent.
Bloedel Reserve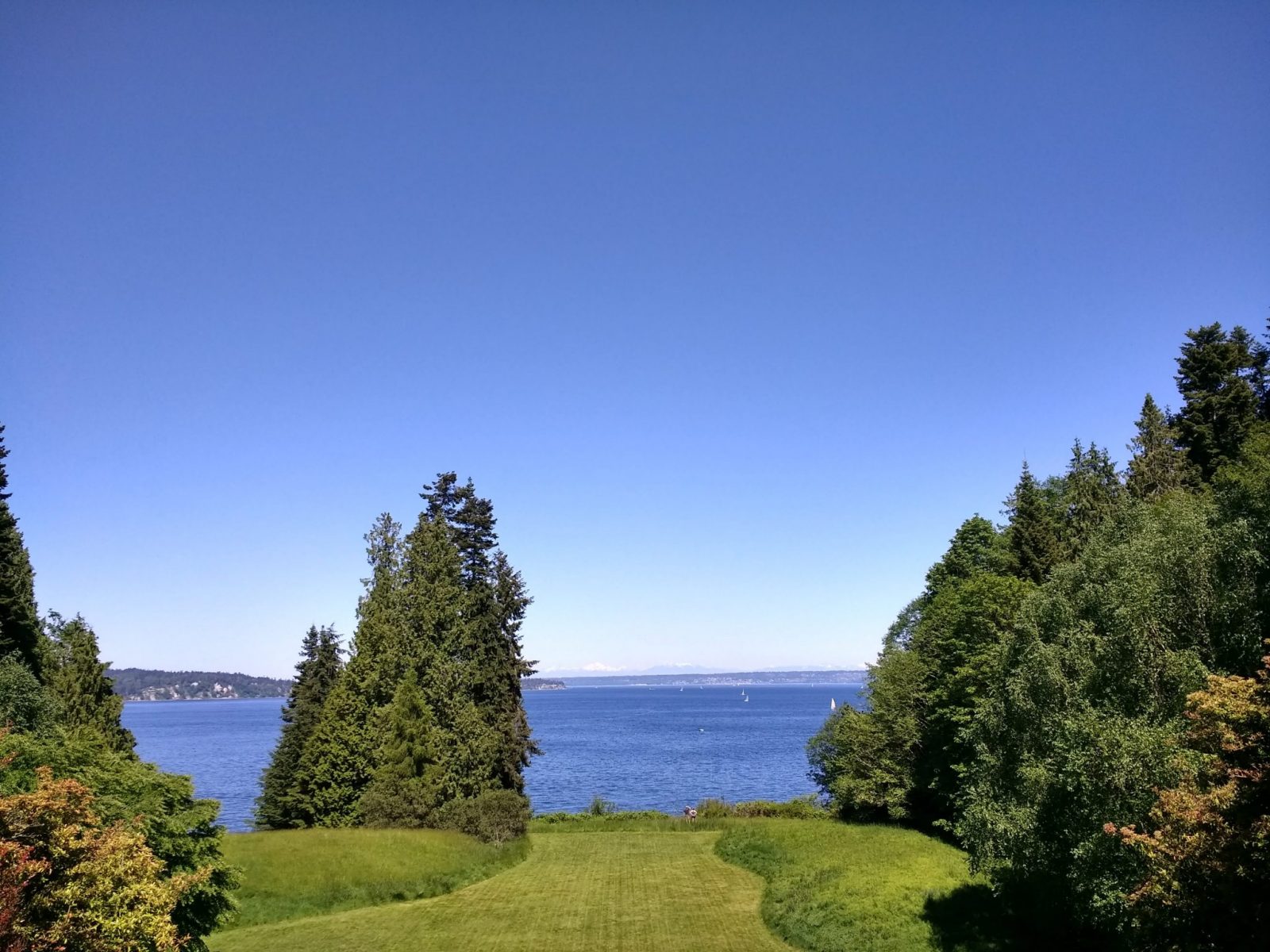 The Bloedel Reserve is a beautiful garden surrounded by forest. There are a couple of miles of trails to explore and forest land in addition to the beautiful gardens. I particularly love coming here in the spring when the spring flowers are blooming! The rhodedendrons are particularly beautiful here.
Cost: $17 for adults, $12 for seniors, $6 for youth (13-18) and $6 for children (5-12).
Bainbridge Distillers
Bainbridge's entry into Washington's excellent craft distillery scene, Bainbridge Organic Distillers offers all organic vodka, gin and whiskey in their tasting room. Located conveniently right next to Bainbridge Brewing, Fletcher Bay Winery and a delicious pizza spot, this is a fabulous stop for distillery lovers!
Things to do on Bainbridge Island with a car
If you are bringing your car with you to Bainbridge Island, you can still do all the car free activities but there are a few more things to do that are best to do if you have a car.
Suquamish Museum and Chief Seattle's Grave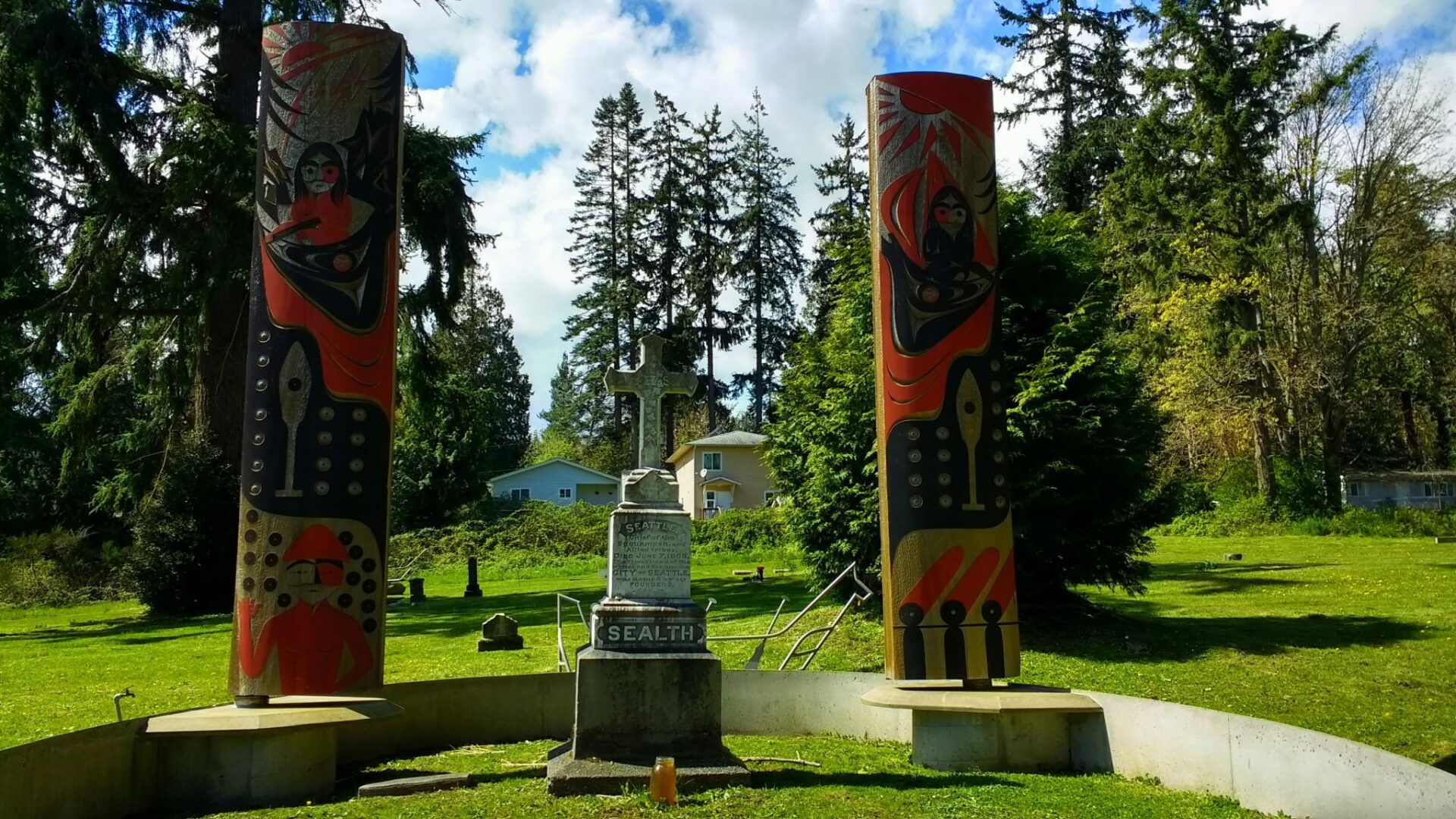 Technically not on Bainbridge Island, you'll hardly notice as this is just on the other side of the Agate Pass bridge to the Kitsap Peninsula, a short drive from the ferry terminal. This is a good place to ride a bike to if you bring your bike on the ferry.
Stop at the Suquamish Museum and learn about the culture and life of the Suquamish people, both in the past and present. Just down the road is the grave of Chief Si'ahl, or Chief Seattle as he was called by white people when they arrive. This came to be the name of the city of Seattle, the only major city in the United States named for a Native American. Chief Si'ahl was both Suquamish and Duwamish and is buried here on the Suquamish Reservation. Read more about visiting this place as well as the Suquamish Museum (including biking directions) here.
Hiking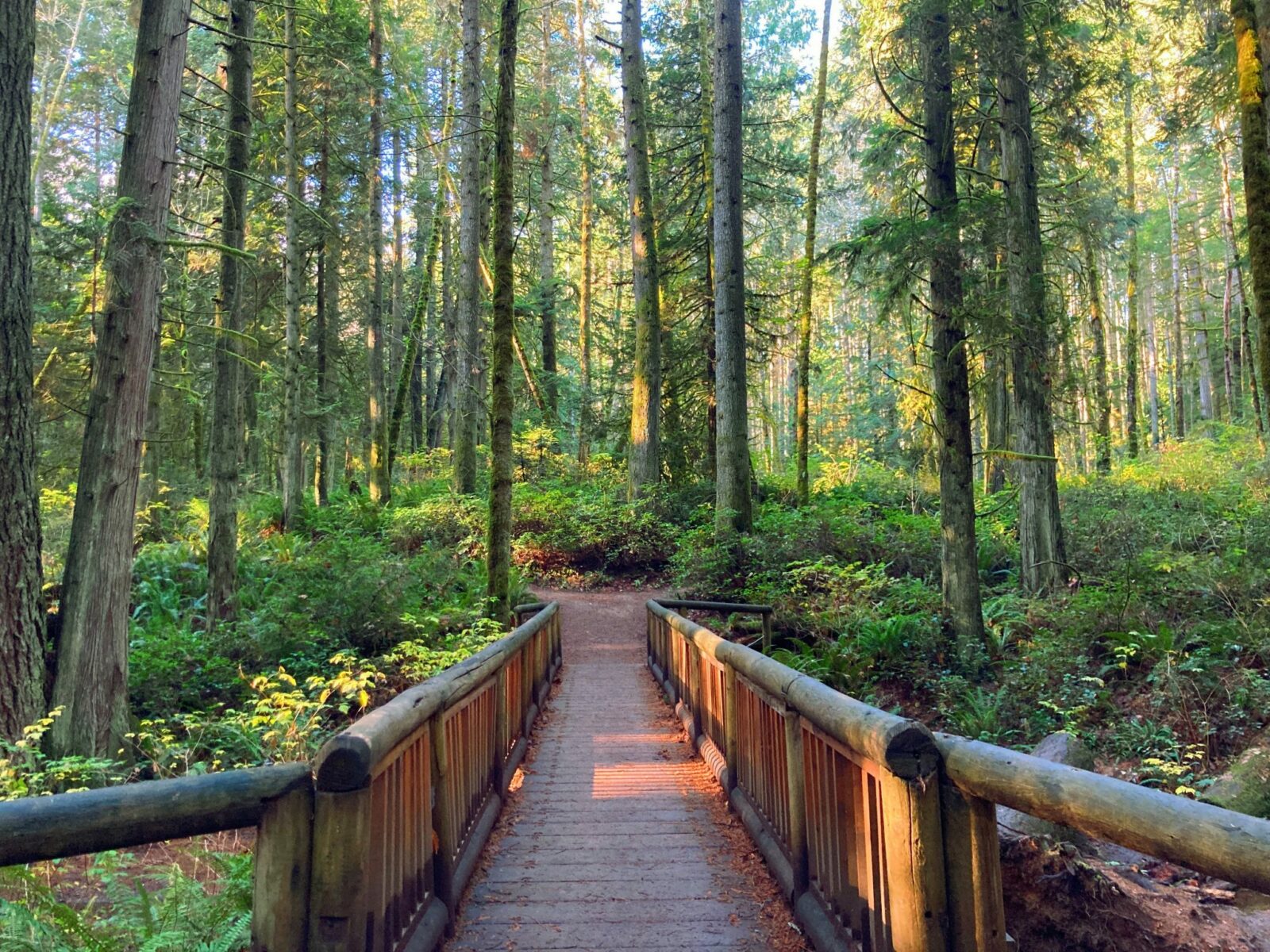 There is wonderful hiking here! Read all about my favorite hikes on Bainbridge here. Grand Forest and Gazzam Lake Nature Preserve in particular have seemingly endless miles of gorgeous green forest to explore on well maintained trails.
Fort Ward Park
Fort Ward Park has some hiking trails and also has an interesting rocky beach on a narrow channel with lots of boat traffic and sea lions barking. There are interesting old military buildings and battlements to explore too. This is a good place to catch some photogenic views of the ferry going through Rich Passage on it's way to Bremerton.
Wine Tasting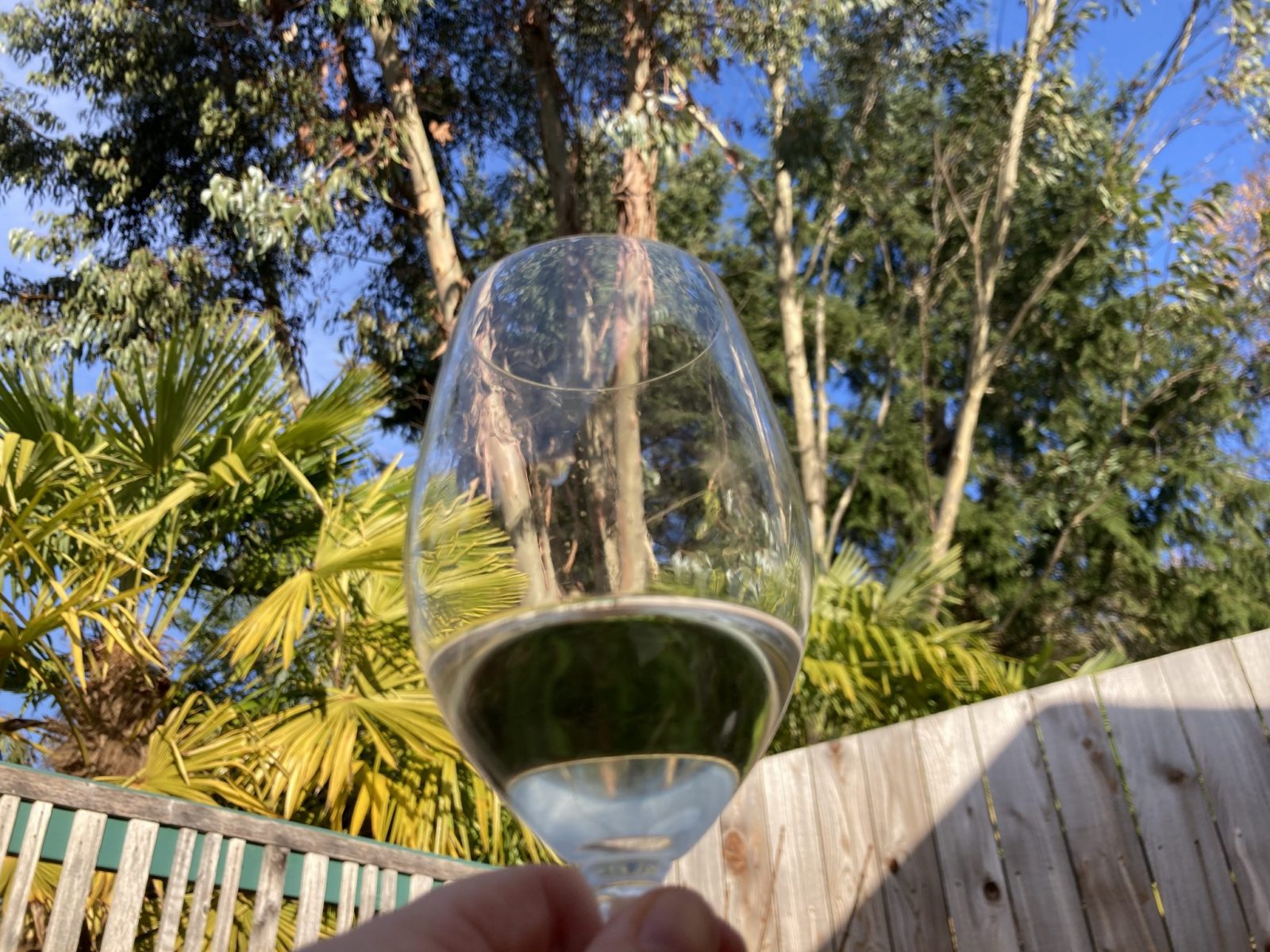 Bainbridge Island has a number of excellent wineries! My favorite is Bainbridge Island Vineyards. They have unique wines that are made with grapes grown on the island. Most wineries here use mostly grapes from Eastern Washington (which is wonderful) but it's fun to try something hyper local. They also have lovely outdoor covered seating to enjoy your wine outside.
Fletcher Bay winery is a good option if you're with a combination of wine and beer people. It's right next to Bainbridge Brewing and there is pizza across the parking lot!
There are several other wineries on the island that are also excellent, and Eagle Harbor Winery and Eleven Winery have tasting rooms in downtown Winslow. Eleven Winery has delicious wine in a bike themed environment.
Labyrinth Mosaic and Hall's Hill Lookout
This beautiful piece of outdoor art and place for contemplation and mediation is made entirely with stones from the island. It's a beautiful and contemplative space in a beautiful forest setting with views of the water. The Labyrinth incorporates the spiritual traditions of many different people over time and is a beautiful place for reflection.
Need More time to explore Bainbridge? Where to stay on the island
Consider staying for the weekend! There are lots of vacation rentals and lodging available on Bainbridge island, and even the cabins or camping at Faye Bainbridge Park. Make sure to make lodging reservations ahead of time.
Use the map below to see all your options for accommodations and where they are located (this is important when deciding whether or not to bring a car).