17 Unique stops on a Seattle to Vancouver, BC road trip
Posted On May 11, 2022
Last Updated on July 13, 2023
A road trip from Seattle to Vancouver BC is an unforgettable experience between two legendary West Coast cities in the Pacific Northwest that are tied together by geography and culture for thousands of years.
If you have the chance, take the time to get off the freeway and see some of the amazing attractions, walks, picnic spots as well as cultural sites and even Boeing's airplane factory along the way. I'm a born and raised 4th generation Seattleite and before Seattle my ancestors came from British Columbia and I've done this drive more times that I can count. I'm excited to bring you along on the journey.
Related: Seattle Itinerary – Best three days in Seattle by a Seattleite
How far is the drive from Seattle to Vancouver, BC?
The drive from Seattle to Vancouver, BC is 145 miles or 233 kilometers. It takes about three hours of driving time, plus traffic and waiting time at the border.
Do I need a passport to drive from Seattle to Vancouver, BC?
Yes.
You'll be crossing an international border between the United States and Canada on your Seattle to Vancouver road trip, so you will need a passport.
Americans and Canadians with a NEXUS pass can use that instead, and if you have an enhanced driver's license you can also cross with that.
At the time of this writing, Canada requires all foreigners entering the country to be fully vaccinated and carrying their card as well as using the ArriveCAN app to register within 72 hours of arriving at the border.
What is there to see between Seattle and Vancouver, BC?
If you have time to stop and see the sights on your Seattle to Vancouver road trip, there are so many things to do! From beaches to adorable towns, to airplane tourism and hiking trails, you'll never run out of things to do and fun and unique breaks from the car or ways to wait out traffic.
Best stops on a road trip from Seattle to Vancouver BC
If you stopped at all of these it would take at least a week to make the drive from Seattle to Vancouver, but if you have that much time, stop at them all!
If not, decide which ones are most important and worth the time to stop for you and your travel crew. I've included the amount of time it will add to your road trip if you decide to make that stop.
If you find yourself in a traffic jam, one of these stops might just be the best way to spend the time instead.
Edmonds
Time added to the road trip: 1 hour
The delightful town of Edmonds is familiar to many locals for its role as a ferry terminal to get to the Olympic Peninsula, but there's so much more to Edmonds than that! Edmonds is the hometown of Rick Steve's, and fans of his show and all travel enthusiasts need to stop in at his excellent travel center located in downtown Edmonds.
There are plenty of delightful restaurants and shops as well as several public beaches here as well. On Saturdays in the warmer months there is a wonderful farmer's market with lots of local art for sale too.
The Boeing Factory
Time added to the road trip: 1-2 hours
Aviation enthusiasts and really anyone who's ever ridden in an airplane should consider taking the Boeing Future of Flight tour. The 90 minute tour takes you to the factory to see 747, 767 and 777 planes on the assembly line as well as sharing about the manufacturing process.
If you don't want to spend that much time or can't get a ticket, you can still see the movie, check out the Sky Deck viewing area and visit the Boeing store.
Whidbey Island
Time added to the road trip: 2 hours – 2 days
If you take the ferry from Mukilteo (near the Boeing Factory) and then drive north on the island to rejoin the freeway in Burlington, this will add about two hours onto your trip (perhaps longer if there's a ferry line).
I recommend only adding this stop on your drive from Seattle to Vancouver if you have an extra day to spend enjoying the island. Whidbey has many wonderful hikes and many other things to do, including enjoying amazing food and drink and exploring the many beaches.
Tulalip Hibulb Cultural Center
Time added to the road trip: 1 hour
Stop in at the Tulalip Hibulb Cultural Center to learn all about the Indigenous people in Snohomish County and see some beautiful art including beautiful canoes. The Cultural Center is also on a 50 acre preserve of wetlands and forest.
Seattle Premium Outlets
Time added to the road trip: 30 minutes -1 hour (or more if you love shopping)
I'm not a big fan of shopping, but this is the best outlet mall in Washington in my opinion. If you like shopping and hunting for deals make sure to take a break here. There are plenty of food options as well.
Skagit Valley
Time added to the road trip: 1 – 2 hours
The Skagit Valley is the agricultural area around Mt Vernon and Burlington in Skagit County, north of Everett and south of Bellingham. Famous for its daffodils and tulips in the spring, this is also one of the major agricultural areas in Washington State, especially for berries.
Detour here to drive around the colorful flower fields in March (daffodils) and April (tulips), or visit one of the many farm stands for rhubarb, berries, corn and many other veggies.
There are also several breweries here and some excellent places to eat. The tiny communities of Bow and Edison are home to some incredible farm to table restaurants.
Anacortes
Time added to the road trip: 1-2 hours
The charming seaport town of Anacortes is best known for being the gateway to the San Juan Islands, since the ferries that go to the islands all depart from Anacortes.
This is a great town to visit even if you're not going to the islands. Plenty of historic buildings downtown and a bustling marina make it a lovely stop. There are hiking trails to get some fresh air and stretch your legs.
Cap Sante Park has a short trail that leads to a nice view without too much work.
Deception Pass State Park
Time added to the road trip: 2 hours (or longer for more exploring)
Deception Pass State Park is the most popular state park in Washington and it's easy to see why. You can make a shorter detour to check out the historic bridge, or spend all day tidepooling at the beach, hiking in the forest or above the trees on the rocks or taking in an incredible sunset.
If you're looking for a place to camp along your Seattle to Vancouver road trip, this is a great option (make sure to get a reservation if it's on a weekend or holiday!).
Chuckanut Drive
Time added to the road trip: 1 hour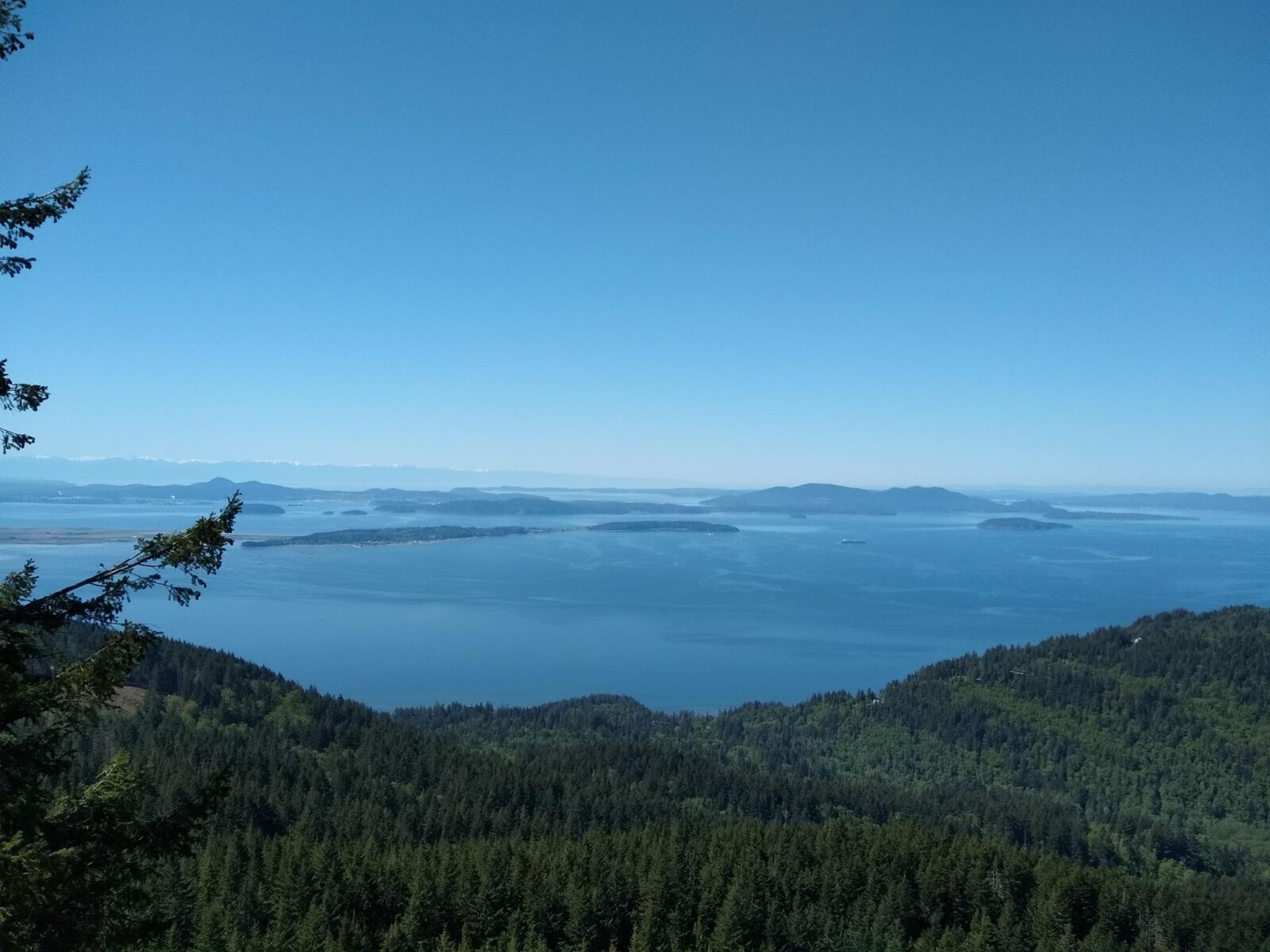 Chuckanut Drive is a stunning two lane background between Mt Vernon and Bellingham that features gorgeous views across to the San Juan Islands and the Salish Sea. I think this detour isn't worth it if the weather isn't great and you can't see the views. If you're up for a half day hike during your road trip, give Oyster Dome a try.
Taylor Shellfish is a required stop for shellfish lovers in a scenic spot with tasty shellfish. Larrabee State Park is another worthy stop at the beach which also has plenty of forest trails and camping.
There are several pullouts along the drive where you can check out the views across the water.
Bellingham
Time added to the road trip: 1 -2 hours (or days if you have the time)
You could easily spend days exploring Bellingham! It's a delightful college town with a funky seaside historic district, wonderful food, many hiking and biking trails and parks and great views of the Salish Sea.
If you're going to make a quick stop, make it one of these spots:
Village Books and the Colophon Cafe in Fairhaven – a massive and amazing bookstore with a tasty cafe in the historic Fairhaven neighborhood, this is a MUST DO for book lovers.
Whatcom Falls Park – if waterfalls and mellow walks are more your thing, check out beautiful Whatcom Falls
Sehome Arboretum – on the campus of Western Washington University, the arboretum has forested trails and an excellent viewpoint over the Salish Sea.
Birch Bay State Park
Time added to the road trip: 30 minutes to 1 hour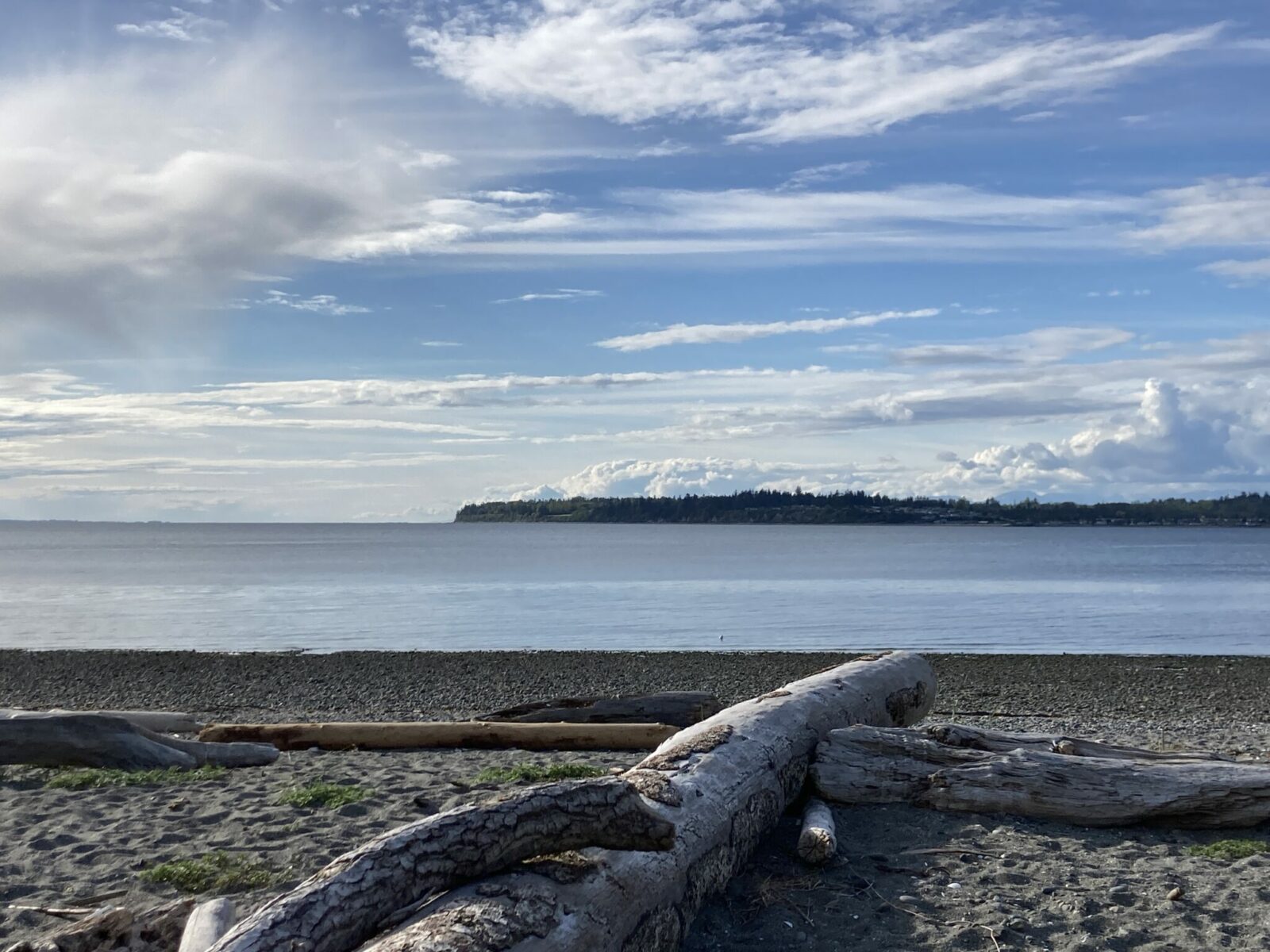 Another beautiful and peaceful beach along the Seattle to Vancouver road trip is Birch Bay. Picnic tables, firepits and BBQ grills invite a leisurely picnic and place to run around and get out of the car. This is also a popular clamming beach in season.
Blaine
Time added to the road trip: 30 minutes
Just off the highway at the last exit before the border is the peaceful harbor oriented town of Blaine. In addition to the busy marina, there is also a Starbucks shaped like a lighthouse!
There is also a park next to the marina with some really impressive playground equipment including a play area shaped like a pirate ship. This is a great place to let kids run around and get a break from the car. Near the playground and marina is also an excellent fish and chips food truck.
Peace Arch State Park
Time added to the road trip: 30 minutes
There aren't too many places you can enjoy a picnic along an international border, but Peace Arch State Park is one of them! Located at the border where the freeway crosses into Canada between Seattle and Vancouver, Peace Arch State Park is a beautiful open and grassy park with plenty of trees, flowering bushes, picnic tables and views of the water and the border crossing. The landmark of this park is the white Peace Arch, with the American and Canadian flag flying.
This beautiful place provides an opportunity to reflect on the beauty of a peaceful international border between two democracies. There is also a provincial park on the Canadian side of the border, though that side of the park has been closed since March 2020.
White Rock Pier
Time added to the road trip: 1 hour
A diversion directly across the border (first exit in British Columbia) takes you to the seaside resort community of White Rock. White Rock is known for a large white rock that is in the middle of town next to the beach.
White Rock is a great place to grab a meal or take a stroll along the waterfront or out to the end of the pier. Here, you can look back to the border crossing along Boundary Bay and see both sides of the border across the water.
Boundary Bay Dike
Time added to the road trip: 30 minutes – 1 hour
The Boundary Bay Dike is a must visit for bird lovers! This is a fantastic place to look for birds in the wetlands near the water and on the driftwood in the mudflats. There is a human made dike with a trail that goes along the top of it and makes for a level walk if you want to stretch your legs.
To get there, head to the tiny Boundary Bay Airport in Delta and then drive to the end of the road just past the airport. There is parking here and sometimes a port-a-potty. You can walk up to a couple of miles here if you like, or just hop out for a few minutes and get back in the car.
Steveston
Time added to the road trip: 1-2 hours
Steveston is technically part of Richmond (described below), but has it's own unique feel. This historic community on the Fraser River delta is home to the large Brittania Shipyards National Historic Site, the Gulf of Georgia Cannery Historic Site and many delicious seafood eateries along the wharf.
Many of the early settlers of this fishing and cannery community were Japanese Canadians who were taken from their homes and incarcerated during World War II, as happened in the neighboring United States.
In addition to major historic sites and excellent seafood, Steveston remains and active fishing community.
Richmond
Time added to the road trip: 1-2 hours
The last suburb that you reach on your drive from Seattle to Vancouver before getting into downtown is the lively community of Richmond. Richmond BC is home to the Vancouver International Airport and a thriving Asian community. Many Richmond residents are of Chinese descent, but there are people from many other parts of Asia as well.
If you enjoy shopping or any kind of Asian food (Chinese, Japanese, Korean, Filipino) you should definitely make a stop in Richmond to try one of the amazing Asian food courts.
I particularly like the food court at the Aberdeen Center, where you'll quickly become overwhelmed with all your choices! Make sure to show up very hungry.
After filling up your stomach in Richmond, you're only a few minutes away from downtown Vancouver. Welcome to Vancouver!
Related: Best things to do in Vancouver, BC
Electric Vehicle Charging between Seattle and Vancouver, BC
There are quite a few fast charging stations for all types of EVs between Seattle and Vancouver. The one place there aren't is if you take the route on Whidbey Island, there aren't fast chargers there. There are plenty of level 2 chargers, but not fast.
I drive my EV which has a very low range (80 miles) between Seattle and Vancouver (and other places along the route) frequently. My favorite places to charge are:
Seattle Premium Outlets – these chargers work well and there are bathrooms close by when the mall is open. There are also places to get food when the mall is open, and further away several fast food places that are open longer hours. There are also two sets of chargers here.
Mt Vernon Walmart – these chargers usually work well and it's easy to use the restroom or get a snack while you're charging.
Bellingham Sehome Village – There is a ChAdeMO charger here between Starbucks and a thai restaurant that is a great option.
Surrey Real Canadian Superstore – make sure to copy and paste the address from Plugshare because there are several Real Canadian Superstores in Surrey! And only one has chargers. They're always working well although sometimes you