Deception Pass Day Trip or Weekend Adventure
Posted On August 28, 2019
Last Updated on September 25, 2023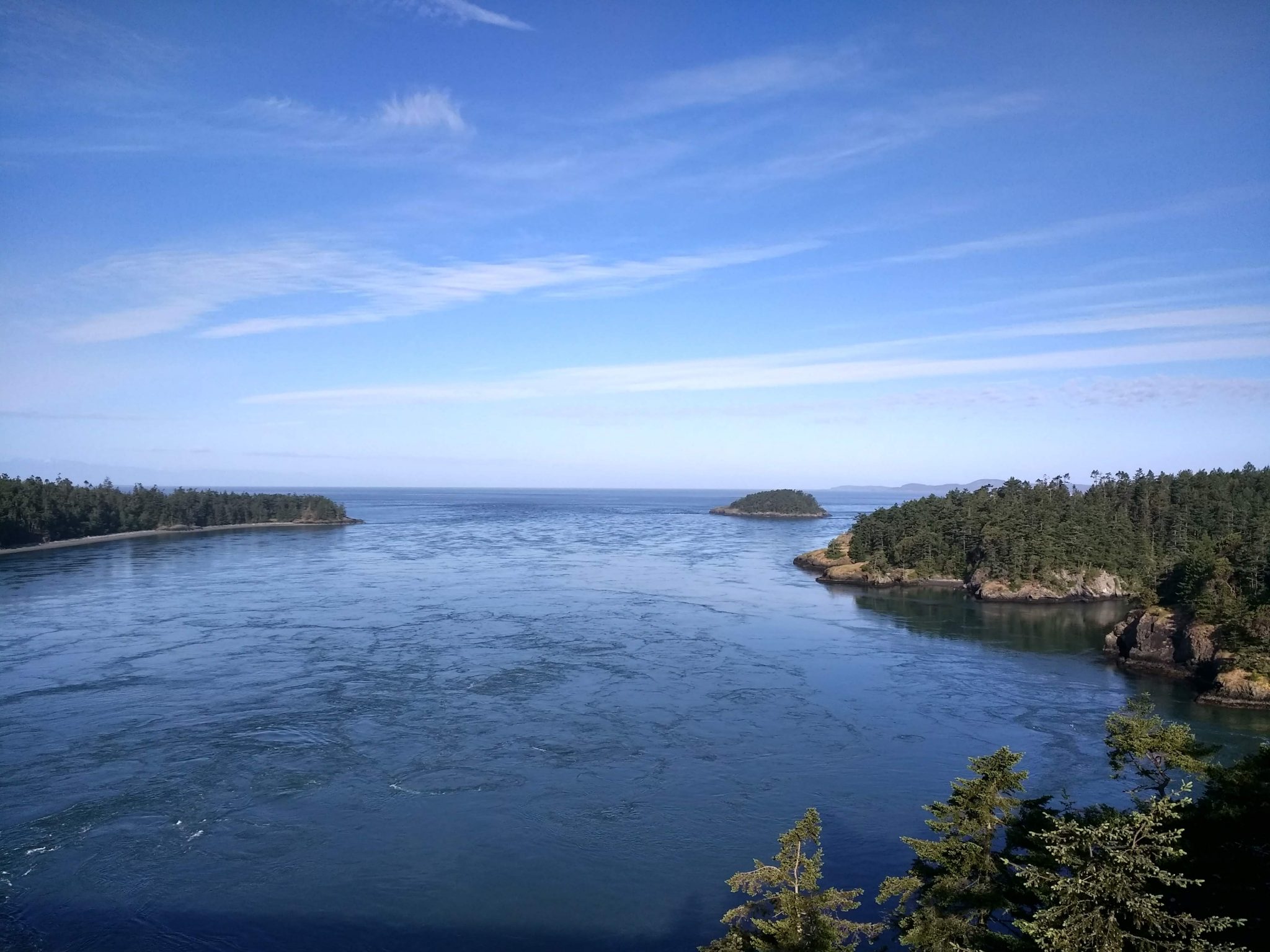 Deception Pass State Park is the most popular state park in Washington and it's easy to see why. Close to our major populations center (about two hours from Seattle) and with ocean beaches, lakes and forest, spectacular sunsets, an iconic historic bridge and endless recreation opportunities, it's a wonderful place for a day trip or a weekend camping trip. It's beautiful in the summer (though it can be crowded) but is also an excellent year round destination for most things except swimming!
It is especially enjoyable in the fall and spring, when it's easier to secure a campsite in the campground and it's a less crowded. If you're looking for a longer trip or you want to take your time coming and going, a visit a Deception Pass weekend fits in nicely with the Whidbey Island and Skagit Valley day trip, making a loop and seeing the entire island!
Where is Deception Pass State Park?
A Deception Pass weekend is a straightforward two hour trip from Seattle, and you can even make it into a loop by driving one way and taking the Mukilteo ferry the other. The park is located west of Mt Vernon and spans across both Fidalgo island (where Anacortes is located) and the north end of Whidbey Island near the town of Oak Harbor.
You will need a Washington State Discover PassWashington State Discover Pass to visit Deception Pass State Park.
Related: Things to do on Whidbey Island
Deception Pass Camping
Deception Pass State park has an enormous campground and a couple of small ones. Despite the large size, it's a terrific campground. There are lots of trees so it doesn't feel like there are as many people there as there are. There are lots of trails that you can access right from your campsite, and there are heated flushing toilets and showers as well as water faucets. This campground is full in summer and many weekends even outside of summer, so either reserve it well ahead of time or go before Memorial Day or after Labor day.
The park also has two cabins that can be reserved.
If camping is not your thing, there are lots of vacation rentals available in Anacortes, Cornet Bay and Oak Harbor (all about 20 minutes away). An important thing to note is that there is a Naval Air Station a short distance away and there are planes that go overhead. I have only camped here on weekends and have not had this be an issue, but I know that it happens even on weekends so it's a good thing to be aware of if you're sensitive to noise.
Things to do at Deception Pass
Deception Pass State Park gives you the opportunity to engage in lots of different activities, and there's something here to delight pretty much anyone!
Deception Pass Hiking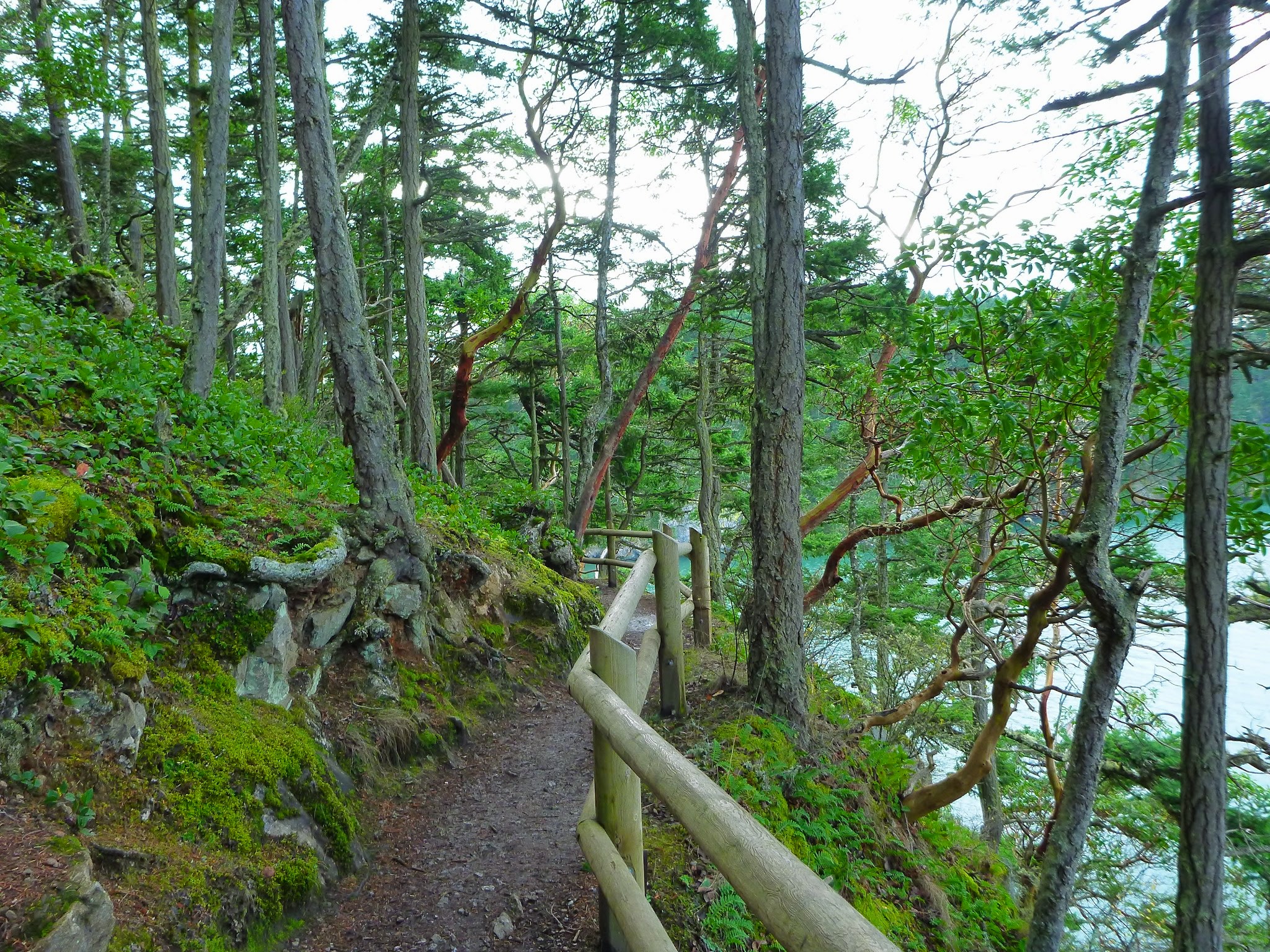 There are more than 30 miles of trails in the park, including some of the best hikes on Whidbey Island, going along the beach, through the forest and along lakes. My favorite hike is a loop around Rosario Head and Bowman Bay, but there are lots of options and you can make your own loop using the trail map.
Bowman Bay Loop
To do the Rosario head and Bowman Bay loop, it's about 5 miles with a couple of hundred feet of elevation gain. You can also do one part of the loop and not the other for a shorter outing. I like to start by Rosario head (this is on the north side of the bridge, the Fidalgo Island side, closer to Anacortes). You can start with a short loop out to Rosario head (excellent views to the north and west).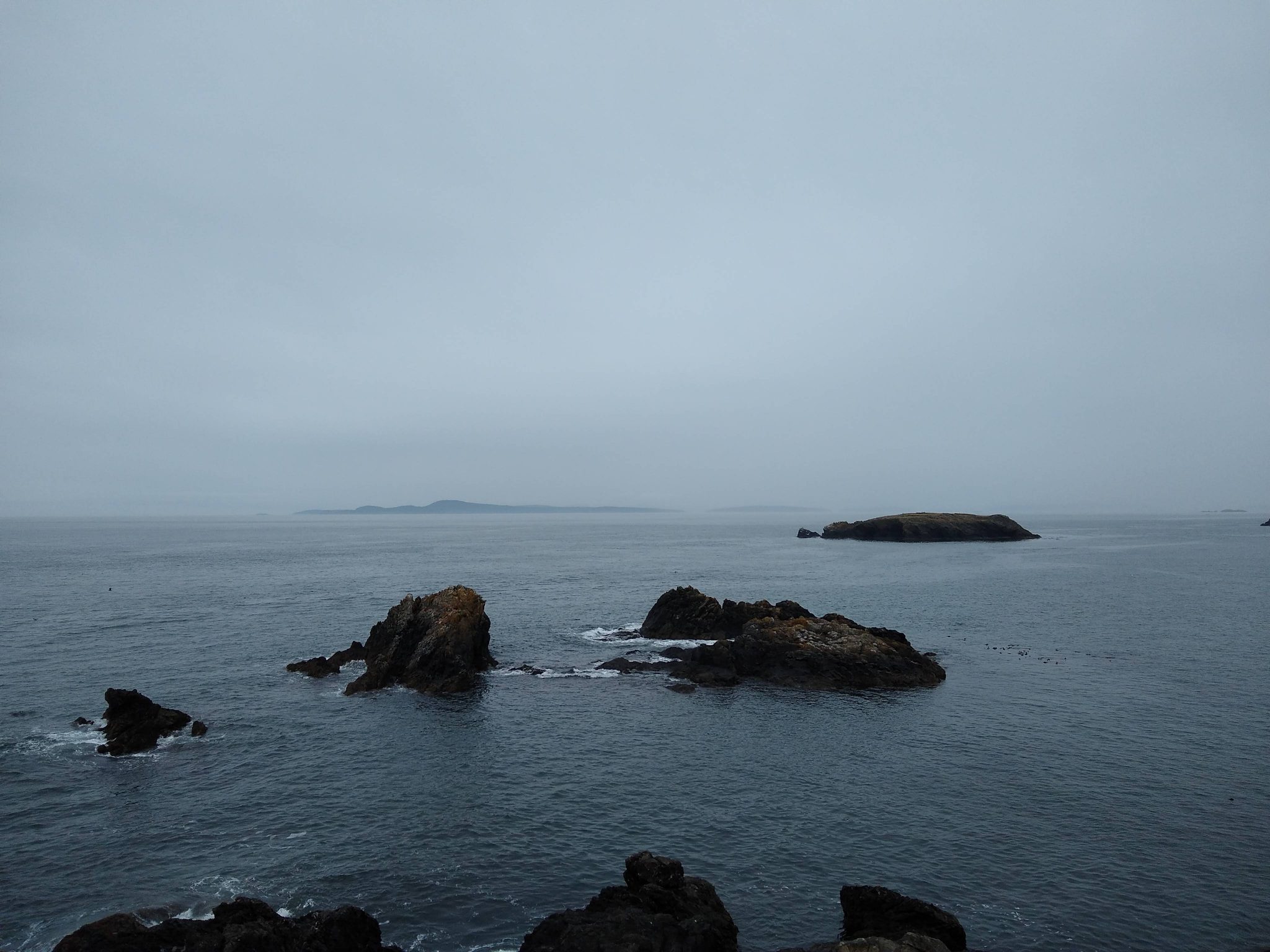 Leaving Rosario head, go along the bluff on the trail to Bowman Bay, a really beautiful trail above the water through the forest. In less than a mile you'll come to Bowman Bay. Cross it and then the trail continues to Lighthouse point (it's a loop around Lighthouse point-important to note you can not see a lighthouse on this trail!). When you return from that loop, you can continue on to Lottie's Bay or back the way you came. The whole thing is about 5 miles, but you can make it much shorter by starting at Bowman Bay (there's a large parking lot) and going from there either to Lighthouse point or to Rosario head.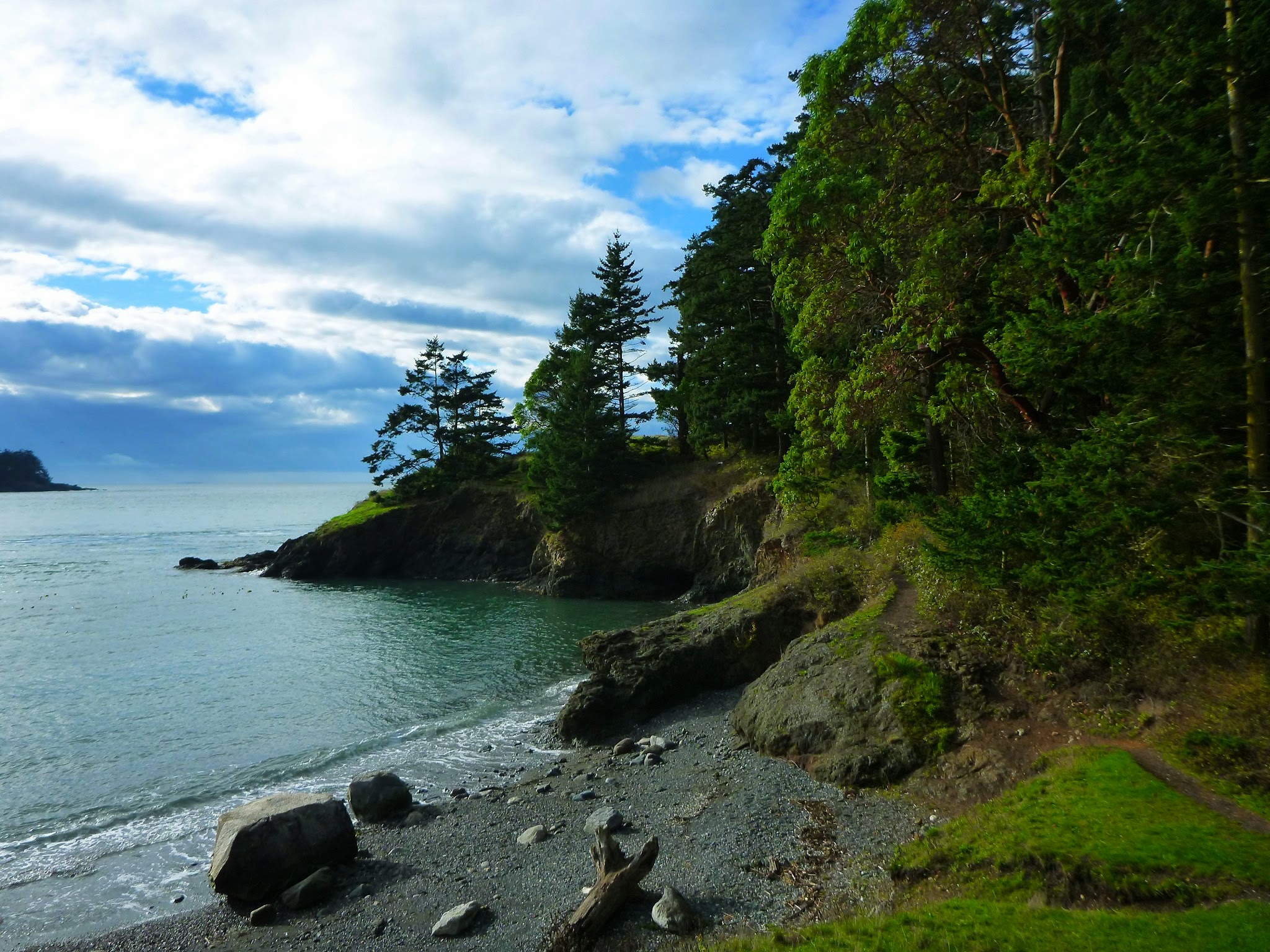 Goose Rock Loop (Less crowded)
If a less crowded trail and a high view are your thing, check out the Goose Rock Loop. There are many different trails but a good option is to make a 3 mile loop with 750 feet of elevation gain.
To get to this trail system, start at either North Beach or Cranberry Lake. Cranberry Lake has a bigger. parking area and adds about three quarters of a mile (flat) than starting at North Beach.
Take the trail that is signed for the Deception Pass Bridge. Go under the bridge towards the east. Here you'll be along the shore and can take one of the various loops that heads up to Goose Rock, the high point on the east side of the bridge. A map is helpful here for navigating the different trail options!
What I like to do, for the 3 mile loop is continue on the Perimeter Trail for about a mile as it goes up and down along the bay. When you come to a big brown sign that says Summit Trail (there are two others you pass earlier), then take a right and head up steeply for half a mile to the summit of Goose Rock.
From there, continue down about half a mile back to the bridge.
Cornet Bay and Hoypus Head Loop (also less crowded)
Another less crowded option is to loop around Cornet Bay and Hoypus Head. From Cornet Bay you can do a mellow 3 mile loop with up to 400 feet of elevation gain. Here, like at Goose Rock, there are a number of trail options and a map is very helpful!
You can even combine Hoypus Head with Goose Rock if you want a longer hike, or if you can't park by the bridge you may still be able to find parking near Cornet Bay.
Related: What to wear for a hike in the Pacific Northwest, what to bring on a hike in the Pacific Northwest
Beach Walking and Tidepooling
This could still be considered hiking, but no Deception pass visit would be complete without some serious beach time. On the south side of the bridge, on the Whidbey Island side, both North Beach and West Beach have lots of beach to walk on and North Beach in particular has excellent tidepools at low tide. You can walk between the bridge, both of these beaches and the main campground in about a mile and a half. West Beach is an excellent place to watch a sunset!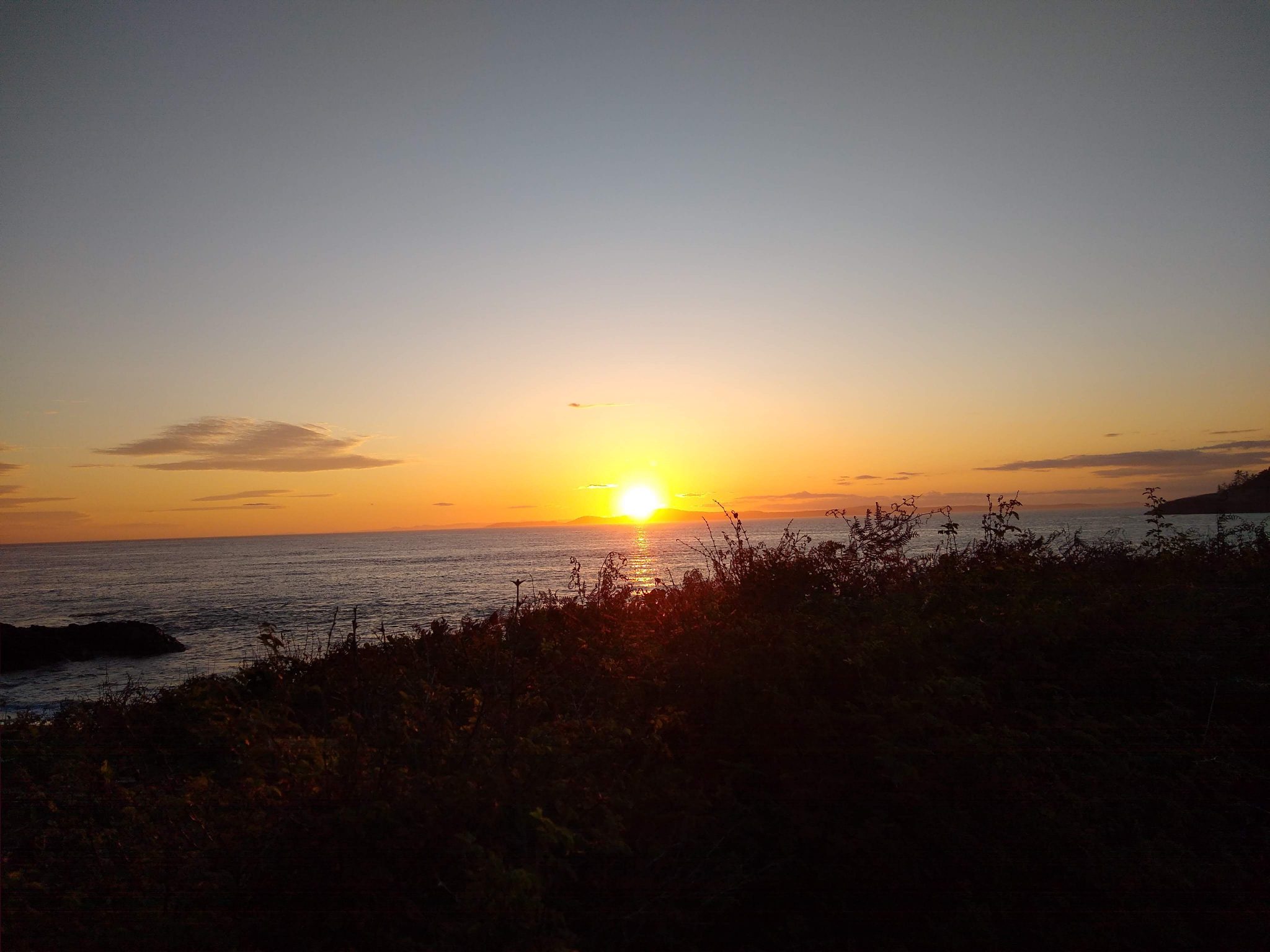 Swimming in Cranberry Lake
There's a swimming beach at Cranberry lake, which is about 50 yards from the saltwater beach! Here there is an official swimming area and the water (in summer) gets a bit warmer. There's a huge picnic area and parking lot between West Beach and Cranberry lake so lots of picnic opportunity and places to set up your beach chair to settle in for some swimming and beaching.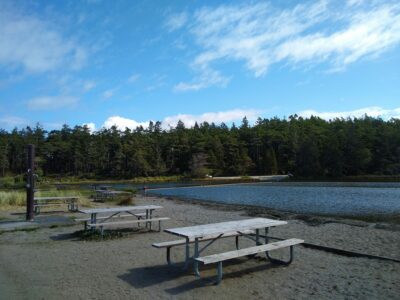 Deception Pass Bridge
Deception Pass has an impressive historic bridge, built in 1935. It's a high bridge over a narrow and turbulent pass known as, you guessed it! Deception Pass. This area is subject to extreme tidal currents and it can be interesting to watch boats navigating it, some with more success than others. You can walk across the bridge, if you're not keen on heights this might not be the activity for you, but there are gorgeous views up there.
If you're not sure you want to walk out on the bridge, there's a parking area on the south end (or you can walk in less than a mile from the main campground) and you can explore the trails below the bridge and be impressed with it's design without having to look over the edge of a high bridge.
Kayaking and Canoeing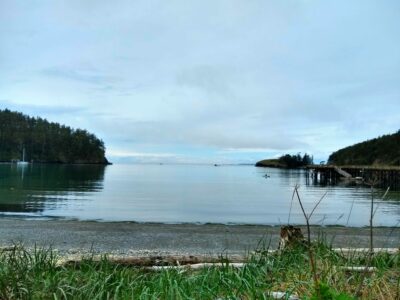 Bowman Bay in particular is a fabulous place for kayaking, being quite protected and having lots of rocky shore to explore. Cranberry lake is also an excellent option for calm water. Don't kayak in Deception Pass itself unless you have a guide! The currents are WAAAAYYY too crazy!
No kayak? No problem! Anacortes Kayak Tours offers 1.5 hour guided sea kayak tours around Bowman Bay and other parts of Deception Pass as the conditions allow ($39 adults/$35 kids under 12). You can also rent Stand up paddleboards and sit on top kayaks from them to explore Bowman Bay on your own. Advance reservations are generally necessary in the summer.
Fishing and Crabbing
I've personally had great luck crabbing off the dock in Cornet Bay (East of Cranberry lake and the bridge), and I think if you had access to a boat crabbing in Bowman Bay would be good as well (I've often seen crab pots there). In addition there are always lots of people fishing in Cranberry Lake as well as along the shore on North Beach and West Beach.
You'll need a Washington State fishing license for fishing and crabbing here.
Other Things to do near Deception Pass State Park
Especially if you're taking the loop option or staying a weekend, there are lots of other things to check out nearby! In addition to the many wonderful hiking trails on Whidbey Island, there are also charming towns, wineries, breweries and historic places to explore. A few other highlights on Whidbey Island include
Fort Casey State Park – run around on the old military concrete structures (especially great for kids), see the lighthouse and catch a sunset on a clear day
Town of Coupeville – Grab a serving of delicious and famous Penn Cove mussels while looking out at Penn Cove and Mt Baker from the Front Street Grill or stop in at the Penn Cove Brewery.
Town of Langley – Try a beer at Double Bluff Brewing Company while checking out views across to Everett and the Cascade Mountains.
Stop at Greenbank Farm (especially great for dogs as there's a large off leash area) and sample the best pie ever, grab a hot drink or some wine and cheese to take home
Visit one of Whidbey's wineries – Whidbey Island is home to five wineries, so wine lovers should plan to stop and check out at least one
Old Growth Forest of South Whidbey State Park – a one to three mile hike takes you through some impressive old growth forest! Start across the road from the parking area and explore the forest along the hillside. Read more in my hiking guide for Whidbey Island.
Ebey's Landing – one of my favorite hikes in all of Washington State, this hike has views, beach and often wildlife.