How to Drive to Alaska: Everything you need to Know
Posted On February 22, 2021
Last Updated on November 20, 2023
If you're ready for the epic road trip adventure of a lifetime, then a drive to Alaska on the Alaska Highway just might be for you! I've driven the Alaska Highway six times along with the access roads in British Columbia and the Yukon and nearly every highway in Alaska. I'm also a field editor for the Milepost and my colleagues and I drive the Alaska Highway and the other highways in Alaska to keep the Milepost updated, so you know you're getting only the best advice and information here. This article will tell you everything you need to know to decide if this road trip is right for you and everything you need to know to plan your trip. I've also included a few of my favorite stops and side trips along the way.
There's lots of information in this article. If you're looking for something specific, use these links to find what you're looking for quickly:
Is Driving to Alaska Worth it?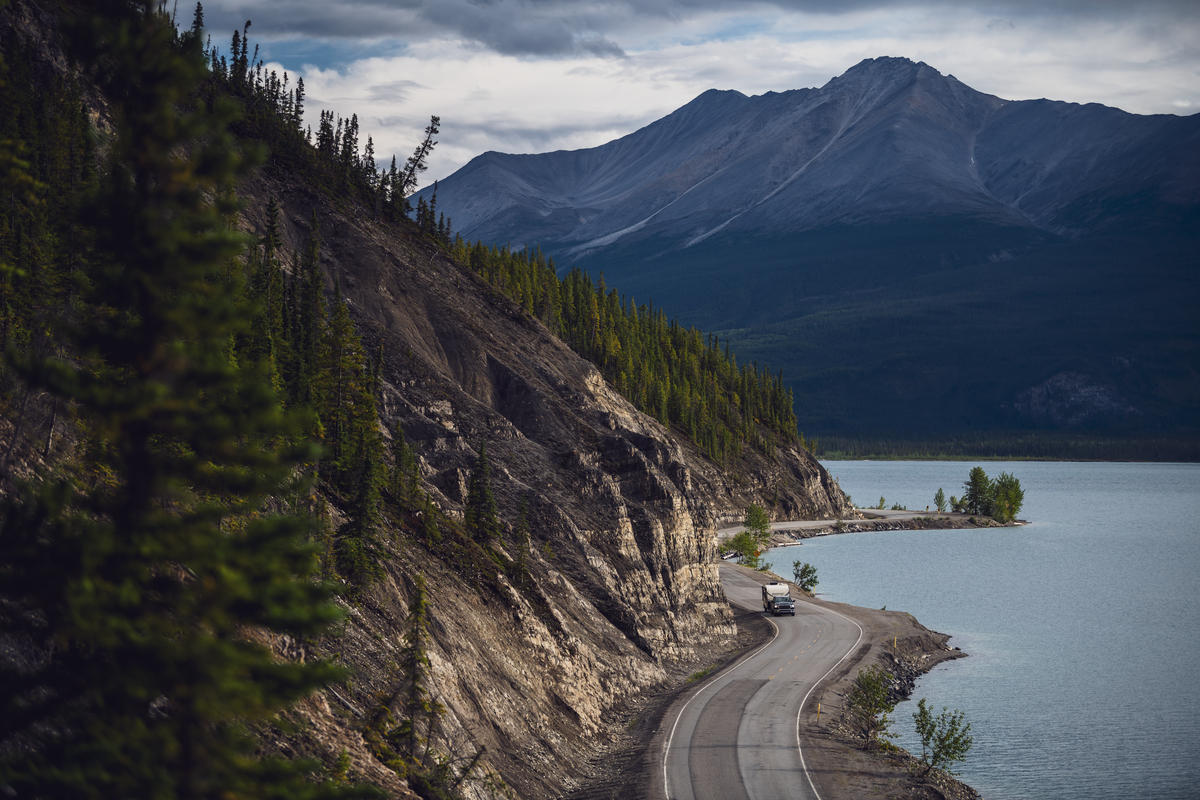 Driving to Alaska MIGHT be worth it, or it might not. It is certainly a beautiful scenic drive and epic road trip adventure! It is also a long drive that takes a lot of time.
A few questions to ask yourself to help you decide if driving to Alaska is worth it or not for you:
Do I love road trips? Like REALLY love them. If so, then you'll probably love this Canada and Alaska road trip adventure!
Do I love Canada? Or do I want to find out if I love Canada? Most of the drive will be through Canada!
Do I need my car while I'm in Alaska? This might be the situation if you are moving to Alaska, moving there for seasonal work, or if time is not an issue on your trip but money is. Driving your car to Alaska may be cheaper than renting a car when you arrive, especially for a longer trip. Car rental is expensive in Alaska. If you have the time, you may be able to save money if you travel in your own car.
Am I adaptable and do I have a sense of adventure? This is a road trip where things won't always go as expected. You might need to change your plan about where you're staying or how many days you are on the road.
Do I have at least a month for my trip? I only recommend driving to Alaska if you have at least a month for your trip. Possibly 2-3 weeks if you can share the trip with someone else and have each of you drive one way. For a shorter trip, fly and rent a car!
Am I considering the drive to Alaska part of the trip? If you think of the drive as part of your trip, it's wonderful! If you are just going fast to try to get there, it's a long, difficult slog.
When is the Best time to Drive to Alaska?
The short answer is, whenever you have time! The highway is open all year, though there can be significant delays in winter and not everything is open. You also need to be very self sufficient and prepared for extreme cold in winter. I'll assume for this article you're planning to drive during the summer (June-August) or the shoulder season (mid April through May or September).
You can encounter snow and ice as late as mid May and as early as early September, so keep this in mind if you're driving during those months.
Almost everything along the highway is open from mid May through early September.
Construction happens all summer and shoulder season, so you can't really avoid that unless you're driving in the winter. Bugs will be most intense in June and July, though you may encounter them earlier in the summer as well, and possibly later depending on how dry and cold the late summer is.
If you want to see the Northern Lights on your trip, then plan your drive to Alaska for late August or September, when it's dark enough to see them!
In most of Alaska, the Yukon and Northern BC, it doesn't get dark at night in May, June, July or early August. The further south you go, the more darkness there is.
What parts of Alaska can you Drive to?
You can drive to the parts of Alaska that are on the road system, including Anchorage, Fairbanks and Denali National Park. In Alaska, there are many communities that are not on the road system at all and can only be reached by plane or boat.
Alaska's state capitol of Juneau is the only state capitol in the United States that you cannot drive to. You can bring a car to Juneau, but you would need to drive to Skagway or Haines and take the ferry to Juneau. The Alaska Marine Highway System (the Alaska state ferry) serves many towns in the Inside Passage of southeast Alaska as well as Southwest and Southcentral Alaska.
You can bring a vehicle on the ferry with a reservation. You can also take the ferry from Bellingham in Washington State as far as Haines or Skagway to meet up with the road system.
How much does it cost to Drive to Alaska?
The cost of driving to Alaska can vary quite a bit based on:
The type of vehicle you are driving and it's gas mileage
Whether you camp or stay in roadhouses or hotels along the way (or a mixture of the two)
The exchange rate between the Canadian and US Dollar
Expect to pay more for gas in Canada than in the US and even more for gas in remote areas. You"ll be paying at least 20% more for gas. If you're in a remote part of British Columbia as much as 50% more. In Canada, gas is sold by the liter (instead of gallons) and you'll be paying in Canadian dollars. Between these two, it can be difficult for an American to figure out how much they're actually spending. The most important thing is to budget enough for gas that you don't get tempted to drive on to find cheaper gas. This might result in you running out of gas, which is no fun!
When you budget for your trip, the most important part will be how much time you're spending in Alaska and where you are staying. This post has all my recommendations for saving money on a trip to Alaska, including how to budget.
You can save money by camping along the way if you're a camper. I like to camp but I have usually split my nights between camping and hotels. Setting up camp in a new location each day takes a lot of time. If you're taking your time camping each night will be no problem. The sleeping section below has more information on camping, roadhouses and hotels.
Can you Drive to Alaska without going through Canada?
No.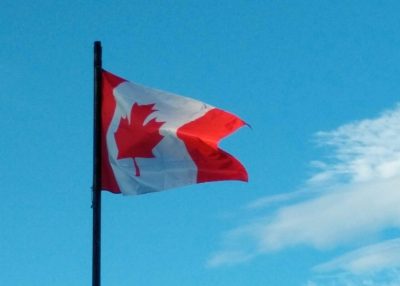 You will definitely be driving through Canada if you drive to Alaska. In fact, most of your drive will be in Canada. Your drive includes British Columbia and the Yukon as well as Alberta if you are coming from further east. It is your responsibility to research the most up to date rules regarding entry to Canada and Canadian road rules. A few of the important things to know include:
You will need a passport. If you are a US Citizen and resident of Washington, Michigan, Minnesota, New York or Vermont you can get and use an enhanced driver's license to cross the land border between the US and Canada in a car. You can also use a NEXUS pass if you have one.
There are some items you cannot transport across the border, or are restricted. It is your responsibility to research this and declare any items that require it (such as alcohol and fresh produce, among others).
Canada requires proof of vaccination against COVID and documentation of this at the border as well as in advance on the ArriveCAN app. Some travelers may also be tested at the border.
If you are traveling with a pet, you will need a current health certificate including proof of an up to date rabies vaccine.
If you are traveling with a child, but both parents are not present, have a letter from the other parent stating it is ok to cross the border with a child
US Citizens with Driving Under the Influence convictions and some other convictions may be denied entry into Canada.
Prices in Canada will be in Canadian Dollars. Many places will take American money, but you will get change in Canadian Dollars. The best way to handle this is to stop at a Canadian ATM and get some Canadian cash. You can also use your debit or credit card (check with your bank about foreign transaction fees that may be charged).
Gas in Canada is sold by the liter, not the gallon
Speed and speed limits are in kilometers per hour, not miles per hour
Distances are listed in kilometers, not miles.
There is a one hour time change between Alaska and Canada.
Check with your insurance company to make sure you are covered while driving in Canada.
How Long Does it Take to Drive to Alaska?
I recommend spending a week to drive to Alaska from Seattle. Even longer if you want to spend some time at any places along the way or if you're coming from further away in the United States. This trip is long, over 2200 miles from Seattle! If you're not going to make the journey part of your trip, I highly recommend flying there instead and renting a car. For comparison, this is about the same distance as driving from Seattle to Indianapolis or Edmonton to Ottawa.
The drive to Alaska is not fun if you're just trying to get there as fast as possible! There are a few things that make this road trip slower than most and more fun if you're taking your time, including
Construction – you will run into places with delays sometimes of an hour or more in construction zones
Two lane road – The Alaska Highway is in good condition, however it's a two lane road and there can be a lot of RVs on it in the summer which tend to be driving a bit slower. Passing lanes and safe passing areas are around, but some sections don't have as many
Wildlife – you'll want to stop and spend a few minutes when you see wildlife, but you also need to watch your speed and follow the speed limit which will help you avoid a collision with wildlife which is extremely dangerous for both you and them (especially with moose).
Frost heaves – one of the reasons there's lots of construction along the Alaska Highway is because the harsh winters are hard on the roads. In Northern BC, the Yukon and Alaska you can hit sudden frost heaves, which are like speed bumps but less predictable. Hitting them too fast can damage your vehicle.
Stopping at some of the interesting and beautiful places along the way (see more on this below)
I also recommend building in an extra day or two, in case you need any vehicle repairs, tires or just want to take a break or spend more time checking something out.
What is the Best route to take to Drive to Alaska?
There are three primary access routes when you drive to Alaska. They all converge in the southern part of Canada's Yukon Territory, near the town of Watson Lake. Between Watson Lake and Tok, Alaska, there is really only one way to go. This section will talk about the different access routes and then the different places you can go once you hit the Alaska border. The things to do section later in this article discusses highlights and what not to miss on each section of the drive to Alaska.
Make sure that you get your copy of the current year's Milepost to give you all the details about every single road in Alaska, the Yukon and most in British Columbia. Don't count on having a phone signal!
If you are driving both ways, consider going one way on the Cassiar and the other through the Canadian Rockies for variety.
Cassiar Highway
This route is the shortest distance to drive to Alaska from Seattle and Portland (about 100 miles shorter than the west access route described below). It is likely to take longer however, since the Cassiar Highway is slow and very remote. There are very limited services along this highway.
This route is best for those who want to get away from it all. It's also excellent for seeing wildlife. Make sure you are comfortable driving in very remote areas without services.
To take this route to drive to Alaska, start in Seattle and follow the Trans Canada Highway (Highway 1) east around Vancouver. Follow the Trans Canada Highway as far as Cache Creek. At Cache Creek, continue north on Highway 97 towards Prince George. In Prince George, take the Yellowhead Highway (Highway 16) west towards Prince Rupert. The Cassiar Highway takes off to the right (north) as Highway 37 between Smithers and Terrace. Take the Cassiar Highway through Northern BC's beautiful wilderness until you meet up with the Alaska Highway just after crossing the border into the Yukon Territory, just west of Watson Lake.
Total driving distance from Seattle to the BC/Yukon border on the Cassiar Highway Route is just over 1300 miles.
West Access Route and Alaska Highway
This is the best route for anyone coming from the West Coast of the US who prefers to avoid the more remote Cassiar Highway in favor of the still-remote-but-less-so road.
This route is the same as above as far as the town of Prince George in Northern British Columbia. Continue beyond Prince George on Highway 97. If you don't care about the sign that tells you you are at the start of the Alaska Highway, take the cut off and save 25 miles. Otherwise, continue into the town of Dawson Creek, the official start of the Alaska Highway. You're still on BC Highway 97, but now you're officially on the Alaska Highway!
Total driving distance from Seattle to where the Cassiar meets the Alaska Highway on this route is just under 1400 miles.
East Access Route and Alaska Highway through the Canadian Rockies or Calgary
If you're coming from the Rocky Mountain West, the Midwest, the South or the East Coast, then the best route for you is to come through the Canadian Rockies or Calgary, Alberta.
You have a few options here. The fastest way is to take the shortest route to Calgary, then the Red Deer Expressway north of the Canadian Rockies National Parks to meet up with the start of the Alaska Highway in Dawson Creek, British Columbia.
Many people like to include a trip to Glacier National Park and the Canadian National Parks of Banff and Jasper on to their drive to Alaska. It's a little more out of the way if you're coming from the West Coast, but it's almost on the way for those coming from the rest of the US. You can visit those parks (along with the less visited but my personal favorite, Canada's Kootenay National Park) and then head north from Jasper to Grand Prairie to meet up with the start of the Alaska Highway in Dawson Creek.
Total driving distance from Missoula, MT to where the Cassiar meets the Alaska Highway on this route is about 1500 miles. The distance going through the parks is about the same, but it takes longer.
Alaska Highway through the Canada's Yukon Territory to Tok, Alaska
This part of the drive to Alaska is very straightforward because you're on the Alaska Highway and there's really only one way to go (unless you take some side trips like up to Dawson City, which is awesome but you might not have time for!).
You'll drive through the southern part of the Yukon Territory, including Whitehorse. If you're heading to Southeast Alaska, you'll turn off sooner (see below) than if you're headed to Anchorage or Fairbanks. For Anchorage or Fairbanks, keep heading up the Alaska Highway, passing by Kluane National Park and entering Alaska at Beaver Creek.
Total Driving distance from Watson Lake, Yukon to Tok, Alaska is about 650 miles.
Whitehorse to Southeast Alaska (Skagway and Haines)
If you're heading to Skagway, you'll head south on the Klondike Highway in Whitehorse. If you're going to Haines, you'll head south on the Haines Highway from Haines Junction. Both Skagway and Haines are wonderful places to visit and you can also catch the ferry to take your car to other parts of Southeast Alaska that are not accessible by road. Learn more about riding the Alaska ferry here.
Tok to Anchorage or Fairbanks
Once you arrive in Tok, you'll go a different direction to go to Anchorage and the Kenai Peninsula than Fairbanks and Denali National Park. By the way, you can make a loop driving the Parks Highway between Anchorage and Fairbanks.
For Anchorage, you'll head south and west from Tok towards Glennallen and the Glenn Highway, taking you to Anchorage in about 320 miles.
For Fairbanks, you'll head north and west through Delta Junction for about 200 miles. If you're heading to Denali National Park, head to Fairbanks and then south on the Parks Highway for another 120 miles.
Check out my Alaska itineraries for independent travelers for ideas on how to build your road trip once you are in Alaska!
What are Road Conditions Like on the Alaska Highway?
Overall the road conditions along the drive to Alaska are pretty good for such a remote location. The Alaska Highway is all paved and even some of the secondary roads are too. There are occasionally small sections of gravel where a washout repair has happened recently, which could be up to a couple hundred yards. Some roads are gravel and in general are very well maintained.
In construction zones there may be many miles of gravel where the road is being repaired or upgraded. Usually in these sections one direction of cars will go at a time behind a pilot car. There can be a long wait at times for the pilot car.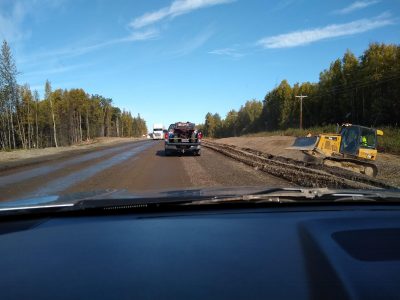 In addition to construction, watch out for wildlife (especially moose) and watch your speed to avoid a collision. Frost heaves and potholes pop up at times and are usually marked with temporary orange signs in Canada.
If you're in the habit of going a little bit further for cheaper fuel, break that habit before you drive to Alaska! Fuel is more expensive and gas stations and not as frequent as they are in other areas. Fuel will be cheaper in bigger towns, so always fuel up in towns when you pass even if you don't need to stop. Don't count on being able to check your phone for the next fuel stop, use the Milepost for this instead.
Is there Cell Phone service along the Alaska Highway?
For the most part, you will be driving out of cell coverage when you are not in a town. Some small towns also do not have cell phone service. This is true in British Columbia (especially the further north you go), the Yukon and Alaska.
Another important note is that the majority of your drive will be in Canada, so contact your cell phone provider to find out how much it will cost to use your phone there, including data charges. This is important as it can be very expensive! I have T-Mobile, which does not charge for roaming in Canada or Mexico (fantastic perk!). You may also be able to get a temporary international plan through your provider, but make sure to make a plan for this in advance! Also check with your provider about specific locations where cell phone service is available.
If you're Canadian, you'll need to check the same for travel in Alaska and if your provider has cell coverage and how much it costs.
Where can I Sleep or Camp on the Drive to Alaska?
While it is VERY important to have reservations for lodging once you arrive in Alaska arranged well before your trip, it's fine to call ahead for reservations along the highway a day or two in advance. Often you can find a place even without a reservation, but it's nice to know you for sure have a place to land at the end of the day if you're staying in a hotel, motel or roadhouse.
Do not count on having the internet to look up your options on yelp. You need The Milepost to be your guide and let you know what lodging or camping is available along the way.
If you prefer vacation rentals or chain hotels, these are available in the bigger towns along the Alaska Highway and access routes, such as Prince George and Whitehorse. If you're looking to stay in vacation rentals or chain hotels in bigger towns then a reservation is important. This is a good way to go if you want to have wifi and cell phone service and be in towns at night (don't assume your vacation rental has wifi or cell phone service if it's outside a town).
My perferred way to drive to Alaska is to do a combination of camping and roadhouses. I love camping and it's the least expensive lodging along the Alaska Highway but moving camp every night for several days in a row is a drag. Roadhouses are a really fun, affordable and unique way to spend your nights along the drive. More on this below.
Roadhouses along the Alaska Highway
Roadhouses are my favorite way to spend the night if I'm not camping along the drive to Alaska. Road houses in Alaska, the Yukon Territory and Northern British Columbia are generally small, family run establishments. Sometimes there are in or near a town, other times they are out on their own far from the nearest town. They often do not have wifi or cell phone service and are usually in stunning locations. They always have a unique and welcoming atmosphere and usually terrific food. Typically there will be a restaurant and some rooms. Occasionally there are also cabins or camping on site. Some are more like rustic lodges and others more like motels.
A couple of my all time favorites include the quirky Toad River Lodge and the perfectly located Liard Hot Springs Lodge. Although I haven't stayed there personally, I know people rave about the Northern Rockies Lodge at Muncho Lake. The Northern Rockies Lodge is the most beloved lodge along the Alaska Highway.
Camping along the Alaska Highway
Camping is an affordable way to travel the Alaska Highway and gives you a lot of flexibility in where you stop for the night. If you're planning on camping, read my guide to camping in Alaska which is good advice for the drive to Alaska too! Make sure that you secure all food and toiletries in your vehicle or in bear bins if the campground provides them when they are not in use. Bear safety is necessary when camping anywhere in Alaska, British Columbia, the Yukon and Alberta.
Plan on stopping early for the night to make sure you get a spot, especially further south in British Columbia and Alberta. There are a variety of camping options ranging from British Columbia Provincial Parks to Yukon Territory Parks to Alaska State Parks and recreation areas. In addition, there are many private campgrounds and RV parks that welcome tents as well. Some private campgrounds and RV parks offer showers and laundry.
A few of my favorite campgrounds include Muncho Lake Provincial Park, Liard River Provincial Park and Kathleen Lake Campground (note this is about half an hour off the highway in Kluane National Park near Haines Junction – but it's worth it!). The Congdon Creek Campground along Kluane Lake is a favorite of several friends who drive the Alaska Highway every year.
What Wildlife will I see along the Alaska Highway?
The Alaska Highway is a wonderful place to see wildlife, particularly moose and bears. Keep your eyes out and watch your speed, especially around moose!
For moose viewing, keep your eyes out along the sides of the road, especially when there are marshy or brushy areas or lakes near the road. Northern British Columbia, the Yukon territory and Alaska are all places where you may see moose.
If you're interested in bear viewing, I recommend taking the Cassiar Highway. The Cassiar Highway is the place where I have seen the most bears on the drive to Alaska. Even if you take a different route, you have a good chance of seeing a bear. Bears inhabit all of British Columbia, the Yukon Territory and Alaska. It is important that you follow all recommended bear safety procedures, especially when camping or hiking. Follow all post signs and warnings related to wildlife. The most important thing is to never, ever leave food out when you are not actively eating it. Keep it locked in your vehicle.
There are also different kinds of wild sheep that you may see, as well as many birds and other mammals such as foxes and maybe even a lynx.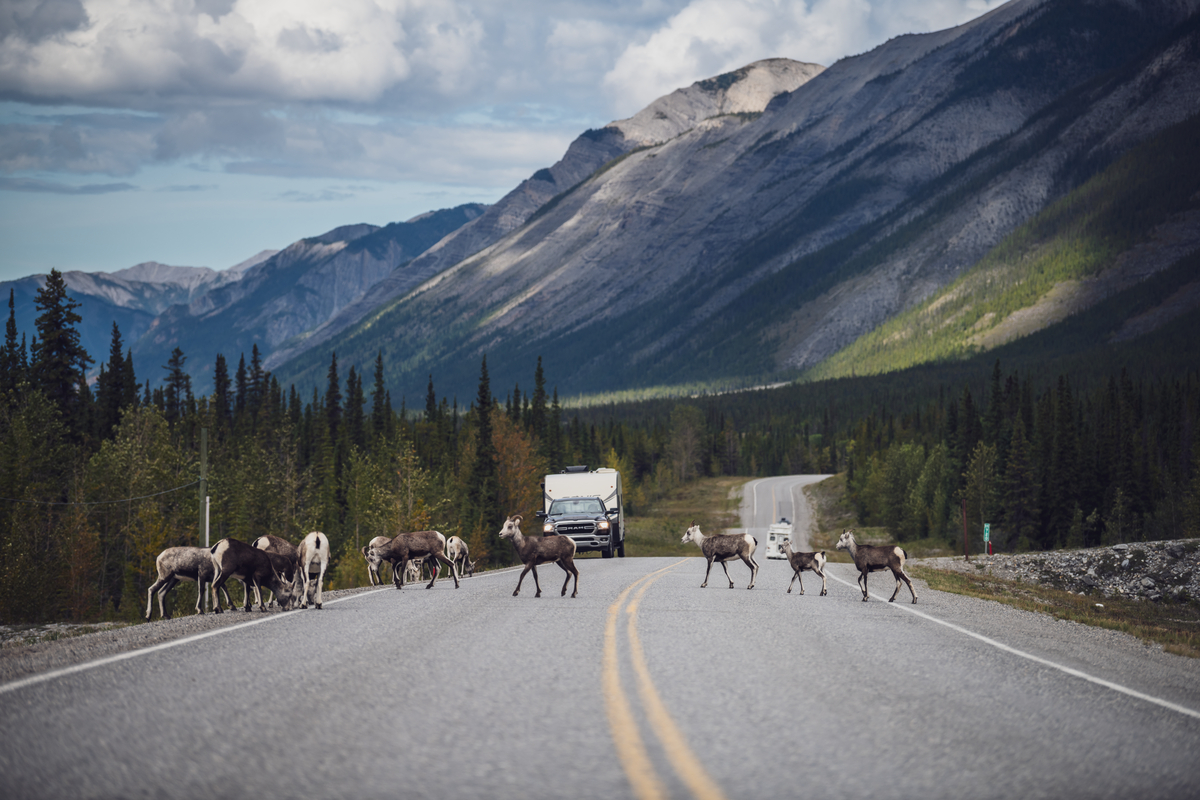 The Best Things to do on the Alaska Highway
There are so many fun and quirky things to do along the Alaska Highway! Way too many to list in this article. This is one reason why taking your time makes it a lot more fun. Make sure to have the Milepost with you as it will have literally every single thing you might want to stop for. There are lots of opportunities while you're driving to see wildlife and incredible scenery too. These are a few of my favorite stops and side trips on the drive to Alaska that are worth building into your trip from the beginning:
Sea to Sky Highway (West Access Route side trip)
Where it is: The Sea to Sky Highway is the drive from Vancouver BC to Whistler BC (a side trip from the West Access Route to the Alaska Highway)
Why it's awesome: This is one of the most beautiful stretches of road I've ever driven on! Drive up narrow Howe Sound to the charming town of Squamish, stopping at waterfalls and the gondola along the way.
Hells Gate Tram/Fraser River Canyon (West Access Route)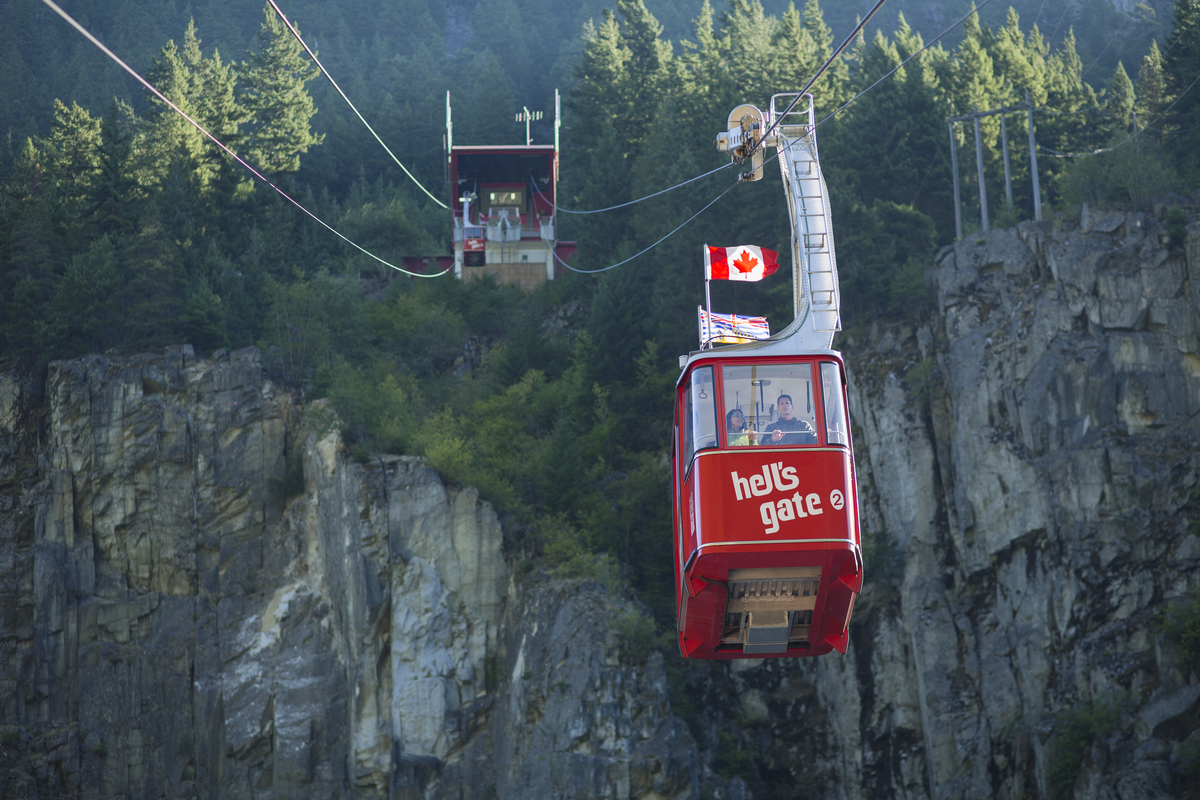 Where it is: On the Trans Canada Highway north of Hope, British Columbia
Why it's awesome: Canada seems to be full of trams and gondolas and I've never met one I didn't like! Even if you don't stop, this section of the drive through the narrow Fraser Canyon is beautiful. The tram is a wonderful way to get out of the car and view the scenery from above
British Columbia Wineries (West Access Route)
Where it is: There are lots of wineries throughout the central part of British Columbia, which has a similar climate to Washington's wine country. Pull off the road whenever you see one!
Why it's awesome: British Columbia has some wonderful wines and I love to stop when I'm ready for a break and try some. Wineries in BC never fail to have a fun outdoor tasting area and sometimes food too. Most towns in British Columbia also have wonderful farmer's markets. Try to drive through this area on a Saturday so you can catch some delicious local produce to enjoy for a picnic with your wine!
Icefields Parkway (East Access Route, Canadian Rockies)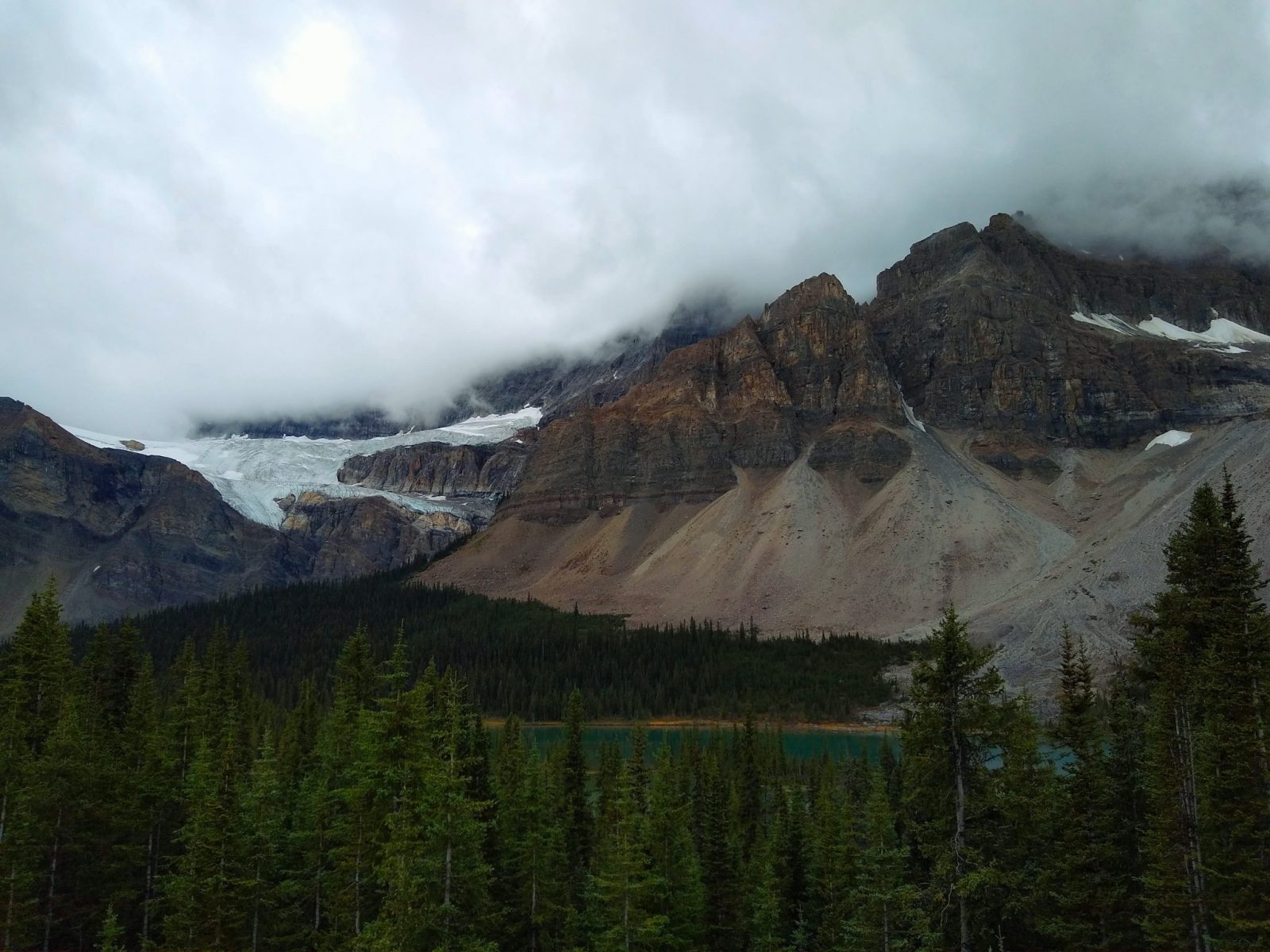 Where it is: The Icefields Parkway is a spectacular scenic drive between Banff and Jasper National Parks in Canada
Why it's awesome: Incredible scenery including massive mountains and glaciers you can see from your car! There are also lots of hiking opportunities along this corridor.
Miette Hot Springs (East Access Route)
Where it is: Miette Hot Springs is in Jasper National Park
Why it's awesome: A bit more mellow (though still super busy!) than Banff's Hot springs, what's not to love about a hot springs soak? If you're a hot springs lover, consider adding a trip on BC's hot springs route (west of Banff). Visit in the morning for less crowds.
Prince George (West Access Route)
Where it is: Prince George is at the junction of the Yellowhead Highway and BC Highway 97. If you're taking the West Access Route or the Cassiar Highway you will pass through Prince George.
Why it's awesome: This is a good town to resupply and try some of their wonderful restaurants like the Salted Cracker (house made soup and sandwiches), the Makerie (coffee and art) and Crossroads Brewing (good food too!). Cottonwood Island Park is a wonderful place to stretch your legs on some beautiful forested trails with charming wood carvings along the way.
Stewart, BC, Hyder, AK and Bear Glacier (side trip from the Cassiar Highway)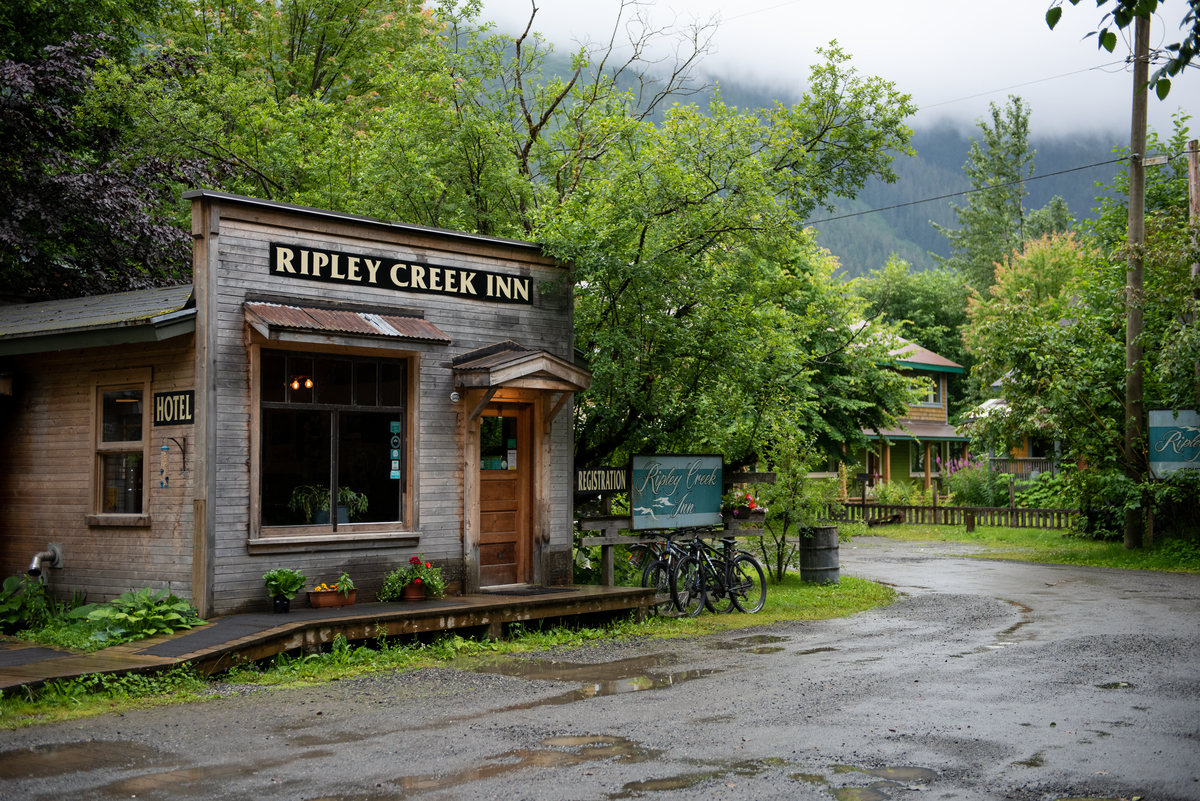 Where it is: Stuart and Hyder are across a very narrow fjord from each other
Why it's awesome: This side trip will take half a day (an hour each way plus exploring) but it's well worth it to see this super unique place! Stewart and Hyder are both tiny and right next to each other. These unique small towns straddling the border are situated in a deep and narrow fjord of the inside passage. The Bear Glacier is a mandatory stop along the way.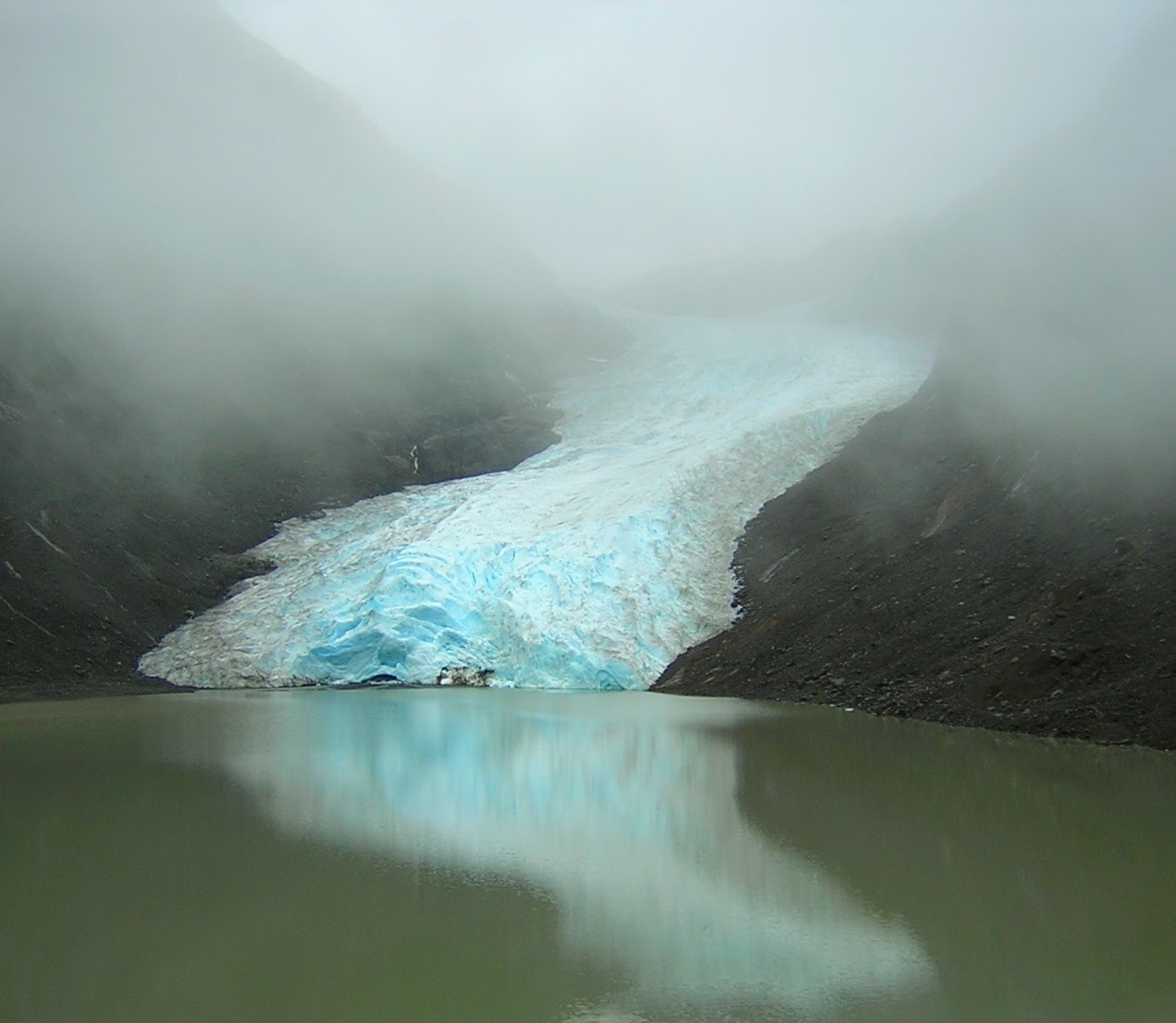 Tumbler Ridge
Where it is: Tumbler Ridge is about an hour south of Dawson Creek at the beginning of the Alaska Highway.
Why it's awesome: This two hour round trip detour is well worth it, especially for geology fans! This UNESCO world heritage site has many hiking trails that lead you to 90+ million year old dinosaur tracks, fascinating boulders and stunning waterfalls. This is well worth a couple day detour.
Milepost 0, Dawson Creek
Where it is: Right in the middle of the town of Dawson Creek, at the beginning of the Alaska Highway!
Why it's awesome: It's a cheesy photo stop, but you gotta do it!
Tetsa River Lodge
Where it is: Alaska Highway Historic Milepost 375, between Fort Nelson and Muncho Lake
Why it's awesome: If you've heard of the legendary cinnamon rolls of the Alaska Highway, this is the place! Stop in and try one for yourself.
Toad River Lodge
Where it is: Toad River is between Fort Nelson and Muncho Lake on the Alaska Highway.
Why it's awesome: The Toad River Lodge is one of my favorite roadhouses along the Alaska Highway. It's quirky, friendly and has great roadhouse food. The bar is full of hats, the kind of quirky bar decor you often see in the far north!
Muncho Lake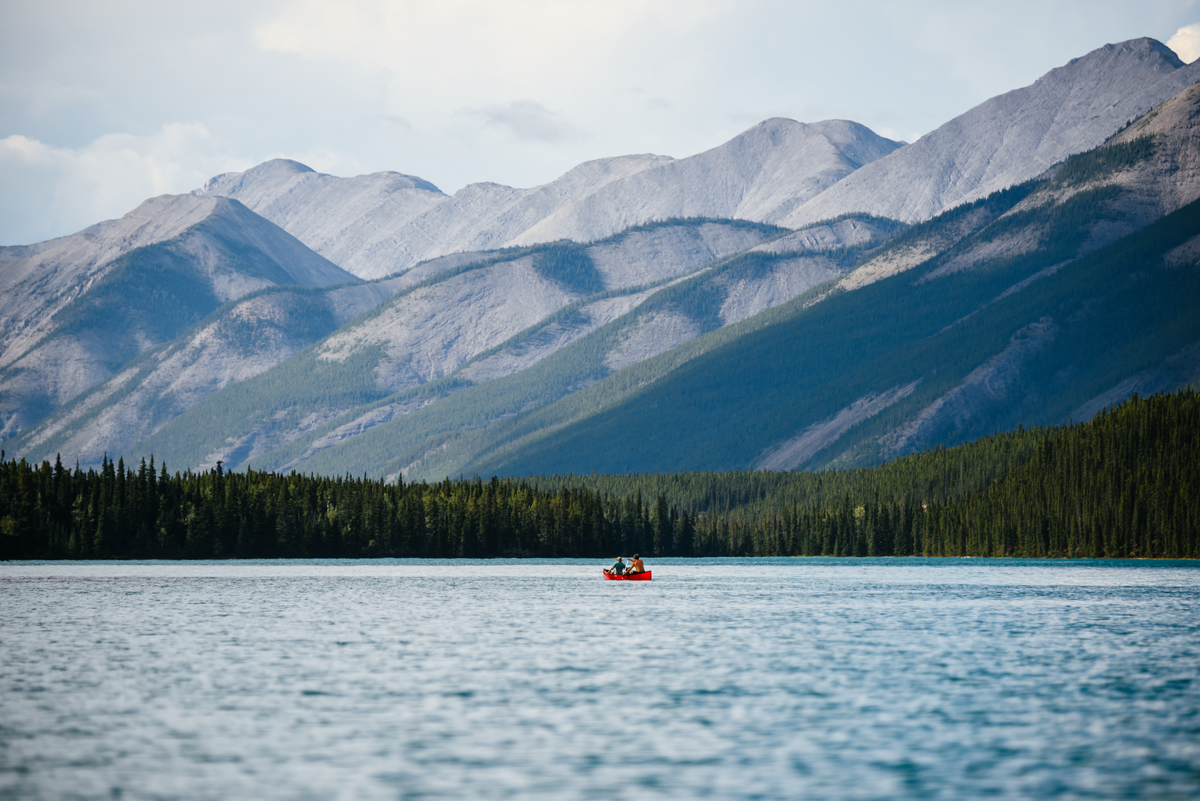 Where it is: Between Toad River and Liard Hot Springs on the Alaska Highway
Why it's awesome: Muncho Lake is beautiful with lots of recreation opportunities. Great place to stop for lunch or camp for the night.
Liard River Hot Springs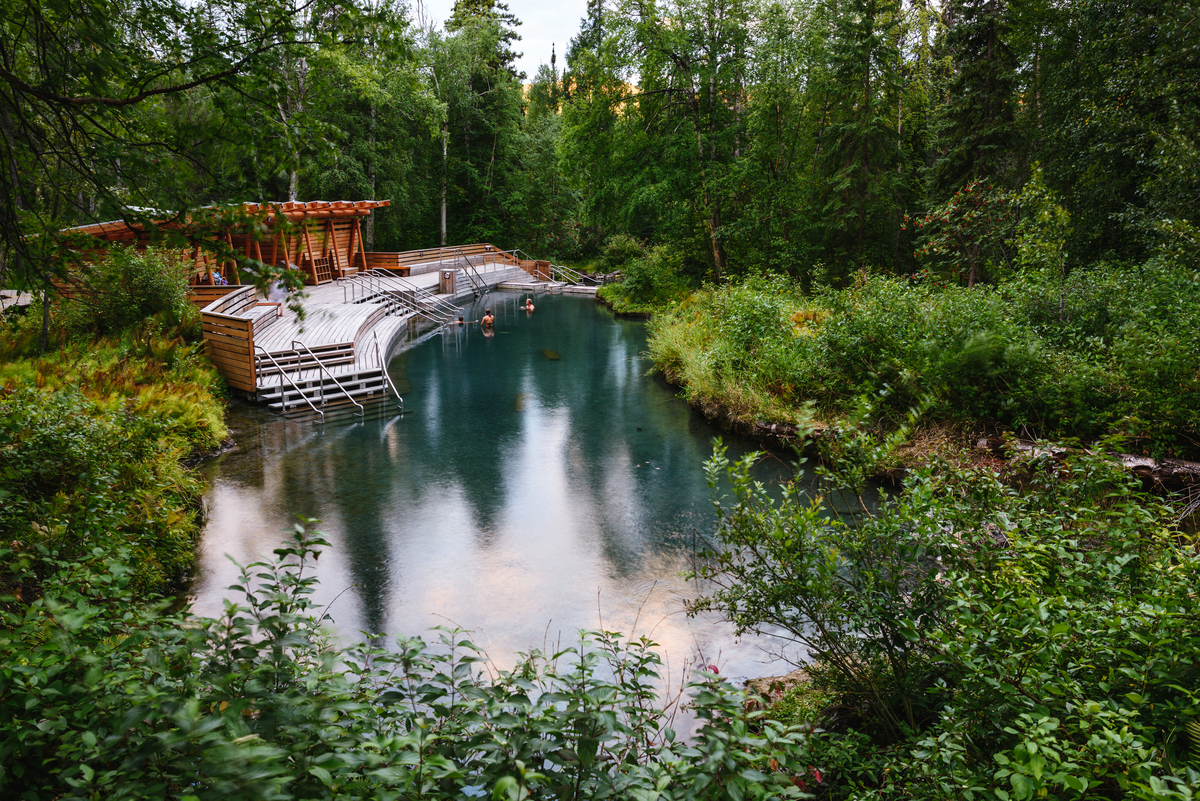 Where it is: Between Muncho Lake and Watson Lake along the Alaska Highway in Northern BC
Why it's awesome: This gorgeous and developed hot springs is a must stop on the drive to Alaska! It's located inside Liard River Hot Springs Provincial Park and has camping as well as a road house nearby. I highly recommend staying the night here which gives you the most soaking opportunities. In addition to the hot springs, there is plenty of opportunity to see an interesting mix of plant life that is able to survive in this otherwise harsh climate because of the hot water. This is a good place to see moose!
Watson Lake Sign Post Forest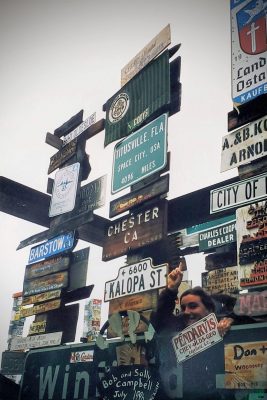 Where it is: In the town of Watson Lake, Yukon, on the Alaska Highway just after you cross the border from British Columbia into the Yukon.
Why it's awesome: This is the kind of quirky, interesting sight you will only see along the Alaska Highway! This is a massive collection of signposts that is colorful and highly photogenic, and fun to run around in.
Atlin (Side trip from the Alaska Highway near Whitehorse)
Where it is: Atlin is located in Northern British Columbia, about 60 miles south of the Alaska Highway between Teslin and Whitehorse
Why it's awesome: If you're going to make the side trip to Atlin (about 2.5 hours round trip), I highly recommend staying at least one night. Atlin is one of my absolute favorite places because of it's stunning beauty and it's remote setting far off the beaten track. It's also an excellent place for fishing!
Skagway (Side trip from Whitehorse)
Where it is: 100 miles south of Whitehorse on the South Klondike Highway
Why it's awesome: I spent three summer in Skagway so I can't help but recommend this side trip to Skagway! An incredible scenic drive through multiple climate zones in a very short time, you'll land at the head of the Inside Passage and bustling town during the Klondike Gold Rush. Skagway has fun history and many wonderful hikes that leave right from town. Skagway is served by the Alaska Marine Highway and it is possible to take a ferry from here to Bellingham, WA.
Miles Canyon
Where it is: near Whitehorse
Why it's awesome: Miles Canyon is beautiful canyon created millions of years ago by lava flow. More recently, it's been the site of a First Nations Fishing Camp as well as a site of harrowing travel by gold rush prospectors in homemade boats. You can drive there or do a 9 mile loop trail from downtown Whitehorse along the Yukon River.
Yukon Beringia Centre
Where it is: Whitehorse
Why it's awesome: The Yukon Beringia Centre is a great place to learn about the natural and human history of the subcontinent of Beringia (what is now parts of Russia, Alaska and the Yukon). Here you can learn about the animals of the ice age as well as the landscape and people who first came to North America through Beringia, as well as modern First Nations.
Kluane National Park and Reserve
Where it is: Kluane National Park borders the Alaska Highway along Lake Kluane is the Yukon, between Whitehorse and the Alaskan border.
Why it's awesome: This spectacular Canadian National Park is vast and doesn't have a ton of visitors due to it's remote location. The mountain and lake landscapes are just incredible. This is home to Mt Logan, Canada's highest peak as well as Canada's largest ice field. You can't help but get a taste of Kluane driving the highway, but it's fully worth it to spend some time here. There is a campground near the Alaska Highway and another at Kathleen Lake (a very worthwhile side trip). There are plenty of hiking and wildlife viewing opportunities in Kluane National Park as well.
How to Prepare Your Vehicle to Drive to Alaska
Any reliable road worthy vehicle will be totally fine to drive to Alaska. Its overall reliability is much more important than any specific capabilities (like 4 wheel drive or all wheel drive). This is a long road trip with long distances between services and more construction than a typical road trip, but the road itself does not require anything in particular from your vehicle. I have driven the Alaska Highway in a Honda Accord, a Chevy Astro minivan, a Toyota 4 Runner and a Ford F-250. All of them were just fine.
There are a few things you can do to help you and your vehicle be ready:
Accept that this trip will be hard on your vehicle – you are likely to get windshield dings and paint chips so it might not be ideal for a brand new vehicle!
Make sure you have excellent tires. If there's any doubt, get new tires before your trip. This will greatly reduce the odds of getting a flat.
If possible, carry a full size spare tire. Make sure you have a spare tire and the equipment to change it (refer to your car's manual)
Get an oil change before you leave
Mentally prepare to fuel up whenever you have the opportunity, regardless of cost. If you think this may be difficult for you, consider bringing a gas can. A gas can is not necessary, unless you try to push on too many times for cheaper fuel!
Make sure your car insurance will cover you while in Canada
Carry extra food, water and warm clothing and blankets in case of a breakdown. This will help you stay safe and comfortable if you need to wait for help. This is also helpful if you find yourself waiting a long time for road construction delays.
What if my car breaks down?
First of all, don't panic! Breakdowns happen and people will help you. I've had several breakdowns on the Alaska Highway and have always been able to get help safely.
If you're in a place with cell service, you can call for AAA Roadside assistance (which also exists in Canada). They will help you get help and to a shop that can fix your vehicle.
If you're not in an area with cell phone service, put your hood up and someone will stop and see what you need. You may be able to get a ride to the nearest town, or you may be able to stay with the vehicle and someone will send help.
I know this sounds scary, but this is a place where strangers will help you. Mechanics even in very small towns will do everything they can to help you get back on the road. Even though it's stressful, I've always been able to get back on the road in a few hours or by the next day, even when I was by myself.
What do I need to Bring to Road Trip to Alaska?
This section contains an affiliate link to Amazon, which means if you make a purchase I may receive a small commission at no additional cost to you. As an Amazon Associate, I earn from qualifying purchases
The most important thing you need to bring on your trip is the latest edition of the Milepost. This comprehensive guide is critical and includes all the access roads and all the roads in Alaska, the Yukon and most of British Columbia and Alberta. Get the latest edition because it's updated every year, and things change! You can't rely on your phone to look up information on this road trip. Trust me, you need this!
I recommend checking out my complete road trip packing list and my packing list for Alaska. A few things to call out specifically:
Personal items including an prescriptions and over the counter medications – you'll be in remote areas so make sure you have what you need
Plenty of food and water – in a remote area it's important to carry food and water with you since you won't be able to stop just anywhere. A cooler is also helpful to give you the option of having fresh food! Stop at the first big town once you enter Canada to stock up (you can't bring fresh produce across the border)
Spare tire and tire changing equipment – the Alaska Highway is no longer the tire destroying road it once was, but there's still a decent chance you'll need to change a tire and the distances to finding someone who can help may be long. I've changed a tire at some point on most of the trips I've made on the Alaska Highway! I also recommend a paper copy of your vehicle's manual if it's not already in your glove box.
Analog Entertainment – make sure to download those audio books, podcasts and playlists since you'll be in long stretches of road with no cell phone signal. I also love to bring my Kindle for reading at night. Art supplies and games are fun additions too.
Clothing for all kinds of weather – be ready for rapidly changing weather, hot days, wet and chilly days and downright cold (especially in May and September). My Alaska packing list has lots of suggestions!
An awning and camp chairs for stops – this is completely not necessary but also completely amazing! The awning can protect you from rain and sun (you can even get a bug tent to strap on it) and the chairs are super handy.