12 Unique things to do in Valdez, Alaska
Posted On August 8, 2022
Last Updated on June 29, 2023
Valdez is a delightful port town in Alaska focused on fishing and day trips into Prince William Sound. One of the best things about Valdez is that not many visitors come this way, so there are plenty of things to do in Valdez that many Alaska visitors don't get to see.
Valdez holds a special place for me because during the four years I lived in Fairbanks, this was the closest place to the ocean for fishing and since I'm from Seattle, I loved getting to see the water again. It always felt like home.
Though Valdez is known for tragedy, including the Good Friday Earthquake in 1964 and the Exxon Valdez Oil Spill in 1989, today Valdez is a busy port, popular with Alaskans for fishing. Visitors who enjoy getting off the busy tourist circuit will absolutely love Valdez! You'll still encounter plenty of visitors, but nothing like many other towns in Alaska.
If you're thinking of adding Valdez to your Alaska Itinerary, follow along and I'll show you the wonderful and unique things to do so you can discover this magical place for yourself.
Where is Valdez, Alaska?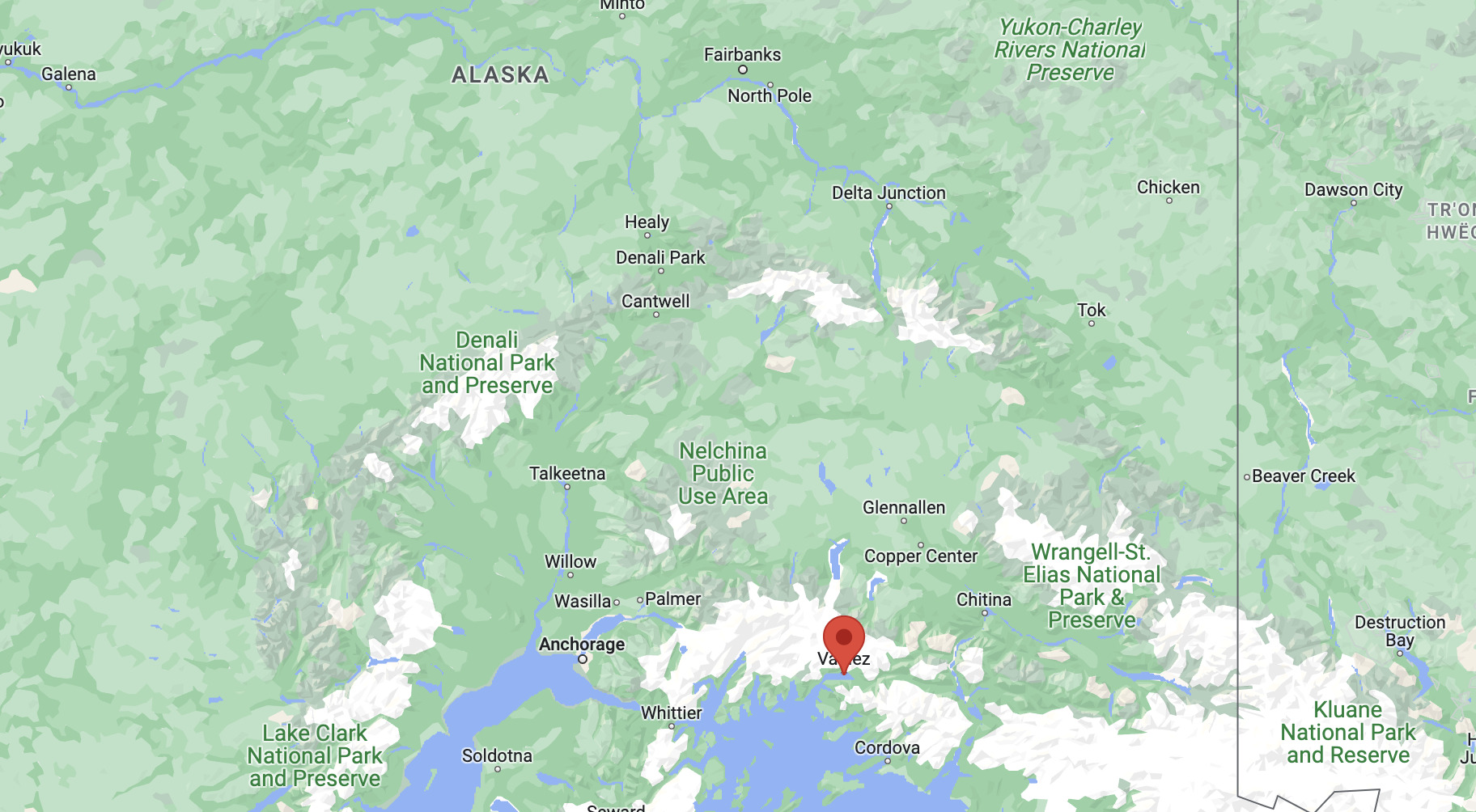 Valdez is located on the homeland of the Alutiiq People on the shore of Prince William Sound. It is about 300 road miles east of Anchorage and 360 road miles south of Fairbanks.
How to get to Valdez
There are three ways to get to Valdez, you can drive, you can take the ferry from Whittier or you can fly on a prop plane.
Most people who visit Valdez drive from Anchorage or Fairbanks. It's about a 5.5 hour drive from Anchorage (without stops or construction delays) or 6.5 hours from Fairbanks (without stops or construction delays). This is a very worthwhile detour if you are heading from Anchorage to McCarthy.
The ferry usually goes to Valdez from Whittier every other day and the other direction on the other days. The ferry crossing takes about 6 hours and requires a reservation if you are bringing a vehicle (and it's a good idea even if you're walking on).
Scheduled flights are available from Anchorage daily, and the flight takes about 45 minutes.
Best time of year to go to Valdez
Summer is the time to go to Valdez, when you can soak up all the wonderful things to do like seeing glaciers and wildlife and going fishing. Expect the weather to generally be cool and rainy, though there are also sunny warm days, particularly in June and July.
Valdez is fairly popular with Alaskans in the winter with the epic amount of snow in Thompson Pass making for some legendary snowmobiling and other winter sports opportunities, along with a significant amount of avalanche danger.
Most businesses open sometime in May and close in September, although this is a year round community and some businesses are open all year.
Things to do in Valdez
Explore the town and harbor
Like all port towns in Alaska, Valdez has a wonderful harbor for walking around and checking out all the boats and all the fish that are coming in, especially in the late afternoon. You can also catch colorful kayaks and see all the bustling activity of this busy port town.
Lots of Alaskans come here with their boats from other parts of the state, or come for fishing charters. Expect to see plenty of Alaskans visiting as well as visitors from "outside".
Dock Point Park
Dock Point Park is a lovely forested park right next to the harbor with a hiking trail, restrooms and picnic areas. The trail goes in a loop that is just under a mile through the forest and along the shore with some great views of the surrounding mountains.
Solomon Gulch Hatchery
The hatchery is the largest pink salmon hatchery in North America and one of the really fun things to do in Valdez is to watch the salmon return! You can see them in the fish ladder as well as along the walkway between July and October.
Where the salmon run, wildlife are sure to follow so this also presents a terrific opportunity to see bears, sea lions and other salmon eaters (including fishermen) in the area. Stay alert for wildlife and respect any trail closures due to bear activity.
Step back in time at the Old Valdez Townsite
Like Seward and other coastal towns of southcentral Alaska, Valdez was devastated by the enormous Alaska earthquake in March 1964, known as the Good Friday Earthquake. Much of the town of Valdez at the time was destroyed and the remaining land was determined unstable and unsafe.
Over a period of a couple years, the town was moved to the "new" town, it's current location about 4 miles away. New buildings were built and some of the old ones were moved to the new space.
Today you can take a self guided walking tour of the open area that used to be the town of Valdez before the earthquake. This walk around the old townsite is a unique way of learning about history and adding in your imagination as you explore.
Overlook Trail
Are you a fan of overlook trails? If so, head to Ruth Pond and find the trail for the overlook, a half mile round trip short and steep climb to a great view of town. Railings and steps help to navigate the hill, though be aware there are stairs to get to the overlook.
Valdez Glacier Lake
Just outside of Valdez, Valdez Glacier Lake is a must see and it's one of the things to do in Valdez that is absolutely free!
While you can't see the glacier from the edge of the lake, you can see plenty of icebergs floating and sitting around the edges of the lake. It's a remarkable place to look at the ice, especially if it's a hot summer day.
You can also do a kayak tour of the lake, but even on your own you can still see cool icebergs and walk around.
See the waterfalls of Keystone Canyon
Keystone Canyon is just outside Valdez on the way to Thompson Pass, and in addition to the impressive narrow canyon, it has multiple waterfalls and some interesting history.
There are pullouts on the highway for the waterfalls but as they are on blind corners, is it not a good idea to cross the highway for a better photo! You can explore hiking trails in the area (learn more here).
In addition to a couple of stunning waterfalls you can see from the road (creatively named Horsetail Falls and Bridal Veil Falls), there are also some decommissioned train tunnels which were never completed, but they provide fun areas to explore!
Explore Thompson Pass
If you're driving into or out of Valdez on a clear day, or if a day during your visit is clear, don't miss the chance to see the truly epic mountain landscapes of Thompson Pass.
Just under 30 miles from the ocean at Valdez, the pass is at 2800 feet and a completely different landscape. A big open parking area allows a great opportunity for a picnic with this incredible view. If you're a hiker you can also explore the Trail of 98, a hiking trail that goes along and down from the pass.
Worthington Glacier
If you're driving into or out of Valdez, make sure to stop at beautiful Worthington Glacier. Worthington Glacier State Recreation Site is about 30 miles from Valdez just over Thompson Pass. There are restrooms and trails to explore and take photos of the glacier.
There is a hiking trail here, though at the time of my most recent visit the trail was closed due to the rocks and cliff being unstable. Make sure to respect trail closures.
You'll need $5 in cash to deposit in the parking box, so be prepared!
Take a glacier and wildlife cruise of Prince William Sound
An absolutely highlight and in my opinion a must do is a glacier and wildlife cruise while you're in Valdez! Cruises will take you out to see the famous and beautiful glaciers of Prince William Sound, including the Columbia Glacier.
The Columbia Glacier is a massive tidewater glacier (which means the glacier touches the ocean) that is closely watched by scientists because of how dynamic it is. This glacier is thinning and retreating rapidly and scientists are keeping a close eye on what happens here.
This is a good place to see impressive icebergs and just be in awe of this enormous river of ice coming down from 10,000 to the edge of the ocean.
In addition to glaciers, you're likely to see plenty of wildlife including sea birds, whales and other marine mammals.
Go fishing
Valdez is a fishing town, no question about it. Late afternoon makes for busy and bustling docks as fishing charters and excited people return with their catch.
If you like to fish, you don't want to miss the chance to do a fishing charter in Valdez for salmon, halibut or other fish. Personally I really love halibut fishing and highly recommend it, it's quite the adventure!
This is one of the places that Alaskans come for fishing charters, so you know the fishing is going to be pretty good.
Go kayaking
Valdez is an excellent choice for a kayak tour as the protected inlets around Prince William Sound provide stunning places to paddle with wildlife and with incredible scenery.
From a half day to a multi day adventure you can make that happen on the water while you're in Valdez.
Where to stay in Valdez
This post contains affiliate links, which means if you make a purchase I may receive a small commission at no additional cost to you.
There are several hotels in Valdez as well as vacation rentals, though capacity is limited in this small town and it's a good idea to book early. You can use this map to find accommodations from different sources across the web to find something that works for you:
I really love the cabins at the Eagle's Rest RV resort. They are small but they have everything you need, including showers and toilets and are really clean and comfortable.
If you're a camper, you have a few options near Valdez. Eagle's Rest is an excellent RV park, though it's not ideal for tent camping. For that, I recommend trying Blueberry Lake State Recreation area (towards Thompson Pass, not in town) or the Valdez Glacier Campground. The latter is operated by the military but civilians can stay there too. They also have dry cabins which is a good in between camping and a not camping. You have a solid roof for weather and bug protection but no running water.
Where to eat in Valdez
Valdez has some great food options for such a small town. The Fat Mermaid has amazing pizza and good food at all times of the day, but what really stands out there is their incredible breakfast. I particularly recommend trying the french toast, which is made from homemade bread they make there. It's amazing. If you sit outside you can watch the harbor bustling for the day with boat tours and fishing charters heading out while you relax with breakfast and coffee.
Another standout is the Potato, which also has amazing food and not surprisingly, life changing fries. Make sure to try the fries dressed up almost however you desire.
In addition to eating, another of the many wonderful things to do in Valdez is to try some local beer. Head over to Valdez Brewing for some wonderful beer in a bright spacious indoor area or outside on the patio. Make sure to come hungry because the Poor Betty's food truck outside has amazing halibut poor boys you won't want to miss.