10 Quirky towns in Alaska you'll never forget
Posted On November 16, 2022
Alaska is full of interesting towns and new experiences, epic landscapes and wildlife. But if you like quirky and unusual towns you don't want the chance to see this unique part of Alaska. Each of these small communities is quirky in its own way, with something you won't experience anywhere else.
From the harbors of the inside passage, to the middle of a national park, to the remote arctic, here are some towns in Alaska to add to your itinerary if you like unusual and quirky places! I've been lucky enough to see all of these quirky places for myself living and traveling in Alaska and I'm happy to share each of them with you.
They are listed in roughly the order of easiest to get to to hardest, though this is somewhat subjective.
North Pole
Why it's quirky: If you send a letter to Santa and address it to Santa at the North Pole, this is where it goes!
Where it is: 15 miles Southeast of Fairbanks
How to get there: Easy 15 minute drive from Fairbanks on the Richardson Highway.
Don't miss: the year round Santa Claus house where you can buy Christmas items, eat fudge, meet Santa's reindeer and even Santa himself. Mail a letter or card with the North Pole postmark, or stop by the Post Office if you like. The post office is just like every other Post Office in the US, except for the post mark!
Whittier
Why it's quirky: Famous as the "town living under one roof" this busy cruise ship port is a small tourism community today. On old military building and the very unusual way to access it (though a one way tunnel that is shared with trains and operates on an hourly schedule) make it very unusual. Vehicle access to the town has only bee possible since 2000 when the tunnel opened to the public.
Where it is: Whittier is located 60 miles southeast of Anchorage.
How to get there: You can drive to Whittier from Anchorage, though it takes some extra time waiting for your turn in the tunnel. You can also get there on the Alaska Railroad or by motorcoach.
Don't miss: The 26 Glaciers Cruise on Prince William Sound, Portage Pass hike if you're a hiker.
Talkeetna
Why it's quirky: Talkeetna has that funky mountain town vibe and is the best place in Alaska to find it. Famous for having elected a cat mayor, you can find plenty of weird as well as good food, beer and historic buildings here. Talkeetna is also the base for Denali Climbing Rangers and many flightseeing trips to Denali.
Where it is: Talkeetna is between Anchorage and Denali National Park, a 14 mile detour off the Parks Highway.
How to get there: You can either drive or take the Alaska Railroad to Talkeetna. To drive, take the Talkeetna Spur Road along the Susitna River about 14 miles from the Parks Highway (it's well signed).
Don't miss: Eating pie, drinking local beer and a flightseeing trip to Denali (splurge for the glacier landing)
Hope
Why it's quirky: Historic buildings from the late 19th century along beautiful Turnagain Arm remain from a brief and intense early gold rush nearby.
Where it is: Hope is on the South side of Turnagain Arm (look back towards Girdwood from here) about a two hour drive from Anchorage and a 17 mile detour from the Seward Highway.
How to get there: The well marked turnoff from the Seward Highway between Portage and Cooper Landing takes you to Hope in 17 miles.
Don't miss: Walking around the town and taking in the historic buildings and the mudflats. Eating at the Seaview Cafe if it's open.
Skagway
Why it's quirky: I lived in Skagway for three summers and there are plenty of quirky and loveable things about Skagway, from its mostly park service owned buildings sharing Klondike Gold Rush History, to its interesting Gold Rush cemetery and its historic and gorgeous train ride to its giant rhubarb plants!
Where it is: Skagway is at the very north end of the Inside Passage, about 100 miles North of Juneau.
How to get there: Skagway is one of the three towns in Southeast Alaska you can drive to. It's a 4 day drive from Seattle and a two day drive from Anchorage or Fairbanks, so unless you're on an epic road trip you probably won't be driving! Skagway is a frequent stop for cruise ships as well as the Alaska Marine Highway.
Don't miss: The historic walking tour operated by the park service, the Gold Rush cemetery and the White Pass and Yukon Route Railroad.
Gustavus
Why it's quirky: This tiny community off the road season serves visitors to Glacier Bay National Park. It is an excellent example of life in rural southeast Alaska where everything comes by plane or boat.
Where it is: Just outside Glacier Bay National Park, west of Juneau.
How to get there: Alaska State ferry or plane from Juneau.
Don't miss: Bear Track Inn, small art galleries, Glacier Bay National Park
Homer
Why it's quirky: At the literal end of the road, Homer is off the beaten path a bit and full of water oriented adventure. It's also home to the forever funky famous Salty Dawg Saloon (you'll see their hoodies all over Alaska).
Where it is: Homer is at the end of the Homer Spit at the end of the Sterling Highway at the tip of the Kenai Peninsula.
How to get there: Homer is about a six hour drive from Anchorage, or a short flight in a small plane from Anchorage.
Don't miss: The Salty Dawg Saloon, walking along the Homer Spit, kayaking in Kachemak Bay.
McCarthy
Why it's quirky: The only town located inside a national park, McCarthy full of quirkiness! A long drive on a bumpy gravel road gets you to a footbridge that you walk over to get to the town. Historic buildings and dirt roads with a few funky restaurants make this one of the most interesting places to visit in Alaska.
Where it is: McCarthy is located in Wrangell-St Elias National Park, an 8 hour drive from Anchorage or Fairbanks.
How to get there: You have to really want to go to McCarthy to get there. Your options are a long drive on a remote gravel road (most rental cars don't allow you to drive here), a shuttle van or a small plane.
Don't miss: Hiking on the Root Glacier, exploring the Kennicott historic site, eating fries at the Potato and a drink at the Saloon.
Chicken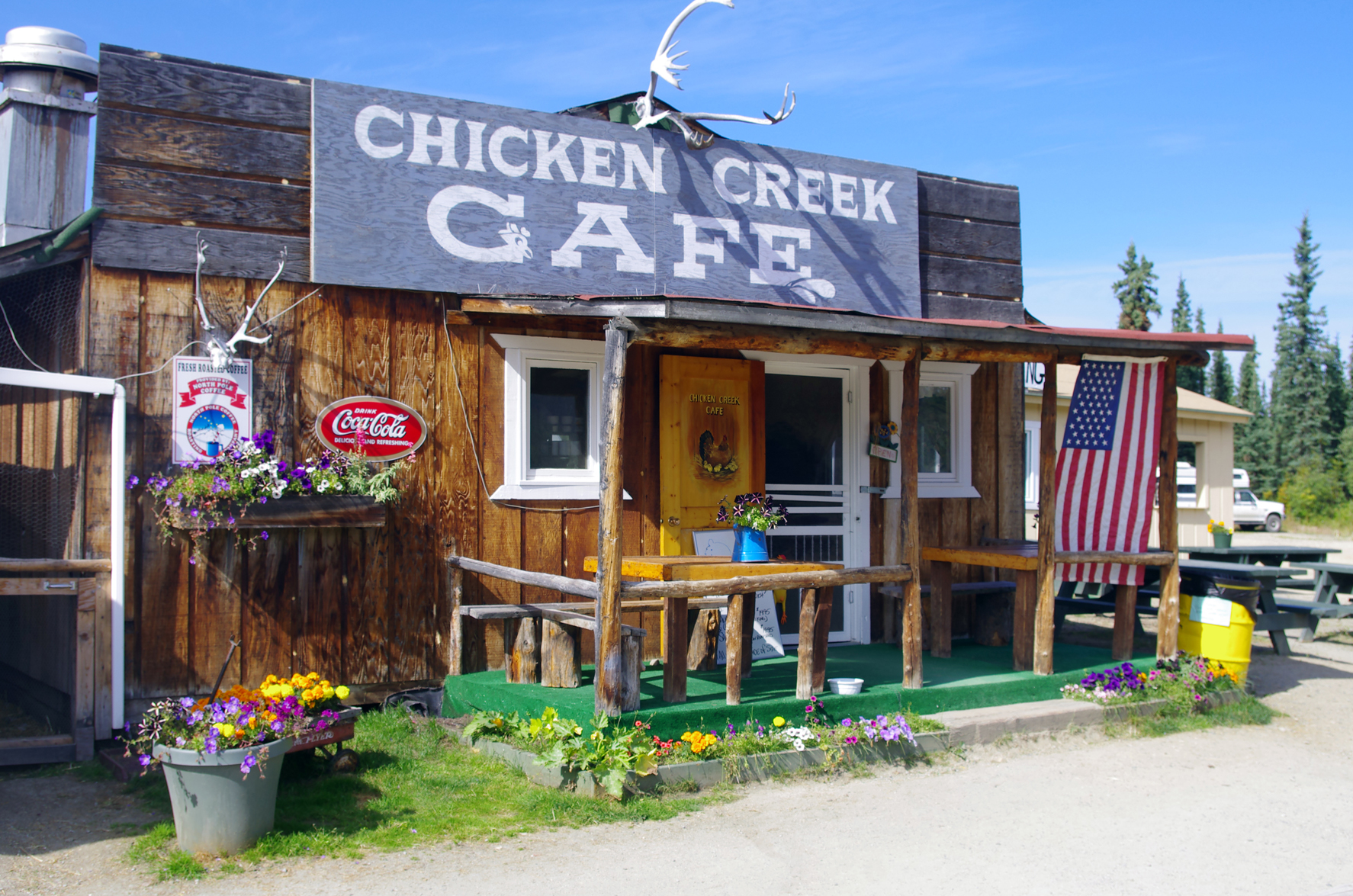 Why it's quirky: This is probably the quirkiest place on this list, and honestly there is not much to do in Chicken. Named for the state bird, the Willow Ptarmigan (aka "chicken"), this tiny community was built in the 1890s by gold prospectors.
Where it is: Chicken is Southeast of Fairbanks and Northeast of Anchorage, near the border with the Yukon Territory in Canada.
How to get there: Chicken is a 5 hour drive from Fairbanks and an 8 hour drive from Anchorage.
Don't miss: If you happen to be there in June during the annual Chickenstock Music Festival, don't miss it! Otherwise, take some time to explore the historic buildings.
Coldfoot and Wiseman
Why it's quirky: These two tiny communities above the Arctic Circle along the Dalton Highway are SUPER remote and SUPER quirky. Wiseman is a historic mining community with just a few people, and Coldfoot is a pipeline construction camp turned unofficial visitor center for the Arctic. Super cold winters with stunning Auroras and dog sleds transition to summers without sunset. If you want to get above the Arctic Circle on your trip, this is where you're headed.
Where they are: Coldfoot and Wiseman are located in the Brooks Range near the boundary of Gates of the Arctic National Park. They are along the Dalton Highway about a 7 hour drive from Fairbanks.
How to get there: If you're longing to visit this super remote area, I highly recommend taking a tour from Fairbanks. Most rental car companies will not allow you to drive the 250+ miles of gravel required to get here. This is also a very busy trucking corridor and trust me, it's much more enjoyable to have someone else in charge of the driving! If you do find a car you can drive on this road, give yourself a solid 7+ hours to get here from Fairbanks.
Don't miss: The Arctic Agency Visitor Center, rafting the Middle Fork of the Koyukuk River with a guide. Many people want to come here to see the Northern Lights but keep in mind you can only see them when it gets dark (September through March).
Final Thoughts
Adding a visit to a quirky town in Alaska adds to your travel experience by seeing something you won't find anywhere else! You'll never forget the experience of being far above the Arctic Circle or in a town far from roads.