The Best things to do in Whitehorse, Yukon
Posted On May 10, 2021
Last Updated on May 15, 2023
Canada's Yukon Territory is one of the most wonderful places to visit in the entire world. Far from busy tourist areas, with striking natural beauty and wonderful people, this is an unforgettable place to visit. If you go to the Yukon Territory, you will almost certainly visit its capital city, Whitehorse. Whitehorse is the largest town in the Yukon with about 25,000 residents. There are so many fun and interesting things to do in Whitehorse, whether driving the Alaska Highway or flying into Whitehorse for further explorations around the Yukon Territory. Whitehorse is absolutely worth some time to visit. I spent lots of time in Whitehorse when I lived in nearby Skagway and have visited several times since then. Read on for my favorite things to do in Whitehorse as well as some other places nearby.
About 25% of the population of the Yukon is Indigenous. The majority of Yukon First Nations have signed treaties in the 1990s and 2000s First Nations people are very involved in governing Yukon Territory. In the Whitehorse area, two prominent First Nations are the Kwanlin Dün First Nations and the Ta'an Kwäch'än First Nations.
How to get to Whitehorse
Driving to Whitehorse on the Alaska Highway
Whitehorse is a mandatory stop along the Alaska Highway! If you're making the long road trip, take the time to take a break and enjoy Whitehorse for a few hours or a few days if possible. Whitehorse is about 1500 miles from Vancouver, 1400 miles from Calgary, 700 miles from Anchorage and 600 miles from Fairbanks.
There are lots of hotels and restaurants in Whitehorse in addition to grocery stores and repair shops in addition to fun things to do.
Flying to Whitehorse
If you're planning to fly to Whitehorse as your basecamp for adventures around the Yukon, there are direct flights to Whitehorse from Vancouver, Calgary and Edmonton and seasonal direct service to Victoria, BC and Frankfurt, Germany.
Exploring downtown Whitehorse
Start off by stretching your legs on the trail that goes along the Yukon River around Shipyard Park, the Kwanlin Dün Cultural Centre, Rotary Park to the SS Klondike National Historic Site.
When you've had your fill of strolling the river, check out the many wonderful shops in downtown Whitehorse including one of my favorite bookstores, Mac's Fireweed. In addition to being a wonderful bookstore, Mac's Fireweed has an impressive collection of all types of maps and a large section of books specific to the Yukon. It's absolutely wonderful for any book lover or traveler looking for ideas for their trip.
Kwanlin Dün Cultural Centre
Located in a beautiful building along the banks of the Yukon River, make sure to visit the Kwanlin Dün Cultural Centre learn about the Kwanlin Dün First Nations history and modern culture.
MacBride Museum of Yukon History
The MacBride Museum is the place to learn all about the history of the Yukon. The first museum in the Territory, it was originally housed in the historic telegraph office. The modern museum is a larger building that is surrounds the original and historic one.
SS Klondike National Historic Site
During the first half of the twentieth century, paddlewheelers were a major form of transportation in the far north. At the SS Klondike you can learn all about the history and life aboard these river boats.
Yukon Beringia Interpretive Centre
During the last ice age, while glaciers covered much of North America, sea levels went down exposing land between what is now Alaska and Russia. This long gone continent is called Beringia and refers to parts of the Yukon Territory, Alaska and Siberia. Cut off from the rest of North America by ice, Beringia was too dry to develop glaciers and was home to many long gone animals such as woolly mammoths and short faced bears.
While the Bering Land Bridge was exposed, the first humans came to North America from Asia and over thousands of years inhabited all of North America.
The Yukon Beringia Interpretive Centre is a wonderful place to learn all about the animals of Beringia as well as North America's first human inhabitants.
The Centre is located next to the Alaska Highway near the airport.
Whitehorse Fish Ladder
In the 1950s a dam was built on the Yukon River at what was formerly known as Whitehorse Rapids, a harrowing stretch of the river that claimed the lives of many miners trying to make their way to the Klondike at the end of the 19th century. The fish ladder, constructed so that salmon can still make it up river to spawn, has viewing areas to watch salmon running up the Yukon.
You can check the salmon cam to see if the fish are running before you go!
Miles Canyon
A stunning basalt canyon filled with impossibly blue green water, Miles Canyon is beautiful and has a long human history. Known as Kwanlin by First Nations people, the canyon is stunning and a must see activity in Whitehorse. A beautiful pedestrian bridge now spans the Yukon River at Miles Canyon.
For an all day hiking adventure, you can hike here from downtown Whitehorse on an almost 10 mile round trip walk (15 km). If you prefer less walking, you can also drive there and explore a much shorter distance on foot.
Yukon Wildlife Preserve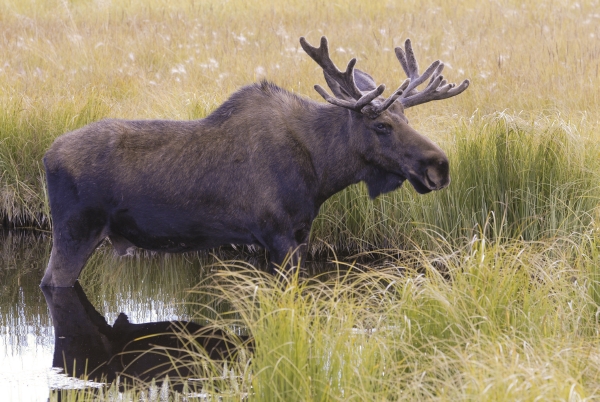 The Yukon Wildlife Preserve is the ideal place to go in Whitehorse for wildlife lovers! Located about a 30 minute drive northwest of Whitehorse, here you can see and learn about the many animals that make the Yukon Territory home. Animals here include moose, musk ox, fox, lynx, caribou and more.
A 3 mile loop to see all the animals is open to walkers and bikes, or you can ride a bus if you'd prefer to ride around. Bring your camera and get that perfect animal photo!
Takhini Hot Springs
At the time of this writing (May 2021), Takhini Hot Springs is closed permanently. However, their website site says it is opening under new ownership in 2021. I'll update this as soon as I get more information.
Dog Sledding
While dog sledding is a winter sport, two companies in Whitehorse offer summer tour opportunities to interact with sled dogs! You can go on a hike or canoe trip with a sled dog or two, or you can even do a tour on a training run with ATVs. Either way you can visit the sled dogs and learn about the northern sport and tradition of dog teams.
If you happen to visit during the winter, you can have the full experience on a guided dog sledding trip!
See the Northern Lights
Simliar to Fairbanks, Alaska, Whitehorse is a fantastic place to see the Northern Lights! If you're wanting to make this a priority for your trip, you'll need to plan your trip for when it's dark at night. Mid April through Mid August don't have enough darkness under the midnight sun to see them. If you come in late summer (late August) or fall (September) it will be dark enough to see them. If you plan a winter visit then there will be lots of hours of darkness!
Unforgettable trips from Whitehorse
Whitehorse makes a fantastic basecamp for further explorations around the Yukon and Alaska. Here are a few of my favorite day trips or multi day trips if you have some time in Whitehorse
White Pass, Skagway Alaska and the South Klondike Highway
A fantastic day (or multi day!) trip from Whitehorse is to head south to Carcross along the South Klondike Highway, over the incredibly scenic White Pass to the town of Skagway. The trip is just over 100 miles one way. If you want to leave your car behind, you can do a day trip train and bus excursion on the White Pass and Yukon Route Railroad based out of Skagway. The train and bus combo allows you to see even more scenery as the routes are quite different!
If you're driving, you'll be making lots of stops for all kinds of interesting and scenic places such as:
Miles Canyon (see above)
The unique Carcross Desert – the world's tiniest desert!
Emerald Lake – a stunning blue and green lake that's easy to see from the pull out along the highway
Stunning scenery all through White Pass – mountains, lakes, wildlife, you can see it all on this short stretch of highway crossing the border between the United States and Canada, as well as between British Columbia and the Yukon Territory
Yukon River Pedestrian Suspension Bridge – if you don't mind heights and bridges, don't miss this stop with another incredible view of the river below
The historic gold rush town of Skagway, Alaska – there are so many things to do in Skagway, including learning all about Gold rush history and taking in some beautiful hikes.
Dawson City and the North Klondike Highway
An unforgettable, history and epic landscape Yukon road trip, Dawson City is 350 miles (530 km) north of Whitehorse. It's a scenic drive mostly along the Yukon River, the same route that miners struggled through to get to the Klondike Gold Fields and a route that humans used for centuries before that. It's too long of a drive for a day trip, but Dawson City is worth the effort for it's many unique and interesting things to do!
From here you can go a little bit further to stunning Tombstone Territorial Park along the Dempster Highway, north of Dawson, or even all the way to the Arctic Ocean in Tuktoyaktut if you're up for a seriously epic remote adventure.
Atlin Lake
Atlin is a stunning and enormous lake, the largest natural lake in British Columbia! Surrounded by mountains and with excellent fishing, Atlin is the perfect place to get away from it all and enjoy some serious solitude amidst incredible scenery.
While Atlin is in British Columbia, you need to drive through the Yukon to get there. It's just over 100 miles (175 km) from Whitehorse. While doable as a day trip, there's no way you'll want to turn around and leave. I highly recommend spending at least one night in Atlin's splendor. You can camp here, or rent cabins and even houseboats during the summer!
Kluane National Park
Remote and rugged Kluane National Park is a fantastic stop along the Alaska Highway and well worth the trip from Whitehorse even if you are not driving to or from Alaska! Kluane is a vast wilderness bordering Wrangell-St Elias National Park in the United States, which is also a vast wilderness. Kluane is home to Canada's highest mountain, Mt Logan as well as the largest ice field in Canada.
You'll want to stop at the Visitor Centre, about 100 miles (150 km) west of Whitehorse on the Alaska Highway. Here you can learn about your options for visiting Kluane depending on how much time you have.
I highly recommend driving the Alaska Highway along Kluane Lake, which starts 160 miles (260 km) west of Whitehorse. There are plenty of places to stop for photos and some for hikes along the lake.
If you're looking for something a bit closer to Whitehorse or a possible day trip, consider a trip to Kathleen Lake! 110 miles (180 km) from Whitehorse, this stunning lake is suitable for canoeing or picnics and there are plenty of hiking trails to get those epic Yukon views.