Scenic fall drives from Seattle
Posted On October 6, 2016
Last Updated on June 30, 2023
There are many scenic fall drives from Seattle which makes it hard to choose! In our family we have a tradition in fall of a weekend road trip for camping, buying apples, photography and some outdoor adventure (usually biking or hiking). We traditionally call it "mocktoberfest". Basically, it's road trip loop around the Cascades to take advantage of several seasonal situations: apples are in season on the east side, fall color is perfect up in the mountains, and it's
Oktoberfest in Leavenworth
. This is a great trip for adults, photographers and food connoisseurs, but may be too much car time for small people. Check out the
best fall hikes
in Washington too!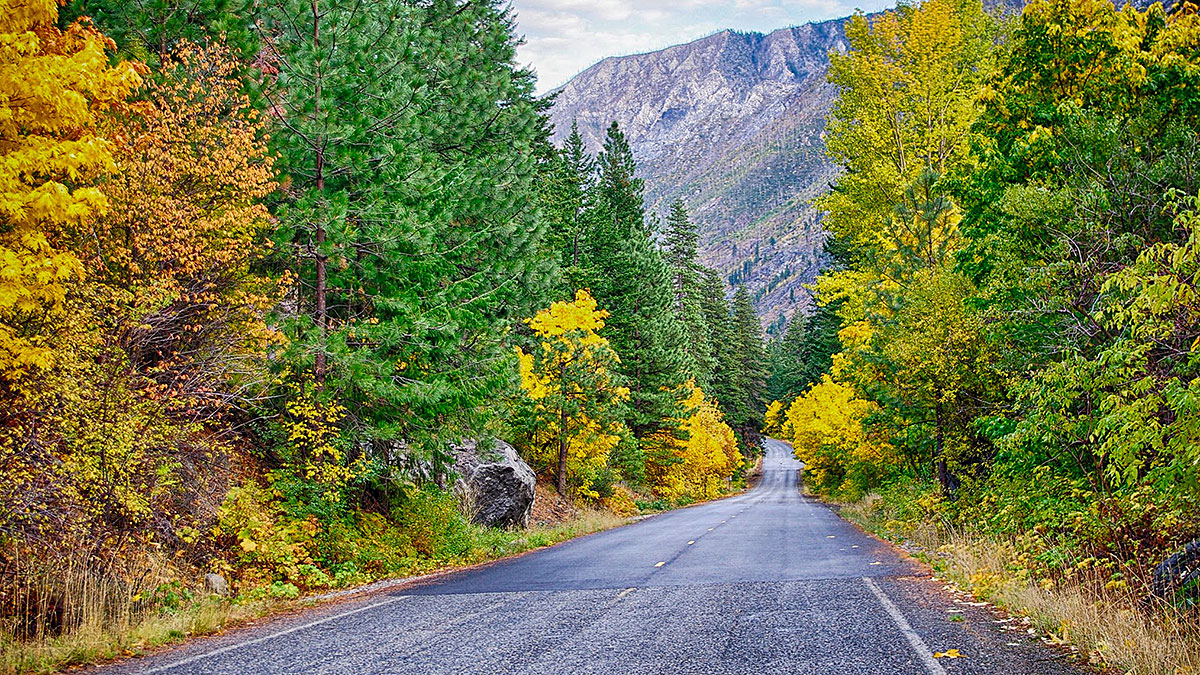 First, the road trip. You'll need two passes and two north-south rungs.
Your pass choices include:
Highway 20 through North Cascades National Park
Highway 2 over Stevens Pass
I90 over Snoqualmie Pass
Highway 410 over Chinook Pass
Highway 12 over White Pass
Highway 20 and 410 close for the winter, so it's a good chance to drive those two now before they shut down.  Jennie and I once had an entertaining day snowshoeing at the end of the snowplowing on 410. While we were gearing up in front of the six foot snow berm that was across the highway, car after car pulled up looking confused and asked where Highway 410 was… when we told them this was it they would argue with us and tell us their GPS was leading them to Yakima. They were all using older dash mounted GPS units that must not have known the road was closed. However, there -were- huge road signs back along the road for miles telling them that critical information. Anyway, if you actually want to drive over the pass, not just to it, now is the time.  It goes through a lovely section of Mt Rainier National Park.
Highway 20 is stunningly beautiful but very very slow. There are two major passes on that road:  Washington Pass and Rainy Pass.
The western access to Stevens Pass can be very busy on weekdays and the commuting zone from the greater Seattle has extended (unbelievably) into this area. During winter, this pass is one to avoid. It has single lanes, heavy ski traffic, and during closures on I90 becomes completely impassable with traffic. On weekends during fall and spring, though, it's pretty great.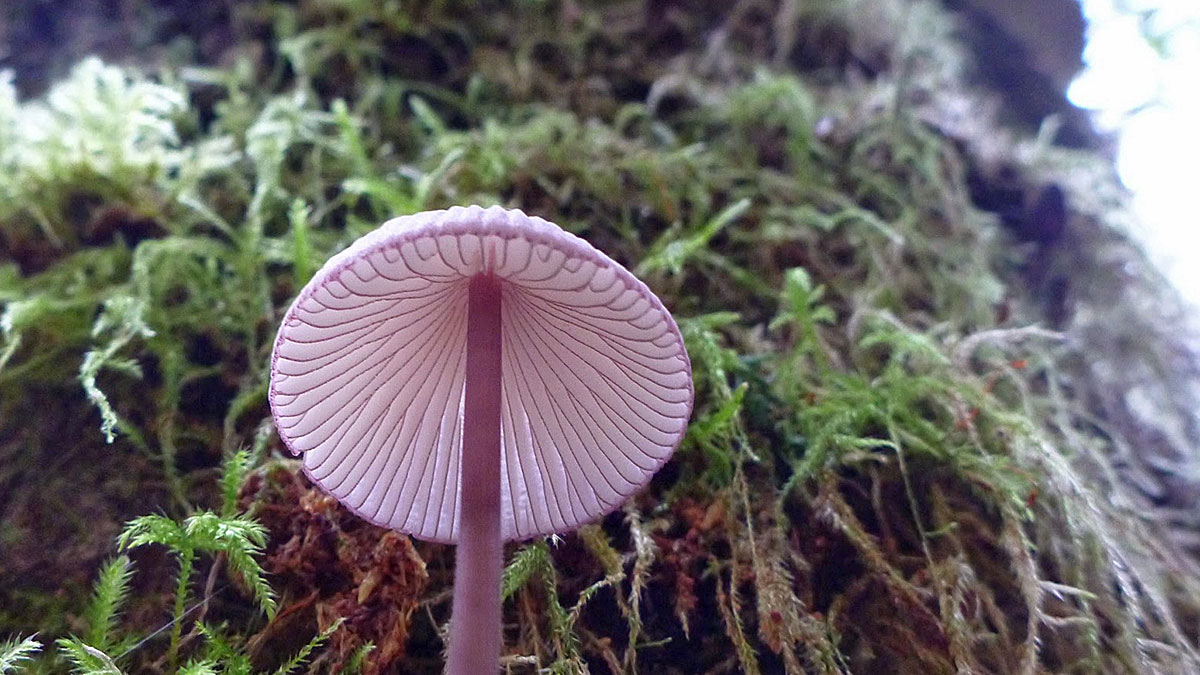 Your north south choices are more limited… highway 97 on the east side over Blewett Pass. If you have an off-road capable vehicle, the side-roads on the top of Blewettt offer amazing views and larches, especially the trails to the east of the summit.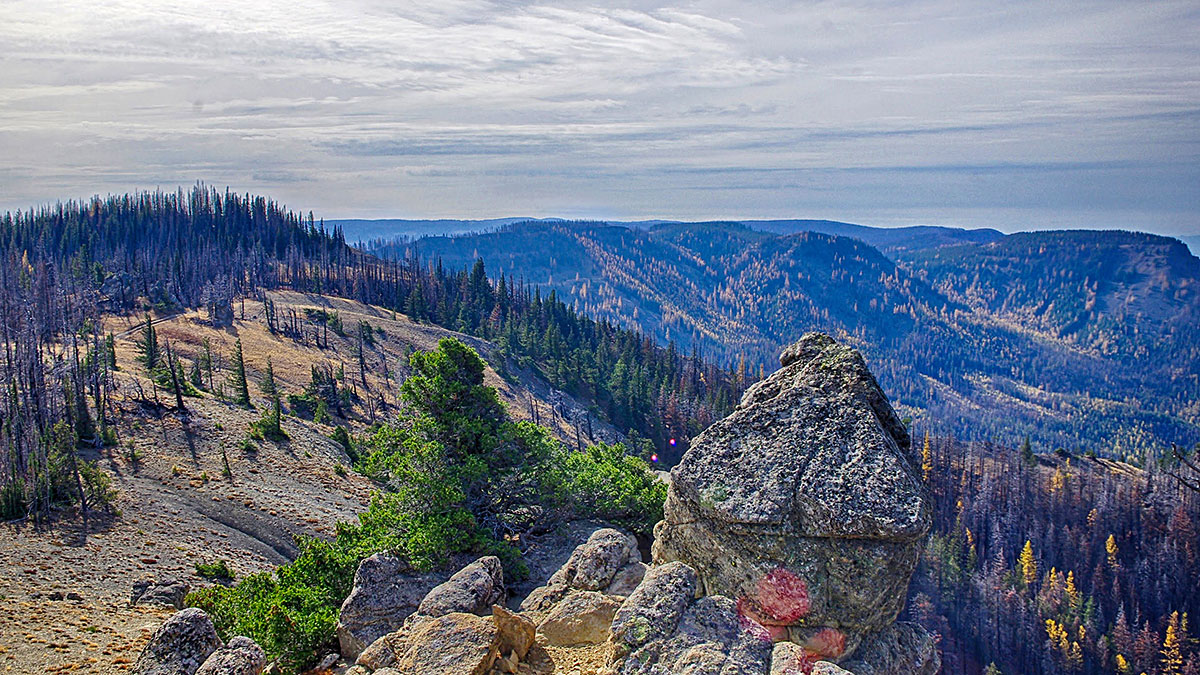 On the west side, you want to stay east of the I5 corridor on Highway 2, 203, or 18.
We used to do this as a one day trip and it's just too long to have a good time. Now we stay somewhere on the east side, either camping, in a cabin, or in a hotel/VRBO etc and make it a relaxed two day affair. If you don't stay overnight you have no time to do anything but drive, and there are great activities to do.
First, there is Oktoberfest. I'll say this… I made fun of Leavenworth for years. It's cheesy. If you haven't been there, words cannot explain it. It's a town that decided to change to a Bavarian theme in the 1960s. It's unspeakably weird and kitschy. And yet, a few years ago, I went there ironically and found myself (sober, at least at first) singing german songs in a tent while eating sausages with a bunch of people in lederhosen. It got to me, and now I unreservedly love it. I can't believe I just wrote that in a public place. I will say this: it's very crowded, and the scene can get stupid late at night unless you want to hang out with people wearing plastic faux-oktoberfest costumes puking on themselves. It is way more fun earlier in the evening. It's important to know when things are transitioning and withdraw gracefully.  Also, park far away, accept that you will have to pay to park, and be a good sport about it to start off with the right attitude. Buy your ticket to get in online to save a long line as well.
Then there are the apples. Growing up in the Rocky Mountain West and then living in Alaska, I thought I didn't like to eat apples, because there were only granny smith and red delicious in my world, and they were always mushy. Now I know better: apples are good, nobody eats red delicious, and you don't eat them after January.  We like to buy them at a little roadside stand on Highway 97 near Peshastin, WA in the parking lot of the old Buckboard Cafe. The best apple buying is from small stands that don't look too prosperous… many aren't even manned, and just have a drop box for money! The ones with lots of decorations etc can be a good show but aren't really what Jennie and I are looking for, namely, about 25 pounds of perfect inexpensive apples direct from the grower.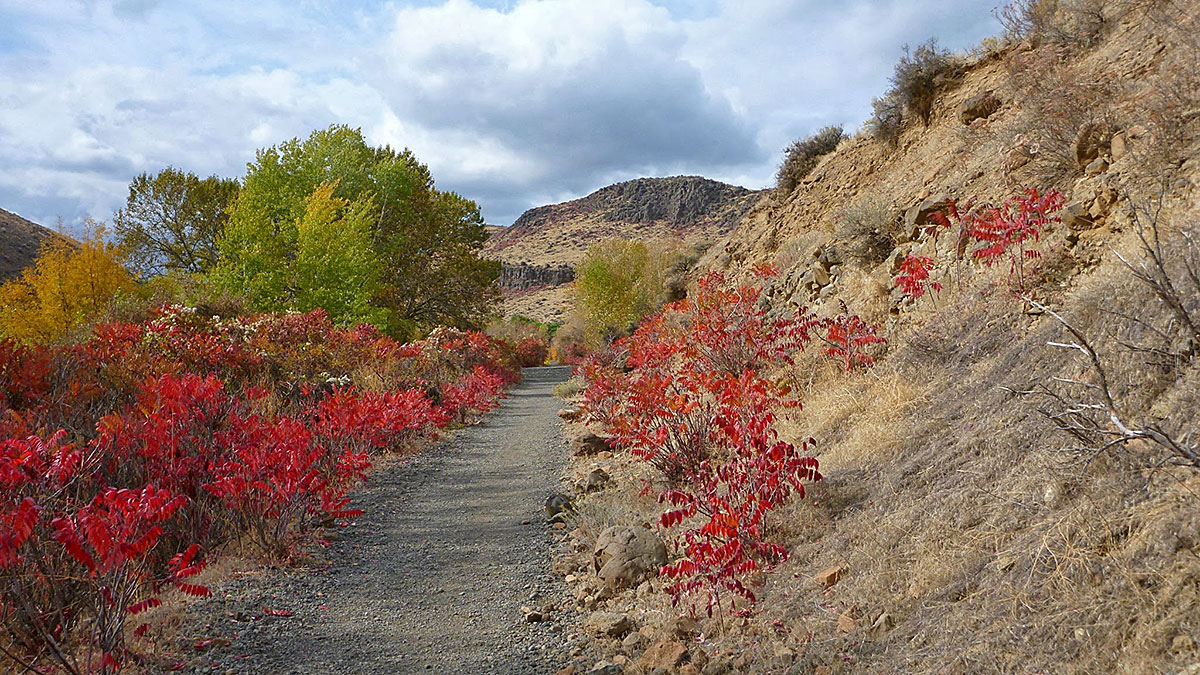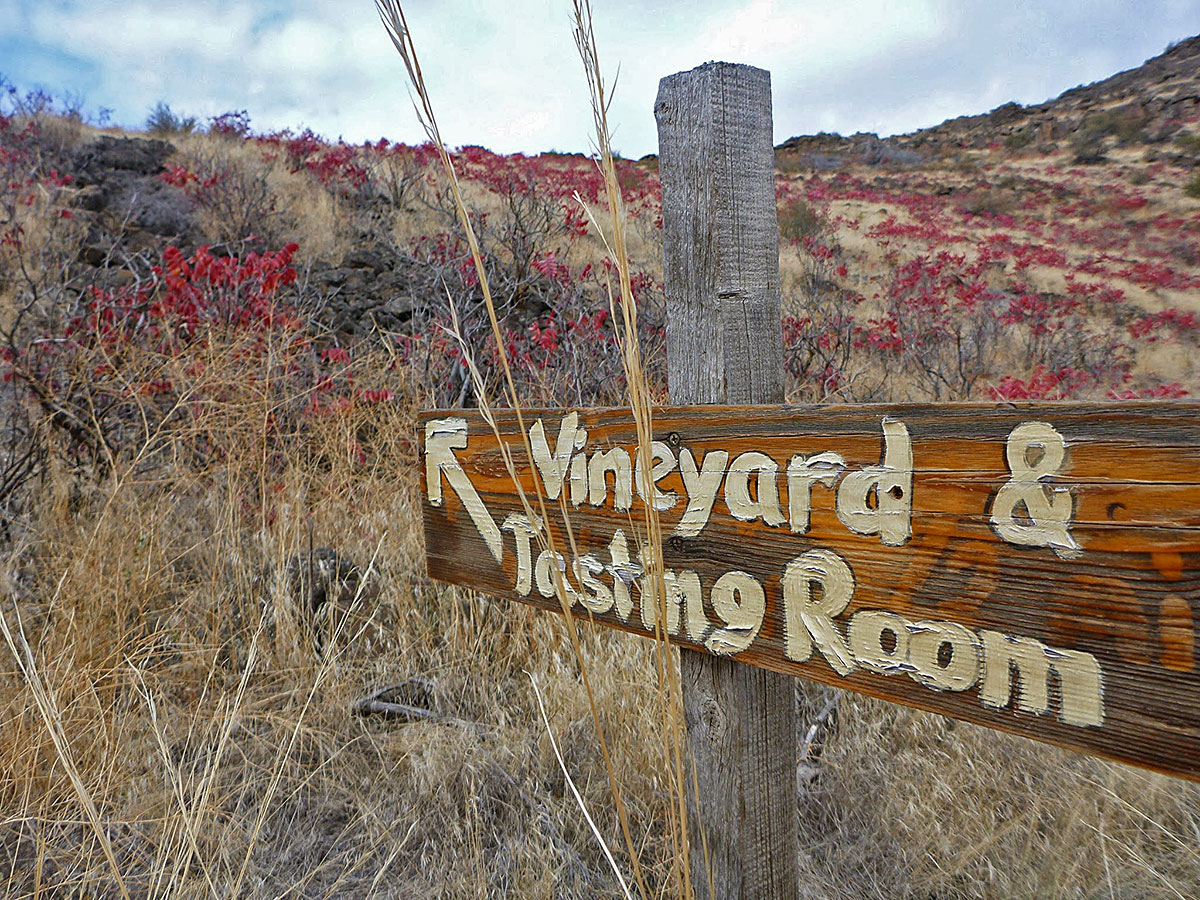 The hiking this time of year is also ideal. No mosquitoes or bugs, the colors are great, and the temperatures are pleasantly cool. Just keep an eye on the weather, as windy rain can pop up quickly.
There is also a great bike trail in Wenatchee that runs around the river downtown (and you can rent bikes from a sporting goods store downtown for cheap), which is a perfect afternoon stretch after driving for a while. We often rent their tandem, which weighs about the same as a cement truck but is great fun.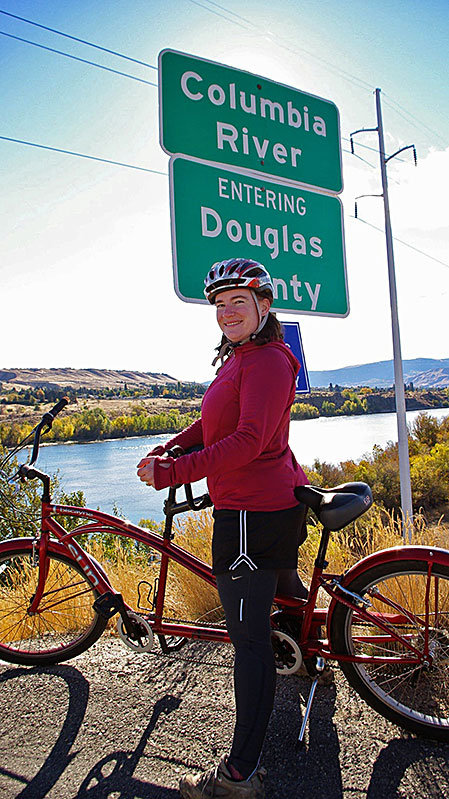 Where to stay:
There are some state park cabins near Wenatchee, and camping is still an option. This is definitely shoulder season, though, and some campgrounds are beginning to shut down for winter. Lake Wenatchee is a good option, as it is open all winter and has heated bathrooms. There are lots of cute VRBO cabins in the Cle Elum/Roslyn area that are nicely located in the middle of the loops. The Methow Valley from Winthrop through Twisp is nice and has lots of vacation rentals as well.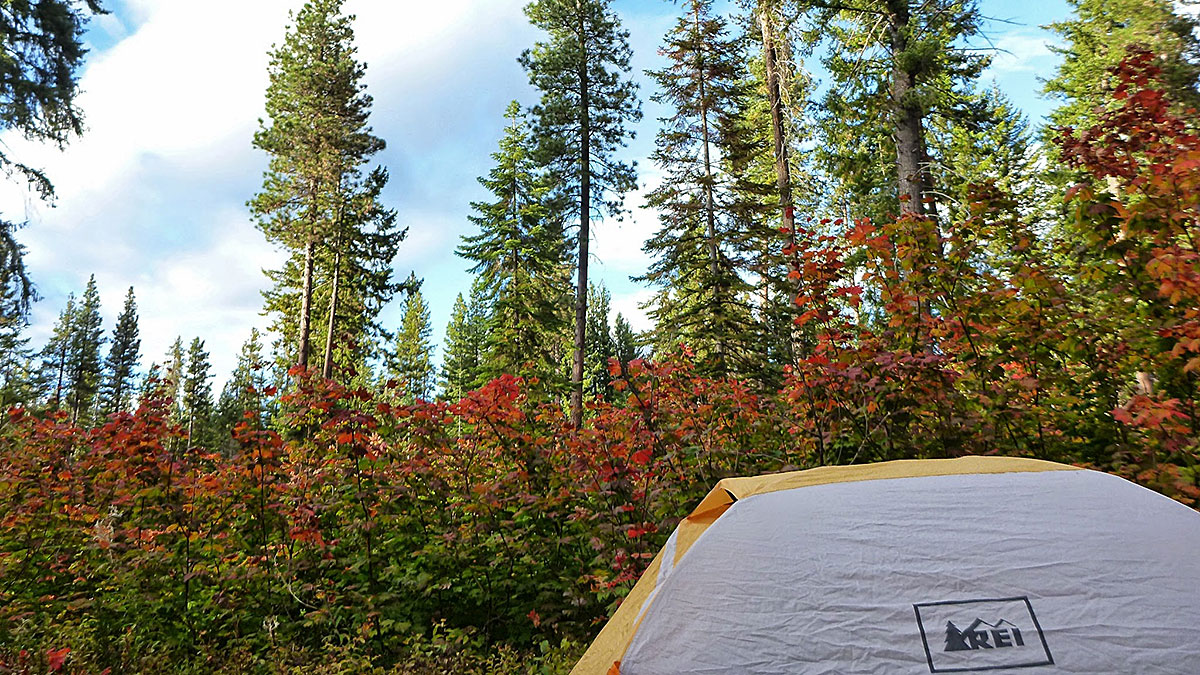 Sample Itineraries:
Hwy 20 to Hwy 2… two days (from Bellingham- 430 miles driving, 8 hours driving time)
Hwy 20 – I90 Two days (from Seattle-440 miles driving, 8 hours driving)
Hwy 2 to Blewett to I90 (from Seattle 250 miles and 4.5 hours driving time; Tacoma 300 miles and 5.25 hours driving time)
Chinook Pass to I90 (from Seattle or Tacoma 300 miles and 5.5 hours driving time, overnight option Yakima or Ellensburg)
Now is a good time to get familiar with the pass reports on Washington State's DOT page or their apps for smart phones as well.