Cross Country Skiing Crystal Springs to Lake Easton on the Iron Horse Trail
Posted On January 27, 2018
Last Updated on June 8, 2020
I looked all over to try to find information about skiing Crystal Springs to Lake Easton on the Iron Horse trail, but there wasn't much information to be had! I've been wanting to try going through this route for awhile, but have been deterred by a lack of information about this section of the trail. Luckily some adventurous friends were game to try it out with me. After a lot of map studying and some scouting on both ends of the route we set out! We had a great time, but it is definitely adventurous and probably not for beginners! (for some great outings near Seattle for beginners, look here) The entire route (11 miles) is almost completely flat, but most is ungroomed (or at least without a set track), and there is a tunnel to walk through, a small stream to cross, a half mile road walk and a climb through a gate, so definitely a few obstacles! We were careful to bring lots of extra food, water, clothing, headlamps and a good map.  We got a drop off and pick up on the other side, which is definitely necessary since the whole trip was about 11 miles. With those disclaimers in mind, here's a bit about the trip.
Starting from the Crystal Springs Sno Park, the first mile is through the forest on a groomed (but not tracked for skis) trail to the John Wayne Pioneer Trail. Crystal Springs is really busy, with lots of skiers, skijorers, dog mushers and snowmobilers. There are other groomed and tracked trails on the east side of the parking lot (right where you drive in), then snowmobiles in the middle, and then access to the John Wayne trail on the far (west) side of the parking lot.
Once you reach the John Wayne Trail, turn to the left (east) and there are a couple of miles of trail that are groomed and tracked for skis. After that point (crossing Stampede Pass Road), the trail becomes mixed use with snowmobiles, and there is no longer a track for skis. The middle of the snowmobile tracks makes a nice surface for skis (as long as it's not icy!). Despite this being a busy snowmobile area, we only saw three snowmobiles (in one group) along this stretch of the John Wayne Trail (and only a handful of other skiers).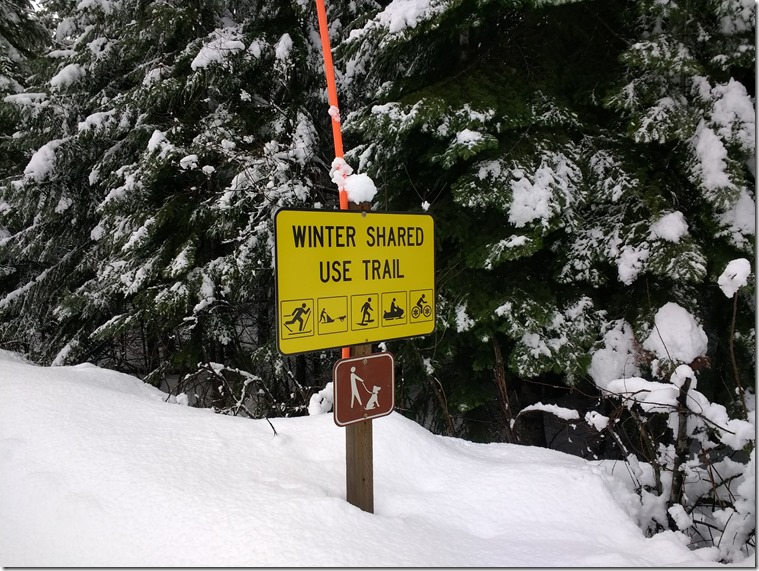 After about four miles, you'll come to the Whittier Tunnel, which you'll have to walk through with your skis off. After this point, we didn't see any other skiers or anyone else until we got to Lake Easton Sno Park.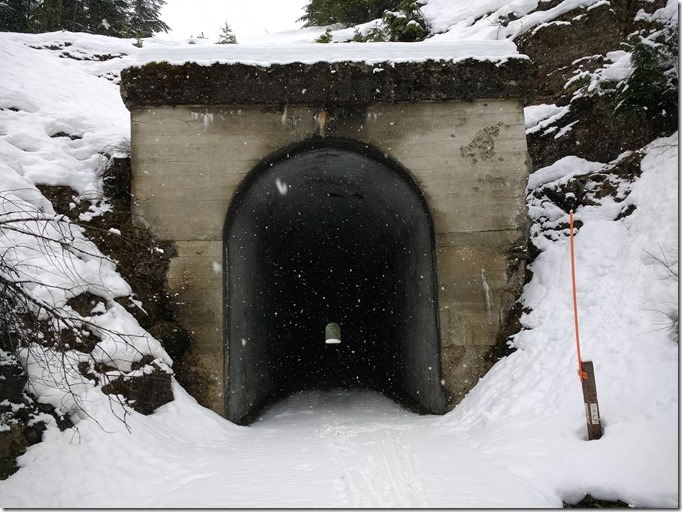 On the east side of the tunnel, we saw one set of classic and one set of skate ski tracks from earlier, though after that point we saw no other people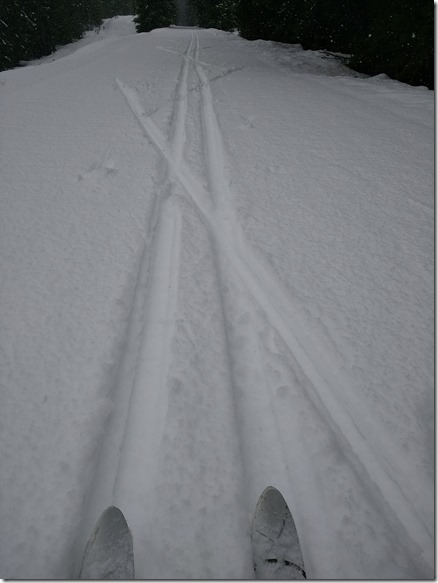 After that, the most of the rest of the journey to Lake Easton Sno Park is through a lovely forest looking somewhat like this (and involved a short stream crossing-not deep but you need to take your skis off-that I managed not to get a picture of)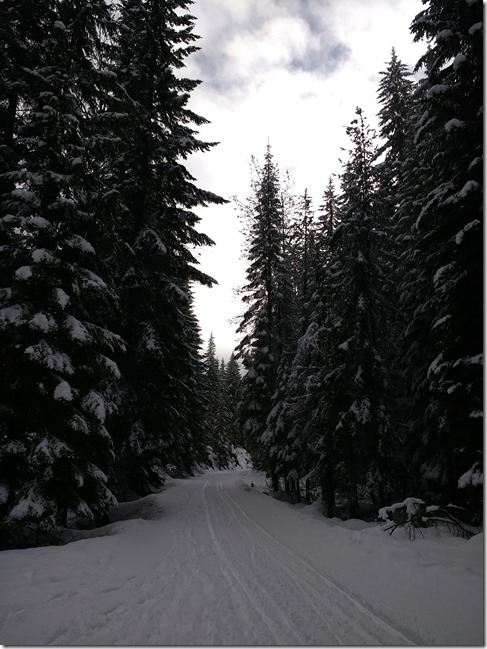 After 8.5 miles, the trail dead ends (merges, really) onto a road, which is a little disconcerting, but if you take off your skis and walk along the road for about half a mile (parallel to the train tracks and possibly a private road owned by the BNSF railroad), you will find the trail again. When you do, there's a gate across a bridge over the Yakima River. If you cross through the gate and across the (ungroomed, be careful!) bridge, you will end up at Frozen Toe point at the far end of the groomed ski trail in Lake Easton Sno Park.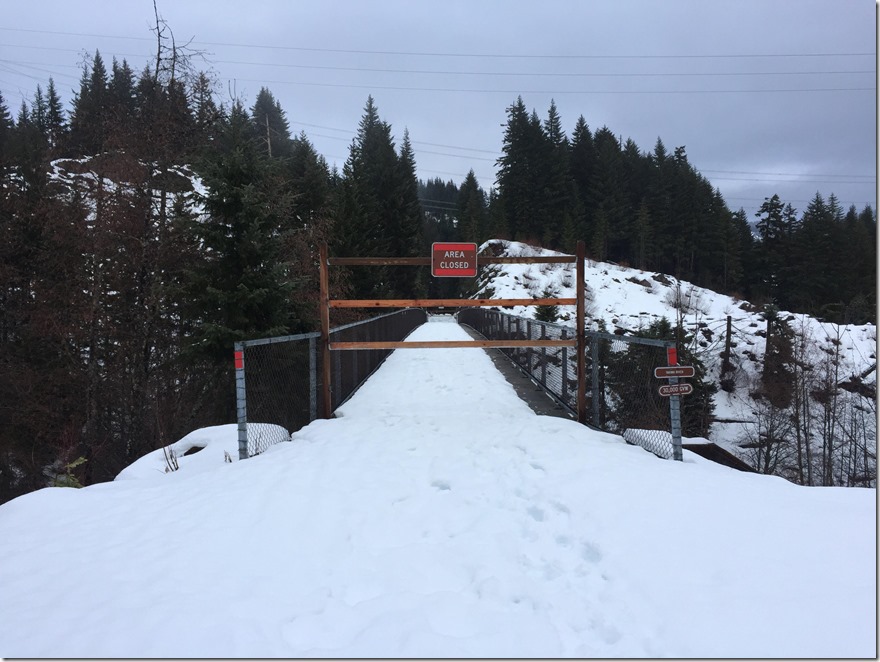 Now you're back on the groomed ski trail and a little over 2 miles from the parking lot.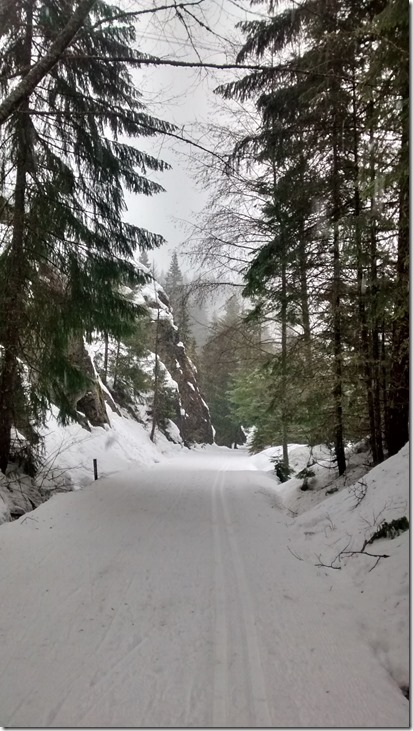 We got dropped off in Crystal Springs and picked up at Lake Easton, but you could also do this with a car shuttle. I want to emphasize that in order to undertake this long and remote trek, you'll need to be ready to walk a bit in your ski boots, have extra food and water, tell someone where you're going and be ready for the darkness (headlamp or flashlight). It's always important to carry the 10 essentials, but it's extra important if you undertake this particular outing.
Here's to winter exploring!