Where to Find Old Growth Forest in Seattle
Posted On April 12, 2018
Last Updated on May 8, 2021
Looking for some giant, ancient trees? You can find old growth forest in Seattle! Before white people came to the Pacific Northwest, old growth forests were everywhere (before extensive logging to power steam ships and for building). Today there are very few old growth trees left in Washington State and all are protected and they are in unique and special places. Walking among old growth trees is a wonderful activity if you are trying to get outside all year! This post will cover what an old growth forest is and where you can find old growth forest in Seattle as well as other parts of Washington State.
What is an Old Growth Forest?
In the Pacific Northwest old growth forests are those which are more than 250 years old, have multiple layers of trees, plants and canopy, with dead trees on the ground to nourish the younger trees. The key element of an old growth forest is that it has not been disturbed by human activity (such as logging). Most trees near Seattle and in Washington State were logged between the mid 1800's and the mid 1900's, but a few were saved!
In addition to their beauty and the awe of being in the presence of a living thing that is centuries old, there are many health benefits associated with being outside in the forest, including reduced stress and even lowered blood pressure.
Where can I see Old Growth Forest in Seattle?
Seward Park – Southeast Seattle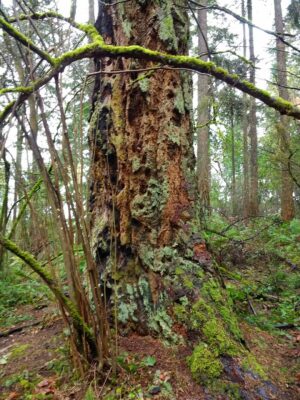 Some of the few remaining old growth trees are protected in the heart of Seattle's Seward Park. You can easily access Seward Park by driving, biking or taking Metro Route 50. Bring this map with you so you can navigate the many trails around the park. The loop trail is paved and goes around the perimeter of the park, but to be immersed in old growth trees, head up one of the trails going into the interior of the park on the north end.
The loop trail is 2.5 miles and features views of Mt Rainier and downtown Seattle and has lots of birds including bald eagles. It's an excellent place for swimming or kayaking in the summer too.
Schmitz Preserve Park – West Seattle
In West Seattle, not far from Alki Beach, is Schmitz Preserve park, which features a 1.7 mile trail through the forest along a creek. This trail climbs up a bit but is never extremely steep. You can make this a longer adventure by walking along Alki beach as well. There are lots of restaurants and you can add this walk onto your beach day. Along the trail in Schmitz Preserve you'll see a number of Old Growth trees toward the uphill end of the park.
Where else can I see Old Growth Forest near Seattle?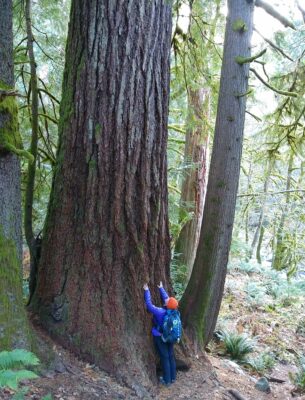 If you're up for heading out of town or planning on doing some hiking, here are three trails within an hour of Seattle where you can see Old Growth trees along the trail.
Where else can I see Old Growth Forest in Washington State?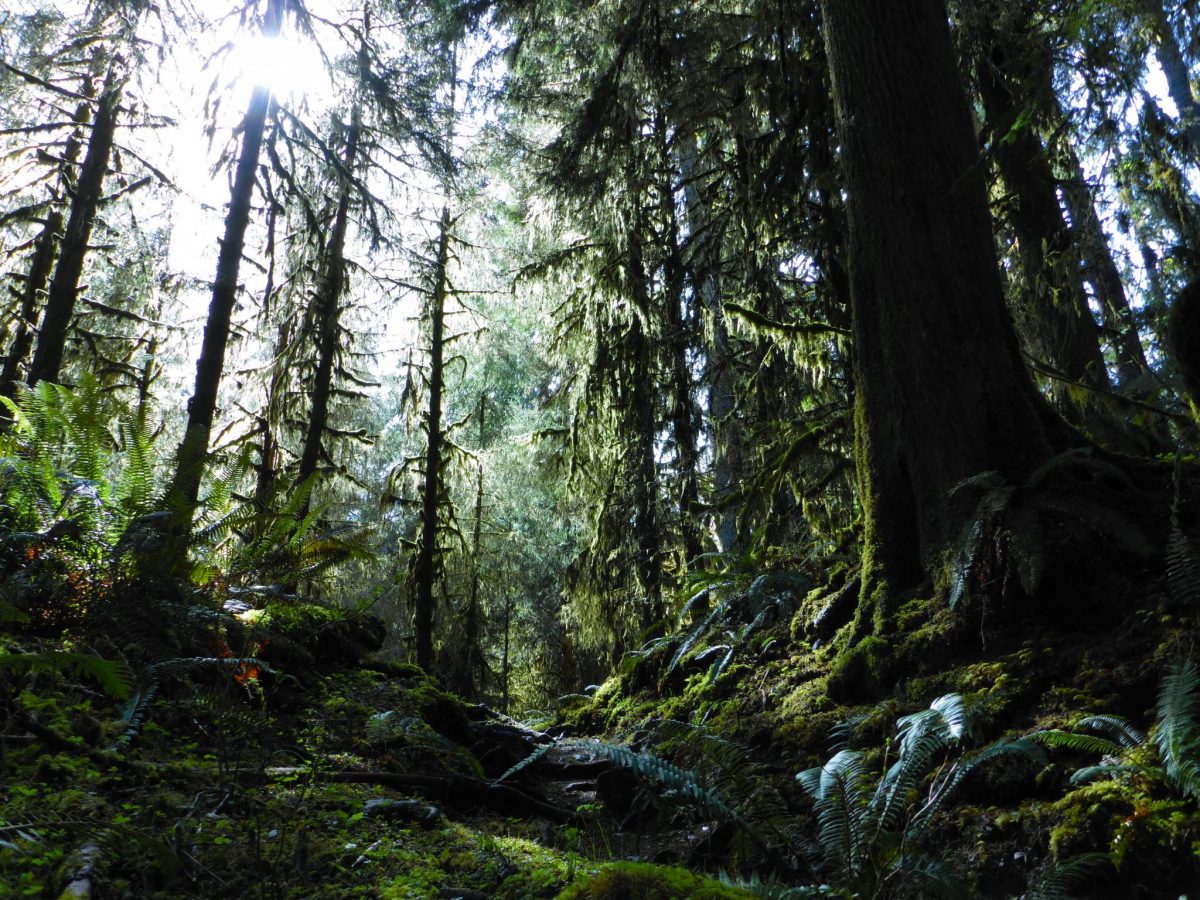 If you're up for going a bit further from Seattle and want to check out one of our amazing National Parks, here are two places to see Old Growth Forest where the trees are up to 1000 years old!
Old Growth Forest in Olympic National Park
There are multiple places to see Old Growth in Olympic National Park including the famous Hoh Rainforest. If you don't have time to make it all the way to the Hoh (5 hours from Seattle) this Olympic National Park Itinerary talks about the Quinalt Rainforest and the old growth forest along the Barnes Creek Trail, both short and flat walks and closer to Seattle.
Old Growth Forest in Mt Rainier National Park
This best place to see Old Growth trees in Mt Rainier National Park is in Grove of the Patriarchs on the less often visited east side of the park. Here you can enjoy a flat 1.5 mile trail to a whole stand of old growth cedar and douglas fir trees which are 800-1000 years old! Absolutely incredible and awe inspiring. Another excellent old growth forest in Mt Rainier National Park is the Carbon River Valley, which is open all year.