Lake 22 Hike: Busy and Worth It
Posted On May 8, 2021
Last Updated on April 20, 2023
I have no idea why it's named Lake 22! It's an unusual name for an absolutely enchanting hike from start to finish. Starting with the greenest of green forests (even for the super green Western Washington Cascaides!). The land around Lake 22 has been protected as a research area through crucial decades of development, leaving it with a large number of stunning old growth trees. Add to that multiple crashing waterfalls and the constant sound of rushing water as you hike. When you arrive at the lake, you'll see an enchanting alpine lake in a glacier carved cirque (steep rock faces surrounded a lake in the mountains) below Mt Pilchuck.
At 5.6 miles round trip (add another mile if it's safe, meaning snow free around the lake) and 1500 feet of elevation gain, this is a moderate day hike that is made more challenging by the many rocks, creeks, roots and muddy sections along the way.
Lake 22 is the land of the Stillaguamish People, Tulalip Tribes and other Coast Salish People.
Parking Pass: Northwest Forest Pass
Dog Friendly: yes, on leash. While dogs are allowed here on leash, there are lots of rocky sections so if that's not ideal for your dog, keep that in mind.
Cell phone coverage: None. There is no coverage at the trailhead or anywhere along the trail, or along the road after leaving Granite Falls.
Restrooms: There are two pit toilets in the parking lot at the trailhead.
Accessibility and Mobility: Although not particularly steep, this trail is challenging due to many roots, rocks and muddy sections. At the time of this writing, there is a washed out switchback requiring a short but steep scramble about halfway up. There are also a number of steps on this trail.
Related: What to wear for a day hike in the Pacific Northwest, What to bring for a day hike in the Pacific Northwest
How to Avoid (or at least minimize) crowds at Lake 22
Lake 22 is an extremely popular hike and therefore finding parking can be challenging. While this is not an ideal hike if you're looking primarily for solitude, it's still possible to visit here with less crowds and at least find parking!
I recommend going early in the morning (get there before 8am) or late afternoon (3pm or later) if you're going in the summer. If you have the option of going on a weekday, that will also reduce crowds.
While hikers enjoy this trail all year, it is much less busy in late fall after it starts getting colder and wetter, but before there is a ton of snow and avalanche danger.
If you're there in the summer after the snow has melted (including the snow above the trail which doesn't happen until at least July), you can also get away from crowds by doing the flat approximately one mile trail around the lake. Avalanche danger here is significant, even in early summer so do not attempt this if there's still snow and definitely not in the winter or spring.
Where is Lake 22?
Lake 22 is located along the Mountain Loop Highway near the Verlot Ranger Station in Mt Baker Snoqualmie National Forest, East of Everett and Northeast of Seattle. The nearest town in Granite Falls.
To get there, take the Mountain Loop Highway from Granite Falls. Once you pass the Verlot Ranger station on your left, and the Turlo and Verlot campgrounds on your right, you're about two miles from the trailhead.
Go over a bridge, passing the road that leads to Heather Lake and Mt Pilchuck and come to the signed Lake Twenty-Two Trailhead on the right.
Is the Lake 22 hike right for me?
This is one of my favorite hikes in Washington but it didn't make my best of list because despite it's lake of steepness and moderate distance, it's fairly challenging as the trail has lots of rocks and roots to navigate and tends to be at least partially like hopping through a creek most of the time!
I enjoy this challenge of the trail and the forest is absolutely magical, along with the creek and waterfalls making constant water sounds. The lake is also absolutely gorgeous.
This is a great hike for anyone who doesn't mind sharing the trail with other hikers and is physically able to navigate rocks, roots and mud.
When is the best time of year to hike Lake 22?
In my opinion, the best time for this hike is late May and June. The snow is usually melted off the trail, everything is fully green, but it's still early enough that the waterfalls and creeks are at top capacity for rushing water.
As mentioned above, this trail is extremely busy and very crowded in mid summer. It's still a delightful destination if you can go in the evening or on a weekday.
Fall is another good time to visit, especially October and November. Sometimes this trail remains snow free well into winter. Many people visit Lake 22 in winter, however you must be completely on top of the avalanche forest as there is a large avalanche prone area about two miles into the hike. In winter, or any time there is snow, do not attempt to walk around the lake as the far side of the lake has lots of avalanches in winter and spring.
Spring can be a fun time to visit, although snow lingers at least through April and usually into May at the lake.
Check the Washington Trails Association Trip Reports (search for Lake 22) to get a sense of the snow and current conditions as snow conditions vary quite a bit throughout winter and spring and snow lingers longer some years that others.
Trail Description
Starting up the trail, you'll be in a beautiful forest right from the beginning. There is also a teaser waterfall just out of view as you start. After just under a mile of walking through the forest, you'll come to a creek crossing on a wide an sturdy log bridge. This is the first time of many you are seeing Twenty-two Creek today. Pause here to admire the rushing water on both sides of the bridge.
About a quarter mile further on, you'll come to a tantalizing waterfall just out of view. Ignore the side path here and climb up a couple of switchbacks to a much better view of it without leaving the trail.
You'll begin to notice more and more old growth trees, especially old growth cedars, for the next mile.
At the time of this writing (May 2021), 1.7 miles into the hike the trail has been completely taken out by a massive tree near a switchback. A makeshift work around is in place, complete with a couple of ropes to help you climb up. It's a short but very steep section that is very muddy and rooted. When this is repaired, I'll update this article to reflect it.
About a quarter mile on, you will enter a more open area (there is extreme avalanche danger here in winter) and continue climbing up more switchbacks. More views across the valley and to the Stillaguamish River far below come into view here. The trail also gets very rocky in this section. There are also more small trees and shrubs here, with even more shades of green!
The trail levels out for the last half mile to the lake, and comes to parallel Twenty-two Creek again before arriving at Lake 22, 2.75 miles from the trailhead. If it's snow free, you can loop around the lake, which adds about a mile. If snow is still present, or if you're ready to take a break, have a place to sit down and enjoy your trail snacks while you take in the gorgeous view of the lake and surrounding mountains!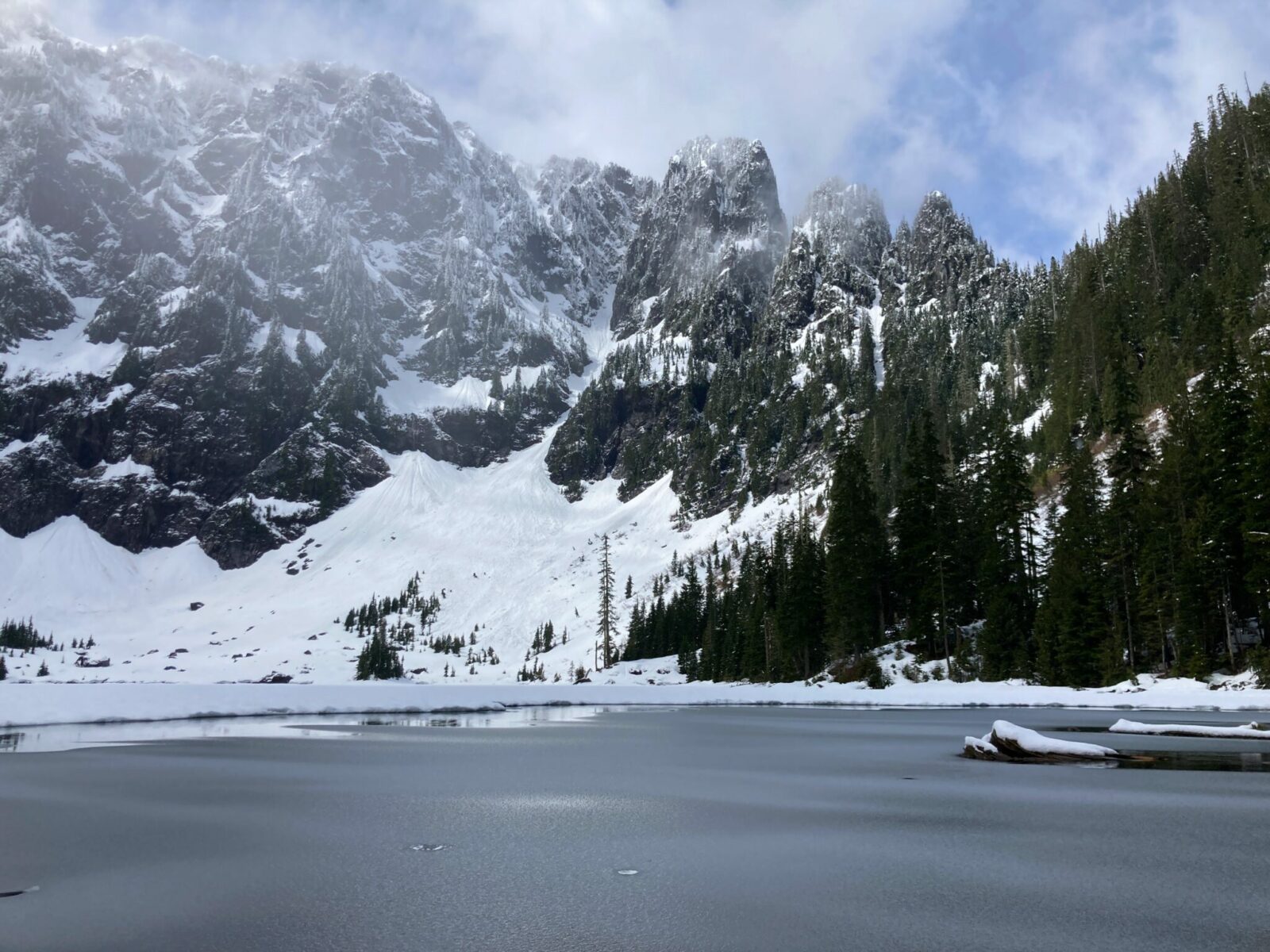 When you're ready to head back to your car, return the way you came.
Are there fish in Lake 22?
Yes! You can fish for trout in Lake 22. According to the forest service, the lake is deep enough to be quite good for fishing.
Where to Stop after Lake 22
Try Hanky Pies in Granite Falls, featuring hand pies as well as other baked goods, coffee, breakfast and lunch.
For the nearest brewery, check out the wonderful Lake Stevens Brewing Company
Electric Vehicle Charging
The nearest fast charging is at Target in Lake Stevens (24 miles away). I can make it to the Lake 22 trailhead from my home in South Seattle by stopping both ways in Lake Stevens and my EV only has about a 90 mile range. I'm always excited when I find trailheads I can drive my shorter range EV to!