How to Visit the Hoh Rainforest
Posted On April 10, 2019
Last Updated on July 1, 2022
People travel from all over the world to visit the Hoh Rainforest in Olympic National Park with good reason! In this post I'll share how to get there, when to go, where to stay, what to do while you're there and what to pack for your Hoh rainforest adventure. A visit to the Hoh Rainforest fits nicely into my suggested three day itinerary for a loop around Olympic National Park. It also pairs well with these rainy day hikes in Olympic!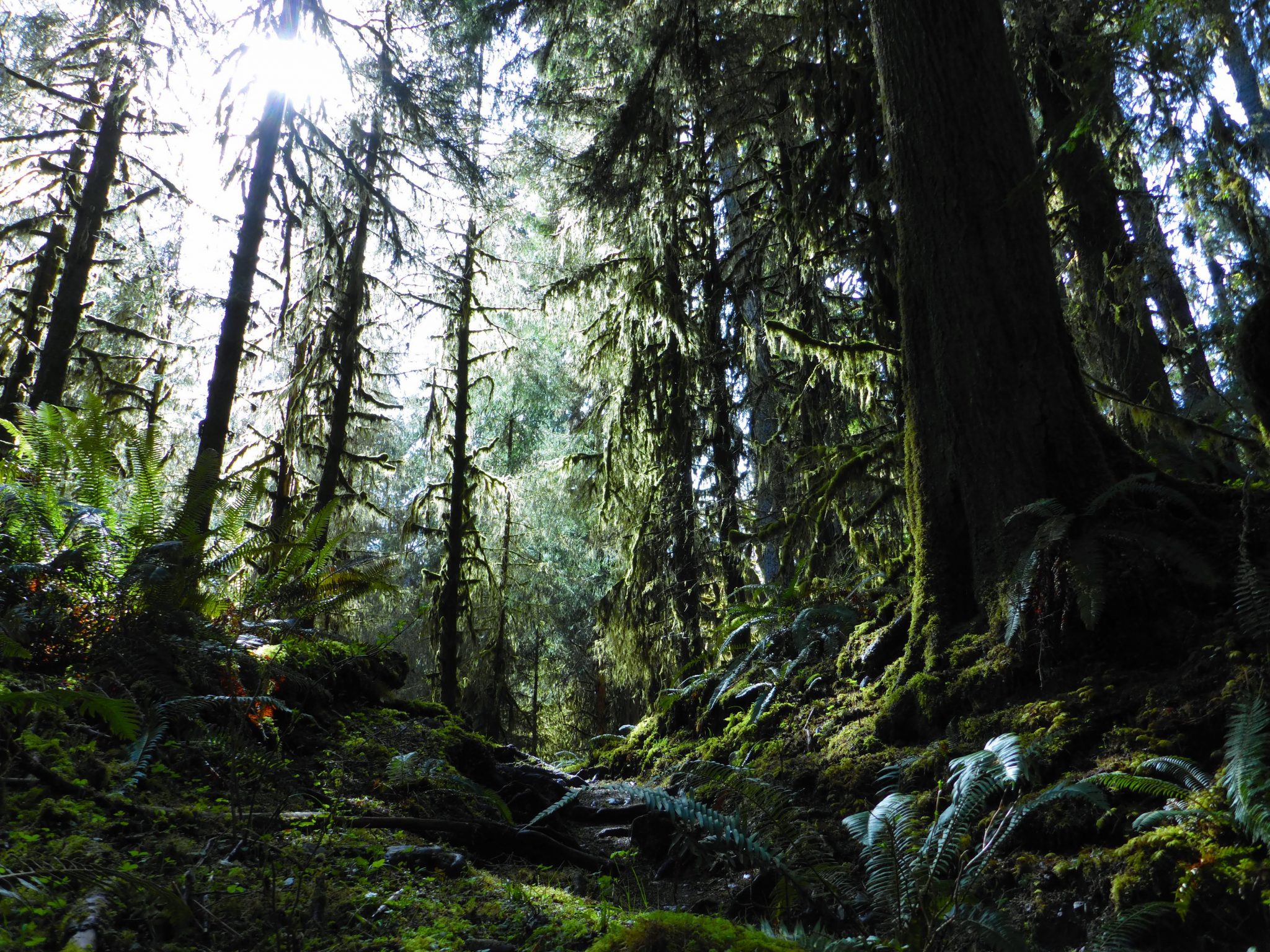 Why Go to the Hoh
The Hoh Rainforest gets at least 12 feet of rain a year and is a unique temperate rainforest with a fascinating ecosystem. Besides the giant old growth trees (generally more than 300 years old!), numerous mosses, fungi and understory plants, it is also a place of incredible wilderness. If you get away from the parking lot, the only sounds you'll hear are the rush of the river, the singing of many birds and the wind moving through the forest. The Hoh is home to the One Square inch of Silence and has attained legendary status throughout the world.
Learn more about other areas to see old growth forest closer to Seattle here.
How to Get to the Hoh Rainforest
Getting to the Hoh is a long drive from anywhere! You will definitely need a car to get there. Located on the west side of the Olympic Peninsula, it's a solid four hour drive from Seattle, 3.5 hours from Tacoma and five hours from Portland. If you were really determined, and didn't mind a very long day in the car and didn't want to see anything else, you could get there in a very long day trip from Seattle, Tacoma or Portland. I really can't recommend doing that however, the Hoh is a place that needs to be enjoyed at a leisurely pace. In addition, there are so many other amazing places to see in Olympic National Park! Don't miss out by not seeing some of the other highlights (see my suggested itinerary here).
I recommend making it a loop, driving through Olympia and around Lake Crescent and Kalaloch Beach to the Hoh and then returning through Forks and Port Angeles. Finally, take the ferry back to Seattle (or you can take the Tacoma Narrows bridge if you're returning to Tacoma or Portland). This way you don't have to repeat the long drive and you have the opportunity to do even more exploring!
The closest town to the Hoh Rainforest is Forks (which is 10 miles north of the turnoff to Upper Hoh Valley Road if you're coming from the south). You'll turn east (right if you're coming from the south) and the parking area, campground, visitor center and trailhead are about 18 miles from Highway 101.
When to Go
The awesome thing about the Hoh is it's a great destination any time of year! Occasionally downed trees after storms close the road temporarily, but generally the road, trailhead and campground are open all year. July and August are the least rainy but it still could rain and it will definitely be much more crowded. This is a terrific destination for spring and fall and even for winter (check the road status before you go). Make sure to be prepared for lots of rain any time of year.
Where to Stay
Camping
Camping can be frustrating in Olympic National Park as most of the campgrounds are not reservable and fill up in summer. I have spent more than one night driving around looking for a place to camp before ultimately sleeping in my car! If you want to camp, flexibility is key. If it's July or August, try to visit midweek to improve your chances of getting a site. If possible, plan your visit in the shoulder season when there are fewer visitors and you can more easily get a site.
The Hoh Campground is $20 a night and has lots of sites (but still fills up in summer). There are several campgrounds (not operated by NPS) along the Upper Hoh Valley road (the road to the visitor center and trailhead) as well.
Another strategy would be to reserve a site at either Kalaloch campground or Sol Duc Campground. Each is about an hour away, but you can reserve them (make sure to reserve very early). Kalaloch is a beautiful campground right on the ocean with a dog friendly beach (most locations in Olympic National Park, including the trails in the Hoh do not allow dogs) and Sol Duc is at Sol Duc Hot Springs, perfect for a post hike soak! Kalaloch is available all year, Sol Duc is only open from late March through late October.
Hotels and Vacation Rentals
If you're not interested in camping, or it sounds like too much of a hassle, then there are plenty of lodging options near Forks. You can find vacation rentals as well as a number of motels. Food options are not terrific in Forks, I would recommend the excellent River's Edge Restaurant in La Push (about a half hour drive from Forks), which has delicious food as well as a gorgeous view of the water.
If you decide you'd rather cook for yourself, check out the Olympic Suites Inn, which has kitchens! The Dew Drop Inn is another great place I've stayed in Forks, it has spacious and clean rooms and helpful staff.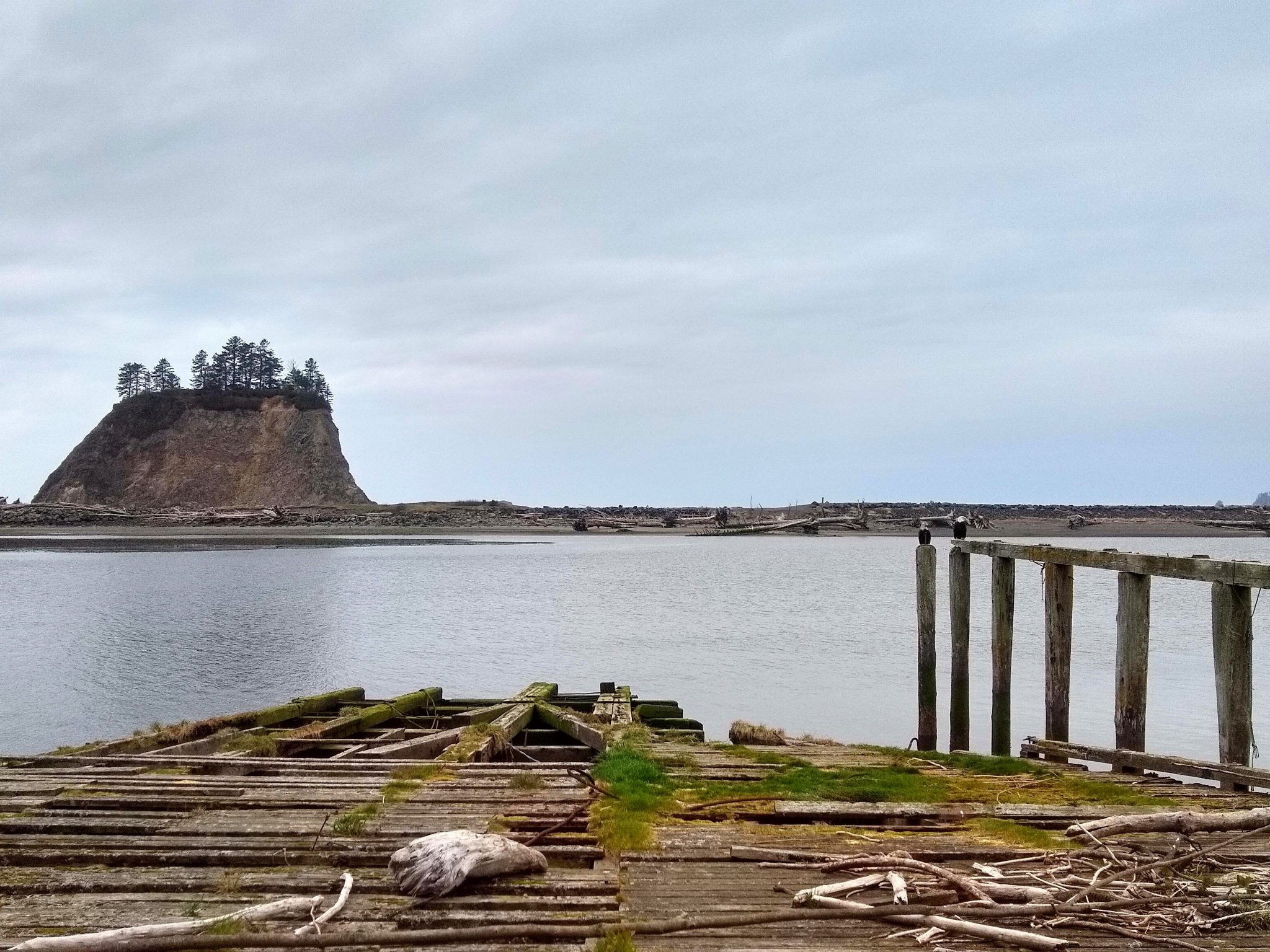 What to do in the Hoh Rainforest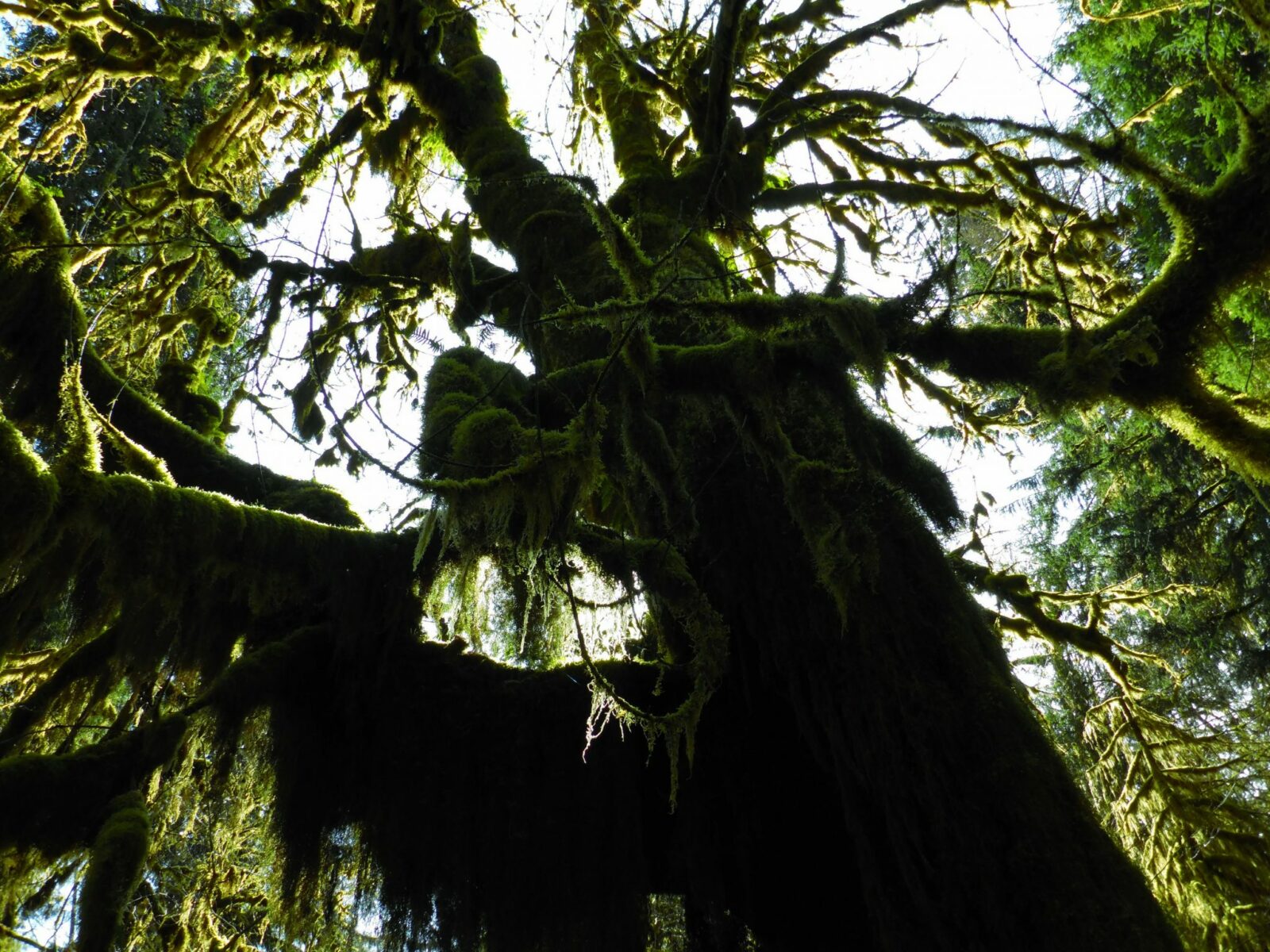 Hoh Rainforest Visitor Center
When you arrive in the parking area, make sure to take a few minutes to check out the visitor center. You'll learn about the ecosystem and flora and fauna of the Hoh. It's only open daily in the summer, in the shoulder season it may be closed if you visit on a weekday. It also usually closes completely for a couple of months in the winter. Year round you can get wilderness permits for overnight hikes here. Ranger led programs are also offered in the summer. You can pick up a map of the area around the visitor center, including the nature trails and beginning of the Hoh River Trail.
Hiking the Hoh Rainforest
The most important thing to do in the Hoh is to get out and experience this unique forest environment. Try to give yourself enough time to be present, to walk slowly, and perhaps even spend a few minutes just looking up at the height of the ancient trees and taking some deep breaths.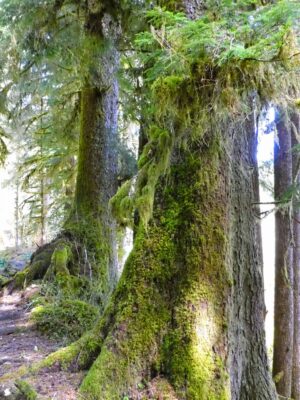 You can read all about the health benefits of this practice, called forest bathing, here. Make sure to look up as well as down, the understory of ferns and mosses is just as impressive as the canopy overhead.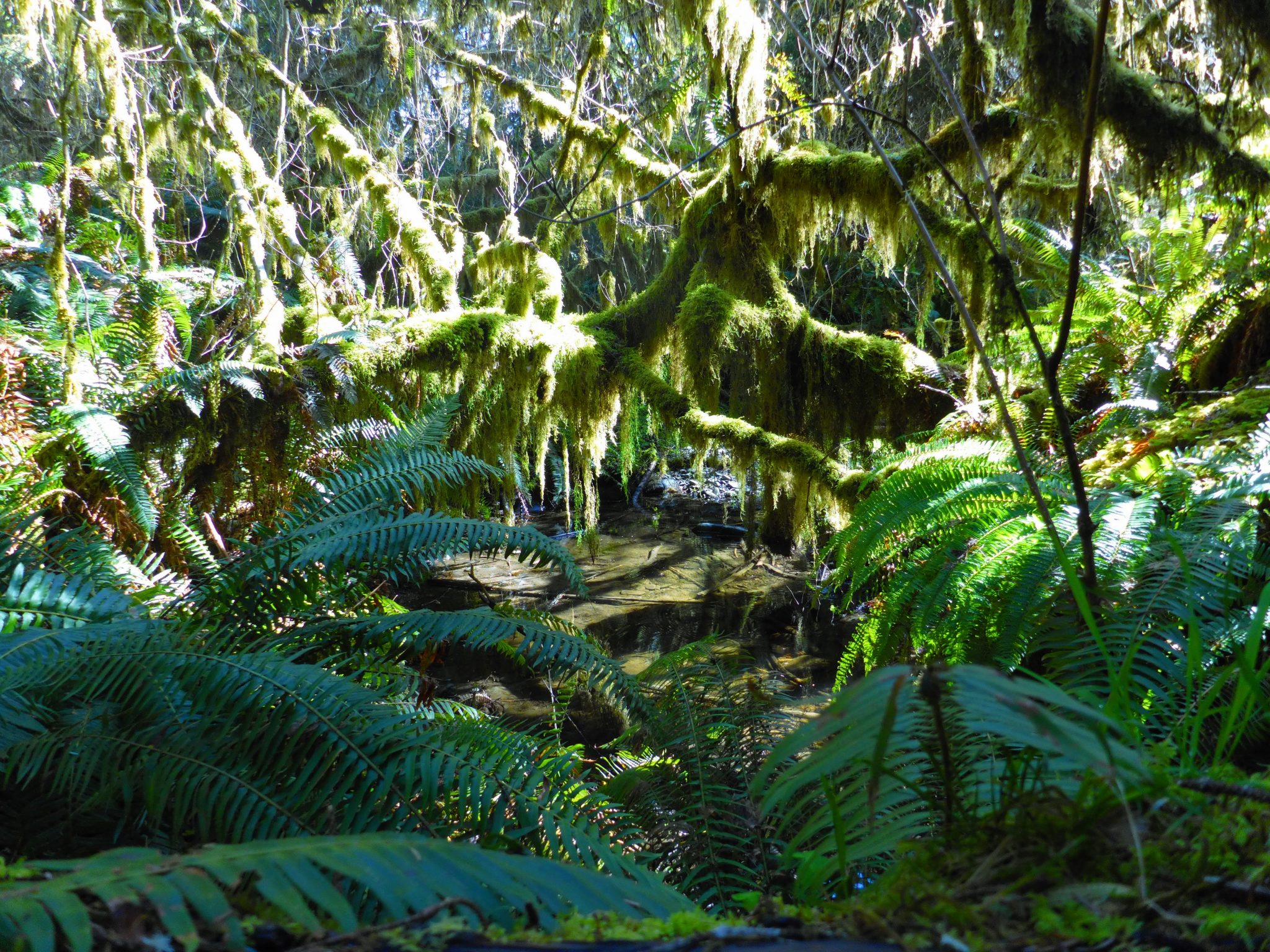 Short Nature Trails
There are two short nature trails, the Hall of Mosses and the Spruce Trail. Both of these trails are mostly flat and can be combined for a 2 mile walk. The Hall of Mosses is just under a mile and the Spruce Trail is just over a mile. This is a great place to wander if you want to experience the Hoh Rainforest without too much hiking or if you're short on time. Both the Hall of Mosses trail and the Spruce Trail are loops.
You'll see giant ancient trees covered in moss as well as huge slugs. You'll even have a chance to see elk and other wildlife. To improve your chances of seeing elk, consider going a bit further out on the Hoh River Trail.
The Hoh River Trail
The much longer Hoh River Trail goes all the way to the Blue Glacier on Mt Olympus! This is an 36 mile multi-day adventure, but you can walk any distance on this trail and feel what the Hoh is all about. I recommend a six mile round trip (turning around at Tom Creek). If you're feeling more ambitious try a ten mile round trip, turning around at Five Mile Island. Even going just a mile up this river trail will be unforgettable. This is one of my favorite hikes in Washington.
The trail goes up and down slightly, but gains very little elevation for the first twelve miles. At times it is along the Hoh River, at other times the river is not visible but it's always heard.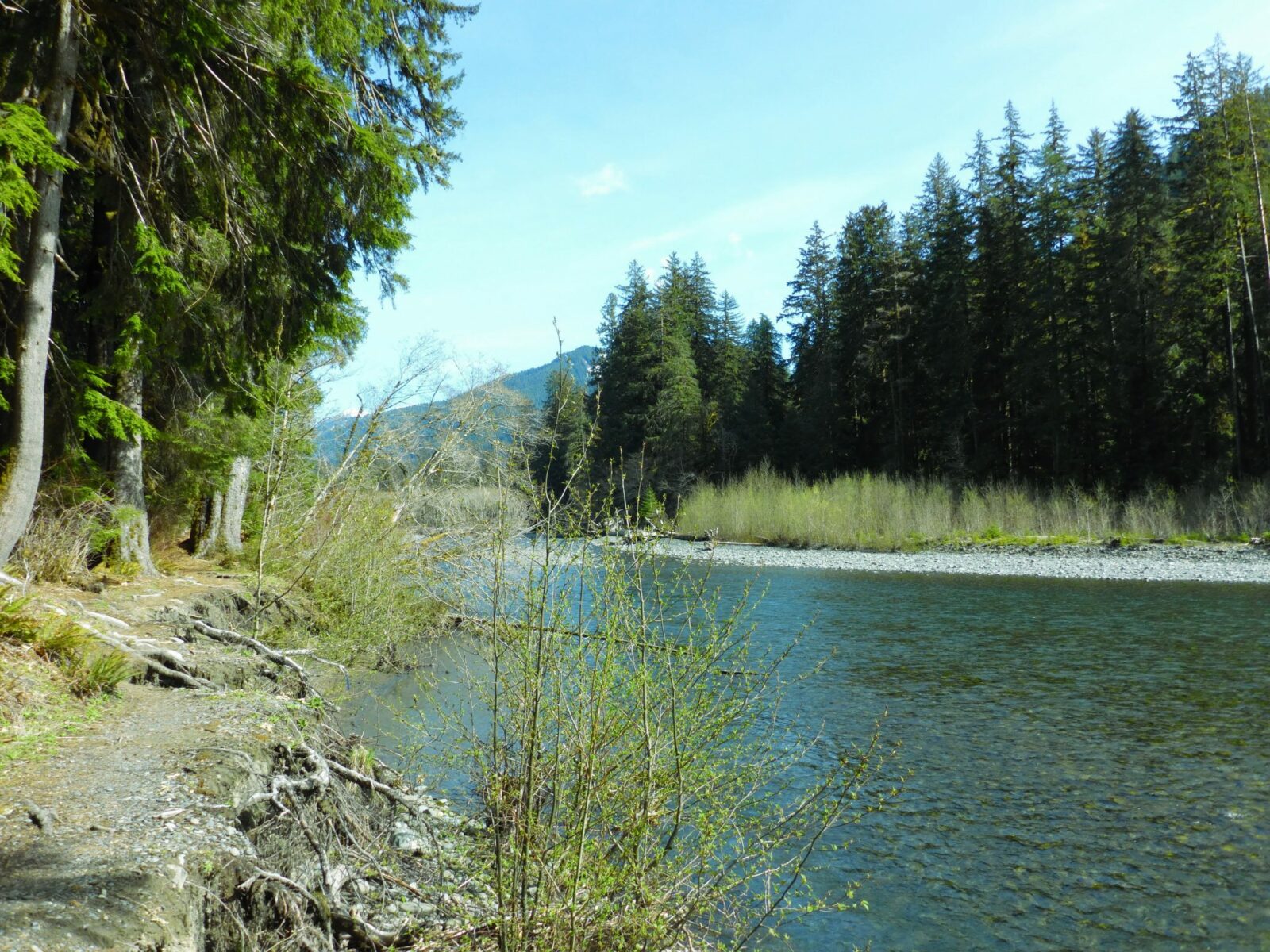 In addition to the mammoth trees, dense underbrush and draping mosses, keep an eye out for wildlife. Elk sightings are common here. Other animals in the Hoh Rainforest include the endangered spotted owl, which requires this type of old growth forest to survive. You may also see deer, racoons or more rarely, black bears or cougars.
If you happen to be there on a sunny day, you may even catch occasional glimpses of surrounding mountains!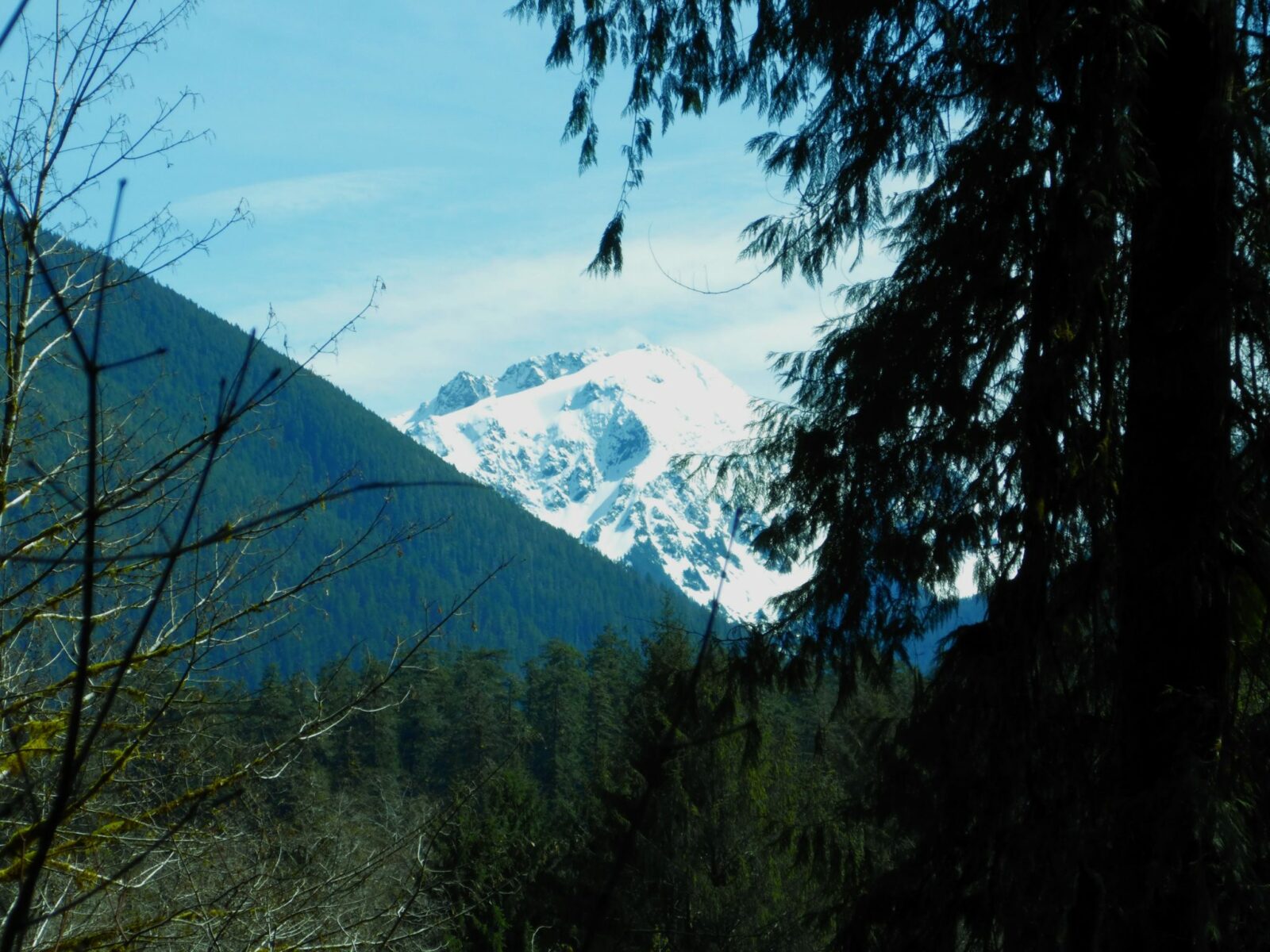 Whenever you're ready to turn around, return the way you came back to the visitor center andparking lot.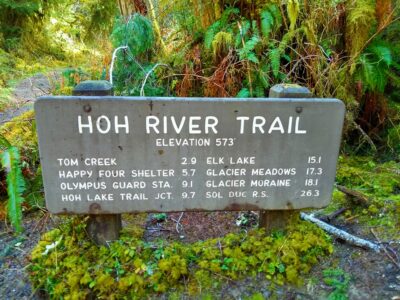 Backpacking the Hoh Rainforest
If you want to step up the adventure even more, the Hoh River trail makes for an excellent beginner backpacking trip. You must be ready for rain to camp here either in the campground or backcountry camping along the Hoh River. You'll need to get a wilderness permit which you can get at the Hoh Rainforest visitor center, or one of the other ranger or wilderness information centers at Olympic National Park.
Five mile Island, mentioned above, makes for a nice turn around spot for a 10 mile round trip backpacking trip and has a good place to camp. If you want to go further you can go all the way to the Blue Glacier, a 36 mile round trip hike with 3700 feet of elevation gain, nearly all of which you gain in the last 5 miles. If you camp anywhere before that there will be much less climbing involved.
What to bring
This post contains affiliate links, which means if you make a purchase I may receive a small commission at no additional cost to you. As an Amazon Associate, I earn from qualifying purchases
The Hoh doesn't have any services, so it's important to be self sufficient! Make sure to bring plenty of food and water for your hike, there is also a picnic area if you want to bring a spread for lunch or dinner. If you're hiking, always make sure to have the 10 Essentials and check out what to wear and what to bring on a day hike. Beyond that, a few additional things I'd recommend bringing:
If you're camping: all the food you need for your trip (none available in the Hoh), as well as dry firewood (so much easier if it's raining) and a tarp or other rain cover for your site
Rain gear! It's important to have at a minimum a good rainjacket (this is my rainjacket and favorite for rainy hikes) and good waterproof boots. Consider wearing rubber boots instead of hiking boots, there is epic mud! These are the boots I wear for rainforest muddy hikes, super comfortable to hike in and also super cute!
Essential phone accessories for photography: The low light of the Hoh rainforest can make photography a real challenge, even for professionals with DSLR cameras! If you're taking photos with your phone, I highly recommend a phone tripod which is great for keeping photos from being blurry in low light. I also like to have a back up power supply for my phone here, since it's a remote area without cell phone service which can cause the battery to die quickly, especially if you're doing lots of photos and videos.