April in Mt Rainier National Park
Posted On April 17, 2019
Last Updated on February 8, 2023
April is a wonderful time to travel in the Pacific Northwest. Longer and warmer days get locals and visitors alike excited to get outdoors. April comes at an awkward time to visit Mt Rainier National Park but you can still have an amazing visit as long as you have a good plan and know which areas are open and how to find snow or miss snow depending on what you're looking for.
This article will share some highlights for April in Mt Rainier based on my experience as a born and raised Seattleite who has worked as a guide in the park.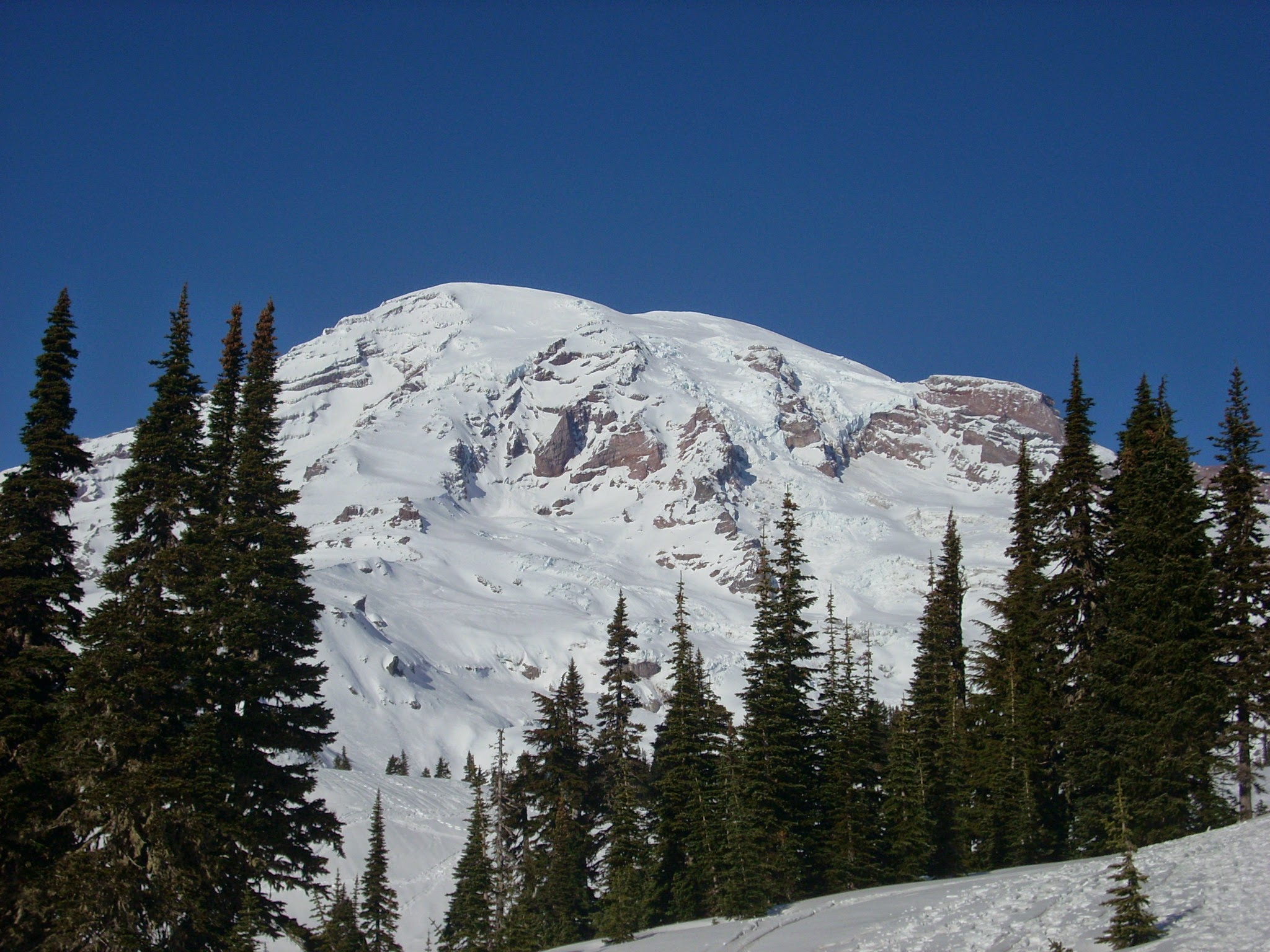 Related: Ultimate Washington National Parks Road Trip Itinerary, April in Olympic National Park
Logistics for April in Mt Rainier
A few important things to know about Mt Rainier National Park in April:
Tire chains are required in the park from November 1st through May 1st regardless of weather, road conditions or type of vehicle (including rental cars and those with all wheel drive). See this page on Mt Rainier's website for more information about this policy.
Most of the park roads are closed. The only road that is open is the road through the Nisqually entrance to Longmire and Paradise and in 2023 the road from Longmire to Paradise will only be open on Saturdays and Sundays until they open more days for the spring. The road may still only be open weekends in April. I will update this if they bring back 7 day a week access sooner. Check the latest road conditions here.
At Paradise there is a LOT of snow! It's likely the snow will be higher than your car this time of year!
Check the Paradise webcam to see if the mountain is out at Paradise
The Paradise Visitor Center is only open on weekends, so make sure to bring your own food and be self sufficient if you're heading up to Paradise!
Where are the best places to go in April in Mt Rainier?
Paradise
Spring snowshoeing is an awesome activity if you're heading up on a clear day (don't forget the sunglasses and sunscreen)! If you don't feel like snowshoeing, the views of the mountain at Paradise are still amazing and the experience of seeing all that snow is pretty remarkable too (especially if it's a sunny, warm day) so it's worth the trip even if you don't want to play or walk on the snow.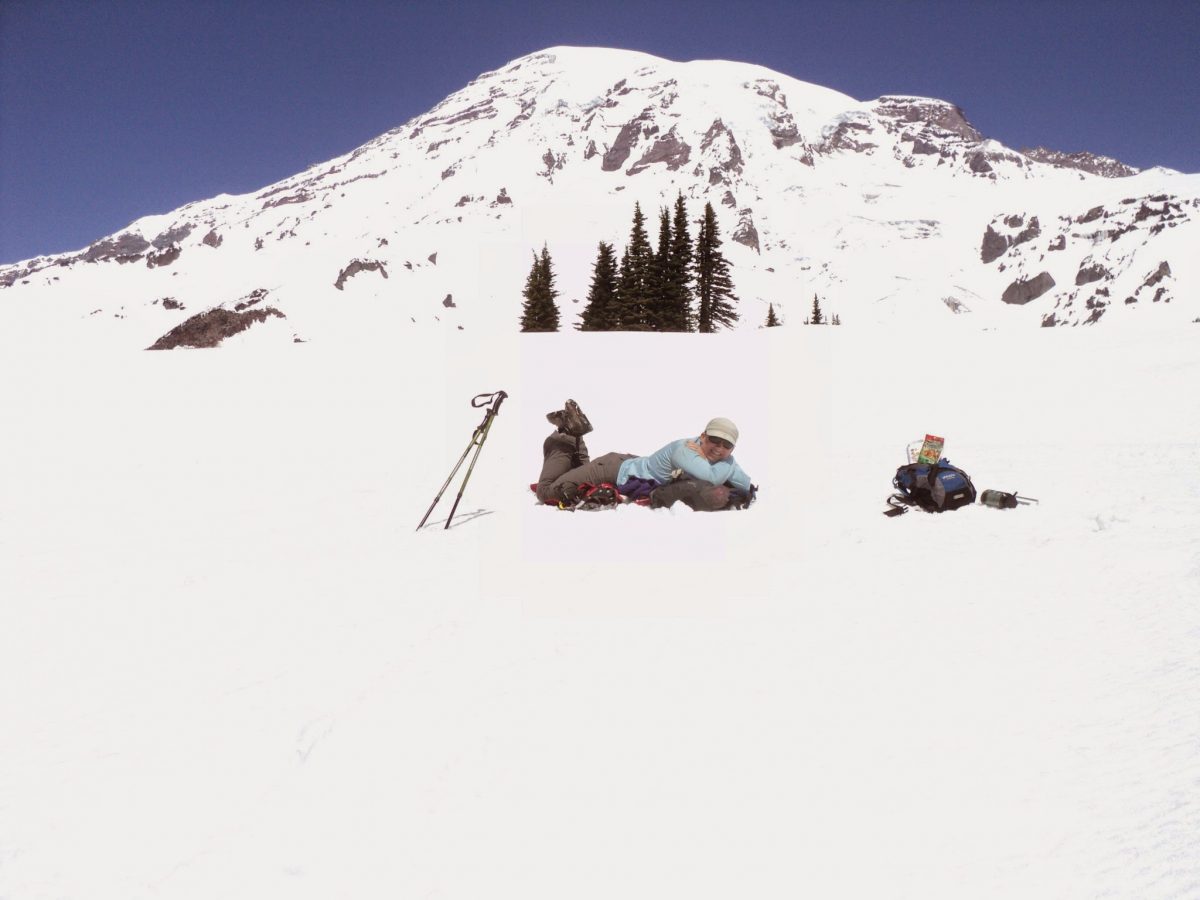 Narada Falls
Even if you don't want to snowshoe, make sure to get out and take a look at Narada Falls which is really roaring at this time of year! There's a big parking lot and restrooms here as well. You'll be able to see the top of the waterfall from the parking lot, but if you want to look at it from below (which is pretty cool), you can make your way down the short trail. Use caution as this trail is often extremely icy and snowy in the spring so use your judgement about if it's safe to walk down the trail. Narada Falls is about 5 miles before you arrive at Paradise.
Longmire
Longmire will be snow free! If you'd like to hike, you can take the Trail of the Shadows, a one mile flat loop through the forest with some historical buildings. You can also hike a mile or two along the Wonderland Trail for an enjoyable forest stroll, perfect for a rainy day! Another great trail in the area is the Twin Firs Loop, which you'll pass on the way to Longmire (pullout on the left as you approach Longmire). A short half mile loop, this trail goes through some impressive old growth forest and is a great way to immerse yourself in the rainforest on a short walk.
Longmire also has a museum about the early history of the park as well as the National Park Inn. The Inn is open year round and has a restaurant open daily.
Mowich Lake
For those who want a more epic adventure and are completely self sufficient, consider heading to the other side of the park at Mowich Lake on the northwest side. I previously wrote about this in detail here. The road will be closed at or near the park boundary (depending on the snow level) and you'll need snowshoes or skis at some point (you may start out on a clear road). I've done this twice in April and haven't seen anyone else except for my snowshoeing companion. If you value solitude and wilderness, are completely self sufficient, are up for a 10 mile round trip outing and don't mind some gravel road miles, I highly recommend this!