April in Olympic National Park
Posted On April 24, 2019
Last Updated on February 8, 2023
April is a popular time for travel around the Pacific Northwest for locals and visitors alike. The days are longer and warmer and it's a great time for exploring and a wonderful time of year to head to Olympic National Park. I'm a born and raised Seattleite and have also worked as a guide in Olympic, so you know I know and love it well.
This article is specifically about the month of April, but you'll find similar conditions in March and May in Olympic National Park. March might still give you some good snowshoeing at Hurricane Ridge, and May will be the beginning of snowmelt (though most years May still has a lot of snow there). Olympic National Park is so vast and diverse, you can't see the whole thing in one visit.
One thing you may notice is that this post is missing is any mountain locations. If you get a day of clear weather and Hurricane Ridge is open, by all means head up there to check out the amazing view (check out the webcam first). I didn't include it in your best bets because there's still a lot of snow, but it will likely be a bit patchy and not great for snowshoeing. The view is incredible though so if you can see it it's worth a trip.
The main attractions for April in Olympic National Park are the Beaches, Rainforests and Waterfalls, described below. Check out this post for more rainy day hikes in the park if you're there on rainy days.
Related: Ultimate Washington National Parks Road Trip Itinerary, April in Mt Rainier National Park
Olympic Beaches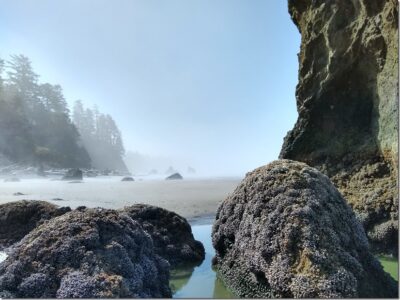 Olympic National Park's beaches are fantastic any time of year, providing relief from hot days further inland in midsummer, impressive storms and waves in fall and winter, and rainy, foggy days can happen any time of year. Regardless of weather, you don't want to miss the wild ruggedness of this wilderness coast, along with the sea stacks and captivating tidepools. All of these beaches have incredible sunsets if the sun is not behind too many thick clouds. To check out tidepools you'll want to pay attention to the tidechart for the Olympic Coast. Here are two beaches you can drive to and one you can hike to:
Kalaloch Beach: Kalaloch is located on Highway 101 west of Lake Quinalt and south of the Hoh Rainforest and the town of Forks. Kalaloch is a dog friendly beach (most parts of Olympic National Park do not allow dogs) that you can walk on for many miles. This is also the location of the tree cave or tree of life that is hanging on to the cliff by its hardy roots. There is a lodge with a restaurant here, a small store and a large reservable campground.
Rialto Beach: Rialto is about 10 miles west of highway 101 near the town of Forks and La Push. On Rialto Beach at low tide you can walk for a couple miles to Hole-in-the-Wall, a good tidepooling destination. There is also a picnic area and restrooms at the beach if you prefer not to hike. Nearby is the Mora Campground.
Second Beach: Second Beach requires a hike of about one mile from where you park your car to the beach and also has excellent tidepools and a grander sense of adventure when you pop out of the old growth rainforest onto the beach! You can also backpack here (get permits from the Port Angeles Wilderness Information Center).
Olympic Rainforests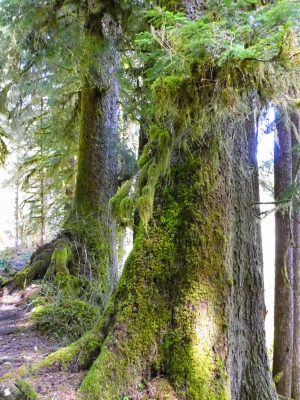 Olympic National Park's temperate rainforests are famous around the world for their giant Sitka Spruce, Douglas Fir and Western Helmlock old growth trees, as well as the lush understory of moss and ferns that live below them and with the wildlife that inhabit them, such as owls and elk. The rainforests are low elevation and snow free most of the year, so you can enjoy a hike in any weather (what's a little rain in a rainforest?!?). Here are three good options for experiencing the rainforest in April in Olympic National Park:
Hoh Rainforest: A comprehensive post on this here, the Hoh is 12 miles off highway 101 near the town of Forks. Here you'll find a small visitor center, two short nature trails and a long trail following the Hoh River upstream through the forest.
Quinalt Rainforest: This one is the closest to Seattle and has many trails of various lengths to explore, including a short trail to the world's largest Sitka Spruce tree! You can also stay or enjoy a meal at the historic Lake Quinalt Lodge. You can access the Quinalt Rainforest from highway 101 between the town of Aberdeen and Kalaloch Beach.
Barnes Creek Forest: This is a short hike through initially second growth forest, then an impressive old growth stand of mostly douglas fir and western red cedar trees. Continuing beyond the big trees, you'll come to the lovely Marymere Falls, which is particularly impressive in the spring! Barnes Creek is located near Lake Crescent (also a wonderful place to explore) just west of Port Angeles.
Sol Duc Falls and Hot Springs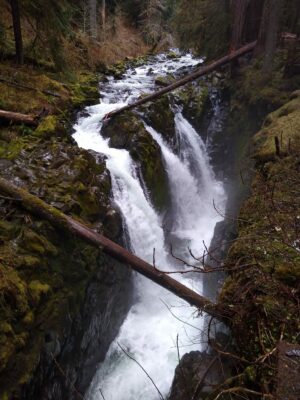 I wrote an extensive post about visiting the Sol Duc Valley here, and I will add that this is an excellent spring destination! Beautiful hiking through the old growth forest on the Sol Duc Falls Trail or the Lover's Lane trail, a raging waterfall and a hot springs. Soaking in the hot springs is the perfect rainy day activity after a wet hike. The campground is large and can be reserved ahead of time, there are also cabins available at the hot springs resort.