Margaret's Way Trail: Best Forest Hike near Seattle
Posted On May 16, 2020
Last Updated on July 31, 2021
The Margaret's Way Trail is a gorgeous out and back trail close to Seattle that is my favorite forest hike close to town! This one even comes with a view at the very end of Mt Rainier! At 7 miles round trip and 1500 feet of elevation gain, it's a good amount of climbing but not extremely steep. It does have a few steeper sections.
This trail is also in excellent shape and is much wider than many trails in the area. If you aren't up for the full 7 miles this is just as enjoyable as a walk of any length or amount of time you feel like doing, you can just turn around whenever you like. This trail is less steep, though longer, than the Wilderness Peak Loop which is almost across the street.
This trailhead can be accessed by Metro's Trailhead Direct Bus when it's operating. The parking lot fills early on weekends, but if you're driving you can manage this by going later in the day.
The Margaret's Way trail is located on the homeland of the Snoqualmie, Duwamish and Coast Salish people.
Parking Pass Needed: None
Dog Friendly: Yes, on leash
Cell phone coverage: Good with a few dead spots
Restrooms: Porta potties at trailhead
Accessibility and Mobility: This trail has some roots and a few areas of bigger steps/rocks. You can take the bus to the trailhead.
Related: What to wear for a hike in the Pacific Northwest, what to bring on a hike in the Pacific Northwest
Is the Margaret's Way Trail right for me?
This is an excellent option if you're looking for a forest hike close to town. In fact, in my opinion this is the most beautiful forest trail that's a short drive from Seattle. Margaret's Way is a relatively new trail (built in 2015) and is excellent condition.
It's a long and at times steep trail, but unless you have your heart set on reaching the end you can turn around at any point and enjoy this trail.
This trail is wider than many trails in the area and doesn't have as many rocks, roots and mud as many nearby trails. There is a section that can be a bit muddy in the middle where it crosses over a couple of creeks.
When is a good time for the Margaret's Way trail?
Margaret's Way is an excellent year round trail. When the trailhead bus is running (usually late April through October), you can get to it without a car which is a wonderful option.
Like many forest hikes, it's shady on hot days and the forest is beautiful in any weather, so it really is a good option all year!
Where is it?
The Margaret's Way trailhead is located on State Route 900 between Renton and Issaquah. Google maps will take you right to it. You can also take the bus there (link above) from late April through October.
Trail Description
The Margaret's Way trail starts climbing through the forest right away. The first half mile is on an old road and there are signs to clearly point which way to go when there is even older road going in another direction. The trail even has some wild rhodendrons in this first section (Washington's state flower!). You'll also see some old growth trees in this section and again near the top.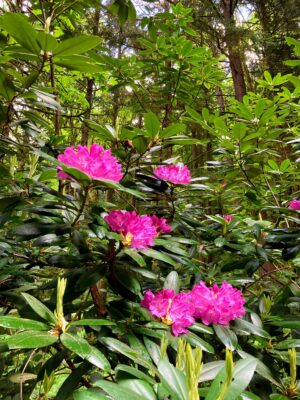 After just over half a mile, you'll come to a clearing and the trail narrows and climbs more steeply. This is the steepest section of the trail, the grade gets more mellow a bit further up.
About halfway up you will go down slightly and cross a couple of creeks before heading up again. At just over 3 miles from the trailhead you'll come to a junction. This is the end of the Margaret's Way trail. If it's rainy or there is no view to be had, you might want to turn around here for a 6 mile hike instead. If you want to continue on to the viewpoint of Mt Rainier, head right here and then right at the next two junctions that are very close together. Just under half a mile from the first junction you will reach Debbie's view, where you can see Mt Rainier if the mountain is out.
Retrace your steps back down to the trailhead and back to your car or the bus stop.
Fuel up after the Margaret's Way Trail
If you're a donut lover, you MUST check out Chuck's Donuts in Renton. People really, really love them and with good reason! They definitely have a loyal and devoted following in Renton.
If you're more interested in a brewery, check out the Sunset Alehouse in downtown Issaquah.
Electric Vehicle Charging
There is plenty of fast charging nearby, including in Issaquah, Bellevue and Renton.