Mt Washington Hike near Seattle: WAY better than Mt Si!
Posted On July 11, 2020
Last Updated on October 31, 2022
Looking for a classic Cascades climb to an incredible view? Need new ideas besides Mt Si? Appreciate a less crowded trail? If any of that sounds like you then get ready to fall in love with Mt Washington. At 8.5 miles round trip and 3200 feet of elevation gain, it's a challenging hike and one that leads to a spectacular view.
This is a fantastic alternative to Mt Si, with literally almost identical mileage and elevation gain, nearly the same view (you can see each peak from the summit of the other) and even the same parking pass.
Want an even harder uncrowded hike nearby with a similar view? Try McClellan Butte!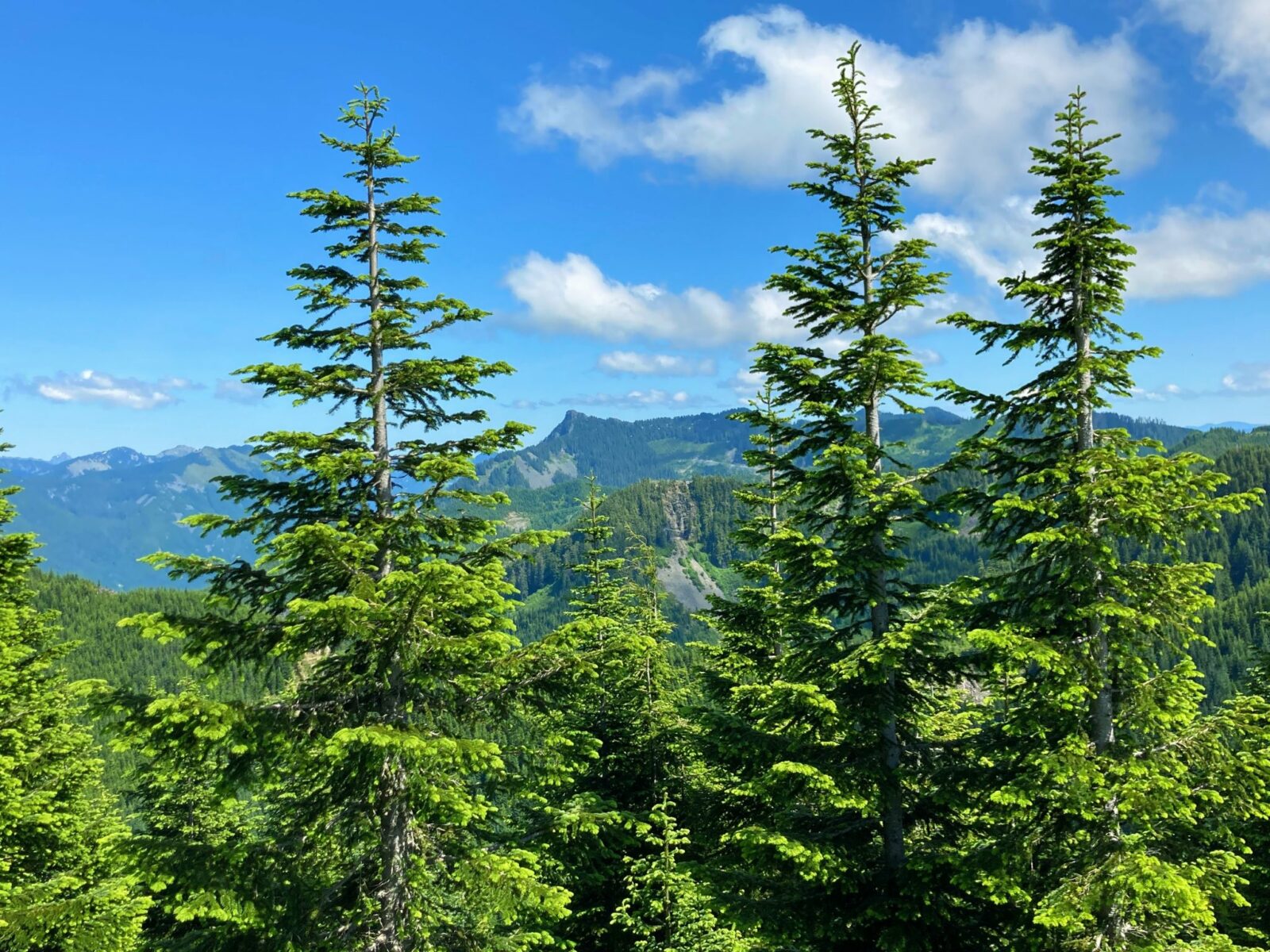 Mt Washington is located on the homeland of the Snoqualmie, Duwamish and Coast Salish people. (This article is NOT about the Mt Washington in New England.)
Parking Pass Needed: Yes, Discover Pass
Dog Friendly: Yes, on leash
Related: What to wear for a hike in the Pacific Northwest, what to bring on a hike in the Pacific Northwest
Is the Mt Washington trail right for me?
There's no question that this is a challenging hike. Over 3000 feet of elevation gain is no joke! However, the steepness of the trail remains reasonably throughout the hike and there are some views along the way to keep things interesting.
One thing to watch out for on this trail is that many sections of it are quite rocky. It's helpful to have hiking poles and boots to help keep your ankles steady, especially on the way down when your legs are tired.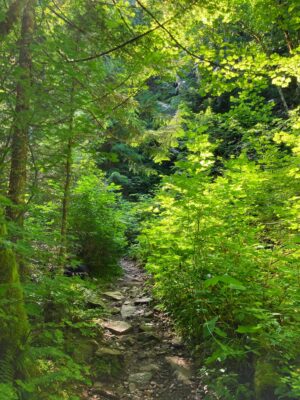 This is the perfect hike for someone looking for an uncrowded view hike close to Seattle.
When is a good time to hike Mt Washington?
This hike is snow free a bit sooner than some view hikes in the I-90 corridor, so you can generally do this hike starting in June (Bandera Mountain is another awesome view hike that melts out by June). It's a good option until the snow starts flying, for sure into October and possibly November depending on the year.
I would recommend saving this hike for a clear day when you can see the view! It's also shaded for most of the way, so it's a good option for a hot day.
Where is it?
The Mt Washington trailhead is shared with several other trails at the Homestead Valley Trailhead in Olallie State Park just east of North Bend on I-90.
Take Exit 38 and go right at the bottom of the ramp (coming from Seattle or Bellevue, go left if coming from Ellensburg or Snoqualmie Pass). Just before the road bends left, there's a gravel road on the right, which leads to the trailhead.
Trail Description
Starting in the parking lot, take the trail on the left if you're facing the pit toilet. Go up a narrow trail through salmonberry bushes to a wide gravel trail. Go right here and it will bring you up to the Iron Horse Trail, another wide gravel trail. Go right again. Very quickly you will see a trail on the left, it is signed for Mt Washington. Take this trail and now you are on the Mt Washington trail where the climbing begins!
You'll start ascending right away, climbing through a beautiful forest. Make sure to look up as there are many vertical rock faces in the forest in the first couple of miles. You may see climbers heading to different parts of the mountain for rock climbing.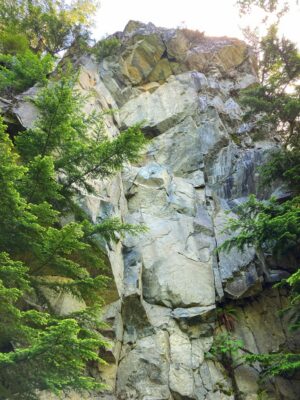 As mentioned above, significant stretches of this trail, especially in the first couple of miles, are quite rocky, so use caution with where you are putting your feet.
A bit over a mile into the Mt Washington hike, you'll come to a junction with a wooden sign on a tree that says "Mt WA" with an arrow to the right. Some downed trees block the other trail (which goes to climbing areas) which is another clue that you should keep right here.
Continue climbing and about a mile and a half from your car, come to the first good view. Here you look across the valley to Rattlesnake Mountain and Rattlesnake Ledge.
In another half mile (two miles from your car), you'll come to another trail junction with the Great Wall Trail. Another wooden sign on a tree points right to Mt Washington. After this point, there are more views to be had than there were in the first two miles! Cross a couple of small creeks,
Another half mile along (3 miles from the car now), there are two junctions close together. The first one is quite clear to go left, since right leads immediately into a ravine. A hundred feet or so beyond that there's another junction where you go right. A laminated sign on a wooden pole points the way here.
The next 1.25 miles rise up six switchbacks, alternating through the forest, across rock slopes and near the top, wildflower meadows with increasingly good views!
Pause on switchback #3 for a great view! Make sure to check out the many wildflowers from here on as well as the huckleberry bushes.
The trail between switchback #3 and #4 is the steepest part of the whole Mt Washington trail but you can do it!
Switchback #6 is just a couple hundred yards from the true summit but make sure to stop here and look behind you for an incredible view of Mt Rainier if it's "out"!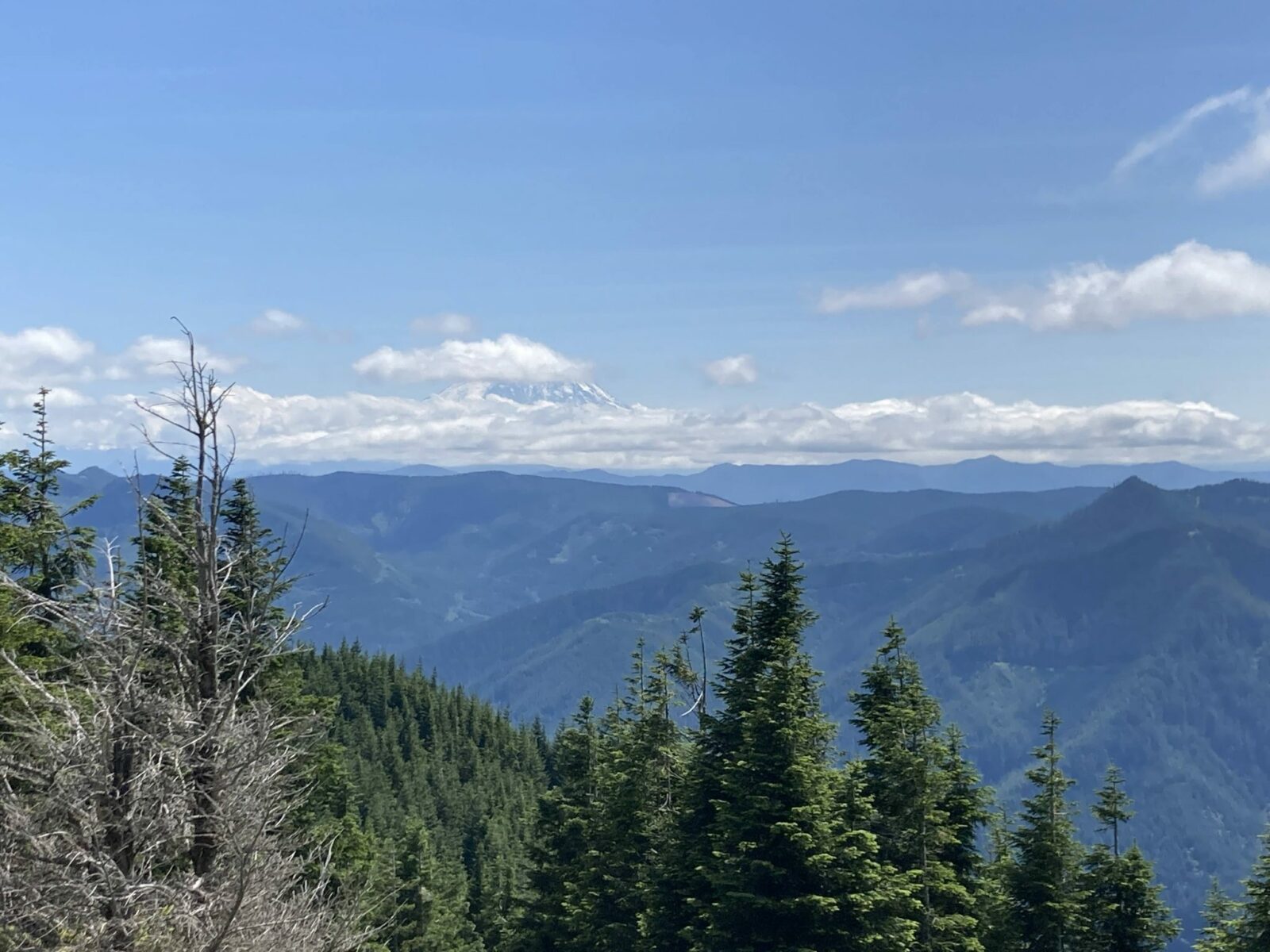 Climb gently up that last little bit to look across North Bend toward the Middle Fork Valley and Mailbox Peak as well as to Mt Si.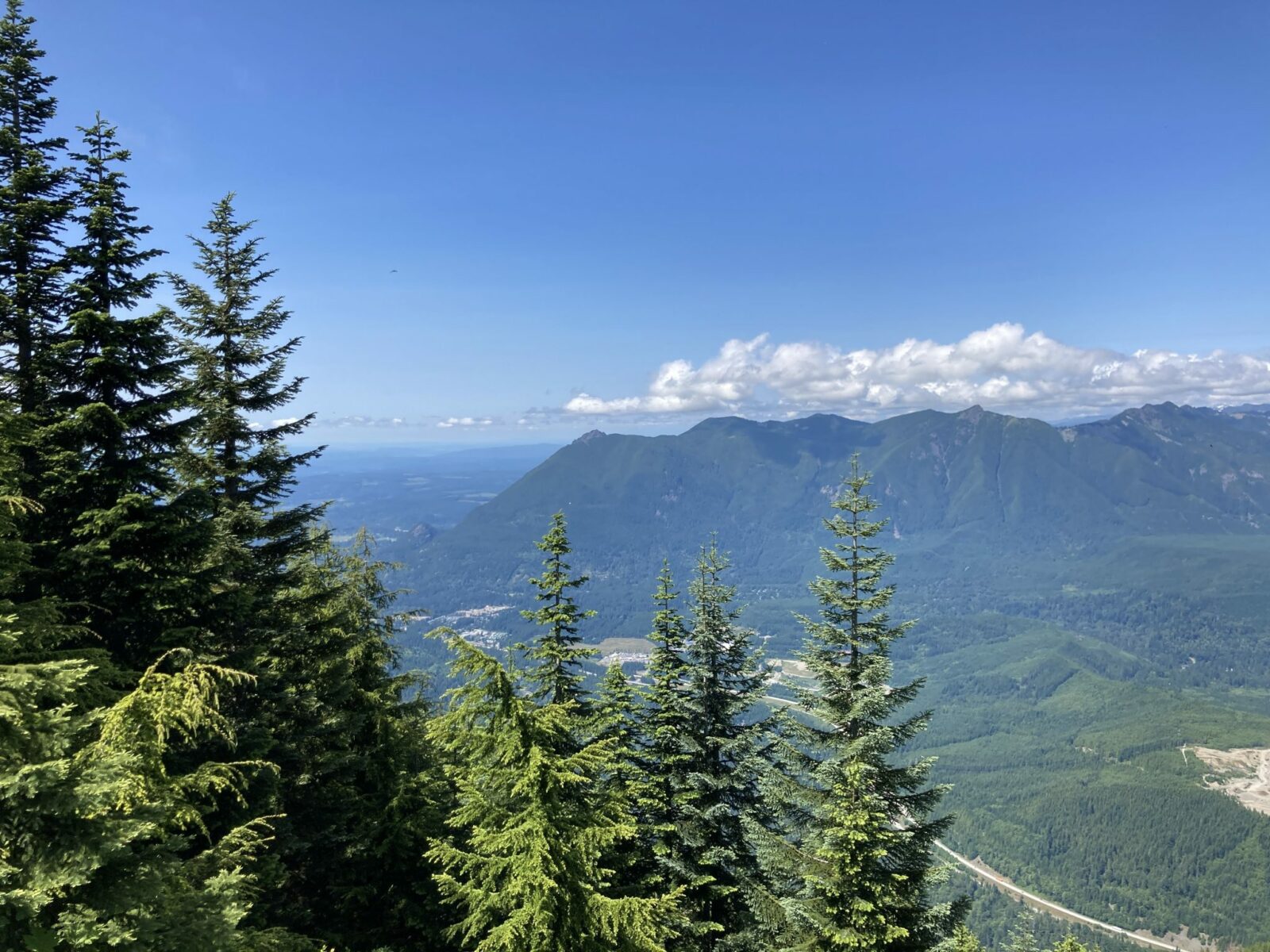 Take in the view as long as you like and make sure to get a good amount of food and water to recover from the climb and prepare to descend.
On the return trip, you'll return the way you came. Make sure to use extra caution in the rocky sections now that your legs are more tired!
Breweries and Bakeries near Mt Washington
Grab some delicious coffee and pastries at Pioneer Coffee in North Bend or grab a beer at Volition Brewing or the Snoqualmie Falls Brewery. The North Bend Bar and Grill is also an excellent option for food and drinks in downtown North Bend.
Electric Vehicle Charging
There is fast charging at the North Bend Outlet Mall near downtown North Bend (walk to Pioneer Coffee!).