How to visit Katmai National Park in Alaska: Ultimate Guide
Posted On August 2, 2022
Last Updated on June 15, 2023
Katmai National Park is world famous for its endearing brown bears feeding at Brooks Falls, but this park is so much more than just bears! Katmai was originally protected in 1918 after an epic volcanic eruption changed the landscape of the entire area in the 1912 Novarupta volcanic eruption. It also has fascinating human history and the experience of getting here is an adventure all its own.
Are you trying to figure out if Katmai National Park fits into your Alaska trip, or feeling confused about how to get there? Considering camping here but afraid of bears or camping in the rain(I see you!)? Wondering if it's even worth it?
If that sounds like you, you're in the right place because I am a former Alaskan and an expert in visiting Alaska National Parks. Follow along and I'll tell you everything you need to know to figure out if visiting Katmai National Park makes sense for you, how much it costs and what your options are for visiting! And I'll tell you everything you need to know before camping at Brooks Camp.
Katmai is the homeland of the Yup'ik and Alutiiq people.
Is Katmai National Park worth it?
Katmai National Park is a stunning remote park in Alaska that is famous for bear viewing at Brooks Falls and epic stunning volcanic landscapes. The brown bears at Brooks Falls are famous all around the world where anyone from anywhere can watch them on the webcam.
There's no question a visit to Katmai is truly unforgettable. However, it is a big expense to get there and there is a risk of disappointment if your day trip is cancelled due to weather (which happens often in frequent fog in the area). Camping is an adventure and also a challenge between the bears and the frequent rain and wind and the lodge lottery is hard to win.
So, with the challenges and expensive involved, is adding Katmai National Park to your Alaska Itinerary?
For some travelers, I say yes, but not for everyone. If it fits in your budget, these are the travelers for whom I think Katmai IS worth it:
People who really want to visit every national park in Alaska, or every national park in the United States
People who really, really love bears and seeing bears is the MOST important thing to them on their trip
People who really, really love volcanoes and geology
Travelers with a sense of adventure who can handle some significant uncertainty around their travel plans, especially when it comes to weather
Where is Katmai National Park?
Katmai National Park is located on the Alaska Peninsula, Southwest of Anchorage and the Kenai Peninsula and Northwest of Kodiak Island. It is near the community of King Salmon, where the closest jet service airport is located.
Can I drive to Katmai National Park?
No. Katmai National Park is only accessible by float plane or other small plane. In some circumstances the water taxi from King Salmon may be an option instead of a float plane if you're going to Brooks Camp.
How do you get to Brooks Camp in Katmai National Park?
Getting to Brooks Camp involves a float plane. There are a couple options:
Get to King Salmon on a jet and then take a float plane to Katmai (this is the least expensive)
Take a float plane from Anchorage or Homer
There is also a water taxi that goes from King Salmon to Brooks Camp. I have not taken it personally so I can't speak to that experience. It costs about the same as the float plane (slightly less but not a lot) and the float plane is much faster (though it is more subject to weather delays, which also sometimes happen to the water taxi in heavy fog).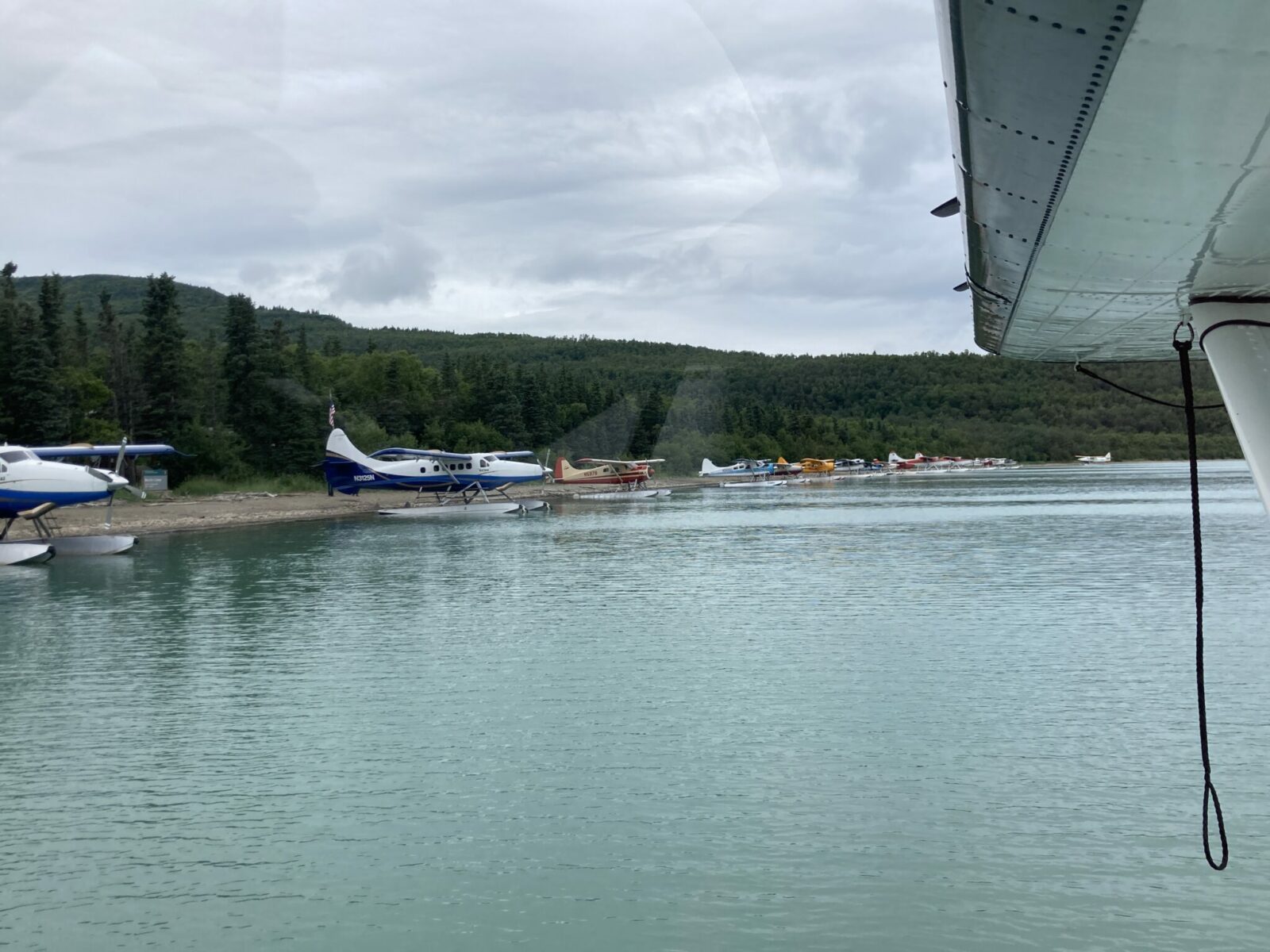 How to see the bears in Katmai National Park
If you go to Katmai in July, August and early September you are going to see bears!
There are a few options for doing this. One is to do a bear viewing trip, which will be a small wheeled plane or float plane from Anchorage, Homer or King Salmon. An advantage to this is that the pilot can take you to different places (including world famous Brooks Falls) based on where the bears are. The big disadvantage is that small planes are frequently delayed or cancelled due to weather, particularly fog.
Another option is to spend a few nights at Brooks Camp, either by winning the lottery to stay in a cabin, or camping in the campground. This improves your chances of being able to get in and gives you more time to observe bears. More information on both of these options is below under where to stay and camping information.
Once at Brooks Camp, it's a flat 1.5 mile walk to Brooks Falls. You will likely see plenty of bears before you get to the falls, either in the river, along the trail or at the beach.
How much does it cost to visit Katmai National Park?
There's no getting around the fact that a visit to Katmai National Park is expensive.
The cheapest way to get to Katmai is to fly to King Salmon on Alaska Airlines (if you have miles on Alaska I highly recommend using them for this). From King Salmon, fly with Katmai Air (they also operate the lodge) to Brooks Camp and then camp for a couple nights. You can save even more money by cooking your own meals but I opt to eat my meals in the lodge because it's one less thing to figure out and the food is good and an excellent value, particularly when you consider the remote location.
You can save a little bit of money on the water taxi instead of a float plane, but it also takes quite a bit longer and only saves around $50 per person.
In my opinion, as a former Alaskan, a frequent traveler and a travel professional, it is important to have travel insurance if you are traveling to Katmai. Anytime I travel to remote Alaska I always make sure to have it. It is common for weather delays or cancellations to interrupt a trip and cause you to miss part of it, or have to book a last minute hotel somewhere. The extra money is absolutely worth it for peace of mind!
| | |
| --- | --- |
| Activity | Approximate Cost |
| Travel to King Salmon from your location | Varies |
| Float plane from King Salmon to Brooks Camp | $350/person (round trip) |
| Cabin at Brooks Camp (must participate in lottery 18 months in advance) | $900/cabin (four bunks) |
| Brooks Camp Campground | $12/person/night |
| Breakfast at Brooks Camp | $17/person (full breakfast, or a bit less for continental) |
| Lunch at Brooks Camp | $24/person (a bit less for soup/salad/dessert only) |
| Dinner at Brooks Camp | $40/person |
| A beer at Brooks Camp | $10/beer |
| Showers for campers (in the Katmai Trading post) | $7/each (includes towel rental) |
| Valley of 10,000 Smokes Tour | $100/person |
| Canoe or Kayak Rental | $15 – $60 (depending on how many people and how long) |
| One hour flightseeing trip | $260 (2 person minimum) |
| Guided fly fishing (walking from Brooks Camp) | $75-$245/person depending on how many people total and how many hours |
| Tips for Tour Guides (except for park rangers who do not accept tips) | 15- 20% of the cost of the tour |
When is the best time to go to Katmai National Park?
I recommend going to Katmai National Park in July. The sockeye salmon run in Brooks River peaks in mid July which brings the bears in huge numbers to Brooks Falls.
August and early September also have plenty of bears, though it gets cooler and wetter as fall approaches (though you need to be prepared for rain any day during the summer).
The lodge at Brooks Camp is open along with most activities from early June through mid September. There are fewer bears in June, but somewhat drier weather.
There are lots of foggy, cloudy and rainy days all summer and temperatures are usually in the 50s and 60s June through August and getting a bit cooler in early September. It is possible to have sun and warmer weather at times. It is also frequently very windy in Katmai.
Day trips to Katmai National Park
Most people visit Katmai National Park on a day trip from Anchorage, King Salmon or Homer. This avoids trying to compete for a tiny number of expensive lodges or camping in the rain with bears!
Day trips typically cost around $1200 per person from Anchorage. Make sure to book very far ahead!
You can also do a day trip from Homer ($700-$1000 per person) if you are already on the Kenai Peninsula. Day trips from King Salmon can also be done, but you should plan on a night or two in King Salmon if you're going to do that to connect up all your flights and account for weather.
My most important advice for day trippers heading to Katmai National Park is to go straight to the Brooks Falls viewing platform after your Bear School orientation by the park service. During the middle of the day there is sometimes up to a two hour wait to get onto the platform and you don't want to miss it!
Check out the viewing platforms first and then you can explore trails, eat lunch at the lodge or do some fishing, canoeing or kayaking if you have enough time after. Eat a snack on the plane so you're ready to go.
A final note about day trips to Katmai – there are frequent weather cancellations and delays, particularly for fog. Day trippers get lower priority when flights are limited than those who have campground or lodge reservations. It's important to mentally prepare for this possibility as well as bring some reading material!
Where to stay in Katmai National Park
The only option for staying overnight without camping in Katmai National Park is at Brooks Lodge in Brooks Camp. There are only a few cabins and you have to win a lottery to get them in December over a year ahead of time (December 2022 lottery will be for the 2024 season).
You can repeatedly call them to try to find a cancellation but this is a lot of work!
There are other remote, fly in lodges in and around Katmai and Lake Clark National Park that are oriented around fishing and will take you on fly or boat in trips to see bears and volcanoes.
You can also stay in King Salmon or Homer and do a day trip into Katmai. The downside to this is that frequent fog can cancel day trips frequently, even in mid summer. If possible, try to give yourself a couple days to improve your chances of getting into the park.
Everything you need to know about camping at Brooks Camp in Katmai National Park
Camping at Brooks Camp is by far the least expensive way and easiest way to get a place to sleep in the park. The park service does an excellent job with this campground, but it is not an easy place to camp! This is everything you need to know (and I wish I had known before camping there).
Reservations for Brooks Camp Campground
Reservations are required and the campground is always full. There are sometimes cancellations but this is not a place you can just show up. Reservations open in early January and are gone within a couple minutes. Be ready with your dates and move fast as soon as they pop up.
When you arrive at Brooks Camp, after Bear School the rangers will check your permit and issue one to attach to the outside of your tent.
What is the campground like?
This is one of the most interesting campgrounds I've ever stayed in! There are no assigned spots, but there are places where you can see to put your tent. When you arrive, find an open one and set up your tent.
The campground is surrounded by an electric bear fence with a gate for humans to enter. It's about 0.3 miles from Brooks Lodge.
You are not permitted to have any food or toiletries or cooking gear at your tent. It is strictly clothes and sleeping stuff. There is a large cache for food and other for non food gear. There is also a cache separate for fuel.
There are three large wooden covered picnic shelters with picnic tables and fire pits. Firewood is provided! This is the only place in the campground or anywhere else at Brooks Camp where you are permitted to eat. Cooking and eating supplies and food must be with you while you are preparing or eating them or stored in the cache.
There is also a sink with water for dishes and filling water bottles on the side of the cache.
Several super clean and well stocked pit toilets are available.
Advice for camping at Brooks Camp
Here are a few more tips for an enjoyable experience camping at Brooks Camp:
Make sure your tent is absolutely rock solid for rain and wind. This is really important! You do not want to find out your tent leaks or has a hole when you get there. Same for the netting of your tent. Make sure it doesn't have holes to let bugs in. Stake your tent immediately in case the wind comes up
Consider eating your meals in the lodge. This makes things much simpler. I would still bring some food with you since it's a remote area.
Bring a book (or e-reader) for rainy days
Bear Safety in Katmai National Park
The most important thing for bear safety in Katmai is to follow everything you learn in Bear School, the orientation everyone is required to participate in when you arrive at Brooks Camp. You also must follow all signed closed areas (which move around based on where bears are) and all instructions from the rangers.
I have camped at Brooks Camp and even though I was super nervous with bears everywhere, the park service has done an excellent job of ensuring all visitors are well informed about bear safety and that there are places to store food safely. I'm impressed by how humans and bears are able to share a habitat here with very few problems.
The most important thing to remember as a visitor to Katmai National Park is that this is largely the bears' space and as humans we are able to visit while respecting their space instead of the other way around.
If a bear chooses to walk on the trail (which is common), humans are to step out of the way to let them pass. Humans are not allowed to have any food or drink on them outside of a building or cooking shelter in the campground. There are caches provided for you to store your food whether you're camping or on a day trip.
Always walk in groups along the trails. I have visited Katmai as a solo traveler and other visitors were super friendly and happy for me to join them to walk around camp, to the campground or to Brooks Falls.
If you pay attention in bear school and follow all the rules, you'll do great, even if you're camping.
Things to do in Katmai National Park
See the world famous Brown Bears at Brooks Falls
If you're considering a trip to Katmai National Park, you're probably wanting to see bears and with good reason. Seeing the bears at Brooks Falls is a truly unforgettable experience.
The viewing platform is controlled by park rangers and volunteers to ensure there are never too many people on the platform or that it's too crowded. This is partly to give you a good experience as a visitor but also to minimize the disruption to the bears.
To get to Brooks Falls, you need to walk about a mile and a half from the lodge and visitor center where your float plane will land if you're on a day trip or where you'll be staying if you're on a multi day trip.
The walk is on a combination of boardwalk bridge and gravel trail. It's mostly flat and wide and is wheelchair accessible. There are several gates along the way, make sure to close them all behind you.
It is common to see bears along the way so make sure to stay in a group (even if you're a solo traveler) and walk slowly and follow all the instructions of the rangers.
Once you get to the platform area, you'll add your name to a list and they will probably estimate how long of a wait it is. The wait can be up to a couple of hours. If you're staying overnight at Brooks Camp, you can avoid the wait by going out early in the morning or late in the day when there is usually no wait.
You'll have 30 minutes to spend on the platform and then you'll be asked to leave to make room for the next group of visitors. You can absolutely go back as many times as you like! Just put your name back on the list and start the process again.
I strongly recommend wearing good rain gear, having a pack cover for your bag or a waterproof bag, and waterproof footwear. You can't bring food out with you, but you can bring water bottles. Extra batteries for your camera or a back up battery for your phone are important.
Take the tour to the Valley of 10,000 Smokes
If you're spending more than a few hours in Katmai, then you absolutely have to see the Valley of 10,000 Smokes. make sure to book it ahead of time as it is frequently sold out. This seven hour tour takes you by bus about 23 miles into the park into the valley that was forever changed by the Novarupta volcanic eruption in 1912.
This was the original reason the area Katmai was protected in 1918 as a national monument and later as Katmai National Park, because this epic volcanic eruption created such a unique and otherworldly landscape.
You can visit and explore this landscape on the tour, which takes you on a bus ride into the valley with the option of doing a guided hike further into the Valley of 10,000 smokes with a park ranger. The hike is about 4 miles round trip with about 1000 feet of elevation gain.
You can bring your own lunch or buy a sack lunch as part of the tour.
Visit the Cultural Site with a Park Ranger
It's not all bears, salmon and volcanoes in Katmai, people have lived in this area for thousands of years too. Katmai has hundreds of archaeological sites that tell the story of how long people have been in this area.
The Cultural Site is a recreated partially underground and partially above ground house that you can get close to. The site was excavated in the 1960s and the original house was built about 650 years ago. After the excavation, the recreation was made so visitors can see what the house would have been like.
Hike Dumpling Mountain
If it's not too foggy, the view from Dumpling Mountain is truly spectacular! Views in all directions show the mountains as well as both Naknek and Brooks Lake.
Make sure to hike in a group if you're on this trail as this is definitely still bear country and the brush at times limits visibility along the trail.
Starting from the Campground (about 0.3 miles from Brooks Lodge), it's a 1.5 mile trail (3 miles round trip) with about 800 feet of elevation gain to reach the Dumpling Overlook.
For hikers who want to go even farther, the summit of Dumpling Mountain is another 2.5 miles (a total of 8 miles round trip from the campground) and about 1500 feet of elevation gain beyond the overlook. This trail is not maintained and can be overgrown at times.
It's important to do this hike in a group for bear safety, as well as follow all other bear safety recommendations from the rangers.
Canoe or Kayak on Naknek Lake
For a mellow morning or afternoon, especially if it's a clear day when the surrounding mountains are visible, renting a canoe or kayak from the lodge to paddle in Naknek Lake is a relaxing way to spend some time.
Fly fishing in the Brooks River
If you've ever wanted to try your hand at fly fishing, this might be the time! Fishing guides available at Brooks Lodge will take you out for an hour or two, or you can do an all day adventure.
I highly recommend going fishing with a guide here, partly because it's a great opportunity to learn, but also for increased bear safety. It's a bit unnerving to fish with lots of bears all around.
They will also provide the gear you need such as waders and fishing poles. An Alaska fishing license is also required.
Watch salmon swimming and jumping
The bears get all the attention, but seeing the incredible number of sockeye salmon in the Brooks River is also unforgettable. Look down from the bridge near the lodge and see thousands of fish, or watch them jumping in the lake or the river, and watch them jumping into Brooks Falls in their struggle to get all the way to the end before they spawn and die.
Flightseeing over Katmai National Parks amazing volcanoes
Flightseeing here is not something you can book in advance, because it requires good weather and an availability of pilots and planes that are not in use for transportation. If it's available this is a stunning place to fly over volcanoes!
If you're on a day trip there's a good chance you'll be able to see at least some of the mountains and volcanoes.
Related: Is flightseeing in Alaska worth it?
Backcountry Adventures in Katmai
For experienced backpackers who know how to hike off trail, Katmai is full of adventure and amazing experiences. I have not personally backpacked here, but my friend Molly has a wonderful series of posts about her multi day hiking adventure from the Valley of 10,000 Smokes to the Katmai Coast! If you're considering a backpacking trip in Katmai National Park, this is a must read.
Three day itinerary for Katmai National Park
If you're lucky enough to have a cabin at Brooks Camp, or you're brave enough to camp (I've done it! Even traveling solo, you can totally do it) and have a few days in Katmai instead of just a few hours, here's how I'd spend it.
Day 1 – Your main task today is getting to Brooks Camp! Be prepared for delays and bring an extra dose of weather related patience. When you arrive, attend bear school and settle into your cabin or set up your tent in the campground. If it's clear and you're with other people, hike up to Dumpling Mountain before or after dinner. Walk out to see the bears at Brooks Falls (do this after 4pm or in the evening after day trippers have left). Have dinner in the lodge and play some cards with fellow travelers, read by the fire or go out fishing in the evening.
Day 2 – Valley of 10,000 Smokes Tour (book in advance). Have breakfast in the lodge before the tour. Do the hike into the valley. When you get back to camp, visit the Cultural Site or Dumpling Mountain, or head out to Brooks Falls again. Have another excellent dinner in the lodge.
Day 3 – If you have time before your flight out, grab breakfast in the lodge and visit the bears again (try going early in the morning) and take a canoe or kayak out on the lake or do a flightseeing trip.
Switch the days around as you can based on weather. The Valley tour will be on a fixed day and you want that to be your middle day since you're there all day. If you have more time, spend more time with the bears, or rent a kayak or canoe, go fishing or hiking!
Getting food and supplies in Katmai
Buying anything in Katmai is extremely limited. You can eat your meals in the lodge if you choose (this is a great option for campers). The Katmai Trading post has a few essentials such as granola bars, soda, candy and camp stove fuel. There are also some souvenir items but there are not groceries or many supplies of any kind. You can't bring camp stove fuel on any plane so you'll need to buy it here if you're planning to use a stove.
Make sure to bring everything you need with you (except stove fuel) from King Salmon.
What to pack for Katmai
This post contains affiliate links, which means if you make a purchase I may receive a small commission at no additional cost to you. As an Amazon Associate, I earn from qualifying purchases.
My Alaska packing list will serve you well for Katmai (and my camping packing list if you're camping). A few things to call out here specifically:
Rain gear – Jacket and pants: This is absolutely essential Katmai, not only because it rains a lot but because you are definitely going to be spending a lot of time outside. Whether it's many hours looking at bears, or waiting to get to the platform, or waiting for a bear to pass on the trail, you want to be comfortable. I recommend either this rain jacket from REI (which comes in plus sizes) or this Marmot one you can get on Amazon (unfortunately no plus sizes). Both are very similar and are excellent, waterproof and durable. I also recommend rain pants because even if you're like me and hate wearing them hiking, you'll still want them for sitting on wet things and bug protection. These REI ones are the most comfortable ones I've found.
Boots: Waterproof boots are a necessity. I prefer to use rubber boots like these, which are totally waterproof, comfortable to walk in, durable and warm. Hiking boots would also work well.
A pack cover or garbage bag to put over your backpack from rain (or whatever you are carrying your gear in) if it's not waterproof
Analog entertainment such as a Kindle in airplane mode with books already on it, other reading material, sketchbook, portable games, etc. Make sure everything is downloaded so you don't need to connect to wifi or a phone signal to get it. I also recommend a backup battery for your phone (and keep your phone in airplane mode which saves a lot of battery power in remote locations).
A hat with a brim: this is for sun protection, but also so that you can use a bug net with it if the mosquitoes are out. It also helps keep rain out of your rain jacket and off your face.
Bear Spray in Katmai
One thing that would be amazing to have in Katmai, but isn't really practical to get there, is bear spray. Since you can't fly with it or buy it at Brooks Camp, that leaves you in a bit of a bind.
You can bring it on the float plane, but it's also hard to get it in King Salmon. If you are going into the backcountry, especially on a backpacking trip then you definitely need it. I would call the float plane operator and ask them where you can currently get it and get it to them.
If you are not going into the backcountry on your own then you'll be ok without it. Just make sure you are following all bear safety rules (which you need to do anyway) and stay with at least one other person. I camped in Katmai without bear spray and while I didn't love it I did just fine and you will too.