Hiking West Tiger Mountain #3-2-1
Posted On May 14, 2021
Last Updated on May 15, 2023
Tiger Mountain State Forest offers miles and miles of forested trails and challenging hikes to get a good workout in all year long! West Tiger Mountain is one of the more popular destinations on Tiger Mountain and most people turn around at the summit of West Tiger #3. However, if you have the energy, snacks and water to go another steep mile, beyond West Tiger #3 and #2 you'll get increasing views at West Tiger #1, one of the best views of all the wonderful hikes near Issaquah. This post will describe the route to #1, which includes the more famous #3. West Tiger Mountain #3 is just under 6 miles round trip with about 2000 feet of elevation gain, and West Tiger #1 is just under 8 miles round trip with about 2500 feet of elevation gain.
Tiger Mountain is the land of the Snoqualmie People.
Parking Pass: Washington State Discover Pass
Dog Friendly: yes, on leash
Cell phone coverage: Good. There are a few dead spots but most of the trail has service
Restrooms: There are two pit toilets in the parking lot at the trailhead.
Accessibility and Mobility: This is steep trail that is in excellent condition. There are some rocky sections of the trail and the area near the summit of West Tiger #3 and West Tiger #1 have some loose rocks and gravel.
Related: What to wear for a day hike in the Pacific Northwest, What to bring for a day hike in the Pacific Northwest
Where is West Tiger Mountain?
West Tiger Mountain is located near Issaquah in the Tiger Mountain State Forest. It's about a 30 minute drive from Seattle on I-90. From I-90, take Exit 20 and go to the right (if coming from Seattle) and follow the road until it ends at the Tradition Lake/High Point Trailhead.
Is West Tiger Mountain right for me?
If you're looking for a challenging hike for a good workout that's close to Seattle or Bellevue, this is the perfect choice! It's mostly forested, so it's a good option for a hot day, or a rainy day! If you go on a day with no views I would recommend only going as far as West Tiger #3 if you're not going to see the great view anyway.
This is a steep and challenging hike, especially to get to the best view. The part between West Tiger #3 and West Tiger #1 is the steepest part of the hike, and since the clearcut of 2022 there is absolutely no shade along it but it's worth the extra effort on a clear day.
When is the best time of year to hike West Tiger Mountain?
In my opinion, the very best time to hike West Tiger Mountain is in May. The greenery in this forest is just incredible and at its absolute peak in May. If you save it for a sunny May day, you'll get the view too without the haze that comes later in the summer.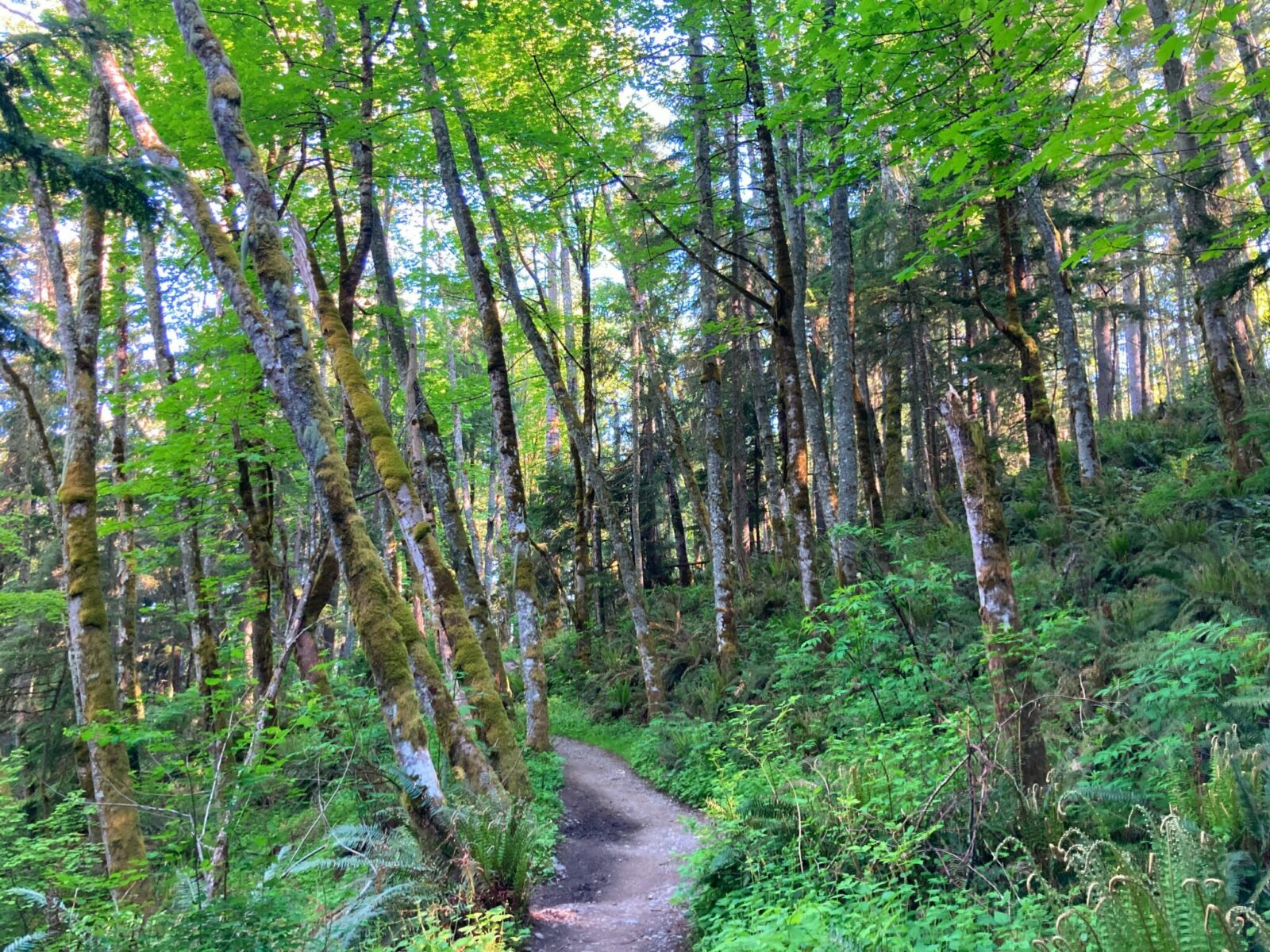 The Trailhead off High Point Way is extremely busy on weekends. You can limit the crowds you experience by going later in the day, or getting there very early. Another great option is to go after work on a weekday.
West Tiger Mountain is a good year round hike. There are times in mid winter when you may encounter snow, but these trails are snow free most of the year.
Trail Description
From the parking lot at the High Point Trailhead and Tradition Lake Plateau, follow the signs for the trails and then the sign for West Tiger Mountain. You'll start on a wide, flat, gravel trail for the first third of a mile, while several trails branch off to the right. After the junction with the Tiger Mountain Trail (do NOT take it) the trail begins climbing on a wide and at times rocky trail.
You'll be gaining elevation at a steady pace all the way to West Tiger #3. Along the way, keep your ears open for birds and your eyes open for all the million shades of green surrounding you. Just over a mile in, you'll come to a well marked junction with the Talus Trail. Turn left here and continue climbing. You'll continue to weave up the mountain through the forest and get to a junction with the West Tiger Railroad Grade trail, which is unmarked but there is a sign indicated to go left (and continue climbing) for West Tiger #3. From here, you have just over half a mile to go to get to the first summit! Once you start seeing some views open up on your left, you know you're getting very close. You'll come out at the summit just under three miles from the trailhead.
Most hikers turn around at the summit of West Tiger #3. For many years before 2022, there was very little view here:
In 2022 the summit area of West Tiger #3 as well as the area between peaks #1, #2 and #3 was clearcut and is now completely open. I was a bit shocked when I hiked it again. The clearcut is jarring but also is a good example of an important part of Washington's economy. However you feel about logging, the view is impressive from here in all directions and continues to be amazing (with zero shade so be prepared) for the next tough mile of climbing to West Tiger #1.
When you're at the summit of West Tiger #3, a trail descends opposite of the way you came up. Take this trail, descending through a few switchbacks, then flattening out briefly before climbing again. The trail gets quite steep for a quarter mile up to West Tiger #2 where the radio towers are. Keep going, now on a wide graveled service road. Go steeply down and then go around a metal gate where there is a fork in the road. Take the left fork which goes very steeply uphill for another third of a mile and then you will pop out at West Tiger Mountain #1.
There are a bunch of radio towers again just ahead of you (and behind a fence) and a funky looking metal building about the size of a small shed with a sign reading "Hiker's Hut". There are a couple of benches inside. I recommend staying outside so you can check out the view!
A stunning view of Mt Rainier dominates the view, with additional views over to the Olympic Mountains and Seattle, as well as Puget Sound, Lake Washington and Cougar Mountain.
There's a wooden bench perfect for enjoying the view as long as you like before returning back the way you came to the trailhead.
There is also an option to do a one way hike here, by continuing on around the left of the Hiker's Hut on the Bypass trail. If you go this way, you'll need to arrange for a second vehicle at the Preston Trailhead. If you choose the one way adventure it's really important to have the map with you because the junctions are not all as clear or well signed. I like to bring them map but also take a picture of the relevant sections with my phone so it's easier to access more often.
The one way trip is about the same distance and elevation gain, or in this case loss, since you're going down. This provides a much less busy trail option but one that requires the map. You can take the Preston Trail from the Bypass trail all the way to the Preston Trailhead, but there are several junctions with other trails.
Bakeries and Breweries near North Bend
Check out Pioneer Coffee in North Bend and Volition Brewing.
Electric Vehicle Charging
There is fast charging available at the North Bend Outlet Mall (walk to Pioneer Coffee!).