19+ Fun things to do in Tri-Cities, Washington
Posted On May 2, 2022
Last Updated on April 24, 2023
The Tri-Cities area in Southeastern Washington State is a true gem and delightful getaway with delicious food, plenty of history to explore, science to learn and outdoor adventures to have all under the eternally sunny skies of Washington's wine country.
I'm a born and raised Seattleite and the Tri-Cities is one of my favorite weekend getaways for a completely different landscape and climate and plenty of fun things to do. Come along and I'll show you why!
The Tri-Cities region is the homeland of the Cayuse, Umatilla and Walla Walla People.
What cities are part of Tri-Cities?
The Tri-Cities are the towns of Richland, Kennewick and Pasco in Washington State. Nearby West Richland, Benton City and also closely associated with Tri-Cities.
Separated by rivers, they are separate cities governed locally but feel like one city and are tightly connected economically.
Where are the Tri-Cities?
Tri-Cities (Richland, Kennewick and Pasco) are located in Southeastern Washington State at the confluence of the Snake, Yakima and Columbia Rivers just north of the Washington/Oregon border.
How to get to Tri-Cities
You can get to the Tri-Cities by car, train or airplane.
Tri-Cities is a 3.5 hour drive from Seattle or Portland and a 2 hour drive from Spokane.
Amtrak's Empire Builder stops here on the Portland route. You can get here by train from either Portland or Spokane (but NOT Seattle, unless you go through one Portland or Spokane first).
You can also fly non stop to the airport in Pasco from Seattle, Salt Lake City, Denver, Las Vegas and a few other cities.
Best time to go to Tri-Cities
Tri-Cities is an excellent year round destination! In my opinion spring and fall are the best times to visit. Spring and Fall have predictably sunny weather without getting too hot and everything on this list is a good bet during those times of year. I give spring a slight edge because of the beautiful wildflowers you can see on hikes. As a Seattleite, it's the ideal time of year to get away from our gray and wet spring days into a preview of summer!
Winter can be very cold and summer is extremely hot.
Things to do in the Tri-Cities
From learning about science to enjoying the seemingly endless sun in outdoor adventures to tasting incredible Washington wines and eating delicious food, the Tri-Cities area truly offers something for everyone!
Geek out on Science
Tri-Cities has long been a hub of science of science and engineering and visitors who are interested in science or want to provide some fun learning opportunities outside the classroom for kids can spend days exploring all the science related activities in the area.
REACH Museum
The REACH Museum is an excellent starting point for your science focused explorations in the Tri-Cities area. The Museum includes natural history as well as human history and gives you an introduction to the many geologic forces that formed the landscape in the region as well as how human activities (such as the Hanford B Reactor) have influenced it.
Coyote Canyon Mammoth Site
Ice Age floods that created the landscape of Eastern Washington we see today also deposited the bones of Mammoths who lived in the area thousands of years ago. The Coyote Canyon site is a paleontology dig site excavating some of these Mammoth bones and you can visit it on a tour and learn all about paleontology as well as the ice age in the area.
This requires some planning ahead as you need to schedule your visit in advance.
Manhattan Project National Historical Park
The Hanford B Reactor built near Tri-Cities during World War II was the world's first full scale nuclear reactor. It produced the atomic bombs that the United States used to bomb Japan in 1945. Today the site is decommissioned and part of Manhattan Project National Historical Park (along with two other sites in other states).
You can learn about the B Reactor at the REACH Museum mentioned above and public tours are also offered on weekends. The tour is a four hour commitment (including traveling from Richland to the site of the B Reactor) where you learn about this history and science of the reactor and get to learn about some of the human impact as well.
Bechtel Planetarium
Columbia Basin College is home to a wonderful planetarium that is open to the public as well as students at the college. Planetariums are a wonderful way to learn about the night sky no matter what the weather is doing! Two weekends a month they have public shows to learn about the night sky.
Moore Observatory
The Moore Observatory is also on campus at Columbia Basin College. The dry climate makes this a wonderful place to look at the stars and the 16″ telescope here when it's open to the public. Normally used for Astronomy students at the college, the observatory is at times open to the public.
LIGO Observatory
Tri-Cities is home to one of only two gravitational wave detectors in the United States. If you're a serious space nerd, this place will blow your mind. The Laser Interferometer Gravitational-Wave Observatory (LIGO) is able to detect the blips (gravitational waves) caused by different objects in space passing each other. This allows scientists to see evidence of objects and activities in space that are otherwise invisible. It even allows a peak back in time since the gravitational waves travel at the speed of light! By the time the wave reaches the observatory on earth it may be from something that happened millions or billions of years ago!
If you want to check it out for yourself, you'll need to plan your trip around it since public tours are only offered on the second Saturday of each month.
Pasco Aviation Museum
Aviation enthusiasts will love the chance to see historic planes and learn about the aviation history of the Tri-Cities area. The museum is located next to the airport in Pasco at the historic control tower from one of the US Navy's busiest facilities for naval aviation during World War II.
If you're wondering why this inland location was a hub of naval activity, at that time the Navy was the home of the military's aviation activities (before the creation of the Air Force in 1947). The military moved from Seattle to Pasco as there was more land available and away from the city the idea was there would be less risk of an attack.
Fun in the Sun with Outdoor Activities
The super arid and consistently sunny weather in Tri-Cities makes it ideal for plenty of outdoor adventures!
Hiking
The Tri-Cities area is not necessarily the first place that comes to mind when you think about hiking in Washington State, but it is one of my favorite places for hikes here. Hiking here is accessible all year round, but the long sunny and warm spring days with incredible wildflowers are my absolute favorite.
You have quite a few options for hiking in the Tri-Cities. My absolute favorite is Hanford Reach, because of its landscape completely unique in Washington State, along an undammed 50 mile stretch of the Columbia River.
Candy Mountain and Badger Mountain are two of my favorites for spring wildflowers and great views.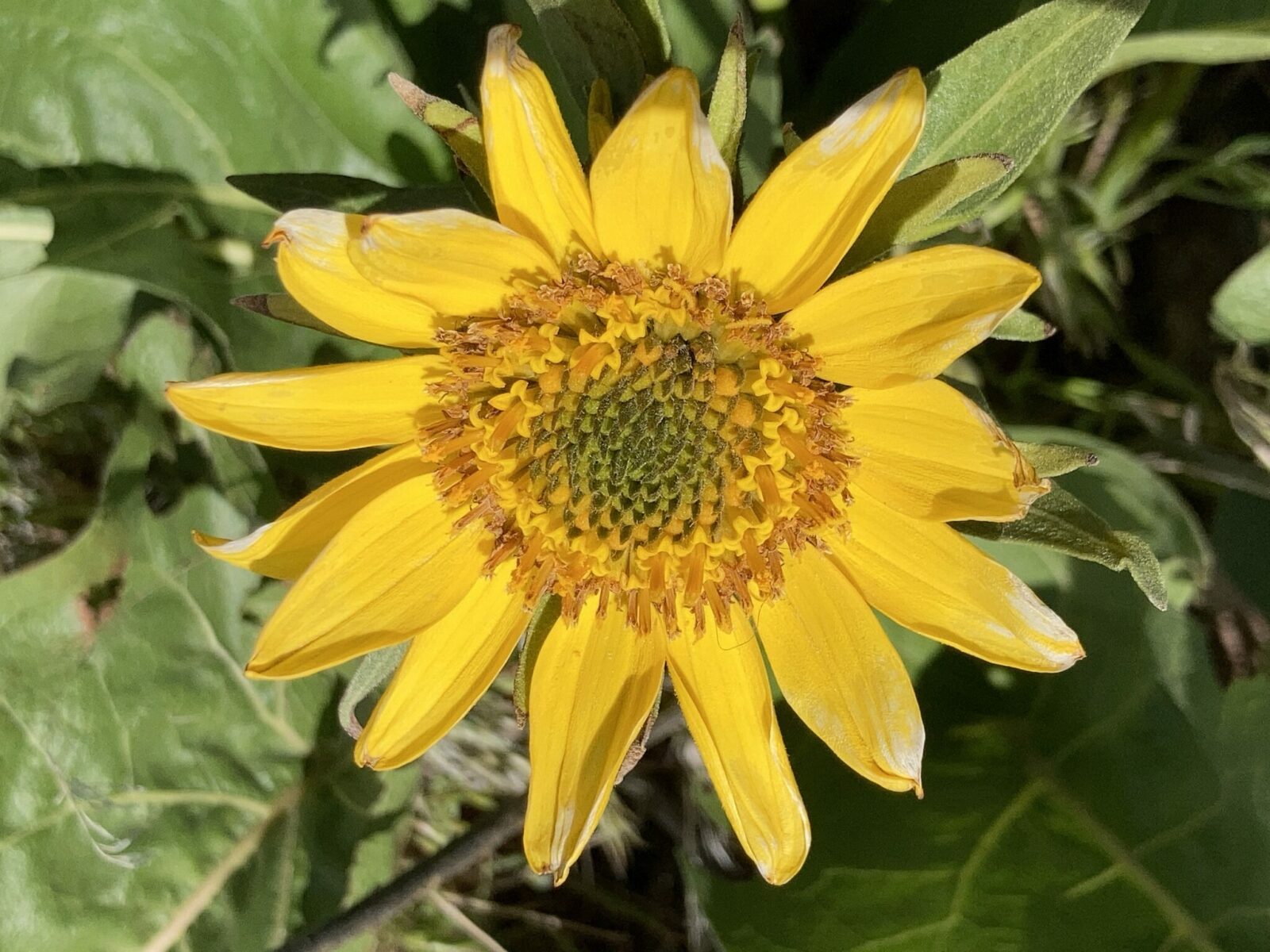 Biking
Tri-Cities has an excellent trail network and there are plenty of opportunities for biking! The Sacagawea Heritage Trail takes you on a 20+ mile tour of Richland, Pasco and Kennewick and is great for all ages.
Biking is also allowed on most of the trails and hiking trails, so if you're looking for an unpaved trail experience or more challenges and hills you can have that too.
Paddling
If you have your own kayak, stand up paddleboard or canoe there are plenty of places to launch it along the river parks throughout the Tri-Cities.
If you're looking to rent, there are options for that as well. You can rent paddleboards at Howard Amon Park and canoes, kayaks and paddleboards at Bateman Island.
Swimming
Tri-Cities has some great swimming holes along the river, perfect for cooling off on those super hot summer days!
There's a designated swimming area at Howard Amon Park and Leslie Groves Park in Richland that are good places to swim in the river. There are other public pools and splash parks if that's more your scene.
Bird Watching
The confluence of three rivers and the estuaries between them make for excellent bird watching. If you want to spend some time looking for or admiring birds, check out the Chamna Nature Preserve, Bateman Island and McNary National Wildlife Refuge. The Columbia National Wildlife Refuge is also an excellent place for birding, though it is a bit further away (65 miles north near Potholes State Park and Moses Lake).
Ride a horse through a vineyard
If you want to try your hand at horseback riding, why not give it a try with a wonderful guide through Washington's famed Red Mountain AVA vineyards and come back to wine tasting with smores around the firepit??
If that sounds amazing, you need to head to Red Mountain Trails for a guided horseback ride (my visit here was the first time I ever rode a horse and it was wonderful!). They also offer horse pulled wagon tours or bike rides through the vineyard if that sounds more appealing.
Try Local Craft Beverages
Washington Wine Tasting
The Tri-Cities are right in the heart of Washington's fantastic wine country, with unpretentious, fun and delicious wineries everywhere. With more than 200 wineries within an hour, you'll never run out of places to try and buy wine!
A few of my favorite places are:
Kitzke Cellars (conveniently located near Badger Mountain and Candy Mountain trailheads), where you can taste their wonderful wines in the vineyard in view of both mountains.
Red Mountain Trails – I mentioned this above, but in addition to fun activities like horseback riding and biking, their wine is really good too!
Longship Cellars is super convenient next to the trail along the Columbia River in Richland and has a fun tasting room with really good wine.
Columbia Gardens – I also mention this in the food section below, but there are three excellent wineries here along the river in Kennewick as well as food trucks. This is a good place if you want to taste lots of wine in the same place!
Craft Beer
There's no question you're in the heart of wine country here in the Tri-Cities, but there are plenty of excellent breweries here too!
My personal favorite is Bombing Range Brewing in Richland (the food is also amazing) and I also really love Moonshot Brewing. Moonshot is a taproom only, but usually has a tasty food truck and it's dog friendly indoors and out!
Ice Harbor Brewing is also super popular along with White Bluff Brewing, Atomic Brewing and many more popping up all the time.
Solar Spirits Distillery
Solar Spirits is unique in Washington's creative craft spirits industry by working on becoming entirely solar powered. They are well on their way with solar technology and working on completing the distilling process entirely with solar power. The vodka, gin and other spirits are made with entirely Washington ingredients. You can do a tasting or enjoy a cocktail in their tasting room in Richland.
Step back in time at fascinating historical sites
For millenia, the Tri-Cities area has been a hub of human activity and there are plenty of opportunities to learn more about it (in addition to the REACH Museum and Manhattan Project National Historical Park mentioned above). One of the oldest complete human skeletons (approximately 9000 years old) ever discovered was found in Kennewick in 1996.
There are two small and excellent local history museums in both Franklin County (Pasco) and Benton County (Kennewick) for those who want to dig into history even further.
Sacagawea State Historical Park
This park has a small museum and is also a beautiful place for a picnic or a walk at the confluence of the Snake and Columbia Rivers in modern day Pasco.
For thousands of years, indigenous people gathered here for fishing and trading. The Lewis and Clark Expedition passed through here in 1805 and when this land became Washington State Park land, it was named for Sacagawea, a Shoshone woman who worked for and traveled with the Corps of Discovery.
Gesa Carousel of Dreams
The Carousel began its life in Michigan in 1912, where it's exquisite horses were a huge attraction! Since then it has been in different parts of the country but was brought to Kennewick more recently. The beautifully carved original horses have been joined by a cougar and a husky to give it some Washington flair. This is a great place for kids and adults wanting to feel like kids!
Where to eat in the Tri-Cities
There are a ton of unique and delicious eats to be found in Tri-Cities, from fine dining to food trucks and everything in between. Be aware that some restaurants are closed or have more limited hours on Sundays and Mondays so be sure to check current hours if you have your heart set on a particular location.
Pasco is home to many amazing Mexican restaurants (the whole region is, but Pasco is especially good). Stop at any of the many taco trucks or try Trejo's.
If barbeque is more your thing, don't miss Porter's. Delicious and beloved.
Columbia Gardens is a unique blend of food trucks and wine tasting next to the river. It's perfect for after outdoor activities when you want something casual, delicious and outdoors.
I love the multiple kinds of incredible house made mac and cheese at Bombing Range Brewing. They also have delightfully weird and delicious pizzas.
Sageport Grille is a local favorite for lunch and dinner and Shade Cafe has wonderful sandwiches and the best coffee in Tri-Cities (in this Seatteite's opinion!).
If you're looking for a classic Pacific northwest fine dining experience, try Cedars at Pier One. Fans of elevated pub food will enjoy Proof Gastropub and Amendment XXI.
Truly this is only the beginning of the amazing food available here!
Electric Vehicle Charging
High Speed charging is available in Tri-Cities at Starbucks near the airport, Kohl's in Richland and a Shell station off I-82. On the drive there from Seattle, there is charging in North Bend, Snoqualmie Pass, Cle Elum, Ellensburg, Yakima and Prosser. Between Spokane and Tri-Cities, there is fast charging in Connell and Ritzville. On the drive from Portland, there is fast charging in Hood River and The Dalles.