Getting from Anchorage to McCarthy: All your options explained
Posted On July 25, 2022
Last Updated on June 15, 2023
Considering adding McCarthy and Wrangell St Elias National Park to your Alaska Itinerary, but trying to figure out how to get there? You're not alone! Getting from Anchorage to McCarthy (or from anywhere to McCarthy) takes some research and a bit of effort, but it's well worth it if you like to get out to places not everyone get to. I'll help you figure out whether driving, flying or taking a shuttle van is the best option for you. I've driven the McCarthy Road, and I'm also a former professional driver in Alaska, so I've got you!
If road trips aren't your thing, you've still got the option to fly.
No matter how you get from Anchorage to McCarthy (even if you drive), you cannot drive into the town of McCarthy. The road dead ends at the footbridge you then walk across and meet a shuttle to where you are staying or your tour. There is also a shuttle that will take you between McCarthy and Kennicott, which are 5 miles apart.
Where is McCarthy, Alaska?
McCarthy is a very small community in the remote Copper River Basin of Alaska in Wrangell St Elias National Park.
The Copper River Basin is the homeland of the Ahtna People.
How far is McCarthy from Anchorage?
McCarthy is just over 300 miles on the road from Anchorage. Driving to McCarthy is not easy, as the last 60 miles are on a gravel road in a remote area with no cell service or services of any kind. If you're considering driving the McCarthy road, there's more information about this in the driving section.
You cannot actually drive all the way to McCarthy, at the end of the road you park and then you'll need to walk across a footbridge to get into the town of McCarthy and to Kennicott.
You can also fly or take a shuttle van. More on all your options below!
What is the McCarthy Road like?
The McCarthy Road is an unpaved road with no services. You are mostly driving through the forest with an occasional view. It is generally well maintained, though potholes and washboard are common. See the section below about driving for more details.
Flying from Anchorage to McCarthy
If this sounds like way too long of a road trip for you, or you don't want to deal with a remote unpaved road or you just don't want to deal with renting a car or figuring out one you can drive here, then flying is a good option for you.
Keep in mind that flying into McCarthy is on a small plane and is subject to weather delays and cancellations. It's extremely important to have travel insurance if you're going to be flying on small planes in Alaska, just in case you're not able to get to your destination on the day or time you plan.
If you can get yourself to Chitina (any rental car can go that far as the road is paved to that point), then you can fly from Chitina to McCarthy, skipping the long drive on a gravel road. Wrangell Mountain Air flies between Chitina and McCarthy several times a day on a scheduled service that takes about 30 minutes and costs around $350 per person. You get some impressive flightseeing in as a bonus on clear days!
Wrangell Mountain Air also offers chartered service (which is more expensive) from several other towns, including Anchorage, if you want to eliminate driving entirely. This also gives you the option of coordinating the exact times and dates you want (weather permitting).
Another option is to take the scheduled mail plane from Anchorage which goes twice a week and costs around $800 per person. The trip takes a bit over two hours, including a stop in Glenallen.
Taking a shuttle van from Anchorage to McCarthy
If you like the idea of the road trip, but don't want to drive and deal with any potential problems yourself, or you have a rental car that you can't take on the McCarthy Road (which is most of them), then a shuttle van might be the best option for you!
If you're taking a shuttle van, plan to have it take all day to make the trip. It generally takes 8-10 hours depending on weather, road conditions, stops, etc.
Kennicott Wilderness Guides offers a shuttle (they also offer wonderful tours once you arrive, I highly recommend the Root Glacier guided hike in particular) between Anchorage and McCarthy and so does Copper Spike Transport. Both options cost about $400 per person round trip.
The Kennicott Shuttle offers a shuttle from Glenallen or Chitina to McCarthy. Keep in mind that you have to get to Glenallen to take advantage of it. This can be a good option if you're wanting to drive your rental car to Chitina but don't want to fly.
Driving from Anchorage to McCarthy
If you're planning to drive yourself from Anchorage to McCarthy, here are some things to know:
Most rental car companies will NOT allow you to drive on the gravel McCarthy road. If you're renting a car and wanting to drive to McCarthy, you'll need to rent from one of the companies that allows it such as Rent-a-Subaru or Alaska 4×4 Rentals. Turo is also an option, but you will need to confirm with your host that it's ok to drive the car on this road (this will vary between hosts so make sure to check).
Plan on at least 8 hours to drive from Anchorage to McCarthy. Google maps will tell you 6 hours, but it takes longer. Add even more time if this will be your first time driving on an unpaved road.
The McCarthy road which is the final 60 miles from Chitina to McCarthy, is NOT paved. A small section of it is chip sealed but for the most part it is a gravel road.
The park service recommends allowing at least two hours to drive from Chitina to McCarthy on the McCarthy Road. I recommend allowing at least three hours, especially if this will be your first time driving on an unpaved road. If you are experienced driving on unpaved roads, then two hours is enough time as long as you don't have to change a tire. I have driven on gravel quite a bit and can make the drive in two hours, but I've found in interacting with others that most people feel the need to drive slower than the speed limit (which is 35 mph) while they are getting used to the unpaved experience.
Make sure the vehicle you are driving has a full size spare tire and that you know where all the tire changing equipment is and how to use it. There is no cell phone service and no services along the McCarthy road, so if you get a flat you'll need to be ready to change it yourself. Make sure the tires on your vehicle are in good condition with plenty of tread, which greatly reduces the likelihood of getting a flat in the first place!
There are no services along the road so make sure to bring food and water with you for the drive.
There is no cell service anywhere along the McCarthy Road.
Additional info about driving the McCarthy Road
I know I made the drive sound scary, but the road itself is generally a good gravel road. The chipsealed portion has potholes and there are occasional rocks in the road. There is nothing specifically dangerous about driving on an unpaved road, although you are more likely to get a flat tire. If your tires are in good condition to begin with this greatly reduces the chances of a flat.
You can drive this road in a normal car, you do not need 4 wheel drive (in the summer). The important thing is to be prepared to deal with any problems yourself without being able to call for help quickly without phone service.
One more thing to note about driving, when you arrive at the end of the road you need to walk across the footbridge over the river to the town of McCarthy and to Kennicott. There's a shuttle between McCarthy and Kennicott and most lodging will give you a ride from the footbridge. Tour operators will also pick you up and drop you off. You will be parking your personal vehicle for the duration of your stay in McCarthy and Wrangell St Elias, as there is no vehicle access beyond the footbridge at the end of the road.
Make sure you have a full tank of gas leaving Glenallen or Copper Center. There aren't gas stations along this road and you have to get out and then back to refuel.
Best road trip stops between Anchorage and McCarthy
If you do decide to drive yourself from Anchorage to McCarthy, there are some excellent road trip stops along the way!
The drive from Anchorage to McCarthy takes you on the Glenn Highway from Anchorage to Glenallen, 180 miles through the Chugach Mountains and down to the Copper River Basin. In Glenallen, you head south towards Valdez on the Richardson Highway (if you have more days, I highly recommend a detour to Valdez). After just 36 miles on the Richardson Highway, you'll head towards Chitina on the Edgerton Highway which brings you to the small community of Chitina in 37 miles.
In Chitina you begin your drive on the mostly unpaved McCarthy Road for the final 60 miles to the footbridge at the town of McCarthy!
These are my favorite road trip stops from Anchorage to McCarthy, it's a long drive so it's important to make it fun and make the journey part of the experience!
It's definitely not on the way, but if you're already doing this, I'd encourage you to think about adding Valdez to your itinerary. The drive down there is absolutely gorgeous and it's such a fun town.
Thunderbird Falls
Looking for a hike to stretch your legs that's relatively short? Then Thunderbird Falls is it. Just 27 miles from Anchorage as you head out of town, this lovely forested two mile round trip hike takes you to a gorgeous waterfall.
If you have a little more time you can also explore the Creek Trail, which takes you down to the water below the waterfall.
Eklutna Historical Park
Many visitors don't know about Eklutna Historical Park, which is really too bad because it's a really interesting place to learn about Alaska Native history and culture as well as the ways that Indigenous and Russian Orthodox culture interacted in colonial Alaska.
You can walk by one of the oldest buildings in Alaska (an Orthodox church) and through a cemetery of colorful Spirit Houses to honor those who have died.
Bring $5 cash for the suggested donation. Eklutna Historical Park is just across the highway from Thunderbird Falls, about 27 miles from Anchorage.
Palmer Musk Ox Farm
The Musk Ox Farm provides the chance to learn about these arctic mammals and their incredible adaptations to the extreme cold of the arctic. They are not native to the less extreme climate of Palmer in the Matanuska Valley, but the farm provides and haven for research and learning about these amazing animals. You'll need to give yourself some time to visit since you can only enter the farm on a guided tour (which is totally worth it).
The Musk Ox Farm is 46 miles from Anchorage, just beyond the town of Palmer.
Matanuska Glacier State Recreation Site
Matanuska Glacier is a stunning place to stop along the Glenn Highway. You can see the Glacier along the highway but you'll want to get out here for a proper picture stop to really appreciate it. There's also a short trail you can walk to another (similar) viewpoint.
The viewpoint also has pit toilets and interpretive signs. There is no actual access to the glacier right here, but the views are incredible. Tours are available nearby for those who want to go with a guide on to the actual glacier.
Matanuska Glacier State Historic Site is 95 miles from Anchorage and 212 miles from McCarthy, so it's a perfect place to stop anyway!
The Hub of Alaska
Honestly, you're going to have to stop at the Hub of Alaska, Glenallen's Tesoro station at the junction of the Glenn Highway and the Richardson Highway, because you need to get gas. Even if you don't think you need gas, you do!
It's also an experience of Alaska culture to stop here and get some food and wait in the long restroom line (or you can use the outdoor port a potties for faster service). I've even seen the Alaska State Troopers stop here in their helicopter to use the restroom. This is truly a crossroads of Alaska.
You can also find a Thai food hut and a coffee hut in the parking lot.
The Hub is 180 miles from Anchorage and 125 miles from McCarthy.
Ahtna Cultural Center and Wrangell St Elias National Park Visitor Center
You'll only be on the Richardson Highway less than 30 miles before you turn to head east towards McCarthy, but this is a must stop!
Not only are these the best restrooms between Anchorage and McCarthy (truth!), this excellent visitor center gives you an orientation to the park. The Ahtna Cultural Center will help you understand the people who live in the Copper River Basin and whose land was made part of Wrangell St Elias National Park in 1980 when it was established. Ahtna People have inholdings in the park and land around the edges of it, which is a small amount of their traditional territory.
There are also some flat hiking trails with great views of the Wrangell Mountains that you're about to drive towards.
The Ahtna Cultural Center and Wrangell St Elias National Park Visitor Center are 190 miles from Anchorage and 118 miles from McCarthy.
Liberty Falls State Recreation Site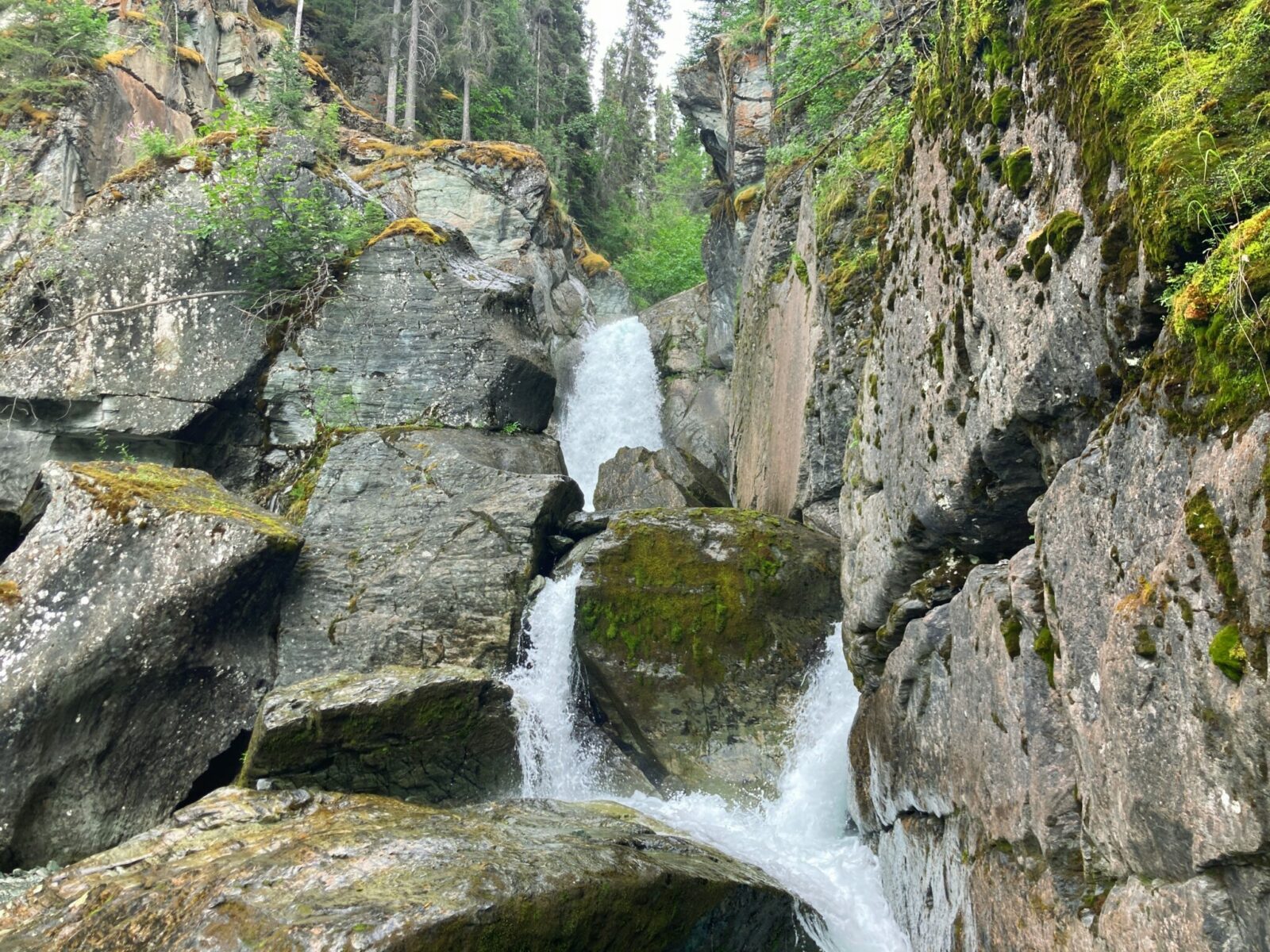 Liberty Falls is a gorgeous waterfall in a small state recreation area along the Edgerton Highway between the Richardson Highway and Chitina.
If you're planning to camp on your road trip from Anchorage to McCarthy this is the place to do it! This small campground next to the creek has beautiful sites with picnic tables, fire rings and pit toilets. Even if you aren't camping, make a stop here and check out this beautiful waterfall.
You can see the waterfall from the campground, and there is a very short trail to get you a little bit closer.
Liberty Falls is 237 miles from Anchorage and 71 miles from McCarthy.
Chitina and the Copper River
There isn't much in Chitina, but it is a place where people come from all over Alaska for subsistence fishing on the Copper River. When Red (also known as Sockeye) salmon are running, you'll see a ton of activity with fishing from elaborate camps to fishwheels and more.
As you leave Chitina there's a pullout on the right with an amazing view of the Copper River.
Chitina is 246 miles from Anchorage and 60 miles from McCarthy.
Gilahina Trestle
The difficult truth is that the McCarthy Road doesn't have a lot to see along it. I know this sounds a bit bizarre for such a famous and epic road, but it's really the remoteness, the fact it's unpaved and the wonderful destination that give it so much clout. The road is tree lined and there aren't many views along the way.
On exception to this however is the Gilahina Trestle, which you come to roughly halfway between Chitina and the end of the McCarthy Road. This impressive and falling apart trestle was once part of the Copper River Northwestern Railway which brought copper ore from the Kennicott mine to the port of Cordova. Make sure not to climb on the trestle as it's unmaintained and not safe to climb around on.
McCarthy Footbridge
The road ends with parking to the left (watch signs to park in the right place for where you're going and what you're doing in McCarthy) and a payphone and footbridge over the roaring Kennicott River just ahead of you.
Park here, use the phone if needed to reach your lodging, and then carry your bags with you across the footbridge to meet your shuttle!
Final Thoughts
Getting from Anchorage to McCarthy is a challenge and takes a long time but is absolutely worth it for those who like to visit places not many travelers get to or who want to dive into the remote wilderness of Wrangell St Elias National Park.
If you're considering a trip, flying is faster and you don't have to deal with driving on a gravel road for hours, but on the other hand driving is less subject to weather delays and cancellations. A shuttle van is a good compromise between the two, having someone else worry about the driving but not be as subject to weather delays, particularly due to frequent fog.
I highly recommend having travel insurance if you are planning a trip to this (or any) remote area of Alaska!