13 Best Things to do in Seward Alaska
Posted On August 20, 2021
Last Updated on June 15, 2023
Seward Alaska is a unique and bustling small town that is a perfect stop on your Alaska Itinerary. From outdoor adventures featuring wildlife and glaciers to local art and delicious food, Seward is a wonderful town for visitors. You'll find plenty of Alaskans visiting too. This article is all about the best things to do in Seward, both free things to do as well as tours and attractions, so you can make the most of your visit. I'll also talk about how to get there and how to see Seward if you're arriving or departing on a cruise ship.
This post contains affiliate links, which means if you make a purchase I may receive a small commission at no additional cost to you.
What is Seward known for?
Seward is one of the oldest communities in Alaska with some of the most interesting history. People have lived in the Seward area for more than 7000 years! Seward's location on a protected bay with an ice free port has attracted humans as long as humans have been in the area.
The Alutiiq People are indigenous to the area and it has been an important trading post for thousands of year. Alutiiq People still live here today, along with more recent arrivals.
Seward is also known for being the beginning of the historic Iditarod trail. The early Iditarod trail was a dog sled route from Seward to Nome carrying supplies and mail during the winter months in the early 20th century. Seward is also known for the tsunami that devastated the town after a massive earthquake known as the Good Friday Earthquake in Southcentral Alaska in March 1964.
Seward is a busy cruise ship embarkation and disembarkation port as well as the terminus for the Alaska Railroad and the gateway town for Kenai Fjords National Park. Seward is a popular destination for visitors and Alaskans and is also known for it's excellent fishing charters.
Is Seward worth visiting if you are starting or ending your cruise there?
Absolutely! If you're on an Alaska cruise, the embarkation and disembarkation ports are not as easy to see and experience as ports you visit during the cruise, where you can just head out to explore for the day. It's a bit more complicated since you're dealing with your luggage, but it is absolutely worth it to see the town of Seward.
There are a few options for seeing Seward on embarkation or disembarkation day
Book a tour through your cruise line that includes Seward and a transfer to the airport – every ship has slightly different options, but this is the most hassle free way because the cruise line will take care of your luggage at every step!
Book a tour through Salmonberry Tours either from Anchorage to Seward or from Seward to Anchorage that includes some time in Seward, the Alaska Wildlife Conservation Center in Portage and the Alyeska Tram as well as lunch. They take care of your luggage too!
If you're traveling on your own between the cruise port and the Anchorage airport I highly recommend taking the train for a super unique and easy experience (renting a car one way is a big hassle and very expensive). If you're arriving in Seward by train to get on the ship, you can check your luggage in and then explore town, or even get settled on the ship and head out to explore town. Just make sure you get back to the ship in time!
If you're disembarking in Seward and taking the train, you can check in your luggage at the train depot starting at 10am, and then explore town until the train departs in the evening.
How to get to Seward
If you're traveling to Seward and not getting on or off a cruise ship, you have a couple of options to get there. You can rent a car and drive from Anchorage or you can take the Alaska Railroad from Anchorage. Both of these are very scenic and totally worth the trip.
Getting to Seward with a car
If you have a car, driving to Seward is easy on the unbelievably scenic Seward Highway from Anchorage. Seward is 130 miles from Anchorage and driving time is 2.5-3 hours. However, I highly recommend giving yourself all day for this spectacular drive, since there are so many amazing things to do before you even get to Seward!
Once you arrive, most things to do in Seward are walking distance from hotels and the municipal campground. I recommend parking your car and walking or taking the shuttle around town once you arrive, since parking is limited in this small town and everything is close together and walkable. The one place that's too far to walk is Exit Glacier, which is about 9 miles away. You can take a shuttle or drive there from downtown Seward.
Related: Things to do on Alaska's Kenai Peninsula
Getting to Seward without a car
If you don't want to rent a car while you're in Alaska, you still have a couple of options for getting to Seward. The Alaska Railroad can take you for a day or multi day trip to Seward from Anchorage. There is also a bus service that offers a motorcoach ride to Seward.
Most of the things to do in Seward are walking distance from the municipal campground and the hotels in town. The exception to this is Exit Glacier, which is about 10 miles from town. There is a shuttle you can take there (which also avoids parking hassles when you arrive) so there's no need to drive once you arrive in Seward.
When is the best time of year to go to Seward?
The best time of year to go to Seward is summer, between May and September. Although there is plenty to do in the winter, it will be cold and you'll have fewer hours of daylight. Also, you'll find that many businesses are closed.
Most businesses are open in Seward from mid May through mid September. Some are open a bit earlier or later. The first half of the summer has less rain than the second half of the summer, although you need to be ready for rain any day of the year.
Major Marine Tours begins operating their wildlife and sightseeing cruises in Resurrection Bay and Kenai Fjords National Park in mid March and this is an excellent time to see Gray whales and experience Alaska without crowds as it's just starting to emerge from a long winter! If you're game for winter weather this is an excellent time to visit.
How many days do you need in Seward?
Like many places in Alaska, you could spend a week and still have more things to do in Seward! You can also thoroughly enjoy a one day visit. It's possible to day trip from Anchorage. If you do that I recommend visiting Exit Glacier and doing a day boat tour of Kenai Fjords National Park. You can do that in a day if you stop at Exit Glacier on the way in or out.
I think two or three days is the perfect amount of time in Seward if you can fit that into your Alaska trip. This will give you time for a hike, the day boat tour and some time to enjoy the town or go fishing.
Free Things to do in Seward
There are plenty of free things to do in Seward that will add to your unforgettable Alaska trip, from seeing a glacier up close to hiking to exploring this unique Alaskan town.
See spectacular Exit Glacier in Kenai Fjords National Park
Exit Glacier is an absolute must do experience when visiting Seward! Exit Glacier is located in Kenai Fjords National Park and is the only part of Kenai Fjords that's accessible by car. A unique feature of Exit Glacier is the signs along the highway and then the trail that show the position of the glacier at different points in history.
Exit Glacier is retreating fast into the Harding Icefield above and is getting further away from the parking area. You can still see a fantastic view of it from the road as you approach and from a couple of shorter trails that depart from the Exit Glacier Nature Center.
The Exit Glacier Nature Center is a great place to watch the park video on glaciers' formation, appearance, and why they are important before heading out onto the hiking trails.
In addition to the super hard (and awesome) Harding Icefield hike (described below), there are several more mellow trails at Exit Glacier.
Glacier View Loop Trail – this one mile mostly flat trail is wheelchair and stroller accessible and takes you through the forest that was once under Exit Glacier to a view point across the outwash plain up to Exit Glacier.
Exit Glacier Overlook Trail – if you are up for a little more distance and a bit more climbing, continue on for an even better view of Exit Glacier. This loop is a bit over two miles with about 300 feet of elevation gain.
Go for a hike
Taking a hike or walk is one of the best free things to do in Seward, whether you are an experienced hiker looking for a tough challenge or someone who just enjoys being outside and wants to take a mellow walk in the rainforest or along the beach.
Mellow Hikes and Walks in Seward
In addition to the gorgeous and impressive Exit Glacier loop trail, there are several other mellow hikes in Seward.
Two Lakes – this mellow one mile mostly flat loop goes through the rainforest right next to town. You can walk here from downtown in just a few minutes. Follow the loop around two lakes (the lake on the southern end of the loop may feature spawning salmon in late summer) and make sure to take the very short side trail to the waterfall on the southern side of the loop (follow the signs).
Waterfront trail – join the locals on this flat, two mile paved trail between downtown and the harbor. The trail goes right along Resurrection Bay with incredible views of the mountains. You're likely to see people fishing from shore and campers with campfires along the trail. You can explore the beach as well and look for seals in the water.
Tonsina Point – Starting from Lowell Point, this beach exploration is a bit more adventurous than the Two Lakes or Waterfront trail. At 4.5 miles round trip with 800 feet of elevation gain, you'll see rainforest, ocean, rocky cliffs and outcroppings as well as excellent tidepools at low tide.
Hard Hikes in and near Seward
Harding Icefield – at 9 miles round trip with over 3500 feet of elevation gain, this hike is HARD. It's steep and challenging and incredible! If you're a hiker you will love this trail. This hike takes you along the mellow Exit Glacier loop trail for the first half mile before the tough climbing begins. The first couple miles are a steep climb through the forest before popping out at an impressive viewpoint of Exit Glacier. This is a good turnaround point for those looking for a shorter option with less climbing. From here on the views get better and better as you climb through wildflower meadows above the treeline to rocky outcroppings with mountains and glaciers all around you until you finally reach the end of the trail at the end of the Harding Icefield.
Mt Marathon – this hike is an institution in Seward and a legend around Alaska! Every year on the 4th of July there's an organized race going 3000 feet straight up the side of Mt Marathon from downtown. If you want a more sane and safer version of this famous hike, take the so-called jeep trail. This will take you on a more manageable 6 miles round trip through the forest and then above the trees to better and better views.
Salmon viewing
The Seward area and Resurrection Bay are home to many salmon runs throughout the summer. When salmon return to the streams of their birth to spawn, this is called a run. It's exciting to see fish struggling their way upstream to reproduce. You'll see people fishing from shore, which is a good sign you might be able to see some salmon in that area.
Scheffler Creek which flows through town and through the campground before going into Resurrection Bay is a good place to see them. There are several viewing platforms as well as bridges that make good places to look for spawning salmon.
Tidepooling
Seward has wonderful beaches to explore at low tide. The beach around Lowell Point is a wonderful place to explore tidepools as well as the beach at waterfront park. Lowell Point is about 4 miles from downtown Seward along the shore of Resurrection Bay.
At both Lowell Point and Waterfront Park in town, look for sea stars, barnacles, crabs and other marine life at low tide in the tidepools and on the rocks.
Explore the Seward harbor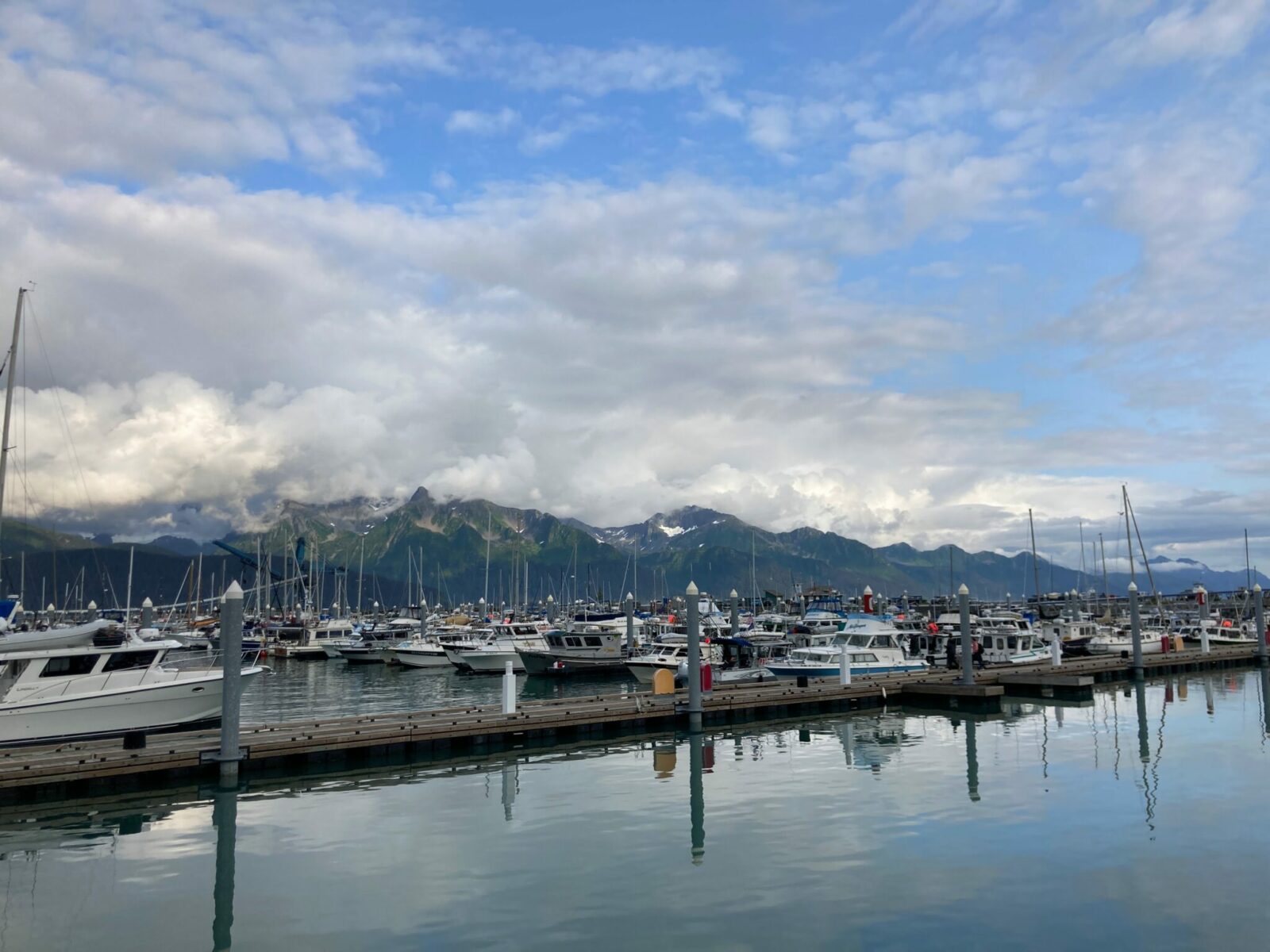 Like many other coastal Alaskan towns, Seward has an interesting, busy and massive harbor. Stroll along to see tour boats coming and going as well as fishing charters. Walk around in the late afternoon and you will likely see people coming back from fishing charters with their catch on display. Keep your eyes out for seals in the water looking for an easy meal of discarded fish.
Shop for local art
There are several galleries to explore in town, filled with the art of local artists. I particularly love Ressurect Art Coffee House, a beautiful church turned art gallery and coffee shop.
Tours and Attractions in Seward that are worth the money
While there are plenty of free things to do in Seward, there are also some amazing tours that are totally worth splurging on.
Boat Tour of Kenai Fjords National Park
If you are going to do one thing in Seward, make it a boat tour of Kenai Fjords National Park! This is a phenomenal way to see the park and just an overall great tour and Alaska experience. I've talked elsewhere about how wonderful day boat tours are in Alaska, and this is no exception!
There are different options for day boat tours of Kenai Fjords National Park, from half day wildlife focused excursions to all day tours that feature wildlife as well as visiting some of the tidewater glaciers in Kenai Fjords National Park, such as Bear Glacier and Holgate Glacier.
Wildlife you can expect to see in Resurrection Bay and Kenai Fjords National Park include Orca whales, humpback whales, sea lions, sea otters, seals, puffins and other seabirds. It's possible you might even catch sight of a bear or moose on shore.
I recommend the longer tour if you want to make sure to see ice and glaciers, although if the weather is clear enough you may see Bear Glacier on the shorter tour. The shorter tour is a good option if you aren't as keen on boats or are prone to seasickness. I highly recommend taking motion sickness prevention medication before the tour as the boat crosses near the opening of Resurrection Bay to the Gulf of Alaska, which has ocean swell even in calm and clear weather.
In addition to glaciers and wildlife, the mountains around Kenai Fjords are absolutely breathtaking, so there is plenty of incredible scenery to see while you're waiting and watching for whales.
Cost: About $100 per person for half day tours ($50 for children); $170-$240 per person for full day tours depending on the length (usually about half that for children, although some companies do not allow younger children on longer tours)
Alaska Sealife Center
The Alaska Sealife Center is a must visit aquarium in downtown Seward featuring many Alaska marine mammals and birds. The Sealife Center is also home to a wildlife rescue that cares for and nurses injured, sick or orphaned marine animals back to full health.
You can also see many of the fish and other creatures like the Giant Pacific Octopus and even gently touch tidepool animals in the touch tank.
Cost: $30 per person for adults, $18 for children (additional cost for animal encounters and behind the scenes tours)
Kayaking
Kayaking is a must do activity in Seward for kayakers! The incredible scenery and chance to see wildlife make it an unforgettable experience. There are many places to rent kayaks and take tours in Seward for short outings or even guided multi day trips into the backcountry.
Cost: Generally starts around $80 per person for a half day trip, more for full day or longer trips
Fishing
If you love to fish, you will love Seward! You can fish on your own for free from the shore (you'll need an Alaska fishing license). However, true fisherpersons should definitely get out on a fishing charter in Seward. There are lots of charter companies operating out of the harbor and you can go out fishing for salmon, halibut, rockfish and lingcod depending on the season.
Cost: $300-$400 per person depending on the length of the trip and what type of fish you are fishing for
Dog Sledding
Seward was the original start of the iditarod trail providing crucial supplies and mail to towns otherwise cut off from the outside world during the winter. To honor that legacy there are several operators of dog sled tours from Seward.
You can visit kennels and do a cart ride behind a dog team, or for an even bigger adventure, you can take a helicopter up to a glacier and fly along the glacier behind a dog team, even in midsummer!
Cost: Around $100 per person for a cart ride and kennel visit; $500-$600 per person for a helicopter dog sled ride
Flightseeing
Normally I don't encourage people to do flightseeing trips because they are often subject to cancellations and delays due to weather and can be very expensive! I usually encourage visitors to do a boat tour option instead. However, Seward is one of the places in Alaska that is worth a flightseeing trip if your budget supports it. It's also helpful to have a bit of flexibility in your schedule so you can go a different day if the trip is cancelled due to unsafe weather for flying.
Seward is fun for flightseeing because you can do flights up to the Harding Icefield and elsewhere around Kenai Fjords National Park, which is a pretty great way to see the park! Some are just flightseeing and other trips actually land on a glacier and let you explore a bit. Some offer dogsledding or glacier trekking once you get there. Unforgettable!
Cost: At least $300 per person (more if you are going to do some glacier trekking or dog sledding as part of the trip)
Where to stay in Seward
I highly recommend staying in town while you're in Seward, since the town is so walkable. Once you arrive you can park your car and enjoy the town on foot. This is also where you want to stay if you're arriving in Seward without a car for the same reason. There are vacation rentals and lodges in the area around town, but I recommend staying near downtown.
Seward is one of the few towns in Alaska that has a really terrific option for camping within walking distance of town and all the activities. The Seward Municipal campground is huge and has sites for RVs as well as tents and has coin operated showers. The campground itself is mostly a gravel parking lot without any privacy, but it's scenic location at the head of fjord in Resurrection Bay and convenient location more than make up for this downside.
If you're not a camper, there are several excellent (and expensive) hotels in Seward. You can also find vacation rentals in town. Make sure to book lodging far ahead of time and don't try to show up without a reservation. You can sometimes save a bit of money by booking your trip in May or September during the shoulder season. Hotels and vacation rentals in Seward book up very early (in the fall for the next summer) so it's important to plan ahead.
If you're arriving by train make sure to stay somewhere close to the train station! Or at a lodge that offers a shuttle. The train station and cruise ship terminal are both marked on the map below.
Related: Alaska on a budget
Where to eat in Seward
Seward has some really delicious food for such a small town. There are limited dining options and sometimes wait times may be long. I highly recommend checking out some of the super tasty food trucks and quick eats around Seward such as Side Street Locals. This food truck has inventive and delicious sandwiches made from Alaska Reindeer sausage (try the reuben!).
Another great option is Firebrand BBQ, which has outdoor covered seating with incredible Texas style BBQ complete with Shinerbach beer. Get here early as the brisket usually sells out. They also have incredible breakfast burritos!
Don't miss getting delicious coffee and a pastry from Resurrect Art Coffee House and enjoy it while checking out the local art. You can also sip your coffee in the lovely flower garden outside.
Sea Bean Cafe offers a good diner option, and Mermaid Grotto has wonderful sandwiches. You can fully expect all seafood served in Seward to be delicious no matter where you get it. Seward is a popular destination for Alaskans as well as visitors and Alaskans only eat incredible seafood!
If you're going for a more sit down dinner option, go with The Cookery or Ray's, which both take reservations and are extremely popular with locals.
Seward is a bustling small town that offers visitors an authentic Alaskan experience. Whether you're fishing, hiking, or kayaking, taking in breathtaking views, exploring Kenai Fjords National Park or just enjoying some local art and coffee, Seward has plenty to offer for all travelers!