Is a Hotel or Vacation Rental better in Alaska?
Posted On April 5, 2023
Deciding between hotels or vacation rentals on your trip to Alaska is one of the things that can make planning an Alaska trip a bit overwhelming! The answer is, it depends on where you are going in Alaska, how many people you're traveling with, how long you're staying and whether or not you're renting a car.
As a travel agent, tour guide and travel writer, this is a question I get all the time and I am here to help!
In general, groups requiring more than one hotel room or staying more than three days in one location may be better off with a vacation rental than a hotel. Short stays, especially one night stays, and trips where you are not renting a car are usually better in hotels. I'll talk about all these factors in more detail below.
All types of overnight lodging in Alaska (except for tent camping and public use cabins and Inside cabins on cruise ships) are very expensive compared to other locations in the United States and book up early in popular locations (especially Denali and Seward). Make sure to read the fine print regarding fees and the cancellation policies when booking!
This article contains affiliate links, which means if you make a purchase I receive a small commission at no cost to you.
What types of Overnight Accommodations are available in Alaska?
While this article focuses specifically on hotels and vacation rentals (Airbnb, VRBO, etc), there are other options in Alaska including camping (RVs, tent camping, public use cabins), remote lodges (all inclusive lodges that you fly or boat in to) and cruise ships (both large and small, expedition ships).
This map shows different types of hotels and vacation rentals all across Alaska. Move the map around to find the area you're planning to stay to compare prices and locations. Location is a key factor in choosing the best overnight accommodations for you on your trip. More on this in the location section below.
What are the benefits of Vacation Rentals in Alaska?
For travelers who like the feel of staying in someone's home, rather than a hotel
For longer stays and groups of travelers this may save money compared to a hotel
If your rental has a kitchen, you can cook some of your own meals
If your rental has laundry, you can do laundry and pack lighter
Wider variety of locations
Some hosts (especially in Southeast Alaska) offer rides to and from the airport or train station. This is NOT common in bigger towns like Anchorage or Fairbanks.
What are the downsides of Vacation Rentals in Alaska?
Many vacation rentals are located in neighborhoods or outside of town with limited or no access to public transit, taxis and rideshares – many will require a rental car
Doing cleaning chores before checking out (this varies from rental to rental)
For short stays, may be more expensive than a hotel (unless you're with a group that would require more than one hotel room)
May not have the option of leaving luggage at the property before check in or after check out
Wifi and cell service may be excellent or iffy – if this is important to you (particularly for streaming and especially streaming on multiple devices) confirm with the host this is available.
What are the benefits of staying in a hotel in Alaska?
Some (not all) hotels offer shuttles to the airport, train station or ferry terminal
Often tours will pick you up
Often walkable to activities and restaurants
Often an excellent restaurant is available on site
Can leave luggage at property before check in or after check out
No cleaning chores
Aurora (Northern Lights) wake up calls during Aurora season (September through early April)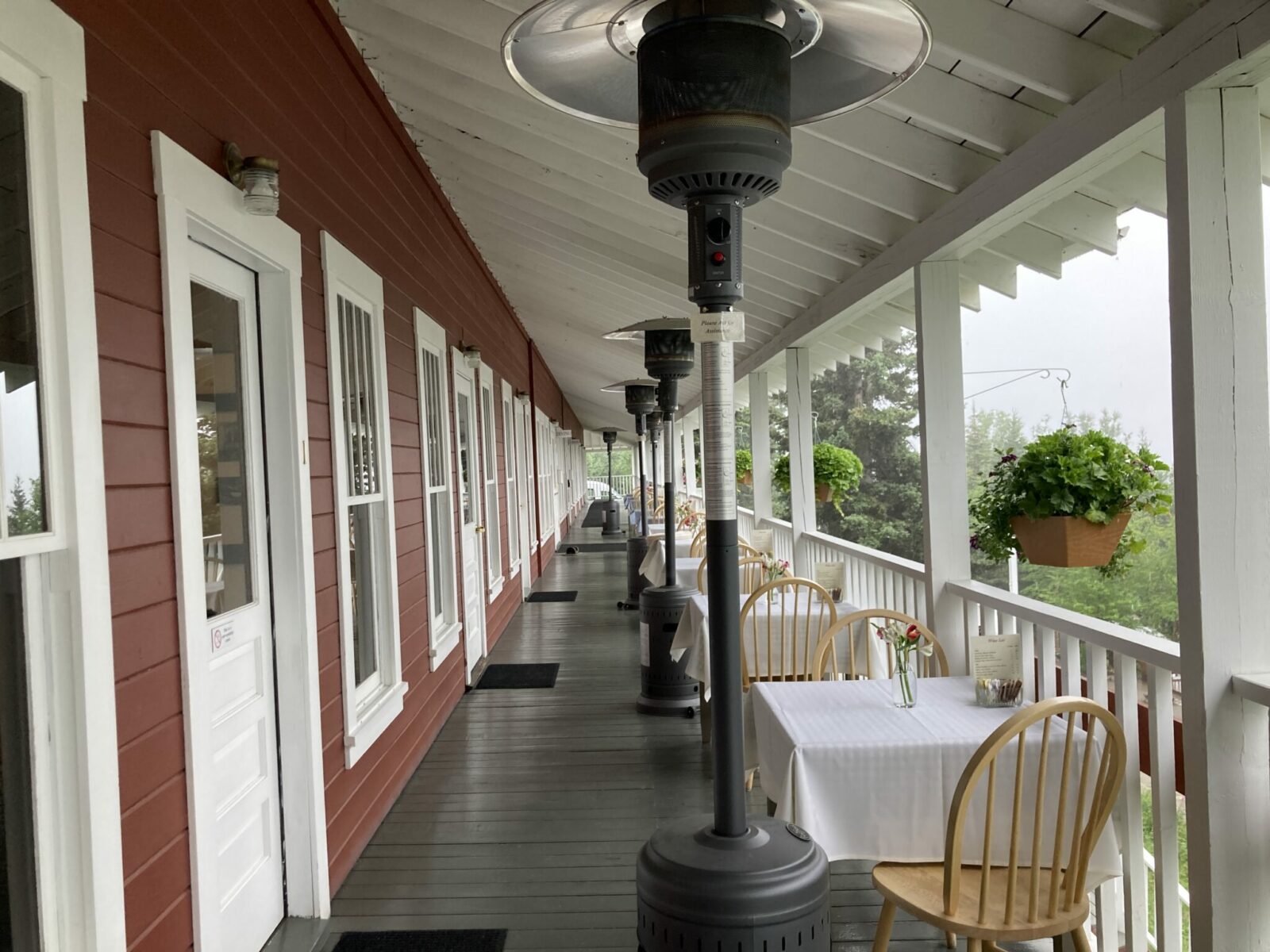 What are the downsides of hotels in Alaska?
May not have wifi (outside of major towns)
May have stricter cancellation policies that hotels in other parts of the US
Usually do not have kitchens (though some do and some have fridges and microwaves)
Usually do not have laundry (may offer paid laundry service)
Cost can add up quickly for a group requiring more than one room
Things to consider when deciding between a Hotel or Vacation rental on your trip to Alaska
Putting all of these elements together, here are the things to consider when you're deciding between a hotel and a vacation rental on your trip to Alaska. If you are going to more than one place in Alaska, it might make sense to do some hotels and some vacation rental depending on the location.
Location
There are two things to think about for lodging in Alaska when it comes to location – what part of the state are you in and where is that lodging relative to the town (if you're in a town). The location of the property you are considering is the MOST important thing to consider when deciding if you want to go with a hotel or a vacation rental.
For example, in Denali National Park there are vacation rentals in nearby Healy, about a 30 minute drive away. If you arrive on the train this is not going to work convenient because you won't have a way to get around and back and forth to the park if you're staying a half hour away. If you do have a rental car and drive there, then this is a good option if you don't mind the drive time.
If you're staying in a vacation rental or a hotel in towns such as Anchorage, Fairbanks or Juneau, pay close attention to where you are in relation to the airport, train depot or ferry terminal. This is particularly important if you are not planning to have a car on your trip. If you do have a rental car, then staying a bit out of town is no problem.
I highly recommend using the map feature wherever you are booking your accommodations to make sure the location will work for you (the map above in this article is a great resource too!).
Length of your stay in that location
In general, the shorter your stay, the better it is to stay at a hotel. Hotels tend to be more convenient for quick stays, have less fees (like cleaning fees that are the same for one night or a full week) and are overall easier, especially for one night.
The longer your stay, the more beneficial it could be to stay in a vacation rental if one is available, spreading the fees out over more days and giving yourself the option of cooking and keeping food with you on a longer stay. Often (not always, it's important to confirm this) vacation rentals have laundry which can be helpful if you're staying awhile.
Group size
Usually bigger groups of people (any group requiring more than one hotel room) will save money with a vacation rental. Of course this is not always true but it often is. It can also be nice for a family with teenagers who could share a room to give everyone a bit of their own space.
I've also found that sometimes as a solo traveler if you're comfortable renting a room in someone's house, this can save money compared to a hotel (depending on the location and how you are getting around). It can also be a fun way to meet locals if your hosts are around.
Are you renting a car or not?
Whether or not you are renting a car is extremely important in deciding between a hotel and a vacation rental in Alaska. Generally speaking, vacation rentals are in locations that are easier to get to with a car and hotels are easier if you are going car free.
This is especially important in Denali (mentioned above), Anchorage and Fairbanks. In Juneau and other parts of Southeast Alaska, if your host offers rides to and from the ferry or airport and you can walk from where you're staying, not having a car may not be an issue. Confirm where you want to go is walking distance from where you are staying or make sure you have a car.
This is also an important consideration for hotels, but I've found it to be a bigger challenge with vacation rentals that tend to be more spread out.
Travel Insurance
Many hotels in Alaska and nearly all vacation rentals have strict cancellation policies. The more remote a location is, the stricter their cancellation policies are likely to be. I highly recommend reading and understanding the cancellation policy and considering getting Travel Insurance for your trip to Alaska.
I almost always get travel insurance for my own travel, especially in Alaska. I like to use Insure My Trip, which allows you to compare options across different companies.