The Best Alaska Cruise Ports and Choosing the Right Itinerary for You
Posted On July 6, 2021
Last Updated on September 18, 2023
Thinking about setting sail for Alaska? Not sure which itinerary to choose? This article is all about the highlights and best Alaska cruise ports to help you decide which Alaska Cruise itinerary is best for YOU.
Great news to get started – you really can't go wrong here as all the Alaska ports of call are interesting and different in their own ways and all are surrounded by life affirming natural beauty. I've spent many seasons working in the Alaska cruise industry and visit all of these ports frequently and lived in two of them. I'm also a travel agent and help people plan their Alaska cruises and I'm excited to share my insider knowledge with you. I'll walk through the different decisions to make and help you make the best one for you.
Cruising is a fantastic way to see the coastal towns, glaciers and wildlife of Alaska, since distances are large and many communities and places are not accessible by road. And you get to wake up in a new stunningly beautiful place every day without having to repack!
Related: Guide to Planning a trip to Alaska, Alaska on a Budget
Related: The best hike in every Alaska cruise port
Big ship or small ship?
One of the first things you'll need to decide when looking at itineraries and best Alaska cruise ports is whether you are going to travel on a big ship or a small ship. This question is worth considering because they are very different experiences. Your budget is an important first consideration as small ship cruises are generally at least double the cost of big ship cruising. This varies based on the length of the trip and the choices you make (especially about shore excursions) as well as the specific cruise company you plan to travel with.
Big Ships
Big cruise ships either sail one way from Seattle or Vancouver to Whittier or Seward near Anchorage, or they sail round trip in the inside passage from Seattle or Vancouver.
Pros: The biggest benefit of a big ship is it's less expensive and airfare is also usually less expensive if you are flying round trip to Seattle. Big ships offer lots of amenities and entertainment such as multiple dining and restaurant options, shows and spa treatments. There are specific programs for kids.
Cons: Watch out for additional costs, especially the cost of shore excursions. If you're doing a lot of shore excursions, a small ship cruise may not be as much more expensive as you think so look into that. It can be challenging to explore ashore on your own (though it is always possible! Read more about how to do this in the sections below)
Small Ships
Small ships generally sail one way or round trip between Alaska ports, usually Juneau, Sitka or Ketchikan. Small ship cruising is ideal for outdoor adventurers and those who want to focus on experiencing Alaska with less focus on the ship itself.
Pros: The biggest benefits of small ships are the small number of guests and the intimate setting as well as the opportunity to explore smaller inlets and places where bigger ships aren't able to go. Shore excursions to major attractions are generally included.
Cons: Additional cost in airfare of flying to Alaska, not as much entertainment. Small ships generally stop in fewer ports and do more exploring with kayaking and hiking instead of in towns. Small ships do not generally have programming specifically for kids.
What about the ferry?
You might have heard someone refer to the Alaska ferry (Alaska Marine Highway) as a local's cruise or a cheaper cruise and I want you to know that is not accurate! I cringe whenever I read or hear this. The Alaska ferry is absolutely wonderful, but it's public transportation and that is how it's used by Alaskans. It's also more expensive than people expect (often more than a cruise) and there are lots of hidden costs, such as getting a small cabin and eating in the cafeteria. If you're interested in taking the ferry to or within Alaska, it's an amazing experience, but it's very different from a cruise! Learn more in my complete guide to riding the Alaska ferry here.
Related: DIY traveler's guide to having a blast on a cruise
When is the best month to take an Alaskan Cruise?
The Alaska cruise season runs from early May through late September. Some companies offer cruises slightly earlier or later than this, but this is the heart of the season.
The best month to take an Alaskan cruise is May or June. Early season is the least rainy time of year in Southeast Alaska and the Inside Passage (it's still quite rainy so be prepared for that!). It is also a bit less busy and crowded in ports.
July is the most popular time for cruising in Alaska and it is still the height of summer with long days. Whale watching and fishing are both excellent in July and August.
August and September are much rainier, but you can get some good deals at this time of year. If you don't mind bundling up with some hot drinks while watching the rain and getting the full Inside Passage experience then September is the time for you! September is a good time to plan a last minute cruise as there is often space available on ships.
Related: What is the best month to visit Alaska?
Should I take a round trip Inside Passage cruise or a one way cruise to Alaska?
Once you've decided whether to take a big ship or small ship, you'll need to decide if you're going to do a one way cross gulf cruise (named because it crosses the Gulf of Alaska) or round trip from Seattle or Vancouver BC, which goes through the Inside Passage and returns to Seattle or Vancouver. Small ships generally run between towns in Southeast Alaska, usually Juneau, Sitka or Ketchikan.
If you are doing a cruise only (no land tour), I recommend doing the Inside Passage only on a round trip cruise. It's more straightforward and usually less expensive to fly if you do a round trip from the same port. It also means you travel in mostly protected and calmer water.
I recommend the cross gulf (one way) trip if you are also adding a land portion of your trip to other parts of Alaska, such as Denali National Park, Anchorage or Fairbanks. If you're doing a shorter trip, or want to focus on seeing more in a smaller area, then a round trip cruise will be best for you.
Another potential decision point is the ports that are available on different itineraries, that could also be a reason to choose either cross gulf or inside passage only over the other.
Scenic Cruising – Is Glacier Bay better than other scenic glacier cruising?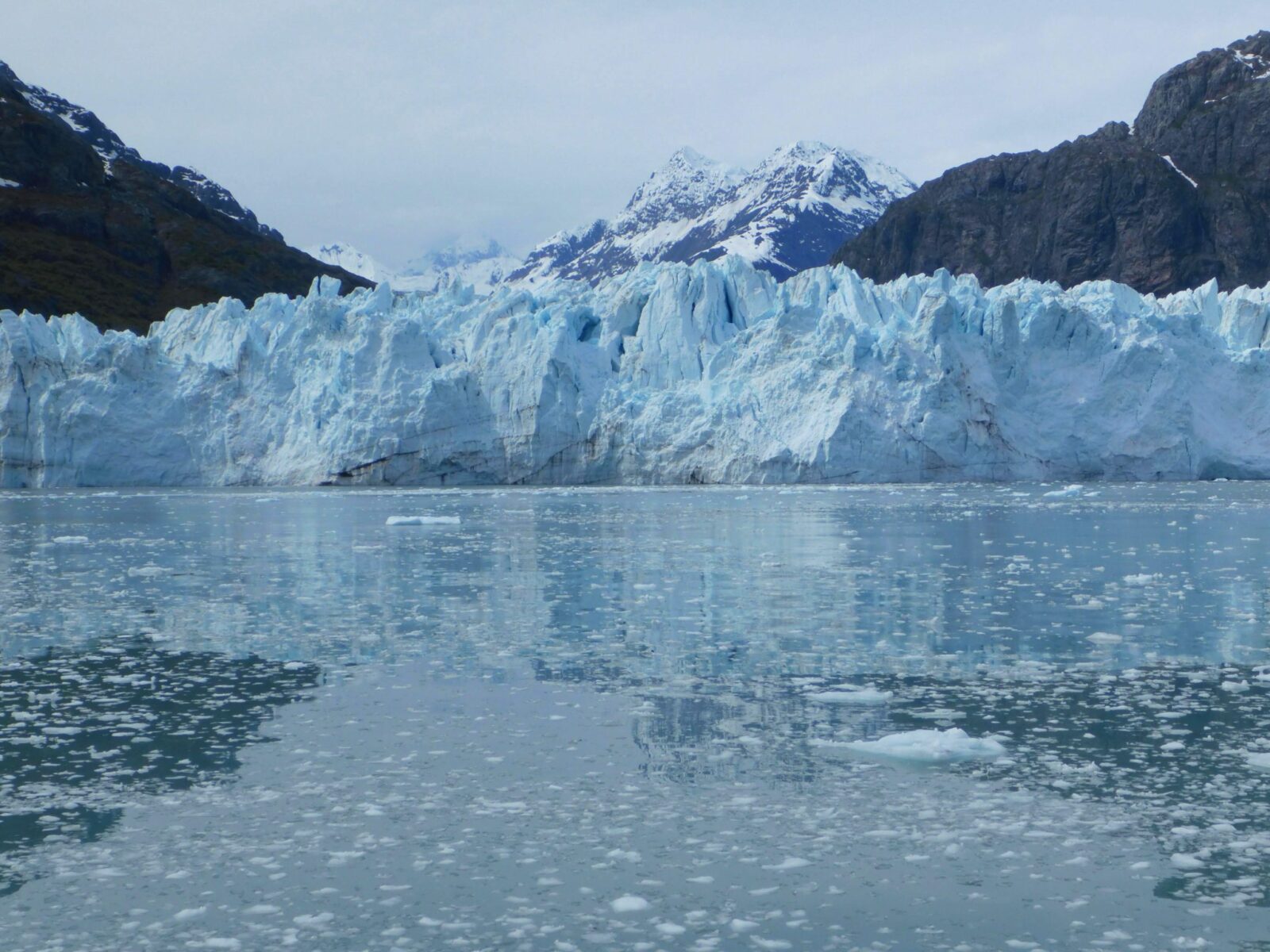 There's no question that Glacier Bay National Park is absolutely stunning. However, there are plenty of other glacier cruising areas that are every bit as beautiful, just different. Most Alaska cruises have a day of cruising near a glacier but it's not always Glacier Bay. If you're looking at a cruise itinerary that does not include Glacier Bay, you can be confident that you will have an amazing experience! Don't let that on it's own stop you from booking. Small ships sometimes dock at Bartlett Cove in Glacier Bay (see more on this at the bottom of this article), but big ships do not go ashore in the park. Park rangers usually come aboard to share about what you're seeing and experiencing. Other possible glacier cruising areas include:
College Fjord – Cross gulf cruises (one way from Whittier or Seward to Seattle or Vancouver BC) sometimes call at College Fjord, a spectacular collection of tidewater glaciers, narrow fjords and towering mountains.
Hubbard Glacier – located near Yakutat, this glacier is huge! In fact, this is the largest glacier that big cruise ships visit. It is not in a narrow fjord, but the glacier itself, the icebergs and massive mountains behind more than make up for this
Endicott Arm/Dawes Glacier – another stunning iceberg filled bay in view of the Dawes Glacier
Tracy Arm – located near Juneau, Tracy Arm is a local favorite and an impossibly long and gorgeous fjord. The glacier is not huge but the setting is stunning. Locals will tell you Tracy Arm is more beautiful than Glacier Bay!
No matter where your ship sails for glacier viewing, it is sure to be absolutely stunning.
Juneau – Best Alaska cruise port overall
In my opinion, Juneau is the best Alaska cruise port overall. This is not because the others are not fantastic, because they are! Juneau has the most options for literally every traveler and this is why I put it right at the top of the list.
In addition to the stunning natural beauty that every Alaska cruise port has on offer, Juneau has options for exploring around town on your own, many wonderful shore excursions including whale watching and fishing, a fascinating excursion to Mendenhall Glacier and fantastic hiking and other outdoor activities. In addition to shore excursions organized by your ship, you can also easily explore Juneau on your own by going for a hike, shopping around town or taking the wonderful Juneau food tour to get an insider and local perspective on Juneau's delicious food scene. Juneau has a bus system that you can use to get around. Ketchikan (below) is a very, very close second, but Juneau's many hiking trails that you can get to easily from the cruise ship dock edge it into the number one spot for me.
Nearly every cruise calls at Juneau, so look for a cruise that gives you the maximum amount of time there to see as much of this wonderful town as possible.
Juneau Highlights
Mt Roberts – you can take the tram from downtown or hike the trail to the viewpoint. I recommend taking the tram and then expanding your hike from there to higher and better views of the mountains and water around Juneau
Mendenhall Glacier – you are likely to see other glaciers on your trip, but the Mendenhall is a stunning glacier feeding into a lake, with plenty of hiking trails, a gorgeous waterfall and an opportunity to learn about how climate change is impacting Alaska's Glaciers at the excellent visitor center
Whale sculpture – easily walkable, the gorgeous and completely lifelike whale sculpture is not to be missed!
Downtown local establishments like the Alaska Hotel and Bar, Heritage Coffee and Amalga Distillery
Hiking – there are several trails you can get to from downtown, such as Mt Roberts, Perseverance Trail and Mt Juneau and others a short bus ride away, or at the glacier
Whale watching – Juneau (along with Ketchikan and Sitka) are good options for a whale watching trip
Kayaking – along with Haines, Juneau is a great place to take in a kayak trip
Learn more: Best things to do in Juneau
Ketchikan – Overall Runner Up and Best for shopping and totem poles
Ketchikan is a very close second for me for the top spot as the best Alaska cruise port! Juneau gets a slight edge from me as I mentioned above for the number of hiking trails that are easy to get to from the cruise ship dock. Like Juneau, Ketchikan is relatively easy to get around on your own and has a bus system that takes you to most places.
Ketchikan also has excellent shore excursions, particularly to Misty Fjords National Monument, and it's a great place for fishing trips.
This is the best Alaska cruise port for shopping, with delightful Creek Street and the streets surrounding it offering up more local art and gifts than many other ports (Juneau is also good for this, ask a local where to go!). Make sure to visit Crazy Wolf Studio, which is Alaska Native owned and features Native art from across the northwest coast. In addition, I highly recommend the Captain's Lady, with lots of locally made items as well as Ray Troll's studio.
Ketchikan Highlights
Walking around and exploring the shops of Creek Street
Totem Poles – take in the impressive art of these elaborate and beautiful poles of the northwest coast around town or at Saxman or Totem Bight
Take a boat tour to Misty Fjords National Monument
Go fishing – salmon and halibut fishing are both excellent out of Ketchikan
Hiking – if it's a rainy day, try the Rainbird Trail to explore the rainforest, and if the sun is out and you're up for a challenging hike, head up Deer Mountain
Learn more: Best things to do in Ketchikan
Skagway – Best Shore Excursion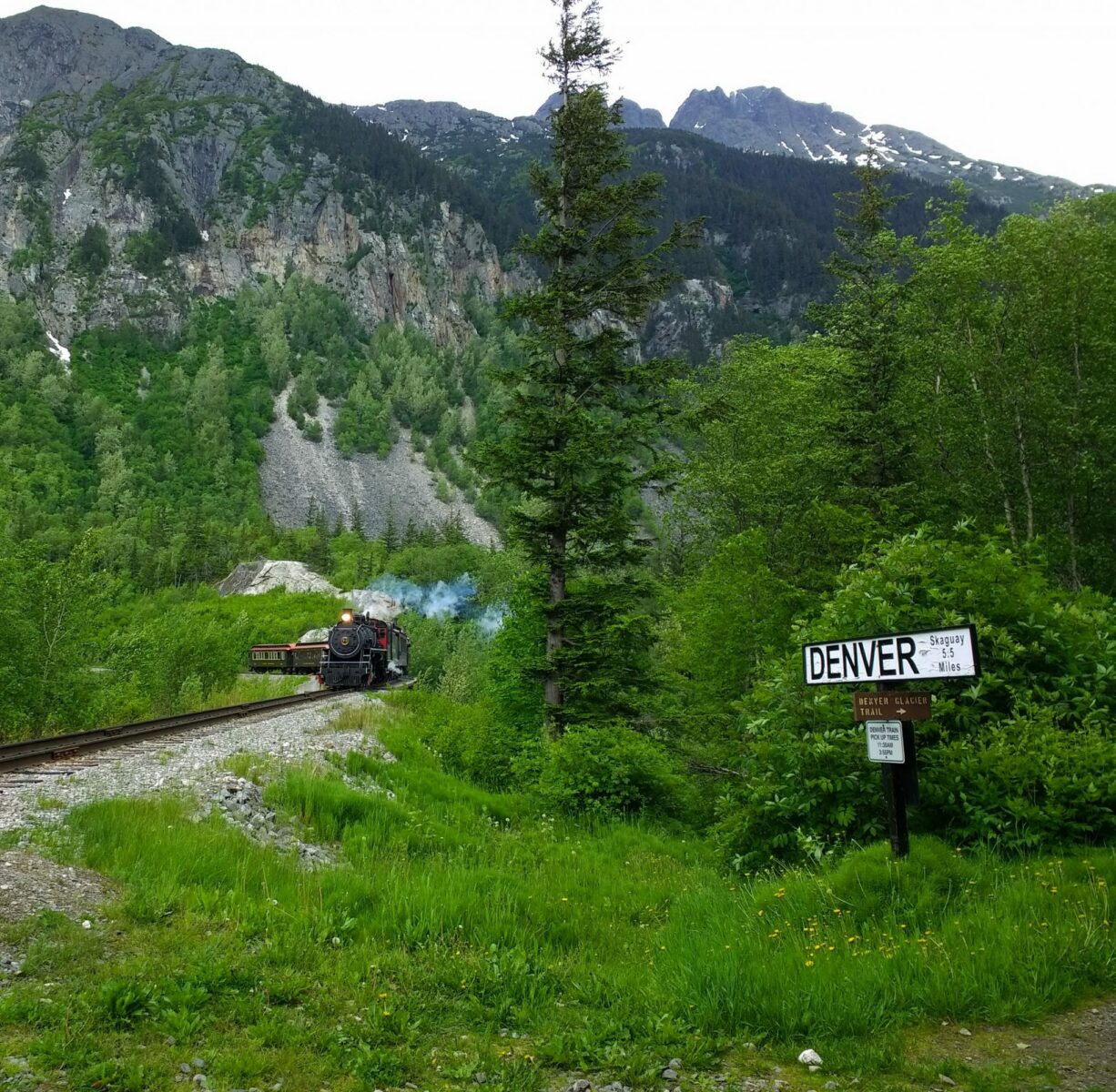 Skagway is a tiny town with a very busy cruise port! This is as far north as cruise ships go in the Inside Passage (some continue north from here across the Gulf of Alaska to Seward or Whittier while others turn south here to return to Seattle or Vancouver). Skagway was put on the map by the Klondike Gold Rush in 1898 and has a colorful history. In fact, the entire downtown is a national park!
The White Pass and Yukon Route Railroad was built during the Gold Rush and remains today as a tour for visitors and I will tell you that in my opinion (many agree with me!) this is the best shore excursion available in Southeast Alaska! There are several options for the train: you can take a round trip summit excursion right from the cruise ship dock, or you can go one way by train and one by bus giving you additional views of this stunning location. You can also do a hike from the train getting dropped off at Denver or Laughton Glacier as part of a tour.
The White Pass and Yukon Route Railroad gives you the unique opportunity in Southeast Alaska to get up into the mountains and inland and see a completely different climate. There are good chances to see bears and goats on this trip too! Overall I highly recommend this if you only do one shore excursion…make it this one!
Skagway also has lots of great history to explore and several excellent hikes that leave from downtown and you can easily walk to.
Skagway Highlights
Ride the White Pass and Yukon Route historic railroad – do NOT miss this!
Walk around downtown, also known as Klondike Gold Rush National Historical Park, and learn about Gold Rush history
Take a hike to Lower Dewey Lake, Smuggler's Cove, or Lower Reid Falls
Learn more: Best things to do in Skagway
Haines – Best Weather and Kayaking
Haines doesn't have a lot of cruise ships that call in its port, but it does have some. You can also visit Haines by taking a shore excursion when your ship calls in nearby Skagway. However you get there, Haines is worth a visit for plenty of reasons.
In addition to the scenery that every Alaska town has on offer, Haines is positioned to have the best weather in Southeast Alaska, making it ideal for outdoor activities like kayaking! When I say best weather I mean less rain than most other ports (except Skagway) but it doesn't have the wind that Skagway has. In any part of Southeast Alaska you need to be ready for rain, any day, all year, but Haines gives you a better chance of a dry day than most.
Kayaking is unique in Haines because you can take a tour for sea kayaking or you can kayak in Chilkoot Lake, giving options for every preference and every skill level in a kayak. This is a wonderful place to try kayaking for the first time!
Haines Highlights
Kayaking – either sea kayaking of lake kayaking, both are available
Jet Boat tour of the Chilkat Bald Eagle Preserve – the beautiful Chilkat River is home to a large concentration of bald eagles and a jet boat tour is the perfect way to experience the beauty of the river and see eagles diving for fish
Walk around Fort Seward – historic Fort Seward is today a large greenspace surrounded by lodging options and home to the delicious Port Chilkoot Distillery
Check out the quirky Hammer Museum – just exactly what it sounds like!
Walk around the harbor – all Southeast Alaska towns have a bustling harbor filled with fishing charters, commercial fishing, locals, tour boats and more. Haines has a particularly scenic harbor against the mountain backdrop
Learn more: Best things to do in Haines
Sitka – Best Alaska cruise port to explore on your own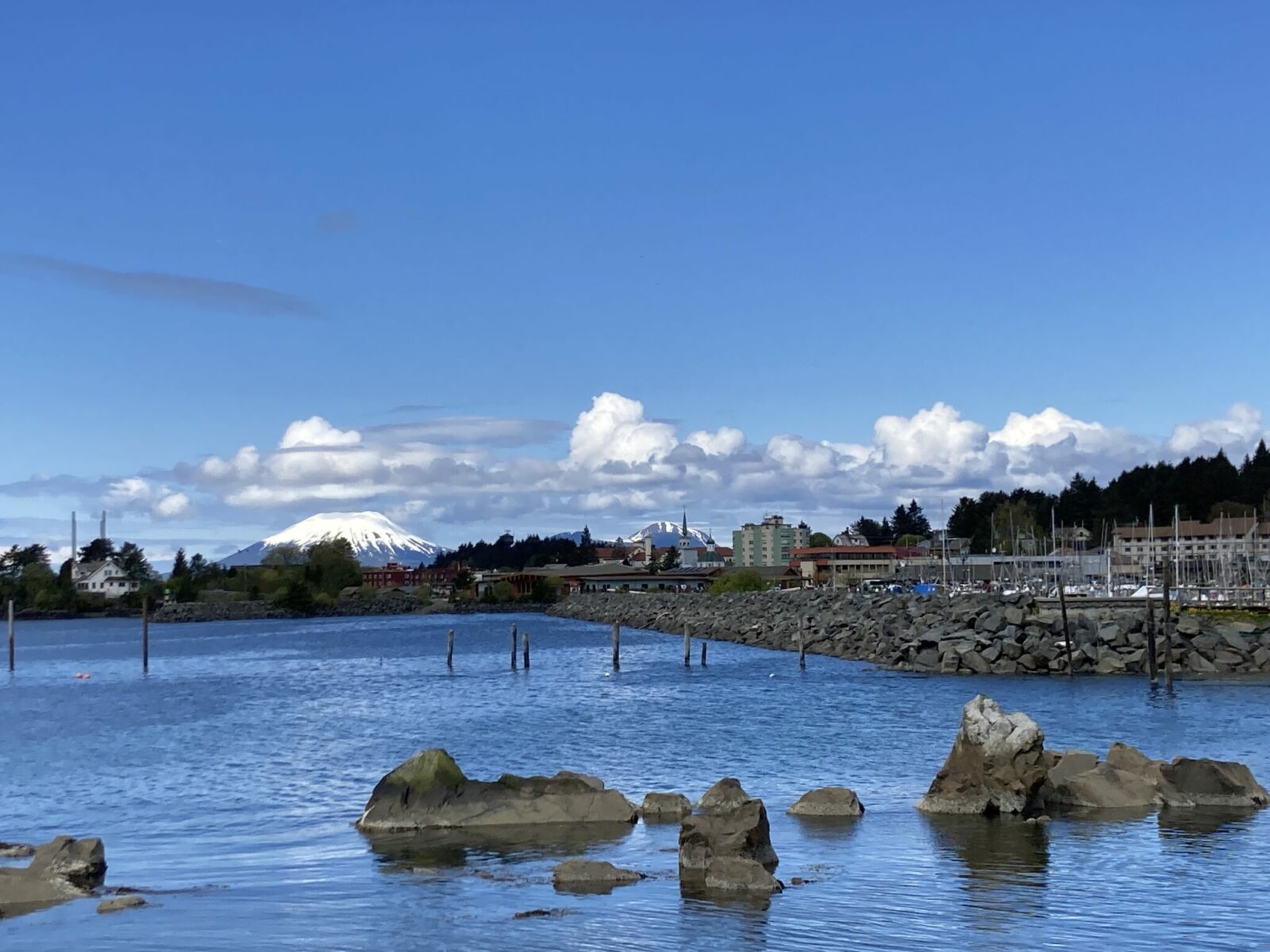 If you like to explore on your own, Sitka is the port for you! Sitka has far fewer ships than many other ports so it's fun for an independent minded traveler to explore. Most likely your ship will dock a few miles outside of town, but there's a free shuttle downtown that goes every 15 minutes while a ship is important and it's easy to zip around. You can also link up with Sitka's bus system (called The Ride) to get to trailheads and other areas.
Sitka's beautiful setting on Baranof Island combined with an intriguing history of Tlingit history and modern culture with Russian and American rule make it an interesting place to visit.
Sitka Highlights
St Michael's Russian Orthodox Cathedral – the best remnant of life in Sitka when it was the capital of Russian America is this gorgeous cathedral downtown
Sheet'ka Kwaan Naa Kahidi Tribal Community House – don't miss this stunning House Screen on a clan house downtown
Castle Hill – great views of Sitka are found from the place where Alaska was formally transferred from Russian to American rule in 1867.
Sitka National Historical Park – commemorating a battle in 1804 between Tlingit people and the Russians, you can learn this history as well as see another impressive collection of totem poles
Whale watching – this is another fantastic place for a wildlife cruise. I once saw a brown bear swimming between two islands from a wildlife cruise here, it was incredible!
Fortress of the Bear – another way to see bears is to visit this bear sanctuary where you can (safely!) get close to brown bears and learn about their lives in Alaska
Hike the Harbor Mountain Trail – hikers will love this gorgeous rainforest trail with incredible views
Learn more: Best things to do in Sitka
Icy Strait Point/Hoonah – Most unique Alaska cruise port
Icy Strait Point near the town of Hoonah is a unique port in Southeast Alaska. Icy Strait Point was converted from a cannery for cruise ships by the Huna Totem Corporation and is Huna Tlingit owned and operated. The vast majority of employees are Huna Tlingit who live in the town of Hoonah.
At Icy Strait Point you can explore the museum in a historic cannery, walk the nature trails, eat delicious seafood and book one of the many tours offered. Tours include whale watching, trips to look for bears around Chichagof Island, ziplining and off road adventures. If you have the chance to go, don't miss out on this truly unique Alaska cruise port, there's nothing like it anywhere else!
Other Alaska cruise ports
If you're traveling on a small ship, your ship may call at Wrangell, Petersburg or go ashore at Bartlett Cove in Glacier Bay National Park. These are all wonderful and intimate ports with lots to see and do. Learn more here about Wrangell, here about Petersburg and here about Glacier Bay.
Even though it isn't in Alaska, many cruises which start or end in Seattle stop in Victoria. If your ship calls at Victoria, read all about my suggestions for making the most of a short port call there.
If you're embarking or disembarking in Whittier or Seward, you'll be flying in or out of Anchorage. If you're looking to spend a few extra days exploring, read more about all the wonderful things to do in Anchorage here.
Is it better to take and Alaska Cruise from Seattle or Vancouver?
This is one of the questions I get frequently from my readers and clients. Both Seattle and Vancouver are wonderful cities to sail from and spend an extra couple days if you have it. Usually the answer to this question comes down to logistics.
One way cruises to Alaska will always either start or end in Vancouver. Why? Because of the Passenger Vessel Services Act, foreign flagged ships (all the big ships) cannot take people from one American port to another. So, if you are doing a one way cruise, you will start in Vancouver and end near Anchorage (either Whittier or Seward) or the other way around.
Round trip cruises may go from either Seattle or Vancouver. I would recommend making the decision based on logistics such as which city is easier to get to (for most Americans that is Seattle, for most Canadians, Britons and Australians that's Vancouver) or which itinerary works best for your schedule.
Spending a few days before or after your cruise in Seattle? As a born and raised Seattleite, here are my absolute must do things in Seattle, as well as a three day itinerary for this beautiful city.
My second favorite city in the world (after Seattle) in Vancouver, BC! So, if you're f you're adding some time before or after your cruise in Vancouver, check out my top recommendations for Vancouver here.
What to pack for an Alaskan Cruise?
I have a whole post about what to pack for Alaska, including if you're taking a cruise! Head over there for all the details, but the MOST important things to have and bring from home are an excellent rain jacket and waterproof comfortable walking shoes or boots!
If you are coming from a hot climate, make sure to bring plenty of warm clothes. Temperatures in Southeast Alaska and along the Inside Passage are generally in the 50s and 60s in the summer. It is possible to have much hotter days but definitely be ready for some chilly and damp days, even in the middle of summer!
You'll also want to make sure you have sunscreen because when the sun does come out it's INTENSE during Alaska's long summer days. You can find sunscreen everywhere, but if you like a particular brand definitely bring it with you.