4 Places to Avoid Crowds in Mt Rainier
Posted On August 29, 2018
Last Updated on May 1, 2021
Mt Rainier National Park is a wildly popular national park with locals and visitors alike. The opportunity to get up close and personal with an active volcano is a unique opportunity not to be missed. In addition to the mountain itself, Mt Rainier has fairy tale wildflower meadows, dazzling waterfalls, gorgeous rivers and big trees.
It also has lots of crowds, especially on weekends during the summer and extra especially during wildflower season (late July and early August). Over a couple of decades I have developed tips for avoiding crowds in National parks generally and here are some places to go to avoid crowds in Mt Rainier on summer weekends (when the park is busiest).
Mowich Lake
At Mowich Lake there will still be people, but far, far less. You'll need to drive on a dirt road to get there, on the northwest side of the park. If you have a kayak or canoe, you could take it out on the lake, or you could enjoy a hike to Tolmie Peak or Spray Park.
Both hikes have amazing mountain views and expansive wildflower meadows. Make sure your car is equipped for the rough road and that you have your 10 essentials in this remote area (no services are available on this side of the park except an outhouse and trash can. Also be mindful that you will need a park pass or day pass (purchase at Paul peak trailhead-signed as you approach).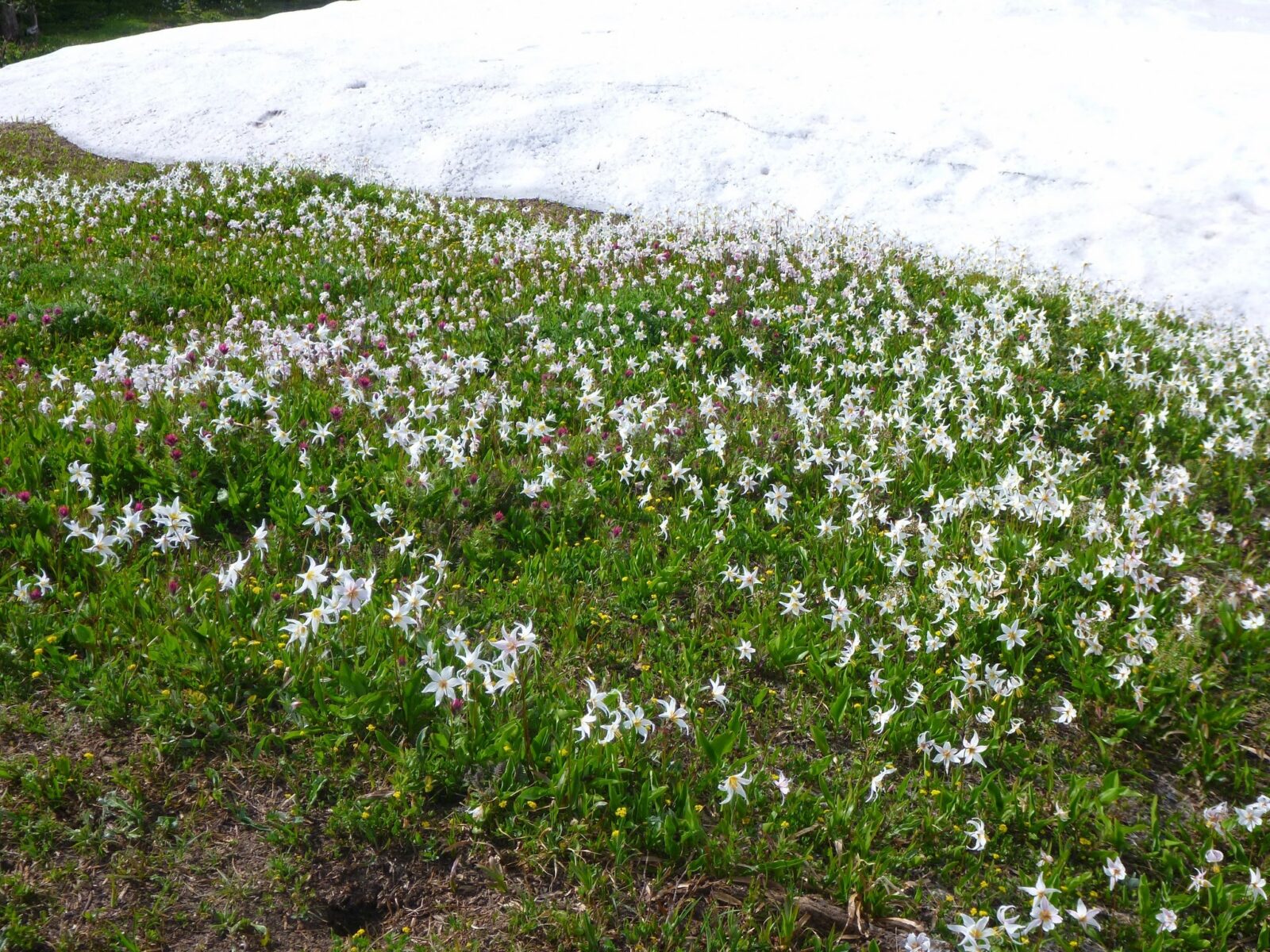 Ohanapecosh and Eastside trail
Big trees, gorgeous river, stunning waterfalls and cool shade await you on the little used Eastside trail on the east side of the park in the Ohanapecosh area. This is the absolutely best place to avoid crowds in Mt Rainier and it has by far the least people of any part of the park. Ohanapecosh has a tiny parking lot which fills up, but you can usually park at the campground in the day parking area, or the pullout along Highway 410 always has room.
If you don't want to hike that much, try driving between Grove of the Patriarchs and Silver Falls. See this article for a summer day trip in Mt Rainier for driving directions between these. Picnic tables are available at Grove of the Patriarchs and the Ohanapecosh campground.
There are no views of the mountain in this part of the park, but you can combine this with Chinook Pass (above) or stop at the Crystal Mountain Gondola on your way or on your way back for some seriously epic views.
Carbon River Valley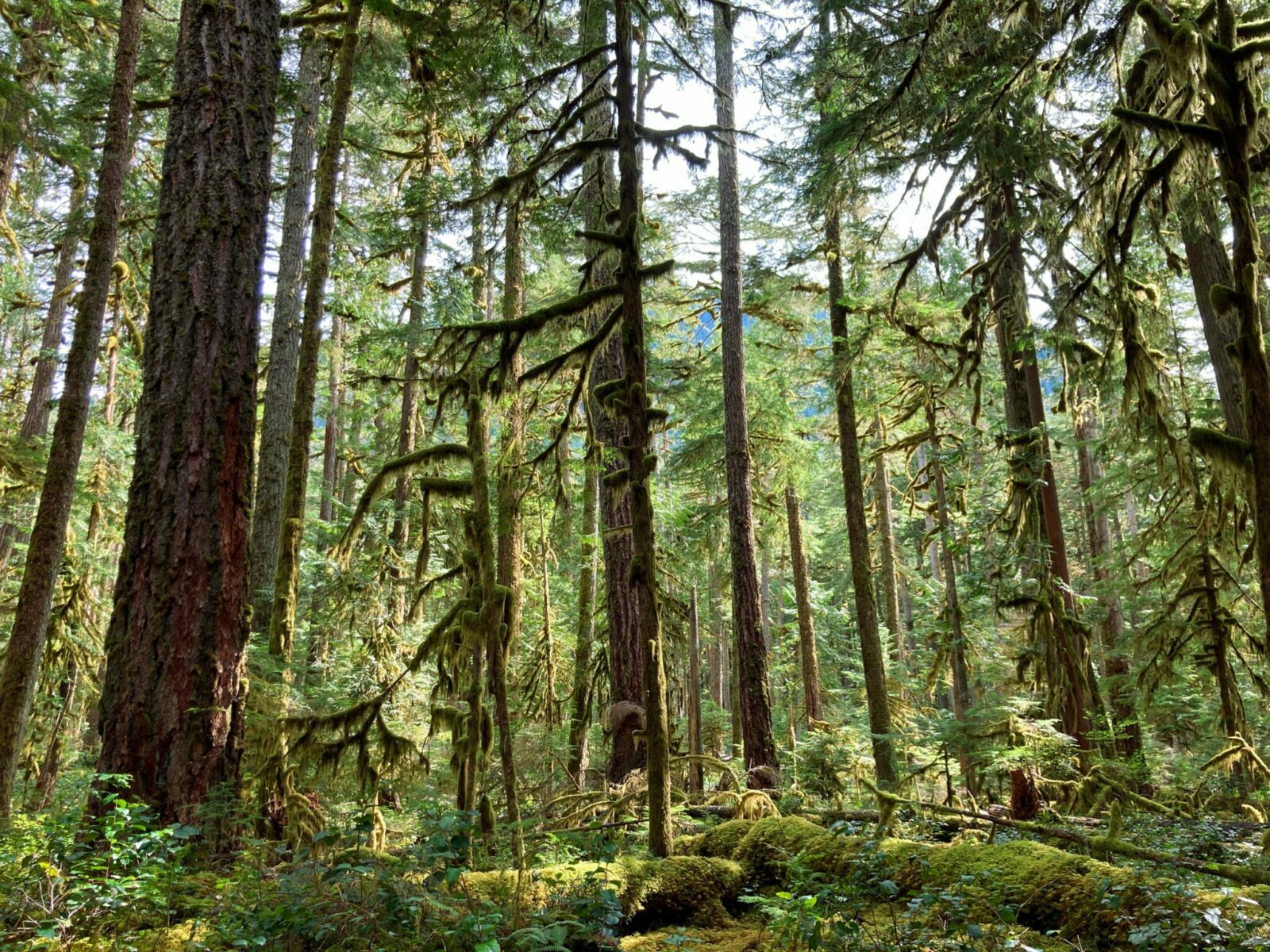 The Carbon River Trail is open all year, though you may encounter snow in winter (but not always). The former Carbon River Road has been converted to a trail and follows the old road bed on a wide and gentle trail for up to 10 miles round trip.
You'll pass through miles of old growth forest and have the opportunity to take side trails to three waterfalls as well as an alpine lake. The Carbon River Trail allows bikes, if you'd like to find a way to make the miles pass more quickly.
There are not views of the mountain here (unless you make the 19 mile round trip trek to Carbon Glacier), but you'll get to see the other wonders of the park!
Visit in the Evening
OK, I realize that "evening" is not a location and rather a time! But, if you want to visit the most crowded parts of the park with less people, make it an evening visit! This is the most effective way to avoid crowds in Mt Rainier. Not only will you be able to find parking and enjoy trails with only a small number of people, the lighting is better for photography.
This is a great strategy for visiting Paradise, especially during peak wildflower season. Our long summer evenings make it a great time for a hike or even just wandering around the parking lot checking out the view. I love the Skyline Loop and if you want something shorter there are lots of shorter trails around Paradise, including the Nisqually Glacier Nature Trail and Myrtle Falls.
Chinook Pass is another place that is extremely busy during the day, especially since it's on a main highway route to Yakima. Evening is the perfect time for the Naches Peak Loop, one of my favorite wildflower hikes in the park!
If you are venturing out onto the trails in the evening, it's particularly important to make sure you have a headlamp or flashlight with you. This is always an important thing to carry on any hike, but it's especially critical when you know you'll be returning close to dark.