Winter Day trip to Olympic National Park
Posted On January 2, 2019

Last week we talked about a winter day trip to Mt Rainier National Park and today we're going to follow that up with everything you need to know for an awesome winter day trip to Olympic National Park! Olympic is extremely busy in the summer. A winter visit avoids crowds and still gives you the opportunity to see the wild diversity of Olympic National Park. Snowy mountains, beaches and rainforest, you can have it all in one day!
On our shortest days of winter (late November, December and January) it might be hard to fit in all three, you'll probably have to choose between beach and forest (or if it's foggy you could do the beach and forest and skip the mountains). Later in the winter (February and early March) there's enough daylight you could probably do all three! Hurricane Ridge Road and Hurricane Ridge Visitor Center are only open Friday-Sunday during the winter (late November through March), and the gate closes at 5pm on those days.
A winter day in Olympic National Park has so much to see there's no way you'll see it all in a day, but you can get a feel for it, which will likely just leave you wanting to come back for more! If you're interested in a longer visit, checkout my snow free winter weekend in Olympic (and you could combine with this for a three or four day trip!). Also, here's my three day summer itinerary for Olympic National Park. If you want to get out to the Pacific Coast, here's a post about that (also focused on summer but these are great winter destinations too). This is an awesome day trip for a sunny winter inversion day (when there is cold lowland fog and sun in the mountains). How will you know if it's one of those amazing inversion days? Look for a day when fog is forecasted in Seattle and there's a sunny forecast for the mountains (check the forecast for Snoqualmie Pass, Mt Rainier or Hurricane Ridge). If that's the forecast, I would suggest skipping the forest and beach and just enjoy the sun in the high country at Hurricane Ridge. If it's a rainy day, check out this suggestions for hikes.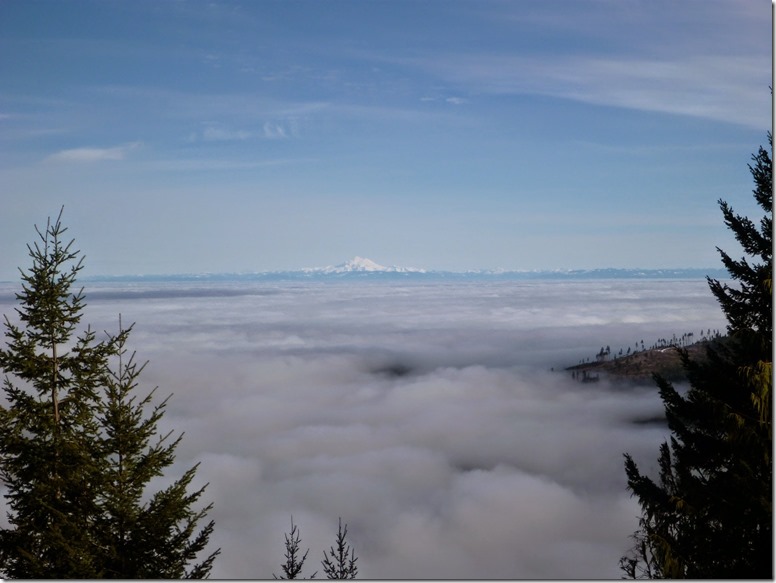 Getting to Olympic National Park
Before heading out for your winter day trip to Olympic National Park, check the current conditions page for the park. For this itinerary, you'll want to take the ferry from downtown Seattle to Bainbridge Island (if you live in the Tacoma area you could drive across the Tacoma Narrows bridge instead, if you're closer to Everett you could take the Edmonds-Kingston ferry). If it's one of those amazing sunny winter days, you could even time your ferry ride for sunrise and get a nice view of alpenglow on the Olympic mountains as the sun comes up!
Once you get off the ferry, drive to the town of Port Angeles which will take about an hour and a half. From here, you can either head up to the mountains, into the rainforest, or to the beach. I will describe this itinerary going to the forest first, then the beach and then the mountains with approximate driving times from Port Angeles. If you fit all three of these into one day, you won't have a lot of time at each one so go ahead and decide if you want to spend all of your time at one place and go ahead and do that! You could also choose two to fit in (in February and March the days are much longer so that also makes it easier to fit more in) or quicker stops at all three. The weather may also help you decide on the order and length of time (if it's a weekday and Hurricane Ridge isn't open, then you'd have more time for forest and beach, if it's a glorious sunny day, or a day with fog in the lowlands and sun in the mountains, you might want to spend the whole day at Hurricane Ridge!).
Make sure to have a full tank of gas leaving Port Angeles. Beyond Port Angeles your phone may pick up a Canadian cell phone signal (especially at the mouth of the Elwha and Hurricane Ridge) so if you don't have an international plan consider putting your phone in airplane mode (added benefit of unplugging for a few hours!).
Mellow Hike to Marymere Falls through the Olympic Rainforest
The hike to Marymere Falls is flat (except for the last quarter mile) and goes through old growth trees to a pretty waterfall. The trail is just under two miles round trip and starts at the Storm King Ranger Station near Lake Crescent, which is about a half hour drive from Port Angeles on highway 101. There are restrooms there.
Start at the picturesque ranger station and the trail passes under highway 101 into a magical forest of ferns and trees. Continue on to a junction with the trail to the Lake Crescent Lodge and go straight. You'll pass the Mt Storm King trail on the left, keep right. At this point you will be seeing some enormous old growth trees! At another junction the Barnes Creek trail continues straight, you'll go right and come to Barnes Creek. Cross over a couple of bridges and the trail goes quickly up in a loop to two viewpoints of Marymere Falls.
On the return, you can go back the way you came (shortest) or if you want to spend more time, you can take the trail to Lake Crescent Lodge (the junction closest to the trailhead that is well marked). This trail leads to the Lodge next to Lake Crescent, and you can loop back on the Moments in Time trail to the Storm King Ranger Station (you can also drive to the lodge from the ranger station if you want to hop out for a quick look at the lake). The lodge itself is closed in winter (December through March or April).

Beach at the Mouth of the Elwha
On your way back to Port Angeles you can take a short detour to the mouth of the Elwha River. The Elwha river was recently made wild again after 100 years of having two dams on it. The mouth of the Elwha gives you exposure to the beaches of the Olympic Penninsula (it is not actually in the park, but it's a beautiful rocky beach on the shore of the Strait of Juan de Fuca where eagles are often seen). This will add about 15 minutes of driving time back to Port Angeles (plus whatever time you spend there). To get there, returning back towards Port Angeles on highway 101, just past the bridge over the Elwha River, turn left on highway 112. You will cross the Elwha again, then turn right on Place Road. The road reaches a T, turn right on the Elwha dike road. At the end of that road, park in the small and unofficial parking and walk a short distance out to the beach. Keep your eyes out for eagles! Return the way you came, going east on highway 112 and then left (east) on highway 101 to return to Port Angeles.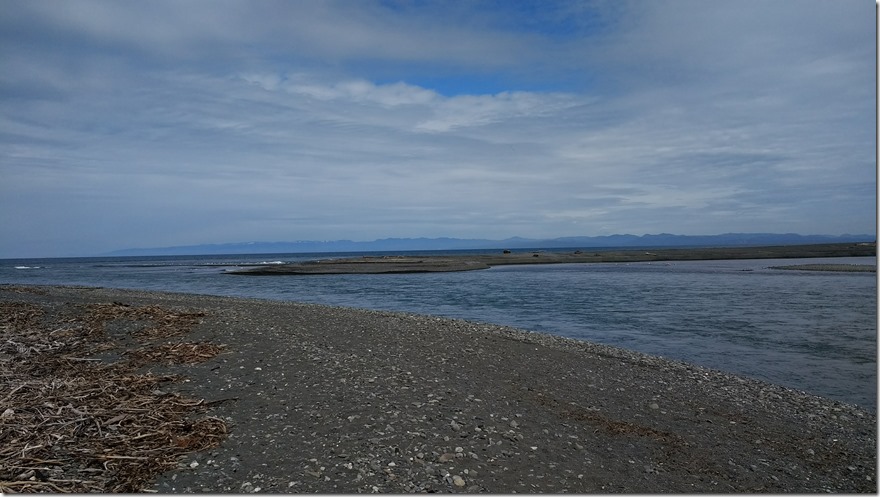 Hurricane Ridge Winter Wonderland
Back in Port Angeles, head to the Port Angeles Visitor Center (which is well marked with a sign from 101), open daily from 9-4 in the winter. Keep in mind that the Hurricane Ridge Road is only open Friday-Sunday and holidays (including winter break) in the winter. Also important to note is the fact that the park service requires you to carry tire chains (even if you have all wheel or four wheel drive). At the visitor center, you can check the webcam for Hurricane Ridge to see how the weather is (you can also check it on your phone while you still have a signal). If the weather is clear this is a highlight of any winter day trip to Olympic National Park!
The road from here to Hurricane Ridge is 17 slow miles (allow at least 45 minutes if the road conditions are good). When you arrive at Hurricane Ridge, if you didn't bring your own food, there is a cafe in the Hurricane Ridge visitor's center. If you did bring your food you can eat at one of the tables upstairs. It's a good idea to check in with the rangers about the current conditions and especially the avalanche forecast before heading out on snowshoes. They have ranger guided snowshoe hikes which is a great option to give it a try and learn something along the way! They can also make recommendations if you're heading out on your own.
If you're heading out on your own, my favorite day hike is Hurricane Hill (up to 6 miles round trip and up to up to 1000 feet of elevation gain-though going about halfway is also a fantastic outing, turn around at the summer trailhead). It goes through beautiful forest with amazing views.


Hurricane Ridge is also home to one of only two skilift operations inside National parks (the other is in Yosemite)! It's a fun experience if you are going to spend the day at Hurricane Ridge. This is a small ski lift and does not have a chair lift. It has two rope tows and a platter lift (if you're new to rope tows, they destroy your gloves and mittens….I recommend the method my grandparents used with me-duct tape to save the gloves!). You can also tube there (using their tubes only-one hour for $11). You can even take lessons! You also pay differently based on which lifts you will use which makes it far less expensive than a normal day of skiing (although, as I said, it's a small area). I loved it when I was a kid and my grandfather took me there! This would be an awesome place to take kids skiing for the first time (as long as it's not too icy).
Enjoy your winter day trip to Olympic National Park! You may leave loving it even more than summer visitors!