Complete Guide to Winter in Olympic National Park
Posted On January 2, 2019
Last Updated on November 8, 2023
Are you looking for a unique and epic winter adventure? Olympic National Park is a fantastic place to go if you want an adventure any time of year. Whether you love the snow or hate it and no matter what the weather is doing, you'll have an amazing time during winter in Olympic National Park.
Olympic National Park has epic mountain vistas with deep snow in winter to ski, snowboard or snowshoe in. It also has (usually) snow free beaches with very few people and moss draped rainforest waiting to be discovered. You can also sit by a window and watch the rain and dramatic storms with a hot drink!
A visit to Olympic National Park in winter requires some additional planning and this article will tell you everything you need to know to plan an amazing trip. The park is the homeland of many Indigenous People, including the Jamestown S'Klallam, Port Gamble S'Klallam, Lower Elwha Klallam, Makah, Quileute, Quinault, Hoh and Skokomish.
November 2023 Note: A fire destroyed the Hurricane Ridge Day lodge on May 7, 2023. The park service has announced they intend to have the road open on weekends and holidays during the winter season. I will update this when it opens. Read more on Olympic's website here.
Related: Ultimate Washington National Parks Road Trip Itinerary
When is winter in Olympic National Park?
It depends a bit on where you are in the park. Generally we think of winter as November through March, though winter can last through April in the high country. On the Olympic Coast and in the rainforests, it's hard to tell exactly when fall ends and winter starts and same in the spring! In the fall it slowly gets wetter and darker and in the spring is slowly gets drier with longer days.
Big storms off the Pacific Ocean that bring heavy surf, rain and wind are most common from mid November through mid February.
The winter season at Hurricane Ridge is generally late November through late March, when the road is open Fridays, Saturdays, Sundays and holidays.
Is Olympic National Park open in winter?
Yes. However, not all parts of the park are open. Deer Park is closed in winter as well as the Sol Duc Road, including Sol Duc Hot Springs.
Hurricane Ridge is generally only open on Fridays, Saturdays, Sundays and holidays during the winter season. The road is usually open daily during winter break (late December). The road is subject to intense storms so at times the road may not open even when it's scheduled to. Call the park's winter road hotline at (360) 565-3131 for the most up to date information on the Hurricane Ridge Road.
Chains are required on all vehicles (including ones with 4 wheel drive) on the Hurricane Ridge Road during the entire winter season, regardless of the conditions. The rangers will make sure you have them in your vehicle before you are allowed in.
Locations on the Olympic Coast along the Pacific Ocean, Lake Quinault and the Quinault Rainforest, parts of Lake Crescent and the Hoh Rainforest are open in winter.
Keep in mind that our big winter storms can bring down giant trees which block the road and can temporarily close any road in the park at any time. Make sure to check the park's current conditions before heading out for the latest on road conditions.
Can you visit the Hoh Rainforest in winter?
Yes.
The Hoh Rainforest is one of the most popular attractions for visitors in Olympic National Park and winter is a great way to see it with less people, especially if you wear rubber boots and a good rainjacket!
Sometimes the road is temporarily closed due to storm damage, especially if a big tree falls on the road! Normally, the Hoh Rainforest is open and you can hike the trails. The visitor center is not open in the winter.
What is winter like in Olympic National Park?
Winter is wet in Olympic National Park! Or snowy, depending on where you are.
Conditions change and vary rapidly, so it's critical to check the weather forecast and the latest conditions in the park.
In the high country of Hurricane Ridge there is deep snow. It can get quite cold, but often the day time temperatures are relatively mild and even above freezing. Sometimes there is heavy snow decreasing visibility to near zero and often heavy wind.
Down on the coast and in the rainforests, there is rarely snow. It is possible to have lowland snow here, but it's fairly rare. Heavy rain on the other hand is very likely! The beaches and rainforests of Olympic National Park are much, much wetter than Seattle.
Expect deep mud on trails, and bring waterproof footwear. I highly recommend rubber boots!
Depending on what part of the winter you visit, it may be quite dark. In December and January, the sun comes up around 8am and sets around 4:30pm. If it's gray or stormy, the days feel even shorter! If you're visiting later in the winter, in February or March, the days are longer (12 hours of daylight in March).
How much time is should I spend in Olympic National Park in winter?
You can definitely do a day trip to Olympic National Park in winter from Seattle. In a day trip, Hurricane Ridge, Lake Quinault and Kalaloch are doable in about three hours.
If you want to go to the Hoh Rainforest, or to spend more time exploring or enjoy a night at the stormy coast, I recommend a three day trip.
Related: Perfect 3 day Olympic National Park Itinerary
Is there snow in Olympic National Park in winter?
It depends on where you are!
Hurricane Ridge has incredibly deep snow and it is often snowing there. If you're a snow lover, check the webcam to see if it's clear and then head up to enjoy it. Hurricane Ridge often has significant avalanche danger, so before heading out check the Northwest Avalanche Center for the forecast. The visitor center has the most updated information on avalanche safety as well.
Hate snow? No problem. Olympic has you covered there too. Unless a rare lowland snowstorm is happening, you can visit all the beaches on the coast and all the rainforest trails in the Hoh, Lake Quinault and around Lake Crescent without seeing or driving in snow.
Why should I visit Olympic National Park in winter?
There are a few reasons why visiting Olympic National Park in winter is wonderful and why I recommend it:
You'll be wowed at the power of nature – whether that's the deep snow you see at Hurricane Ridge, the epic storms along the coast or the dripping rainforest, it's all just that much more impressive in winter
Fewer crowds – there are far fewer people in the park in winter. One exception to this is sunny winter days at Hurricane Ridge can get quite busy, especially during ski season
Seeing the rainforest with a near guarantee of rain – what could be more authentic?
Lodging is less expensive
If you love epically snowy winter landscapes, you'll love Hurricane Ridge!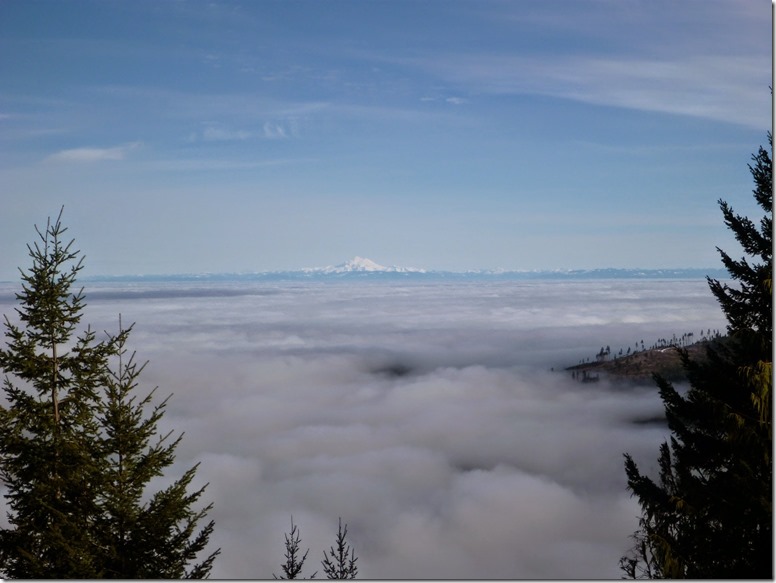 Getting to Olympic National Park
To get to Hurricane Ridge from Seattle, you'll want to take the ferry from downtown Seattle to Bainbridge Island (if you live in the Tacoma area you could drive across the Tacoma Narrows bridge instead, if you're closer to Everett you could take the Edmonds-Kingston ferry). If it's one of those amazing sunny winter days, you could even time your ferry ride for sunrise and get a nice view of alpenglow on the Olympic mountains as the sun comes up!
Make sure to fill up your gas tank in Port Angeles in case there are weather delays going up or coming down from Hurricane Ridge. Driving time from Seattle to Hurricane Ridge is usually around 3 hours (it varies a lot based on the ferry wait and road conditions on Hurricane Ridge Road).
To get to the Hoh Rainforest from Seattle, you can either follow the directions above to Port Angeles and then continue on to Forks. Just beyond Forks is the turn to the Hoh Rainforest. You can also drive through Olympia and past Lake Quinault and then you will turn before you get to Forks. Driving time is about 5 hours from Seattle.
To get to Lake Quinault from Seattle, head to Olympia and then out west torwards the coast and it will take you right straight there in a little under 3 hours.
To get to Kalaloch Beach from Seattle (the shortest drive beach and where the year round lodge is), go to Lake Quinault and then continue on to the coast. Driving time is about 3 hours.
Things to do in Olympic National Park in Winter
Snowshoe, Ski or Snowboard the Hurricane Ridge Winter Wonderland
Snow lovers this is for you! (Hate snow? Keep on scrolling, the rest of the things to do are generally snow free!) If you love snow and love mountains, you will LOVE Hurricane Ridge!
One of only two remaining ski areas located inside a national park in the US, this affordable and fun ski area has rope tows, lessons and rentals. This is a great place to try out downhill skiing or snowboarding!
The ski area also has a tubing area with tubes provided.
You can also do a ranger guided snowshoe walk, which is wonderful for beginners. For a low cost, you can use their snowshoes and learn from rangers and not have to worry about where you're going!
If you're heading out on your own, my favorite day hike is Hurricane Hill (up to 6 miles round trip and up to up to 1000 feet of elevation gain-though going about halfway is also a fantastic outing, turn around at the summer trailhead). It goes through beautiful forest with amazing views. Make sure to know the avalanche weather forecast and be prepared for a backcountry adventure here.
Stormwatching at Kalaloch Beach
The Washington Coast has epic winter storms that generate huge waves as well as rain and wind. Storm watching is a popular activity on the coast in winter! If you're not up for going out in epic weather, get yourself a place to stay with a view of the ocean and take it all in with a hot drink from the other side of the window.
I love the Kalaloch Lodge and cabins for this purpose. Kalaloch Beach is one of the very few dog friendly areas in the park and dogs are welcome in the cabins. If you are up for venturing out, Kalaloch is a sandy beach and great for walking.
Hike to Marymere Falls through the Olympic Rainforest
The hike to Marymere Falls is flat (except for the last quarter mile) and goes through old growth trees to a pretty waterfall. The trail is just under two miles round trip and starts at the Storm King Ranger Station near Lake Crescent, which is about a half hour drive from Port Angeles on highway 101. There are restrooms there.
Start at the picturesque ranger station and the trail passes under highway 101 into a magical forest of ferns and trees. Continue on to a junction with the trail to the Lake Crescent Lodge and go straight. You'll pass the Mt Storm King trail on the left, keep right. At this point you will be seeing some enormous old growth trees! At another junction the Barnes Creek trail continues straight, you'll go right and come to Barnes Creek. Cross over a couple of bridges and the trail goes quickly up in a loop to two viewpoints of Marymere Falls.
On the return, you can go back the way you came (shortest) or if you want to spend more time, you can take the trail to Lake Crescent Lodge (the junction closest to the trailhead that is well marked). This trail leads to the Lodge next to Lake Crescent, and you can loop back on the Moments in Time trail to the Storm King Ranger Station (you can also drive to the lodge from the ranger station if you want to hop out for a quick look at the lake). The lodge itself is closed in winter (December through March or April).
See the Hoh Rainforest – in the rain!
The Hoh Rainforest is on many vistiors bucket list and for good reason! This fascinating ecosystem receives around 12 FEET of rain per year and is home to giant trees that are hundreds of years old.
The Hoh is very busy in the summer but I think winter is a wonderful time to visit! There are less people and the moody wet weather is a perfect way to see the Hoh.
Make sure to pay attention to the time because our winter days are short and they are even shorter deep in the temperate rainforest canopy.
Don't forget to look around you at the ferns and moss as well as the trees and keep your eyes out for elk foraging along the valley.
If it's really rainy and you don't want to spend too much time hiking, you can take the short Hall of Mosses trail, which is flat and just under a mile. If you're up for more, head out through the forest and along the Hoh River on the Hoh River Trail. This trail extends for more than 30 miles so make sure to set a turn around time and stick to it! The Hoh River Trail is mostly flat for the first 12 miles. I highly recommend rubber boots because it's going to be muddy.
Related: How to visit the Hoh Rainforest
Explore the Quinault Rainforest
Big trees are a big attraction in Olympic National Park, so don't stop at the Hoh! Many of the trails around Lake Quinault are on national forest land and therefore welcome leashed dogs.
There are lots of mostly flat (probably muddy) rainforest trails to check out here as well as the lake. There are plenty of vacation rentals as well as the Lake Quinault Lodge which is open year round. If you don't stay at the lodge, at least stop in to see the beautiful historic building and perhaps grab lunch and their tasty restaurant.
Lake Quinault is a bit under three hours from Seattle and is a very doable day trip, unlike the Hoh.
Wander Rialto Beach in Solitude
Rialto Beach is one of the most popular beaches in Olympic National Park, but come winter you'll likely see very few other people!
Rialto Beach is very near the town of Forks and is a rocky beach with plenty of tidepools. The park service maintains a wheelchair accessible path to the beach here, but be aware that at times the driftwood covers the end of it so teh beach is not always easy to get to.
If you're up for a beach hike, you can hike a couple miles up the beach to the Hole-in-the-Wall, a funky rock formation with awesome tidepools at low tide.
See the Mouth of the Elwha River
Although it's not technically in the park, the mouth of the Elwha is a wonderful short detour near Port Angeles.
The Elwha river was recently made wild again after 100 years of having two dams on it. Unfortunately the site of the removed damn and most of the interpretive signs are not currently accessible since Olympic Hot Springs road is closed. This is a great alternative to get a sense of the Elwha River's story.
The mouth of the Elwha is a beautiful rocky beach on the shore of the Strait of Juan de Fuca where eagles are often seen. To get there, returning back towards Port Angeles on highway 101, just past the bridge over the Elwha River, turn left on highway 112. You will cross the Elwha again, then turn right on Place Road. The road reaches a T, turn right on the Elwha dike road. At the end of that road, park in the small and unofficial parking and walk a short distance out to the beach. Keep your eyes out for eagles! Return the way you came, going east on highway 112 and then left (east) on highway 101 to return to Port Angeles.