Best Things to do in Ketchikan Alaska
Posted On August 19, 2019
Last Updated on August 25, 2023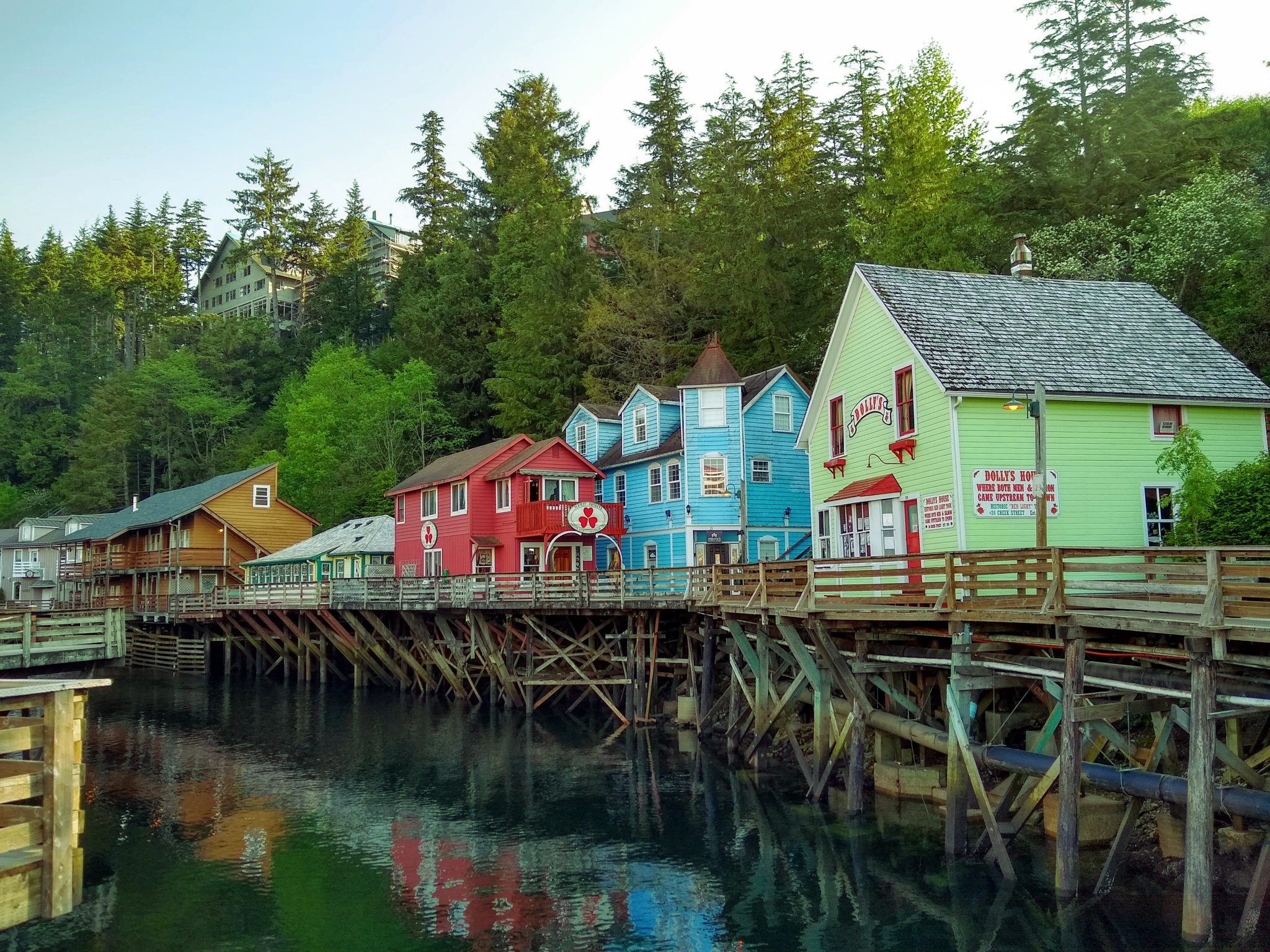 Are you spending a day in Ketchikan on a cruise ship and want to explore the town on your own? Or are you looking for the quickest way to get to Alaska and start exploring? Did you know that Ketchikan is just a 90 minute flight from Seattle? Ketchikan is a wonderful Alaskan town to visit and there's so much to do! I'm excited to share the best thing to do in Ketchikan as well as how to get around to make the most of your time. Day trip or week long adventure, I've got you covered!
Ketchikan is a fantastic place to visit in Alaska without a car, so if you don't want to drive or deal with the high cost of car rental, this is a good destination for you.
What to Expect in Ketchikan
Ketchikan is a busy cruise ship port that can have several large ships in port every day from May through September. Most businesses downtown are oriented towards cruise ship visitors, so if you are not on a cruise ship, keep in mind that many restaurants (not all!) will close around 6pm.
Another thing that's important to know about Ketchikan is that it's very rainy. There is still a LOT of rain, even in the summer. Temperatures are generally in the upper 50s and low 60s (though it can get much warmer so be prepared for anything!). Make sure to be prepared with appropriate clothing for rain and be ready to embrace it and you'll love your time in Ketchikan no matter what happens with the weather.
Related: What to pack for Alaska
Getting to Ketchikan
There are three ways to get to Ketchikan:
Direct flight from Seattle
On the Alaska Marine Highway from Juneau or Bellingham, WA
On a cruise ship
If you're traveling on a cruise, most cruises stop in Ketchikan and you usually have the whole day there. If you want to spend more time or are looking for a quick getaway from the West Coast, Ketchikan is a 90 minute non stop flight from Seattle.
If you have time and want to spent it making your way by ferry from Washington state, then the ferry might be for you! The ferry is the first stop after Bellingham going north on the Alaska Marine Highway (ferry) and it takes about 36 hours.
Ultimate Guide to riding the Alaska Ferry, Best Alaska cruise ports
Getting around Ketchikan
Ketchikan is an easy place to navigate without a car and I wouldn't recommend having one for a visitor. You can walk everywhere downtown and there is a surprisingly good bus system for such a small town!
Anywhere you can't walk to or take the bus to, you can get to in a short taxi ride. You can also do it how I like to and walk all over the place and then once I get tired just take a taxi back to wherever you're staying or to a ship.
If you're going on a tour, they will pick you up at your ship or hotel. If you're doing a fishing or other boat tour, you'll probably just meet them at the harbor (unless you're on a cruise ship, then they'll pick you up at the dock).
Best Hikes in Ketchikan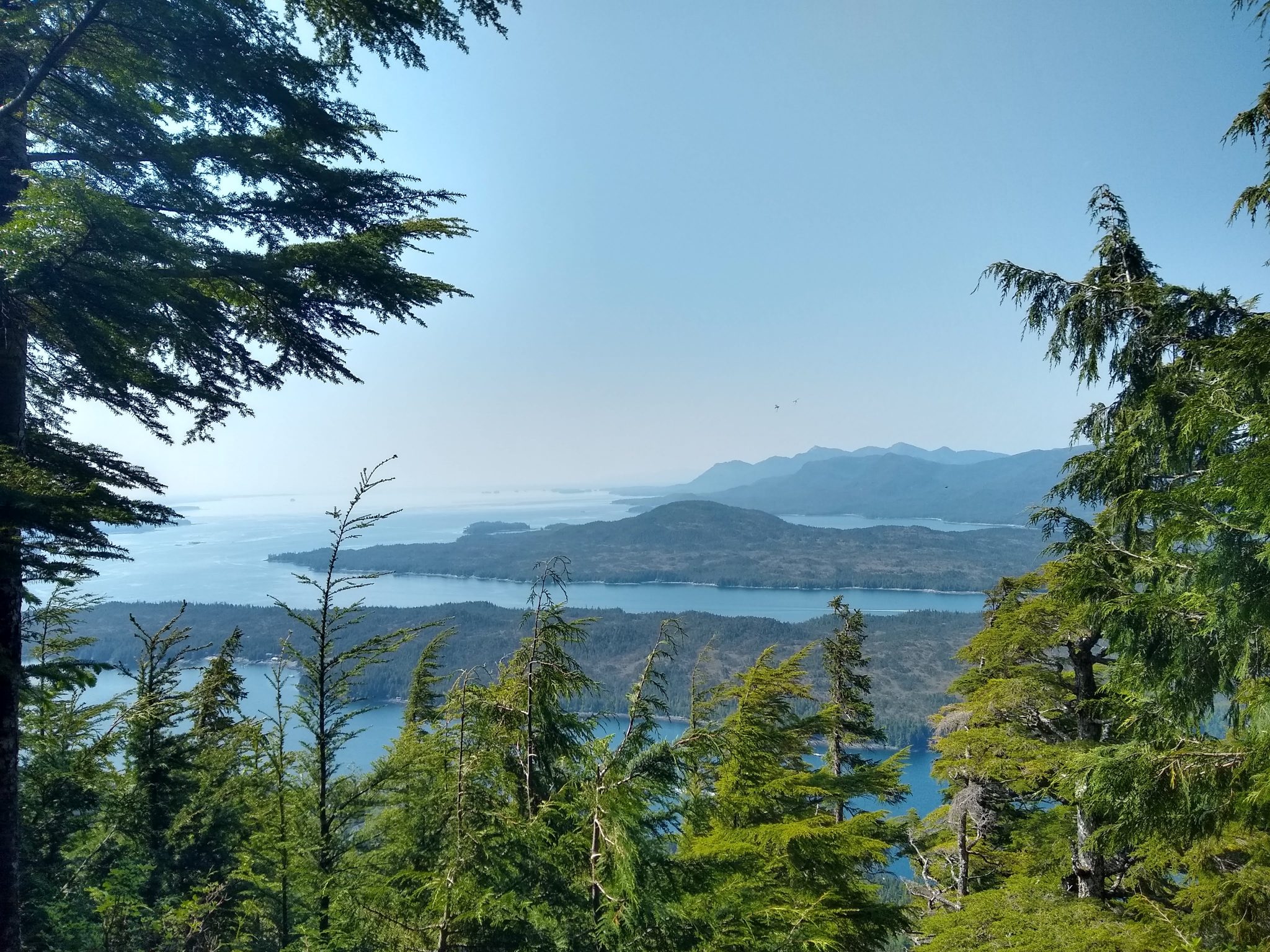 I recommend two hikes in Ketchikan that are relatively close to the cruise ships and are also easy to get to if you're staying downtown (which I recommend if you're traveling on your own).
Both of these hikes have good views of town, one is easier and one is HARD. Be ready with raingear and waterproof hiking shoes or boots since the trail is very likely to be muddy. There are lots of other trail options, but these are most convenient for a person spending a day in Ketchikan, close to the cruise ship docks.
Looking for more ideas? Check out the National Forest Service Ketchikan hiking guide.
Related: The best hike in every Alaska cruise port
Rainbird Trail (moderate: 1.5 to 3 miles, up to 400 feet of elevation gain)
There are a few different ways to do the Rainbird Trail, depending on how far you want to walk. To walk the entire way from the cruise ships, it's about three miles with a few hundred feet of elevation gain. The other option is to take the bus or a taxi to the University of Alaska Southeast campus and do the hike on the way back. I would recommend starting on the campus side, but you could do it in either direction. If you took the bus to the starting point, it would be about 1.5 miles to do the hike and then head down to the cruise ship dock.
The trail itself goes through the beautiful Alaskan rainforest, featuring some giant trees and wonderful views of town and all the activity happening in the channel between ships, small boats and seaplanes! In addition, you have a good chance of seeing Sitka black tailed deer along this trail.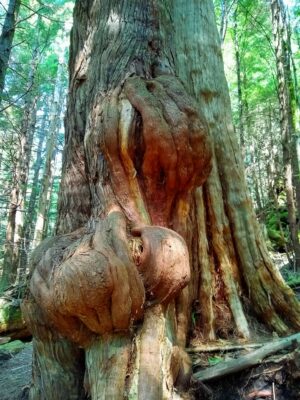 If you start at the University (either use google maps to walk there or take the bus-if you take the bus you can ask the driver where to get off), start at the back left of the parking lot, where you'll see a sign for the trailhead. Head uphill and then you'll walk along the side of the hill above Ketchikan, seeing some amazing views! You'll pass one set of stairs, and at the second set of stairs, head down to the road. It's a lot of stairs down! You can then follow the street down to the cruise ship docks.
Deer Mountain (SUPER HARD: 7 miles, 3000 feet of elevation gain)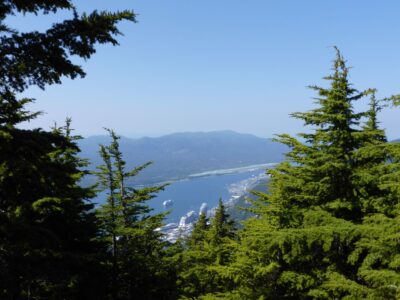 This hike is HARD. It's also AWESOME. I'd suggest not bothering with this hike unless the weather is good enough to see the view, but if it's a clear day, or at least not a super rainy day, it's great!
I recommend taking a taxi to the trailhead (though you could walk if you really wanted to, it's about a mile and a half, uphill the whole way). You can always walk down on the way back (which is what I've done). However you get there, you'll start off hiking on a very briefly flat and then steep forest hike. The trail is in good condition and the forest is beautiful, which is good because you go up and up for quite awhile.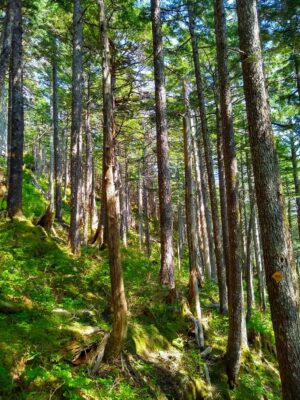 Approximately every mile there's a view point where you can start to see some awesome views to keep you encouraged! When you reach the top, you'll have an incredible view to Ketchikan far below as well as the surrounding hills and waterways! Once you've taken in the view, head back down the way you came and then get a taxi or walk back to the cruise ship docks.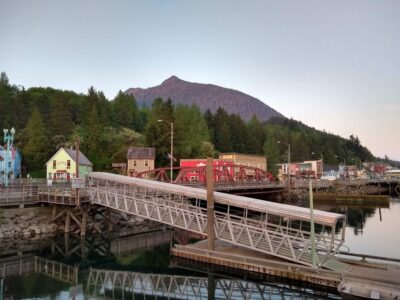 Native Alaskan History in Ketchikan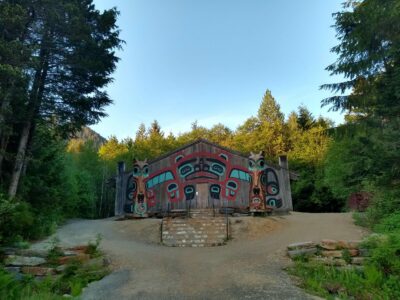 Ketchikan is full of Alaska Native culture and history, and is world famous for it's Totem Poles. Here are just a couple of ways to experience a taste of it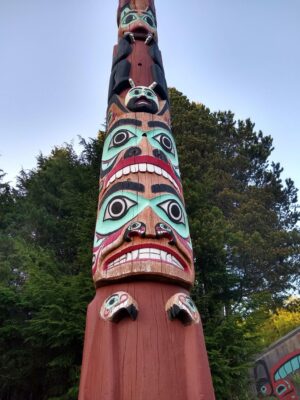 Totem Heritage Center: Showcases art and culture of the Tlingit, Haida and Tshimshian of Southeast Alaska. You can walk there in about 15 minutes from the cruise ship docks, or you can ride the free shuttle that goes around downtown. New in 2023, the Ketchikan Salmon walk includes the heritage center as well as Ketchikan Creek for salmon runs in a 1.5 mile loop walk.
Saxman Totem Park: This collection of 25 totem poles is stunningly beautiful and you have an opportunity to take a tour to learn even more about the stories they tell. It's about three miles away from downtown Ketchikan, you can take the bus to get there, or a taxi, or you can walk. It's a flat, mostly protected, beautiful walk.
Totem Bight Historical Park: Another fabulous place with lots of totem poles and opportunities to learn about Alaska Native art and culture. It's about 10 miles from the docks, you can get there by bus, taxi or tour.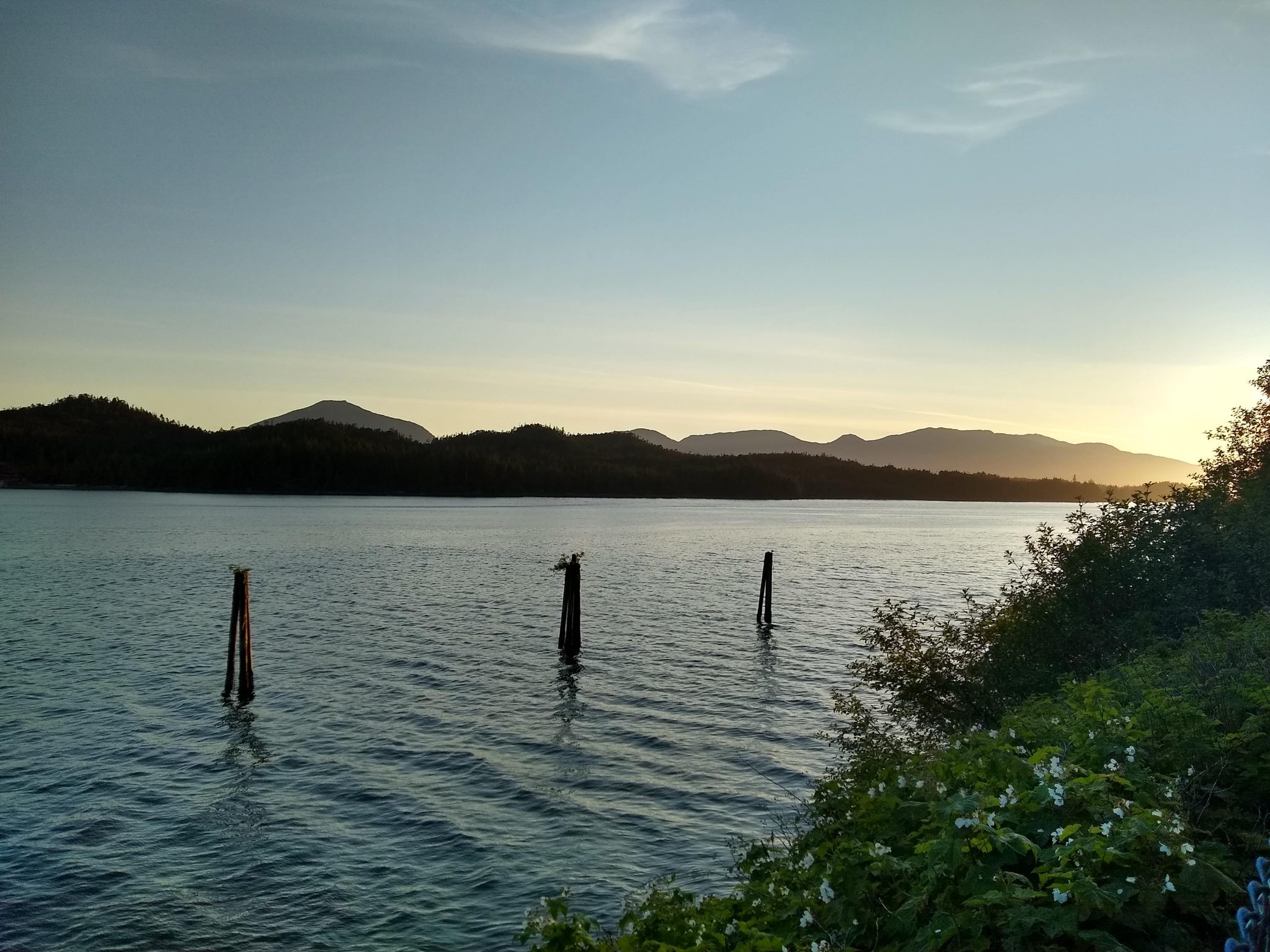 Misty Fjords National Monument
Misty Fjords National Monument is the kind of unending temperate rainforest of towering evergreen trees hugging the jagged rocky shores of fjord after fjord that you come to this part of Alaska to see!
You can visit Misty Fjords by tour boat or on a flightseeing tour. Both are wonderful, though I recommend going for a boat tour since it's less subject to weather cancellations due to fog and low visibility. Boat tours are also less expensive.
If you enjoy flying or getting the bird's eye view, it's definitely worth it to go for a flightseeing tour and catch this incredible landscape from above.
Sportfishing in Ketchikan
Fishing in Ketchikan is absolutely world class, for salmon as well as halibut and other white fish such as Pacific cod. If you're looking for the best port to do a fishing charter, make it Ketchikan!
If you're traveling on your own, check out the Ketchikan Visitor's Bureau recommendations of fishing charters. This is a great way to catch some fish and have a great day on the water without having to worry about figuring out where to go. Most charter companies will clean, freeze and ship your fish home for you for an additional charge which I highly recommend. Totally worth it!
Shopping in Ketchikan
In my opinion, Ketchikan has the best gift shops in Alaska, with lots of genuine Native Alaskan art and lots of other locally made items. Creek Street is an interesting historical area, with a history as the red light district and now historic wooden buildings built on stilts above the creek (see photo at the top of the post) where you can watch seals and salmon when they're running! There are lots of shops on Creek Street, but a few of my favorites are Fish Creek Company, The Captain's Lady and Soho Coho.
Eating and Drinking in Ketchikan
Ketchikan has some great food options! As I mentioned above, if you're not on a cruise ship, be aware that many restaurants close around 6pm, when the ships leave. Here are a few fabulous places that I have tried and loved. All of these are close to the cruise ship docks
Alaska Crepe Company: delicious crepes both savory and sweet…mmmm!
Sweet Mermaids: No website but mouth watering bakery-Alaska does bakeries really well so don't miss out! They also have a delicious breakfast sandwich option.
Fat Stan's: Excellent pizza
Annabelle's: Delicious seafood!
New York Cafe: Several delicious options for breakfast, lunch and dinner, seafood as well as burgers and falafel
Diaz Cafe: Delicious Filipino food loved by locals!
Related: Best places to eat in Alaska