Alaska's Kenai Peninsula – Things to do and Itinerary
Posted On September 27, 2021
Last Updated on June 15, 2023
The Kenai Peninsula in Alaska is where Alaskans often go to get away and for all kinds of outdoor adventures, so you know it's got to be pretty awesome right? It is! When I lived in Fairbanks, Alaska, it was always a highlight to get to go anywhere on the Kenai Peninsula and I loved it. There are so many fun things to do, from trying delicious local food, to hiking, to whitewater rafting and exploring fun and unique small towns. If you're heading to Alaska, don't miss the chance to see this amazing and uniquely Alaskan part of the state! Build at least a day and ideally a few days or as much as a week into your Alaska itinerary.
The Kenai Peninsula is the home of the Dena'ina and Alutiiq People.
How to get to the Kenai Peninsula
The best way to see the Kenai Peninsula is a road trip from Anchorage. If you want to do a car free visit, I recommend taking the train to Seward or flying to Homer.
If you drive not only can you explore all along the route, but you'll see amazing scenery and a good chance of seeing wildlife!
Seward is about a 2.5 hour drive from Anchorage and Homer is a 4.5 hour drive. Make sure to give yourself a lot more time than that however, because you'll want to make plenty of picture stops.
When is the best time to go to the Kenai Peninsula?
Summer is the best time to go to the Kenai Peninsula. The best weather and most sun are in June and July, although rain is very possible any time of year.
Slightly less expensive lodging can be found in the shoulder season of May and September. It is also easier to find a place to stay or camp if you didn't plan months in advance during May and September. Tours are often less busy during these months as well.
Related: What to pack for Alaska
How many days do you need to visit the Kenai Peninsula?
You can spend a long time on the Kenai Peninsula without running out of things to do! If you only have a day, I recommend a day trip to Seward from Anchorage.
Three days gives you a chance to drive the whole highway down to Homer and seven days gives you time to explore each town.
Things to do on the Kenai Peninsula
Fishing
Alaskans come to the Kenai Peninsula to fish, so why not join in the fun! I went to the Kenai Peninsula at least once a year for fishing when I lived in Alaska. The tough part will be deciding what you want to fish for and how.
There are fishing charters that will take you out into the Cook Inlet and beyond for salmon and halibut fishing. You can also find a guide to help you fish in the Russian or Kenai River for salmon and other fish.
You can't really go wrong here, but I will tell you that my personal favorite is halibut fishing!
Hiking
There are plenty of wonderful hiking trails on the Kenai Peninsula! Make sure to bring bear spray and keep your food secure. I recommend always hiking in a group here as well and make plenty of noise. A few great hikes on the Kenai to consider are:
Harding Icefield near Seward in Kenai Fjords – this is a really tough hike with 3500 feet of elevation gain in 9 miles round trip. If you're not up for that there are plenty of fantastic viewpoints along the way that make good turnaround points. Start the hike at Exit Glacier near Seward
Tonsina Point and North Head – through the forest and along the beach, you can go up to 12 miles here round trip and up to 2400 feet of elevation gain. You can turnaround at any point on this lovely hike which starts at Lowell Point on the south end of town in Seward.
Russian River Falls – a 5 mile round trip with 600 feet of elevation gain to a lovely waterfall, be extremely careful about bears here! Start at the Lower Russian Lake trailhead which is in the Russian River campground.
Skilak Lookout – big views on a rocky lookout of the Kenai Mountains and Skilak Lake with plenty of wildflowers in mid summer. 4.5 miles roundtrip with 1000 feet of elevation gain. Start at the Skilak Lookout parking area on Skilak Lake Road near Cooper Landing
Homer Spit – this flat walk is an enjoyable way to spend an evening in Homer! The Spit is 4.5 miles long, so keep that in mind while walking. I once accidentally walked myself into a nearly 10 mile walk before dinner that I hadn't really planned on and I was super hungry by the time I got back to my camp.
Wildlife watching
Keep an eye out for bears and moose as you're driving around the Kenai Peninsula. You have an excellent chance of seeing one along the road. Take it slow and stay alert so you don't miss an animal encounter and so you don't get into a collision with a bear or moose.
You are also likely to see whales and sea otters if you go out on a boat tour of any kind (fishing or sightseeing).
The town of Homer and the Homer Spit
Homer is one of the most unique towns in Alaska with lots of fun things to do for visitors! There are plenty of art galleries, shops and some really good food. Don't miss the Salty Dawg, which is an Alaskan institution.
Homer is also a terrific place to go kayaking or book a fishing charter. If you have the time, I highly recommend spending a few days at one of the remote yurts in Kachemak Bay State Park. You can catch a ride with a local water taxi and even rent kayaks to get dropped off with you if you like!
Related: Things to do in Homer
The town of Seward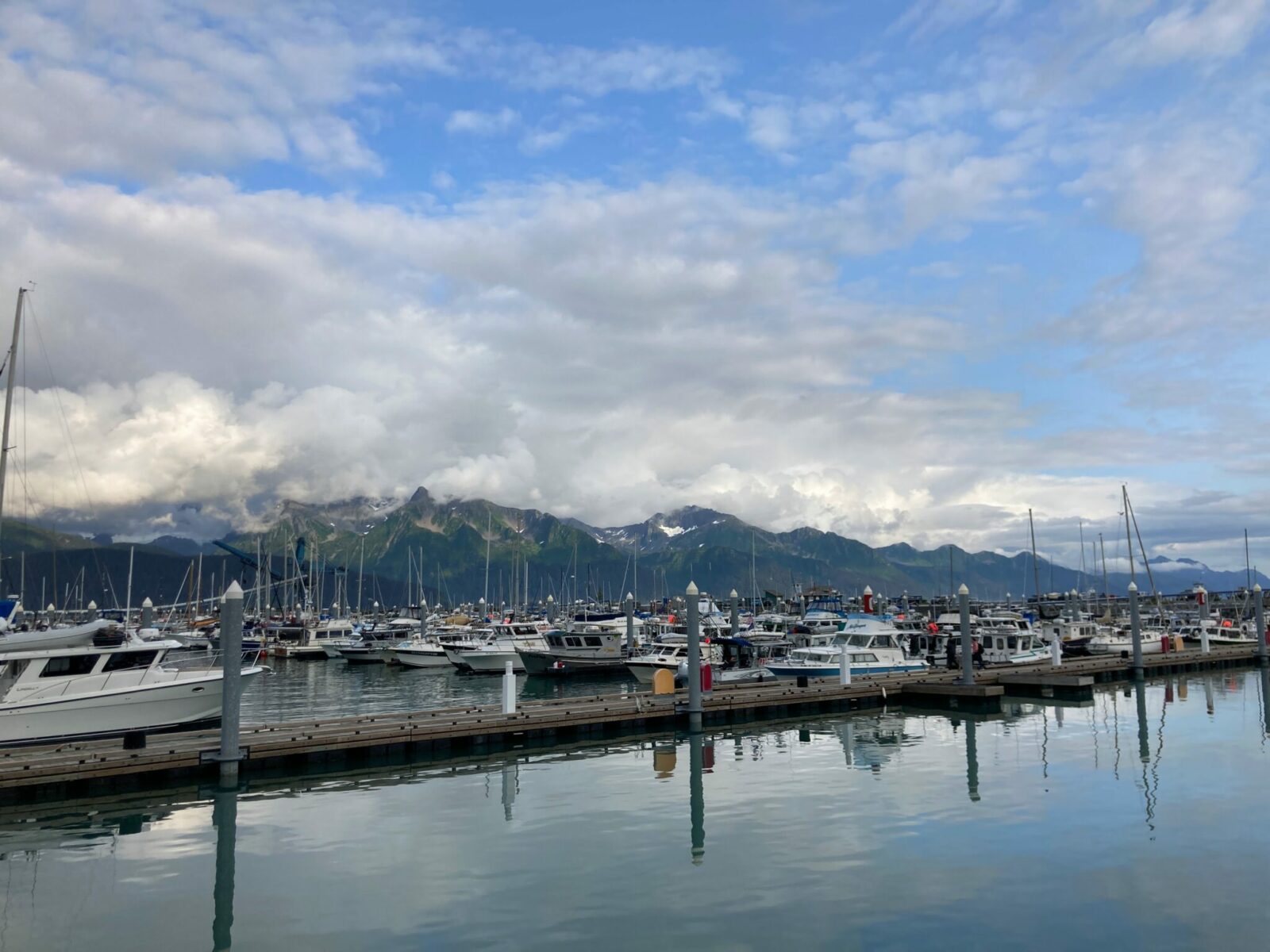 Once a quiet fishing town, these days Seward is bustling with visitors as well as all the fishing activity. Seward is the departure point for boat tours into Kenai Fjords National Park as well as a starting or ending point for some Alaska cruises. It is also a destination on the Alaska Railroad. There are many fishing charters here making it another good location to book one. Even if you don't go on a charter, walking around the harbor in the late afternoon gives you the chance to see everyone else's catch of the day!
The Alaska Sealife Center is another highlight of a visit to Seward, giving you the opportunity to see many of Alaska's marine wildlife.
Related: Things to do in Seward
Tiny historic town of Hope
Hope is a tiny historic gold mining town that is a designated historic site. Not many visitors make their way to Hope, you coming here will give you a chance to walk around without too many other people. Make sure to check out the interpretive sign near the campground which shows where the gold rush era buildings were and how many were moved to where they are today.
In addition to walking around and checking out the historic buildings, if the Seaview Cafe is open, you can get some tasty food!
Remote and charming town of Seldovia
If you're a fan of charming and unique towns, then a day trip from Homer to Seldovia is perfect for you! Take the ferry from Homer and stroll around this tiny town on stilts over the water with art galleries and other shops. There is another historic Russian Orthodox church here as well as some mellow and beautiful hiking trails. You can also rent kayaks. On the ferry ride over you have a good chance to see marine wildlife as well.
Kenai Fjords National Park
Kenai Fjords National Park is one of Alaska's more accessible national parks, in that you can drive to one part of it. Most of the park can only be accessed by boat or plane, but you can start that journey in Seward. You can visit the Exit Glacier area in your car, just outside of Seward. A short walk takes you to views of the glacier and there are many more miles of trails to explore if you want to.
In my opinion, the boat tour into the park is an absolute must do! It's a great way to see wildlife and amazing scenery. There are half day and full day tours available from Seward. Both are excellent for seeing wildlife. The longer tour also takes you to one of the park's tidewater glaciers, but it has more open water and bigger waves than the half day one.
Related: Best things to do in Kenai Fjords National Park
Beach day in the shadow of volcanoes
The Captain Cook Recreation Area has a campground and beach access. I highly recommend stopping at one of the beaches along the highway between Soldotna and Homer and this one is a great choice!
Lots of beach and tidepools await you here and if it's a clear day you'll see the massive snow covered volcanoes across the Cook Inlet on the Alaska Peninsula.
Paddling around beautiful and protected inlets in a kayak
There are plenty of places to get out on a kayak around the Kenai Peninsula. Seward and Homer both offer both guided kayak trips and rentals. You can also get out kayaking on one of the lakes as well.
If your schedule allows enough time, I highly recommend taking a water taxi across Kachemak Bay from Homer to explore Kachemak Bay State Park by kayak. The water taxi companies will drop off kayaks along with you for an additional fee. You can even stay in a yurt there with your rented kayaks!
Rafting the Kenai River
Rafting the Kenai River is perfect for adventure lovers! Trips go rain or shine so make sure you are prepared for a rainy day. The guide company will provide all the gear you need for an amazing river adventure on the wild Kenai River! Make sure to bring plenty of warm clothes and layers.
Most rafting trips depart from Cooper Landing.
Salmon and bear viewing along the Russian River
The Russian River is a big destination for Alaskans for salmon fishing when the salmon are running. Stop here to see the fish in the river, people fishing and often bears looking for their dinner too! Be very mindful of bears while visiting here and don't leave any food out. I recommend bringing bear spray with you if you're hiking or walking away from your car.
Historic Russian Orthodox churches in Kenai
The town of Kenai boasts two historic Russian Orthodoxes churches. The Holy Assumption of the Virgin Mary Church is white with bright blue beautiful domes on top. It is open to visitors. The St Nicholas Chapel is also a historic Russian Orthodox site.
Delicious local food and try local craft beverages
Even though you'll be in small towns and remote areas, there are amazing food options on the Kenai Peninsula! Make sure not to miss Firebrand BBQ in Seward or Fat Olives in Homer. You won't go wrong with seafood anywhere on the Kenai, it will all be delicious. Same for baked goods, Alaskans take their baked treats seriously so don't skip any bakeries!
The Kenai Peninsula is home to two wineries featuring yummy fruit wines with Alaskan fruit. Check out Alaska Berries which uses all fruit grown on their property in Soldotna. Bear Creek Winery is another fruit wine forward spot located in Homer.
There are plenty of breweries to discover as well. My favorite is Cooper Landing Brewing (Cooper Landing) which has an awesome food truck. Kenai River Brewing Company in Soldotna is another good choice.
If you like funky bars, don't miss the famous Salty Dawg Saloon on the Homer Spit!
Where to stay on the Kenai Peninsula
Camping
There are lots of options for camping on the Kenai Peninsula. It is also a very popular place for camping with lots of Alaskans traveling here for camping trips. Especially on summer weekends, finding camping can be very challenging. If you can go mid week or get a reservation that will make it a lot less stressful. Some campgrounds on the Kenai Peninsula (such as the ones along the Russian River) only allow RVs and do not allow tent camping for bear safety.
Some of my favorite places to camp on the Kenai Peninsula include:
Seward Municipal Campground – a big and busy parking area but a fantastic location with a great view and showers. You can reserve it in advance
Captain Cook Campground – a stunning location above the beach on Cook Inlet with big volcanoes across the water, this campground is not reservable and sometimes has terrible mosquitos! (honestly though, that's everywhere in Alaska!)
Homer Spit Campground – similar to Seward, it's close to town and a great location. It's often foggy and windy, but the location can't be beat if you're visiting Homer! You can reserve in advance and they have showers.
There are lots of other options, but those are my personal favorites that are in really convenient locations for visitors.
Related: Complete guide to camping in Alaska
Hotels, Lodges and Vacation Rentals
The Kenai Peninsula has lots of lodging available. It is critical to book in advance because this is a very popular area in the summer. There are big lodges on open properties, hotels in town and vacation rentals all over the place.
A lot of the more lodge oriented places are near Cooper Landing or on the outskirts of Seward, Homer and Soldotna. There are clusters of vacation rentals here too.
If you're looking to stay in a hotel in town, I recommend the Land's End Resort in Homer and the Harbor 360 Hotel in Seward.
Lodging in Alaska is very expensive so be ready for high prices (or book in the off season, or consider camping).
Related: Alaska on a budget
Kenai Peninsula weekend and week long itineraries
One day itinerary for the Kenai Peninsula
If you only have a day and you want to get a taste of the Kenai Peninsula, I recommend a day trip to Seward from Anchorage. You can even do this without a car by taking the train!
If you're driving, stop at Exit Glacier and check out the awesome glacier views up close! If you take the train there's a shuttle you can take to Exit Glacier if you have enough time before your train leaves.
Make sure to arrive in Seward in time to do the afternoon boat tour of Kenai Fjords National Park. You'll see a ton of marine wildlife and some incredible scenery. If you're riding the train, the train is timed to sync up with the afternoon tours.
When you get back to Seward, check out the Alaska Sealife Center and walk around the shops before heading back to Anchorage.
Three day itinerary for the Kenai Peninsula
Three days gives you enough time to make it to Homer at the end of Kenai Peninsula, as long as you don't mind spending a lot of time in the car! You can shorten it my just going to Seward and Soldotna or Kenai for less driving.
Day 1 – Anchorage to Seward
Spent at least half the day driving from Anchorage to Seward. There are lots of wonderful places to stop along the way, so pick one or two and get to Seward in time for the afternoon wildlife cruise of Kenai Fjords National Park which departs from the Seward Harbor in the early afternoon.
Have a seafood dinner from one of the many restaurants near the harbor, or grab one of the many reindeer sausage specialties from the Side Street Local food truck downtown.
Overnight at the Harbor 360 Hotel or the Seward Municipal campground
Day 2 – Seward to Homer
You're looking at about 3.5 hours of driving this day. Get up and grab a breakfast burrito from Firebrand BBQ in Seward and then head out of town. Just on the outskirts of Seward, turn left toward Exit Glacier in Kenai Fjords National Park. Park at the visitor center and then take the short walk out to the viewpoint of spectacular Exit Glacier.
Back on the road, turn towards Cooper Landing and Soldotna at the junction with the highway back to Anchorage. Stop for a beer (and if you're hungry visit the food truck) at Cooper Landing Brewing.
Stop along the Russian River if there are fishermen out, to have a look for salmon and bears also fishing along the river!
Make sure to fill up on gas in Soldotna and this is a good place to grab some food if you haven't already.
Back in the car, stop at the Captain Cook Recreation Area, or anywhere else along the highway as it goes along the Cook Inlet. Not only can you explore the beach here, you can see immense volcanoes across the Cook Inlet on the Alaska Peninsula.
When you arrive in Homer, check into the campground or the hotel. Take a walk on the Homer Spit and grab some tasty dinner at Fat Olive's and have a drink at the Salty Dawg.
Day 3 – Homer to Anchorage
In the morning, visit the Two Sisters Bakery and then take a kayaking tour or a fishing charter. If you'd rather just relax and watch the water, you can do that too!
In the afternoon, head back to Anchorage. You can stop for a couple of the stops you missed on the way down if you like.
One week (7 day) itinerary for the Kenai Peninsula
If you have more time to spend on the Kenai Peninsula LUCKY YOU! You can spread out the driving and do a lot more activities.
Day 1 – Anchorage to Seward
Same as the above – make some stops along the way and do the boat tour in the afternoon. You could also visit Exit Glacier on this first day instead and do the full day tour of Kenai Fjords on Day 2!
Day 2 – Seward and Kenai Fjords National Park
Spend the day in Seward and Kenai Fjords. One option would be to do a full day boat tour of Kenai Fjords, which gives lots of opportunity to see wildlife and glaciers. If you're a hiker, you might prefer to do the Harding Icefield hike, which is spectacular but really hard! You could also spend the day doing a kayak tour or just walking around town.
Day 3 – Seward to Homer
Similar to Day 2 in the three day itinerary except you've already been to Exit Glacier. Instead, you can spend more time doing a hike along the way or beach combing. You could also do a rafting trip in Cooper Landing.
Make sure to stop along the beach and explore a bit and check out the view before driving to Homer, checking in, walking the Homer Spit and enjoying dinner.
Day 4 – Day trip to Seldovia or Kachemak Bay State Park
Take the ferry to the artsy, scenic and remote town of Seldovia. If you'd like to get out of town completely, take a tour or water taxi across the bay to Kachemak Bay State Park and rent kayaks or do a guided kayak tour here. There are mountains, fjords and lots of wildlife including whales and sea otters!
Day 5 – Do a fishing charter
Even if you have no experience, a fishing charter is a fantastic thing to do on the Kenai Peninsula! This is a place you'll find lots of Alaskans doing charters to if they don't have their own boat. You can go out in the open ocean for salmon or halibut, or you can try your hand at fly fishing or other types of river fishing in the Kenai's many rivers.
If you're not keen on fishing, you can do a hike this day or a kayak tour instead. Or you can enjoy looking out the window where you're staying and enjoy the view!
If you're camping, you could consider moving from the campground in Homer to the Captain Cook or one of the campgrounds along one of the Kenai Peninsula's many lakes if you're ready for a change of scenery before heading back to Anchorage.
Day 6 – Homer to Cooper Landing
With more time, you can break up the trip back to Anchorage by staying at one of the lodges near Cooper Landing or one of the many campgrounds. This is a great day to visit the beach again or go for a hike or another type of tour you haven't done yet, such as rafting or flightseeing.
Day 7 – Cooper Landing to Anchorage via Hope
On your way back to Anchorage, take the one hour detour to the tiny historic town of Hope. This is a place not many visitors make it to, and it has interesting historic buildings and a great view of Turnagain arm.
Back on the road, stop at Chair 5 for pizza in Girdwood on your way back to Anchorage.