Wilderness Peak Loop Trail – Forest Workout Close to Town
Posted On May 8, 2020
Last Updated on April 15, 2022
The Wilderness Peak Loop trail is a perfect half day hike if you're looking for something close to Seattle or Bellevue where you'll have some challenge with no parking pass required! At just under 4 miles and 1200 feet of elevation gain, this hike is definitely steep in places. If you're looking for something harder or longer, try Margaret's Way with it's trailhead across the street. If you're looking for something easier, try the Coal Creek loop on the other side of Cougar Mountain.
The Wilderness Peak Loop trail is part of Cougar Mountain Regional Wildland Park, part of King County Parks. This is the ancestral land of the Coast Salish and Duwamish people.
Parking Pass: none
Dog Friendly: yes, on leash
Cell phone coverage: The signal is weak on most of the trail and some parts have no signal at all.
Restrooms: Port-a-potty in the parking lot
Accessibility and Mobility: There are some rooty areas and some bigger steps with roots to navigate. Overall the trail is steep in places but some areas are more flat.
Related: What to wear for a hike in the Pacific Northwest, what to bring on a hike in the Pacific Northwest
Is the Wilderness Peak Loop Trail right for me?
This trail is perfect if you're looking for a workout with some climbing in a beautiful forest. This forest even has some old growth trees! It has some sections that are quite steep (although there are flatter sections between the steep parts). Overall the trail is in good condition, it has a few rocks and roots, but much less than many northwest trails that wind through the forest. There are also sections that can get a bit muddy, especially when it's been rainy.
One important thing to know about the wilderness peak loop trail is that it does not have any views. There is a lovely large bench at the summit, but the forest obscures any views you would have beyond.
The Wilderness Peak Loop trail is open to dogs, as long as they are kept on leash and you clean up after them.
When is a good time for the Wilderness Peak Loop Trail?
Anytime! This is a terrific year round trail. Be aware that the parking lot is quite small with room for only about 10 cars. It can get busy on weekends in the summer, but it's short enough to do in the evening during the summer. In the winter it's a great option because it's a forest hike and you don't see any big sweeping views anyway! It's almost entirely in the shade, which can also be nice when it's hot.
Where is it?
The Wilderness Peak Loop connects to the other trails on Cougar Mountain and can be accessed from other areas. This trail description is the loop that begins at the Jim Whittaker Trailhead on State Route 900 between Renton and Issaquah. Google maps will take you right to it.
Trail Description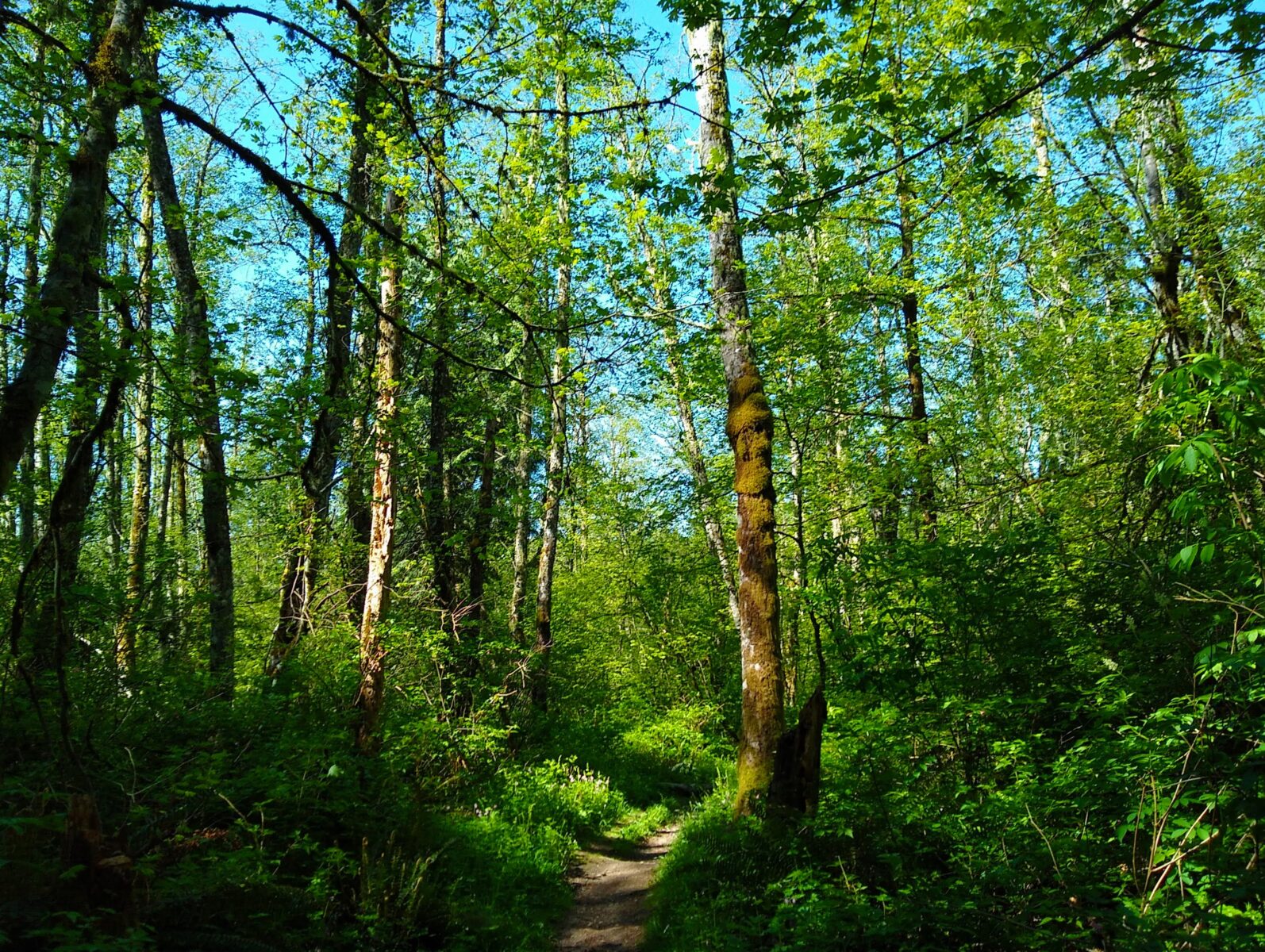 Starting at the Jim Whittaker Trailhead, begin uphill and start climbing through the forest. In approximately half a mile you'll reach a junction where you start the loop. I suggest going to the right first.
Now you're on the Gombu Wildnerness Cliffs trail. You'll start climbing more steeply now, with some flatter stretches along the way. Closer to the top, you'll start to see some old growth cedar and douglas fir trees. There is at least one social trail on the right in this section, when it doubt, stay left on the way up!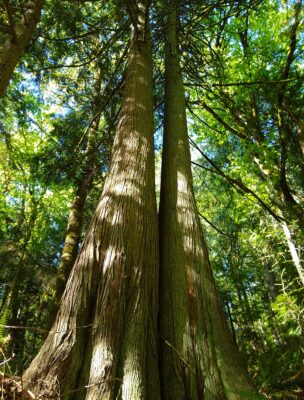 Almost a mile and a half from the loop junction, you'll arrive at another junction with a sign pointing to the right for Wilderness Peak. As a reminder, there's no view here, but I still recommend taking the 0.1 mile trail to the lovely large bench situated there.
When you get back to the main trail, you'll head right, now on the Whittaker Wilderness Peak trail. You'll head downhill for the next almost two miles. You'll pass two signed trails on the right, at Shy Bear Pass. Stick with the Whittaker trail (left) and that will take you back down through the forest and back to the beginning of the loop.
When you get to where you started the loop, go right (it's signed) down a half mile to the parking lot and back to your car.
Breweries and Bakeries near Wilderness Peak
If you're a donut lover, you MUST check out Chuck's Donuts in Renton. People really, really love them and with good reason! They definitely have a loyal and devoted following in Renton.
If you're more interested in a brewery, check out the Sunset Alehouse in downtown Issaquah.
Electric Vehicle Charging
There is plenty of fast charging nearby, including in Issaquah, Bellevue and Renton.