The 15 Best Spring Hikes near Seattle
Posted On February 5, 2021
Spring is a long season in the Seattle area, starting sometime in late February or early March in the lowlands near the Salish Sea (Puget Sound) until the end of June in the nearby Cascade and Olympic Mountains. As the days get longer and warmer, it's a great time to get out and enjoy some of the wonderful spring hikes near Seattle!
To enjoy spring hiking in the Seattle area, it's important to be ready for any kind of changing weather, high and fast moving creeks and rivers and snow in the mountains. Many of our high elevation big view hikes are still covered in feet of snow until mid July, but that's ok because we make up for it with epic waterfalls, sunny wildflower landscapes in eastern Washington and peaceful forests and beaches.
The Washington Trails Association trip reports are a wonderful resource all year, but especially in the spring. The trip reports will help you know where there is and isn't snow as well as any winter storm damage that may be present. Trip reports will usually help you know how epic the mud is, which is definitely a factor this time of year.
This hiking guide to spring hikes near Seattle focuses on hikes that are particularly wonderful in March through May. My favorite winter hikes near Seattle are also all excellent spring options!
Related: What to wear for a hike in the Pacific Northwest, What to bring for a hike in the Pacific Northwest
Teneriffe Falls – North Bend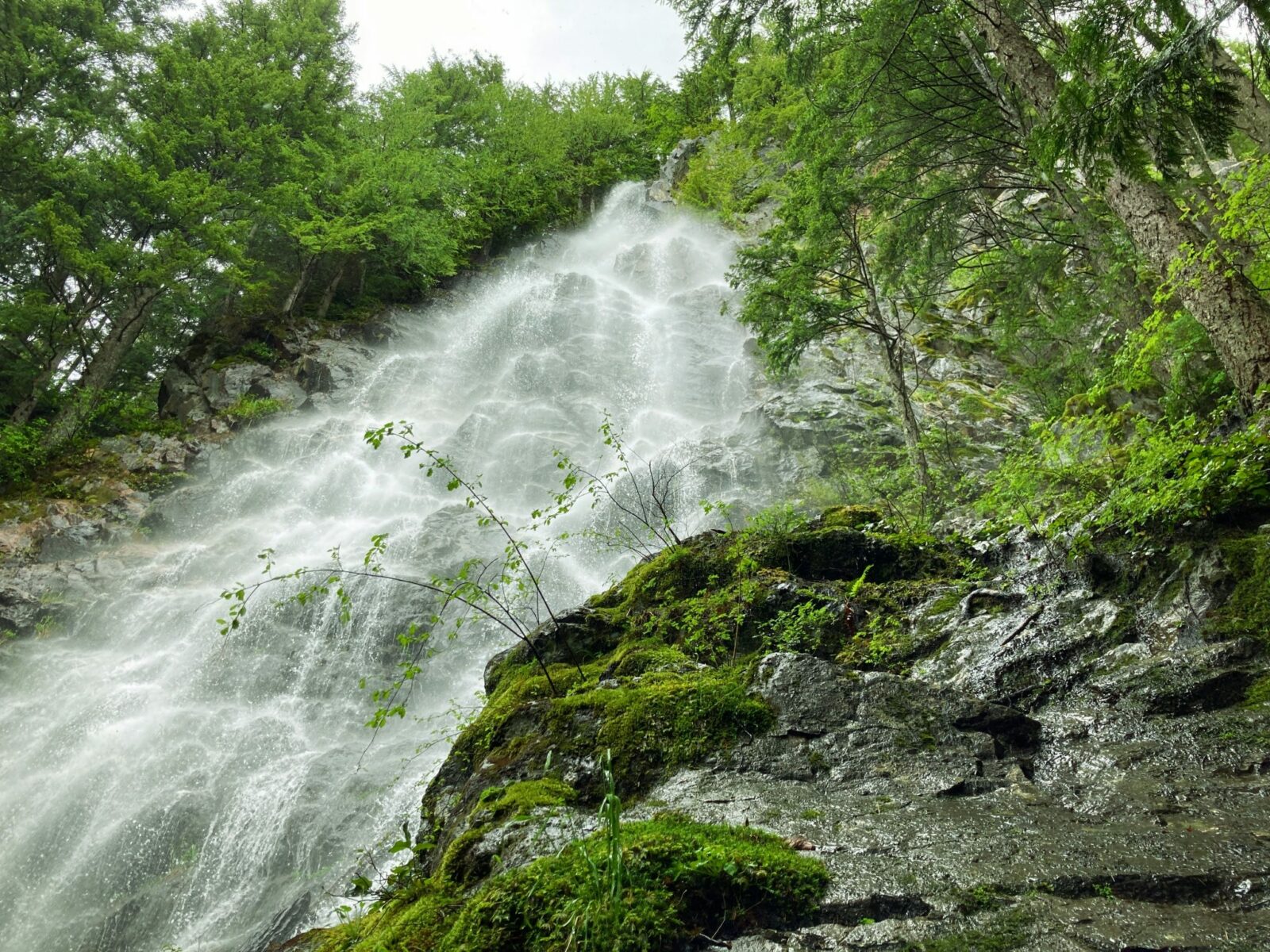 Location: North Bend, just a couple miles past the Mt Si Trailhead
Best Month: May and June (March and April are also good, though there will be a lot of water and mud to navigate on the trail
Why it's one of the best spring hikes near Seattle: Teneriffe Falls is a stunning waterfall, one of my favorite waterfalls in Washington! It's much less well known than some other amazing (but super crowded) waterfalls like Wallace Falls and Twin Falls. It is also far less crowded than Mt Si. There are beautiful foxglove flowers here in late May and June and all through the spring their is a ton of water in this waterfall. This trail connects up to several other hiking trails between Mt Teneriffe and Mt Si.
Length: 6 miles round trip
Elevation Gain: 1500 feet
Passes Needed: Washington State Discover Pass
Dogs Allowed: yes, on leash
Margaret's Way Trail – North Bend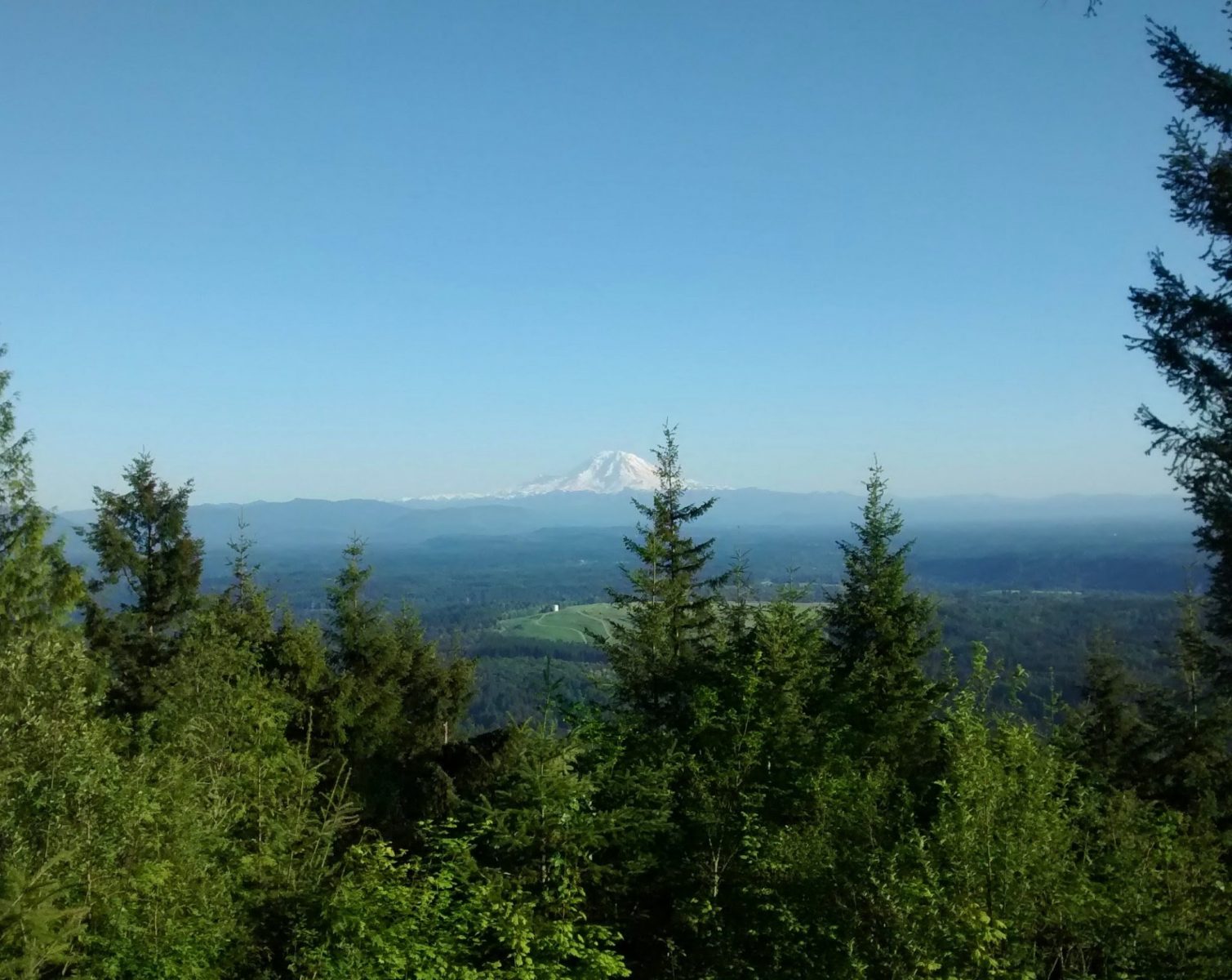 Location: Between Issaquah, Bellevue and Renton
Best Month: Fantastic all year, including all spring!
Why it's one of the best spring hikes near Seattle: A gorgeous forest hike to a wonderful view of Mt Rainier, Margaret's Way has the feel of being an epic hike while still being very close to town. As the forest starts to green up in the spring, you'll be treated to wildflowers, new growth and bird song along the way. This area around Squak Mountain, Tiger Mountain and Cougar Mountain is also popular for trail running. You can connect to other hiking trails on Squak Mountain if you want to go farther.
Length: 7 miles
Elevation Gain: 1500 feet
Passes Needed: None
Dogs Allowed: yes, on leash
Franklin Falls – Snoqualmie Pass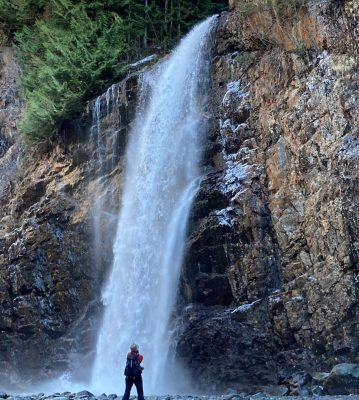 Location: Just west of Snoqualmie Pass
Best Month: Anytime in the spring, but be ready for a bit of snow!
Why it's one of the best spring hikes near Seattle: Franklin Falls is super popular and insanely crowded in the summer when it's a short and fairly easy hike one mile to the waterfall. In winter, the longer hike reduces some of the crowds. The challenge in spring is that you don't know when the road to the trailhead will open and whether you'll have the short or long route. Learn more about your options for getting to Franklin Falls here. However you get there, this impressive waterfall will be crashing with water all spring (and all year! This is also a wonder
Length: 2, 4 or 8 miles round trip depending on where you start and if the road to the trailhead is open
Elevation Gain: Up to 400 feet
Passes Needed: Northwest Forest Pass if starting at summer trailhead, none if starting from Snoqualmie Summit
Dogs Allowed: yes, on leash
Cherry Creek Falls – Duvall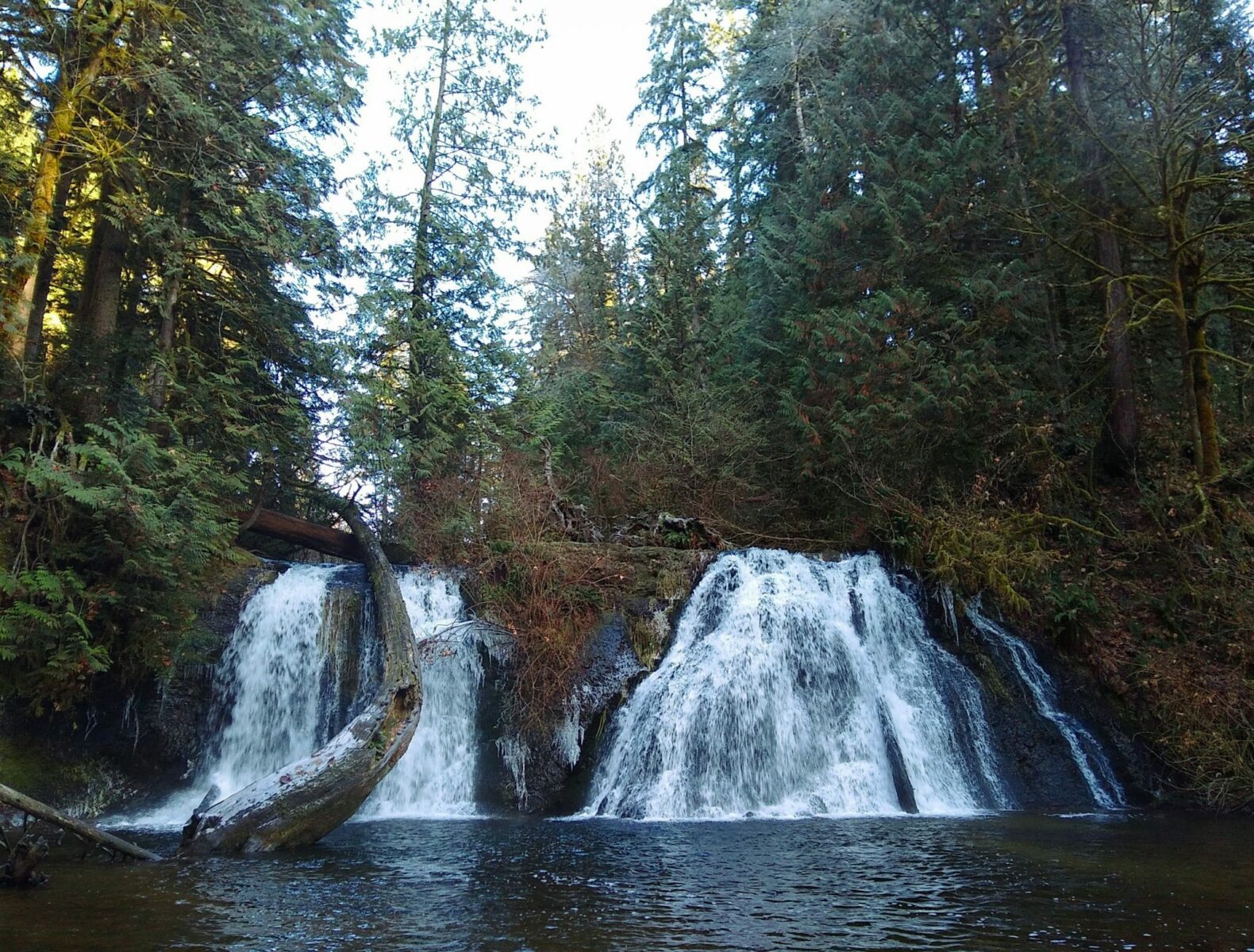 Location: Duvall, in Eastern King County between Redmond and Monroe
Best Month: This is a wonderful year round hike, any time in the spring is awesome (I recommend rubber boots as there is a creek crossing at the end)
Why it's one of the best spring hikes near Seattle: A beautiful forest walk to a photogenic waterfall slipping into a calm pool, Cherry Creek Falls is a wonderful year round hike. Like all waterfalls in the Pacific Northwest, it's at it's best in spring! There is also a weird old car stuck in a tree that's entertaining to see. This is also a good hike for a rainy day.
Length: 5 miles
Elevation Gain: 500 feet
Passes Needed: None. Pay attention and follow the parking signs along the street
Dogs Allowed: yes, on leash
Related: Complete Guide to hiking in the rain
Ebey's Landing – Whidbey Island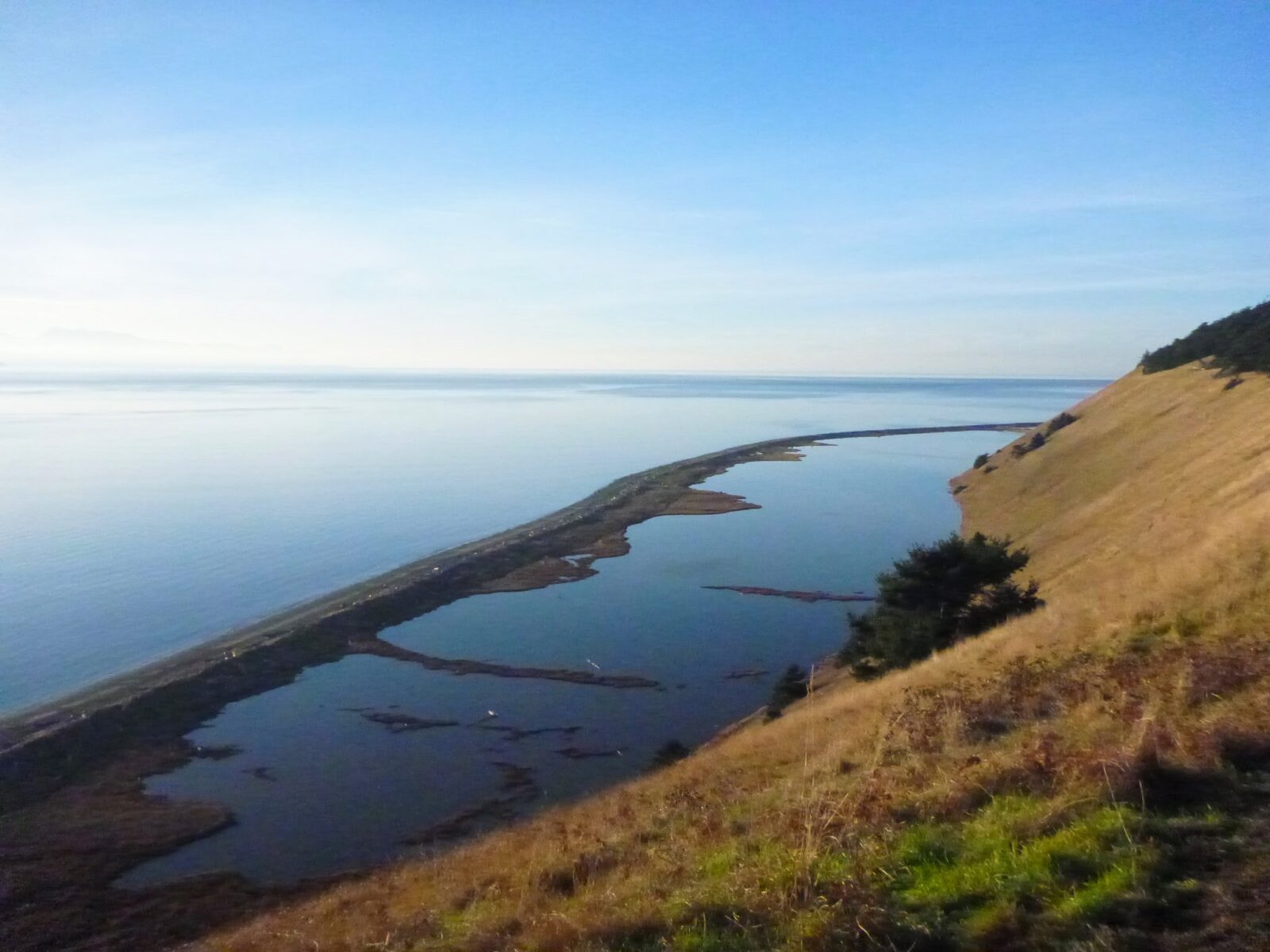 Location: The west side of Whidbey Island, near the town of Coupeville
Best Month: This is a fantastic year round hike – any month in spring will be wonderful
Why it's one of the best spring hikes near Seattle: Ebey's Landing is one of my favorite hikes in Washington State. It has views, eagles, beach, forest and it's mellow. It's a loop trail and I like to go along the bluff before dropping down to return on the beach. If you prefer to stay on trail instead of beach, you can go out and back on the bluff instead. Keep your eyes out for eagles in the trees and soaring above and below you and seals in the water when you're on the beach. Spectacular sunsets here.
Length: 5.5 mile loop trail
Elevation Gain: 300 feet
Passes Needed: Washington State Discover Pass
Dogs Allowed: yes, on leash
Mount Finlayson – San Juan Island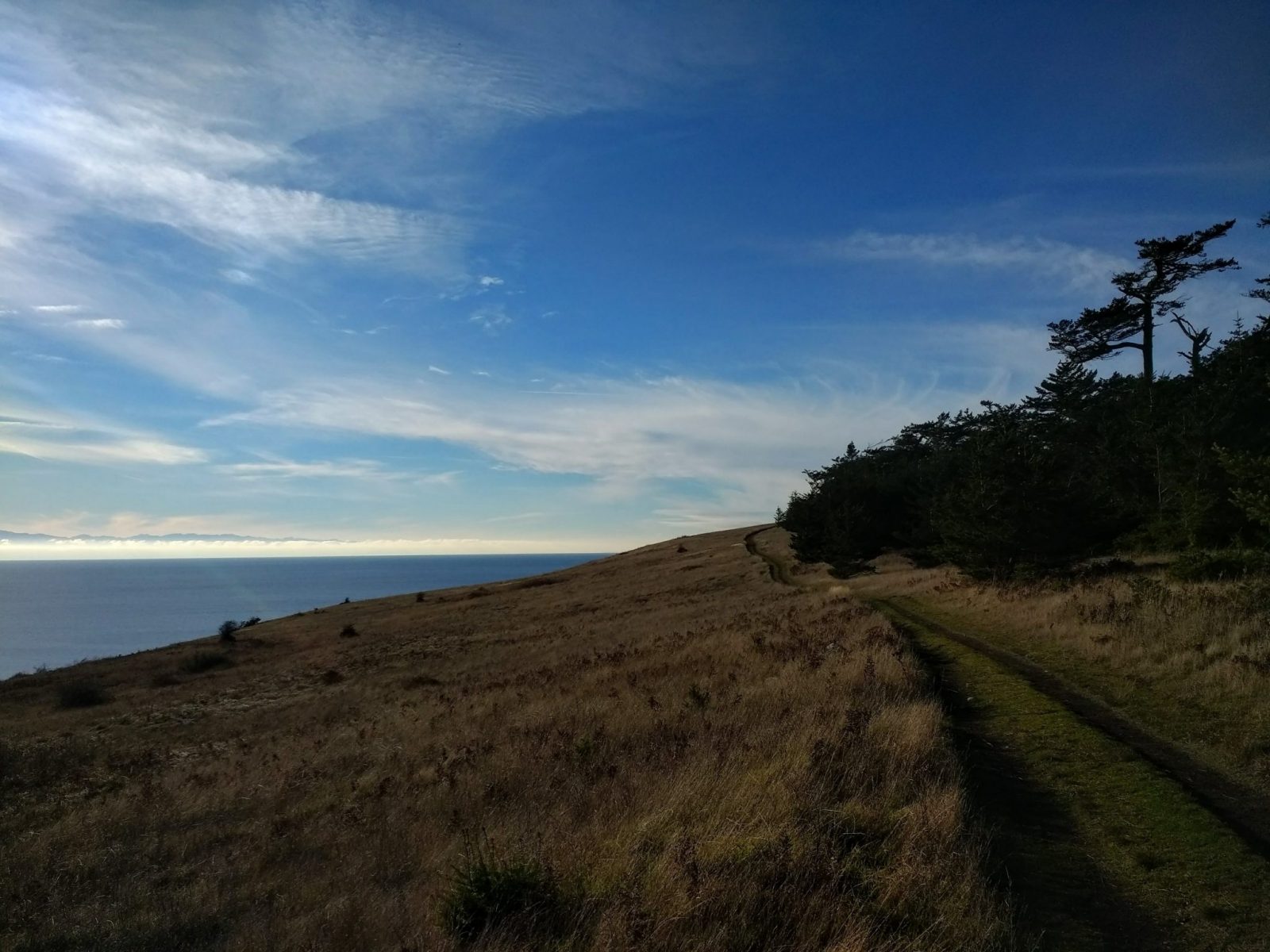 Location: San Juan Island National Historical Park, San Juan Island, near Friday Harbor
Best Month: This is a wonderful hike all year! Any month is perfect, though it helps to have a sunny day to see the view
Why it's one of the best spring hikes near Seattle: Mt Finlayson is a mellow loop hike that has views, water, forest and beach on a quiet setting in the San Juan Islands. Never crowded, this is a place to take your time and soak it up! Calling it a mountain is definitely an exaggeration of this couple hundred foot hill, but it's island setting makes the view incredible.
Length: 4 miles
Elevation Gain: 400 feet
Passes Needed: None
Dogs Allowed: yes, on leash
Robinson Canyon – Ellensburg
Location: Near Ellensburg at the L.T. Murray Wildlife Area
Best Month: May – this area is closed for the winter until May 1st to protect elk
Why it's one of the best spring hikes near Seattle: Sunny, warm days on the dry side of the state, more open forests, early season wildflowers and solitude are the big attractions in Robinson Canyon!
Length: Up to 10 miles
Elevation Gain: Up to 1000 feet
Passes Needed: Washington State Discover Pass
Dogs Allowed: yes, on leash
Cowiche Canyon – Yakima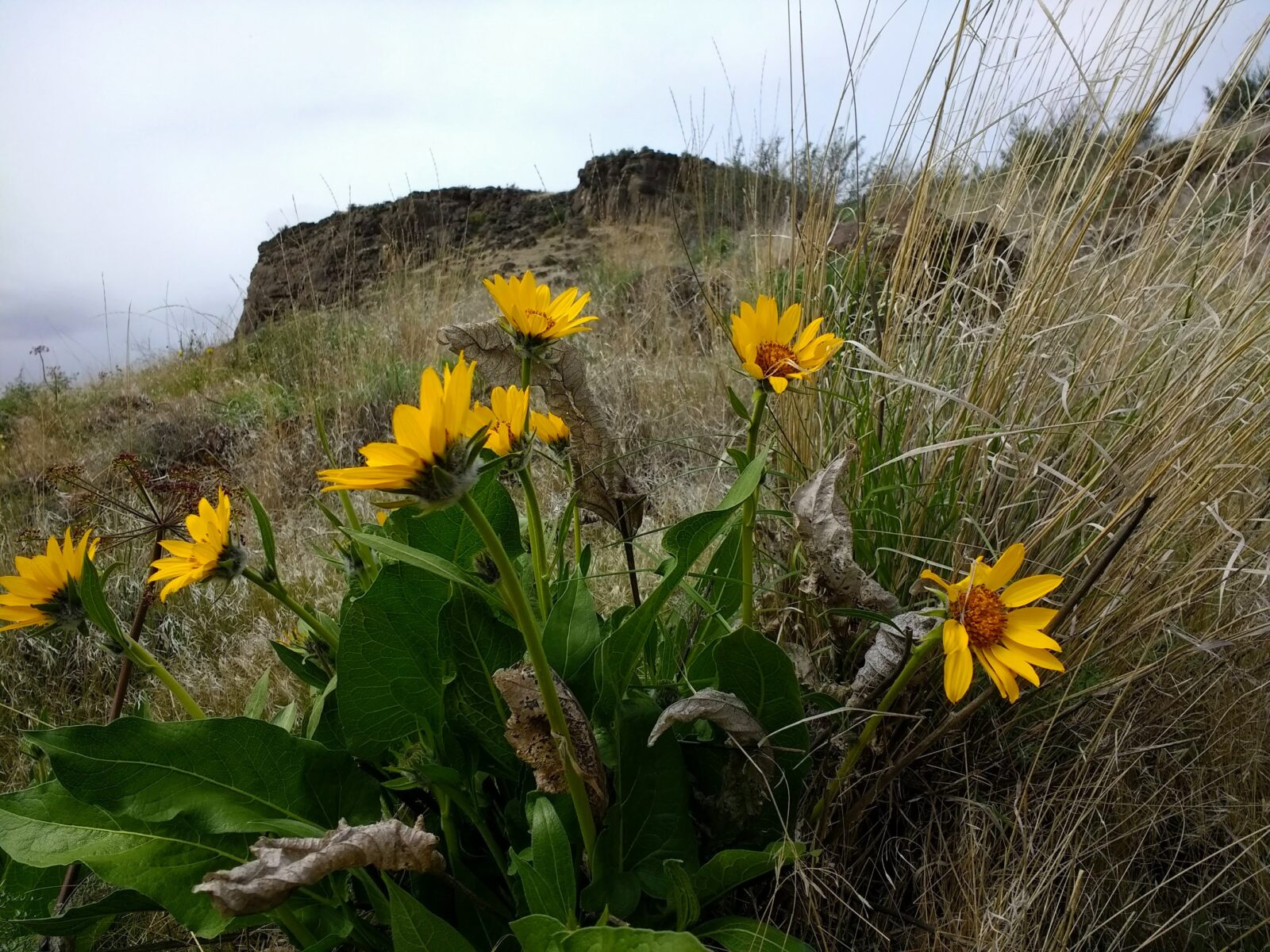 Location: Cowiche Canyon Conservancy Land, Yakima
Best Month: Late April and early May – for wildflowers! This is a wonderful hike year round and often has warm sunny weather starting in March
Why it's one of the best spring hikes near Seattle: First of all, at Cowiche Canyon you can hike to a winery! You can start at either end of the canyon and then follow the winery trail up the side of the canyon through the vineyard to the winery to enjoy your picnic with some wine tasting! Similar to other parts of Central Washington, days can be sunny and warm starting in March. The wildflowers are gorgeous in late April and early May.
Length: Up to 5 miles
Elevation Gain: Up to 200 feet
Passes Needed: None
Dogs Allowed: yes, on leash
Ancient Lakes – Central Washington
Location: Near the town of Quincy and the Gorge Amphitheater
Best Month: March and April – there is no shade here or drinking water and it can get quite hot starting in May! It's cold at night and in the mornings in the spring so bring warm layers even on a warm day.
Why it's one of the best spring hikes near Seattle: A beautiful exploration of ice age floods, desert landscapes and water in late winter and early spring, this hike gives the gift of a unique landscape. On the sunny side of the Cascade Mountains, days are often warm and sunny in the spring, a welcome relief after a long winter. Early season backpacking is an option here, though you must bring all your own water. It can be a bit tricky to navigate the different trailheads but you can learn more about the hike here.
Length: Up to 12 miles
Elevation Gain: Up to 650 feet
Passes Needed: Washington State Discover Pass
Dogs Allowed: yes, on leash
Hanford Reach – Eastern Washington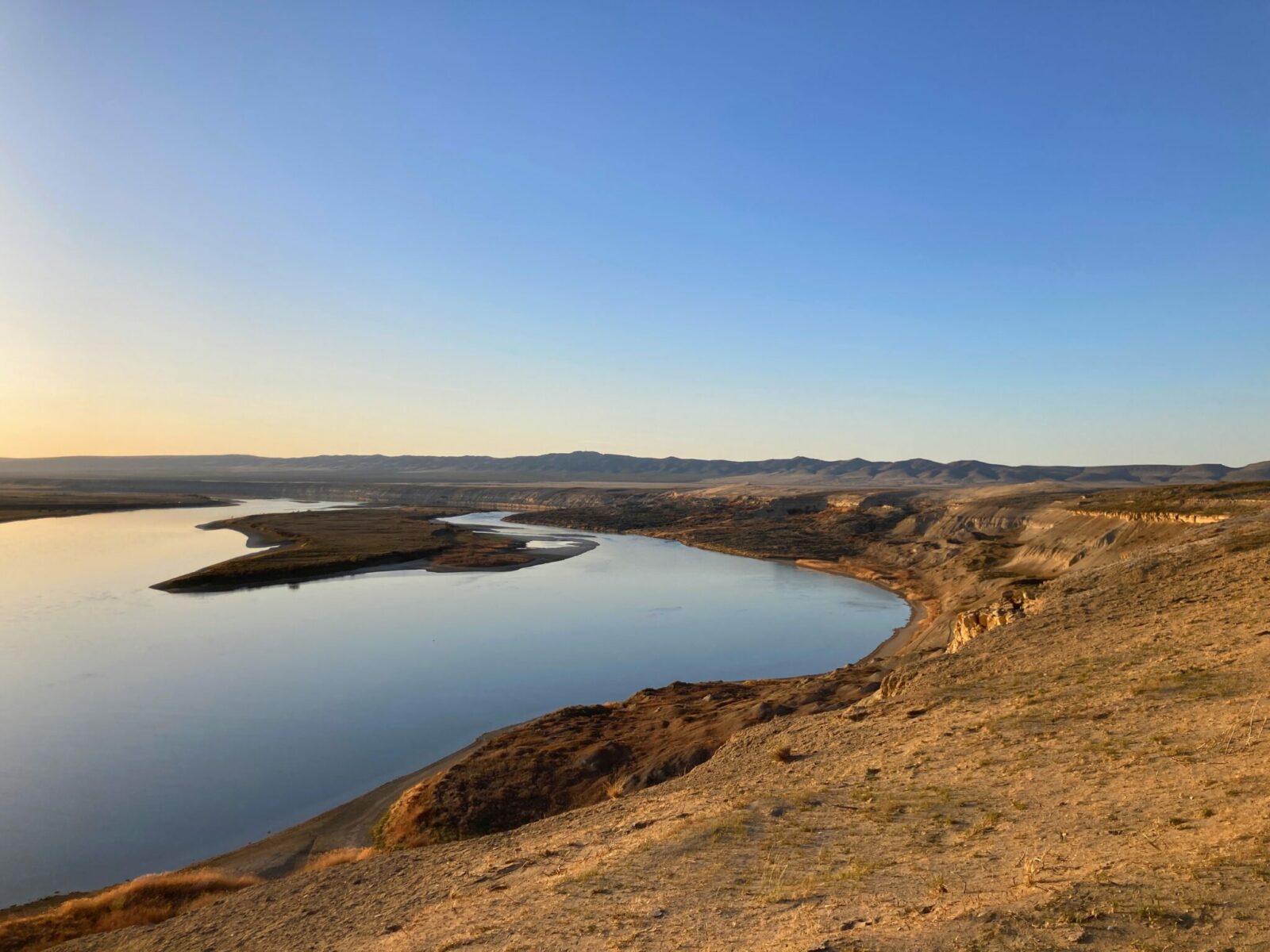 Location: A hour north of Richland, in Eastern Washington in Hanford Reach National Monument
Best Month: Similar to Ancient Lakes, there is no shade or water so March and April are wonderful, with warm days but not too much heat yet.
Why it's one of the best spring hikes near Seattle: Spectacular views, spring wildflowers, fun sand dunes to play on and the opportunity to see the last free flowing section of the Columbia River make Hanford Reach an amazing spring hike and fully worth the three hour drive from Seattle.
Length: Up to 7 miles
Elevation Gain: Up to 500 feet
Passes Needed: None
Dogs Allowed: No, dogs are not allowed in Hanford Reach National Monument
Lena Lake – Olympic Peninsula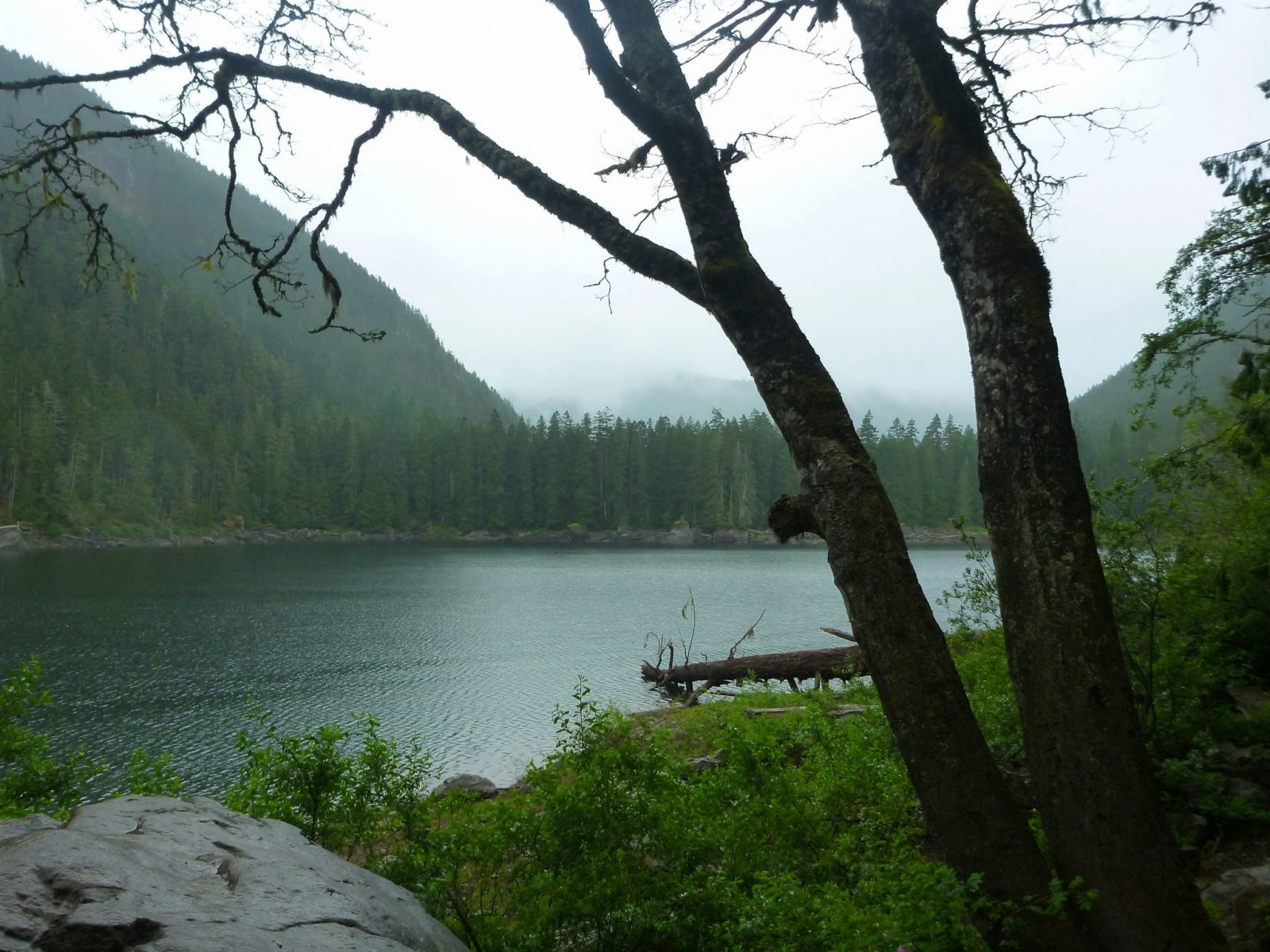 Location: Eastern side of the Olympic Peninsula, near Hood Canal and Highway 101.
Best Month: This hike is usually snow free all year, but by March it will definitely be snow free. The closer you get to summer, the busier and sunnier it gets!
Why it's one of the best spring hikes near Seattle: Lena Lake is an alpine lake that is snow free by spring, Lena Lake is crowded and popular in the summer but slightly less so in the spring. Don't expect solitude, but do expect a beautiful forest, a gorgeous lake and early season wildflowers!
Length: 7.5 miles round trip
Elevation Gain: 1300 feet
Passes Needed: Northwest Forest Pass
Dogs Allowed: yes, on leash
Rialto Beach – Olympic National Park
Location: Pacific Coast of Olympic National Park, near the town of La Push. It's not actually close to Seattle (4-5 hours away), but it's awesome.
Best Month: All year! The most important thing is to do this hike at low tide.
Why it's one of the best spring hikes near Seattle: This wonderful beach hike leads you to the amazing tidepools at Hole-in-the-Wall making it an especially great place to go with kids. There are also amazing sunsets here.
Length: 4 miles round trip to Hole-in-the-Wall
Elevation Gain: None
Passes Needed: Olympic National Park entrance fee ($30 per car)
Dogs Allowed: No
Hoh Rainforest – Olympic National Park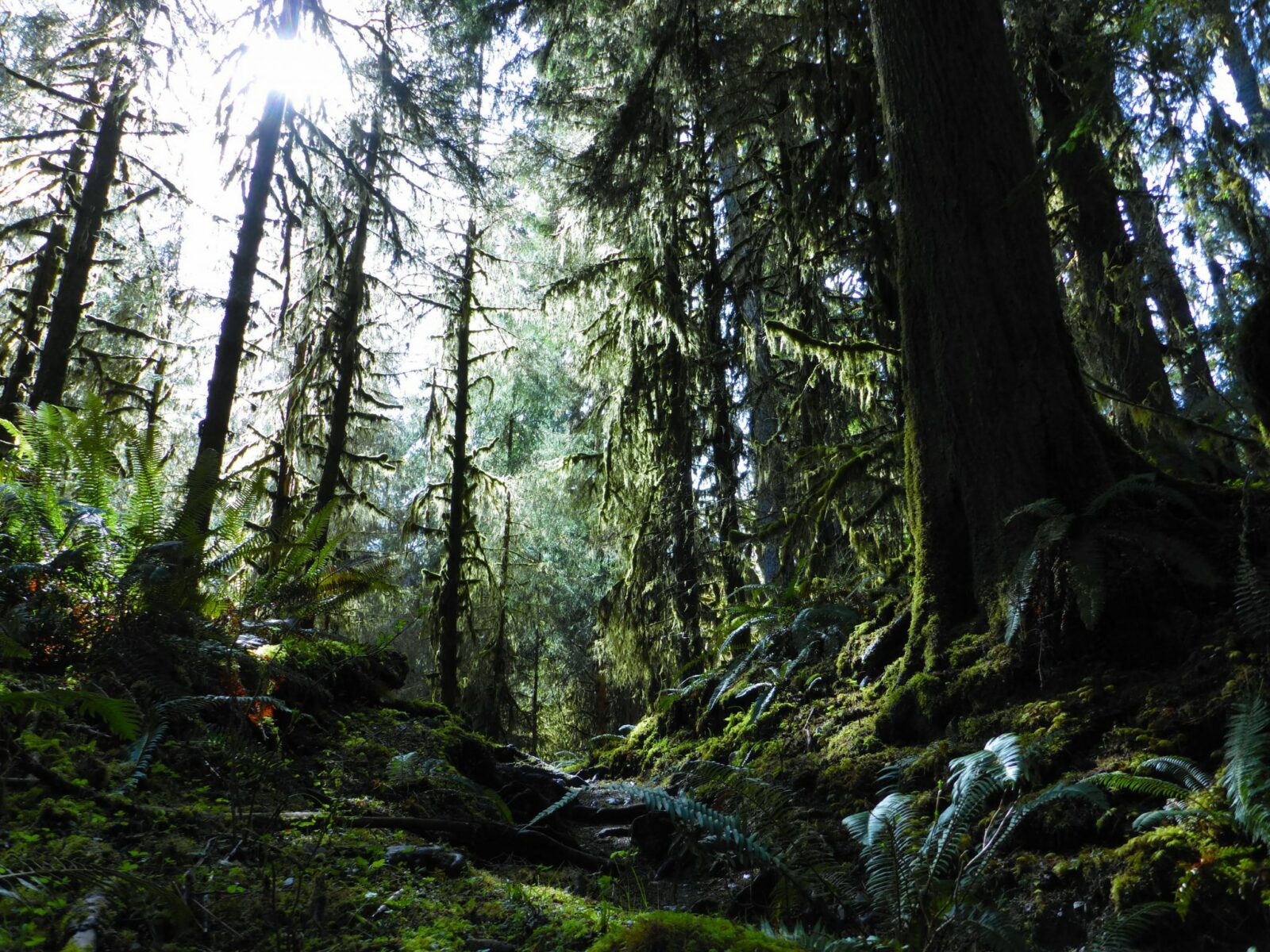 Location: The Hoh Rainforest is not close to Seattle! But it's awesome, and perfect for spring. It is about half an hour from the town of Forks in Olympic National Park.
Best Month: March through June (although it's a good year round destination)
Why it's one of the best spring hikes near Seattle: The Hoh is an iconic temperate rainforest, famous around the world for it's gigantic old growth trees and draping moss. Spring is a great time to visit, when winter storms have passed but summer crowds have not yet arrive. Be ready for rain and mud!
Length: Up to 10 miles
Elevation Gain: Minimal
Passes Needed: Olympic National Park Entrance fee ($30 per vehicle)
Dogs Allowed: No
Carbon River Trail – Mt Rainier National Park
Location: The Carbon River Valley is the closest part of Mt Rainier National Park to Seattle, but most people have never heard of it! It's in the northwest corner of the park, south of the town of Buckley.
Best Month: April and May (although it's open all year, the waterfalls are epic in spring)
Why it's one of the best spring hikes near Seattle: This gorgeous and impressive old growth forest is exactly the kind of other worldly forest you think of when you think of the Pacific Northwest. Add that to the relatively short drive from Seattle (compared to other parts of Mt Rainier) and the roaring spring waterfalls, it's just about perfect.
Length: Up to 10 miles
Elevation Gain: Up to 1500 feet
Passes Needed: Mt Rainier National Park Entrance fee ($30 per vehicle)
Dogs Allowed: No
Spring Snowshoeing at Mt Rainier National Park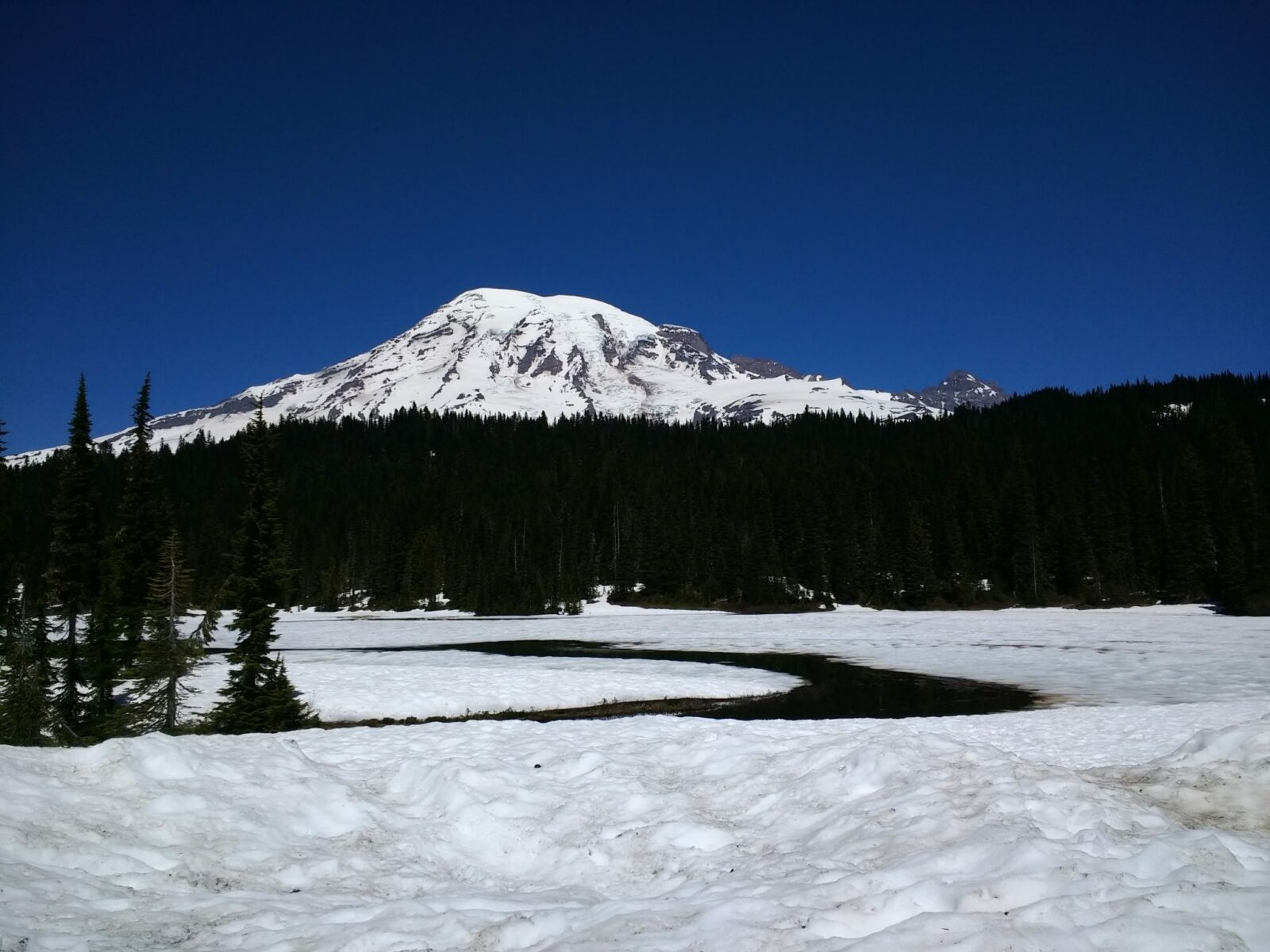 Location: Paradise at Mt Rainier National Park
Best Month: March through May is fantastic for snowshoeing at Mt Rainier
Why it's one of the best spring hikes near Seattle: This is not exactly a traditional spring hike, but it's really fun to snowshoe at Mt Rainier in the spring. Longer, sunnier days yield awesome views and the snow is still super deep. Sometimes the snowshoeing here lasts into June! Don't forget your sunscreen if you go.
Length: As long or short as you want!
Elevation Gain: As much or little as you want!
Passes Needed: Mt Rainier National Park entrance fee ($30 per vehicle)
Dogs Allowed: No