The 5 Best road trips in Alaska
Posted On August 31, 2022
Last Updated on September 21, 2023
If you love road trips, then you absolutely must do one of these road trips in Alaska in your lifetime! Alaska's highways are remote and vast with absolutely spectacular scenery that makes the miles pass quickly.
My top 5 Alaska road trips are all on paved roads, making them accessible in any rental car in reasonable weather. I've included some bonus trips on unpaved highways for even more adventure, but be aware that most of those road trips are not an option in most rental cars. There are local companies that will allow you to drive on gravel roads, make sure to book them far in advance as they are in high demand!
I've done all these epic road trips in Alaska at least once, most of them many times. In addition to living in Alaska for seven years, I'm also a field editor for the Milepost, so it's part of my job to make sure the information for travelers is accurate and helpful. I love road trips and any time I do a road trip in Alaska, I'm reminded that these really are some of the best I've ever done in my life. As a former Alaskan, I might be biased, but I think you'll agree these are some unforgettable scenic drives.
Tips for Driving in Alaska
As a former Alaskan and a guide, I've done lots of road trips in Alaska! At the bottom of this article is a section specifically about what to bring with you. Some additional tips:
Make sure you are not driving a rental car on any highways that are prohibited in your rental agreement (like gravel roads). Not respecting this can be VERY expensive and is not the right thing to do
Expect road trips in Alaska to take much longer than in the rest of the United States. Road construction, two lane highways with infrequent passing lanes, stunning scenery, wildlife and unpredictable weather are just a few reasons! Slow down, don't speed, keep your eyes on the road and make the journey a part of the adventure rather than a way to get from place to place.
Expect to have limited or zero cell service in places. Carry paper maps or downloaded maps on your phone, and download those playlists, podcasts and audio books. I've included some information about cell service along each route, based on my experience. Depending on your cell service provider, your experience may be different.
Drive a car with tires in good condition, which minimizes your chances of a flat. Just in case have a full size spare and tire changing equipment.
Most rest areas have only pit toilets (no flushing toilets or sinks). I have indicated the flushing toilets along each route, so plan ahead if that's important to you!
Check road conditions before you go at the State of Alaska's website.
Seward Highway – Anchorage to Seward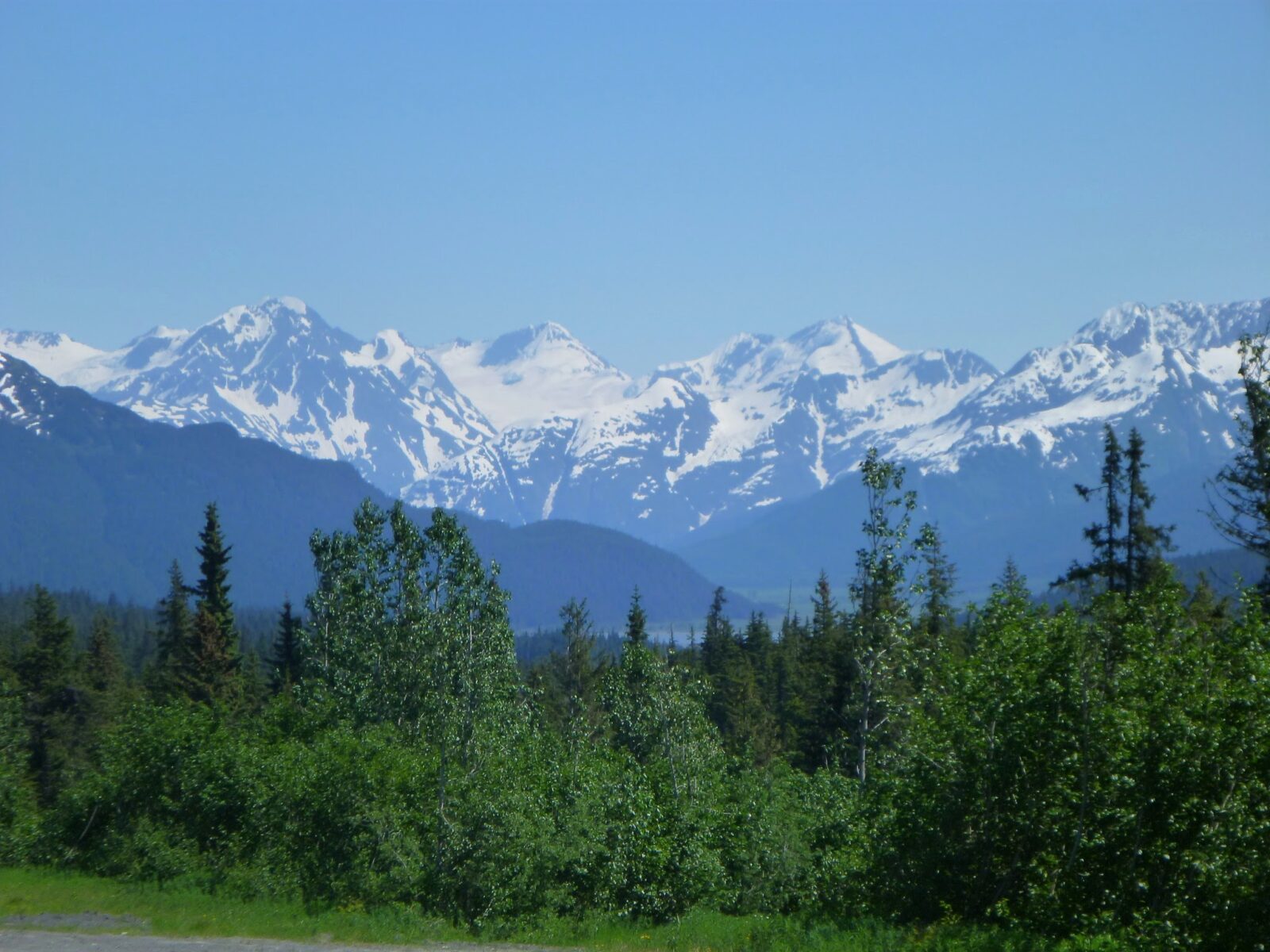 Why the Seward Highway is one of the best road trips in Alaska
A road trip from Anchorage to Seward is an unforgettable Alaska experience! This is my favorite road trip in Alaska to recommend for visitors! Every single moment of this drive is surrounded by stunning scenery, from the bore tides of Turnagain Arm to the mountains of Turnagain Pass and glaciers of Portage Valley and Prince William Sound. There are lots of wonderful stops on this trip, so give yourself the entire day to do it, you won't regret it!
Distance: 130 miles (longer if you extend your road trip further onto the Kenai Peninsula)
Minimum drive time (without stops): 2 hours, 45 minutes
Cell service: Good most of the way
Best restrooms: Girdwood, Portage Glacier Visitor Center
Essential stops: Girdwood, Alaska Wildlife Conservation Center, Portage Valley, Exit Glacier
Extending this road trip: The Kenai Peninsula is full of outdoor adventure, big views, fishing and kayaking opportunities, so if you have more time, head further down the peninsula to Soldotna or Homer.
Richardson Highway – Fairbanks to Valdez
Why the Richardson Highway is one of the best road trips in Alaska
The Richardson Highway is my personal favorite highway in Alaska. While a busy highway for traffic across Alaska and a connector to the Alaska Highway connecting Alaska to the "lower 48", many visitors do not even know about how gorgeous this highway is. The mountain views are just incredible, from the Eastern edge of the Alaska range to the Wrangell Mountains to Thompson Pass near Valdez.
Driving the whole Richardson Highway takes you from Fairbanks to Valdez, from the dry and extremely cold or hot (depending on the season) interior of Alaska, through multiple mountain ranges and down to the fishing port of Valdez. This route also parallels the route of the Trans Alaska Pipeline, which you see from time to time from the road.
Distance: 360 miles
Minimum drive time (without stops): 6 hours, 30 minutes
Cell service: Good in towns, limited or non existent between towns.
Best restrooms: Hub of Alaska (Tesoro in Glennallen), Wrangell-St Elias Visitor Center
Essential stops: North Pole Santa Claus House, Big Delta Brewing, Castner Glacier (depending on conditions – hire a guide for safety if you want to see the inside of the cave), Wrangell-St Elias National Park visitor center, Worthington Glacier, Thompson Pass
Extending this road trip: You can extend this road trip in a few ways. One option is to take the ferry from Valdez to Whittier and then drive back to Anchorage from there. You could then loop back to Fairbanks on the Parks Highway. Another option is to take the Glenn Highway over to the Parks Highway to return to Fairbanks.
Glenn Highway – Anchorage to Glennallen
Why the Glenn Highway is one of the best road trips in Alaska
The Glenn Highway has some seriously stunning mountain scenery as well as glaciers. Most people would not do this drive just to go to Glennallen, but it is often a part of a larger road trip from Anchorage to McCarthy or Anchorage to Valdez (connects with the Richardson Highway discussed above).
Distance: 180 miles
Minimum drive time (without stops): 3 hours, 15 minutes
Cell service: There is at least some cell service most of the time, with a few dead spots. After you leave Palmer, service is more limited (not enough for data).
Best restrooms: Palmer, The Hub of Alaska (Glennallen)
Essential stops: Thunderbird Falls, Palmer Musk Ox Farm, Matanuska Glacier
Extending this road trip: This road trip is usually part of a larger one as mentioned above. You can also connect this trip to the Richardson Highway to go up to Fairbanks.
Parks Highway – Anchorage to Fairbanks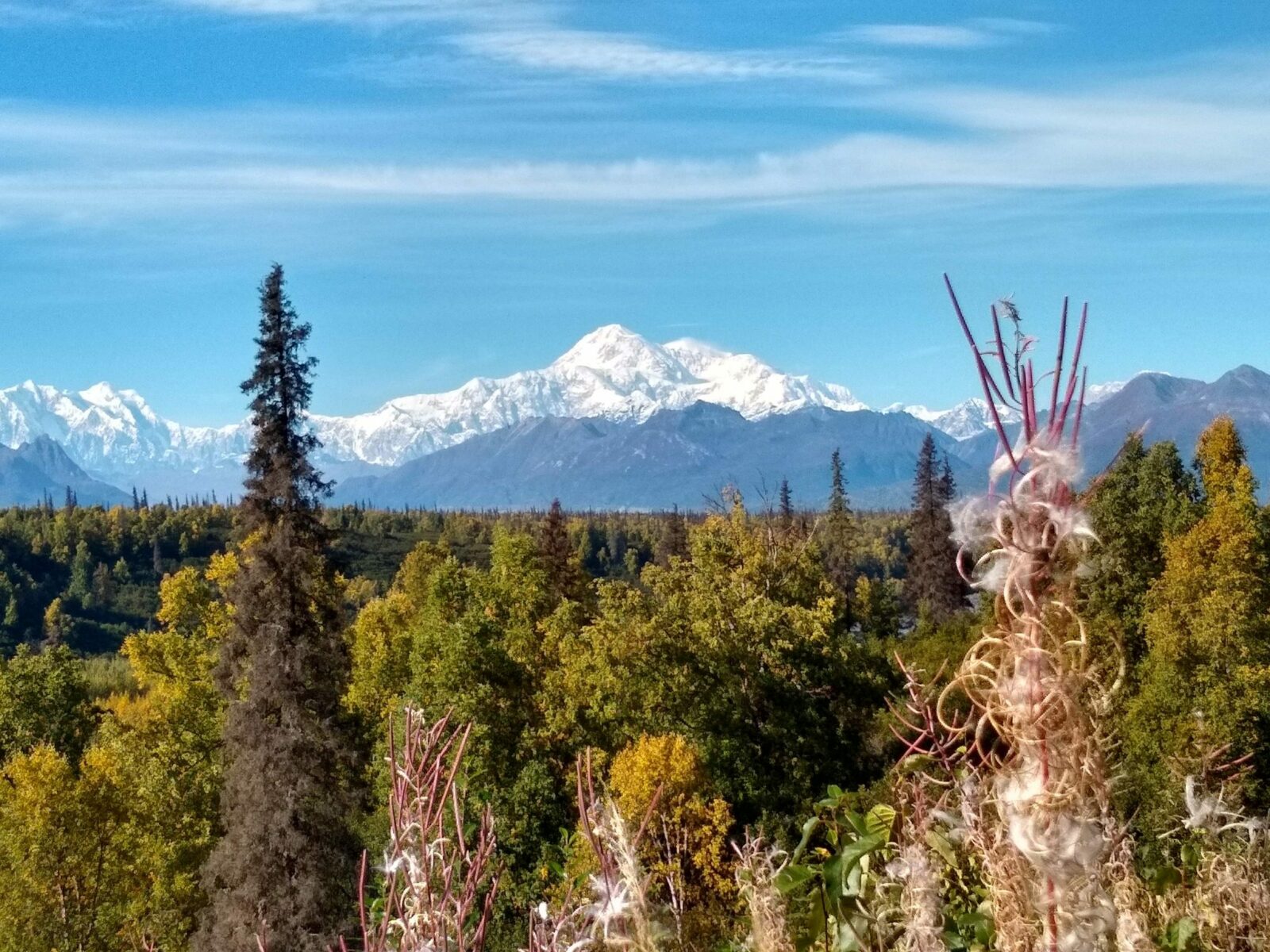 Why the Parks Highway is one of the best road trips in Alaska
Honestly, the Parks Highway from Anchorage to Fairbanks is not my favorite road trip in Alaska. Not because it isn't beautiful, because it is, and it has more services than most other highways in Alaska. It's really just because some of the others are even MORE gorgeous. This is still a beautiful drive by any standard, and it takes you right to Denali National Park, and between Alaska's two largest international airports, Anchorage and Fairbanks. Make sure not to overlook the incredible viewpoints of Denali from Denali State Park, south of the national park and well signed.
Distance: 360 miles
Minimum drive time (without stops): 6 hours, 30 minutes
Cell service: Some coverage most of the time, but not full bars. A few dead spots
Best restrooms: Wasilla, Denali National Park Visitor Center
Essential stops: Eagle River Nature Center, Iditarod headquarters, Denali State Park, Talkeetna, Denali National Park
Extending this road trip: I recommend doing this road trip round trip if you have a rental car, since a one way car rental is extremely expensive. To make a loop, you can go the other way on the Glenn and Richardson Highway for even more amazing scenery.
Klondike Loop – Skagway to Whitehorse to Haines
Why the Klondike Loop is one of the best road trips in Alaska
The Klondike Loop really has it all – spectacular scenery from coast to mountains to arid country, a trip between the US and Canada with two border crossings, and if you want to do the full loop, a ferry! It's a long drive from anywhere to start this road trip, but especially if you're driving between the "lower 48" and Alaska, this is a worthy diversion. You can start in either Skagway or Haines.
Distance: 350 miles (plus a ferry ride to complete the loop)
Minimum drive time (without stops): 7 hours + one hour ferry ride (longer with waiting for the ferry, boarding and disembarking)
Cell service: Non existent except in major towns (Skagway, Haines, Whitehorse)
Best restrooms: Skagway, Whitehorse, Haines (mostly pit toilets in between)
Essential stops: White Pass viewpoints, Carcoss Desert, Emerald Lake, Whitehorse, Kathleen Lake, Chilkat Bald Eagle Preserve
Extending this road trip: If you want to explore even more of the Klondike country in the Yukon, consider adding Dawson City to your itinerary. This is a good add on to a trip on the Alaska Highway.
Bonus – Gravel road Alaska road trips
If you really want to have an epic adventure, and you are confident in tire changing (and have all the equipment plus a full size spare) as well as have a vehicle that allows driving on gravel roads, then you can access some additional epic Alaska road trips!
I don't necessarily recommend these Alaska road trips for most travelers, due to their remote location and the stress that can come with an unpaved road in a remote area. Also, a long drive on a gravel road can be beautiful, but it also uncomfortable (potholes!), slow and messy (especially if it's raining). Most rental cars do NOT allow you to drive on any of these roads. There are smaller, local companies that let you (ask in advance and book way ahead of time as they have limited cars and book up fast).
Do not count on any cell service for navigation, looking up how to change a tire, or streaming any kind of music, podcasts, audio books or games.
Here are four epic unpaved Alaska road trips:
The Dalton Highway – Fairbanks to Prudhoe Bay – 500 miles one way: This is the most well known of these bonus trips, and probably the most challenging. An important thing to note is that you cannot drive to the Arctic Ocean! You are a few miles away where the road dead ends at the oil field in Prudhoe Bay. There is a shuttle you can take to the Arctic Ocean (arrange in advance). There is some incredible beauty here and some interesting highlights such as the Yukon River, Arctic Circle and the Mountains of the Brooks Range. The road is also really long and slow and there are many trucks and steep, sketchy turns on gravel!
The McCarthy Road – Chitina to McCarthy – 60 miles one way: This road weaving in and out of Wrangell-St Elias National Park is honestly not super exciting. There aren't any big views and it's slow (plan on at least 3 hours one way). If you like lonely roads though, you'll love it!
The Denali Highway – Paxson to Cantwell – 135 miles one way: Probably the biggest payoff for the challenge of driving on gravel, the scenery along the Denali Highway is unforgettable. It also gives you the opportunity to make a big loop from Fairbanks along the Richardson Highway and the Parks Highway, or from Anchorage along the Parks, Richardson and Glenn Highways. Note that the Denali Highway is NOT the road going into Denali National Park (that road is called the Denali Park Road).
Top of the World Highway – Tok to Dawson City – 185 miles one way: my personal favorite on this list, this highway takes you far above the tree line to a vast landscape straddling the US/Canadian border and taking you to the wonderful and unique town of Dawson City in the Yukon Territory. You'll need a passport for this trip as well as checking the times the border crossing is open (hours are limited).
What to pack for an Alaska road trip
This post contains affiliate links, which means if you make a purchase I may receive a small commission at no additional cost to you. As an Amazon Associate, I earn from qualifying purchases.
For the most part you want to pack the same things for road trips in Alaska as you pack for road trips anywhere else. You'll also want to make sure to bring everything on my Alaska packing list for all types of Alaska travel. A few things to call our specifically that are extra important here are:
Make sure you bring clothing for all types of weather, it can change quickly!
You'll need to have food and water with you as there can be long stretches without anywhere to buy much
Make sure your vehicle has a full size spare tire, all the tire changing equipment and that you know how to change it.
The Milepost – this guide covers every highway in Alaska, the Yukon and all the access roads to get here. Updated every year, it will tell you the locations of services, rest areas and pullouts and is critical if you are in remote areas without cell phone service.
I carry a GPS satellite communicator with me for peace of mind and in case of emergency in areas without cell service. I carry it on all my hikes as well as on road trips with areas without cell service. I use the Garmin Inreach mini, which you can get here on Amazon or here at REI.