12+ Unforgettable things to do in Sitka, Alaska
Posted On May 23, 2022
Last Updated on September 27, 2023
Sitka is one of the most delightful communities in Alaska. It's in a gorgeous setting on the outer coast of Southeast Alaska at the edge of the Pacific Ocean yet protected by a beautiful harbor with tiny islands everywhere. Sitka is more than Alaska's first capital, it's a place of clashing cultures between Indigenous people and colonizers for centuries. This remote coastline in the Tongass National Forest gives endless hiking, kayaking and wildlife viewing opportunities. Come with me and I'll share all my favorite things to do in Sitka as well as some tips for getting around and making the most of your visit.
Sitka is the home of the Lingít Aaní (Tlingit) People.
This post contains affiliate links, which means if you make a purchase I may receive a small commission at no additional cost to you. As an Amazon Associate, I earn from qualifying purchases.
What is Sitka, Alaska known for?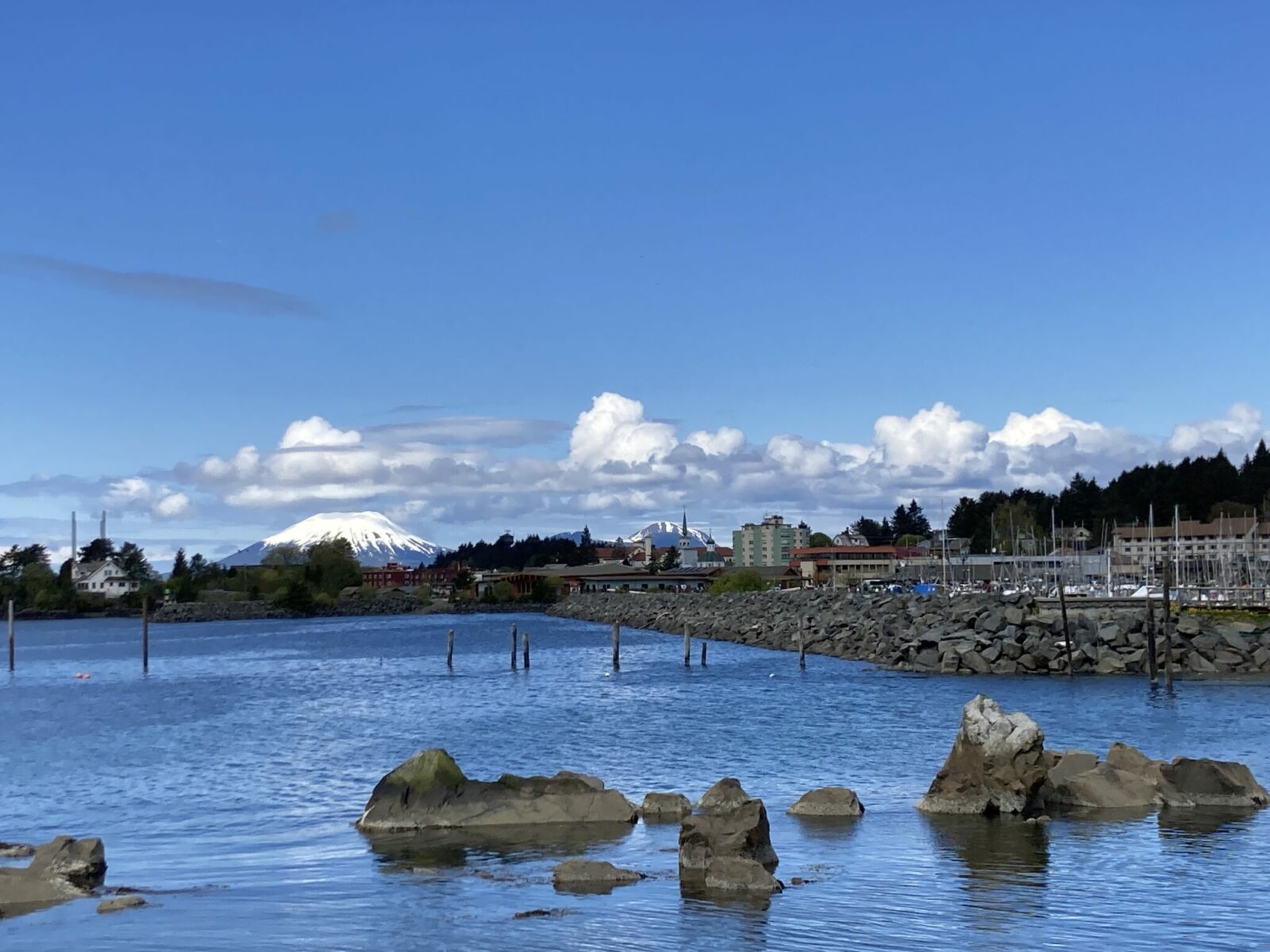 Sitka is most famous for being the capital of Russian America from 1808 until 1867 and then the first capital of the Territory of Alaska from 1867 until 1906 when it moved to Juneau.
Sitka is also known for the impressive totem poles at Sitka National Historical Park and other areas around town. The totem poles at the park are beautiful and range from recently carved to more than 100 years old. Lingít Aaní (Tlingit) carvers make poles today just as they have in the past.
How to get to Sitka, Alaska
Sitka is located on an island in Southeast Alaska, so you can only get there by boat or flying. You cannot drive to Sitka.
You can fly to Sitka on a commercial jet from Seattle (with a stop in either Juneau or Ketchikan), Anchorage (with a stop in Juneau) or from Juneau. The flight from Juneau is less than 30 minutes and it takes about three hours to get there from Seattle or Anchorage (including the stop).
There are also small planes that serve Sitka from Juneau and many other communities in Southeast Alaska.
Sitka is also on the Alaska Marine Highway ferry route operated by the State of Alaska. The ferry ride from from Juneau to Sitka is about 10 hours.
Many visitors come on a cruise ship and spend the day in port as part of an Alaska cruise.
How to get around in Sitka
Sitka's downtown area is easy to get around on foot. The Sea Walk connects the downtown area to Sitka National Historical Park on a flat and wide path that is just over a mile.
If you're on a cruise ship, the free shuttle will take you to downtown in a few minutes. If your ship is anchored in the harbor, your ship's small boats (tenders) will bring you to the heart of downtown.
If you're traveling on your own, you can either rent a car or use a combination of taxis and walking to get around. Sitka has a bus system that only operates on weekdays (pay attention to the days of your visit). You can use the bus to get from the airport or ferry terminal to downtown as well as to some of the trailheads.
If you're renting a car, you can also rent it for only some days of your visit to drive the road or get to Fortress of the Bear or different trailheads. I recommend looking on Turo (like Airbnb) for cars for an electric car that can get you around Sitka's limited road miles at a more affordable price.
Weather in Sitka
During the summer, when most visitors come (and when you want to visitSitka) expect rain and mild or cool temperatures. Warm summer days are in the mid 60s with occasional days getting warmer than that. There are definitely days when it doesn't rain, or doesn't rain all day, but make sure to be prepared for rain!
Like Southeast Alaska in general, Sitka is a bit drier in the earlier part of the summer (May and June) and significantly wetter in August and September. September is quite a bit colder as well (40s and maybe 50s during the day).
Sitka has long hours of daylight in the summer, but it does get dark for a few hours in the middle of the night.
In winter, Sitka gets plenty of snow, but the temperature is often above freezing during the day so it is not completely frozen up for the winter. The mountains around Sitka get deep snow in the winter.
Things to do in Sitka, Alaska from a cruise ship
If you're heading to Sitka on an Alaskan cruise, lucky you! There are far fewer ships that visit Sitka than many other ports.
Your ship will either dock a few miles out of town at the cruise ship dock or you'll be anchored in the bay with a small boat shuttle to shore. Typically, large ships are at the dock and smaller ships are at anchor.
If you're taking a shore excursion in Sitka, they will pick you up from the cruise ship dock. If you want to explore town on your own, which I highly recommend, there's a free shuttle to take you downtown and back to the ship.
In my opinion Sitka is the most enjoyable Alaska cruise port to explore on your own while you're in port. The history of Sitka is fascinating, there are lots of local shops downtown and plenty to explore on foot. Sitka does not have as many cruise ship visits as some of the other ports and the dock is a bit out of town (or a small boat shuttle) which means there are not as many other cruisers sharing the streets. There are still plenty, but definitely less. Sitka also doesn't have the chain gift shops you'll see in other cruise ports. More details are below on what to do in town.
If you do decide to do a shore excursion from Sitka, I recommend whale watching or going to Fortress of the Bear. Fortress of the Bear is a must do for animal lovers, especially bear lovers and photographers. It's a ways out of town and harder to get to on your own so the transportation provided by the ship is the way to go. Fishing trips are also excellent from Sitka!
Things to do in Sitka if you're traveling on your own
Sitka is a wonderful place to visit in Southeast Alaska. It does not have as many cruise ships or visitors as other parts of Southeast and it has lots of interesting and unique things to do.
Free things to do in Sitka
Best hikes in Sitka
There are plenty of wonderful hiking opportunities in Sitka whether you're looking for a mellow stroll through the forest and by the water or a tough climb up the side of a mountain. Pick up the hiking guide at the visitor center or download it here. Sitka Trail Works is another excellent resource for local trails. Bears are present everywhere around Sitka so make sure to read up on your bear safety and hike in groups with bear spray.
I love the Mosquito Cove Trail, at the very end of the road just past the ferry dock. You'll need a car or a taxi to get here. It's a delightful 1.5 mile loop that goes to a small quiet beach and then back through the forest. This trail does have quite a few wooden stairs on it, although the elevation gain overall is only 300 feet.
A good option for a mellow, wide and graveled trail is the Sitka Cross Trail, which goes for 4 miles between town and the mountains behind. This trail is gravel and very well graded and wide. It does have up and down sections so it is not flat. There are multiple places to get to it in town and it further connects to other trails.
The Indian River Trail is a mellow grade (1000 feet of elevation gain) through the rainforest that goes up to a couple of waterfalls in 4.5 miles. If you're not up for going that far, you can still enjoy the forest hike along the river. Watch out for mud, rocks and roots along the trail. If you're looking for something similar, but shorter, try the Herring Cove trail to Beaver Lake. This is 3.5 miles round trip with 500 feet of elevation gain and features waterfalls and a lake.
If you want to get more climbing in and get up to a good viewpoint, try the overlook on the Gavan Hill trail or Picnic Rock on Mt Verstovia. Save these for a clear day when you can see the view! Both of these trails are extremely steep, muddy and have lots of rocks and roots. Make sure your shoes have good traction and hiking poles can be really helpful.
Related: The best hike in every Alaska cruise port
Exploring downtown shops and history
The town of Sitka is full of history and fun local shops. Spend some time exploring all the interesting things packed into a small geographic area. Start at Baranoff Castle Hill State Historic Site where Alaska was formally transferred from Russia to the United States in 1867. This is also the first place the US flag with 49 stars was raised after Statehood in 1959. It also has a great view.
Next, explore the shops along Lincoln Street as well as St Michael's Cathedral and the Russian Bishop's House. Make sure to stop in at the Chocolate Mousse for tasty chocolate and coffee as well as the wonderful independent bookstore, Old Harbor Books. Old Harbor often has a dog in the window, an extra reason to pop in if you're missing your furry friend back home.
Another important stop is the Island Artists Gallery by the Sitka Artists Collective. Here you can check out many different kinds of art from a number of artists, from quilts to photography to jewelry and everything in between.
Sitka National Historical Park
Sitka National Historical Park incorporates a number of sites around town, but make sure to spend some time at the main area of the park with the visitor center and the gorgeous forest trails lined with totem poles.
The visitor center provides a helpful introduction and context for the battle that took place on this site between the Tlingit people and the Russians in 1804.
After exploring the visitor center, take the time to walk the 1.5 mile loop around the forest and beach with many totem poles to discover. The totem poles here have come from different places and have different stories to tell. You can also see the site of the fort the Tlingit people built to defend themselves from the Russians.
Tidepooling and beachcombing
Like many other places in Southeast Alaska as well as the Pacific Northwest coast, the rocky shores and protected bays make for amazing beach exploration opportunities.
Prioritize getting to the rocky beach at low tide for the chance to explore tidepools and see sea stars and other colorful marine life up close. Halibut Point State Recreation Area is an ideal place for this. There is an island that is connected at low tide that has especially good tidepools. The beach at Sitka National Historical Park and near Mosquito Cove are also good spots.
Keep an eye out for eagles in the trees and remember to keep your eyes out for bears who might also be looking for food at low tide. Keep your distance from any and all wildlife.
Low cost things to do in Sitka
St Michael's Cathedral
St Michael's Cathedral is a small yet stunning Russian Orthodox Cathedral right in the center of town. The original building burned in 1966, though many of the art and icons from inside were saved. The cathedral was rebuilt as a replica of the original 1848 building. St Michael's was the first Russian Orthodox Cathedral in North America.
There is a small suggested donation to visit the inside of the cathedral.
Sheldon Jackson Museum
Sheldon Jackson was a presbyterian missionary in Alaska for many years in the late 1800s. The museum is the oldest museum in Alaska and one of two operated by the state. It houses art, household goods and clothing that he collected in his travels around Alaska and his encounters with Indigenous People.
Sitka Sound Science Center
The Sitka Sound Science Center is the perfect place to learn about those tidepool animals and check out the touch tank if you miss the low tide. You can look deeper under the waters of Sitka Sound at the 60 feet deep tank and explore the life cycle of salmon.
Alaska Raptor Center
The Alaska Raptor Center rescues Alaska's wild raptors when they are injured in the wild. It is also a perfect place to get close to Bald Eagles, falcons and owls and learn about their life and habitat.
Some birds are rehabilitated and able to return to the wild, while some with more serious injuries become life long residents.
Tours in Sitka that are absolutely worth it
Fortress of the Bear
Fortress of the Bear is a dream for wildlife lovers and photographers. Even though nothing beats the thrill of seeing wildlife in the wild, a bear encounter is often just as nerve wracking or downright scary as it is exciting.
At this bear rescue, you can get much closer to bears that you would be able to otherwise, while learning more details about their behavior and observing them closely for as long as you want.
Fortress of the Bear is a bit out of town and you need a car to get there. If you're visiting by cruise ship, take a shore excursion that includes this.
Kayaking
The protected bays and endless islands upon islands around Sitka make it an ideal kayaking location. Tides and currents can be wicked but you can trust your guide to keep you safe while seeing amazing scenery and wildlife. A variety of tours from a few hours to multiple days are an option.
Your tour will provide you with all the gear you need for a great day on the water.
Wildlife cruises
Sitka's location along the outer coast and at a crossroads of different waterways makes it an exceptionally good place for a wildlife cruise. Whale watching is excellent here, along with opportunities to see sea otters, seals, and other marine mammals. I've even seen a brown bear swimming between two islands on a wildlife cruise from Sitka!
Sportfishing for halibut and salmon
Sitka's waters at the edge of the Pacific boast excellent fishing opportunities for all species of salmon as well as halibut and other white fish. If you enjoy fishing or want to try it for the first time, this is a terrific place to book a fishing charter.
Hotels and Vacation Rentals in Sitka
Sitka has a number of hotels and vacation rentals, though they do book up in the summer months so make sure to get your accommodations lined up as soon as you decide to visit.
Pay attention to where you are staying and what kind of transportation you need. I recommend staying close to downtown if you are not planning to rent a car. The map below can help you determine where different accommodation options are in relation to the airport and ferry terminals.
The Sitka Hotel and the Westmark are both excellent hotel options in Sitka that are walking distance to everything in town. They also both have very good restaurants.
Best places to eat in Sitka
There is some amazing food in Sitka! When you consider that it's such a small town, it's even more impressive. These are some of my favorite places:
Both Wildflour and Highliner Coffee have wonderful coffee and incredible breakfast burritos. Wildflour also has epic pastries.
Backdoor Cafe (behind the bookstore) has the best cinnamon roll I think I have ever had!
Ashmo's food truck has amazing fish and chips, fish tacos and most importantly smoked salmon mac and cheese. Ashmo's is super popular with locals too. Expect to wait in line but it's totally worth it
Pel'meni Russian dumplings is an affordable to go lunch or dinner right next to the Cathedral.
Ludwig's Chowder cart next door to Sitka Sound Science Museum – chowder and sandwiches that are delicious, with picnic tables outside. Ludwig's also has a bistro, which I haven't had the chance to try since it hasn't been open when I've visited.
Harbor Mountain Brewing and Campfire Pizza – Housed in the same building, try this wonderful local beer and pick up a pizza to enjoy with it. Make sure to get the amazing smore calzone for dessert!
The Chocolate Mousse inside the flower shop has a wide variety of delicious chocolate (and good coffee). Who says chocolate isn't a meal??
The Mean Queen makes a mean pizza that you don't want to miss, including deep dish pizzas.
Beak (Be AK) Restaurant has delicious food, with a heavy focus on seafood and other local ingredients. Sit inside or enjoy the covered porch (with heaters).
Three day Itinerary for Sitka
If you're lucky enough to have more than a day to visit Sitka, I think a three day visit is the perfect amount of time. This gives you a history day, a wildlife day and a hiking or kayaking day. You'll get to see and experience Alaska at its best while not cramming too much in each day. I recommend switching up the order based on the weather and of course add in more or less of different things according to your interest.
Day 1 – History Day
Get breakfast and coffee at Wildflour Cafe and take a walking tour of the town of Sitka. Make sure to include Castle Hill, St Michael's Cathedral, the Sheldon Jackson Museum and the Sea Walk to Sitka National Historical Park. Stop for lunch at Ludwig's Chowder Cart by the Sound Science Museum before heading to Sitka National Historical Park to hike the totem trail through the forest and along the beach. Have dinner at Beak Restaurant.
If you have more time and energy this day, do some tidepooling or beach exploring at Halibut Point.
Day 2 – Wildlife Day
Start the day with coffee and a cinnamon roll from Backdoor Cafe and then head out to Fortress of the Bear. Visit the Alaska Raptor Center on the way back to town and have lunch at Ashmo's food truck. In the afternoon, take a wildlife whale watching cruise. Have dinner at the Mean Queen with a great view.
Day 3 – Outdoor Adventure Day
Start today with coffee and a breakfast sandwich from Highliner Coffee and head out for a hike or kayaking tour. You could also do a half day kayaking tour and a half day hike if you want to do it all.
For a challenging hike on a sunny day, try Gavan Hill overlook or Picnic Rock. If you want something more mellow, go for Herring Cove and Beaver Lake or Mosquito Cove. If it's a rainy day, take a hike on the Sitka Cross Trail or Indian River.
Have pizza and beer at Campfire Pizza located in Harbor Mountain Brewing.
You can always add evening hikes to your lineup on any day if you want more during Sitka's long summer evenings.
Related: Guide to Planning a trip to Alaska
What to pack for Sitka
My complete packing list for Alaska will serve you well for Sitka whether you're spending a few days on your own or arriving on a cruise ship.
The most important things for Sitka relate to good rain protection. I recommend an umbrella, especially for walking around town or sudden rainstorms.
You'll also want to have an excellent rain jacket (I recommend this REI brand one if you're looking to purchase one for your trip). Rain pants are optional (I use these) but are really helpful if you're going to be outside all day or on a hike with lots of wet brush. REI brand clothing is all available in plus sizes as well.
Make sure you have waterproof footwear (or lots of pairs of dry socks). I usually wear these rubber boots (even for hikes!) and that's waterproof hiking boots or hiking shoes also work well (try Merrell from REI or Amazon) if you're looking for a new pair.