Ultimate Guide to Riding the Alaska Ferry
Posted On June 3, 2019
Last Updated on July 6, 2023
I've spent a lot of time on the Alaska ferry as a former Alaskan. I'm excited to share my knowledge about planning a trip to Southeast Alaska on the Alaska Ferry! The Alaska Marine Highway System (also known as the Alaska Ferry, or the Blue Canoe) is a unique way to get to Alaska from the Pacific Northwest.
The Alaska Ferry is not the fastest, most convenient or least expensive way to get to and around Southeast Alaska, but it is definitely the most adventurous, yielding the most stories.
This article will talk about everything you need to know to decide if a trip on the Alaska Ferry is right for you. I'll talk about everything you need to know to make the most of your trip, including staying comfortable and enjoying every moment. For this article I'm going to be focusing on the route in Southeast Alaska accessible from Bellingham, Washington.
This article focuses on traveling without a car or cabin (though I will note at the bottom a few things that are different if you do). Southeast Alaska is the area of Alaska that is closest to Seattle roughly from Ketchikan at the south end to Skagway in the north end. Many parts of Southeast Alaska are closer to Seattle than they are to Anchorage or Fairbanks.
This post contains affiliate links, which means if you make a purchase I may receive a small commission at no additional cost to you. As an Amazon Associate, I earn from qualifying purchases
What it is, What it isn't
The Alaska Ferry IS a public transportation system operated by the State of Alaska. It IS NOT a cruise ship, nor is it anything like a cruise ship! The cost of your ticket does not include a cabin or any food. It does include free public showers. You will get to see incredible scenery as well as meet lots of interesting people, both Alaskans and travelers! You'll have an amazing experience, but don't let anyone tell you it's like a cruise, it ain't that!
Related: DIY traveler's guide to having a blast on a cruise
Is the Alaska Ferry the right way for me to travel to Alaska?
When deciding if the Alaska Ferry is the right option for you to get to Alaska, there are a few things to consider. Probably the most important thing may be difficult for independent travelers to accept, but it's true and needs to be said: the least expensive way to visit multiple places in Southeast Alaska is to take a large cruise ship round trip from Seattle or Vancouver BC. I'm not saying that you should take a cruise ship, rather that a cruise ship is the most affordable way to see the most places. I know this is hard to believe! Feel free to research it yourself if you don't believe me!
Flying is also going to be cheaper (and much faster) than taking the ferry, although flying between a lot of different ports can become expensive and complicated. I think a good way to manage this is to take the ferry north and then fly home from your final port (especially if that port is Juneau or Ketchikan).
Flying from smaller ports such as Skagway and Haines is subject to frequent weather cancellations and small plane aviation is more expensive. If the value of traveling independently is enough that you are willing to spend more money and/or put up with significant logistical hassles, while diving deeper into fewer locations with a more authentic experience, then YES, traveling by ferry is right for you! And you'll love it. Other things to consider include:
Do I like to be on boats?
Am I willing to sleep in the Solarium (see "sleeping" section below) or in another public space on the ferry, such as a lounge? If not, am I willing to spend a lot for a tiny cabin? (A room one way for two people between Bellingham and Juneau is $200-$600 depending on whether or not you have a window or private bathroom)
Can I pack light? If you take a trip to Alaska on the ferry, you will be carrying your luggage multiple times between different types of transportation (exact number will vary based on your itinerary), so packing light is critical, but so is making sure you have everything you need (see "what to pack" below)
Am I adaptable and do I have a sense of adventure?
How long is the ferry ride from Bellingham to Alaska?
The length of the ferry ride depends on what port you are traveling to in Alaska. This is not a complete list of all ports, but is a list of the length of the ferry ride to and between some of the most popular ports in Alaska for visitors.
Bellingham to Ketchikan – 38 hours (2 days)
Ketchikan to Juneau – 20 hours
Bellingham to Juneau – 60 hours (3 days)
Juneau to Haines – 5 hours
Juneau to Skagway – 6 hours
Bellingham to Skagway – 64 hours (3.5 days)
Juneau to Gustavus (Glacier Bay) – 5-7 hours (depends on the exact route and stop going in one direction)
Bellingham to Whittier – 100 hours (5 days)
Whittier to Valdez – 6 hours
When is a good time of year to take the Alaska Ferry?
You can do it any time of year, but a winter trip will involve a high level of adventure in terms of weather, sea conditions and you'll find many businesses closed in the off season. The visitor season in Southeast Alaska is May through September (during this time, all businesses will be open, and cruise ships will be traveling Alaska waters). May and September are less busy than June, July and August. I recommend a May or June visit, as Southeast Alaska experiences it's sunniest weather and longest days during those months. It is very rainy all year, so it is imperative that you plan for rain.
Where does the Alaska ferry go?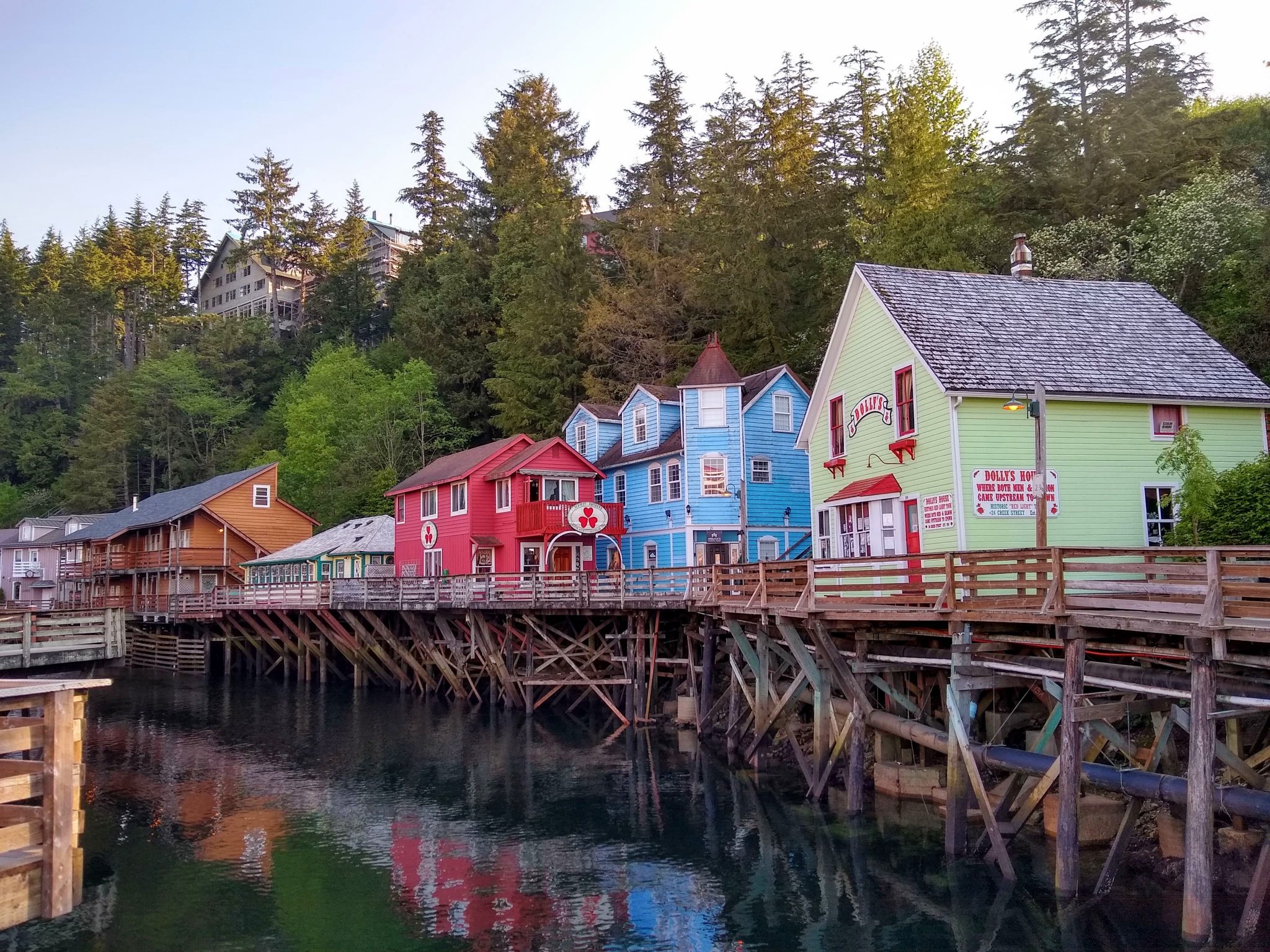 The Alaska ferry system serves the communities of Southeast Alaska (the Inside Passage) and connects them to Bellingham as well as ports in Prince William Sound. The ferry also serves Homer, Kodiak and many of the islands in the Aleutians.
The ferry that departs from Bellingham stops in the following ports in Southeast Alaska: Ketchikan, Wrangell, Petersburg, Juneau, Haines and Skagway. There is also a ferry that goes to Ketchikan, Juneau, Yakutat and across the Gulf of Alaska to Whittier, near Anchorage.
You can also connect to other ports (such as Gustavus/Glacier Bay or Sitka) from Juneau. The ferry stops in each port for as little as 45 minutes or as long as three hours, so if you want to visit a port, you'll want to disembark there. You can take a later ferry on to the next destination. Making the ferry connections work can be very challenging. Unless you are planning a long trip I would suggest picking one or two places to visit and not trying to visit every port! For example, you could spend a couple of days in Ketchikan before continuing on to Juneau, Sitka or Glacier Bay and spending a few days in one of those places before flying home. That would make a good week long trip from Seattle.
The entire trip from Bellingham is extremely scenic through the world famous inside passage of Coastal British Columbia and Southeast Alaska. Your journey includes narrow channels, forests, mountains and glaciers and sharing the water and passing forests with an abundance of wildlife including whales, porpoises, sea otters, sea lions, seals, orcas, eagles, bears and many shorebirds!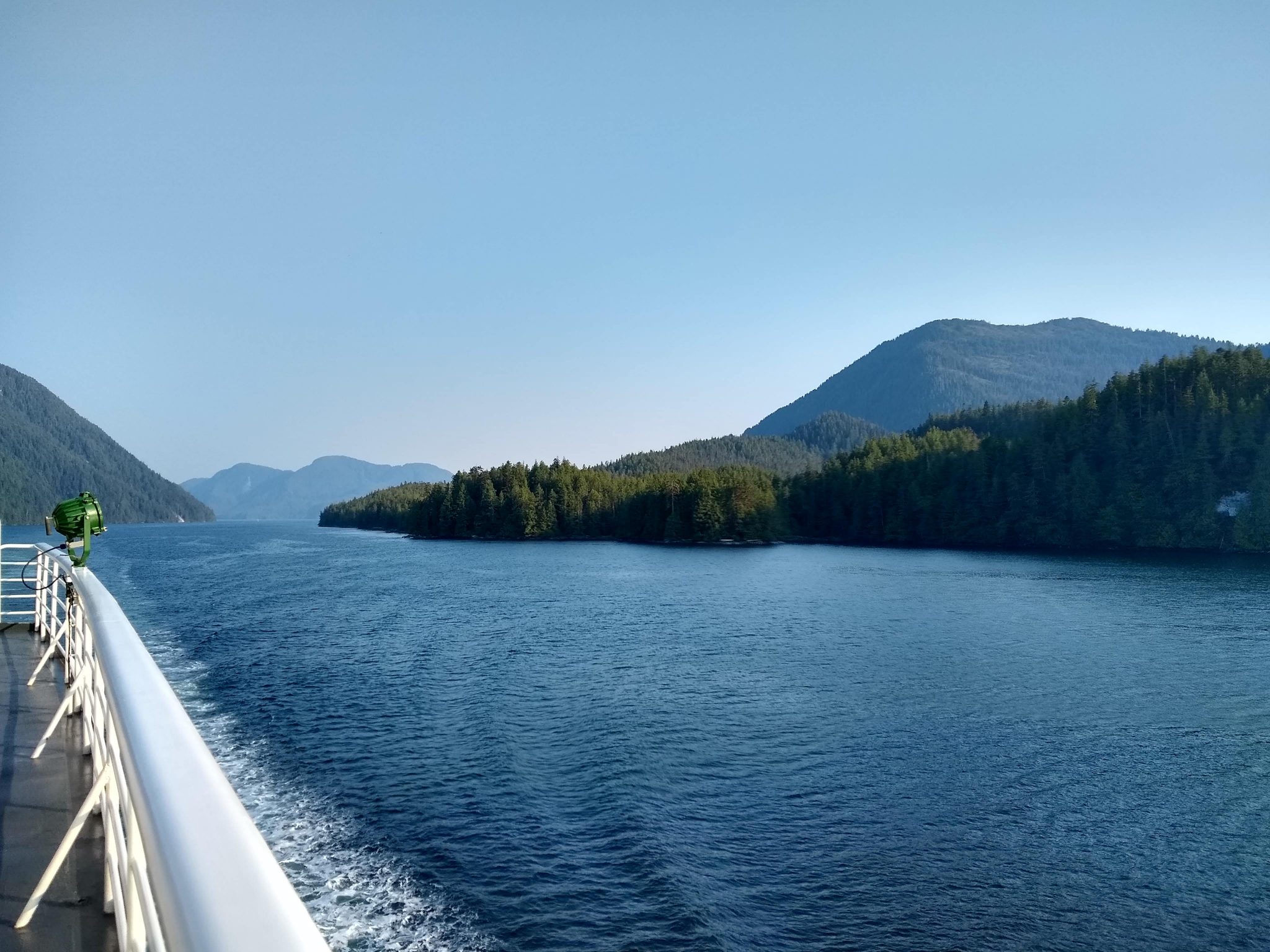 The ferry also goes across the Gulf of Alaska from Juneau up to Yakutat then through Prince William Sound to Cordova, Whittier and Valdez.
The Alaska ferry also goes from Homer at the tip of the Kenai Peninsula to Kodiak and then out to several ports in the Aleutian Islands in Western Alaska.
Does the Alaska ferry have wifi?
No. Most of the journey does not have cell phone service either, except when you are in port. Usually cell service is good in port (depending on your carrier). Make sure to have entertainment that doesn't require data or wifi (more on this below).
Will the Alaska Ferry cross rough water? Will I get seasick?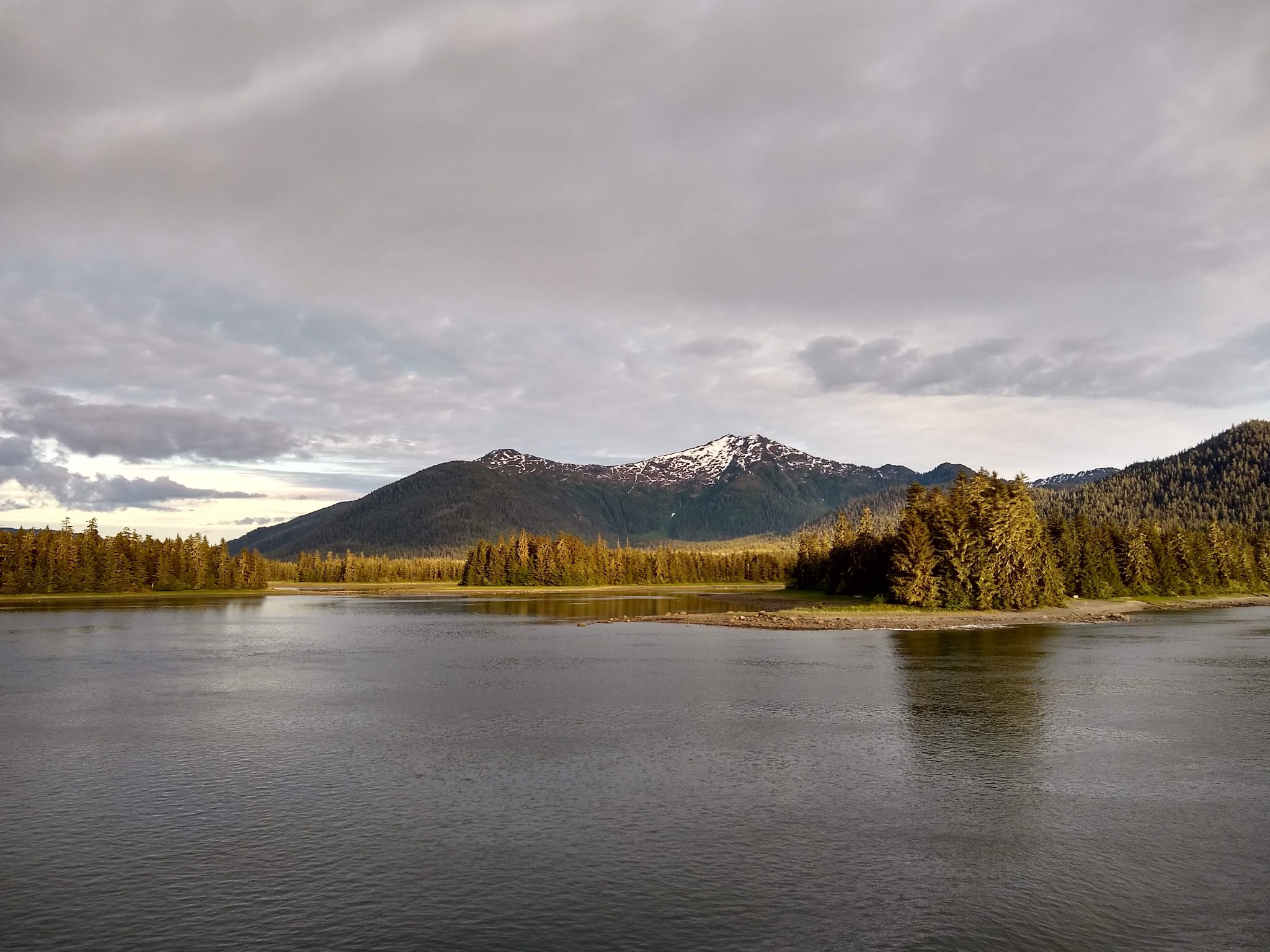 If you're prone to seasickness, or are anxious about it, then it's always wise to carry and use an over the counter medication for seasickness such as Dramamine or Bonine. I am a fan of Bonine because it doesn't make you as drowsy. I am not particularly prone to seasickness but it can definitely happen to anyone in the right circumstances. While storms or high wind are always a possibility on the water, in general the ferry sticks to very protected waters and doesn't experience a lot of motion during the summer months.
There are three sections of open water between Bellingham and Ketchikan, with ocean swell even in good weather. The Captain makes an announcement before these crossings in case any passengers want to take some type of medication.
5 Tips for Booking a ticket on the Alaska Ferry and Preparing for your trip
Reading the Alaska Ferry schedule is notoriously challenging and will require some time and patience, but you can handle it! I recommend FIRST going to the sailing calendar and filter (upper right hand corner) for the port or ports you want to go to. For example, "Bellingham" for the ports and ferries that serve Bellingham. This will give you a sense of the general schedule for ferries going in and out of that port (which ferries, and which days of the week). You'll need to change ferries if you're heading to a port that the Bellingham ferry doesn't go to (such as Sitka or Gustavus/Glacier Bay), or if you want to spend a few days in a port on the way. For example, you might want to spend two days in Ketchikan and then continue to Juneau. Once you have an idea of how the schedule is working for where you want to go, then go to the Sailing Search, which is where you can actually book. If you want to get a sense of what the fares might be before the booking stage, try using this fare estimator, which is a very helpful tool (especially if you're looking to book a cabin).
If you are boarding the ferry in Bellingham, consider flying home from your final port.
Get to the Bellingham terminal early. Boarding early makes the whole experience more relaxed and gives you time to settle in. This is especially true if you're not in a cabin and need to find a space for the journey. Spend a few minutes getting to know the ship before departing. If you take Amtrak from Seattle or Everett and arrive in the morning, you can stow your luggage in lockers at the Bellingham ferry terminal and explore Bellingham for a few hours.
Book lodging in any ports you are visiting early. Lodging is limited, expensive and books up early, utilize vacation rental sites as well as hotel options
Pack as lightly as possible, but don't cut out necessary things! (see "what to pack" below)
What should I pack for the Alaska Ferry?
This post contains affiliate links, which means if you make a purchase I may receive a small commission at no additional cost to you. As an Amazon Associate, I earn from qualifying purchases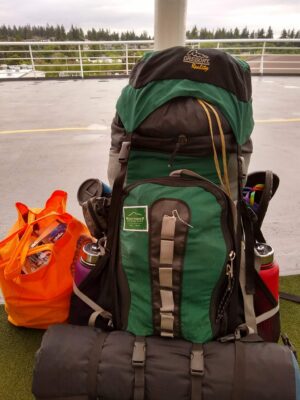 Tent (and duct tape for the stakes so that they will attach to the metal deck) with a real rain fly (if you want to camp on the deck… if you are going to sleep in a lounge chair or in a cabin then you don't need this)
Sleeping pad and sleeping bag (you'll want this to sleep anywhere on board outside of a cabin), also great for staying warm and comfortable while lounging on deck
Pillow: I like to have this for lounging and napping on deck as well as sleeping at night, this one packs up small and light…I use it for backpacking too!
Low profile camp chair: this is optional, there are lots of deck chairs, but if you love yours or be certain to always have one available, go ahead and bring it (as long as it packs very small)
Analog entertainment: Books, Kindle, downloaded shows/movies, sketch book, crayons, coloring book, colored pencils; TIP: keep electronics in airplane mode to conserve the battery
Paper map if you like to identify things as you pass them (you can also follow along your progress at the purser's desk)
Small bills and quarters for lockers, vending machines, espresso machine, towel rental, laundry (only available on the M/V Columbia), ice and food (see detailed food section below)
Toiletries, medications and other personal items
Over the counter meds you might want, including Dramamine or Bonine for motion sickness (on some ferries you can buy basics but not all, don't count on being able to do this)
Eye shade: There are only a few hours of darkness in the summer months, and there are lights on the ferry in different places. An eye shade may help you get more sleep. Ear plugs may also be helpful!
Mug or bowl for food (see below for more details on food): I like to eat backpacking meals that only require water on the ferry (so easy and lightweight!). This mug is my favorite "bowl" for hot water only cooking! It's lightweight, lid and wide top are perfect.
Mug for hot drinks: whether you bring your own or buy in the cafe, it's nice to have a reusable mug that you love. Any travel mug will work but I love this one because it's so light and can attach to the outside of a pack.
Waterbottle: Any bottle will work to refill on the ferry, but I love Hydroflasks because they keeps water cold or hot and have a straw making it easy to drink out of. Grab one here at REI or here on Amazon.
Rain gear: this will make it enjoyable for you to spend some time out on deck! Rain gear is helpful for wind protection as well as rain (wind is guaranteed from the ships movement as well as normal wind, rain is likely). If you are going ashore anywhere, this is also vital (it also helps with bug protection if you're camping ashore). I recommend either this REI brand rain jacket or this Marmot one you can shop for on Amazon for waterproofness, comfort and durability. Rain pants can be uncomfortable for hiking, but they are perfect for sitting on a wet deck of the ferry, or a wet log ashore and offer really good bug protection! These REI rainpants are the best I've found and also come in plus, tall and petite sizes!
Warm clothes: even in sunny weather, it will be chilly on the water, especially at night. This is particularly important if you're camping: I have warm leggings, fleece hoodie, wool hat, gloves and wool socks.
Sunglasses: it's amazing how bright it can be on the water even when it's overcast!
Waterproof shoes or rubber boots. I prefer to wear hiking shoes (instead of boots) or rubber boots in Alaska and the Pacific Northwest, but if you already have waterproof hiking boots that you love, just bring those!
Shoes that are comfortable and slip on for walking around the ferry (Crocs are perfect – make sure you have the kind without closed toes for wet environments)
Essential Phone Accessories for photography: If you're primarily using your phone for photography, I highly recommend bringing a back up power source for your phone. There aren't many places to charge and the trip mostly doesn't have cell service. Your battery drains quickly if you're taking (or watching) lots of videos and photos. Put your phone in airplane mode to help preserve the battery too. Depending on what your plans are in Alaska, you might also find this tripod for your phone and this waterproof pouch for it highly valuable as well. The waterproof pouch you can use the touchscreen through too.
Compact binoculars for wildlife watching
Check out this post for a complete packing list for Alaska for both summer and winter and this complete guide to camping in Alaska. The camping guide includes my recommendations for tents and sleeping pads for Alaska.
Everything you need to know for life aboard the Alaska Ferry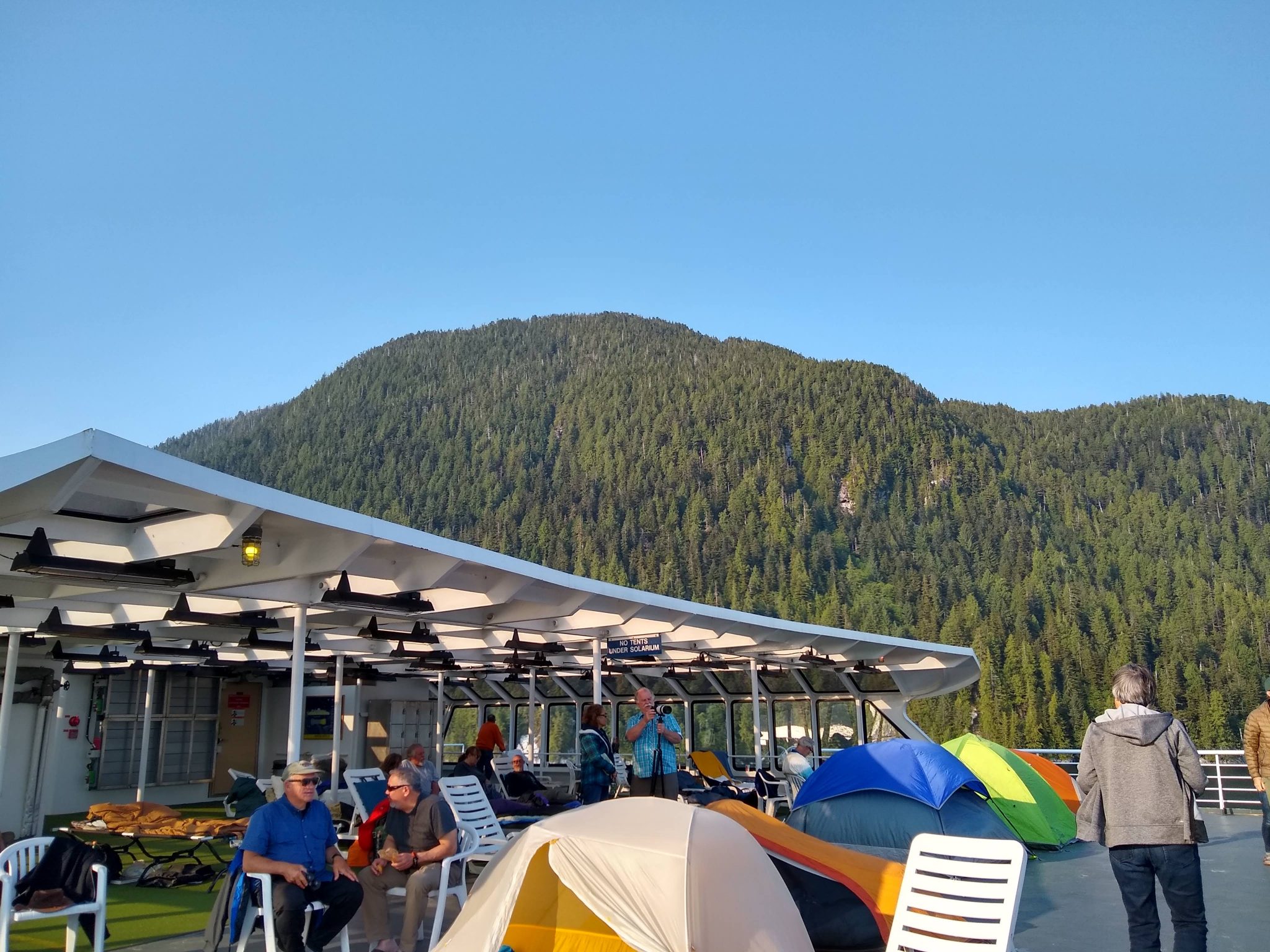 Sleeping on Board the Alaska ferry
This section covers sleeping on board without a cabin (see below for what's different if you have a cabin). On the ferry these are your options for places to sleep:
Camping on deck (need a tent with a real rain fly and very strong duct tape, and a towel as it might be wet). Camping is allowed on the rear outer decks, but not under the solarium covered area. By the way, if you're planning on camping while you're in Alaska, read everything you need to know about camping in Alaska here!
Lounge chair camping in the Solarium (need sleeping pad, sleeping bag and pillow)-This is my preferred method! The solarium has radiant heaters too!
Sleeping on deck on the floor
Sleeping in a lounge on the floor (cannot keep your things there during the day)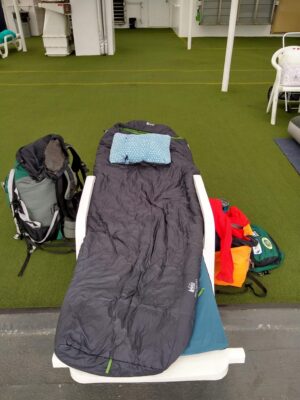 Eating on Board
You'll definitely need to eat on board this ferry. It's 38 hours from Bellingham to Ketchikan, 18 from Ketchikan to Juneau and 6 from Juneau to Skagway. To eat on board, you have a few options
Bring your own-anything you want except alcohol. Unless you are bringing a cooler (which is probably not practical unless you are also bringing a vehicle), you'll need food that doesn't need to be refrigerated. Camp stoves are not allowed to be used on board, however the Cafe has hot water which you can usually access even when they are not serving hot food. There is also a microwave on board. Cold water is also available in the cafe (you can bring your water bottle and fill it). I have found that backpacking meals work well with the easy hot water access (on my most recent trip I had several meals of this chili and it was perfect). There is a vending machine for ice if you do have a cooler.
Eat in the snack bar: Each ferry has a different schedule for when hot food is served, but you can count on decent cafeteria fare (burgers including salmon and halibut burgers, chicken strips, fish and chips) for $8-14, as well as pre-made salads, sandwiches and desserts. They also have specials for each meal (chicken adobo?? yes please!)
On the M/V Columbia ONLY (from Bellingham to Skagway and back) there is a formal dining room for breakfast and dinner. On the Columbia this is the only hot breakfast. Breakfast runs $7-12. Dinner is served from 6-9 pm, with entrees such as grilled salmon, halibut and pasta for $18-24. Beer and wine are also served in the dining room (this is the only alcohol available on board).
The snack bar has a coin operated espresso machine!
All ferries have vending machines for bottled water, soda and snacks (candy bars, cookies, etc)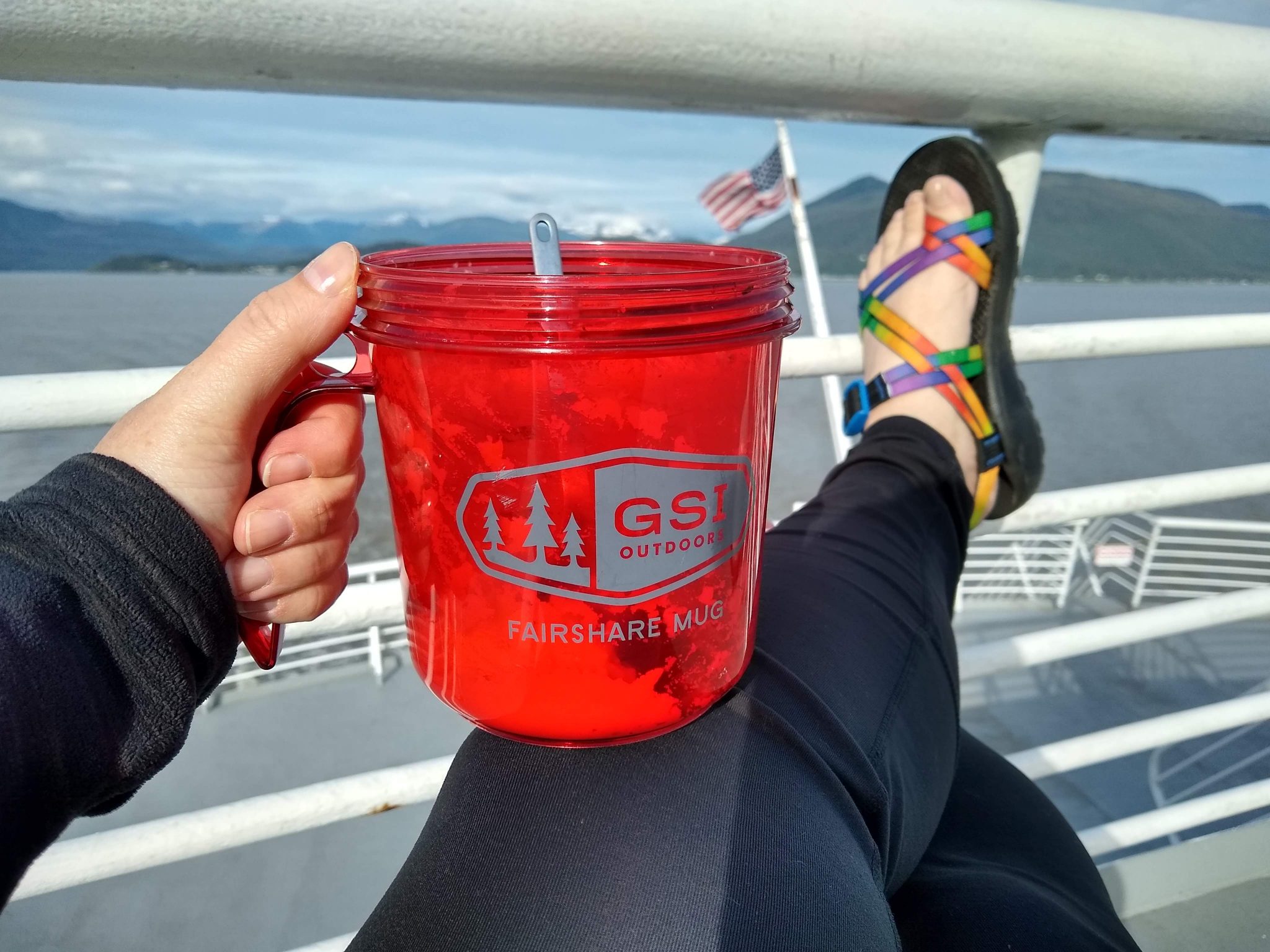 Other On Board Necessities
Where do I put my Stuff?
If you don't have a cabin, figuring out where to put your stuff can be a challenge. I use the lounge chair camping method described above. This means I keep everything around the chair and I've never had a problem with anyone disturbing anything. You do have the option of utilizing the lockers on board, either for security or just so you have a place to put things out of your way. The lockers cost 50 cents (you'll need quarters). People also often keep their things in their tent, if camping on deck. If you're sleeping in the movie theater, you'll need to move your luggage out during the day.
Showers
There are free showers in at least one women's and men's restroom. (You can rent a towel and wash cloth as well as get soap from the Purser for $1) I give these showers a 5 star rating because they have a dry space to hang things up and a bench, and a (tiny) shelf in the actual shower. Also, they have hot water right away!
Laundry
Laundry is ONLY available on the M/V Columbia. There is coin operated washer ($1.25) and dryer ($2), they also have a vending machine for laundry soap and fabric softener ($1 each).
Drinking Water
There's a water tap in the snack bar (remove the grate under it to accommodate the size of a 32 water bottle). There are also vending machines with bottled water.
Cell Phone Service
There is very limited cell phone service along the route, plan on not having any except in port. At some points along the way you may pick up a Canadian cell phone signal. If you do not have Canadian coverage on your plan, this gets very expensive very fast! To avoid this, put your phone in airplane mode (this also helps preserve your battery much longer if you are relying on your phone as your camera, especially for video as your phone will not be wasting battery trying to access a signal).
Charging Electronics
There are very few outlets on the ferry for charging (unless you have a cabin). There are none in the solarium or on deck. You can find a few in the observation lounge as well as the snack bar. The exact location of outlets varies from ferry to ferry, it's a good idea to scope out their locations when you get on board and are getting settled. Keep this in mind if you are planning on using your electronics for entertainment. Also keep in mind that any electronic entertainment needs to be able to be used without wifi or a cell phone signal, so don't forget to download those netflix shows, podcasts and music before you leave home.
Entertainment and Activities
Activities on board the Alaska ferry are mellow, analog and old school. In addition to any entertainment you bring with you (books, kindles, TV/Movies downloaded, cards, bananagrams, drawing, painting, photography) you can also pass the time looking for whales (bring binoculars for this and patience); working on of the puzzles that are on tables around the ferry, playing a game that happens to be in the lounge or watching a movie shown in the recliner lounge/theater. The ferry is also a great place to make new friends, generally people riding the ferry are friendly (but will also give you your space).
Wildlife Viewing
On the Alaska ferry you are very likely to see porpoises, whales and eagles, and often seals or otters. The best way to see wildlife is to spend a lot of time looking at the water. The ship's crew will often (but not always) make an announcement when whales are spotted. You can further increase your whale watching by bringing a pair of binoculars.
Get to Know your ship, Explore and Have fun!
Each ship has multiple lounges (really just big rooms with seats), a movie theater, decks and a snack bar. When you board and get settled, head to the purser's desk (like a hotel lobby, on the lowest deck for passengers above the car deck) to get a map of the ship (these are usually posted around as well). This is a good time to scope out the charging outlets and food options too. You can move around to different spaces throughout the voyage as much as you like! This is all part of the fun of being at sea!
What will be different if I have a cabin?
I have only had a cabin on the ferry once. If you want a private sleeping space and/or a place to keep your stuff on the journey then a cabin is what you need. They need to be reserved well in advance. The cabins are very small but they are clean and functional.
You will have a bed and bedding
You MAY have a private bathroom (depending on what type of cabin you book)
You will have charging outlets for electronics
Keep in mind that the cabins are tiny and spartan and have single bunks…it's not likely you'll want to hang out in there too much of the time!
What is it like to bring a car on the Alaska ferry?
The most important thing you need to know if you're bring a car or RV on the Alaska ferry is that it's very expensive (at least $1000 and possibly much more depending on how big your vehicle is, how full the ferry is and how far you're going). You also absolutely must have reservations for a vehicle. Space for vehicles is very limited on the ferries and fills up fast.
You'll need to be at the Bellingham terminal at least three hours early, earlier is better (the staging area and check in opens at 11am)
You will NOT be able to access your car during the voyage. You can access your car in ports, as well as at designated times that the ship allows you to go to the car deck (the trip from Bellingham to Ketchikan is 38 hours and there are four car deck calls per day for approximately 20 minutes)
If you have a pet, they can only travel on the car deck, you can "walk" them on deck at the car deck call times, and in port, but at no other time can you be with them.
You will NOT be able to sleep in your car or RV, you'll still need to figure out your sleeping plan (see above in "sleeping" section)