Hiking to Elephant Head on the Chelan Butte Trail
Posted On June 6, 2022
Last Updated on August 15, 2022
Elephant Head is a stunning hike near Lake Chelan featuring spectacular views and gorgeous wildflowers in spring. At just over 4 miles round trip with 1200 feet of elevation gain, this is a steep and challenging hike made more comfortable by a beautiful and well constructed trail.
Elephant Head is along the Chelan Butte Trail, which continues on to the Chelan Butte summit in a four additional miles round trip and an additional 1300 feet of elevation gain.
The Lake Chelan area is the homeland of the Chelan, Okanagan and Yakama People.
Parking Pass: None
Dog Friendly: Yes, on leash
Cell phone coverage: Good
Restrooms: Port-a-potty in the parking lot
Accessibility and Mobility: This trail is definitely steep, though there are steeper and flatter sections and overall the trail has an excellent tread with only a few rocks (mostly in the last few hundred feet) and no roots. There are three benches for resting and checking out the view. Overall this is one of the trails I've been on that feels less difficult that it should even though its steep because there aren't any big steps or other things to trip on. There are no barriers across the trail. No shade exists on this trail, so make sure to have sun protection and extra water, especially in summer.
Related: What to wear for a hike in the Pacific Northwest, What to bring for a hike in the Pacific Northwest
Where is Elephant Head?
Elephant Head is located on the Chelan Butte Trail, about two miles before Chelan Butte. It is near the town of Chelan just south of downtown Chelan and the lake.
When is the best time to hike to Elephant Head?
The Chelan Butte Trail to Elephant Head has stunning wildflowers in late April and May. This is my favorite time of year to do this hike. Early June may still have some flowers if it hasn't been too hot yet. Yellow and purple flowers absolutely cover this landscape and days are generally sunny and warm.
In summer it is very hot on this hike as there is virtually no shade and some parts are steep. Make sure to bring lots of extra water and sun protection if undertaking this hike in the summer and watch out for rattlesnakes.
Where do you park for Elephant Head?
To get to the Chelan Butte Trail, head south on Farnham Road until it becomes Saunders Street and then left on Iowa which takes you strait to the trailhead. There are several trails going from here. If you put "Chelan Butte Trailhead" in Google Maps it will take you straight there.
Trail Description
Once you've parked, head across the end of the road to the trail that looks like an old dirt road heading uphill (not the gravel trail with the big trail sign).
You'll be climbing uphill right away and in a short distance you'll come to a wooden sign pointing right for Elephant Head in 2 miles and Chelan Butte in 4 miles.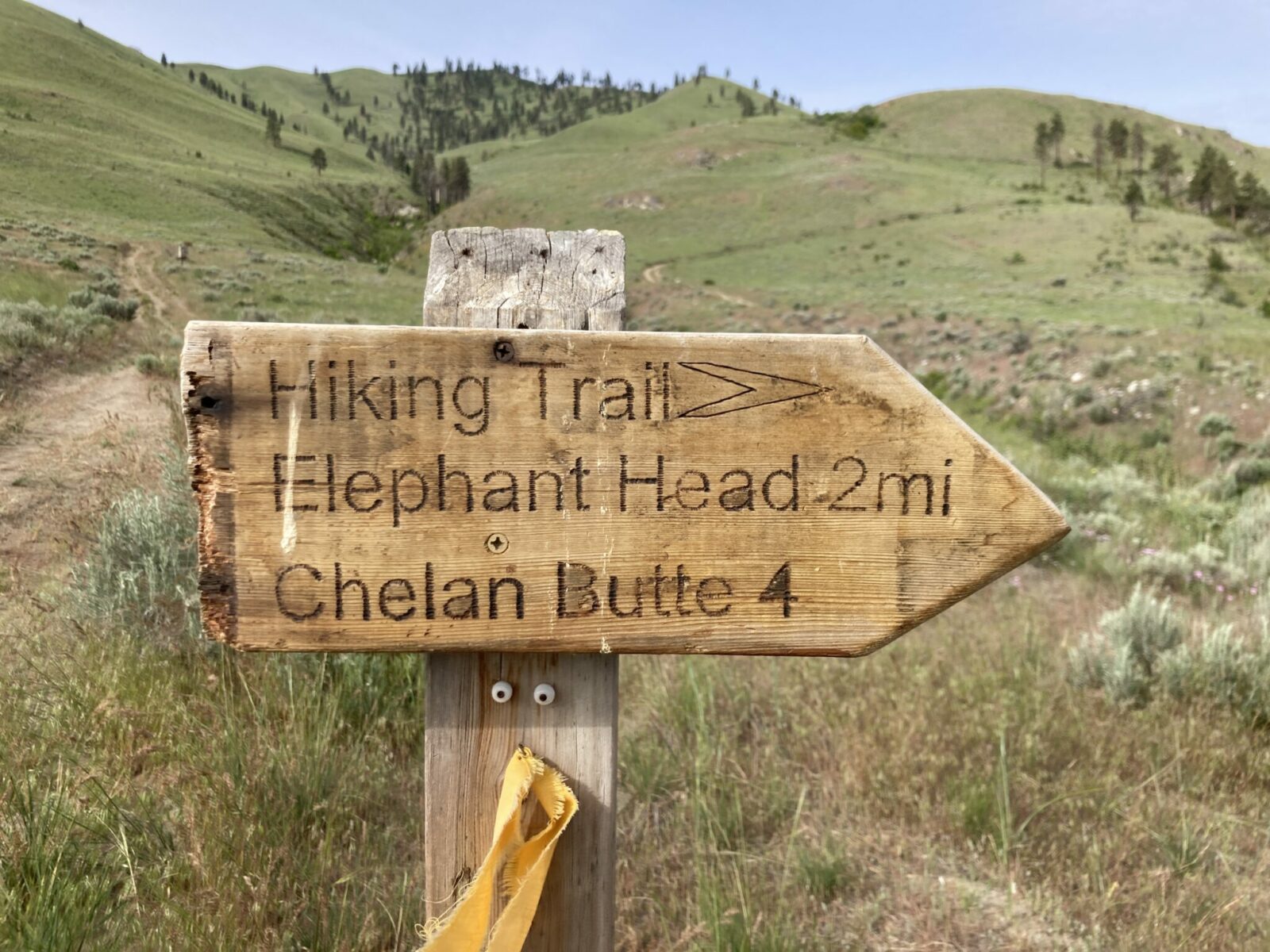 The trail continues to look like an old road for about another half mile. You'll be climbing through the sagebrush (watch out for rattlesnakes) and starting to get some views to the town of Chelan below. Soon you'll come to another wooden sign pointing left for Elephant Head (1.5 miles) and Chelan Butte (3.5 miles).
At this point, the trail becomes narrower and much more like a trail and less like a rough road. The wildflowers also increase after this point and become more varied. Lots of lupin and balsalmroot in April and May and sometimes early June.
You'll also reach the first of three benches that are in the perfect places to rest and check out the view.
Continue climbing up through a couple of gullies and a few trees nearby here and there. When you get close to Elephant Head the last half mile or so is much less steep and more of a traverse. Make sure to stop at the bench next to the big boulder for another great view in the middle of wildflowers.
At approximately two miles, the main trail takes a hairpin right turn to head up towards Chelan Butte (which you can now see with radio towers on top). For Elephant Head, you want to go left here up a rougher trail. This very short section is steep and rocky and then you'll come to the top with a pile of rocks and a bench.
From here you can see up to Chelan Butte, over to the Columbia River, down to the town of Chelan and quite a ways up the lake. Mountains of the North Cascades are in the distance as well.
Admire the view as long as you like before returning the way you came back to the parking lot. You can see the parking lot almost directly below you when you're at the top.
Where to stop after hiking to Elephant Head
The Lake Chelan area is one of the areas with lots of wineries in Washington wine country. There are plenty of places to stop for a tasting.
Beer lovers should head to Stormy Mountain Brewing which also has good pub food and tacos.
There are plenty of ice cream stops in town, including my favorite which is in the Landing Building.
Electric Vehicle Charging
There are a few wineries in the Chelan area that have charging but only for Teslas. The nearest fast charging otherwise is in Wenatchee, 44 miles away.