Best things to do at Eklutna Lake near Anchorage
Posted On February 8, 2023
Eklutna Lake is a fantastic day trip from Anchorage or Wasilla, extremely popular with locals and visitors alike for its summer lake fun from camping to fishing to hiking, biking and kayaking. This is one of my favorite places for a low key fun day enjoying an Alaska summer day the way Alaskans do!
In this article, I'll tell you everything you need to know to plan your day trip or weekend getaway here. I'm focusing on summer for this article, though it is also a popular winter destination and I included a few basics about that near the end.
Related: How to plan a trip to Alaska, What to pack for Alaska
Eklutna Lake Basics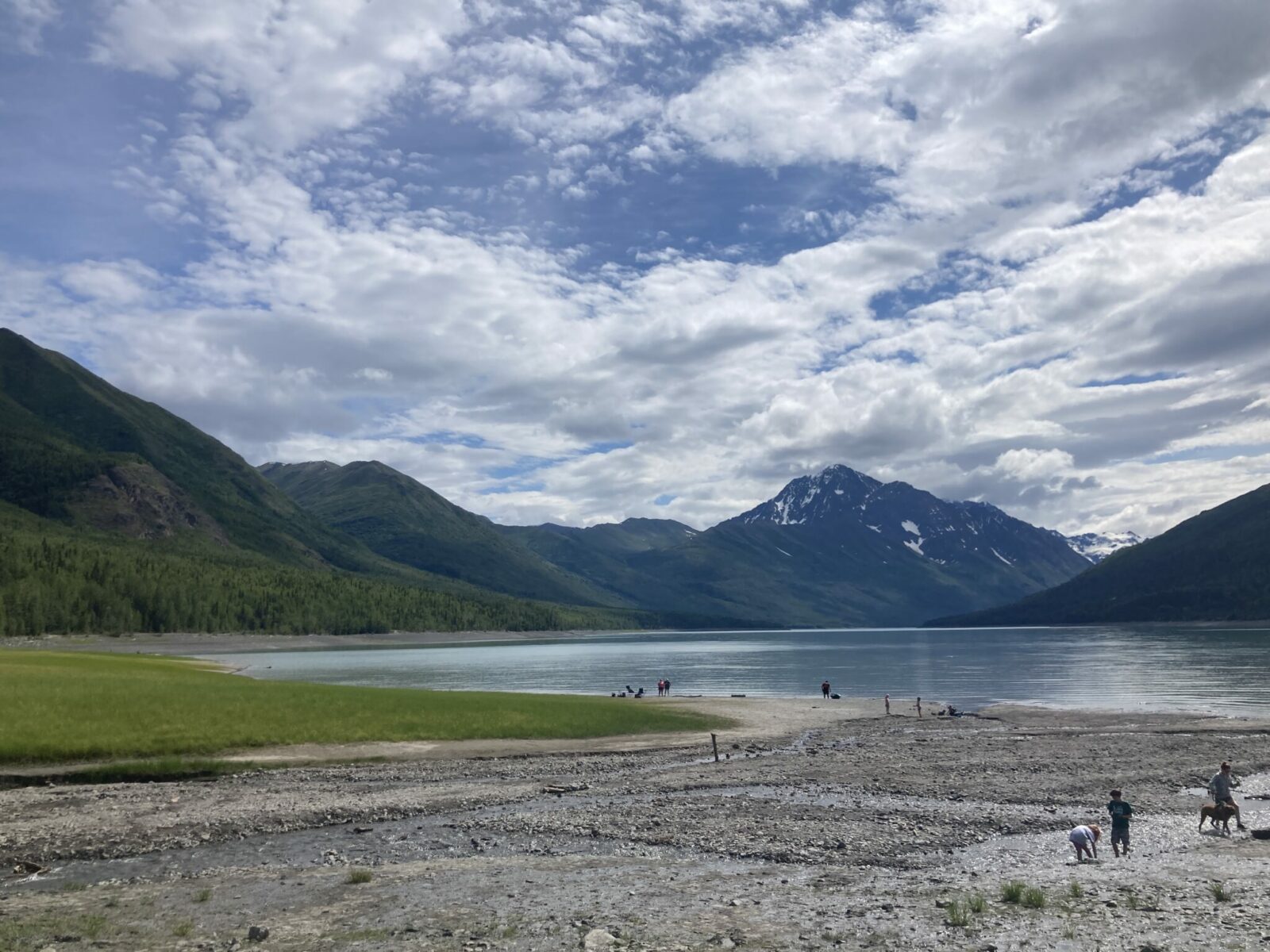 Eklutna Lake is the largest lake in Chugach State Park and supplies most of the water for the city of Anchorage. It is fed by the Eklutna Glacier and massive amounts of snow melt from the mountains surrounding the lake. The area is the homeland of the Eklutna Dena'ina Athabaskan People.
Parking Pass: A $5 day use fee is charged for parking. Camping is $20 per night.
Dog Friendly: Yes, leashed dogs are allowed here.
Cell phone coverage: There is no cell phone coverage at the lake or in the campground.
Restrooms: There are pit toilets in the campground and in the day use parking area. I did not find any ADA accessible toilets when I visited.
How far is Eklutna Lake from Anchorage?
Eklutna Lake is located in Chugach State Park about 40 miles from Anchorage. The drive typically takes about an hour.
The Eklutna Lake Road is paved and well maintained, though it is quite busy and winding. Watch out for RVs during the summer months and take the corners slow.
To get to Eklutna Lake, head out of Anchorage on the Glenn Highway. After passing the town of Eagle River, keep an eye out for the sign for the exit to Eklutna Lake. Follow Eklutna Lake Road for about 10 miles until it ends at the campground and day use parking area.
Weather at Eklutna Lake
Weather is generally similar to the weather in Anchorage and Eagle River at the same time, though it is often quite windy here, especially in the afternoon.
Summer days can range from the 50s to the 70s, Alaska weather is very unpredictable! Be ready for rain and wind any time of year. The warmest days are usually in July but June can also be quite warm and sunny. August has more rainy days and is more like fall.
Eklutna Historical Village
It is well worth it to stop at the Eklutna Historical Village on your way to Eklutna Lake. Here is the opportunity to see first hand the complicated relationship between Indigenous People in Alaska and the Russian Orthodox Church.
The colorful spirit houses in the cemetery at Eklutna are believed to be the result of a mix between traditional Athabaskan burial traditions and the burial traditions of Russian Orthodox missionaries. It is a beautiful and fascinating walk taking in all the colors and details. Take the short guided tour if the visitor center is open.
St Nicholas Russian Orthodox Church is one of the oldest buildings in the Anchorage area and is a simple yet beautiful small log building.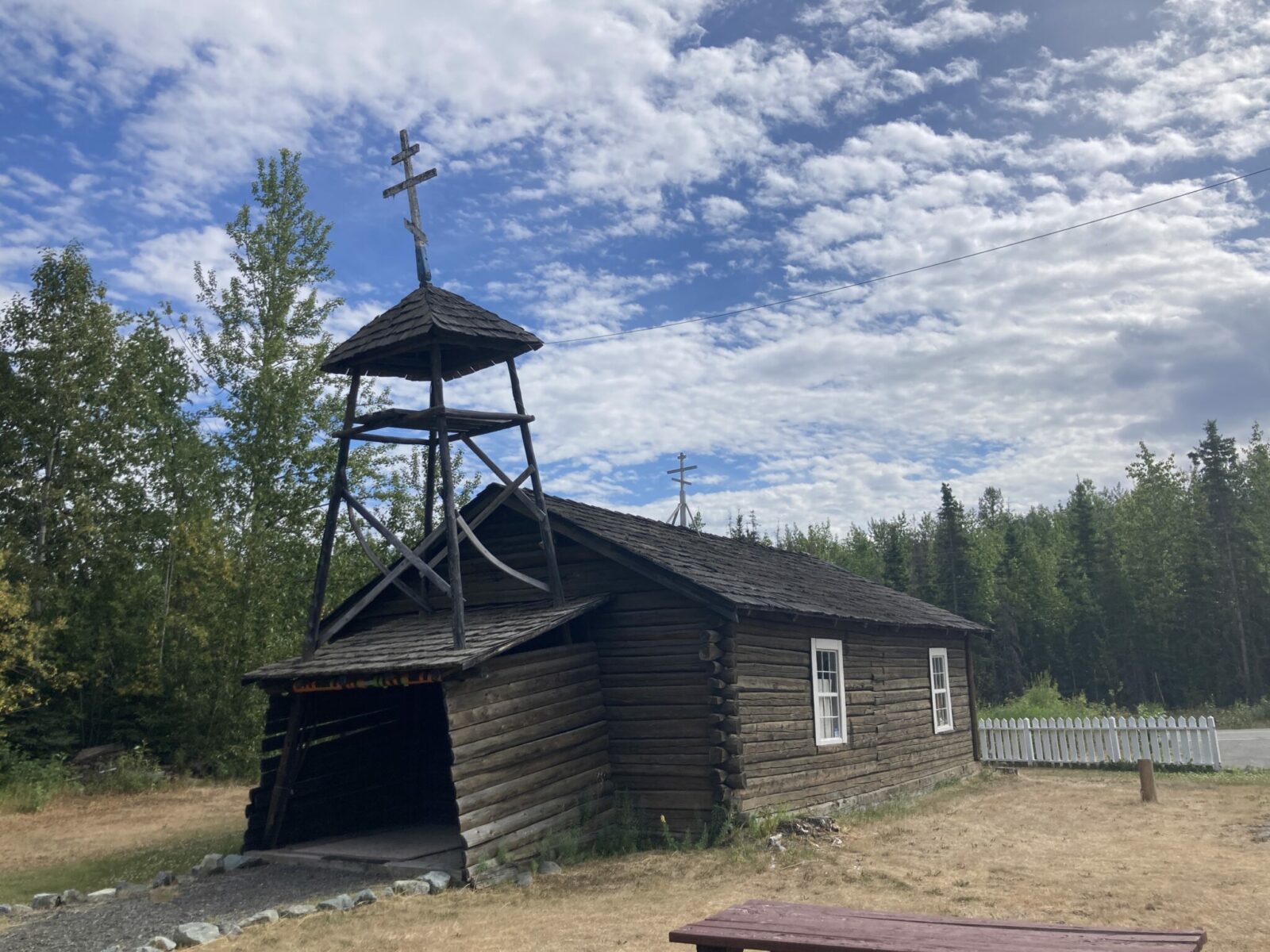 Bring $5 cash for the entrance fee.
Camping at Eklutna Lake
The Eklutna Lake Campground is very popular with locals and fills up quickly, especially on weekends. It's first come first serve so there are no reservations. If you're a visitor and you can camp here during the week that will make finding a spot a lot easier.
The campground has pit toilets and water, but no showers. The sites are forested and close to the lake.
There are also two public use cabins near the campground and a couple of others that are hike or bike in. Alaska State Parks public use cabins must be reserved in advance and have picnic tables and fire rings as well as an outhouse. There is no running water in the cabins but they do have woodstoves (bring your own wood).
Hiking at Eklutna Lake
There are a couple of great hiking options at Eklutna Lake, from mellow flat walks along the lake shore to long walks on the lake shore to steep ridge hikes with epic views.
Like all hikes in Alaska, I recommend bringing bear spray with you and always hiking in groups. I enjoy solo hiking but I always hike with someone else in Alaska for bear safety. You'll also want long pants, long shirt and bug spray.
Related: What to wear for a hike in Alaska, what to bring for a hike in Alaska
Eklutna Lakeside Trail
The Lakeside Trail is an absolute must do. The trail is wide (keep an eye out for mountain bikers) and mostly flat. The trail is 13 miles one way, so make sure to set and stick to your turnaround time since there is not a clear destination along the trail. There are beautiful views of the lake and up to the surrounding mountains.
The trail starts from the parking area.
Twin Peaks Trail
If you're looking for a steep climb to a high ridge with views of surrounding mountains as well as the lake from above, the Twin Peaks Trail is the one for you.
A 5 mile round trip hike with almost 2000 feet of elevation gain, this hike is a challenging climb. The alpine meadow and views at the top are excellent on a clear day. You can see Twin Peaks as well as many other distant mountains. Mountain goats are frequently seen near the top of this trail, do not approach them and keep your distance.
The trail starts from the parking area and heads immediately up the mountain.
Kayak Rental at Eklutna Lake
Kayak rentals as well as guided kayaking tours are available. You can even do a combo kayak and bike tour, kayaking out and then biking back with all the equipment ready for you!
Eklutna Lake frequently has lots of wind, especially in the afternoon. It's easy to get in trouble kayaking out and then fighting the wind to get back when you're tired. If you choose to kayak on your own keep this in mind and pay close attention to the wind as well as how far you've traveled.
If you do a guided kayak trip, then they'll worry about all that for you, one great reason to consider a guided tour.
Biking at Eklutna Lake
Mountain biking (and fat tire biking in winter) are very popular with locals here. If you're a visitor, you can rent bikes near the parking area to explore the Lakeside Trail.
When biking on the trail, stay alert for hikers since this is a shared use trail. You can also do a guided tour, even an overnight bike camping trip or the kayak/bike combo described above.
This is a great place to rent and try out mountain biking if you haven't done it before, since the trail is mostly flat and not too technical, as well as a beautiful ride along the lake.
Swimming in Eklutna Lake
You can swim in Eklutna Lake, however the water is extremely cold, barely above freezing even in summer. It is also very windy at the lake so the wind and air temperature may make swimming in freezing water not very inviting.
Make sure to have plenty of warm and dry clothes available, even on warm days for after swimming if you decide to go in.
Fishing in Eklutna Lake
Bring a fishing rod and try your hand at catching the Dolly Varden and Rainbow Trout in the lake. In addition to fishing gear, you'll need an Alaska fishing license and to follow the State of Alaska fishing regulations for the Anchorage Bowl region.
Winter at Eklutna Lake
Although this article is focused on the summer highlights of Eklutna Lake, this is a popular year round destination. The campground and cabin are even open in winter!
The Lakeside trail is a good cross country skiing or fat biking location when snow conditions are right. You may see locals skating on the lake as well. Make sure you have the skills to evaluate ice thickness and safety if you're going to go out on the frozen lake.
If you have more time
If you're spending more than a day on your trip to Eklutna, especially if you're camping, there are several other wonderful places to explore nearby.
In addition to the Eklutna Historical Village mentioned above there are a couple of other wonderful hikes in the area between Eklutna Lake and Anchorage, including the Albert Loop Trail from the Eagle River Nature Center and Thunderbird Falls.