26 Glaciers Cruise Review – Best Glacier experience in Alaska
Posted On May 17, 2023
Last Updated on June 12, 2023
The 26 Glaciers cruise in Whittier is the best glacier experience you can have in Alaska and one of the best tours overall. I know this is a bold statement, but as a former Alaskan, frequent Alaska traveler and tour guide I have experienced a lot of tours and seen a lot of glaciers. While I've never been on a glacier tour that wasn't incredible, this one is special and should be right at the top of the list for things to do if your trip is bringing you to Anchorage at any point and glaciers are your top priority.
It's true that Glacier Bay and Tracy Arm in Southeast are more famous and just as beautiful and landing on a glacier in a small plane or helicopter is an experience of a lifetime. Getting onto a glacier on a guided hike like Matanuska or Root Glacier, or visiting an ice cave like Castner Glacier or hiking along Exit Glacier for a few hours are more epic experiences, no doubt.
So, why does this tour rise to the top for me? Because it's accessible to almost any traveler if Anchorage is on their itinerary (those other locations are not), it's at a price point that is in most traveler's budgets and it's perfect for people of any ability level. Add to that you don't even need a car to get this amazing experience and you really have it all.
I've loved this tour for more than twenty years, so when I had the chance to go on it again in May 2023 after a few years, I wanted to give it a thorough and detailed review! On this day, the weather was very cold, rainy and windy and it was still incredible, affirming that this is a wonderful tour in any weather.
Who is the 26 Glaciers cruise best for?
The 26 glaciers cruise is an ideal tour for anyone who really wants to see glaciers as a top priority on their Alaska trip (that's pretty much everyone!) who will be spending any time in the Anchorage area. There is no better glacier experience in Alaska!
Their no sea sickness guarantee on this cruise through the very protected water of Prince William Sound is ideal for those worried about getting sea sick or unsure about boats in general.
You can also combine this with transportation from a cruise ship to Anchorage if you are traveling on a Holland America or Princess cruise that goes in or out of Whittier and you are staying overnight in Anchorage or flying out on a red eye flight that night.
How to get to Whittier and the 26 Glaciers cruise
Whittier is a unique community in Alaska because it is only accessible by boat and by a tunnel that connects it to the Seward Highway and Anchorage. This means getting to Whittier requires a bit of planning and thought, which is well worth it for this epic glacier experience. You have four options for getting to the 26 glaciers cruise: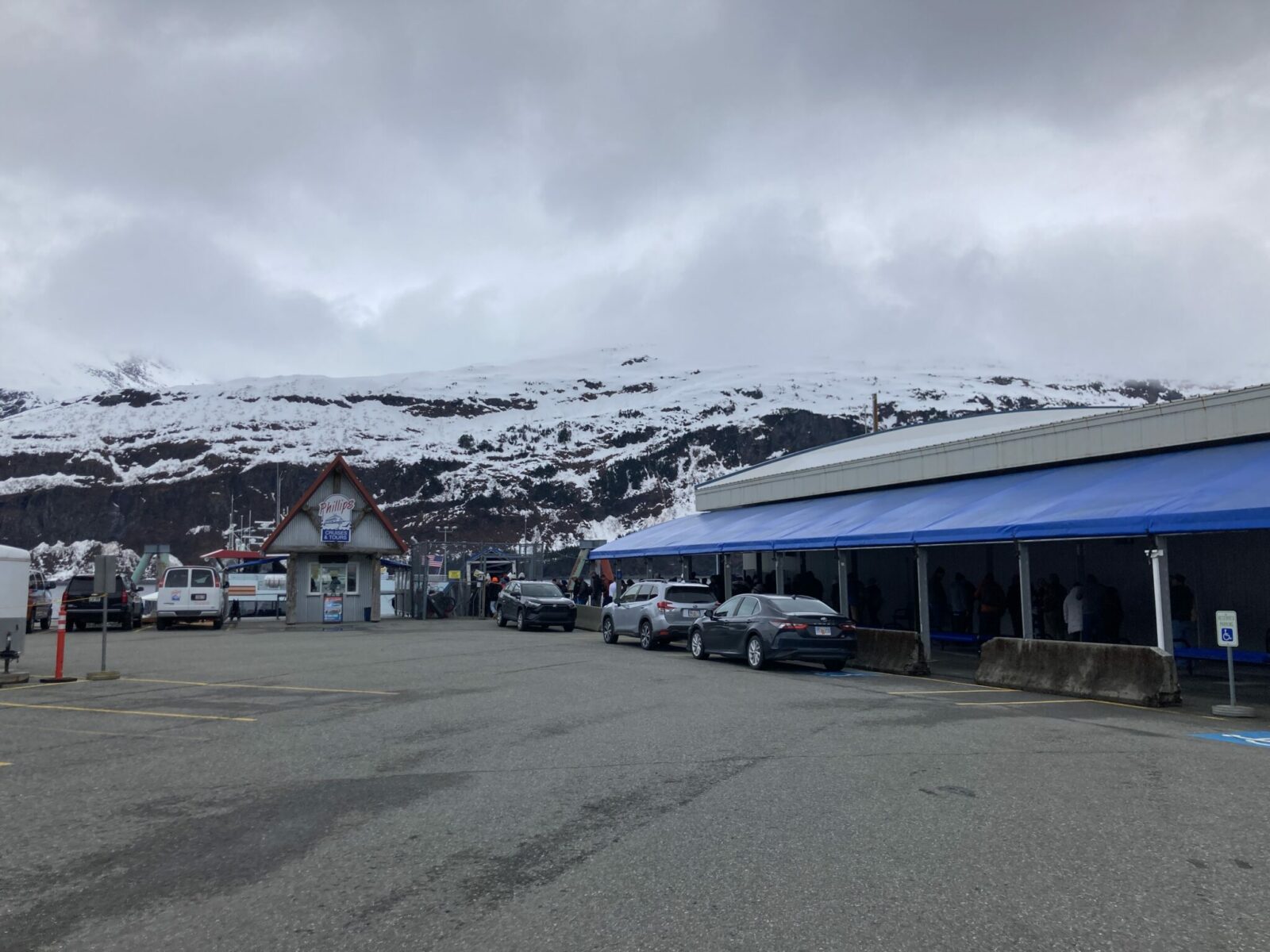 #1 – Self drive from Anchorage to Whittier
One way to get to the 26 Glaciers cruise is to drive yourself from Anchorage. In order to do this you will need a rental car and you will need to make sure you have the Anton Anderson Tunnel schedule. The tunnel opens to traffic once an hour in each direction so getting through the tunnel in time is critical so you don't miss your tour!
Once through the tunnel it's about a five minute drive to the parking area where you board the boat.
This option gives you the maximum flexibility if you want to make stops along the drive (which is incredibly scenic) or you want to wander around Whittier for a few minutes before or after your tour.
#2 – Take the Motorcoach and 26 glaciers cruise combo
One of the best things about the 26 glaciers cruise is that you can do a day trip from Anchorage without a car. When you book your ticket for the 26 glaciers cruise, book the motorcoach transfer combo.
With this option, you don't need an expensive rental car, don't need to worry about where you're going or the tunnel timing and just show up and take in the scenery. The coach will drop you off near the check in office and pick you up in the same location after you return to the dock.
#3 – Take the Alaska Railroad and 26 glaciers cruise combo
Another fantastic unique car free way to get to the 26 glaciers cruise is to take a day trip on the Alaska Railroad's glacier discovery train. This has the same benefits as the motorcoach, adding in the food and beverage options available on the train and the uniqueness of a train ride. Who doesn't love a train ride to a boat ride?
After initially following the highway along Turnagain arm, the train then separates from the highway and travels through a beautiful valley with more glaciers all around you.
Make sure to book your train ticket and boat tour ticket together.
#4 – Add the 26 Glaciers cruise onto your cruise ship transfer
If you're taking a one way cruise to or from Whittier on Holland America or Princess, you can purchase a transfer between Anchorage and the ship that includes the 26 glaciers cruise. You'll need an entire day to do this, but I highly recommend it!
If you choose this option, definitely book it through your cruise line to ensure a smooth experience with embarkation and disembarkation and so you don't need to worry about your luggage!
Is the 26 Glaciers cruise wheelchair accessible?
Yes, however the details of wheelchair accessibility vary a bit between the different vessels used for this tour. It is extremely important to let them know at the time of booking if you will be using a wheelchair, so they can make sure you have a seamless and comfortable experience. The crew is skilled in helping guests in wheelchairs with boarding and getting around the ship.
There are wheelchair accessible restrooms on board and ramps for embarkation and disembarkation. The second level of the boat is not wheelchair accessible (no elevator and steep stairs) but there is no need to go to the second level, the main level is just as good of an experience.
What to expect on the 26 Glaciers cruise
When you check in at the booth before boarding, you will be assigned a seat, so you never have to worry about saving one, getting a good seat or waiting in line for a better seat. The best "seat" is outside on the deck anyway, so you seat is really a place to enjoy your food, take a break from being outside and connect with family, friends or your fellow travelers. Here are some answers to questions I am often asked by my clients about the tour.
26 Glaciers cruise route and length
The cruise lasts about five and a half hours and takes you through College Fjord and Blackstone Bay, both very protected inlets of Prince William Sound that are filled with glaciers, both those that come down to the water and those that are tucked up in the mountains. The exact route varies based on weather and ice conditions.
Philips Cruises also offers a shorter version of this tour, called the Glacier Quest which is just under four hours if you're looking for a shorter experience. You will still see lots of glaciers on the shorter tour, but not as many as the longer 26 glaciers cruise.
Will I get seasick?
Probably not! If you do, you can get your money back! Seriously though, the water the 26 glaciers cruise goes through is very protected. On my May 2023 visit there was about a 10 minute amount of time with a bit of motion (it was a very windy and wet day) while we were looking at a humpback whale. I have never experienced any significant waves the many other times I've been on this tour.
If you have a history of sea sickness or are worried about it, you can always take a sea sickness prevention medication.
Does the boat have restrooms?
Yes! There are plenty of restrooms and I never waited in line or saw a line for the restroom.
Will I really see 26 glaciers?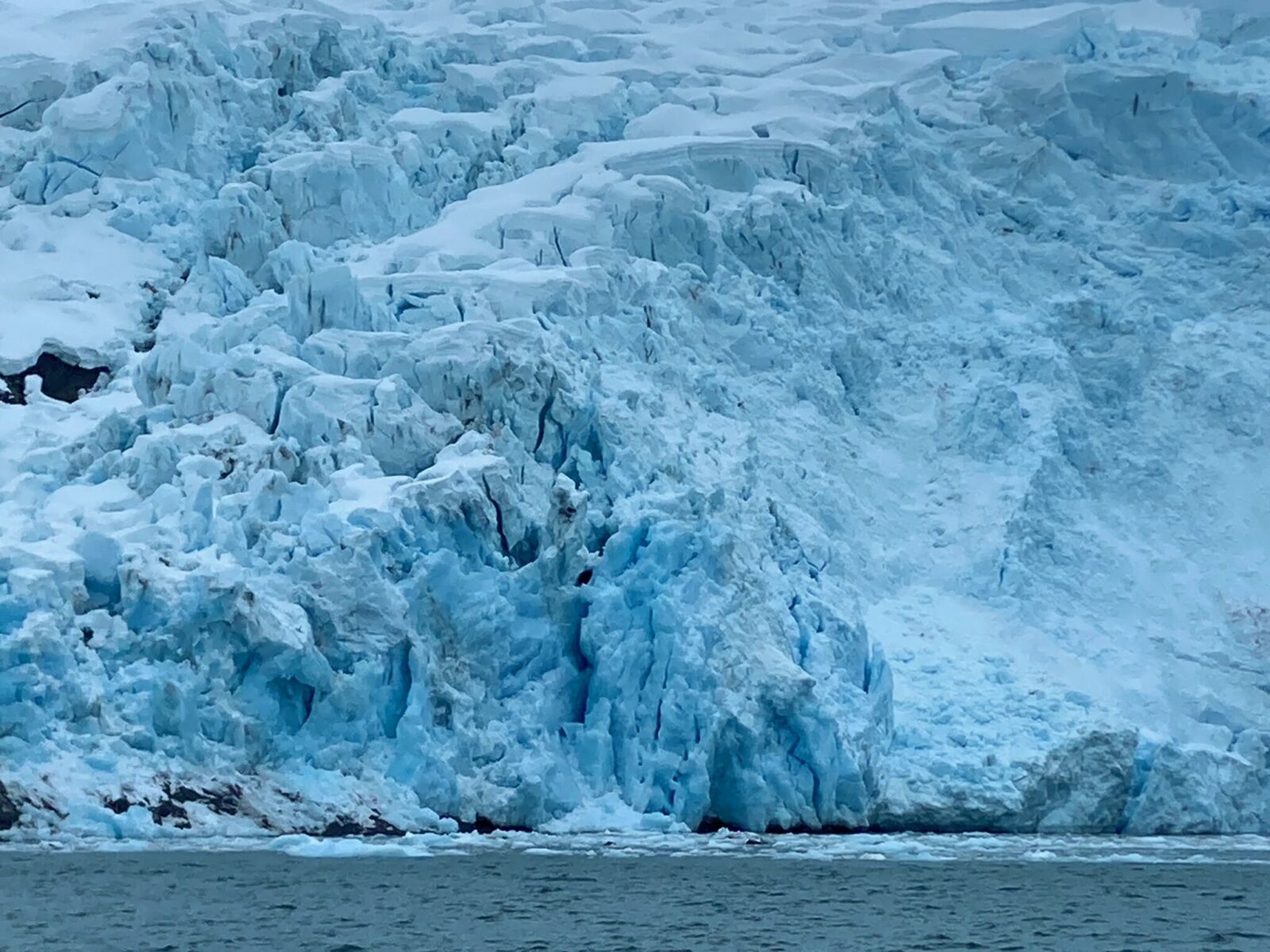 Probably! It does depend a bit on the weather. You'll see lots of glaciers that come right down to the water on the cruise no matter what the weather is doing. Some of the 26 could be shrouded in clouds or fog, but you will not be disappointed no matter the weather.
I have done this tour on a perfectly sunny day, and a super wet and rainy day and both were amazing. I honestly didn't count the glaciers, I was too busy taking them in.
What wildlife will I see on the 26 glaciers cruise?
Although this tour is focused on glaciers and not on wildlife, I have seen wildlife every time I've done it. You are very likely to see sea otters, seals, sea lions and many different shore birds. On my recent tour we saw a humpback whale which was incredible! I've also seen orcas (killer whales) on this tour.
Overall, if wildlife is your primary focus I would choose a different tour, but you can still expect to see some wildlife on this trip.
Is there wifi on the 26 glaciers cruise?
No. The boats do not have wifi and you will not have a cell signal either once you depart the dock. I recommend putting your phone in airplane mode so you don't drain your battery while your phone looks for a signal. Enjoy the disconnection for a few hours!
Are there food and drinks available on board?
Philips Cruises includes a complimentary lunch with your 26 glaciers cruise ticket and it's really good! They have a vegetarian option, but if you are not a vegetarian definitely get the salmon chowder, it's really really good. It's served with a roll and some snacks to round out the meal.
There is also complimentary coffee and water on board as well.
You can also purchase snacks and food from the bar as well as drinks. There are plenty of hot and cold alcoholic and non alcoholic drinks available for purchase.
After you make a stop in one of the iceberg filled bays, the crew will collect some ice from the water in a big net, then clean it and chop it up for margaritas! A glacier ice margarita is a very unique drink so give it a try if you like margaritas. You can also try the glacier ice in a soda instead, or just take a look at it once the crew sets it out.
What if it rains?
Don't worry about the weather! This tour is fantastic even in rainy weather (I've been on it in VERY rainy weather so trust me on this). Rain is frequent in this area and also comes and goes, so a day that starts out sunny could bring rain and a rainy day could give way to bright sunshine.
Make sure you're prepared for both (see below) and know that glaciers and wildlife are not impacted by the weather.
What to wear and bring
The most important thing to bring on this tour is layers for every imaginable kind of weather! The best glacier viewing experience always happens when you're outside on deck so make sure you have the clothes to enjoy spending time on deck (even if it's raining).
A rain jacket is critical. Umbrellas are not super helpful on boats because the boat creates wind as it travels across the water. Make sure the rain jacket has a hood. Rain jackets are also great for protection from wind.
I also recommend a warm layer (even on a sunny warm day) as well as a hat.
You'll also need sun protection, especially sunglasses, even if it's overcast. Keep in mind that the weather often changes throughout the day, so be prepared for rain and sun.
Make sure to bring your phone charger, they are have charging stations at every seat, but you'll need your charging cable to plug in.
If you have binoculars, bringing those along is a great idea. You can also rent binoculars from the bartender for $5 for the day on board.
Related: What to pack for Alaska
Cost and Booking Information
The 26 Glaciers cruise is easy to book online and operates from early May through the end of October and costs $189 for adults (anyone 12 and over) plus tax. Children age 2-11 are $125 plus tax. Little ones under two travel free (but still need a reservation).
The shorter Glacier Quest Cruise operates from mid May through early September and costs $149 for adults (anyone 12 and older) plus tax and children age 2-11 are $89 plus tax.
If you want to add on transportation from Anchorage, do that when you buy your ticket. The motorcoach transportation costs an additional $89 per person round trip for adults and $59 for children. The Alaska Railroad option costs and additional $125 for adults and $63 for children, round trip.
Final thoughts
Overall I believe this to be the best glacier experience in Alaska that's accessible to pretty much everyone, as long as they are spending at least a full day in Anchorage.
The 26 glaciers tour is affordable for most travelers, is fun no matter what the weather is doing and gives you the opportunity to be surrounded by glaciers all day. Add in some delicious food and unique drinks and it is almost impossible to not love the 26 glaciers tour!