Best things to do in Haines Alaska
Posted On May 24, 2021
Last Updated on June 15, 2023
Looking for a place to visit in Southeast Alaska that is bursting with outdoor adventure and interesting other things to do? Haines, Alaska is here for you! Haines is a small town of about 2000 people, north of the state capitol of Juneau and near Skagway. When I lived in Skagway, Haines was a favorite getaway as there are far fewer cruise ships and lots of fun things to do close to home. Haines makes for a wonderful day trip or multi day trip if you're visiting Juneau or Skagway and Haines is worth visiting as an enjoyable detour for a couple of days if you're driving the Alaska highway. Haines is one of only two towns in Southeast Alaska you can drive too, although it's a very long drive from anywhere else in the lower 48 and even from the rest of Alaska!
Haines is the homeland of the Chilkat People.
How to get to Haines
One of the most fun parts of a visit to Haines is getting there! There are a three ways to do it.
Driving to Haines
Haines is one of two towns in Southeast Alaska you can drive to (the other is Skagway). It's a long drive from everywhere else, about 15 hours from Anchorage, Alaska and 5 hours from Whitehorse in Canada's Yukon Territory. You can also drive from Skagway, which involves going through Whitehorse also! If you're coming from Skagway, I highly recommend taking the ferry or flying (see below).
Taking the ferry to Haines from Juneau (or Skagway)
If you're already in Juneau or Skagway, you can take the Alaska ferry, also known as the Alaska Marine Highway to Haines. The ferry ride from Juneau to Haines takes about 4.5 hours and the ferry from Skagway to Haines takes about an hour. You can bring a car with you on the ferry, or you can walk on. Either way, you'll enjoy breathtaking views from the deck for the entire journey, including mountains, waterfalls, forests and very possibly whales or other marine mammals.
If you're in Skagway, there is a seasonal passenger only fast ferry between Haines and Skagway, which takes about 45 minutes.
Related: Best things to do in Skagway, Best things to do in Juneau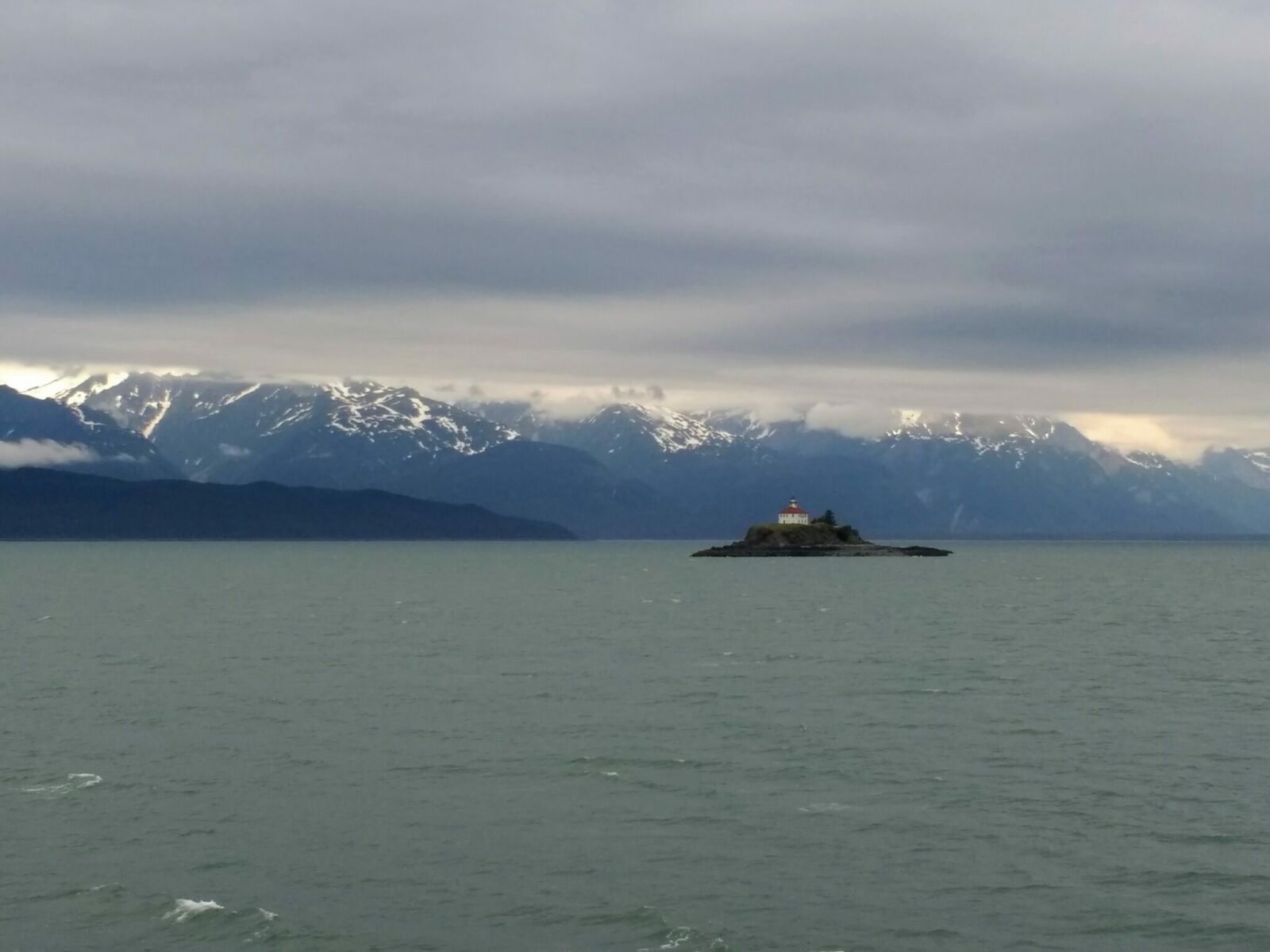 Flying to Haines from Juneau (or Skagway)
You also have the option of flying to Haines from either Juneau or Skagway. Haines has a small airport and you'll be on a small plane that is subject to weather delays. Be aware that low clouds or fog could delay your flight if you choose this option! Flying time from Juneau to Haines is about 45 minutes and about 10 minutes from Skagway to Haines.
The flight is incredible as you'll be flying over the Lynn Canal, mountains and glaciers! You get some bonus flightseeing along with your ticket, which is pretty fantastic.
I have flown this trip with Alaska Seaplanes (this trip is not on a seaplane, it's on a wheeled plane) and I highly recommend them. They have many flights a day and are very professional.
How much time should I spend in Haines?
Haines makes a wonderful day trip from Juneau or Skagway, but I highly recommend staying longer! It's such a wonderful town which so much to do, especially if you like outdoor adventures. If you have the time to spend a week here, you'll really get to experience everything has to offer and settle in and get to know the town. No matter how much time you decide to spend in Haines, here are my suggestions for the best things to do during your trip!
Explore Fort Seward
Fort Seward is a National Historical Landmark and is an interesting place to walk around. After the Klondike Gold Rush, the US military built several sites to try to bring order to the thousands of miners flooding into nearby Skagway and Dyea. It remained a military site through World War II. Since that time, the historic buildings have been turned into Bed and Breakfasts, a hotel and several art galleries and shops. It is also home to the Port Chilkoot Distillery, stop in and have a mojito or a tasting of their tasty craft beverages.
Walk around the Harbor
Like all towns in Southeast Alaska, a walk around the scenic and bustling harbor is a fun experience! Catch tour boats and fishing charters coming and going and enjoy the towering mountains as a backdrop.
Visit Haines Brewing Company
If you're a fan of craft beer, don't miss the Haines Brewing Company! If the weather is decent you can enjoy it outdoors in the delightful beer garden.
Check out the Art Galleries
Haines has a vibrant arts community and is a wonderful place to shop for gifts or souvenirs to take home. Local artists and their art are around every corner. Look for galleries around Fort Seward as well as nearby Main Street.
Hammer Museum
If you're a fan of quirky museums, don't miss the Haines Hammer Museum. Just what it sounds like, this small museum houses 8000 hammers (!) about 2000 of which are on display.
Sheldon Museum
The Sheldon Museum is in a beautiful setting downtown overlooking the water. It's all about the history of the Haines and the Chilkat Valley and features art and artifacts from the people past and present who live in the Haines area.
American Bald Eagle Foundation
In addition to the magnificent Chilkat Bald Eagle Preserve (discussed below) the American Bald Eagle Foundation has a museum in Haines about the wildlife of the Chilkat Valley as well as birds you can see and visit, including Bald Eagles. This is a must see for bird lovers!
Jilkaat Kwaan Heritage Center
Located about 20 miles from Haines along the Chilkat River in a stunning location is the Jilkaat Kwaan Heritage Center. The Chilkat People have lived along the banks for the braided Chilkat River for 2000 years, and still live here today. The Center is a place to learn about Chilkat Culture as well as preserve clan treasures that were disrupted by colonialism. You can take a self guided tour or a tour with a guide to learn even more about life today in the village.
Chilkat Bald Eagle Preserve
The Chilkat Bald Eagle Preserve is one of the best places in the entire world to see bald eagles, due to the large numbers of salmon that are present in the Chilkat River. Eagles are protected here by the State of Alaska and there are few ways to experience this special place.
I highly recommend River Adventures, providing fantastic jetboat trips on the river. When I lived in Skagway, River Adventures was one of our partners and they were absolutely wonderful! I've seen a ton of eagles and often other wildlife every time I've taken their tour, which has been many times! Taking a tour has the benefit of actually getting out into the river and seeing more than you can from the road or the trail. It also leaves all the planning to someone else! This is an awesome family owned company to go with.
If you prefer to go on your own, there are several pullouts along the Haines Highway outside of town. There is also a two mile trail you can walk for excellent eagle viewing opportunities.
Go for a Hike
Battery Point Trail
The mostly flat, 3 mile round trip trail to Battery Point is a mellow and popular hike in Chilkat State Park through the forest to a lovely beach. From Haines, head about a mile and a half out Beach Road until it ends and then pick up the trail. Keep your eyes out for marine wildlife such as seals, whales and seabirds!
Mt Riley
Mt Riley is a steep climb up about 1500 feet in 5.5 miles round trip. The trail starts about three miles south of Haines off Mud Bay Road. It climbs through the forest and then becomes less steep through a more open area near the top, before you climb up again to the top with incredible views of the Chilkat River, the town of Haines, across towards Skagway and a couple of glaciers!
Mt Ripinski
If you are an experienced hiker and up for a very tough climb to a spectacular view (I recommend saving this for a clear day) then Mt Ripinski is for you! An 8 mile hike through the forest gaining 3300 feet of elevation, this hike is tough but the views are incredible. Starting in a neighborhood and then climbing through the forest first on an old road and then a steep trail, you'll see mostly trees until reaching the open areas near the top where the impressive views start of the town of Haines, Chilkoot Lake, the Chilkat River and Lynn Canal. Much of the trail has steps and wooden walkways to help with the mud.
Related: The best hike in every Alaska cruise port
Go Kayaking or Rafting
Haines has a ton of tour operators providing opportunities to get out on the water either in the saltwater of the Chilkat or Chilkoot Inlet or on Chilkoot Lake by kayak or canoe, or rafting on the river. Inquire locally about the options for taking a tour where they provide all the gear you need for your adventure on the water.
Go Fishing
Both saltwater and freshwater fishing are abundant and excellent around Haines! There are lots of fishing charters and guides that will take you to perfect places for your preferred type of fishing.
Whether you're out on a boat or fishing from shore, or out in the ocean or on a lake or river, you can fish for all species of Pacific salmon, as well as trout in freshwater and halibut in deep saltwater.
Chilkoot Lake State Recreation Area
If you're spending some time in Haines, consider camping at Chilkoot Lake State Recreation Area! A beautiful campground is located at the end of the lake about 10 miles from the town. If you camp here, it is imperative that you practice strict bear safety as salmon and therefore bears are abundant in summer and fall.
This is an excellent place for salmon fishing, wildlife watching (especially bears) and kayaking or canoeing on the lake. The lake is surrounded by gorgeous mountains and forest and is a wonderful place to relax and soak it up.
Drive the Haines Highway
If you have some time and access to a car, the Haines Highway is a gorgeous drive! If you go all the way to Haines Junction in the Yukon Territory, it's about a 3 hour drive. You don't have to go that far to see some of the amazing scenery! Leaving from Haines, you'll go along the Chilkat River (great opportunity to check out the bald eagles as well as the Jilkaat Kwaan Heritage Center), before starting to climb into the mountains. Don't miss stopping for lunch at the 33 Mile Roadhouse, a classic Alaskan/Yukon/British Columbia style roadhouse, shortly before the Canadian border.
If you have your passport in hand (or you are connecting to drive the Alaska Highway), crossing into Canada, first in British Columbia and then the Yukon Territory, you'll see some of the most beautiful scenery! Towering mountains and ice surround you as you pass Tatshenshini-Alsek Provincial Park and then Kluane National Park. Don't miss a stop at gorgeous Kathleen Lake.
If you don't want to go that far or aren't prepared to cross the border, just head up the river and up the valley to the 33 Mile Roadhouse and back for a comfortable and unforgettable day trip!