11 Amazing Weekend Getaways from Seattle
Posted On April 20, 2020
One wonderful thing about living in the Seattle area or visiting Seattle is that there are so many incredible weekend getaways from Seattle that aren't too far away. Within just a few hours, you can be in a completely different landscape, climate or even country!
I'm defining amazing weekend getaways as places that are 3-4 hours away and will take you to a different environment to encourage that getaway vibe. If you're a visitor and you want to see more of what the Pacific Northwest has to offer, be sure to check out one of these wonderful places. All of these make for a good 2-3 day trip (or longer!).
If you don't have a full weekend, check out my suggestions for the best day trips from Seattle. The only overlap with this list are Yakima, Olympic National Park and Lopez Island (although this posts talks about the San Juan Islands more generally). In my opinion the rest of my favorite weekend getaways from Seattle are a little far for an enjoyable day trip (though potentially doable if you don't mind really long days).
Each of my weekend getaways from Seattle include the best time of year and highlights not to miss. All of these are good destinations year round EXCEPT North Cascades National Park, because it's mostly closed in winter. I drive an electric car so I've also included charging information. If it's an option to do the weekend getaway without a car, I have noted that.
Use these links to jump to weekend getaways from Seattle that are most interesting to you:
Related: Ultimate Washington National Parks Road Trip Itinerary
#1 – Vancouver, Canada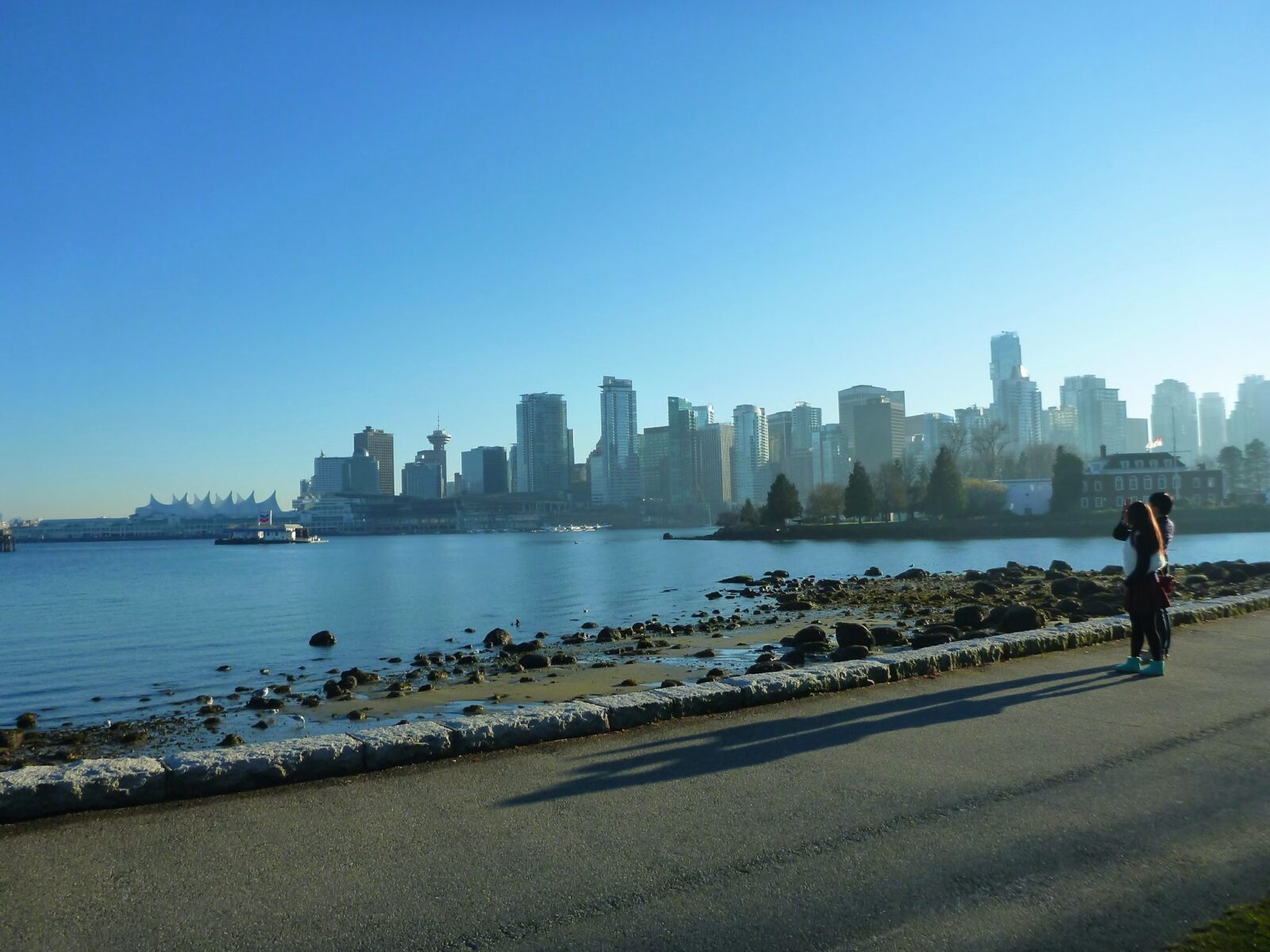 The best car free weekend getaway from Seattle, Vancouver is an urban getaway with lots of urban activities as well as outdoor adventure without leaving the city.
Travel time from Seattle: 4 hours by train or bus. I recommend this as a car free getaway since there's a lot of traffic on the whole route and often a long border delay. It's also challenging to drive in Vancouver. The train is really scenic but more expensive than the bus. You can also do bus one way and train the other way.
Where to Stay: I recommend staying somewhere downtown that's accessible easily by transit. If you're traveling by train or bus, you'll arrive at Pacific Central Station, which is close to the Science World Sky Train stop. Vancouver is a good place to stay in a hotel for a short weekend visit. You'll definitely want to be eating out on this trip as Vancouver is a foodie's dream.
Highlights:
EAT – Vancouver has amazing food from all over the world. Look on Google or Yelp for your favorite kind of food and dive in! Make sure to try a dumpling house (this is my favorite so far) and one of Vancouver's Gastropubs (this one and this one are a couple of my favorites). When you need a quick bite, don't miss a visit to Japadog, with carts all over the city serving Japanese style hot dogs. They're amazing! You can also find High Tea in lots of places in Vancouver (it's not just in Victoria!)
Stanley Park – If you only go one place in Vancouver (other than eating!) make it here. This giant park in the middle of the city includes miles of trails including the 6 mile flat seawall trail with impressive views of the city as well as the water, totem poles, the Lion's Gate bridge and beaches. The trails in the interior of the park take you past ancient trees. You can rent a bike nearby if you want to see the park that way. Sunsets from adjacent English Beach are amazing!
Vancouver Aquarium – located inside Stanley park, lots of animals from the Salish Sea
Granville Island – similar to Seattle's pike place market, Granville Island has lots of local food and art. You can take the aquabus here for a fun and hassle free way to get there from other parts of downtown.
University of British Columbia Museum of Anthropology – it's a little further away than the other highlights on this list but this museum is worth the detour for the incredible Northwest Coast Salish art and more
Chinatown – one of the largest in the world with it's photogenic millenium gate and incredible food
Grouse Mountain – if it's a clear day and you like big views, take the Seabus to North Vancouver and then the bus to Grouse Mountain. Get a gondola ticket and prepare for amazing views (and good opportunity for hiking in summer, or skiing or snowshoeing in winter)
Best time of year: Like Seattle, Vancouver is a great year round destination! With similar weather to Seattle, be ready for lots of rain in the winter months. In the fall, winter and spring you will find much less expensive lodging. Be ready to share everything (except the interior of Stanley park) with lots of other people if you visit during the summer.
Watch out for: Extremely expensive hotels at times (use a comparison booking site for help), crowds at Grouse Mountain during holiday periods, lots of car break ins and theft
Electric Vehicle Charging: EV charging is abundant in Vancouver as well as along the drive from Seattle. My low range EV has no problem making it with a few charge stops.
#2 – Columbia River Gorge
A stunning National Scenic Area to the East of Portland, with diverse landscapes, waterfalls and hiking trails.
Travel time from Seattle: 3-4 hours depending on traffic around Portland. You can make this a loop by going one way through Portland and coming back through Eastern Washington. You can also drive one way on the Oregon side and one way on the Washington side.
Where to Stay: You have a few options here, you can look for a hotel or AirBnb in Portland for a more urban experience, or the same in Hood River for more of a small town experience. There are also camping options in the Gorge.
Highlights:
Drive the Historic Columbia River Highway – this beautiful 75 mile stretch of road was built in 1914 and most of it you can either drive or bike on. Take your time and take in the view!
Multnomah Falls – the famous waterfall with it's picturesque bridge is 30 miles east of Portland. There is a 2.5 mile round trip trail to the top and a lodge at the base.
Waterfalls in general – there are SO many waterfalls in the Gorge, mostly on the Oregon side
Wine tasting – there are lots of wineries to visit on both sides of the river between Hood River, Oregon and White Salmon, Washington
Visit breweries – Check out the many breweries in this area along the entire route
Go for a hike – a list of trails on both the Washington and Oregon side can be found here
Best time of year: You can do this weekend getaway all year, but I think it's particularly good in spring (waterfalls!) and fall (fall colors!)
Watch out for: traffic around Portland and hiking trails closed after the Eagle Creek Fire
Electric Vehicle Charging: high speed chargers are available between Seattle and Portland as well as in Troutdale, Cascade Locks, Hood River and The Dalles.
#3 – Tri Cities
Tri-Cities is an often overlooked destination in Eastern Washington featuring hiking, biking and wine tasting opportunities under sunny skies at the confluence of three mighty Washington rivers.
Travel time from Seattle: 3 1/2 hours from Seattle by car. You could combine this with a drive through the Columbia River Gorge!
Where to Stay: Look for a hotel or AirBnB in one of the Tri Cities – Richland, Kennewick or Pasco. Even though it's a bit over an hour away, I enjoy camping at Potholes State Park (they also have cabins) where you can get in some camping but also enjoy the Tri Cities wine tasting and biking and hiking opportunities
Highlights:
Wine tasting – it's no secret that there is lots of incredible wine in Washington. Tri Cities wineries and just as delicious and scenic but less busy and off the beaten track.
Biking – the Sacagawea Trail goes for 23 scenic miles along the Columbia River
Hiking – the warm, sunny days and dry open landscapes around the Tri Cities make for some gorgeous hikes (especially in spring and fall, summer is quite hot), such as Badger Mountain near Richland.
Weather – honestly, weather is a big draw here if you need to see the sun on a budget. It's sunny here most days and spring and fall are quite warm during the day
Best time of year: I recommend spring and fall, winter is quite cold and summer is very hot
Watch out for: wind
Electric Vehicle Charging: Fast charging is available in North Bend, Snoqulamie Pass, Cle Elum, Ellensburg, Yakima as well as Kennewick, Pasco and Richland. It's about 80 miles from Yakima to the Tri Cities so if you have at least an 80 mile range it should be fine.
#4 – Yakima Valley and Mt Rainier National Park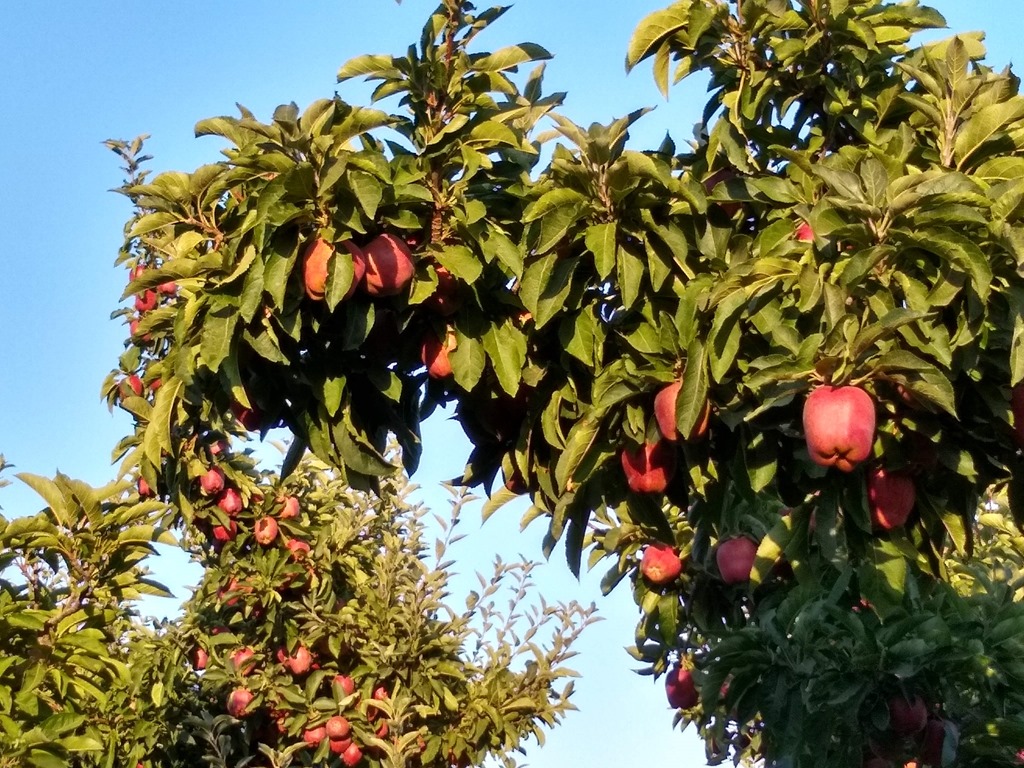 A varied loop through Mt Rainier National Park to the wine, hops and produce of the scenic Yakima Valley and back to Seattle.
Travel time from Seattle: 2 1/2 hours direct through Ellensburg, 3 hours through Mt Rainier (plus stops). I really love this weekend getaway from Seattle because you see so much, and it's a loop! It's important to note that Chinook Pass through Mt Rainier National Park is open seasonally from roughly late May through mid November. In the winter and spring months you would need to go both ways through Ellensburg.
Where to Stay: I recommend staying in Yakima at a hotel or camping at one of the many campgrounds along Highway 410 between Chinook Pass in Mt Rainier National Park and Yakima.
Highlights:
Naches Peak Loop at Chinook Pass in Mt Rainier National Park
Views at Sunrise in Mt Rainier National Park (slide side trip but do it if you have time!)
Picking your own fruits or vegetables in the Yakima Valley
Incredible tamales from Los Hernandez in the Yakima Valley
Wine tasting in the Yakima Valley – you can even hike to a winery!
Seeing hops growing in the Yakima Valley
Biking or walking on the Greenway Trail
Yakima Arboretum
Umtanum Canyon (drive Canyon Road from Yakima to Ellensburg)
Weather – just like the Tri Cities, lots of sun especially in spring and fall
Best time of year: I love this trip in late summer and early fall, when there are lots of fresh vegetables available in Yakima and Chinook pass is open. I also love going to Yakima in the spring, but the loop only works from late May through mid November.
Watch out for: road closures through Mt Rainier National Park
Electric Vehicle Charging: There isn't any charging between Yakima and Enumclaw through Mt Rainier National Park, but plenty of charging between Yakima and Seattle on I-90 (Ellensburg, Cle Elum, Snoqualmie Pass and North Bend)
#5 – Wenatchee
Dry and sunny apple orchards along the Columbia River with lots of hiking trails and more wine!
Travel time from Seattle: 3 hours. This is another trip you can do as a loop, going from Seattle over I-90 and Blewett Pass and returning over Stevens Pass (Highway 2).
Where to Stay: Wenatchee is a good place to stay in a hotel and there is also camping nearby. You can easily fill a full weekend just at Lake Wenatchee State Park (about an hour from Wenatchee between Stevens Pass and Leavenworth).
Highlights:
Wenatchee Riverfront Park – a 10 mile loop trail is a perfect bike ride along the river. You can rent bikes near the park too
Buying apples: if it's September through November, look for people selling apples all over the place! Eat one immediately but also buy a box to drive around with making your car smell amazing
Leavenworth – the Bavarian themed town with lots of shops and restaurants and the most gorgeous hanging flower baskets you've ever seen
Aplets and Cotlets factory in Cashmere – I loved going here and getting covered in powdered sugar when I was a kid!
Hiking – lots of terrific hikes are in the Wenatchee area, including one of the most gorgeous waterfalls in Washington, Silver Falls
Eat at Lemolo Cafe – really, really good casual house made food
Best time of year: All year (great skiing at Mission Ridge in winter), I particularly like to go in the fall during apple season! Like Yakima and the Tri Cities, it's sunny and warm in the spring and fall.
Watch out for: Traffic on the passes (especially in summer and during ski season)
Electric Vehicle charging: Fast charging is available in North Bend, Snoqualmie Pass, Cle Elum, Ellensburg, Wenatchee, Leavenworth and Skykomish.
#6 – Methow Valley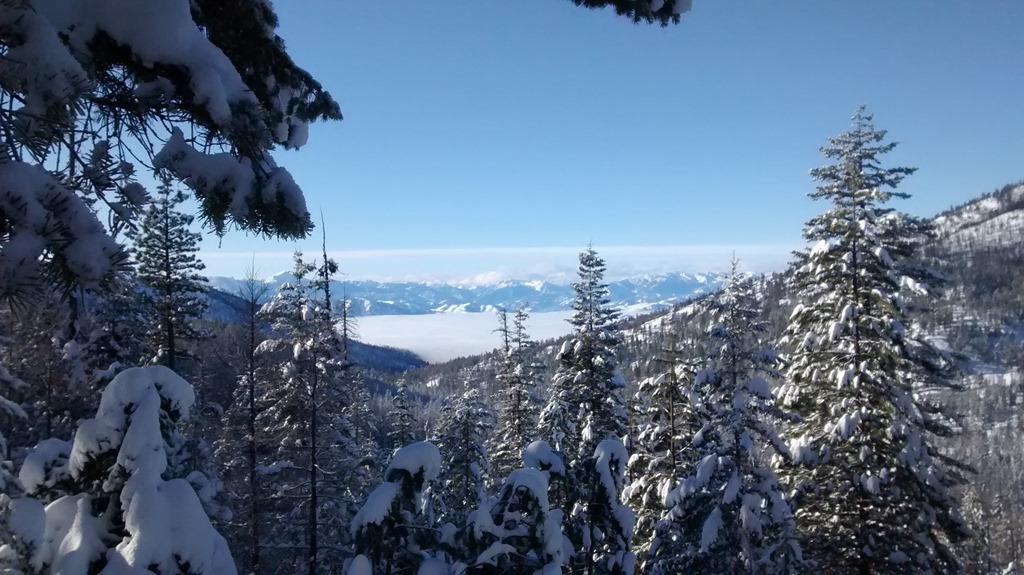 Breathtaking mountain and ranch scenery with spectacular cross country skiing on the east side of the North Cascades.
Travel time from Seattle: 4-5 hours. When the North Cascades Highway is open, you can do a loop going over Snoqualmie Pass on I-90 and Blewett Pass to Winthrop and then return over the North Cascades Highway to the Skagit Valley and back to Seattle. The North Cascades Highway is generally open late May through mid November.
Where to Stay: There are lots of AirBnBs in the Methow Valley, near Winthrop , Twisp and Mazama. There are camping options at Pearrygin Lake State Park near Winthrop and along Highway 20.
Highlights:
Amazing mountain scenery – whether you do the loop or go to Winthrop and back the same way, the drive on this trip is just gorgeous.
The funky western themed town of Winthrop – Coffee shops, breweries and restaurants in this small town
Cross country skiing – if you're a cross country skier you MUST come here to ski! This is a world class place to ski. If you want to save some money, check out my suggestion for where to ski here
Hiking – lots of hiking opportunities in and around the Methow
Best time of year: I say winter! However, this is a great place anytime of year and the loop through North Cascades National Park is amazing in fall.
Watch out for: winter driving conditions
Electric Vehicle Charging: There are not any fast chargers near the Methow Valley
#7 – North Cascades National Park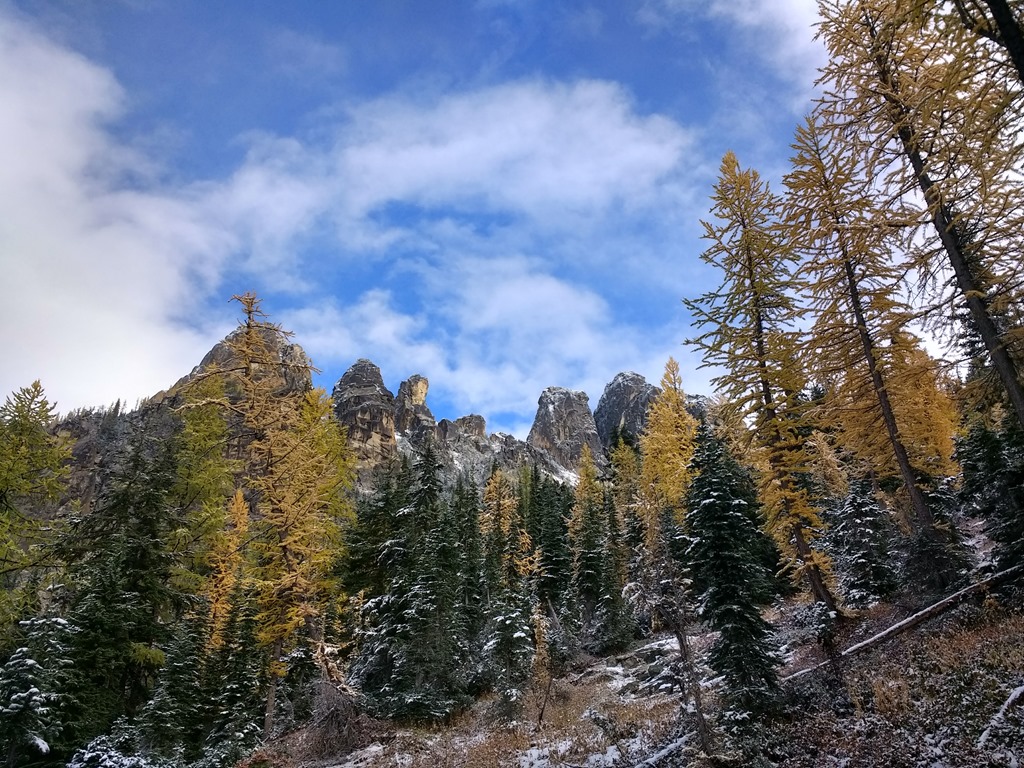 A less visited National Park with limited services and spectacular mountain scenery, as well as a beautiful man made lake.
Travel time from Seattle: Around 4 hours depending on exactly where you go. The North Cascades Highway is generally open from late May through mid November. It can be done as a day trip but it's a better weekend getaway from Seattle.
Where to Stay: There is no lodging other than camping in North Cascades. You can stay in Mt Vernon on the west side or Mazama, Winthrop or Twisp on the east side. Mt Vernon is a good place to find a hotel, in the Methow Valley go for an AirBnb. There are lots of campgrounds along Highway 20.
Highlights:
Amazing mountain scenery! This is what you go to the North Cascades for!
Hiking – there are many good hikes along the North Cascades Highway, including Thunder Creek, Maple Pass and Blue Lake
Diablo Lake – an impossibly turquoise blue lake behind the dam that powers Seattle, you can hike around it or paddle your kayak or canoe on it
Methow Valley – if you're staying on the eastside, see above for the highlights of the Methow Valley
Best time of year: Early October! The orange larch trees are at their peak and that's my favorite time to visit. Anytime that the road is open will be great for the drive. Hikes are generally covered in snow until mid July.
Watch out for: Deep snowpack in May and June, no services over the North Cascades Highway
Electric Vehicle Charging: the closest fast charging is in Burlington and there is none on the east side.
#8 – San Juan Islands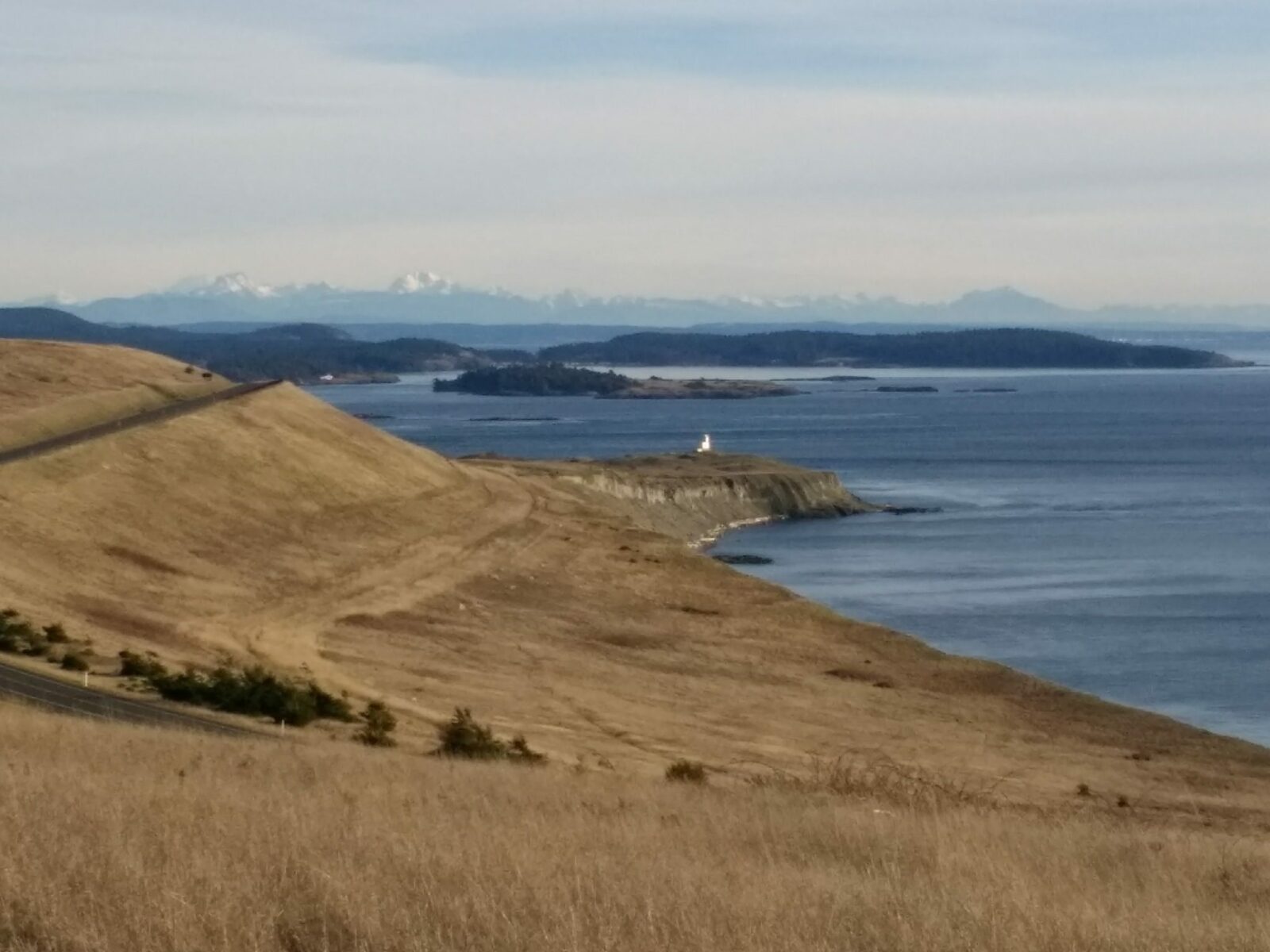 Quiet and leisurely scenic islands a gorgeous ferry ride away!
Travel time from Seattle: Varies greatly depending on whether or not you are driving on the ferry and the ferry schedule. It's about a 2 hour drive to the ferry terminal in Anacortes from Seattle and the ferry ride is an hour to an hour and a half depending on how many stops it makes. If you are taking your car on the ferry (necessary on Orcas Island, San Juan Island and Lopez you can walk on if you have a bike) it's important to get a reservation. Plan to be at the ferry an hour ahead of time.
Where to Stay: If you're looking to camp in the islands, check out my complete guide to camping in the San Juan Islands here. San Juan Island has hotels in Friday harbor, all three islands of lots of AirBnB rentals. For a weekend trip, I recommend going to one island and not trying to move around. Orcas is the biggest and hilliest, San Juan and Orcas have the most services and Lopez is the sleepiest and best for biking.
Highlights:
Ferry ride
Hike Mt Finlayson on San Juan Island
Watching for whales at Lime Kiln State Park on San Juan Island
Walk around the town of Friday Harbor on San Juan Island
Visit San Juan Island National Historical Park
Bike around Lopez Island
Mt Constitution on Orcas Island
Mountain Lake on Orcas Island (swimming and canoeing/kayaking)
Obstruction Pass State Park on Orcas Island – a little visited park with views of a narrow pass between two islands
Kayaking on any island
Best time of year: Most people would say summer and summer is pretty awesome in the islands! However, ferry reservations fill up way in advance, and lodging is very expensive and campgrounds are full. This is a great place to go all year, and in winter you can get some very good deals on a place to stay.
Watch out for: Very expensive lodging in summer, full campgrounds and ferries, the ferry schedule
Electric Vehicle Charging: There is not any fast charging in the islands, or in Anacortes. The closest fast charging is in Burlington.
#9 – Port Townsend
Port Townsend is a quaint, historic port with fascinating history, amazing food and plenty of outdoor activities!
Travel time from Seattle: 2-3 hours depending on whether you drive around through Tacoma or take the ferry, traffic conditions through Tacoma and how long the ferry wait is.
Where to Stay: There are two state parks with camping as well as several adorable historic hotels along the waterfront and plenty of vacation rentals
Highlights:
Point Wilson Lighthouse – Fort Worden State Park
Food – Port Townsend has amazing restaurants and is surrounded by small farms so there's lots of local treats, including beer, wine and cider
Self guided walking tour on the čičməhán Trail
Exploring the historic district of one of three Victorian seaports in the United States
Whalewatching
Best time of year: Port Townsend is a great year round destination! For the best weather and most crowds, visit in summer. Winter is just locals and you, making it a great time to visit in my opinion. Spring and fall are a nice compromise!
Watch out for: Difficult parking along the waterfront on weekends and all summer.
Electric Vehicle Charging: There is not any fast charging in Port Townsend, though there are quite a few Level 2 chargers. The closest fast charging is in Silverdale or Port Angeles.
#10 – Olympic National Park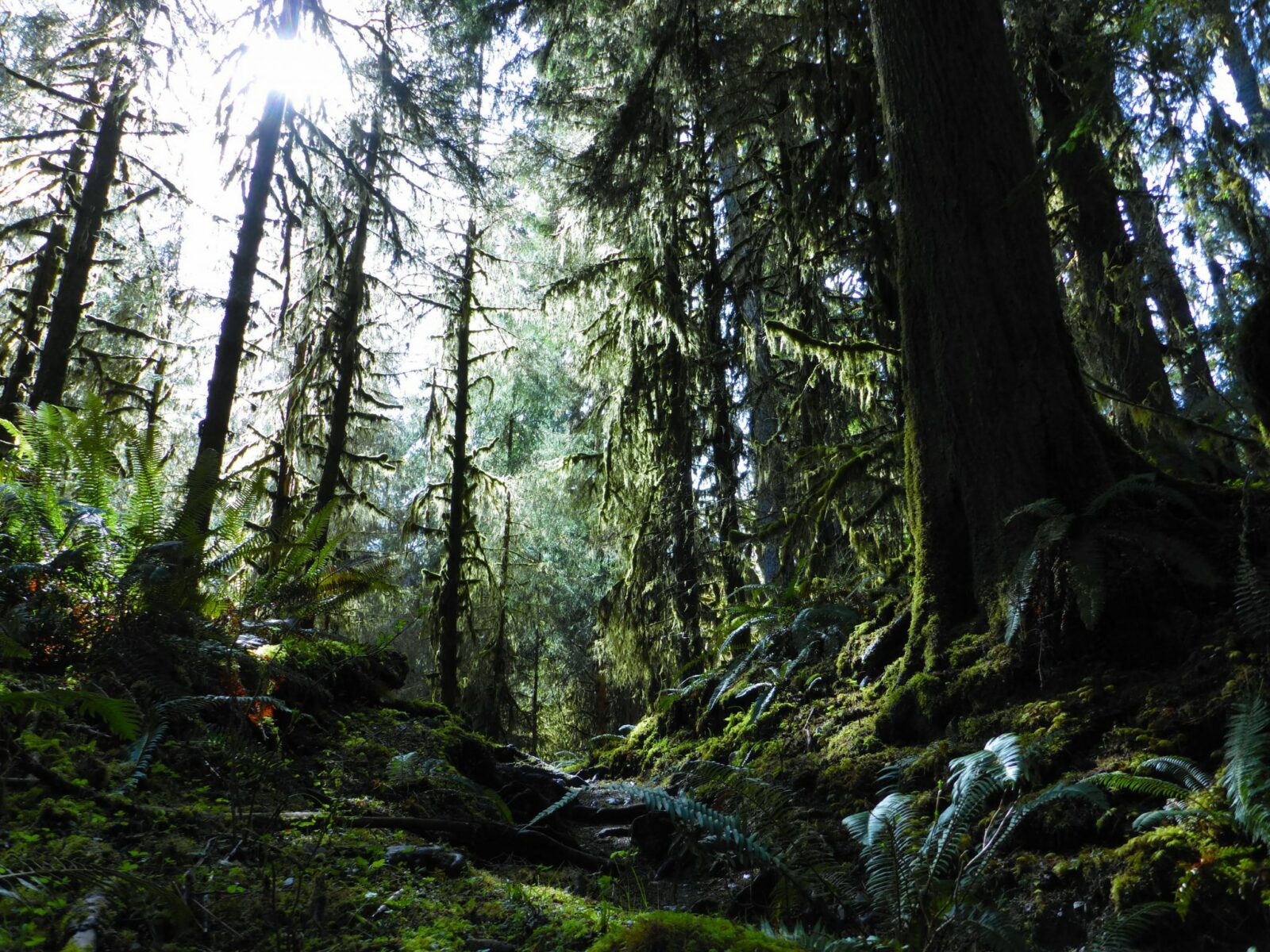 Epic old growth forests, tidepools full of colorful creatures on rocky wild beaches, wild rivers and vast mountain vistas in one National Park.
Travel time from Seattle: 2-4 hours depending on where you go. Check out my 3 day Olympic National Park Road trip itinerary for more details on this classic weekend getaway from Seattle that every Seattleite must do! I recommend either a weekend in Port Angeles or driving around the whole peninsula.
Where to Stay: Camping is hard to find in Olympic National Park because most campgrounds can't be reserved. If you want to camp, get a reservation at Kalaloch or Sol Duc or go outside of the busiest summer season (before mid June or after Labor Day). Hotels and AirBnBs are available in Port Angeles, Forks and Lake Quinalt. There is also a lodge at Kalaloch and at Lake Cresecnt.
Highlights:
Hurricane Ridge – amazing mountain views, wildlife and wildflowers, many hikes (only open weekends in winter, sometimes closed in April)
Marymere Falls (in Spring) and the mile long trail to it that goes through old growth forest from the Storm King Ranger Station
Lake Crescent – rent a canoe from the lodge or just sit and read a book
Sol Duc Falls – One of Washington's most beautiful waterfalls seen after a short hike (or a longer hike if you want it)
Sol Duc Hot Springs – nothing is better than soaking in a hot springs on a rainy day after a hike! (open late March – late October)
Second Beach, or any of the rocky beaches – go at low tide and discover the tidepool animals
Hoh Rainforest – world famous ancient trees along the Hoh River. You can walk as long or as short as you want on the Hoh River Trail
Kalaloch Beach – the only dog friendly beach in the park, a wide, sandy beach with the "root tree", also called the Tree of Life
Lake Quinalt – the lodge is beautiful and historic and there are lots of other giant trees here
Best time of year: Summer is really crowded. Like many of these, I'm a fan of spring and fall. This is actually a good destination all year and is really peaceful (and wet) in winter.
Watch out for: Big crowds in summer, full campgrounds and road closures in the park, picking up a Canadian cell phone signal on the north side of the park (especially at Hurricane Ridge)
Electric Vehicle Charging: Fast charging is only available in Port Angeles and Olympia so this is not a good EV destination unless you have a very long range
#11 – Long Beach Peninsula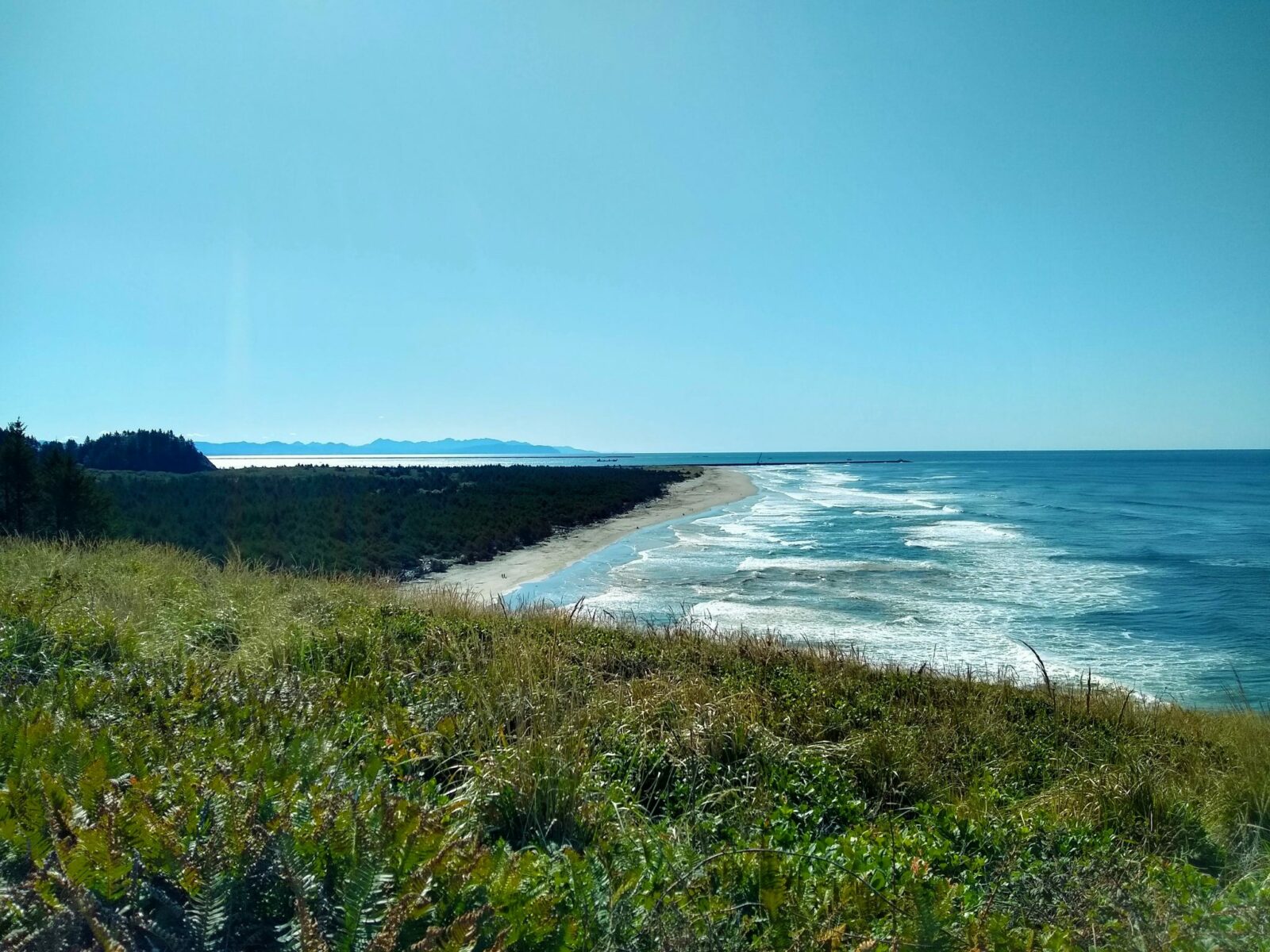 Miles of sand, a low key vibe and numerous outdoor activities including clam digging just north of the Columbia River on the Washington Coast.
Travel time from Seattle: 3 to 3 1/2 hours.
Where to Stay: There are lots of hotels on the Long Beach Peninsula and lots of places to camp (reserve ahead in summer and on holiday weekends). There are yurts at Cape Disappointment State park.
Highlights:
Discovery trail for walking or biking
Beach walking!
Beach fires which are allowed here
Driving on the beach (follow the rules and don't get stuck!)
Kite flying
Cape Disappointment State Park – hiking trails, beaches, forest and two lighthouses!
Clam digging when the season is on
Birdwatching – the north end of the peninsula, along with Willapa Bay to the east are bird sanctuaries
Visit Adrift Distillers for some locally made delicious spirits and North Jetty Brewing for some tasty local beer
Best time of year: Long Beach is really busy (and fun and beautiful) in the summer. This is when you'll have the best weather. Like other locations, spring and fall have sunny days too, although it will be colder and rainier. Winter is very rainy but it is a fantastic time visit too. This is a fabulous year round weekend getaway from Seattle!
Watch out for: getting stuck in the sand while driving on the beach, busy razor clam weekends if you're not there for clamming
Electric Vehicle Charging: There are no fast chargers on the Long Beach Peninsula, the closest one is in Astoria, Oregon
I hope you're ready to get out there and explore these amazing weekend getaways from Seattle!