13 Must see stops between Anchorage and Seward Alaska
Posted On September 6, 2021
Last Updated on August 24, 2023
The drive from Anchorage to Seward is one of the most scenic drives anywhere in North America! I lived in Alaska for seven years and worked as a guide and still visit frequently. I have driven nearly every mile of road in Alaska and I am here to tell you that this drive is one of the best in the whole state.
This is a unforgettable drive because of the non stop stunning scenery, the variety of water and mountains and the many places to stop and stretch your legs. There's just so much to see and the trip is fairly short compared to other Alaska road trips. The road is generally in good condition too.
If you're driving from Anchorage to Seward, I recommend giving yourself all day to make the trip so you can fully enjoy all these stops and not have to rush. If you're a hiker, make sure to give yourself time to do one of the amazing hikes along the way. Not a hiker? No problem, there are plenty of wonderful things to see right from your car or a short walk away. The view from the Alyeska Tram whisks you up to a high incredible view without any hiking at all.
The road is maintained all year and can be truly stunning on a beautiful winter day. Most visitors will be driving between May and September and this article focuses on a summer visit when everything is open.
Map of the Seward Highway from Anchorage to Seward
How to get from Seward to Anchorage for a cruise
If you're boarding or leaving your cruise ship in Seward, it's important to make a plan in advance for how you are getting between the ship and the Anchorage airport or your Anchorage hotel.
Seward is a small town and it is very busy in the summer with travelers on their own as well as cruise ships and lots of Alaskans come here too!
Taking a taxi or ride share from Anchorage is not an option (it's a 2.5-3 hour drive). You can book transportation by motorcoach from Anchorage to Seward either through your cruise line or through an independent tour company.
You can also book the Alaska Railroad which is a very unique way to get between the ship and Anchorage! I'd recommend booking this through your cruise line so that they take care of your luggage and you don't need to wait all day with your bags.
Finally, you can book a motorcoach or van tour that includes a tour of some interesting places along the way. Tours include options like a wildlife cruise from Seward, Portage Glacier, the Alaska Wildlife Conservation Center or the Alyeska Tram in Girdwood.
How long is the drive from Anchorage to Seward?
It's about 130 miles from Anchorage to Seward. The actual driving time is less than three hours in good weather but I recommend spending the whole day so you don't miss a thing on this gorgeous drive.
I don't think I've ever been on a drive with so many interesting things to do along such a short distance! Even if you don't stop, the scenery is still amazing for the entire drive. Make sure to mind the speed limit as the weather can change rapidly. Watch out cars and RVs making left turns and stopped in the road.
Finally, make sure to keep a close eye on the road and the brush beside you as there are frequently moose along this road. It's a thrill to see a moose, but it is NOT a thrill to collide with one. If you are pulling over to look, make sure you fully pull over completely off the road.
How can I get from Anchorage to Seward without a car?
This article is focused on the best stops along the highway if you are driving from Anchorage to Seward, but for those of you who are not wanting to or able to rent a car, you can see all this amazing scenery from the Alaska Railroad or the bus as well. You won't get to make all these stops and walk around, but the trip will still be stunning!
Related: Things to do in Seward, Things to do in Anchorage
Parking Passes
Some of these stops are on Alaska State Recreation area land and require a parking pass. Generally you can get a pass at a parking area if they are required and they cost $5-$10. You can also buy an annual pass online ($60 for the year).
Must See stops on your Anchorage to Seward road trip
You'll probably need to prioritize because it's hard to do everything on this list in one trip! Lucky for you, you're probably driving round trip, so you can pace yourself by saving some stops for the return.
#1 Alaska Railroad
The Alaska Railroad is near the highway for a good portion of the drive from Anchorage to Seward. If you make this drive, chances are good you'll get a glimpse of the photogenic blue and yellow Alaska Railroad along the road or from one of the pullouts along the Seward Highway. Keep an eye out for some great photo ops! You can check the Alaska Railroad schedule online to get a better sense of what time the train passes in different locations.
#2 Potter Marsh
You've barely gotten outside of the city of Anchorage when you arrive at Potter Marsh. This end of the Anchorage Coastal Wildlife Refuge is a mandatory stop for bird and wildlife lovers! There are ADA accessible restrooms in the parking area and a half mile flat boardwalk to wander along looking for the many kinds of birds that frequent Potter Marsh. This is also an excellent place to see moose, so keep your eyes open for them in the marshy wetlands they frequent and love.
#3 Beluga Point
One of the many stunning vistas along the Seward Highway between Anchorage and Seward, Beluga Point has a large parking area. This is a good place to watch for the train to go by too.
In addition to views of the stunning mountains along Turnagain Arm, this is one of the places along the route you can see Turnagain Arm's famous bore tide. The bore tide happens when the tide is changing and creates such a strong current it looks like a river instead of salt water! It's particularly dramatic in winter when bits of ice rush by and crash into each other in the current.
As the name suggests, this is also a good place to keep your eyes out for Beluga whales, a relatively small whale that frequents these waters for a few weeks in midsummer.
#4 Bird Point
Similar scenery to Beluga Point, Bird Point is also a great picture stop with a chance of seeing Belugas, the bore tide and the Alaska Railroad. This is also one end of the so-called "Bird to Gird" trail, a paved walking and biking trail along Turnagain Arm. More about this in the hikes section below.
#5 Alyeska Tram
If you're not a hiker, then you absolutely must take the tram to get the amazing views you've seen from below without any hiking! From the top of the tram, you can see not only most of Turnagain Arm, but mountains that seem to stretch forever.
The tram is at the Alyeska Ski Resort, and they operate and offer scenic tram rides in the summer. There is also a fine dining restaurant here with the amazing view.
Board the tram at the Alyeska Resort in Girdwood. The cost is $48/adults, $38/children (5-18) and free for children 5 and under.
If you have extra time, relax for awhile at the Alyeska Nordic Spa (reservations required).
#6 Town of Girdwood
The town of Girdwood itself is worth a stop. This fun ski oriented town by winter turns to a hiking and mountain biking paradise in the summer. There's a great ice cream shop, creatively called "the ice cream shop" near the gas station at the turn off into town from the Seward Highway. The ice cream shop is a mandatory stop for our family anytime we're driving from Anchorage to Seward!
Chair 5 is also a great place for pizza and beer in Girdwood. It's very popular with locals and visitors so be prepared to wait but the wait is worth it. Double Musky and Jack Sprat are both ideal food stops for foodies (be prepared to wait a long time). If you really want to take it easy in Girdwood, make a reservation for the day spa at Alyeska resort.
#7 Alaska Wildlife Conservation Center
A favorite activity for Alaskans and visitors alike, the Alaska Wildlife Conservation Center is a wonderful place to see Alaska's wildlife up close! This is also a good location to practice your wildlife photography.
A beautiful outdoor area and sanctuary for wildlife, the center is dedicated to education about conservation and wildlife preservation in Alaska. Walk or drive the loop around the center and see bears, wolves, caribou, musk oxen, foxes and more. I recommend parking and walking around the grounds, although you can also drive between the different areas if you prefer (as long as you aren't in an RV).
It open all year and the cost is $17/adults, $13/student, $15/seniors or military and free for children.
You'll see the sign for it just past Girdwood.
#8 Portage Glacier boat trip and Portage Valley
Portage Valley is a worthy day trip from Anchorage all by itself! Even if you're just passing through, at least stop at Portage Lake and learn about the glacier. You can no longer see the glacier from the visitor center as it has retreated around the corner. The glacier is visible from the short boat tour across the lake.
You can also see many other glaciers in the Portage Valley by walking along the boardwalk on the trail of blue ice, which is flat and has views of glaciers up in the mountains above.
Related: How to visit Portage Glacier
#10 Turnagain Pass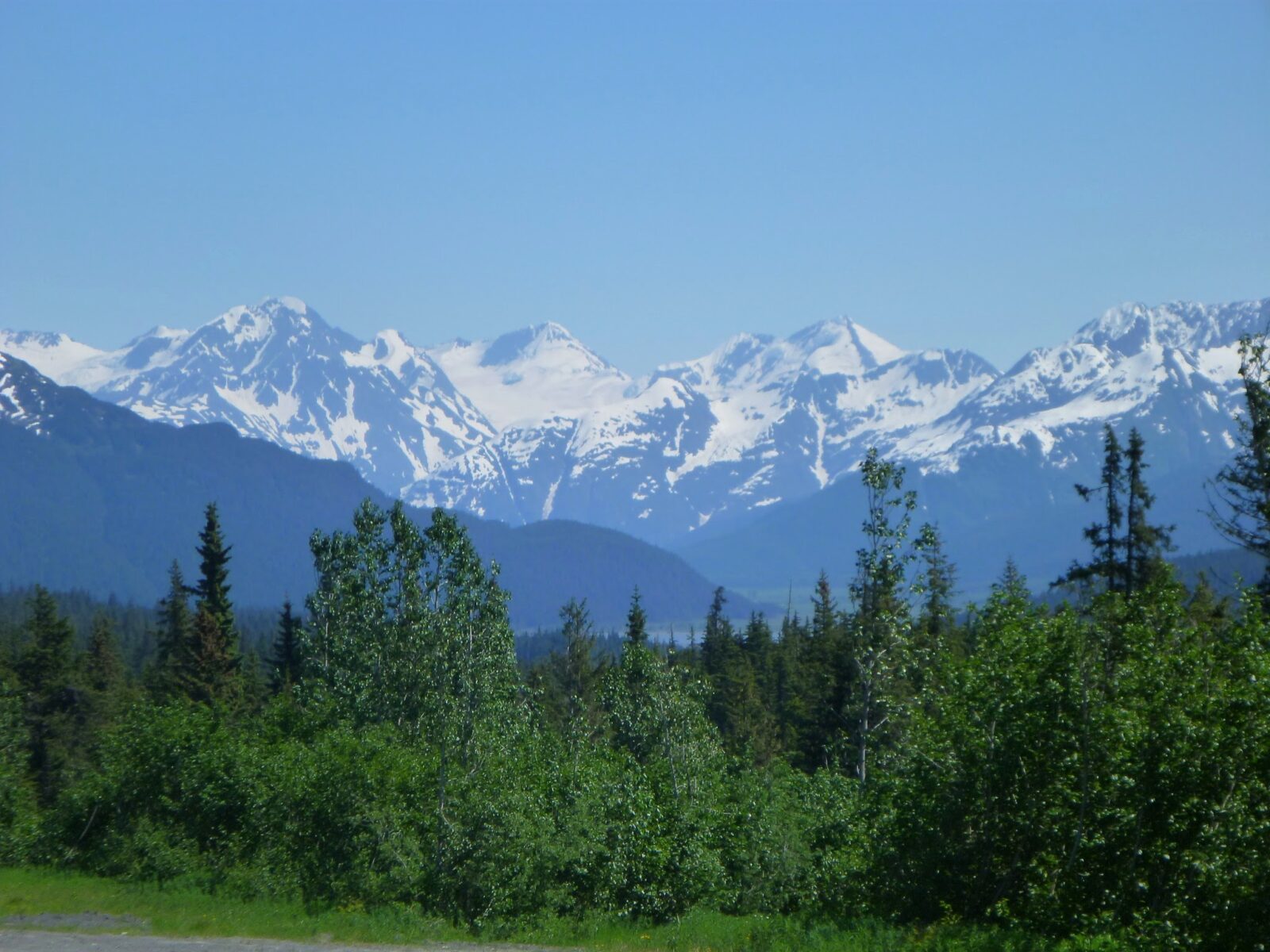 Make sure to stop at the rest area at the top of Turnagain Pass. Turnagain Pass represents the highest point along the Seward Highway between Anchorage and Seward. It's only 1000 feet above sea level but it's stunning mountain scenery makes it seem like you're way up there!
#9 Cooper Landing Brewing
Cooper Landing Brewing is about a half hour detour (15 minutes each way) but is a mandatory stop for beer lovers! They have delicious beer and indoor and covered outdoor seating. They don't serve food but they do have an excellent food truck in the parking lot with lots of classic favorite sandwiches.
To get there, turn onto the Sterling Highway towards Cooper Landing and Soldotna. Look for the big log building and large gravel parking area on the left after about 8 miles. It's just before you get to the town of Cooper Landing.
#11 Moose Pass
Shortly beyond the turnoff to Cooper Landing and the rest of the Kenai Peninsula, you'll come to beautiful Summit Lake and the tiny community of Moose Pass.
As you arrive at Summit Lake if you're interested in salmon you can stop at the Moose Creek fish viewing platform to see spawning salmon up close. Late July and early August is the best time to catch salmon spawning here and possibly see eagles or bears who are here fishing.
There is a lodge and restaurant here. Keep an eye out for moose on the shores of the lake.
#12 Kenai Lake
Your next stop on the drive from Anchorage to Seward is Kenai Lake. This large L shaped lake has many access points and you will drive along it for several miles. There are tours going out on the lake for fishing and other recreation, or you can just enjoy it's beauty as you go by.
#13 Exit Glacier
Exit Glacier is an absolutely stunning place that you must stop either on your way into Seward or out (unless you're spending a whole day there, which is also an excellent idea!). You'll see the turn off just outside of the town of Seward.
Once you turn off, you'll head up a forested road and enter Kenai Fjords National Park. At the nature center you can learn about Exit Glacier and take a paved trail to a view point or do a really tough hike up the mountain next to it. See more on hiking at Exit Glacier below!
If you're not a hiker, you can still see Exit Glacier from the road as you drive up to it.
Best Hikes between Anchorage and Seward
If you're a hiker, there are plenty of great hikes along the road from Anchorage to Seward! Bears are present on all these trails so make sure to travel in groups and carry bear spray with you. Give yourself even more time and check out one of these beautiful and beloved favorite hikes:
McHugh Creek Trail
This trail goes all the way to Rabbit Lake, but as a stop on the highway, I recommend either the short loop through the forest by the creek, or a longer and steeper climb up to views of Turnagain Arm that start after about 3 miles of climbing through the forest. It's about 1800 feet of elevation gain to the viewpoint. The trailhead is between Potter Marsh and Beluga Point.
Bird Ridge
If you want a similar view as the view from the Alyeska tram but don't want to pay for the tram, you can hike this trail instead! You'll pay for the climb in other ways, like your complaining muscles the next day! This is a hard hike with a wonderful view if you're an experienced hiker. There are viewpoints you can reach without going all the way to the top if a shorter hike is more your style. The shorter option is still plenty steep. This trail is 5 miles round trip with 3400 feet of elevation gain. Super steep! The trailhead is in Chugach State Park between Anchorage and Girdwood near the Bird Creek Campground.
Bird to Gird
This 12 mile paved trail goes along Turnagain Arm and is just about the most stunning bike path you'll find anywhere. You can start at Bird Point or Girdwood and do a round trip or one way trip. You can rent bikes in Girdwood, or you can hike as much of the trail as you like.
Trail of Blue Ice
This 5 mile trail in the Portage Valley takes you over creeks, through forest and around beautiful mountain views with frequent glaciers above you. Much of it is flat and a boardwalk although there are a few sections near the visitor center that go up and down a bit. You can start near the visitor center at Portage Lake and go as far as you like. If you have a bike this makes a great 10 mile round trip bike ride.
Iditarod National Historic Trail
Just outside of Seward on Nash Road, you can walk along a section of the historic original Iditarod trail. The trail was used by dog teams in winter to bring mail and supplies to remote Alaskan communities in the early 20th century. You can also hike on part of this historic trail on the Johnson Pass trail between Moose Pass and Granite Creek.
Kenai Fjords National Park
There are some amazing hiking trails at the only part of the park you can drive to, just before you get to Seward. Hikes here range from a mellow nature trail to one of the hardest and most rewarding hikes in Alaska! Read more about your hiking options in Kenai Fjords here.