8 Best Day Trip Tours in Alaska
Posted On July 27, 2021
Last Updated on May 17, 2023
As a former resident of Alaska and a guide there for many years, I am very picky about tours. I love finding ones that are truly amazing, because a well thought out and affordable tour can be the highlight of a vacation, especially in Alaska! In this article I'm going to share my absolute favorite day trip tours in Alaska, ones that I believe are worth planning your trip around.
Why take a day trip tour in Alaska?
How you want to spend your time and money on your Alaskan vacation is of course completely up to you! If you're like me, and you tend to avoid organized tours, I encourage you to pick at least one while you're visiting Alaska. Here are my primary reasons:
Alaska is a vast place and it's so beneficial to get to meet people who live there and who have deep knowledge of the area you're visiting. Your guide will know about natural history, cultural history, wildlife and geology and can help you go deeper in your knowledge and experience during your trip
There are lots of amazing places you can only get to in Alaska on a tour, and some of these you don't want to miss! All the places on my list can ONLY be accessed on a tour.
You can relax for a few hours and not worry about the itinerary, directions or figuring anything out!
This is a powerful way to support the local economy. Make sure to tip your guide 15-20% of the cost of your tour.
Choosing the best day trip tours for you
If you're looking for general ideas of the best things to do in Alaska, check out this article which features Alaskans absolute favorite things to do all around the state. Today's article is specifically about organized tours.
There are lots of wonderful tours in every place you visit in Alaska, and picking my top ones was HARD even though I'm super picky. I wanted to make it a short list of ones that I truly feel are the absolute best so it's not overwhelming.
In general, no matter where you are, if you're looking for one tour to do, make it the boat tour! Day boat tours in Alaska are always phenomenal, I've never been on one that wasn't. When in doubt, choose the boat tour. Another good way to decide is to ask a local what they recommend, or search online reviews for that specific town.
I kept my recommendations to crowd pleasers that everyone in your party is likely to enjoy. I didn't include any specialized tours like white water rafting or fishing charters (even though these are also awesome) and I kept it to things that are reasonably priced (though if your budget supports it, definitely do the helicopter tour to land on a glacier from Skagway or Juneau!).
Glacier Bay Day Boat Tour (Glacier Bay National Park)
How to get there: The day boat tour in Glacier Bay departs from Bartlett Cove in Glacier Bay National Park. You can fly in a small plane or take a ferry from Juneau to Gustavus. From Juneau it's about a 30 minute flight or 6 hour ferry ride. Once you're in the small community of Gustavus, you can take a taxi or bus to the park. Note – this tour is not available to cruise ship passengers.
Length: 8 hours
Approximate Cost (not including gratuity): $230 for adults and $120 for children ages 3-12
Why it's one of the best day trip tours in Alaska: The stunning scenery and excellent opportunity for wildlife sightings are just two of the reasons you don't want to miss this. You can get up close to the glaciers at the head of Glacier Bay and spend some time just taking them in while icebergs float around you. There are also incredible mountains if it's a clear day. I've seen whales, bears, seals and tons of birds on this tour. It also doesn't matter too much what the weather is doing, since you can see wildlife and glaciers in any weather! The trip goes through protected water.
Best time to go: This tour only operates from late May through early September. I recommend late May and early June for the best combination of weather and less people.
Related: How to visit Glacier Bay National Park
Denali National Park Bus Tour or Transit Bus (Denali National Park)
2023 Note: The Denali Park Road closed at Milepost 42 (Polychrome Pass) in August 2021. The park service has announced that the road will remain closed at this point at least through the 2023 season. A permanent fix to this section of road is currently being built. Bus tours will still operate up to that point. Eielson Visitor Center and Wonder Lake will not be accessible.
How to get there: You can drive to Denali National Park's entrance station from Anchorage or Fairbanks. Driving time from Anchorage is 4-5 hours and about 2 hours from Fairbanks. You can also get there on the Alaska Railroad from either Anchorage or Fairbanks. The tours leave from the park entrance area.
Length: 4.5 to 12 hours
Approximate Cost (not including gratuity): $50-$250 for Adults, depending on if it's the narrated tour or transit bus and how far you ride; free-$115 for children (15 and younger)
Why it's one of the best day trip tours in Alaska: There's no getting around the fact that this is a long bus ride. I've talked to so many people who have said they just don't want to do that and that's really too bad because this is a fantastic trip and truly one of the best day trip tours you can take in Alaska! I recommend going at least as far as the Eielson Visitor Center, which gives you an excellent chance of seeing wildlife and the stunning and stark landscape of the park. Make sure to bring food and drink with you, there's nothing available in the park. Denali is not open to private vehicles after the first few miles, so this is the only way to get deep into the park and really experience it. I've never gone on as far as the Eielson Visitor Center and not seen multiple grizzly bears and moose or caribou. This is the way to see wildlife in Denali for sure. If you choose the transit bus, you can get off and go for a hike at one of multiple stops and then catch the next one. Learn all about your various bus options in Denali here.
Best time to go: The busses run from mid to late May until early to mid September. Be ready for rain anytime during the season! I really love it in early September when the fall colors are coming out, bring lots of warm clothes and good rain gear. Otherwise in my opinion June is the best time to go. July is also a good month, but it's much busier.
Related: Planning Guide and Things to do in Denali National Park
Kenai Fjords National Park Day Boat Tour (Seward)
How to get there: The tours of Kenai Fjords depart from the boat harbor in Seward, which is a 2-3 hour drive from Anchorage. You can also take the Alaska Railroad here.
Length: 3.5-8.5 hours
Approximate Cost (not including gratuity): $95-$240 for adults depending on the length of the tour, $48-$85 for children ages 2-11
Why it's one of the best day trip tours in Alaska: Kenai Fjords National Park is near Seward but most of it in only accessible by boat or floatplane. You don't want to miss another amazing Alaska National Park! This is an excellent opportunity to see wildlife, particularly whales, seals, otters and sea birds. The longer trips also take you out to see some of the parks stunning glaciers. The longer the trip you take, the more more wildlife viewing opportunities you'll have. The shorter trips travel in the very protected waters of Resurrection Bay, the longer ones head out closer to the opening of Prince William Sound into the Pacific Ocean and there can be some bigger waves there.
Best time to go: May through September is ideal. Weather is likely to be dried in June and July but it can rain anytime! This is a tour is fun even in the rain since you still get to see wildlife and some stunning geology.
Related: How to visit Alaska National Parks, Things to do in Seward
White Pass and Yukon Route Railroad (Skagway)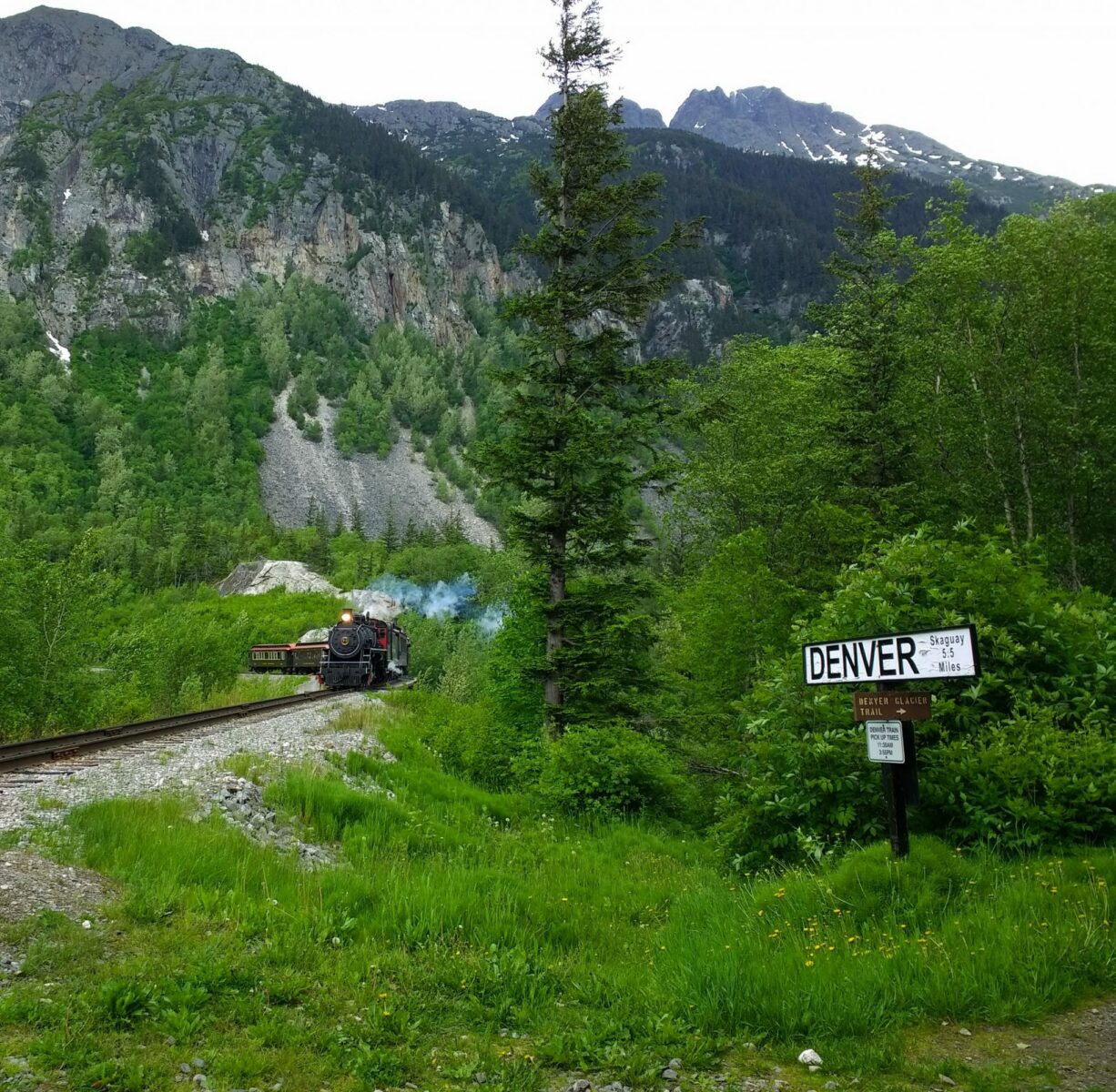 How to get there: If you're traveling on a cruise ship which docks in Skagway, this will be one of your shore excursion options and I recommend booking through them. If you're traveling independently on your own, you can get to Skagway by small plane or Alaska ferry from Juneau. From Juneau it's about a 45 minute flight or 6 hour ferry ride.
Length: 2.5 to 8 hours depending on how far you ride
Approximate Cost (not including gratuity): $40-$240 for adults depending on how far you ride, $20-$120 for children age 3-12
Why it's one of the best day trip tours in Alaska: This unique train ride takes you through stunning scenery and gives you the chance to visit many different climates in just a few hours as you journey from the top of the Inside Passage over a mountain pass into the high plains and mountains of Canada. White Pass was built during the Gold Rush and remains today as an incredible way to see it all in a short time. There are quite a few options, from a round trip summit excursion to going deeper into Canada as well as options for being dropped off closer to town for a hike and then getting picked up again!
Best time to go: The train generally operates from May through September. Expect rapidly changing weather any time of year as you go through all the different climates in this short distance.
Related: Things to do in Skagway
Whale Watching or wildlife cruise in Juneau, Sitka or Icy Strait Point
How to get there: If you're taking a cruise to Southeast Alaska, in my experience these are the best options for whale watching and you can book the trip on your ship. For those traveling on your own, find a trip in Sitka or Juneau and make sure that's on your itinerary.
Length: Usually 3-5 hours
Approximate Cost (not including gratuity): $150-$200 per person
Why it's one of the best day trip tours in Alaska: The experience of watching whales in the wild is completely unforgettable! Even though you may see whales at other times it is absolutely thrilling to see whales feeding or breeching or even just breathing a bit closer. Whale watching tour companies excel and finding places to see whales and make sure you don't miss them. You also get to see plenty of other wildlife on these trips as well.
Best time to go: Late June through August (when there are the most whales in Alaska waters)
Related: Best places to see wildlife in Alaska
26 Glaciers Cruise (Whittier)
How to get there: The 26 Glaciers Tour departs from Whittier, which is about an hour away from Anchorage. You can drive there or you can take a motorcoach or the Alaska Railroad from Anchorage. You can book this along with the cruise.
Length: The cruise is 5.5 hours. Additional time for train, coach or driving.
Approximate Cost (not including gratuity): $160 for adults and $80 for children age 2-11 for the cruise. Transportation is additional.
Why it's one of the best day trip tours in Alaska: This is one of the top tours I recommend for visitors to Alaska because it really has it all, and it's easy to get there from Anchorage. This trip is also in very protected water of Prince William Sound. It takes you to spectacular College Fjord as well as tons of other glaciers. You're also very likely to see marine mammals, birds, waterfalls. If the weather is clear, you'll also see the incredible mountains surrounding Prince William Sound.
Best time to go: May through September
Related: Things to do in Anchorage
LeConte Glacier Cruise (Petersburg)
How to get there: I recommend doing this tour from Petersburg because Petersburg is the closest town to LeConte Glacier. You can only get to Petersburg by flying or on the Alaska ferry, since it's on an island in Southeast Alaska.
Length: 3 hours
Approximate Cost (not including gratuity): $200
Why it's one of the best day trip tours in Alaska: one of the best things about this spectacular glacier experience is that you'll be traveling in an area not many travelers get to! If you go with one of my favorite companies, Seek Alaska, you'll get to learn from them about their family's history of commercial fishing as well as taking visitors to see amazing places! In addition to a beautiful glacier and lots of icebergs, you also have a good chance of seeing bears on shore and whales as you travel. LeConte Glacier is also the southernmost glacier in the northern hemisphere that touches the ocean!
Best time to go: June-August
Related: Things to do in Petersburg, Why you must see LeConte Glacier
Root Glacier Guided Hike (Wrangell-St Elias National Park)
How to get there: It's not easy to get to Wrangell-St Elias National Park but the experience of walking onto the Root Glacier is absolutely worth it! To do it you need to get yourself to McCarthy and then meet your guide there.
Length: 5 hours for a half day trip, 8 hours for a full day trip
Approximate Cost (not including gratuity): $100-$150 depending on the length of the trip
Why it's one of the best day trip tours in Alaska: safely walking out onto a glacier after a moderate hike that isn't too long or steep? YES PLEASE. They provide crampons and expert guiding so you can enjoy the hike and the unforgettable glacier travel experience. They also help you find cool things on the glacier like Mulans and Blue Pools.
Best time to go: late June and July (August and early September are also options, but it's more rainy)
Related: How to visit Wrangell-St Elias National Park