Best Things to do in Homer and Kachemak Bay
Posted On April 12, 2021
Last Updated on June 15, 2023
The delightful end of the road town of Homer and Kachemak Bay are wonderful additions to any Alaska itinerary! Off the cruise ship circuit, you'll be sharing it with independent travelers as well as Alaskans exploring other parts of their home state. It takes some effort to get to Homer (a six plus hour gorgeous drive from Anchorage) but it's well worth it to experience the art galleries, tasty food, outdoor activities and breathtaking scenery.
To elevate your Alaskan adventure to the next level, spent a few days camping in a yurt in Kachemak Bay State Park and paddling around in a kayak. This is hands down one of the best adventures you can have in Alaska so spend some extra time here if you can!
Homer, Seldovia and Kachemak Bay are the homeland of the Dena'ina and Alutiiq People.
Where are Homer and Kachemak Bay?
Homer is located at the south end of Alaska's Kenai Peninsula, just over 200 road miles south and west of Anchorage. Homer sits on Kachemak Bay, an inlet off the Gulf of Alaska and Cook Inlet.
How do you get to Homer?
Homer takes some time and planning to get to, but it's totally worth it! This also means you won't find big cruise tours here. There are two main ways to get to Homer:
Drive from Anchorage – this will take at least six hours and is an incredibly scenic and beautiful drive. Give yourself the whole day to make the trip, you won't regret it!
Fly from Anchorage – you'll be on a smaller plane and the flight takes about 45 minutes one way. This flight can be absolutely beautiful or you might see only fog, depending on the weather!
It's also possible to take the Alaska Marine Highway (state ferry) to Homer, but this is not really a practical option for most visitors, since the ferry ride is long and expensive and doesn't go to Anchorage or any other major airline hub.
When is the best time to visit?
The best time to visit Homer and Kachemak Bay is late May through early September. Many opportunities available for travelers are only open and operating during the summer season. In addition, Homer experiences windy, rainy and foggy conditions all year so summer gives you the best chance of decent weather. You still need to be prepared for cold, rain and wind any time of year (see my packing list for Alaska here).
The best weather and the most people visit Homer in June and July. Homer is off the beaten track for big tourism companies, you'll only find independent travelers here along with plenty of Alaskans exploring a different part of the state. It's plenty busy during the summer season so make sure to book everything ahead of time.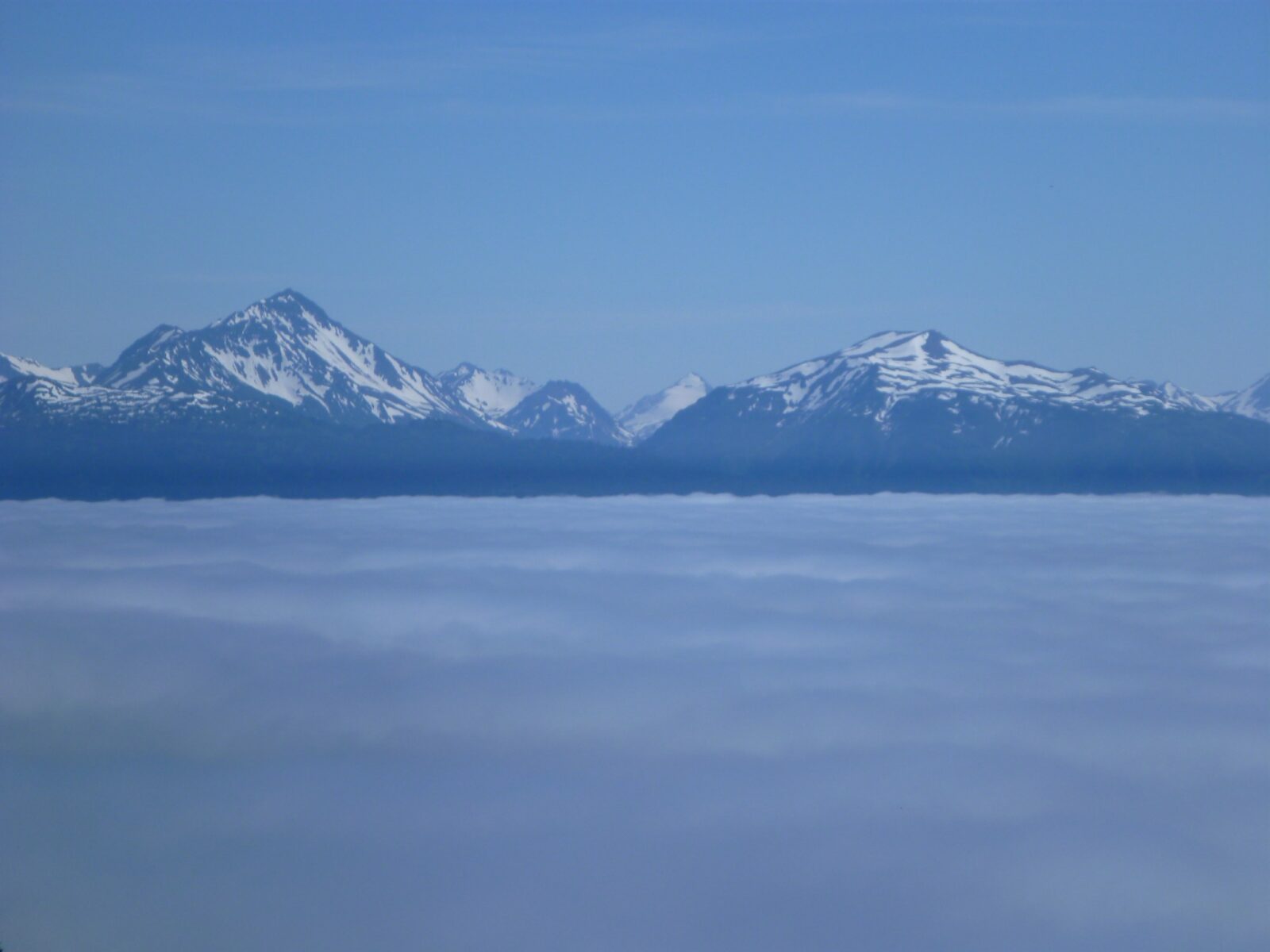 Kachemak Bay State Park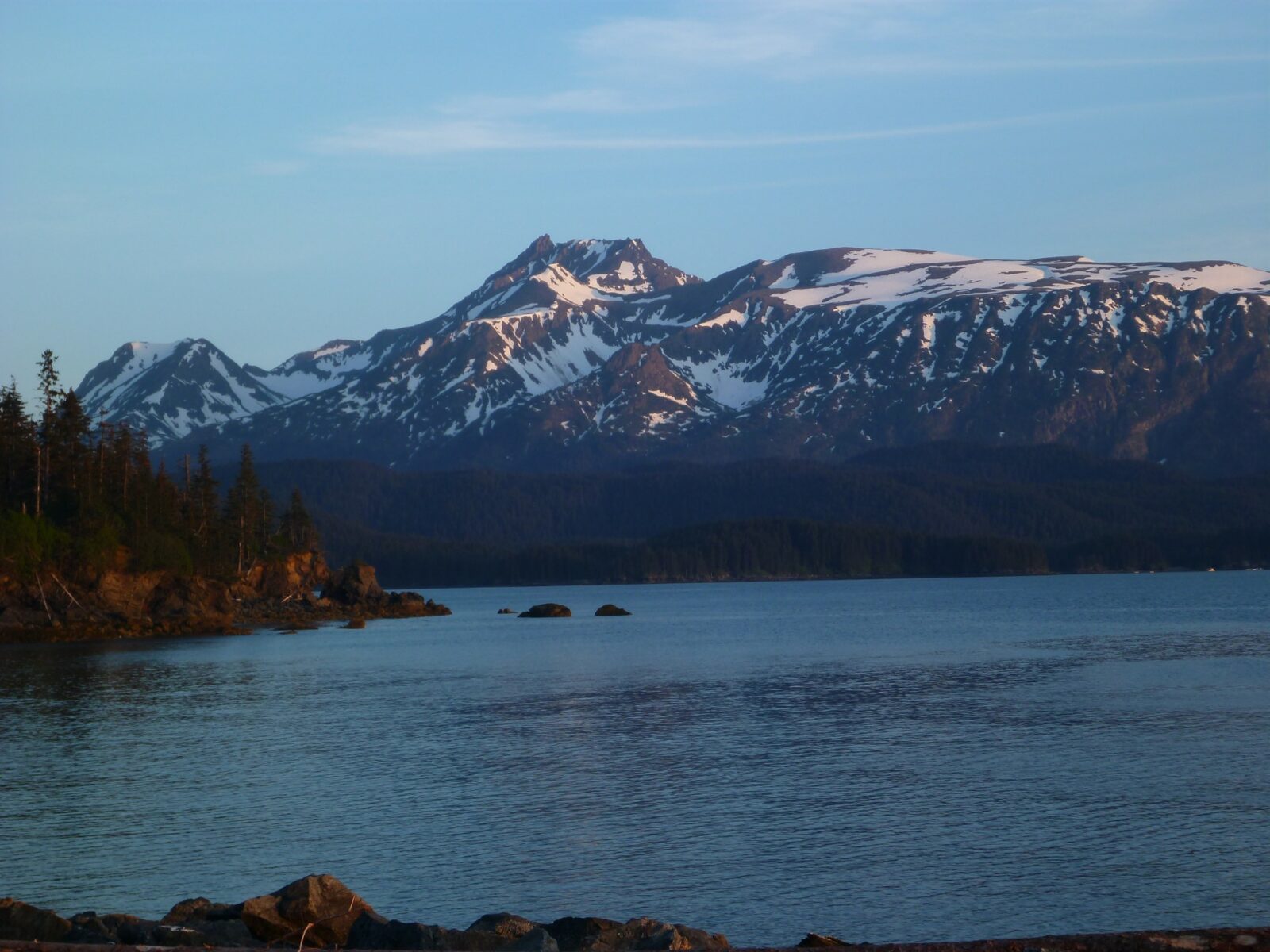 Kachemak Bay State Park is one of my favorite places in Alaska and a terrific reason to go to Homer all by itself! This area is only accessible by water taxi (or your own boat) and there are several companies in Homer that provide this service. You can do a day trip hiking or kayaking in the park, or for even more adventure (and one of my top Alaska experiences in the whole state) spend the night in one of the yurts!
Yurt Camping in Kachemak Bay State Park
This is an amazing trip for any traveler (or Alaskan!) who really wants to get away from it all and just soak up the incredible scenery of southcentral Alaska. Yurt camping is a great option for Alaska since it offers protection from weather and bugs and gives you some space to spread out inside a shelter. Yurts are NOT appropriate storage for food from bears. It is extremely important that you use the food caches provided for all your food and toiletries. You will receive details about this when you book. This is important for your safety as well as the safety of bears and future human visitors.
Alaskan Yurt Rentals offers camping at 8 yurts in Kachemak Bay State Park. They must be reserved in advance. The yurts have sleeping bunks and pads, a wood stove and a propane burner. Everything else you need to bring yourself (drinking water, cooking fuel, etc). You should bring everything you would normally bring for camping (except the tent and sleeping pad). You are in a completely remote area so you need to bring everything with you, including extra food and water in case weather delays your pick up time.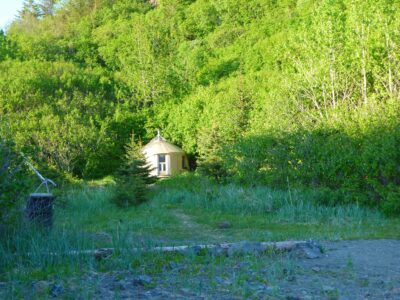 I've stayed at the Kayak Beach Yurt, which is fantastic! There was a bear cache conveniently located near but not TOO near the yurt. The yurt was super comfortable with plenty of room for four adults. There was also a firepit on the beach for campfires. We enjoyed exploring the beach by the yurt as well as kayaking.
To get to any of the yurts, you'll need to take a water taxi from Homer. I've gone with True North Kayak Adventures and they did a great job! In addition to dropping us off at the beach in front of the yurt, we also rented kayaks from them for our stay which they brought over on the water taxi with us. We enjoyed paddling around from the yurt and exploring! We also took a hike on the trail that goes up into the forest behind the yurt.

This was one of the best experiences I've ever had in Alaska in seven years of living there and many visits! I highly recommend it.
Related: Complete Guide to Camping in Alaska
Day tripping for Hiking or Kayaking in Kachemak Bay State Park from Homer
If camping, even in a yurt, is more adventure (or more packing) that you're up for, you can still enjoy a day in Kachemak Bay State Park out of Homer.
You'll still need to take a water taxi. You can get dropped off and picked up again or take a guided hiking or kayak tour. You can also take a water taxi ride even if you don't go ashore.
In the park you can hike some of the 25 miles of hiking trails through forests and to epic vistas and mountain lakes. You can also kayak around the sheltered areas of the park, checking out the intertidal zones and shorelines. On the boat ride as well as while kayaking or hiking you may see seals, sea otters and whales as well as bears and moose ashore. There are also a ton of birds including eagles and puffins. Bear knowledge and safety is a must while hiking here!
I recommend asking your water taxi company for their suggestions on good places to go for hiking and kayaking in current conditions. You can always book a guided tour so you don't need to worry about where to go!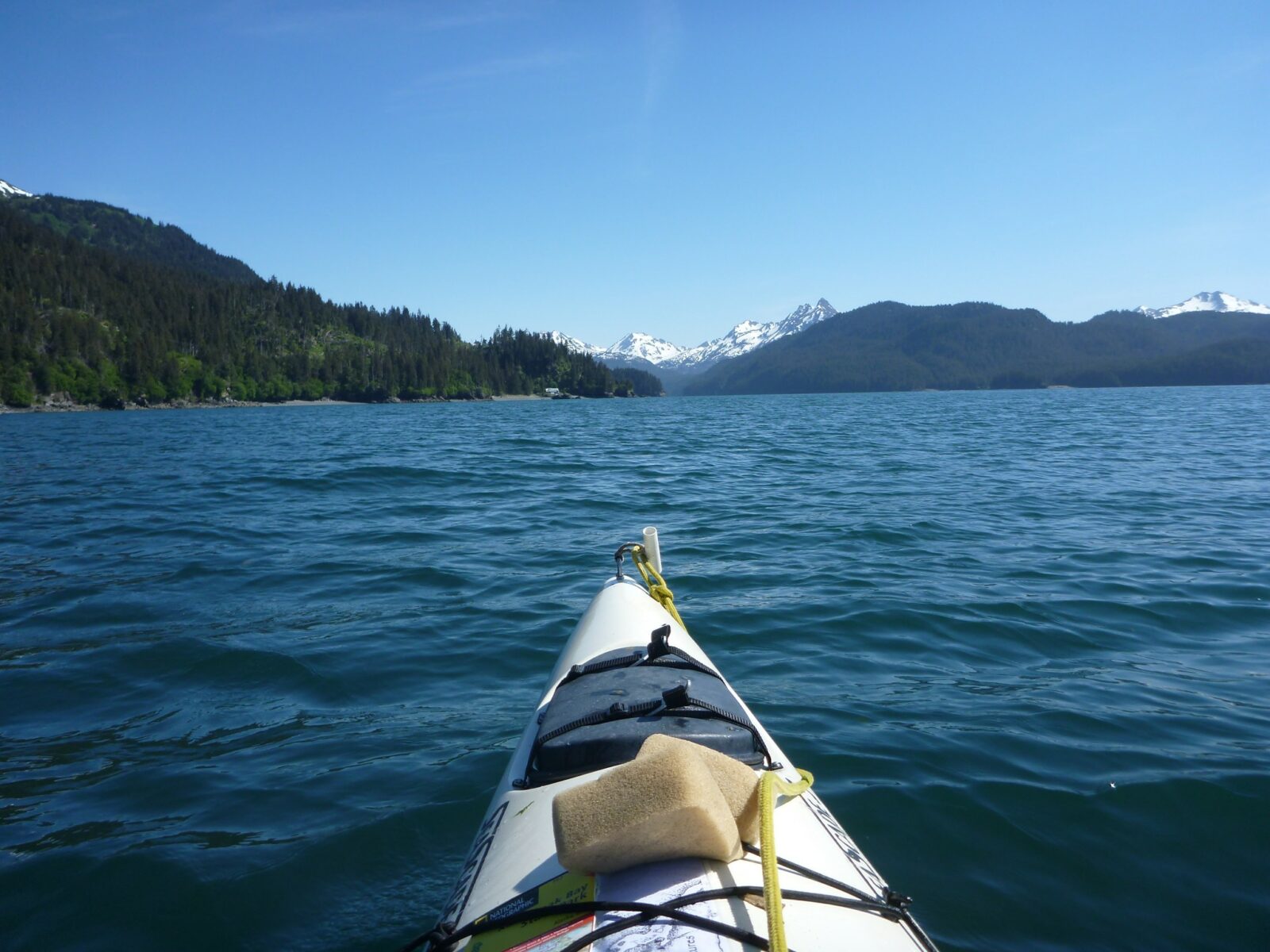 Homer Spit
The Homer Spit is a fascinating place jutting out 4.5 miles into Kachemak Bay from downtown Homer. You can walk the length of the spit on a trail, or drive there and walk around near the tip of the spit. There are beaches to explore, as well as a few shops and the forever famous Salty Dawg Saloon (more on that below). The small boat harbor is big and bustling and the Alaska Marine Highway ferry dock is at the tip of the spit, next to the Land's End Resort. There is also the Seafarer's Memorial, dedicated to those who have died at sea.
If you have the chance, check out one of the wonderful performances at the Pier One Theatre on the Spit, which has regular performances during the summer months. You can get tickets locally or request them online here.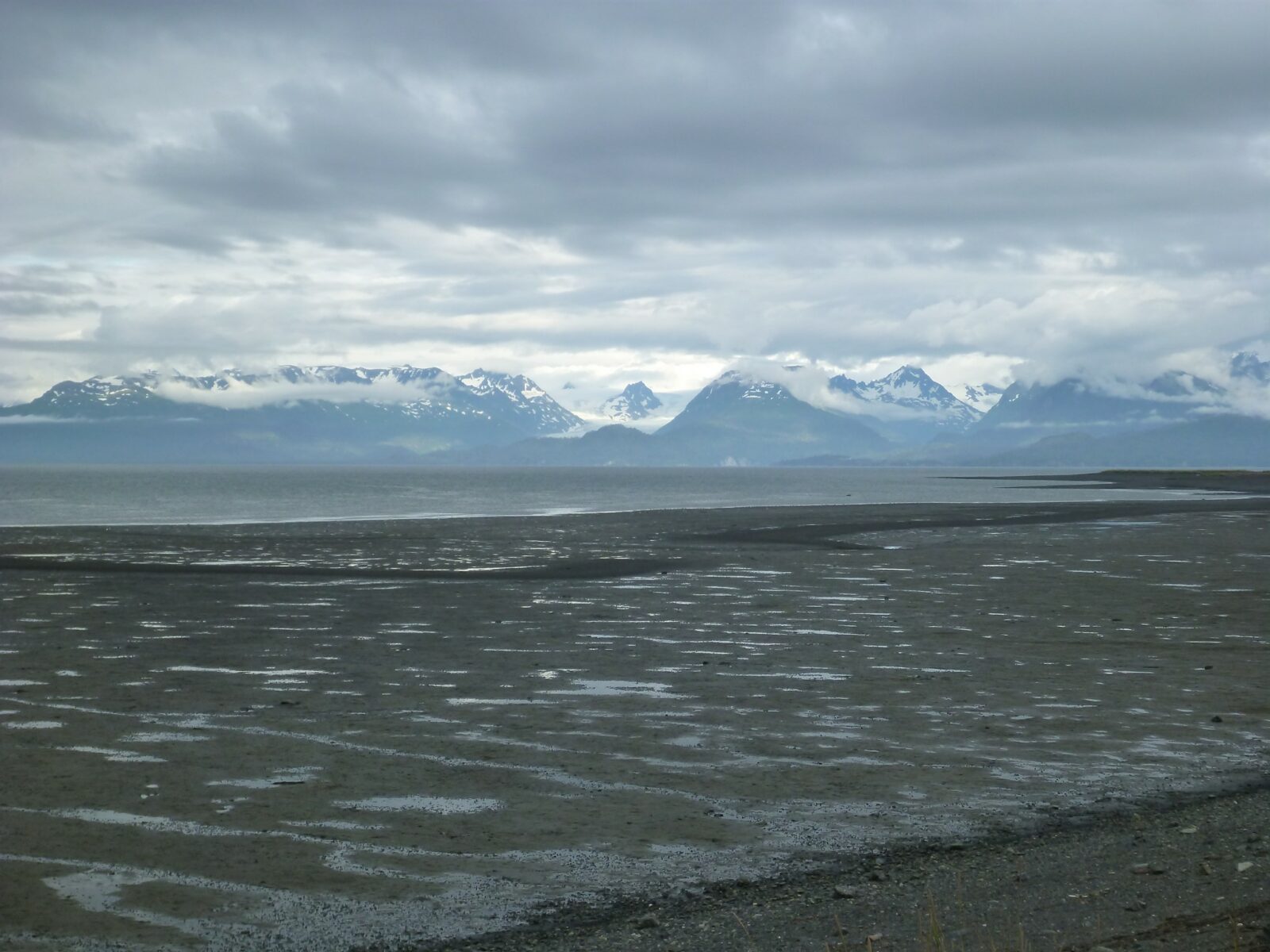 Alaska Islands and Ocean Visitor Center
Operated by the US Fish and Wildlife service, the visitor center in Homer offers exhibits about the wildlife of Kachemak Bay as well as interpretive trails and ranger programs. It's open from Memorial Day (late May) until Labor Day (early September).
Center for Alaskan Coastal Studies
The Center operates a really fun interpretive program on the docks in the harbor of Homer Spit. Here you can learn all about the creatures right below you in the water! They also offer guided hikes in a couple other locations on trails near Homer. Learn all about their current offerings and locations here.
Explore the Homer Boat Harbor
Located near the end of the Homer Spit, the harbor is bustling and busy. If you're taking a water taxi or going on a fishing charter, you'll be departing from here. Even if you aren't, it's an interesting place to walk around, packed with water taxis, private boats, fishing boats of all sizes and probably quite a few seals.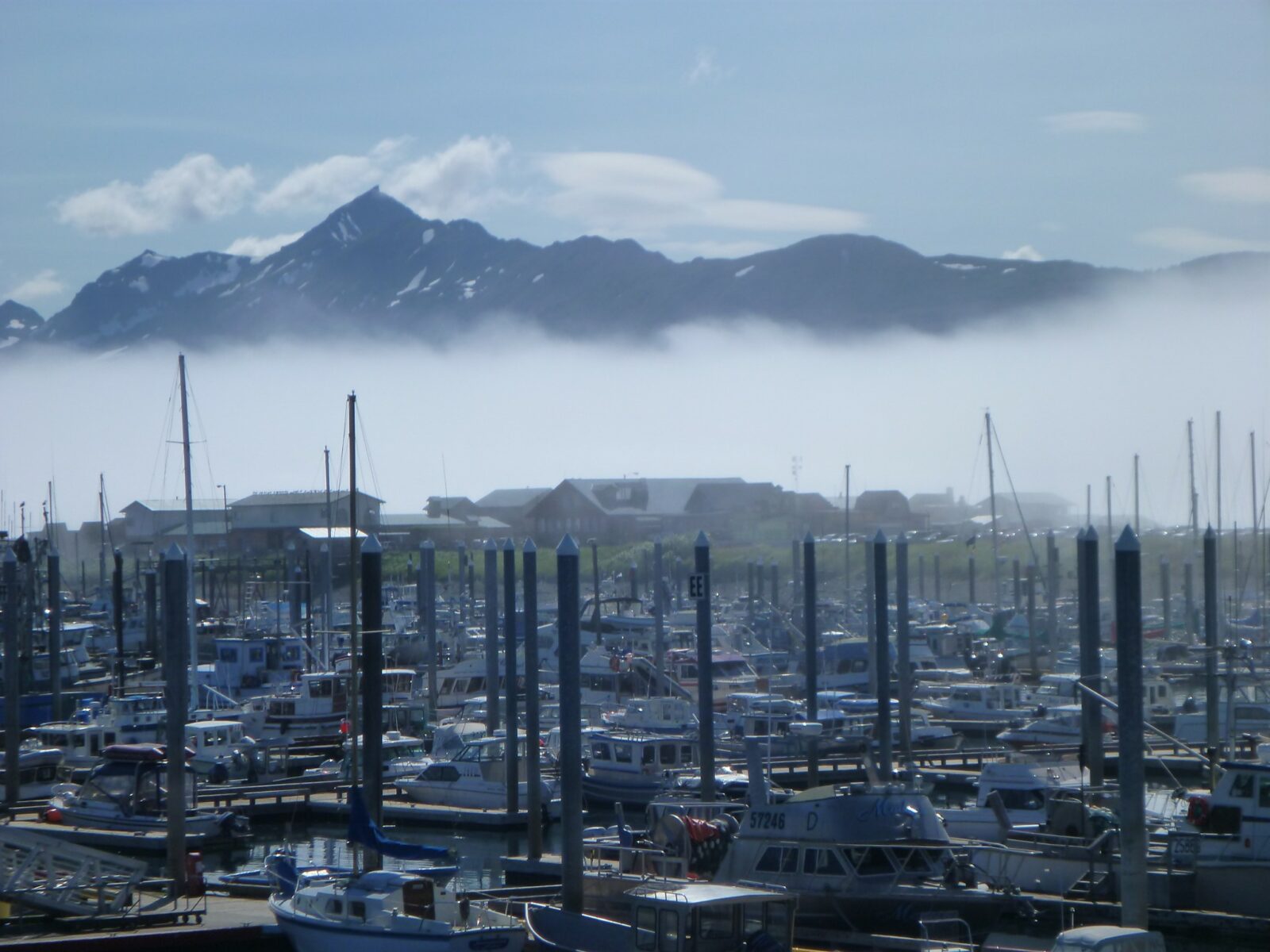 Bishop's Beach
One of the wonderful beaches in and around Homer, Bishop's Beach has miles of beach to explore. Beachcombing here is especially enjoyable at low tide, with tidepool creatures to discover as well as a wider beach to explore. There are restrooms here as well as covered picnic areas with BBQ grills.
In addition to the beach, the Beluga Slough Trail goes up from the beach to the Center for Alaska Coastal Studies with great views of Homer, Kachemak Bay and the mountains beyond.
Fishing
Fishing is fantastic out of Homer and many places on the Kenai Peninsula. Many Alaskans come here at some point during the summer for fishing trips (I did every year when I lived in Fairbanks – a 10 hour drive away!). The Kenai Peninsula has both freshwater and salt water fishing opportunities.
Fresh water fishing on the Kenai Peninsula is generally centered around the salmon runs and includes different types of fishing along rivers such as the Kenai and the Russian River.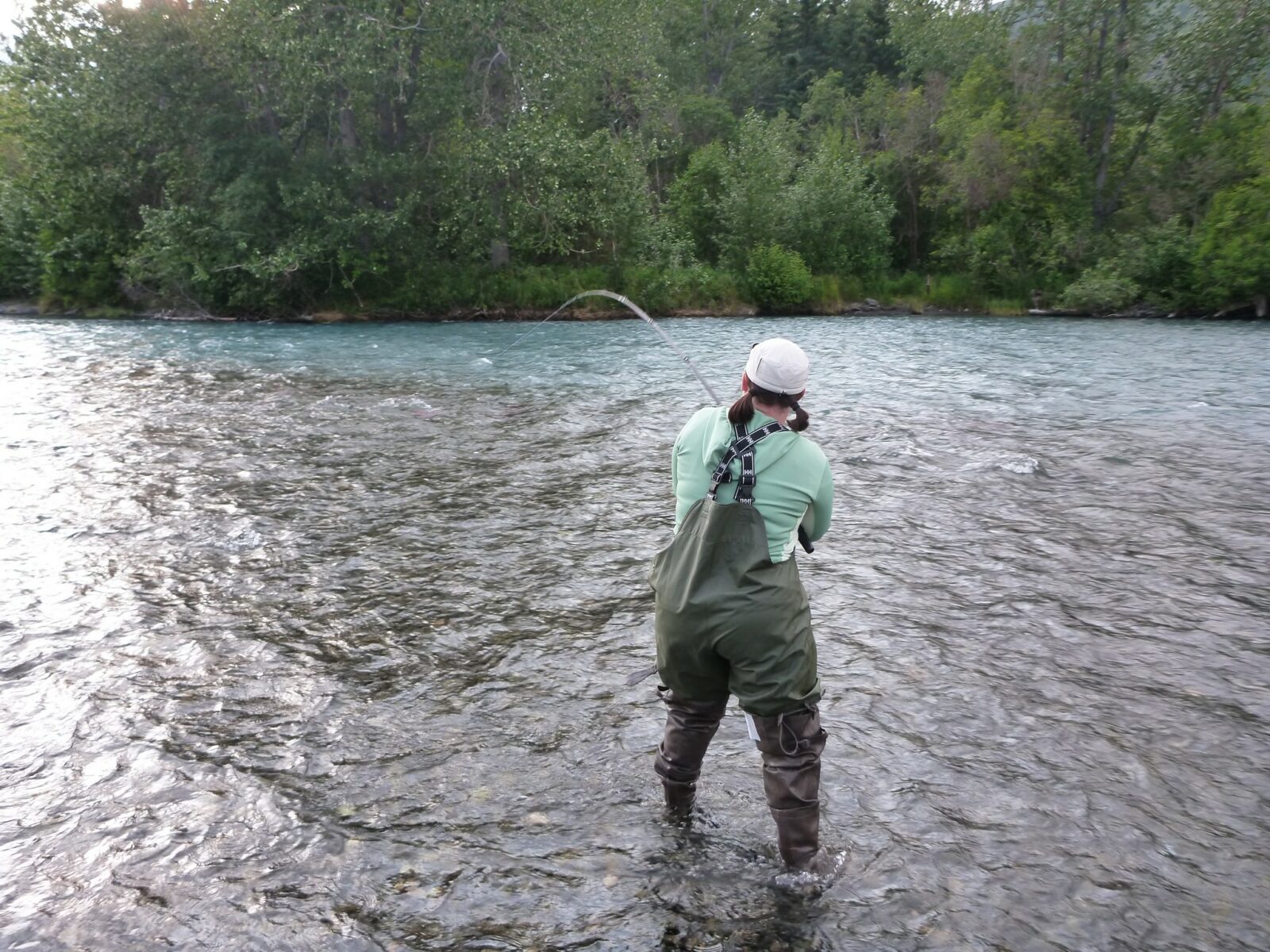 Saltwater fishing is for salmon before they run up the rivers and also for halibut and other deep water fish. Halibut fishing is my personal favorite!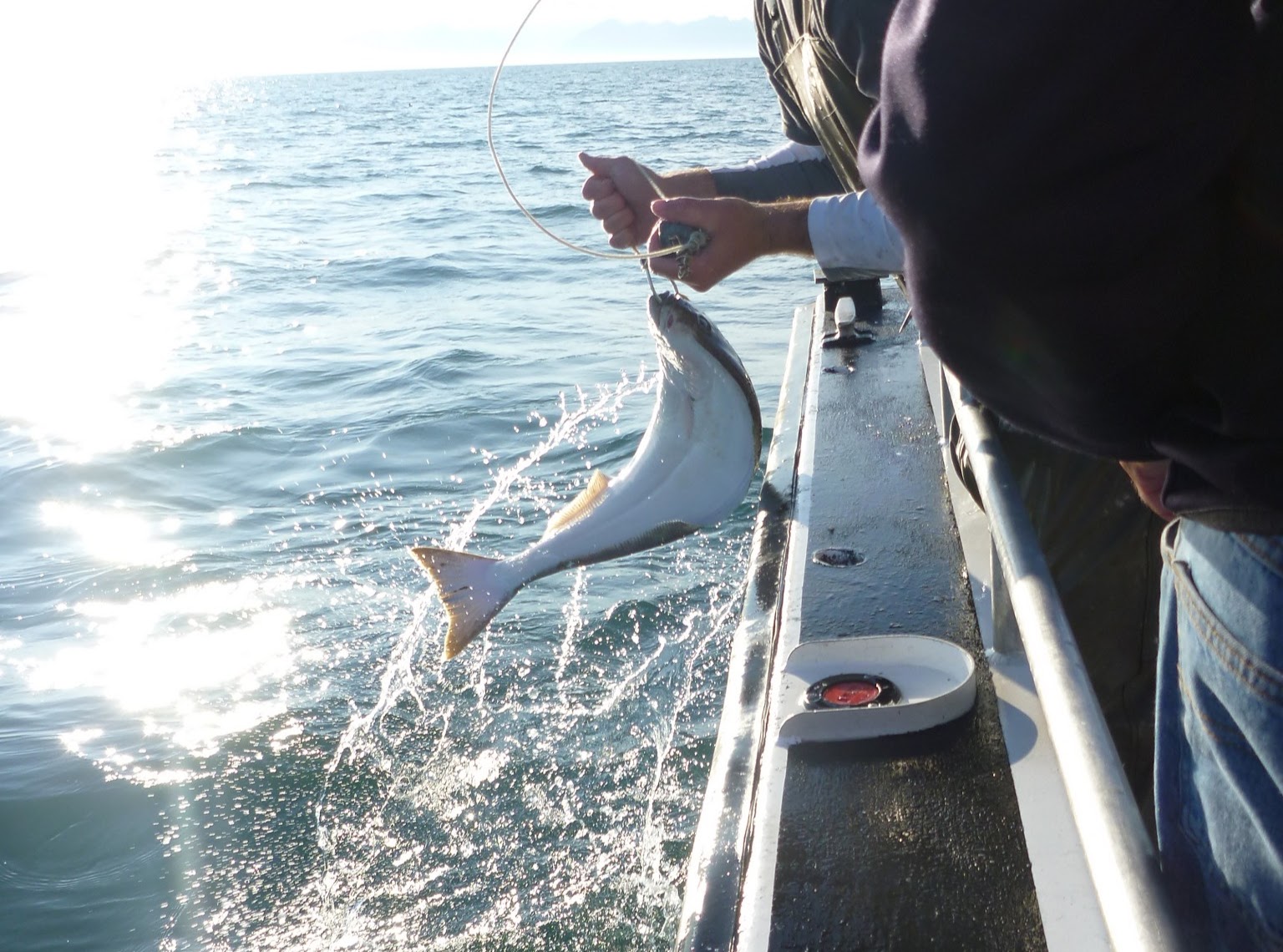 For most visitors it makes sense to do a fishing charter, that way they provide all the gear you need (including boots if necessary!) which is really convenient if you're traveling. They also know where to go and how to help you have the best chance of catching fish. Another benefit is they often clean and package your fish for you for travel (ask about this when reserving if this is important to you). This is fully worth the extra money!
If you bring fishing gear with you, inquire about good places to go at the time you happen to be visiting when you get your fishing license, or with your campground or vacation rental host, or the hotel where you are staying.
There are lots of fishing charter companies that leave from the Homer harbor, there are also several in Ninilchik that depart from Clam Gulch or Anchor Point. You can also do fishing charters in Seward and Whittier.
If you're looking to save some money on a fishing trip, grab the Alaska Toursaver book and get two for one on your fishing charter (and lots of other attractions and tours in Alaska….this is one of my 20 tips for saving money on your Alaska vacation!).
Kayaking
There are lots of great kayaking opportunities around Homer! There are several companies that offer kayak rentals and tours from half a day up to multi day adventures. I've rented from True North Kayak Adventures and they were absolutely terrific. They also offer Stand up paddleboard rentals and have a water taxi to take you to yurts and more remote areas.
Homer Art Galleries
Homer is known all over Alaska for its vibrant art scene. Don't miss the chance to stroll "gallery row" in downtown Homer and check out all the art. If you want to bring something home from Alaska, this is a great place to do your shopping.
Pratt Museum
The Pratt Museum is all about the connection between the land and people throughout history in the Homer area and around Kachemak Bay. This small museum is packed with information and displays and includes outdoor exhibits as well as indoor.
Kilcher Homestead Living Museum
Fans of the Discovery Channel TV show featuring the Kilcher family will get a kick out of visiting the homestead that welcomes visitors. You can explore the property and visit some of the buildings on the tour while you learn about Alaska's homesteading tradition.
Seldovia Fast Ferry
The 45 minute ferry ride to Seldovia is absolutely beautiful with an excellent chance of seeing wildlife (especially sea otters) along the way. Seldovia is a charming small town accessible only by boat and plane. The town is built up on stilts and boardwalks and is a wonderful day trip. In addition to strolling the boardwalks and visiting the art galleries and museum, you can also explore one of the hiking trails that depart from Seldovia.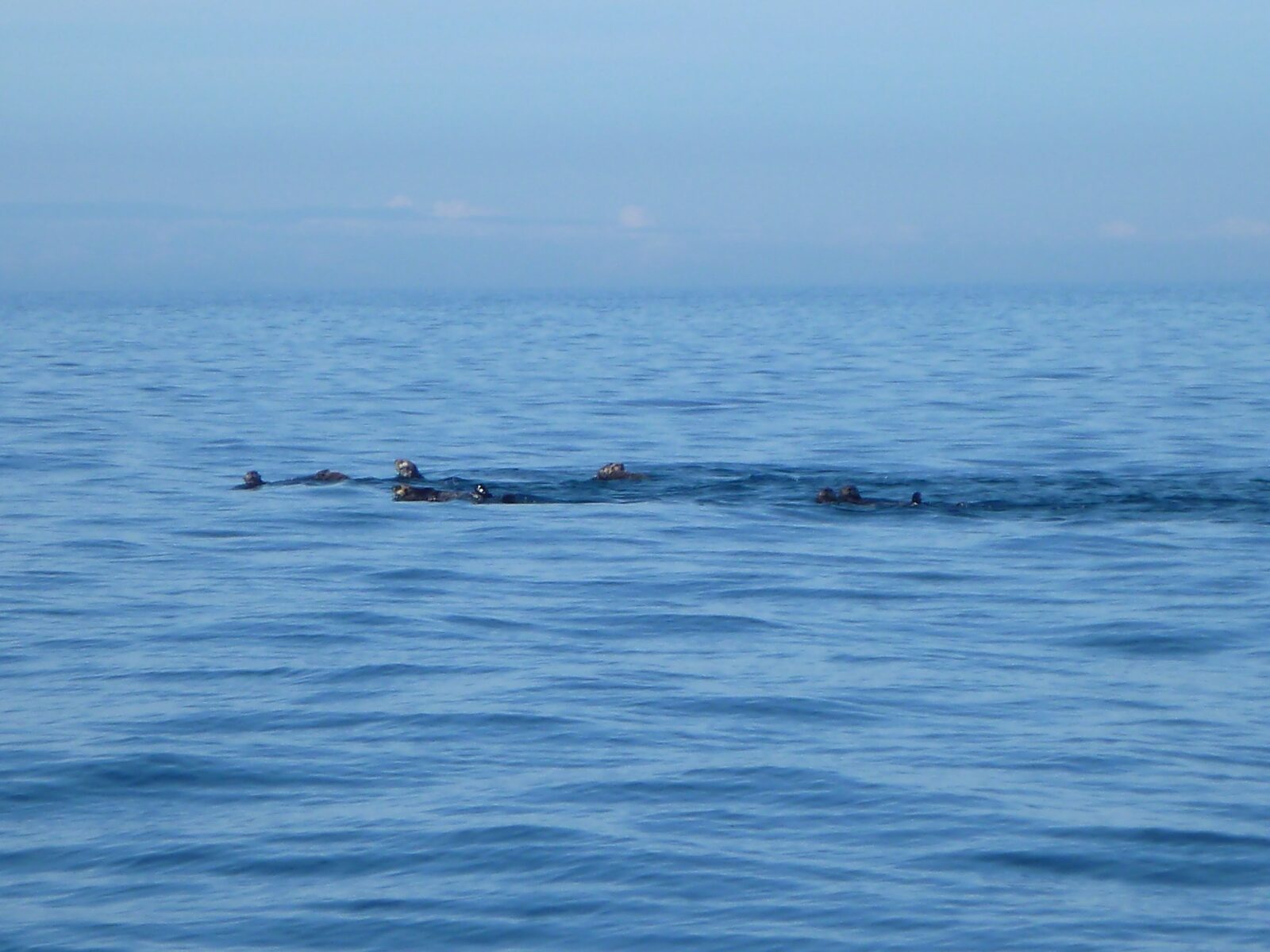 Katmai National Park
Katmai is a remote park accessible only by airplane from anywhere else! Homer is one of the closer places to fly to Katmai from as it's about a 1.5 hour flight in a small plane to Katmai. You can opt for a flightseeing tour of Katmai's incredible volcanic landscapes, or you can book a trip that includes landing along the coast or at Brooks Falls. Both of these places have tons of gigantic brown bears who are busy fishing for salmon during the summer months. Brooks Falls is more famous but also more busy (day trips are available here from Anchorage) but the coastal areas are less visited. Several tour operators operate these trips out of Homer. This is an expensive trip, but a trip of a lifetime!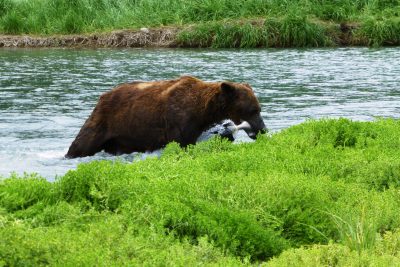 Lake Clark National Park
Similar to Katmai, Lake Clark National Park is also only accessible by airplane. You can take a flightseeing tour here from Homer or get flown into a remote location to land. There are many bear viewing opportunities in Lake Clark also.
Even if you keep your feet on the ground, you'll still get the opportunity to see Lake Clark from the highway if you're driving to Homer from Anchorage. The highway along the west side of the Kenai Peninsula near Ninilchik has impressive views of the massive volcanoes in Lake Clark National Park.
Best Places to eat and drink in Homer
Some of Alaskans favorite places to eat in Alaska are in Homer! One thing is for certain, you cannot go wrong with seafood in Homer. Alaskans do not tolerate bad seafood anywhere in the state and that's certainly true in Homer. A few other specific places to check out include:
Salty Dawg Saloon
There's no food here (other than bags of chips), but this is a mandatory stop! All across Alaska you'll see Alaskans sporting a hoodie from the Salty Dawg, which is known all around Alaska. Grab a drink and settle into this iconic establishment.
Two Sisters Bakery
Anywhere in Alaska, you should always stop at the local bakery because no one does baked goods like Alaska! In Homer, make it the Two Sisters Bakery. They offer a variety of sweet and savory baked goods as well as bread, cake and delicious coffee.
Fat Olives
An Alaskan favorite, Fat Olives offers a menu with lots of possibilities including seafood, pasta, calzones, pizza, sandwiches and salads. They also have some really delicious desserts and a kids menu.
Bear Creek Winery
Alaska doesn't have many wineries, so when you find one you should be sure to stop! Bear Creek has a variety of inventive fruit and grape wines (try anything with rhubarb…always!) that are unique and delicious. They also offer lodging.
Beer
Homer has two local breweries with taprooms. Don't miss the chance to sample some local beer at Grace Ridge Brewing or the Homer Brewing Company.
Exploring the rest of the Kenai Peninsula on the way to Homer
If you're driving to Homer from Anchorage, a few places I highly recommend stopping include:
Alaska Wildlife Conservation Center – A terrific place to learn about and see Alaska's wildlife and a great place for photography. Wildlife are protected here and are in open areas where you can view them safely from boardwalks
Portage Glacier and Portage Lake – read more here about how to spend your time at Portage Glacier! You can take a boat tour across a lake to Portage Glacier, or take a hike up to see it. You can also explore the hiking trails of the Valley of Blue Ice.
Hope – a 30 minute detour off the main highway (turn just beyond the Canyon Creek Rest Area if you're coming from Anchorage), this tiny and historic community is fun to explore
Seward and Kenai Fjords National Park – a well signed turn off takes you to Seward. A delightful harbor oriented town, you can check out the Alaska Sealife Center or take the day boat tour into Kenai Fjords National Park. There are also some excellent hikes here leading into the park, including Exit Glacier and the Harding Icefield.
Russian River – a great place for fishing! Or watching others fish if that's more your thing. Be extremely careful about bears here, they are EVERYWHERE. The Pink Salmon Parking lot is a good place to stop (and also has restrooms). If you want to stretch your legs, you can hike up to Russian River Falls, a 5 mile round trip with about 600 feet of elevation gain. You're likely to see salmon (when running) and bears here. Use extreme bear caution and safety procedures and do not hike this trail alone.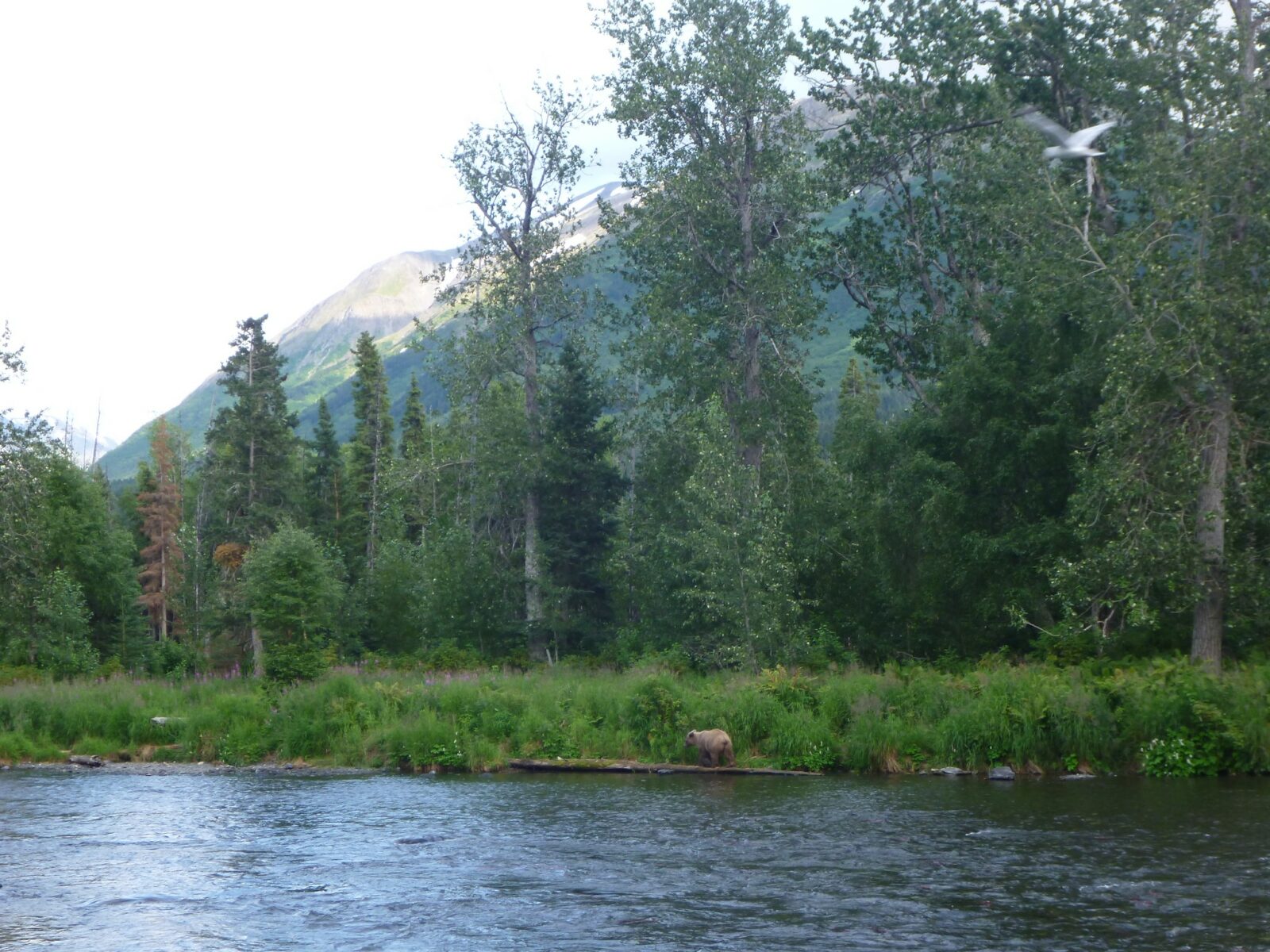 Captain Cook State Recreation Area – about an hour off the main highway, this area has a campground and an expansive beach on the Cook Inlet. Look across the water to the massive volcanoes on the Alaska Peninsula. There is a campground here too.
Ninilchik – the tiny community of Ninilchik is along the stretch of the highway that goes right next to the coast. This stretch is absolutely stunning! There are mulitple places with pullouts and beaches you can access with views across the Cook Inlet to the stunning volcanoes of Lake Clark National Park.